The Tzu Chi Bone Marrow Donor Registry in Taiwan was established at Master Cheng Yen's initiative in 1993, after she had learned of how a bone marrow transplant can save lives without harming donors during harvesting. It took one voice to truly convince her, however—that of Wen Wen Ling, a Taiwanese student then studying in the United States and diagnosed with leukemia, with a transplant determined as the only way to save her life. When she was unable to find a match in the United States, despite efforts of the Tzu Chi community in Los Angeles, she begged Master Cheng Yen to establish a registry in Taiwan.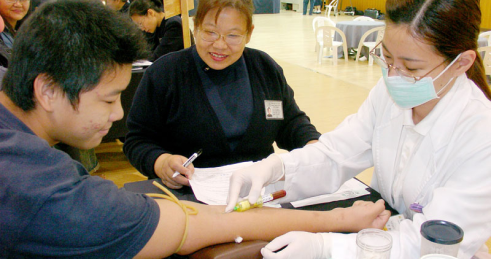 Serendipitously, an existing law prohibiting the transfer of bone marrow between donors unrelated by blood was lifted the same year, and in October 1993, Master Cheng Yen accepted the Taiwanese government's commission to set up a state-of-the-art registry that would ensure that the bone marrow was safe. In 2002, the registry was renamed the Buddhist Tzu Chi Stem Cell Centre, and was fully accredited by World Marrow Donor Association in 2015 as one of the largest registries in the world that handles and stores stem cells and seeks volunteer donors worldwide.
The stem cell center has contributed to the now vast international resources for patients with leukemia and other blood-related diseases, and is working with medical centers in Hong Kong, Singapore, the United States, and Australia. The search for a donor match can even be done online, saving money, time, and frustration. As of June 2017, the center counted 414,000 potential donors, and had helped over 4,700 people in 30 countries.