PWDs from VIBES reciprocate Tzu Chi's help through cash donation
VIBES officers deliver a cash pledge and plaque of appreciation
By Joy Rojas
As a Person with Disability, Lorenzo Jimeno knows all too well how the public perceives PWD. "Especially the blind," says Jimeno, who lost his sight from German measles at the age of 3. "In the eyes of people, the blind wait for government to provide them with assistance, or they beg in the streets."
Since 1992, Jimeno, and the people behind the Visually Impaired Brothers for Excellent Service (VIBES) massage business have successfully proven otherwise. By working as massage therapists, they experience dignity and purpose in life, providing for their families' daily needs as well as the education of their children and siblings.
On August 11, VIBES defied expectations again, this time by being on the giving end of help. In celebration of its 30th founding day on August 17, Jimeno, executive director of VIBES, and VIBES Deputy Director Criselda Valderrama, visited the Buddhist Tzu Chi Campus (BTCC) in Sta. Mesa, Manila, to present a P10,110 cash pledge and plaque of appreciation.
These tokens were to reciprocate the kindness and generosity Tzu Chi extended to blind massage therapists in the first two years of the pandemic. Unable to work due to stringent lockdowns and health and safety protocols to prevent the spread of COVID-19, the VIBES members were among the beneficiaries who were given 20-kg rice, groceries, and assorted vegetables each from Tzu Chi in three tranches in 2021.
Tzu Chi volunteers Elvira Chua and Johnny Kwok welcomed Jimeno and Valderrama in BTCC and accepted their gestures of gratitude. "Of course, we were happy," says Kwok who learned of VIBES' intention to give back in an email sent two days earlier. "Master Cheng Yen taught us to help without expectation, but our only hope is that the people we helped will eventually help others. By giving us their pledge, VIBES knows that it will go to others in need."
"We think of Tzu Chi as a bridge to helping people," says Jimeno. "That's why we thought of giving them our pledge. We know that it's not going to stay long with them, it's going to go to a worthy cause."
Tzu Chi Foundation and VIBES share common ground. The foundation's practice of vegetarianism for health reasons and to show respect for animals resonates with Jimeno. "As massage therapists, we are in the health sector, so we should promote vegetarianism not only to our clients but in our own lives."
Meanwhile, Tzu Chi's poverty-alleviating livelihood programs reflect VIBES' own efforts to turn PWD into productive, self-sufficient individuals. Jimeno is a perfect case in point. A working student in high school, he played guitar with a band in a restaurant and worked in various massage clinics before establishing VIBES with seven other members.
Trained at the National Vocational Rehabilitation Center by fellow VIBES founder Dante Tiosan, Jimeno co-founded VIBES with his partners in 1992 using P8,000 they earned from caroling. From a humble operation that accepted bookings for home service, VIBES now has around 50 commercial branches nationwide, many of them franchised to PWD. Over 500 visually impaired masseuses have since benefited from VIBES' training and employment.
VIBES has also been recognized with numerous awards—among them, an Apolinario Mabini Award for Best Employer for the Disabled, Best Disabled Organization from RCBC's SIKAP Awards, and the Department of Health's HAMIS (Health and Management Information System) Awards.
When the pandemic struck, massage therapists struggled, more perhaps than the average person. Prohibited from working, they couldn't find alternative sources of living, given their visual impairment. The challenges continued even as lockdowns eased. Jimeno remembers wearing hot and restrictive PPE and a face shield to massage his clients.
In those difficult times, Tzu Chi threw them a lifeline. That's something VIBES hopes to do for others in the future. "That you, Tzu Chi. I'm sure this won't be the first and last time we will meet," he says. "If there's anything we can do to help others through you, please let us know."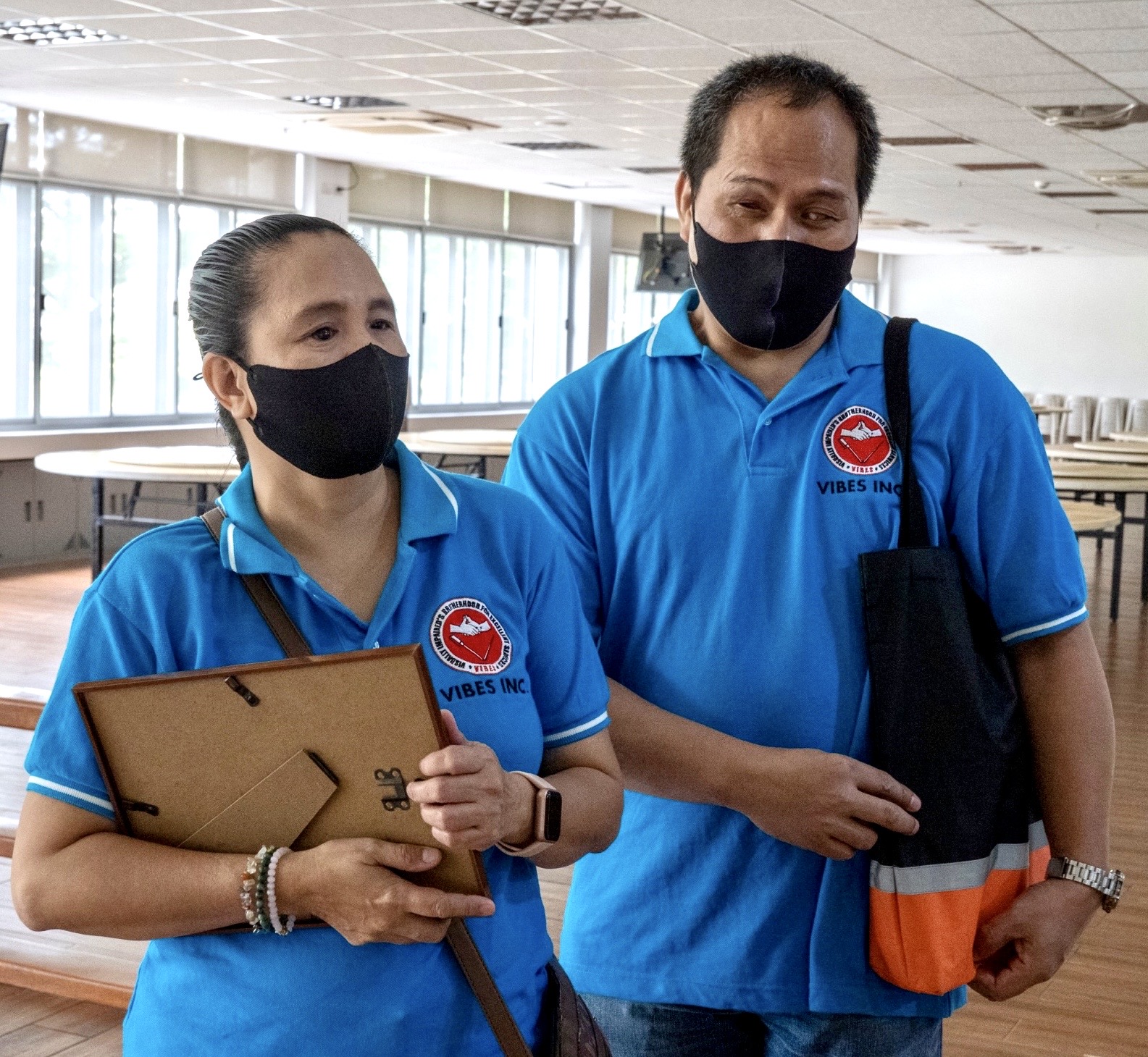 VIBES Deputy Director Criselda Valderrama (left) and VIBES Executive Director Lorenzo Jimeno visited the Tzu Chi Foundation on August 11, 2022. 【Photo by Matt Serrano】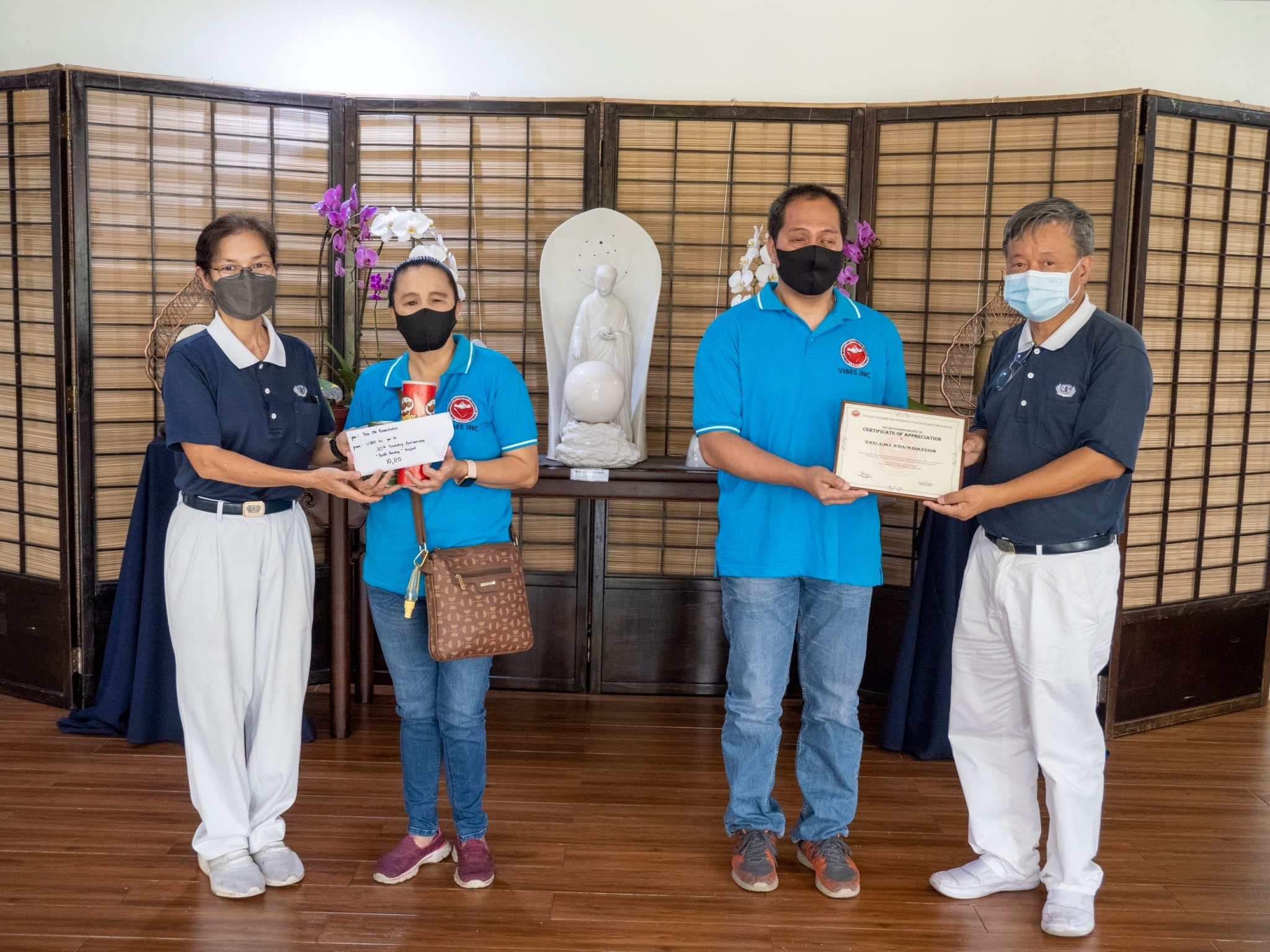 Volunteers Elvira Chua (first from left) and Johnny Kwok (first from right) receive the cash pledge and plaque of appreciation from VIBES officers Criselda Valderrama (second from left) and Lorenzo Jimeno (second from right).【Photo by Matt Serrano】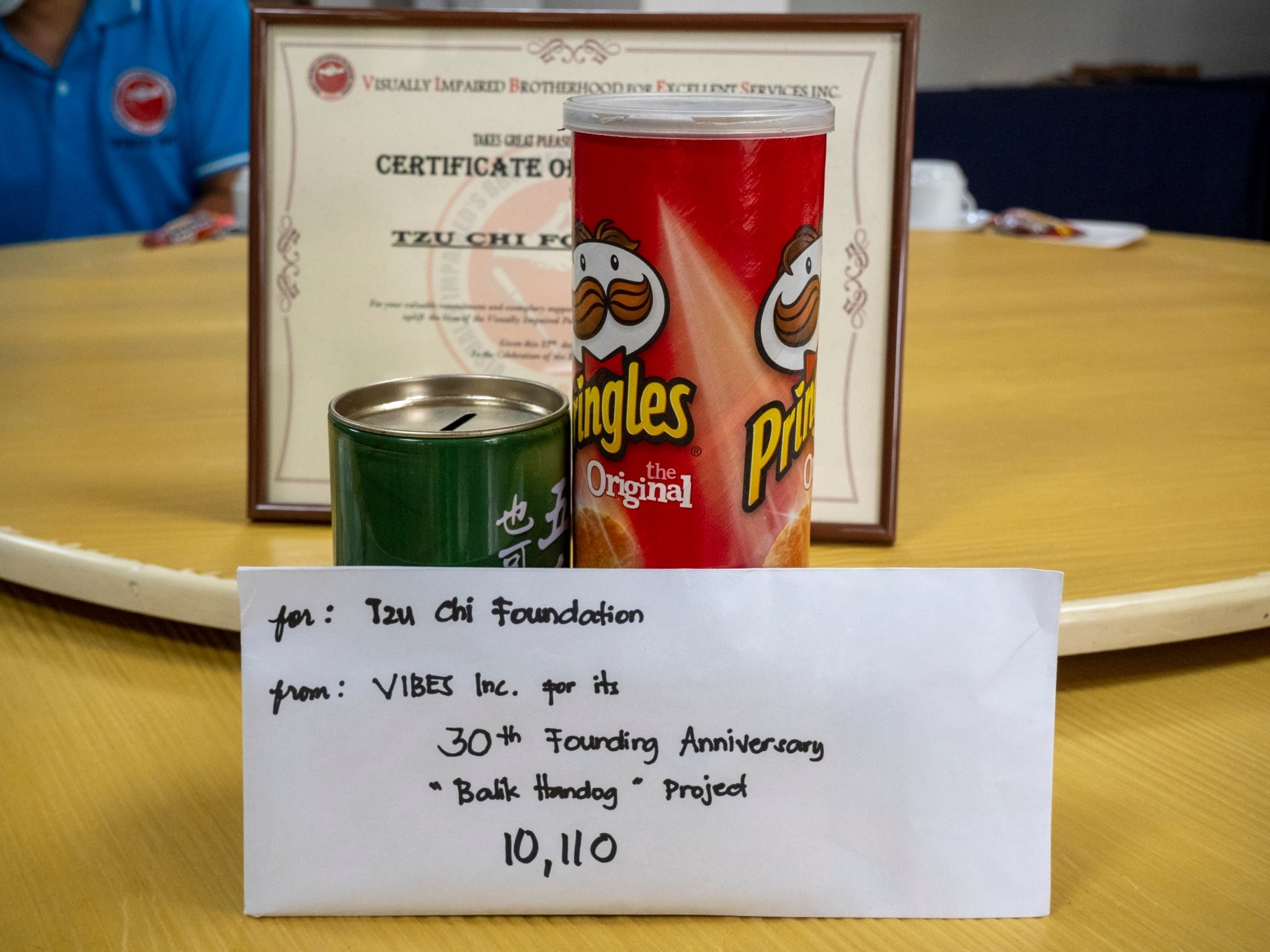 VIBES presented the Tzu Chi Foundation with a plaque of appreciation and cash pledge of P10,110 as part of its Balik Handog (Return Offering) project for its 30th founding day on August 17. 【Photo by Matt Serrano】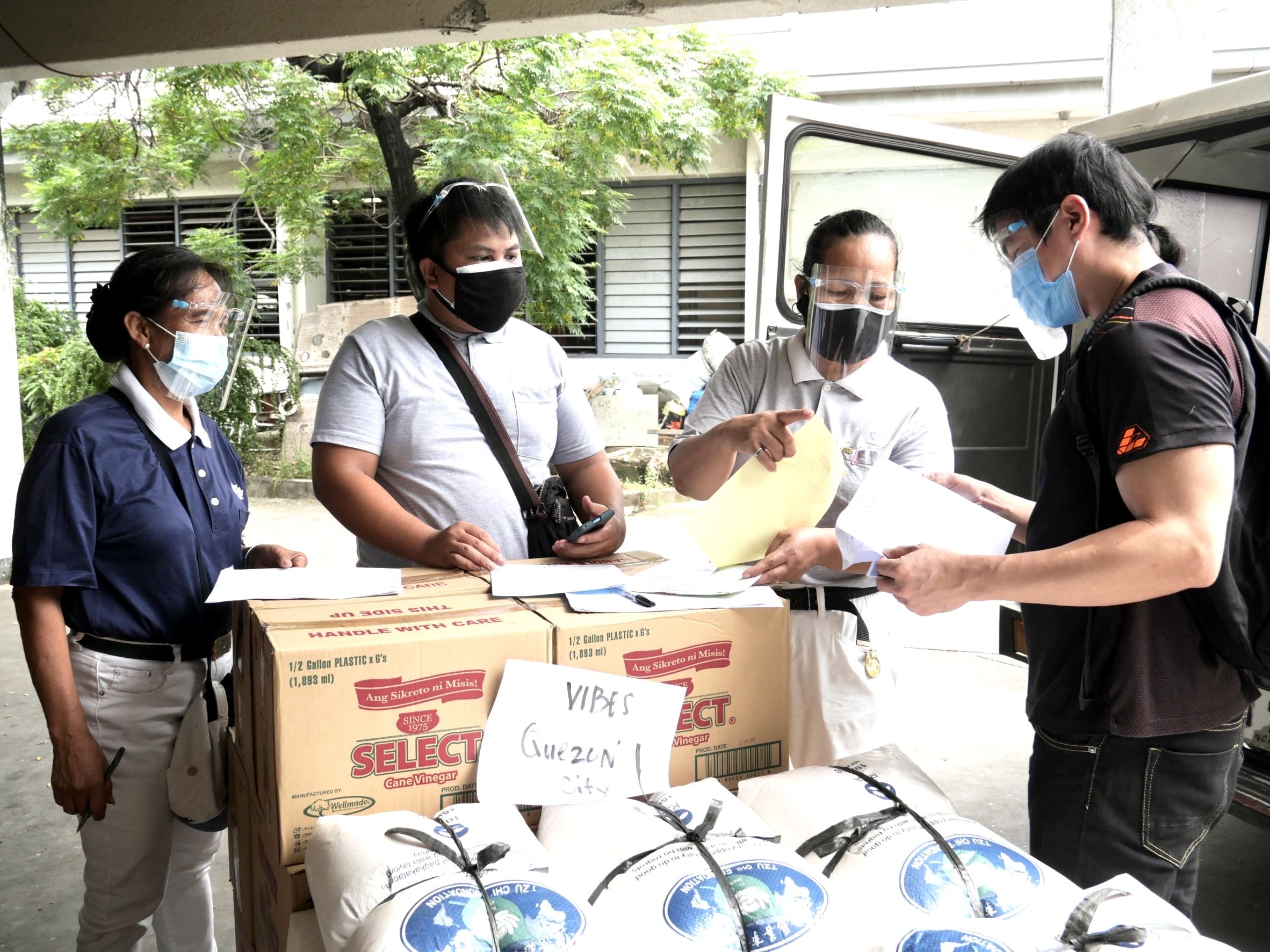 Representatives from VIBES Quezon City branch claim their rice and grocery relief at BTCC in 2021. 【Photo by Matt Serrano】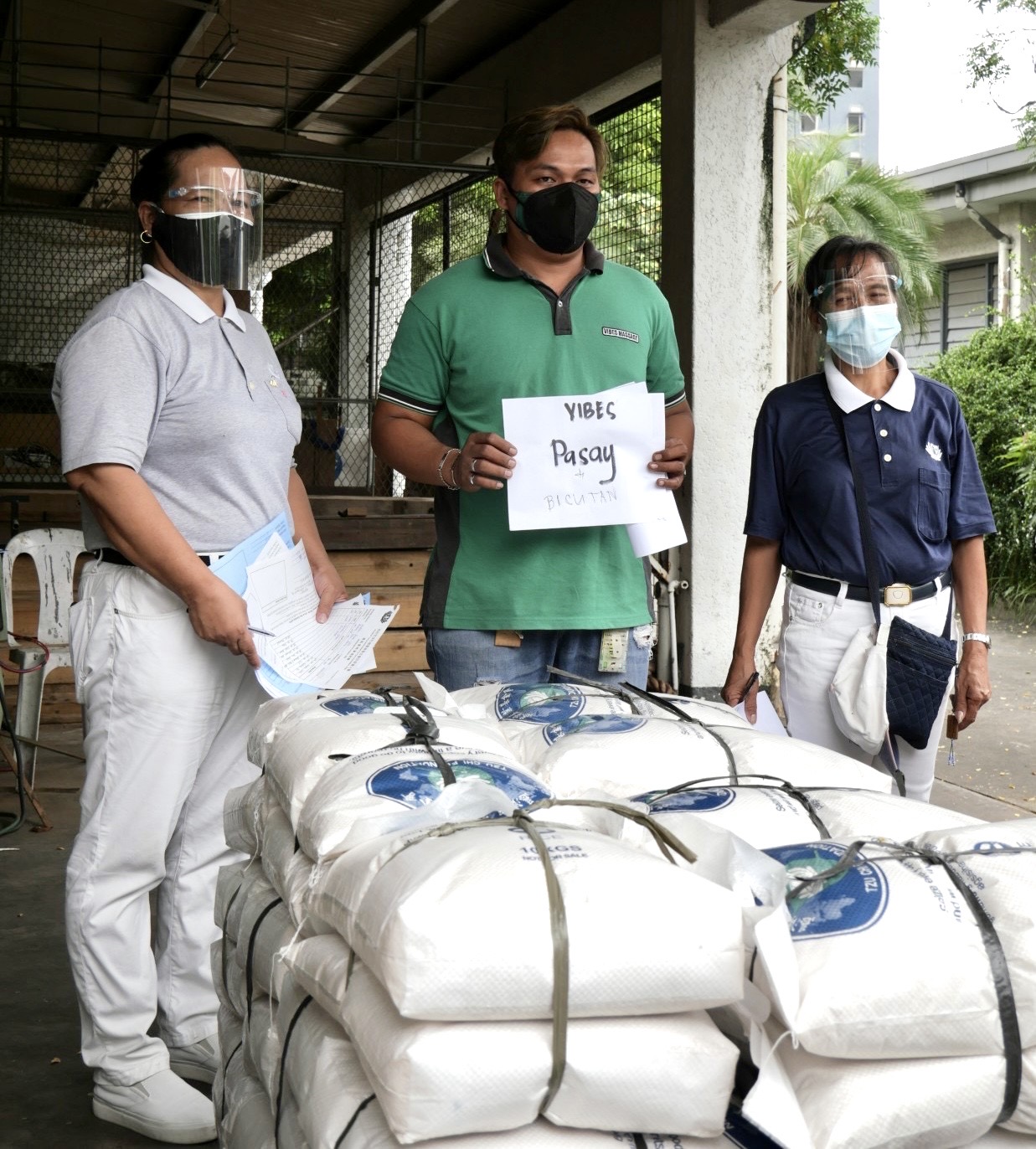 Tzu Chi volunteers flank a representative of VIBES Pasay as he claims rice. 【Photo by Matt Serrano】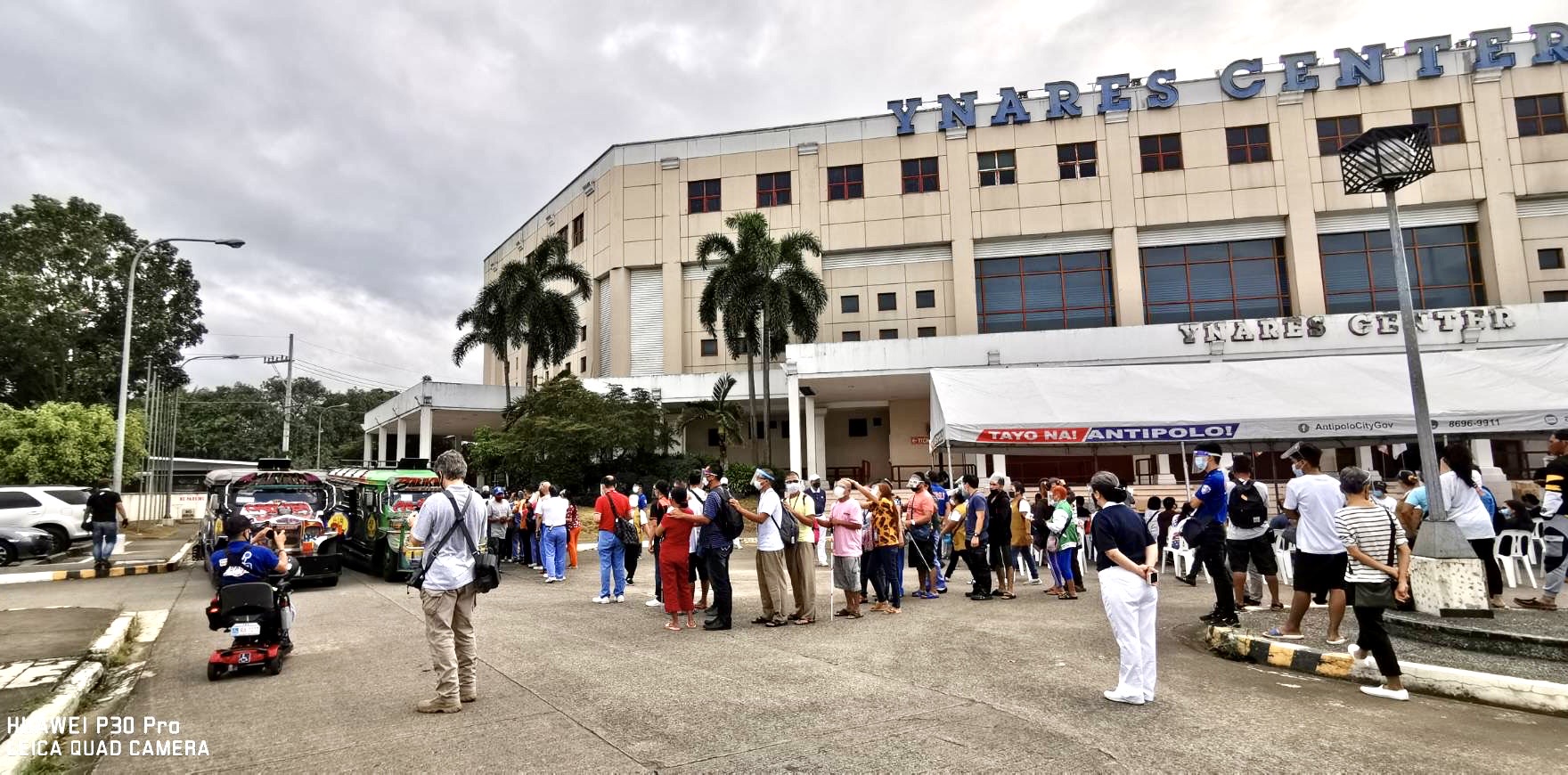 Blind massage therapists line up to claim their goods in a rice and grocery distribution organized by Tzu Chi at Antipolo's Ynares Center in 2021.
Go Back