Through Tzu Chi, they do good things
For these volunteers, giving brings happiness to the heart.
By Joy Rojas
On March 20, Tzu Chi volunteers from Manila, Marikina, San Mateo, Angeles City, Cebu, Davao, and Zamboanga marked the start of their training in a whole-day event held at the Buddhist Tzu Chi Campus in Sta. Mesa, Manila. The day began with the presentation of uniforms at the Jing Si Auditorium then proceeded with trainings on Tzu Chi principles and group sharing. Trainings were divided into Filipino-, English-, and Chinese-speaking sessions.
For Eliza Abragon, this milestone comes 11 years after she took up a friend's invitation to volunteer with a group that she was familiar with. "I was a domestic helper in Saudi Arabia during Typhoon Ondoy, and my children told me about how Tzu Chi Foundation helped Marikina," says Abragon, a resident of Barangay Malanday. "You clean your house and they give you money. Tzu Chi was a big help."
She also finds the idea of volunteerism appealing. As a Tzu Chi volunteer, she goes from house to house to collect recyclables. She also participates in home visits, often shelling out her own money for transportation and to help beneficiaries.
"My life is hard, but the lives of some of the people we visited are even harder," she says. "There was one family whose only food was cooking oil and soy sauce. And they had no rice. Luckily, I had money in my pocket. I don't have a lot of money, but when I see families like them, I can't help but share what I have because they are so pitiful. They're hungry."
"That's why it's good to be a volunteer," she adds. "It's better to give than to receive. It brings happiness to the heart."
Oftentimes, her presence alone was helpful enough. In the aftermath of Typhoon Yolanda, she was overwhelmed at the sight of storm victims in Tacloban who had lost their homes and loved ones from one of the worst cyclones in history.
"What we do, since we were taught, is we hug them," she says. "Can you imagine? They lost everything. They feel, and I feel, their hardship. You can't help but cry for them."
Though Abragon's ultimate goal is "to meet Master Cheng Yen before I grow old," this volunteer is already living her dream. "I really want to volunteer," she says. "It makes me happy."
Watching Master Cheng Yen on TV 20 years ago inspired Ang Mei Yuen to join the Tzu Chi Foundation's chapter in Davao. "I saw the compassion of Master Cheng Yen. Even if people don't know her, she has done so much for others," she says. One of Tzu Chi Davao's 13 commissioners, Ang accompanied five of the chapter's volunteers to their first trip to Manila.
Formed in 2016, Tzu Chi Davao conducts medical missions, relief distributions, and livelihood projects. Last January, volunteers made the three-hour trip to the mountainous Municipality of Talaingod, where they presented an indigenous community with 2,500 banana seedlings to plant for profit.
"They have a difficult life. Last year when we conducted a relief distribution with them, we found out that one family has 11 children but they only earn P500 a month. I said, 'How do you live?' They said, 'We eat kamote.' They're really very poor."
Upon Master Cheng Yen's approval, Tzu Chi Davao volunteers planted the seedlings together with indigenous farmers. "It takes a year for the seedlings to grow," says Ang. "Hopefully it will bring the people good income so their lives will improve. We will take care of looking for buyers for them."
It was Master Cheng Yen who said, "Do good things whenever the opportunity arises." Eliza Abragon, Ang Mei Yuen, and Tzu Chi volunteers in the Philippines and all over the world respond to this aphorism time and again. Anybody with a genuine heart to help can respond to this invitation, too.
"We need more volunteers," says Ang. "There are many people who are poorer than us, so we need to make more effort to help more people in need."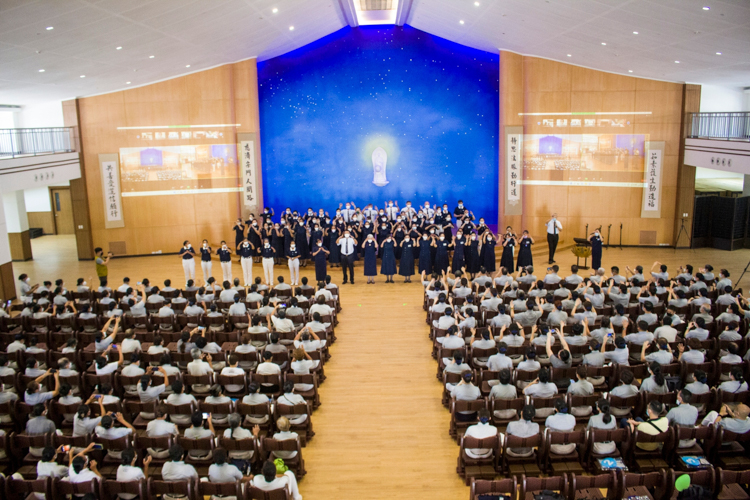 Volunteers from Manila, Marikina, San Mateo, Angeles City, Cebu, Davao, and Zamboanga gathered at the Jing Si Auditorium on March 20 for the start of Tzu Chi's volunteer training program. 【Photo by Matt Serrano】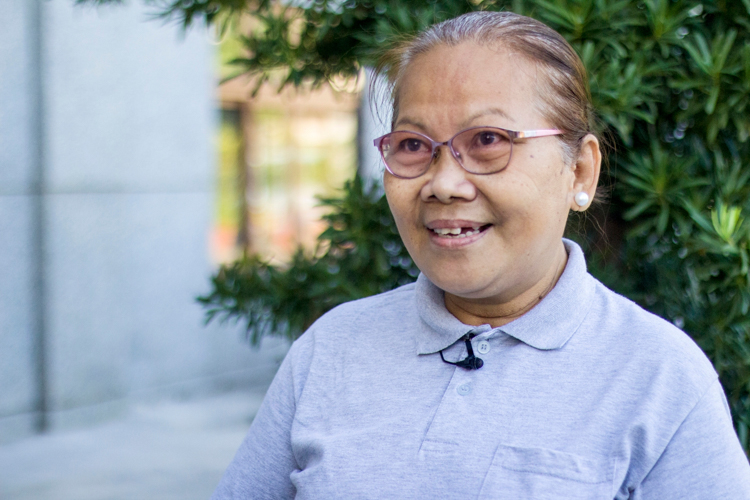 "It's good to be a volunteer," says Eliza Abragon. "It's better to give than to receive. It brings happiness to the heart." 【Photo by Matt Serrano】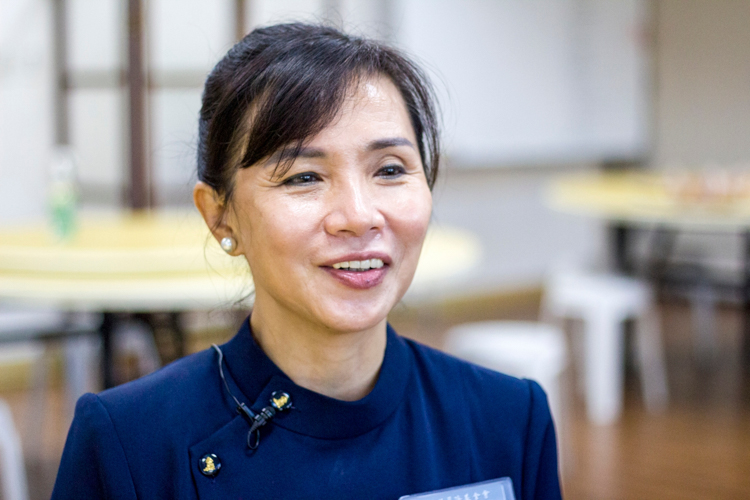 "There are many people who are poorer than us," says Tzu Chi Davao Commissioner Ang Mei Yuen. "We need to make more effort to help more people in need." 【Photo by Matt Serrano】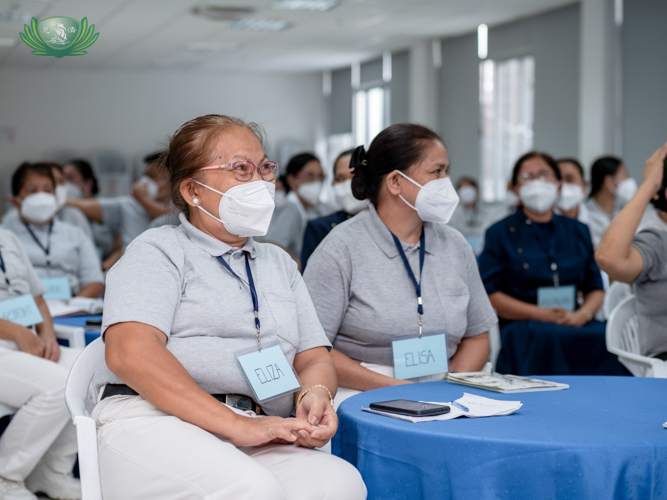 Eliza Abragon (left) listens during a volunteer training discussion. 【Photo by Daniel Lazar】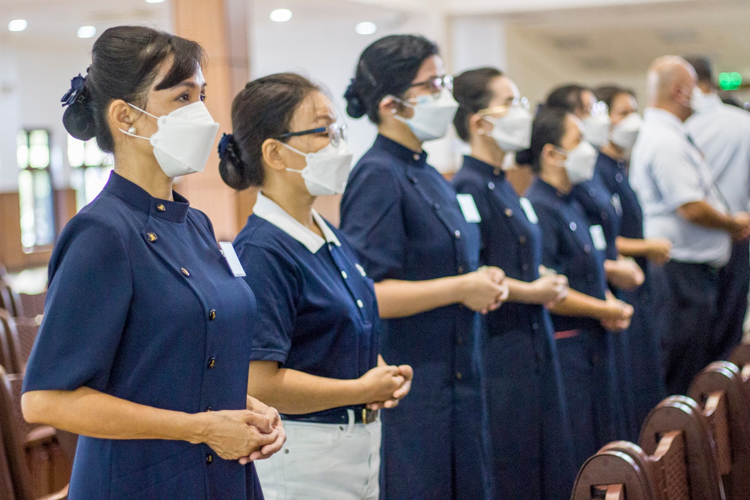 Ang Mei Yuen (first from left) is one of 13 commissioners in Tzu Chi Davao's chapter. 【Photo by Matt Serrano】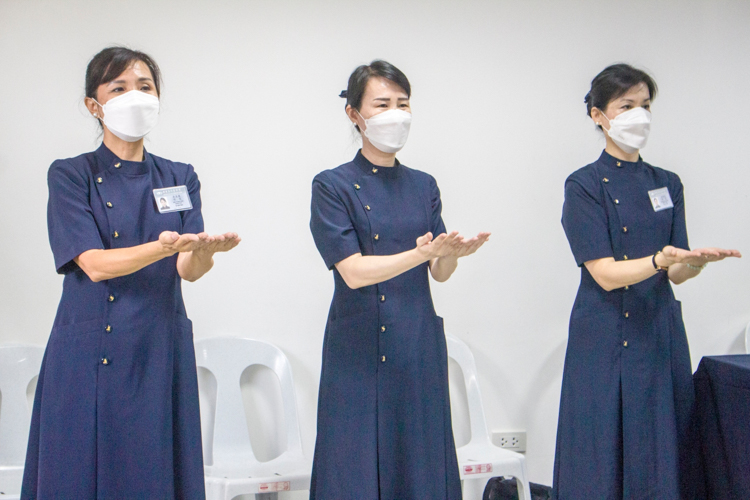 Ang Mei Yuen (first from left) joins other commissioners in leading volunteers to a song in sign language. 【Photo by Matt Serrano】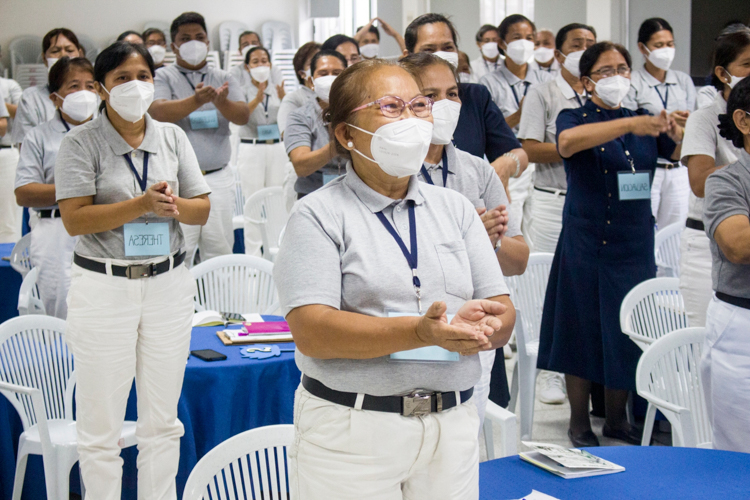 Eliza Abragon (foreground) participates in performing a song in sign language. 【Photo by Matt Serrano】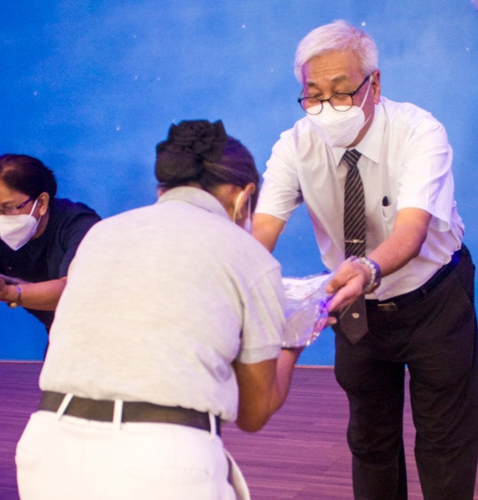 Eliza Abragon bows as she receives her volunteer uniform from Tzu Chi Philippines CEO Henry Yuňez. 【Photo by Matt Serrano】
Go Back