Tzu Chi volunteers hold Odette donation drives in Leyte, Davao malls
Volunteers welcomed pledges in any amount.
By Joy Rojas
Mall-goers who wanted to share their blessings with families struck by Super Typhoon Odette (Rai) last December 16 had the chance to do so through donation drives initiated by Tzu Chi Foundation before the end of 2021.
On December 29, volunteers were at the Metro Mall in Tacloban City, Leyte, accepting pledges in all amounts from shoppers—from P1,000 bills to 5 centavo coins. Typhoon Signal No. 4 was raised in Southern Leyte, resulting in severe damage to property and at least 32 lives lost, as of December 27, 2021.
The following day, volunteers in Davao City mounted their own donation drive in Gaisano Mall. The storm dumped heavy rains over Northern Mindanao and the Caraga region, leaving thousands of families displaced and without food and water just days before Christmas.
"I just feel sad about what happened to them," said one emotional female donor to a volunteer. "Thanks to you guys, at least you can relieve them, help them build a new home and give them food."
"If everybody can give, even 1 peso, that's very good, right?" acknowledged the volunteer.
Help Tzu Chi Foundation help our brothers and sisters in the Visayas and Mindanao get back on their feet after this horrific disaster. Your pledge will go a long way in providing them with food, water, and other basic needs.
Kindly send your donations to any of the accounts listed below. Please screenshot your deposit with your name so we can send you your donation receipt.
Please send donation details and deposit slips to cellphone number (0967) 211-0940 (Line/Viber/WeChat accounts) to facilitate the issuance of your official receipt.
Account Name: Buddhist Compassion Relief Tzu Chi Foundation Philippines Inc.
METROBANK Account Number: 163-3-163-07190-9
Account Name: Buddhist Compassion Relief Tzu Chi Foundation Philippines Inc.
BDO Account Number: 011-9-7800-180-0
DSWD AUTHORITY SOLICIATION PERMIT NO. DSWD-SB-00004-2022, Nationwide. Valid until August 5, 2022.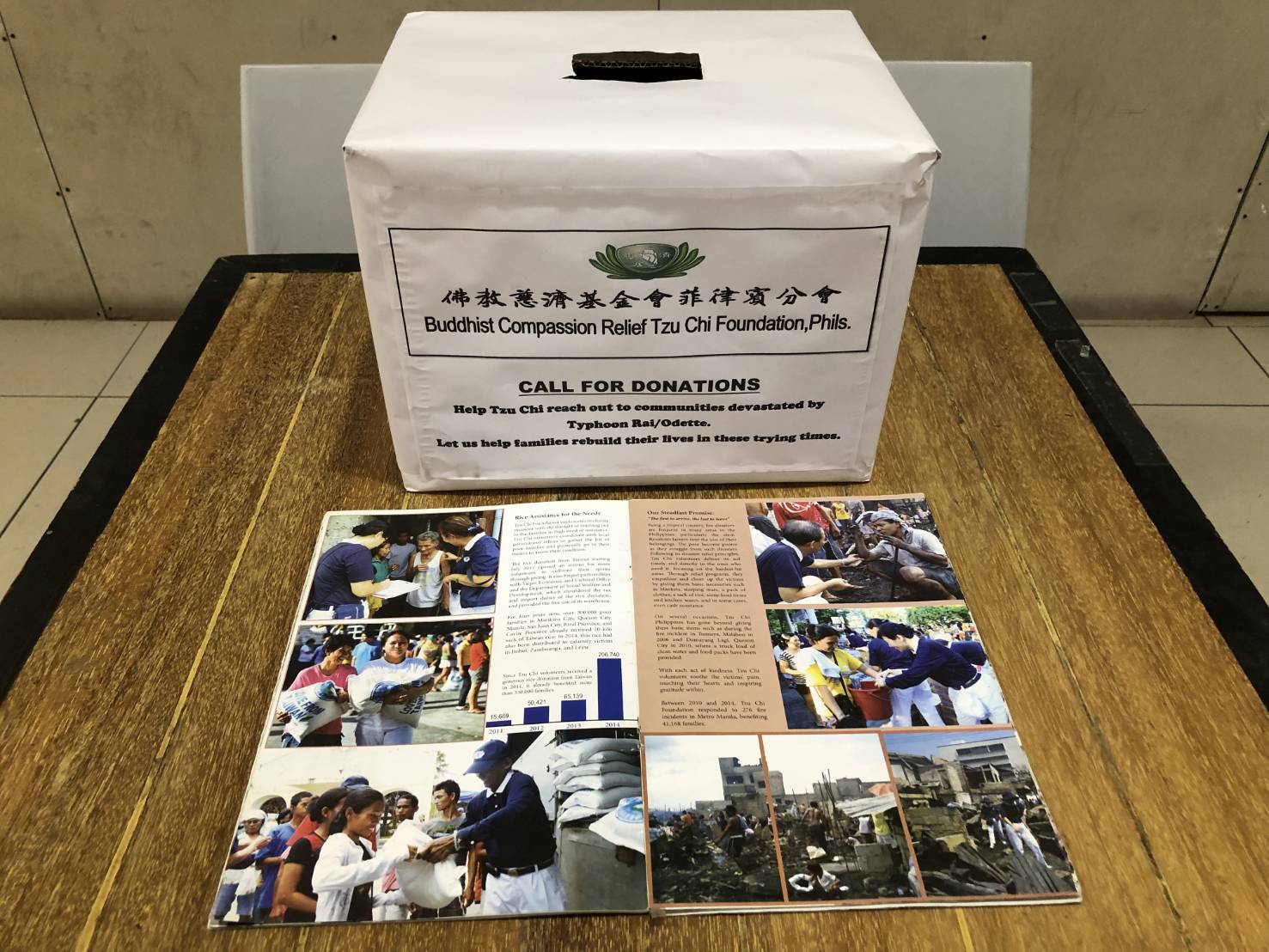 Pledges in any amount are placed inside donation boxes like this. A Tzu Chi pamphlet with pictures of various relief efforts undertaken through the years by the foundation shows donors exactly where their financial help goes.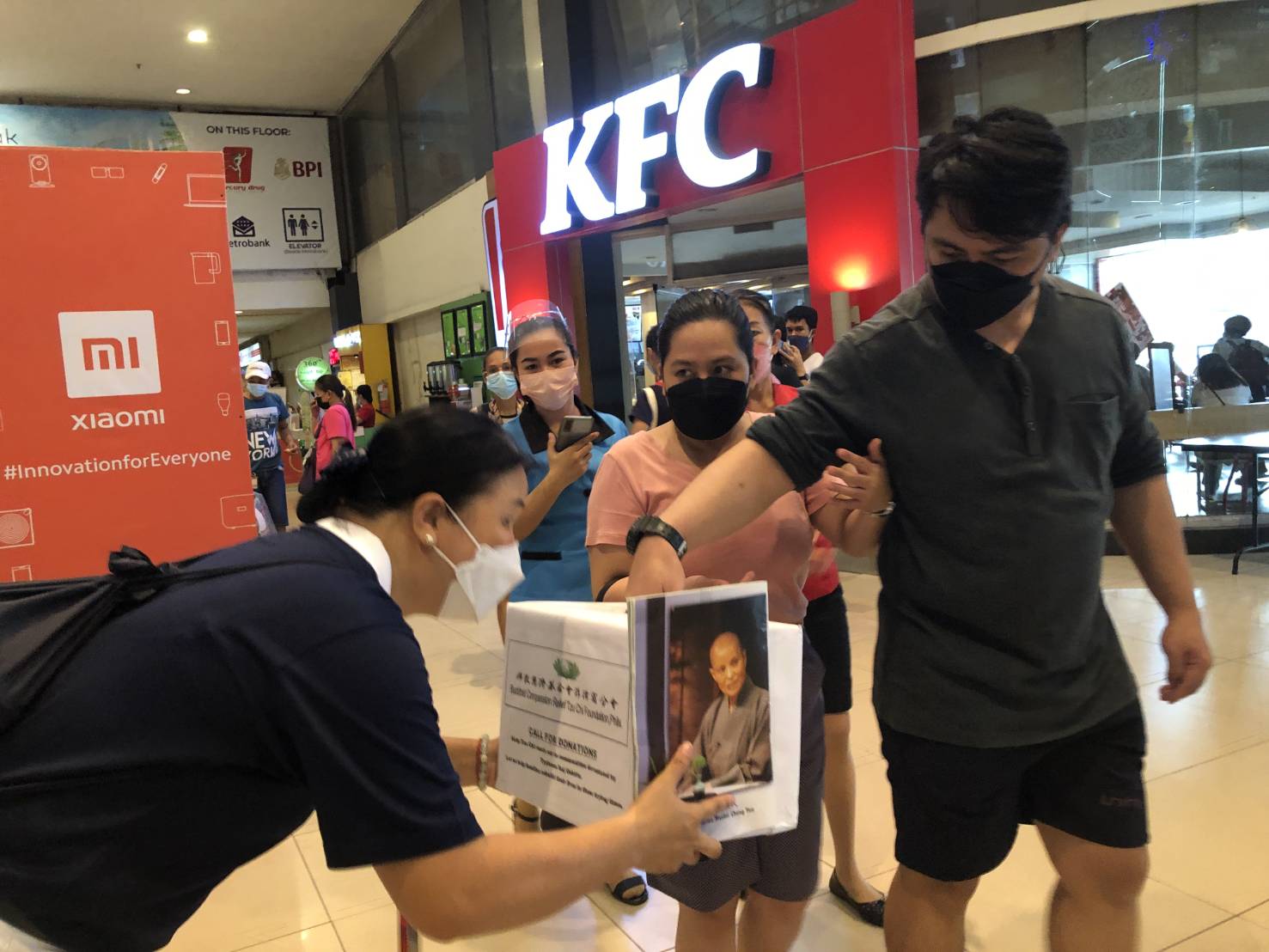 A volunteer accepts a donation in a box with Dharma Master Cheng Yen's photo on the side. "Giving is not a privilege of the rich," said Master. "It is the privilege of the sincere."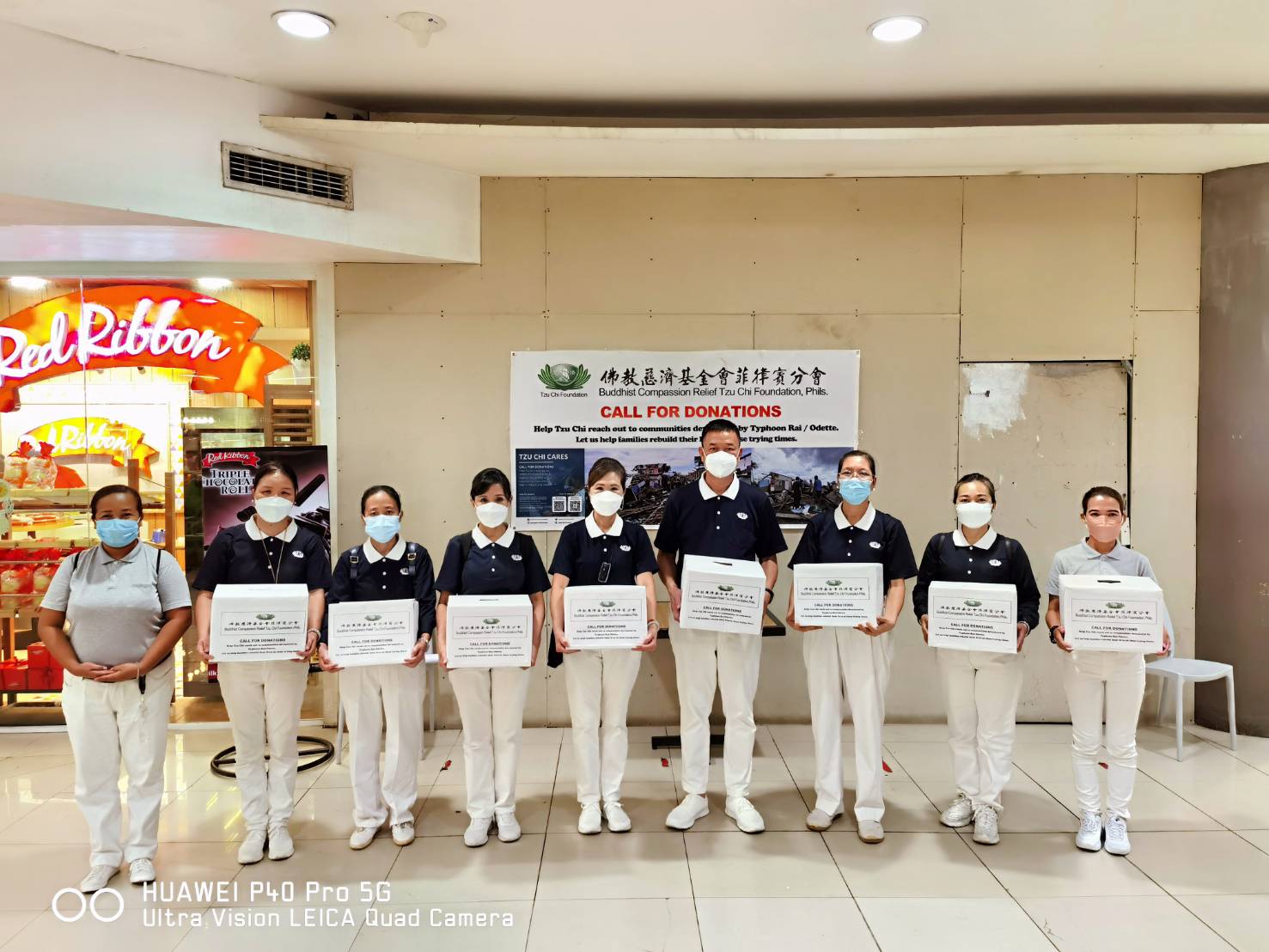 The team of Tzu Chi volunteers and their collection boxes at the Gaisano Mall in Davao City.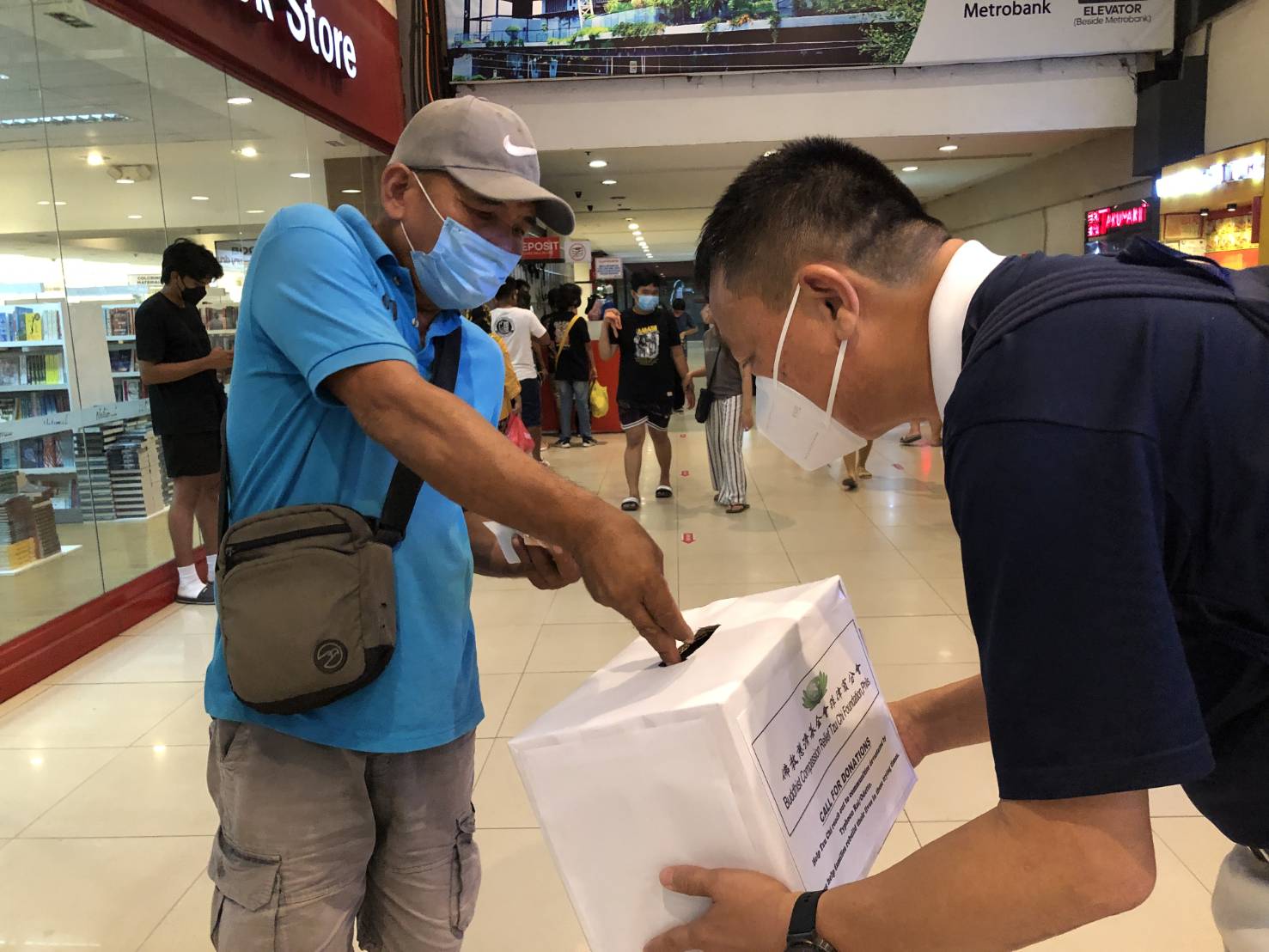 At the Gaisano Mall in Davao City, a volunteer bows in gratitude as a shopper places money in a collection box.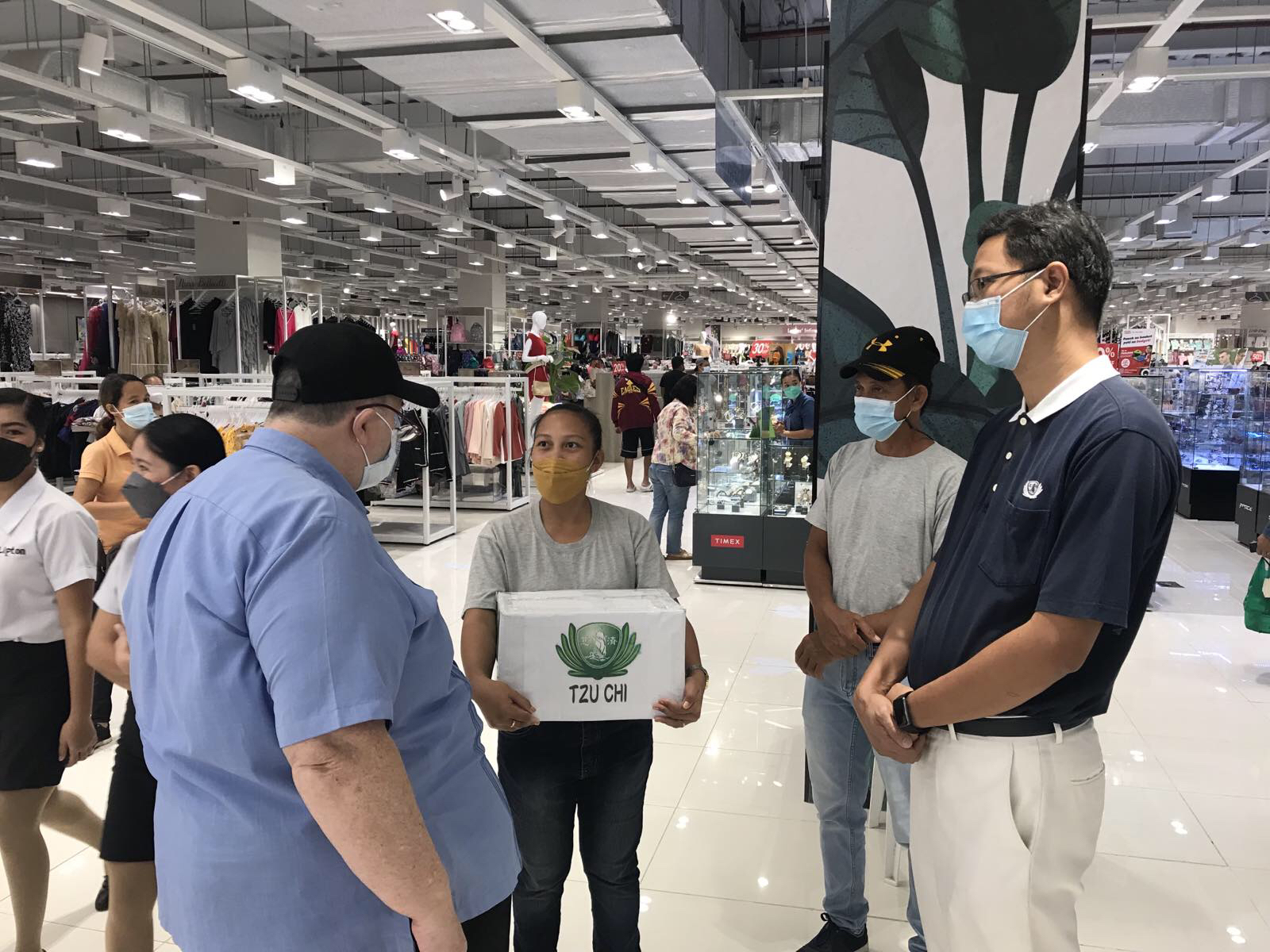 Volunteers in Metro Mall Tacloban explain to a shopper where pledges for this donation drive will go.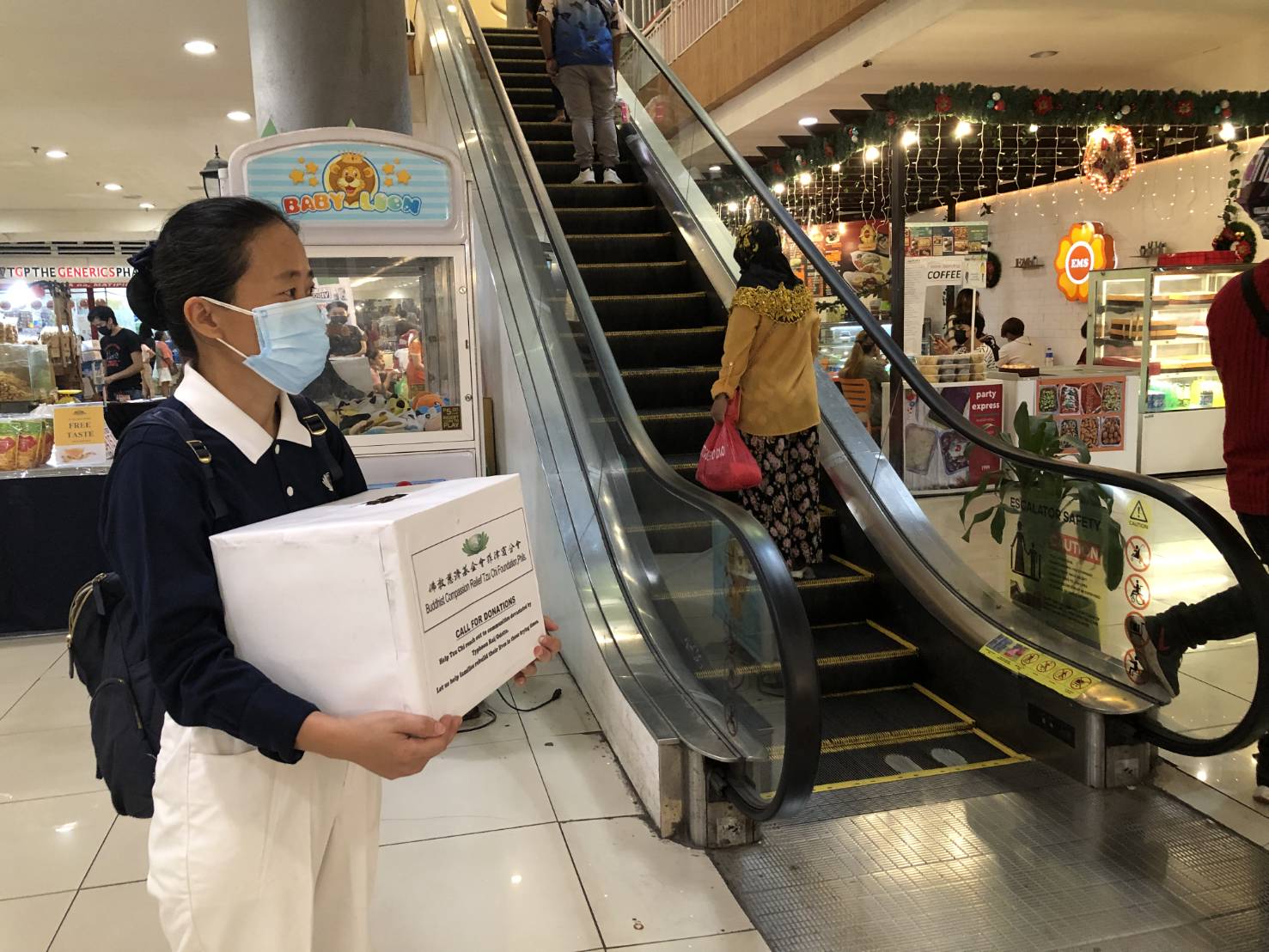 A volunteer waits patiently for shoppers by an escalator.
Go Back