Tzu Chi welcomes 69 new scholars in October 8 event
The gathering coincided with the first Humanity class for academic year 2023-2024.
By Joy Rojas
Sixty-nine new scholars were recognized by Tzu Chi Foundation Philippines in a gathering held on October 8 at the Buddhist Tzu Chi Campus in Sta. Mesa, Manila. The event, which saw scholars awarded with certificates by Tzu Chi commissioners, coincided with the first Humanity class for academic year 2023-2024.
"We would like to congratulate our newly admitted college scholars," says Joseph Ian Manlulu, a volunteer under the educational assistance program of Tzu Chi's Charity Department. "We hope they study well and learn many things from the succeeding Humanity classes, so they can apply them in their daily lives."
Complementing the knowledge and skills taught to scholars in their respective courses, Tzu Chi's monthly Humanity classes impart universal values espoused by Dharma Master Cheng Yen. Despite their religious backgrounds and beliefs, scholars find themselves drawn to many of Master Cheng Yen's teachings, which are based on Buddhist principles.
Describing herself as a conservative Muslim, Chermee Jandilon was apprehensive at first about applying for a Tzu Chi scholarship. "But during the initial interview with the aunties, they assured me that the Humanity class wasn't about conversion. Rather, it would teach me a way of life." By the end of the scholars' orientation, the 20-year-old BS Psychology major from the Polytechnic University of the Philippines looked forward to developing new points of view and better insights with Tzu Chi's guidance.
"I want them to help me improve my personality," she says. "As they said, there's an innate Buddha in everyone. Sometimes, I wonder: Do we really have that in us, especially when we're so full of negativity? But I would like to see that side of me."
Rest assured, there is an innate Buddha in her. The daughter of a taxi driver, Chermee sought a scholarship to ease her father's financial woes. Graduating from college will give her the capacity to help him and her two younger siblings who are still in school. "Also, to give back to the community," she says, "and to put into practice the teaching of Tzu Chi—to help others in any way I can."
New scholar Rayhana Angeles also possesses qualities promoted in Humanity classes. "She's smart, kind, patient, generous, and loving and helpful to her family and those around her," says her mother Noria. Holding back tears, Noria adds, "If I were in her place, I don't think I could have handled the hardship we went through."
After living amid the threat of indiscriminate firing in her native Isulan, Sultan Kudarat, Rayhana was a little girl when she and her family moved to Manila in 2000. Though relatively peaceful, her new home was not without its challenges. Traumatized by the war, her father makes a pittance selling mineral water, while her mother sells the popular Muslim dish pastil and accepts odd jobs to ensure four of her six children have money to go to school. (The other two stopped schooling to work.) The Angeles' resources are so meager, they can only afford to eat twice a day.
"My classmates know that I sell socks," says the 26-year-old Rayhana, who is taking her Bachelor of Secondary Education major in Filipino at Pamantasan ng Lungsod ng Maynila. "Sometimes when I go to school, the only money I have is for transportation. When I don't have money to go home, my classmates give me money."
A scholarship from the Tzu Chi Foundation offers a ray of hope to a family who has been through a lot.
I'm very grateful to Tzu Chi," says Rayhana. "The opportunity that you gave me will not go to waste. I'll do my best to finish my studies and serve as an inspiration to future scholars to stick with their studies and keep setting goals."
"Thank you so much that there is a Buddhist foundation that helps the poor like us," says Noria. "Thank you for accepting my daughter into your scholarship program."
To Rayhana, Noria says, "Do your best. Just take care of yourself so your grades can improve and you can be with Tzu Chi Foundation until you finish your studies. Don't worry about us. We'll be behind you supporting you all the way."
As of this writing, Tzu Chi Foundation has a total of 1,164 scholars nationwide. The National Capital Region has 385 scholars: 18 in elementary, 72 in junior high school, 64 in senior high school, and 231 in college. Scholars in the provincial offices number 779: 48 in Bicol, 43 in Iloilo, 28 in Pampanga, 31 in Palo, 1 in Tacloban, 149 in Ormoc, 296 in Bohol, 154 in Cebu, and 29 in Zamboanga.
Tzu Chi Foundation's latest batch of scholars gathers for a group photo at the Jing Si Auditorium of Buddhist Tzu Chi Campus in Sta. Mesa, Manila. 【Photo by Kinlon Fan】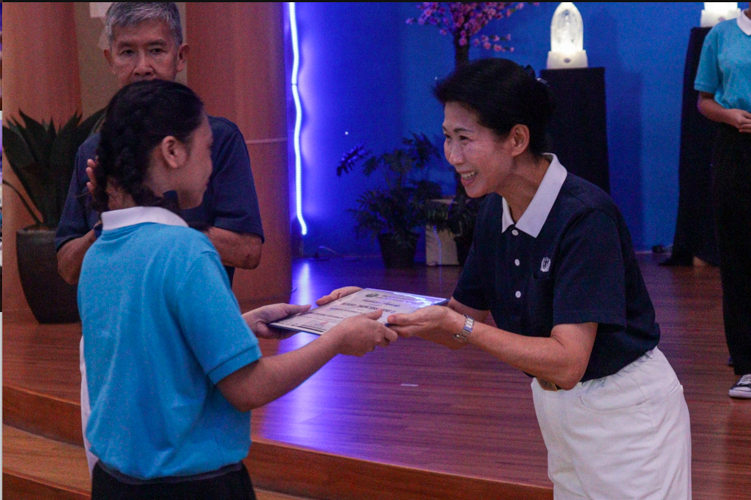 Tzu Chi Philippines Deputy CEO Woon Ng (right) presents a certificate to a new Tzu Chi scholar. 【Photo by Kinlon Fan】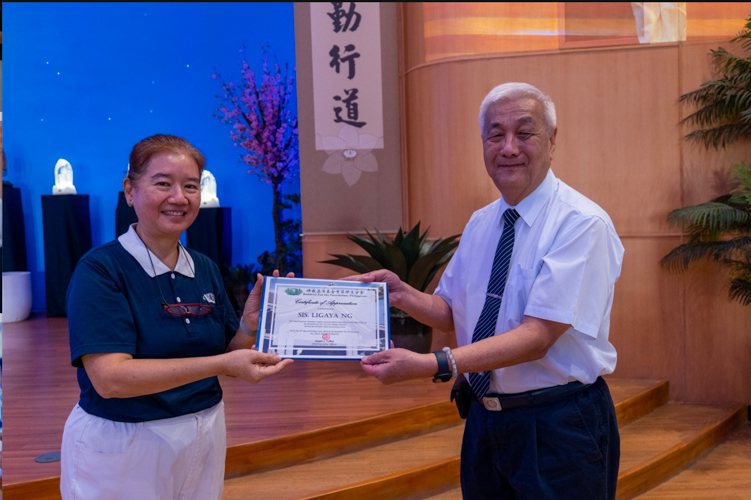 A longtime volunteer of Tzu Chi's mission of education, Ligaya Ng (left) receives a certificate of appreciation from Tzu Chi Philippines CEO Henry Yuñez. 【Photo by Jeaneal Dando】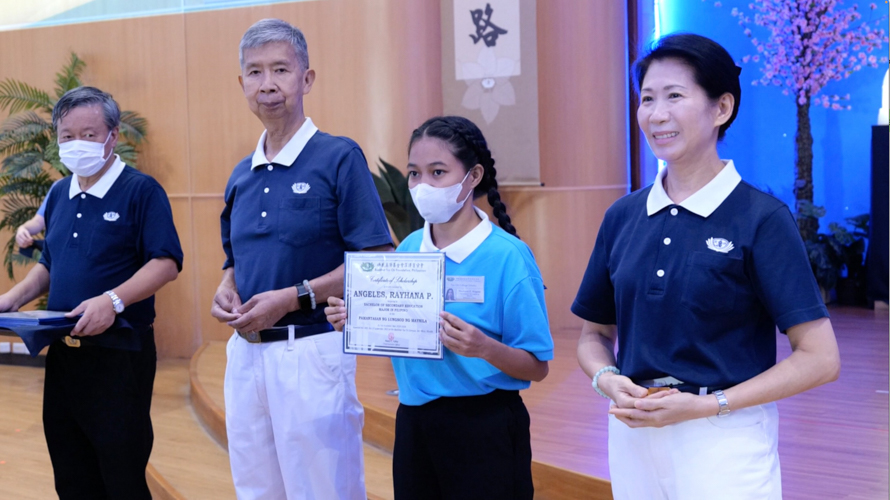 Rayhana Angeles (second from right) receives her scholarship certificate from Tzu Chi volunteers (from left) Johnny Kwok, Rudy Ong, and (first from right) Tzu Chi Philippines Deputy CEO Woon Ng. 【Photo by Jeaneal Dando】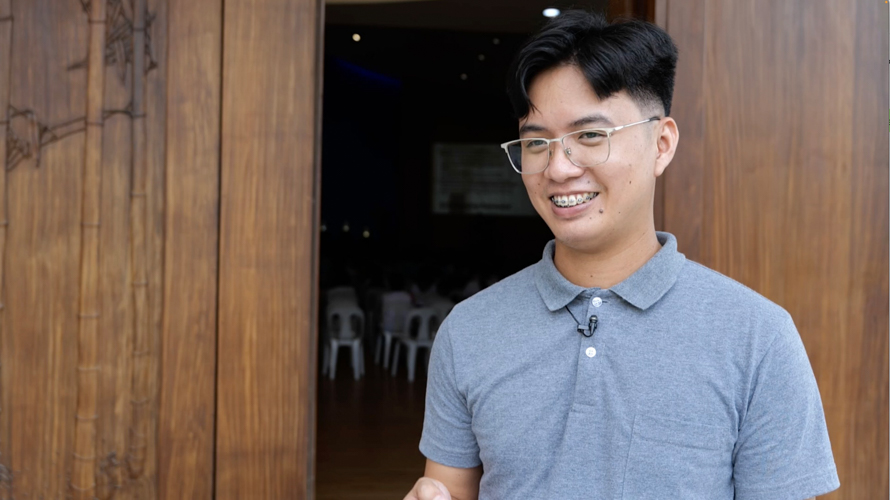 Joseph Ian Manlulu, a volunteer under the educational assistance program of Tzu Chi's Charity Department, congratulates Tzu Chi's latest batch of scholars. "We hope they study well and learn many things from the succeeding Humanity classes, so they can apply them in their daily lives." 【Photo by Jeaneal Dando】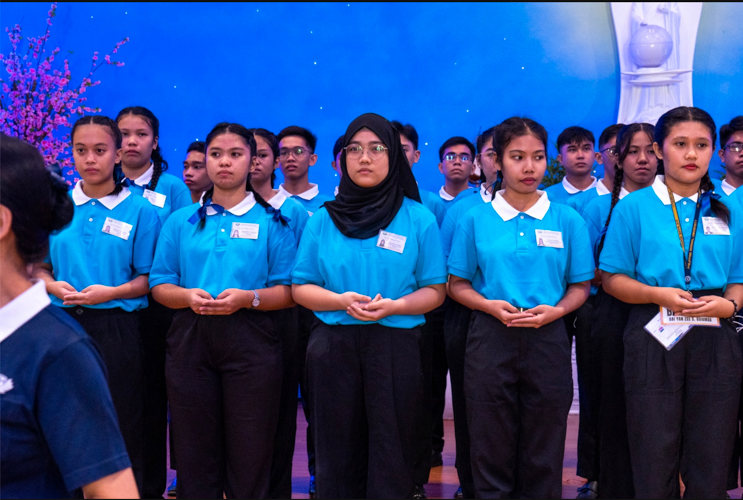 Worried at first about conversion, self-described conservative Muslim Chermee Jandilon (third from right) now looks forward to improving her personality with Tzu Chi's guidance. "As they said, there's an innate Buddha in everyone," says the 20-year-old BS Psychology major from the Polytechnic University of the Philippines. 【Photo by Jeaneal Dando】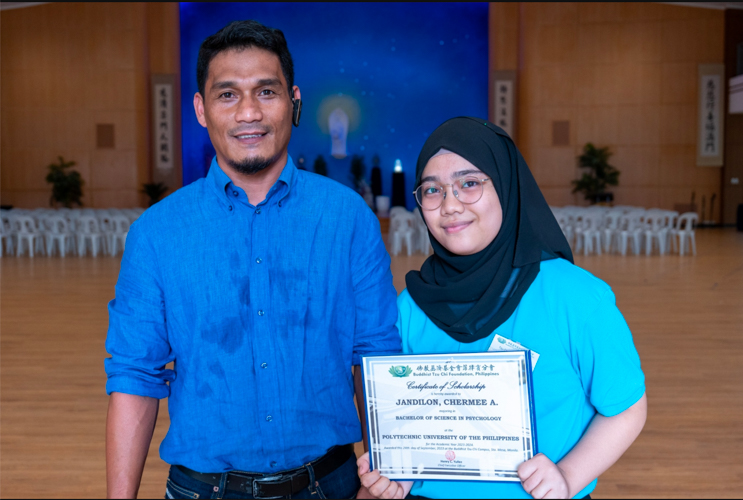 Twenty-year-old Chermee Jandilon, a BS Psychology major from the Polytechnic University of the Philippines (right), proudly holds up her scholarship certificate with her father, taxi driver Charlie. 【Photo by Jeaneal Dando】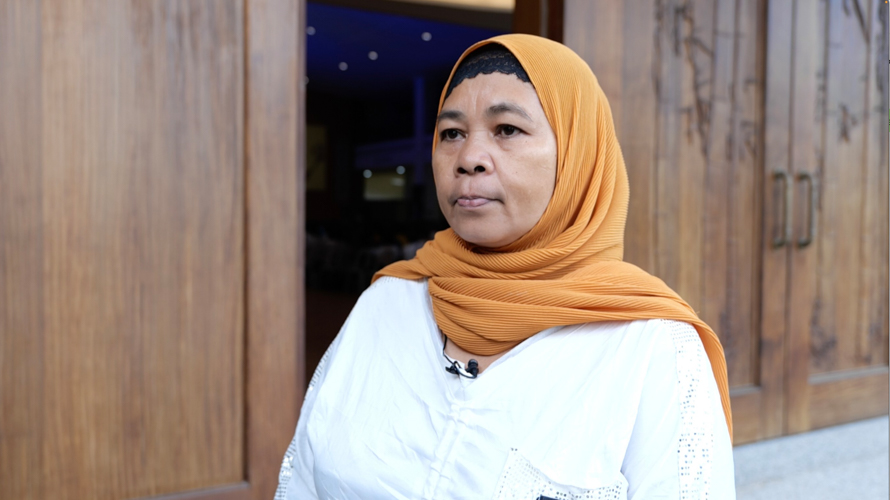 "Thank you so much that there is a Buddhist foundation that helps the poor like us," says Noria Angeles. "Thank you for accepting my daughter Rayhana into your scholarship program." 【Photo by Jeaneal Dando】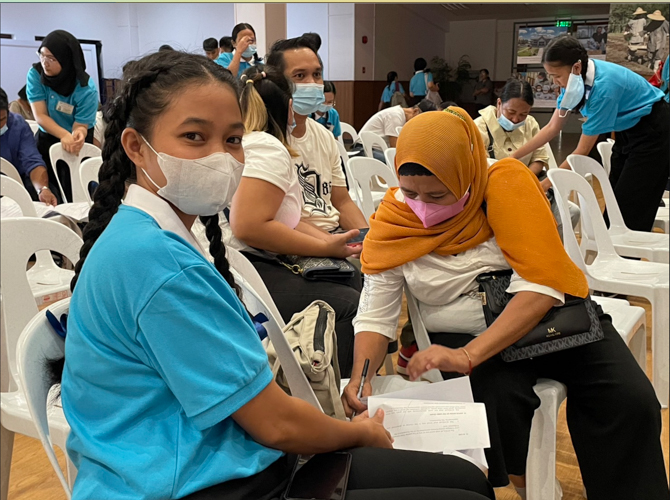 Described by her mother Noria (right) as smart, kind, patient, generous, and loving and helpful to her family and those around her, Rayhana Angeles (left) surprised the family with news that she was accepted as a scholar of the Tzu Chi Foundation. Rayhana, 26, is taking her Bachelor of Secondary Education major in Filipino at Pamantasan ng Lungsod ng Maynila. 【Photo by Jeaneal Dando】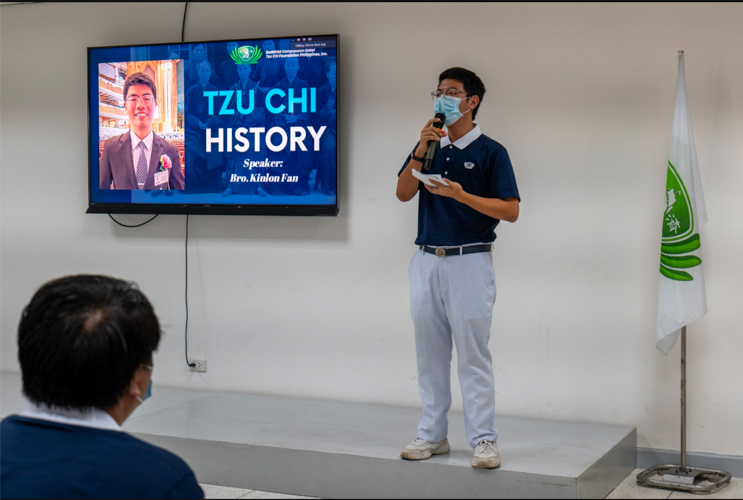 Once a member of Tzu Chi Youth, Kinlon Fan leads a discussion on Tzu Chi's history in a Humanity class for new scholars in the college level. 【Photo by Jeaneal Dando】
Go Back