Gifts, gratitude, and inspiration at Tzu Chi Tech-Voc thanksgiving
Tech-Voc scholars gave thanks and performances; received gifts and encouragement on year-end party.
By Ben Baquilod
The scholars of the Technical-Vocational Program of the Tzu Chi Foundation held a Thanksgiving Day on December 16 at the Buddhist Tzu Chi Campus in Sta. Mesa, Manila.
"This event is to express our gratitude to everyone, especially the volunteers who support our program," said Tech-Voc Department Administrator Elizabeth Auste.
Scholars performed song and dance numbers, played party games with Tzu Chi volunteers, and shared stories of gratitude that touched the attendees. "When I entered Tzu Chi, my intention was just to study and graduate. But as the days passed by, my mind was opened with the teachings that the volunteers have generously shared with us," said caregiving scholar Sharmaine Placido.
Hailing from Iloilo, Sharmaine tried her luck to apply for Tzu Chi's caregiving course in the hopes of landing a job abroad. She wants to help provide for her family after her father lost his job due to heart disease. "I earn so little in the province, so we couldn't give my father proper maintenance medications," she said.
But it was not only hope for a brighter future that Sharmaine got from crossing paths with Tzu Chi. "Before, I was only thinking about my will to survive. It was just always me. But now, my mind my broadened that I must not live for myself and my family alone," she said.
In Tzu Chi, she learned to help others without expecting anything in return. "And it's not about how big or small you give. The most important thing is you give it whole-heartedly," she added.
Tzu Chi Philippines Deputy CEO Woon Ng was happy to see the development of the Tech-Voc scholars. "It is blessing for Tzu Chi to have you," Ng addressed the students. "We are thankful to see your seriousness to learn not only these technical skills, but also the precious values and teachings Master Cheng Yen has been sharing with you every day."
Volunteer Ligaya Ng reminded the scholars of the value of continuous self-cultivation of wisdom and character. "In this journey of ours—the Boddhisatva path—all of us are still not perfect. We all have our own weaknesses. But, let go of the "I" that keeps on focusing on those weaknesses of others." Ng told them, instead, to pick them up as a learning to be more upright and compassionate.
In a message of encouragement, volunteer Johnny Kwok narrated how he attained a better life coming from a poor family. "I was a working student from high school to college. And my key to reaching where I am now is diligence, hard work, and thrift," he said.
"And after having my needs met, I asked myself, 'what else could make me happier'? And I found the answer in Tzu Chi—that is, to help other people."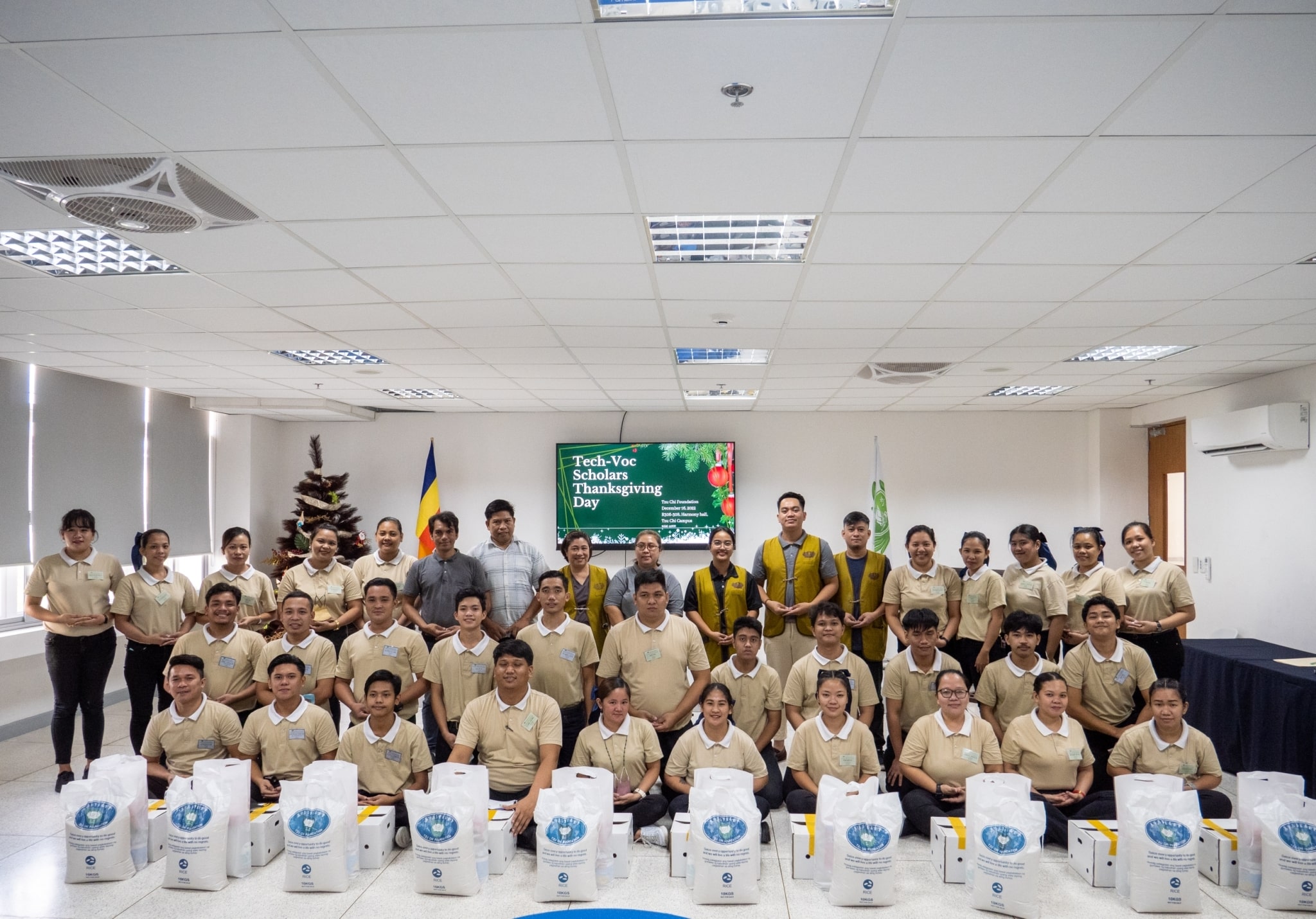 The scholars of the Technical-Vocational program of the Tzu Chi Foundation hold a Thanksgiving Day on December 16 at the Buddhist Tzu Chi Campus in Sta. Mesa, Manila. 【Photo by Jeaneal Dando】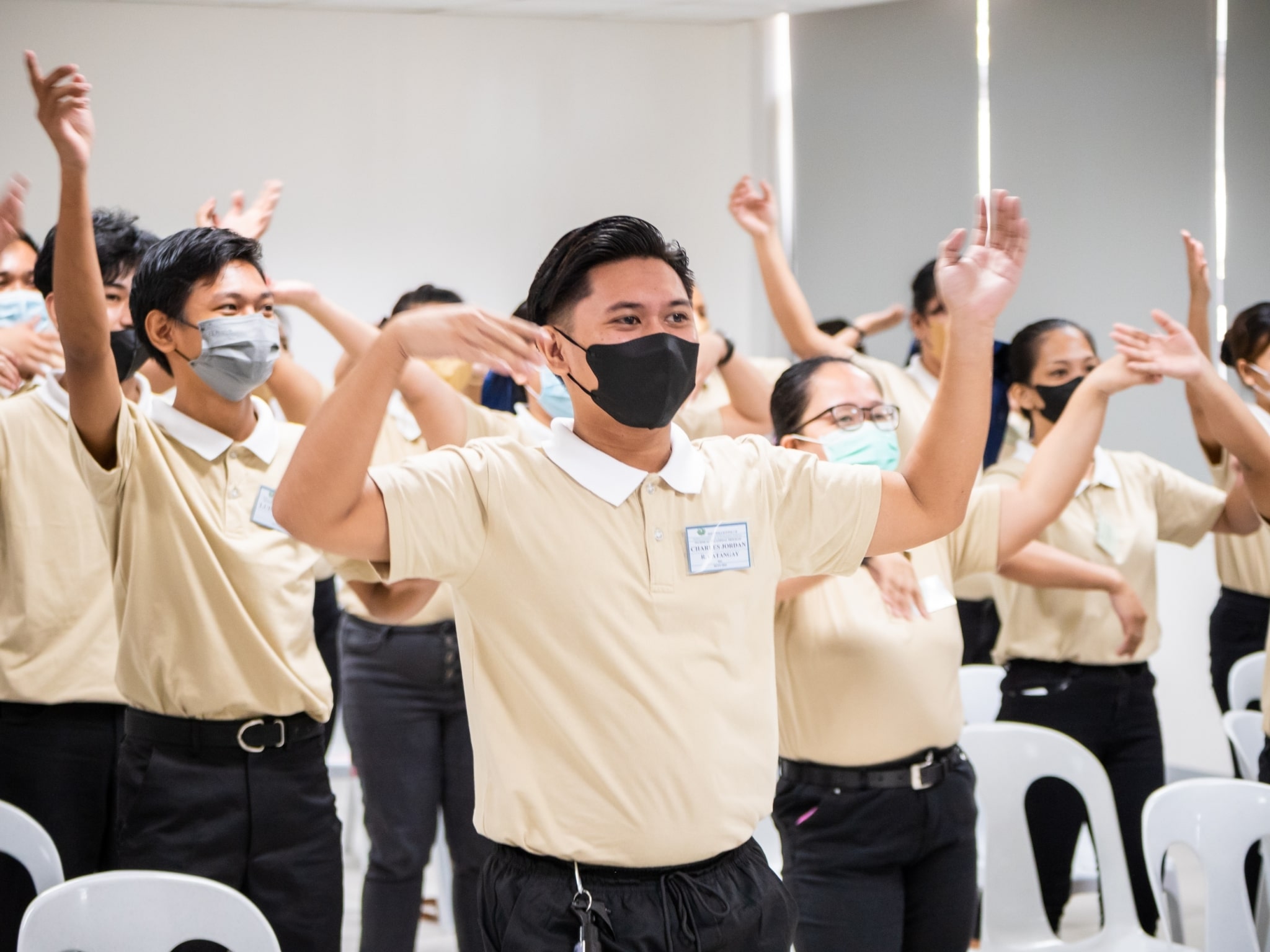 Scholars perform song and dance numbers during the Tech-Voc Thanksgiving Day. 【Photo by Daniel Lazar】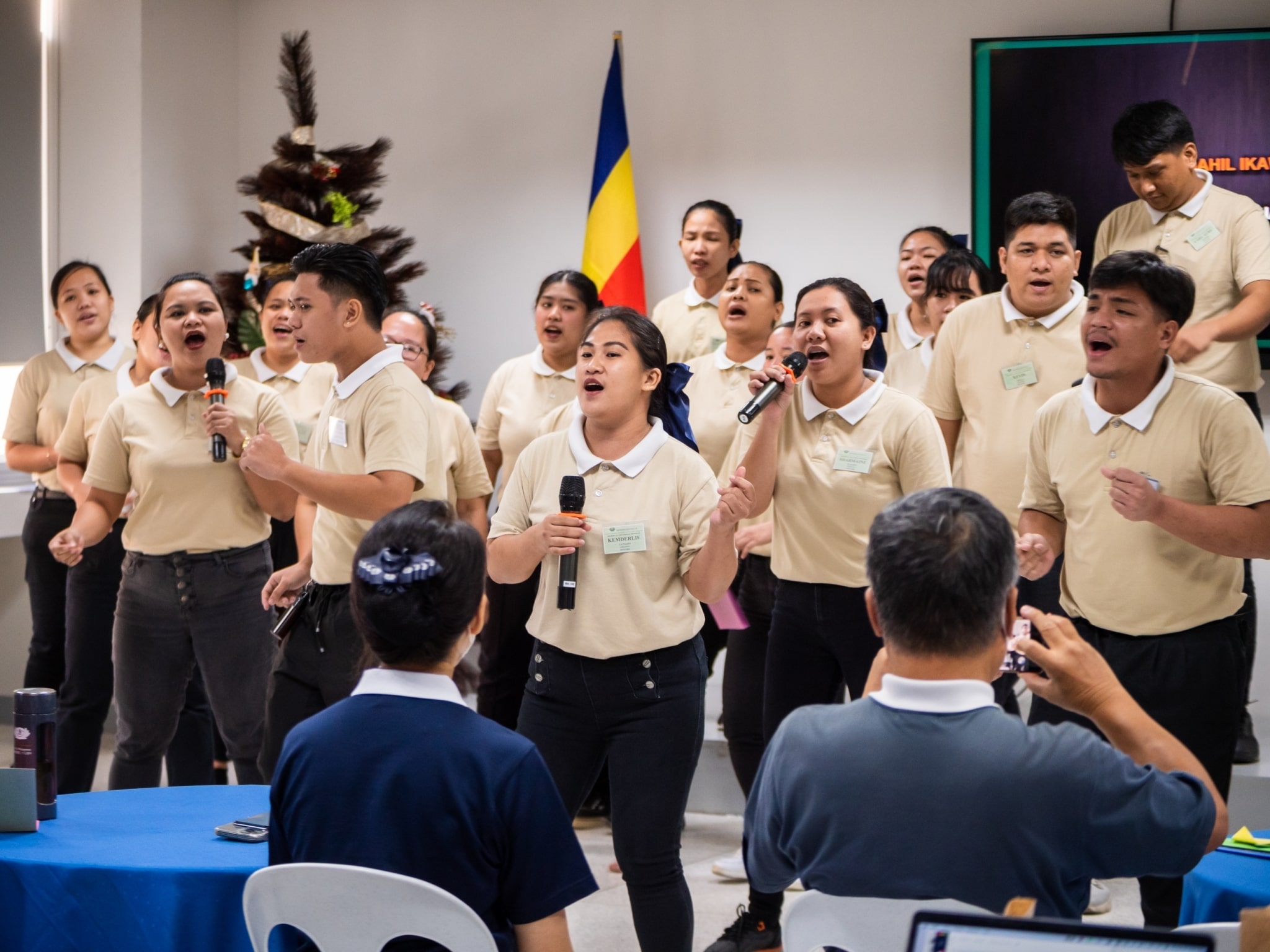 Scholars perform song and dance numbers during the Tech-Voc Thanksgiving Day.【Photo by Daniel Lazar】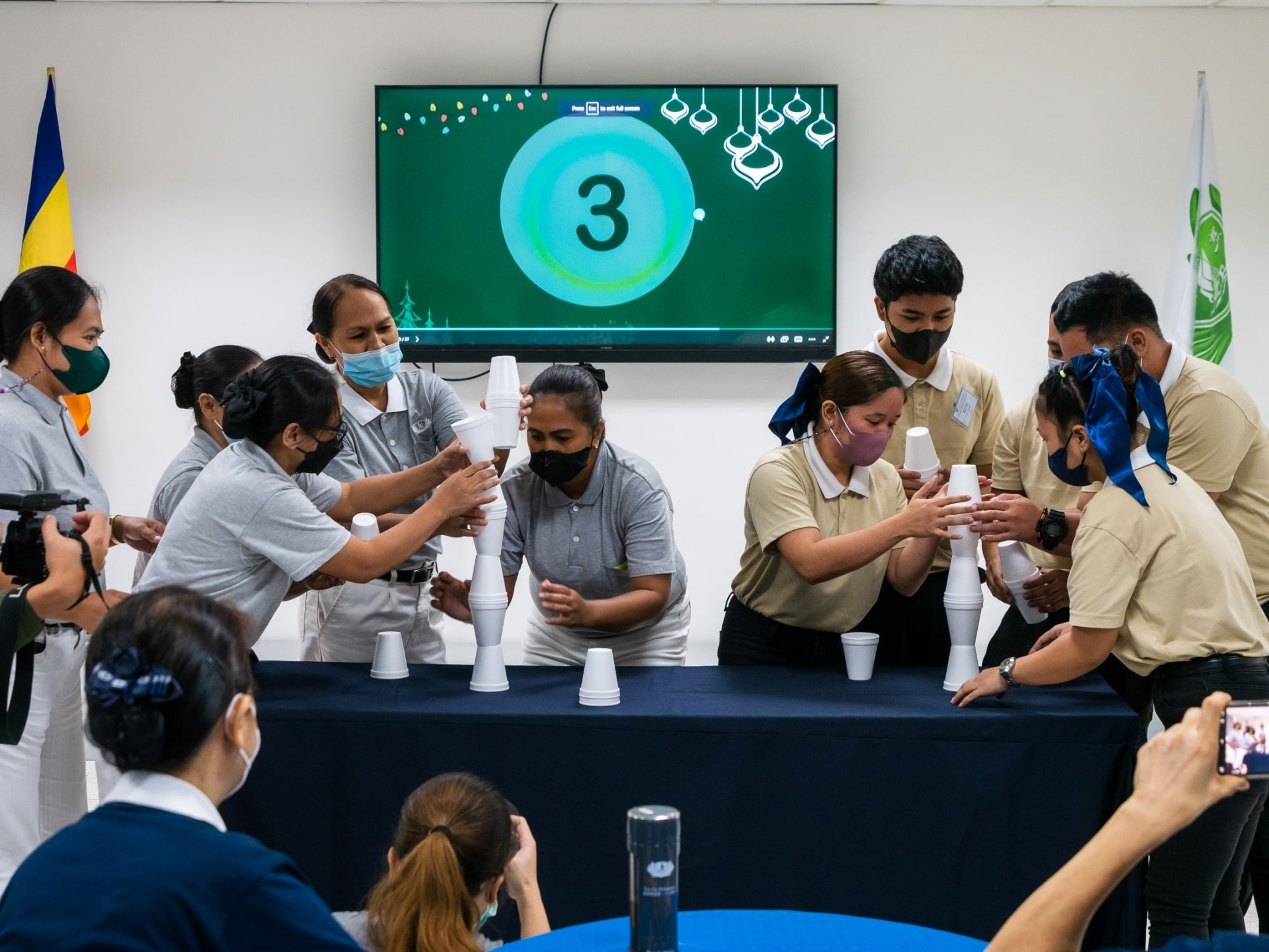 Tech-Voc scholars play fun party games with Tzu Chi volunteers.【Photo by Daniel Lazar】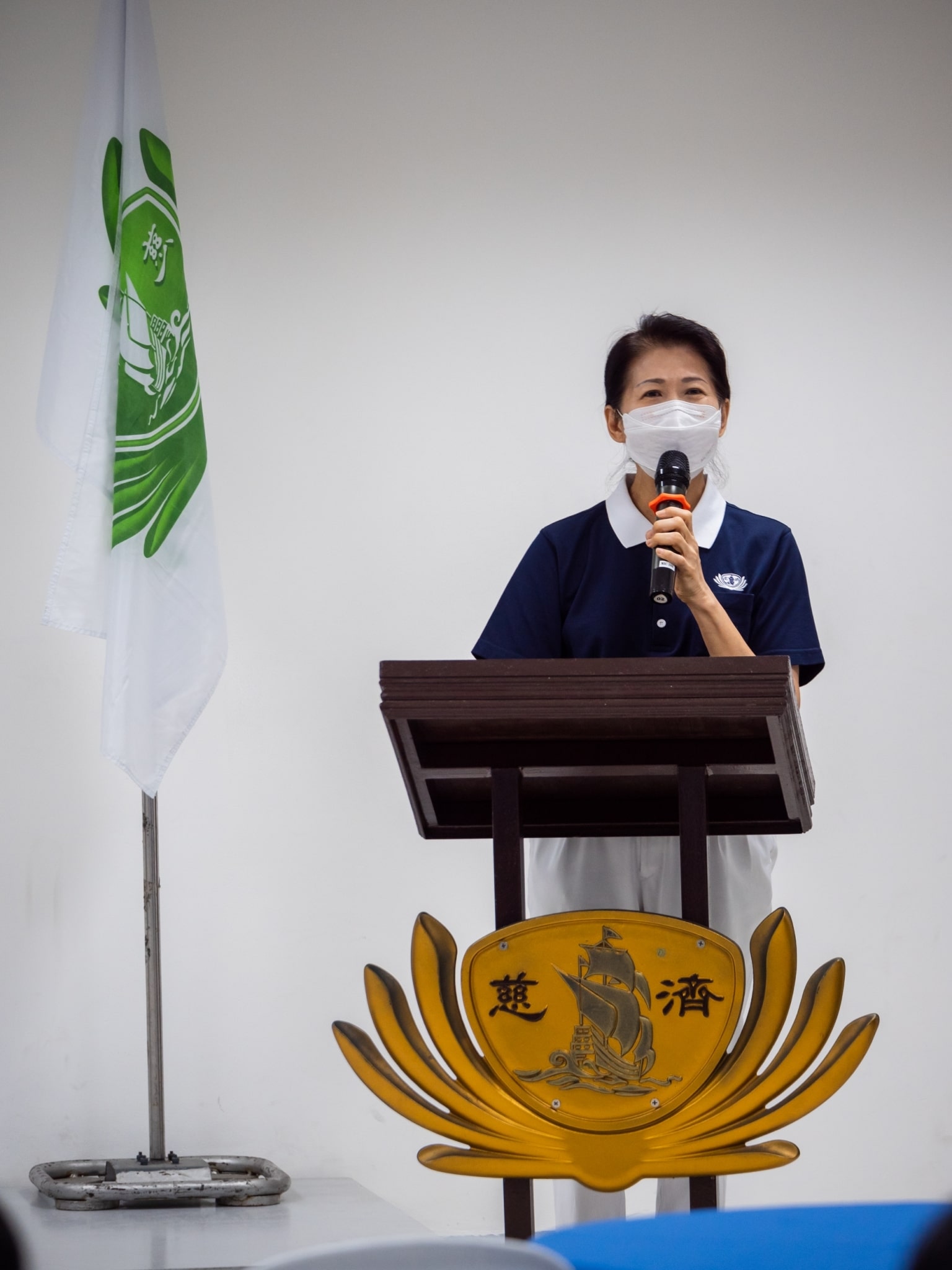 "We are thankful to see your seriousness to learn not only these technical skills, but also the precious values and teachings Master Cheng Yen has been sharing with you every day," says Tzu Chi Philippines Deputy CEO Woon Ng. 【Photo by Daniel Lazar】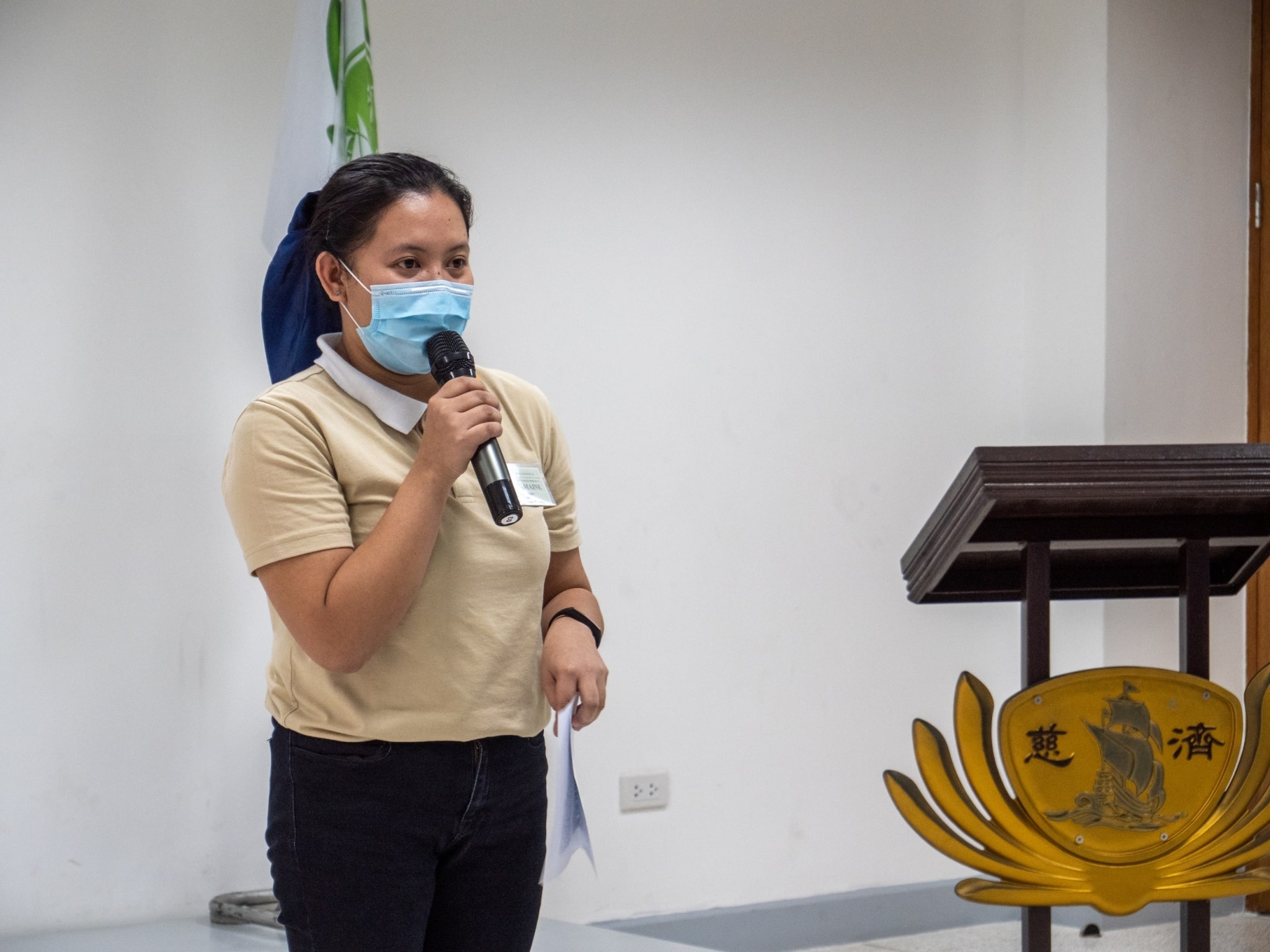 "Before, I was only thinking about my will to survive. It was just always me. But now, my mind my broadened that I must not live for myself and my family alone," says Tech-Voc caregiving scholar Sharmaine Placido.【Photo by Jeaneal Dando】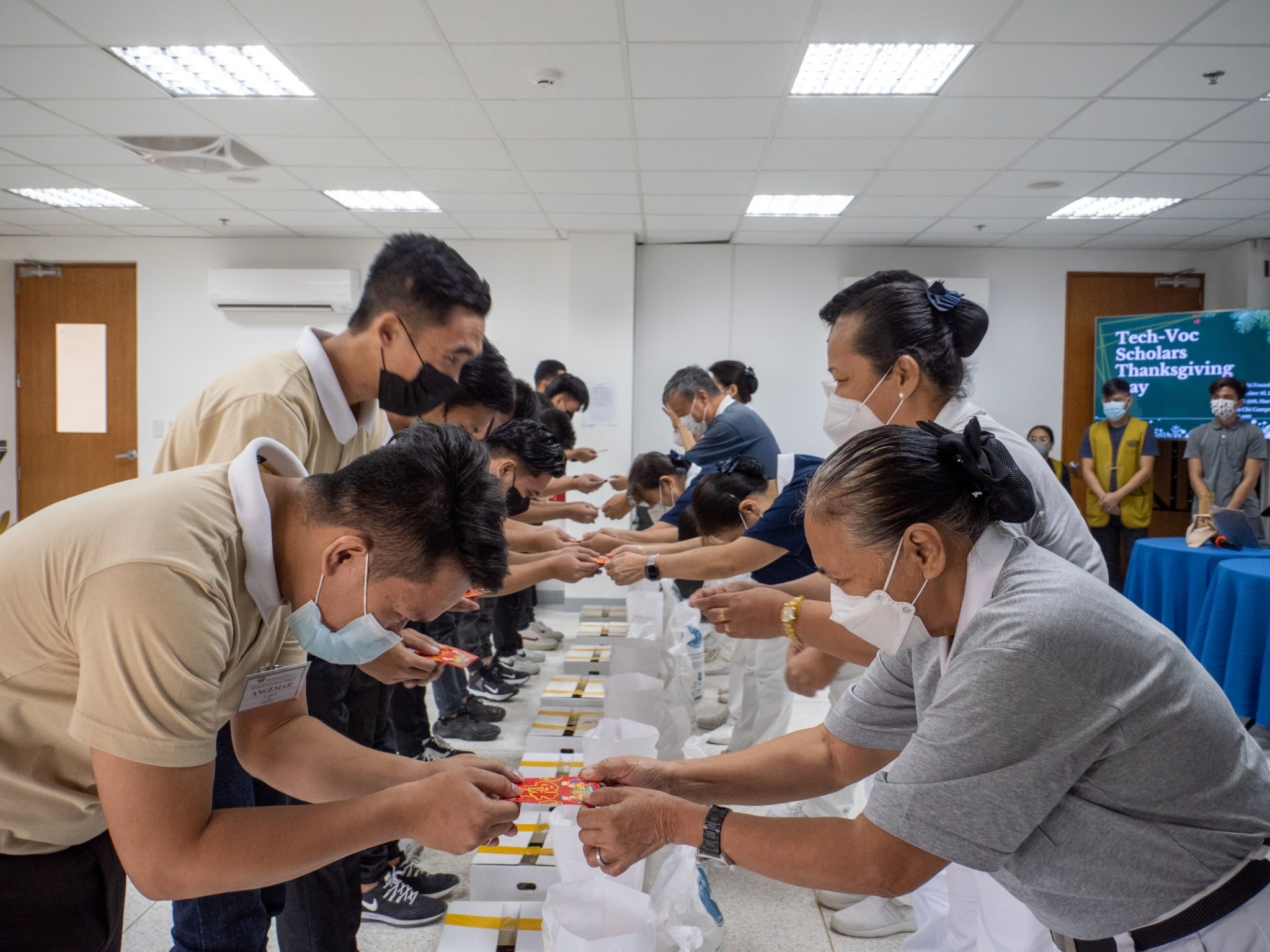 Tech-Voc scholars receive holiday food packages and gifts from Tzu Chi volunteers.【Photo by Jeaneal Dando】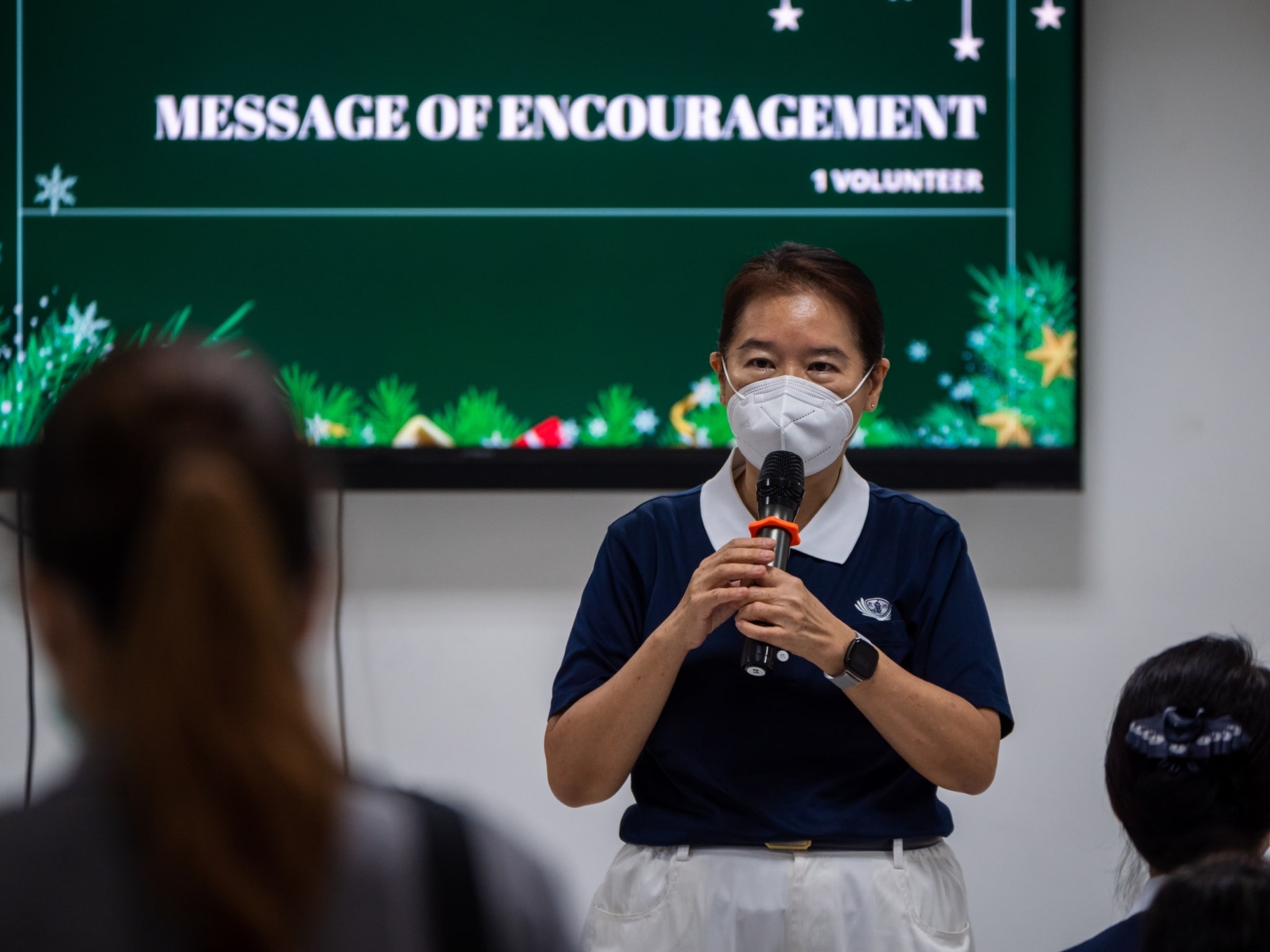 "In this journey of ours—the Boddhisatva path—all of us are still not perfect. We all have our own weaknesses. But, let go of the "I" that keeps on focusing on those weaknesses of others," says Tzu Chi volunteer Ligaya Ng. 【Photo by Daniel Lazar】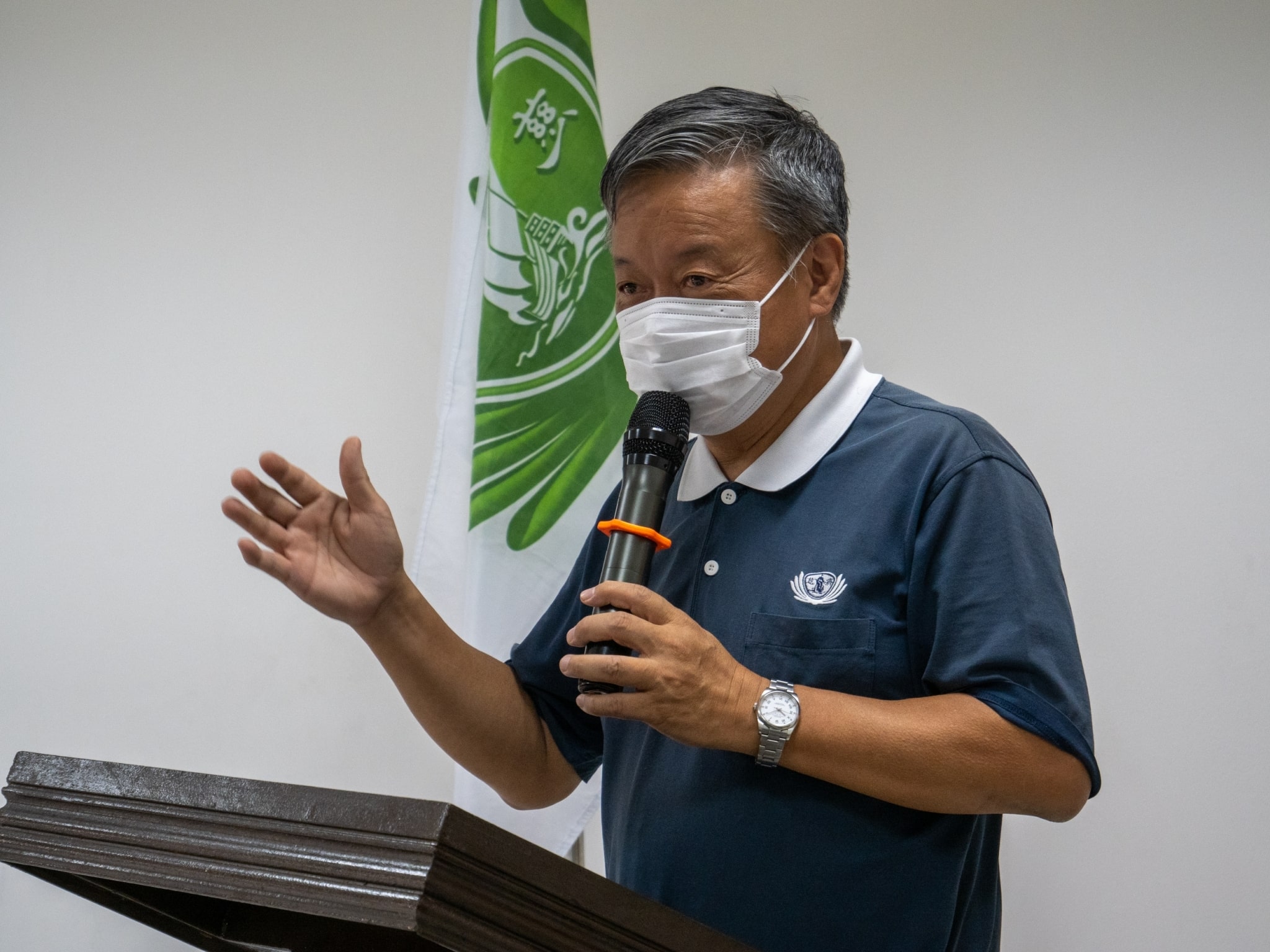 "And after having my needs met, I asked myself, 'what else could make me happier'? And I found the answer in Tzu Chi—that is, to help other people," says Tzu Chi volunteer Johnny Kwok.【Photo by Jeaneal Dando】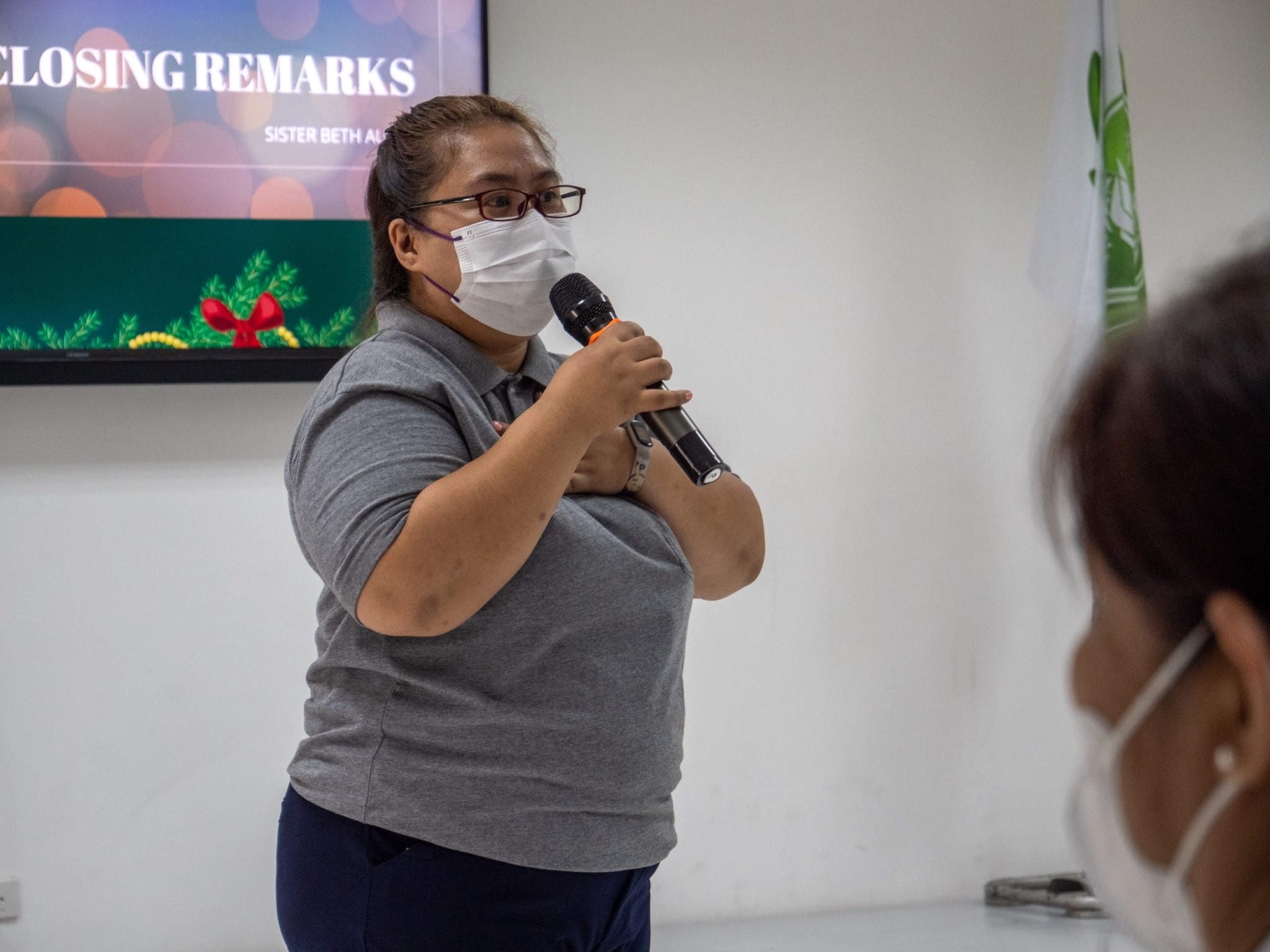 "This event is to express our gratitude to everyone, especially the volunteers who support our program," says Tech-Voc Department Administrator Elizabeth Auste.【Photo by Jeaneal Dando】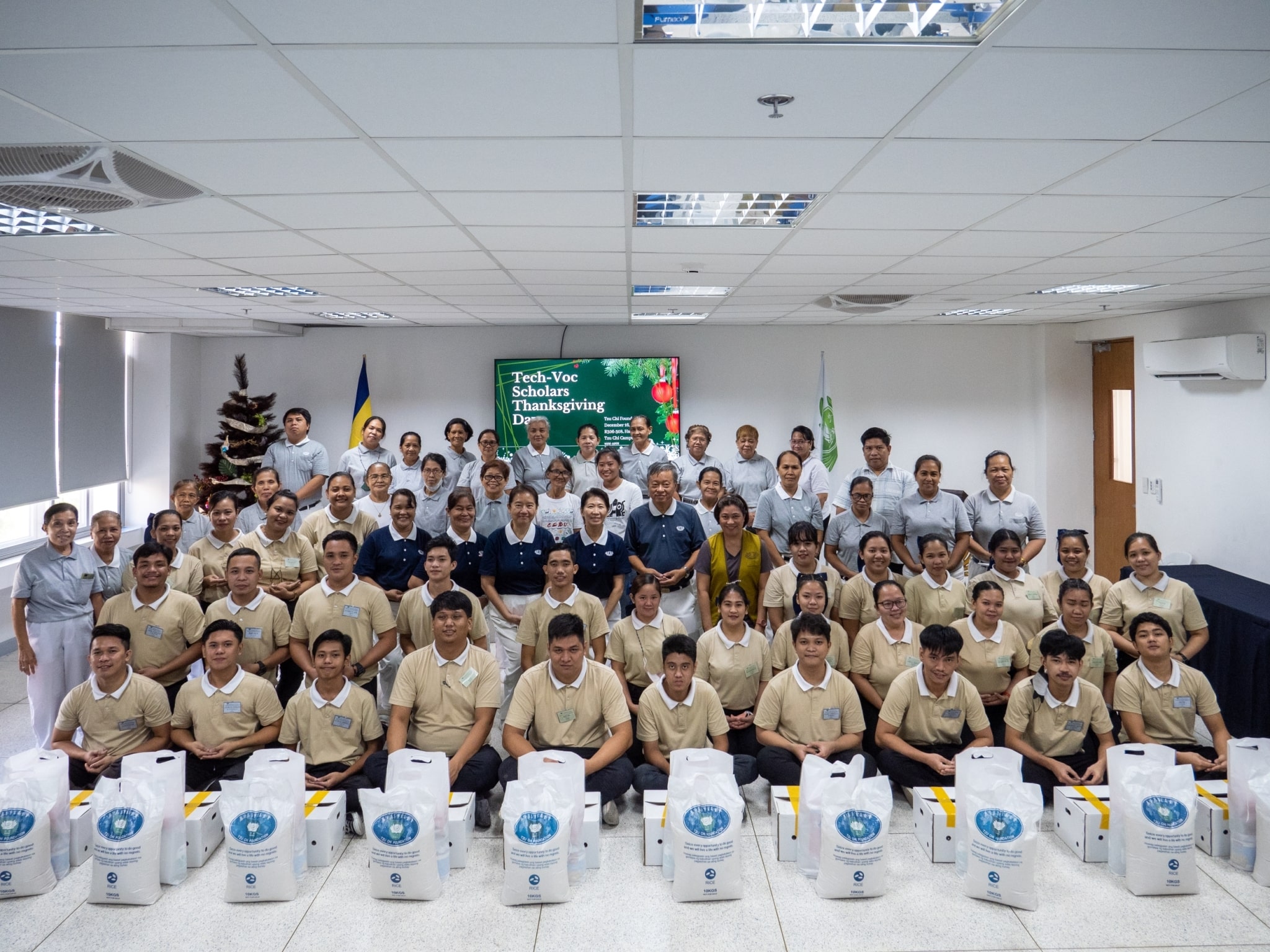 Tech-Voc scholars, teachers, and Tzu Chi volunteers join for a group photo.【Photo by Jeaneal Dando】
Go Back