Tzu Chi hosts successful 3-day youth camp
184 third-year and fourth-year college students participated in the event
By Joy Rojas
Tzu Chi Foundation's college scholars recently spent a memorable three days at the Buddhist Tzu Chi Campus (BTCC) in Sta. Mesa, Manila, for a youth camp that fostered personal and spiritual growth. Held from July 8 to 10, the camp saw the attendance of 184 third-year and fourth-year college students. Among the seniors at the camp, 18 were graduating with honors.
Volunteer participation was just as enthusiastic, says Camp Head Kinlon Fan. From the original 150 who signed up, more than 200 came to extend whatever assistance they could for the success of the event. "Many wanted to help," he says. "It was really heartwarming to see their support."
Serving as a home away from home to its guests was BTCC's Harmony Hall, which volunteers prepared to ensure scholars would have a safe, comfortable, and pleasant stay. Swab tests for COVID-19 were administered on all participants before the official start of the camp on Day 1, as were the distribution of scholar uniforms and other camp materials and the formal photo shoot of graduating scholars.
A guided tour BTCC was one of the highlights of Day 2. Divided into groups, scholars visited replicas of the Jing Si Abode (regarded as the spiritual home of all Tzu Chi volunteers) and Dharma Master Cheng Yen's tiny wooden cabin, where she lived just as she began the Tzu Chi Foundation. Visits to the Tzu Chi bakery, café (whose structure and interiors are made of recycled materials), upcycling center, refrigerator and air-conditioning workshop, and welding and machinery area were likewise part of the tour.
Speakers representing different fields were invited to give inspirational talks. Among those who resonated with the audience were company executive Darwin Soriano, who spoke about making passion your job; Tzu Chi volunteer Ligaya Ng and Tzu Chi Eye Center Medical Director Dr. Bernardita Navarro, who discussed finding purpose in life; registered psychologist Dr. Ronaldo Motilla, who gave practical tips on managing stress; and teacher Merle Pimentel, who advocated vegetarianism.
Ambassador Alfredo Yao, founder of the popular Zest-O fruit drink, prompted a lively Q&A session among scholars. In his talk on filial piety, the veteran businessman delivered an emotional testimony about his rise from poverty as the son of a widowed street vendor to one of the country's thriving entrepreneurs.
It was a speech that moved scholar Kaya Barredo to tears. Losing her father to colon cancer at a young age, she was forced to prop up her traumatized mother and support her younger siblings from the tragedy by juggling her studies with a slew of part-time jobs. "I'm grateful to the Tzu Chi Foundation for conducting this camp," says the incoming third year Bachelor in Science Education specializing in Biology major at the Philippine Normal University (PNU). "This camp will help ignite my fighting spirit and my determination to move on and solve my problems."
Even volunteers could relate to Ambassador Yao's call to love and respect our parents before it's too late. "We're not that close, but now I can see that I can change," says volunteer and group leader Andrew Yu of his relationship with his folks. "Camps like this are important to students because it opens their minds."
In the three days, scholars were given many opportunities to express themselves. On the first night, they huddled together in small groups outside Harmony Hall, lit candles, and took turns sharing their impressions of the camp's activities. On the last day, many took to the stage at the Jing Si Auditorium to giving touching accounts of how being a Tzu Chi scholar impacted their lives. They also wrote letters to their younger selves as well as letters to their parents.
A symbolic graduation ceremony drew rousing applause as graduating scholars marched on stage to receive their diplomas from Tzu Chi Philippines CEO Henry Yuňez and longtime Tzu Chi Education Committee volunteer Rosa So. Graduating magna cum laude, Joshua Daarol, a BS Accountancy major from Pamantasan ng Lungsod ng Maynila, gave a commencement speech that traced his struggles as a working student, and how being a Tzu Chi scholar helped him rise above his many challenges. Grateful for the life-changing educational assistance he received, he promised to give back by offering to teach bookkeeping at Tzu Chi someday.
At the close of the camp, it was clear that scholars couldn't get enough of the event that left a positive effect on them.
"I was just hoping we could extend for one more day because it's really enjoyable and fun," says Paolo Nicole Santos, an incoming third year Bachelor of Library and Information Science major at PNU. "Majority of us have been facing difficult times, especially during the pandemic when we were isolated in our homes. We missed this kind of environment where we could share moments with our fellow youth. This was an effective event for us. Hopefully, we could do this again next year."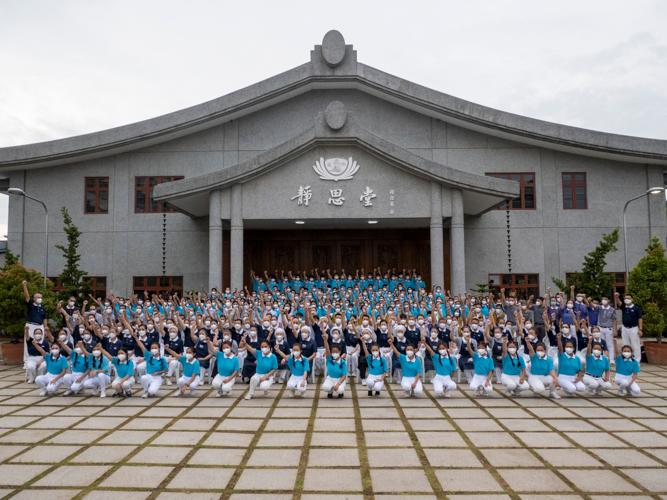 Tzu Chi Youth Camp scholars and volunteers pose for a photo before the Jing Si Auditorium.【Photo by Matt Serrano】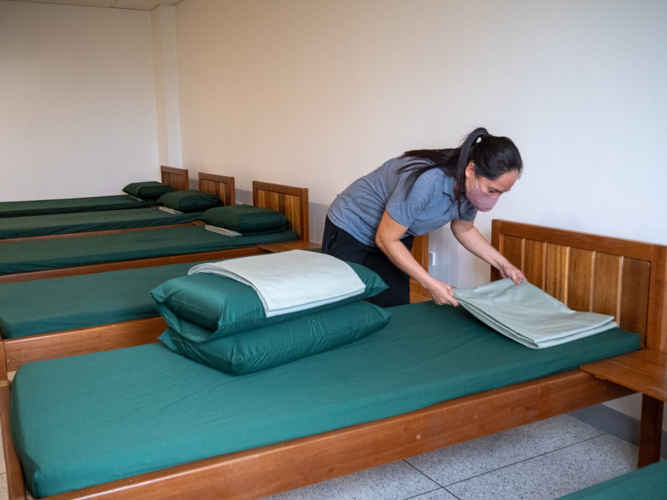 A volunteer prepares beddings for scholars at the Harmony Hall.【Photo by Matt Serrano】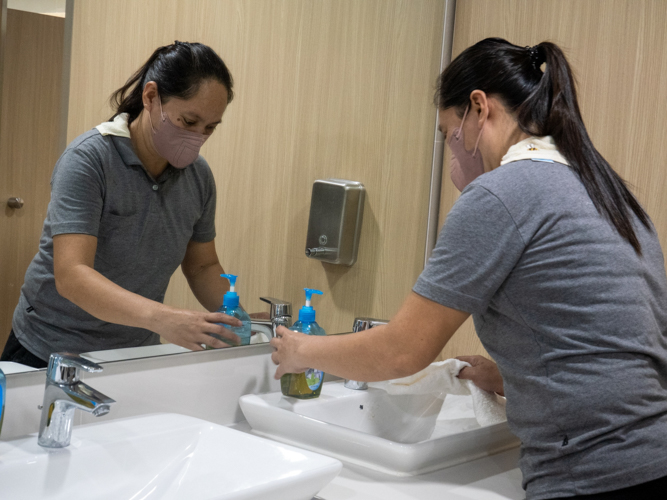 Communal facilities like bathrooms and sleeping quarters were cleaned and disinfected before the start of the youth camp.【Photo by Matt Serrano】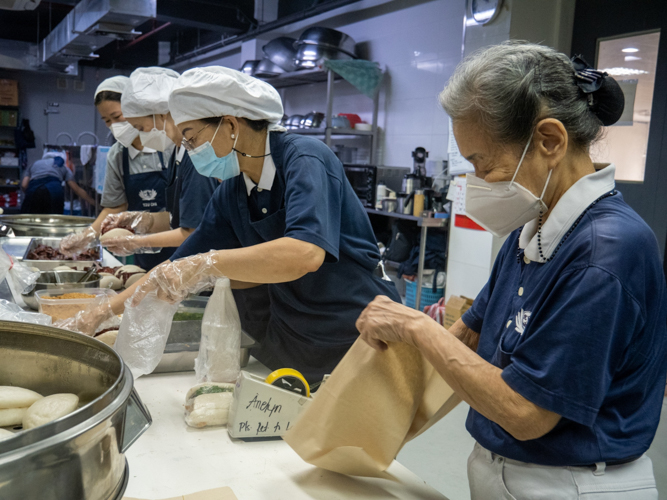 Harmony Hall's kitchen bustled with activity as volunteers prepared vegetarian meals for the three-day camp.【Photo by Matt Serrano】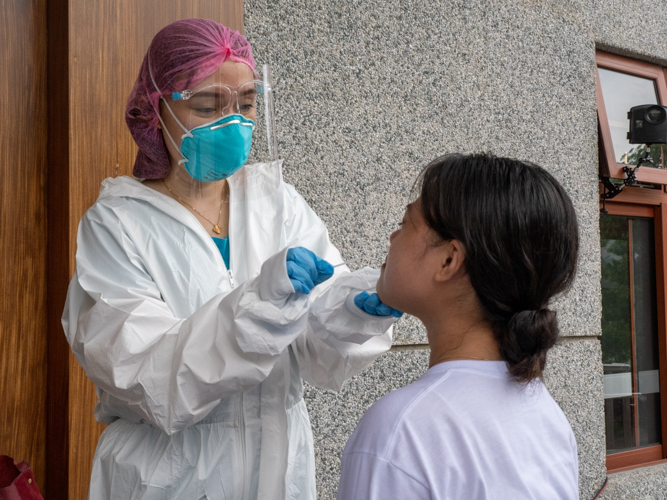 Swab tests were conducted to ensure all participants were COVID-free.【Photo by Matt Serrano】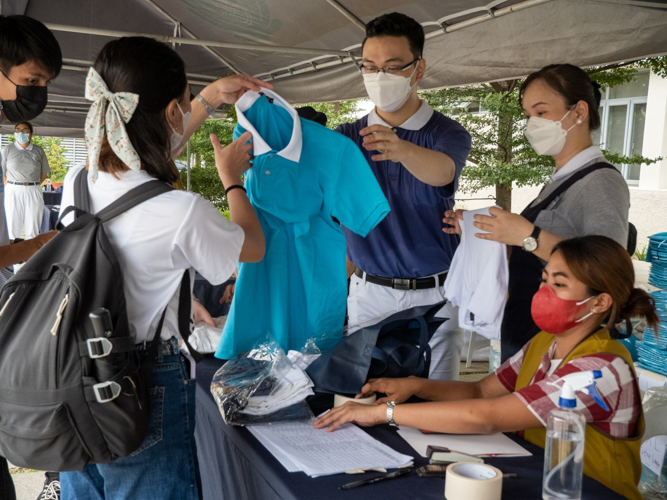 A scholar claims her uniform from volunteers.【Photo by Matt Serrano】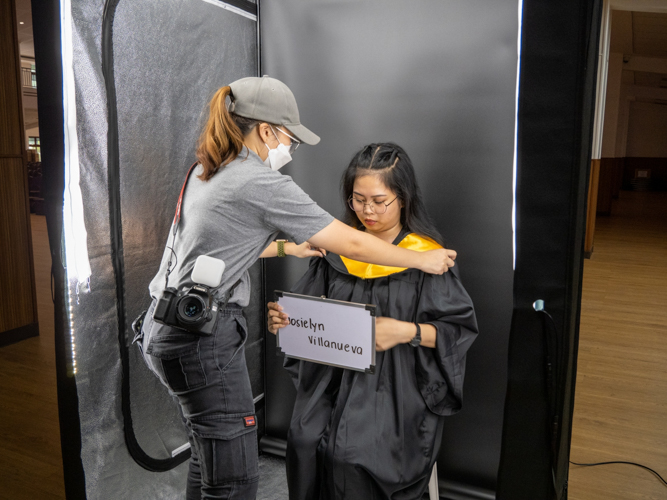 A college senior is being prepped for a formal graduation photo.【Photo by Matt Serrano】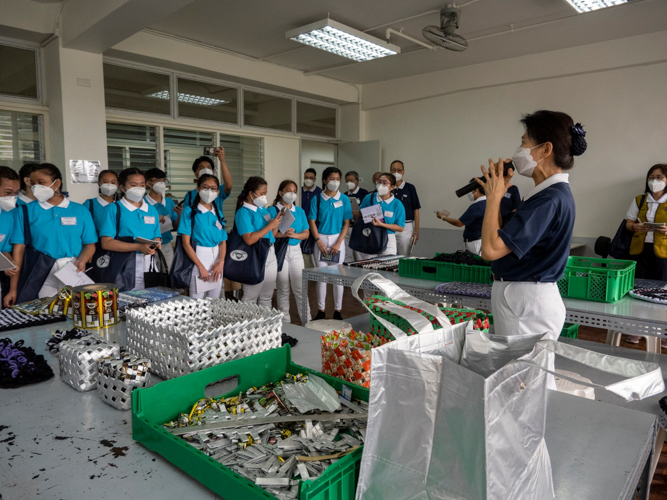 Scholars listen as Tzu Chi Deputy CEO Woon Ng explains the projects of the upcycling center.【Photo by Matt Serrano】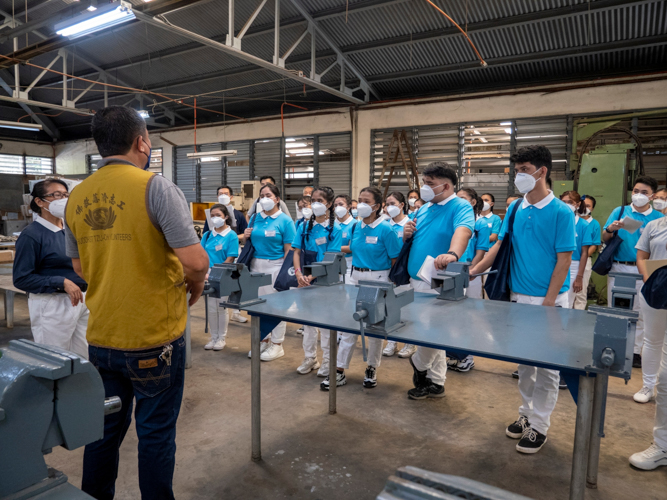 Tzu Chi's welding and machinery area was part of the BTCC tour.【Photo by Matt Serrano】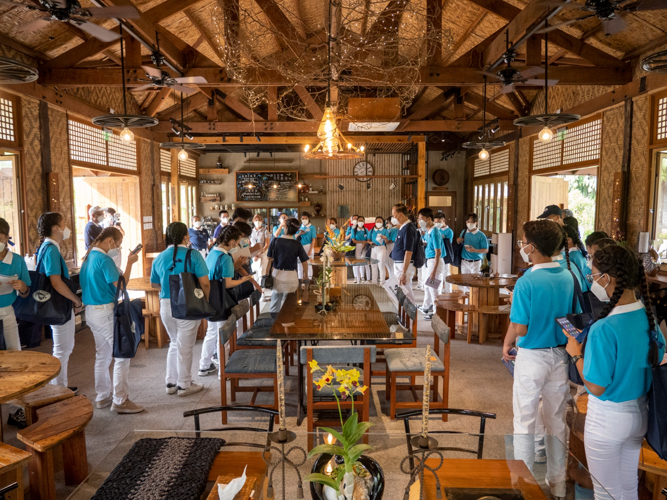 The Tzu Chi café, with its recycled structure and interiors, was one of the most memorable parts of the tour.【Photo by Matt Serrano】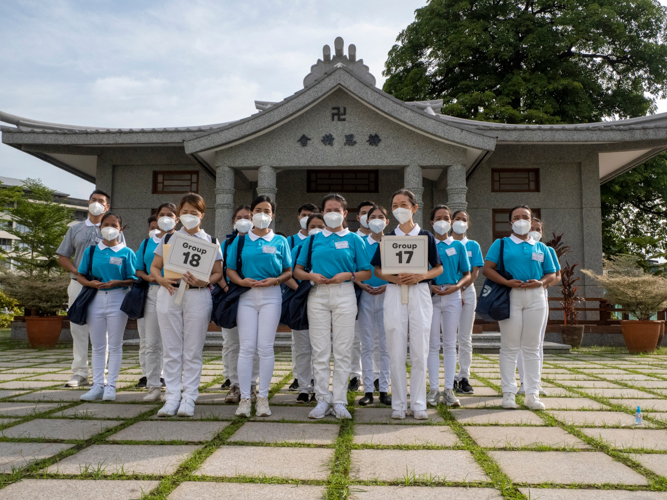 Scholars and their group leader pose outside a replica of the Jing Si Abode.【Photo by Matt Serrano】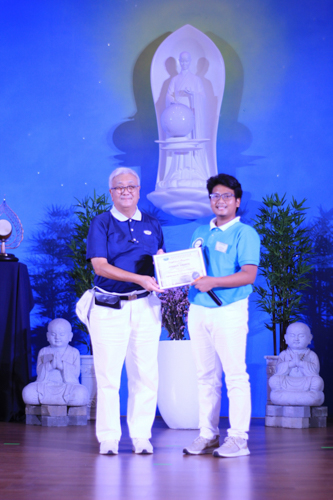 Graduating magna cum laude, scholar Joshua Daarol (right) accepts a certificate from Tzu Chi Philippines CEO Henry Yuňez.【Photo by Matt Serrano】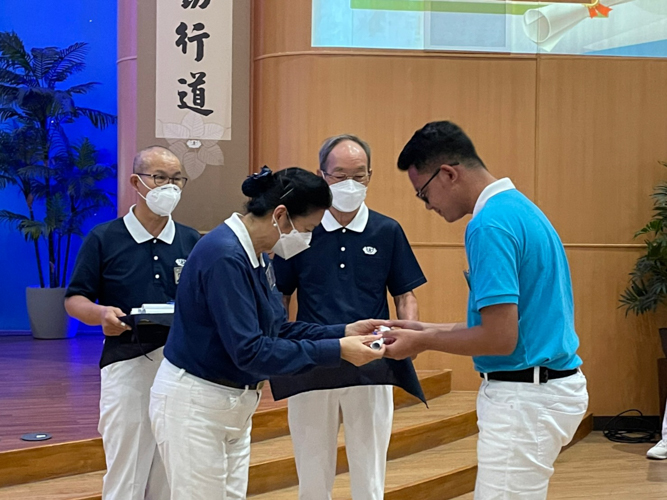 A scholar receives a symbolic diploma from Tzu Chi Education Committee volunteer Rosa So.【Photo by Daniel Lazar】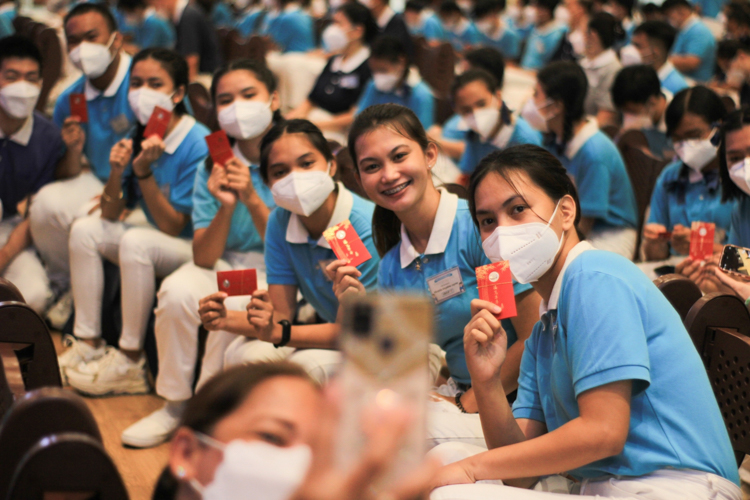 Scholars wave the lucky ampao they received from Dharma Master Cheng Yen. The ampao contains seeds and a commemorative coin.【Photo by Daniel Lazar】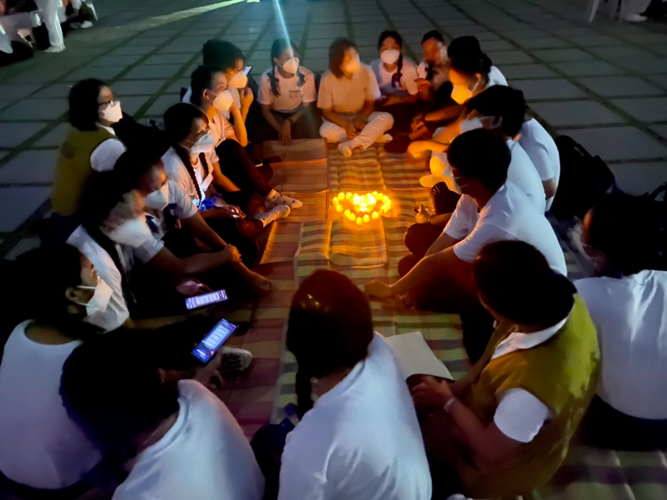 Scholars huddle together outside Harmony Hall for an intimate sharing session.【Photo by Harold Alzaga】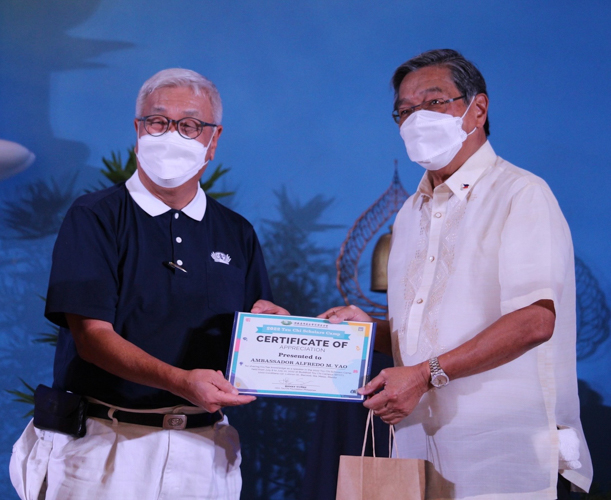 Tzu Chi Philippines CEO Henry Yuňez (let) presents a certificate and token of appreciate to guest speaker, Ambassador Alfredo Yao.【Photo by Matt Serrano】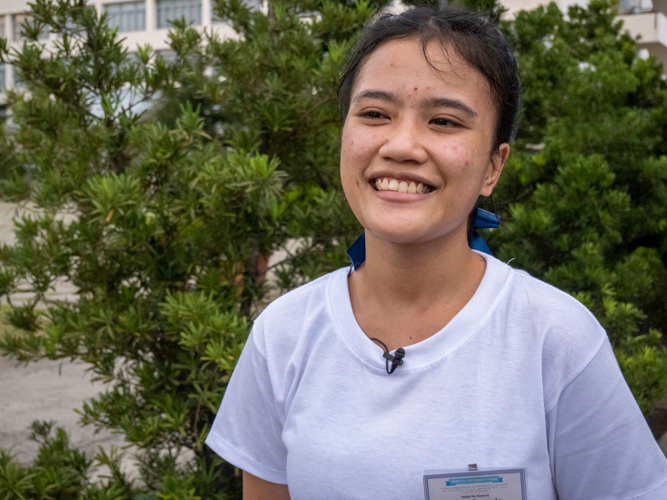 "This camp will help ignite my fighting spirit and my determination to move on and solve my problems," says Tzu Chi scholar Kayla Barredo.【Photo by Harold Alzaga】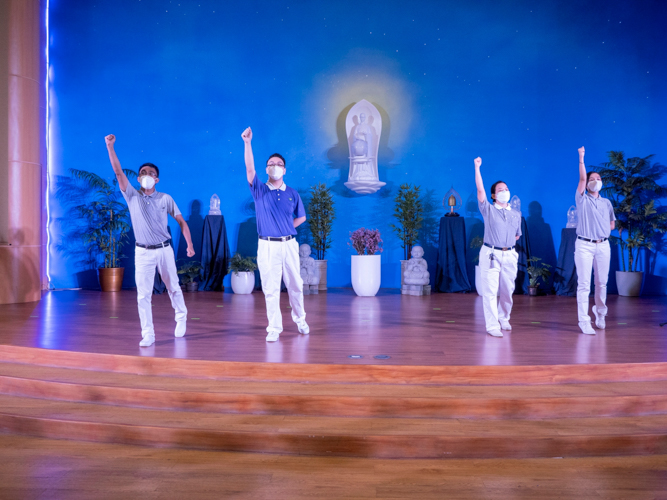 Youth volunteers lead the singing and signing of the youth anthem, "So I Stand Up" by Wakin Chau.【Photo by Matt Serrano】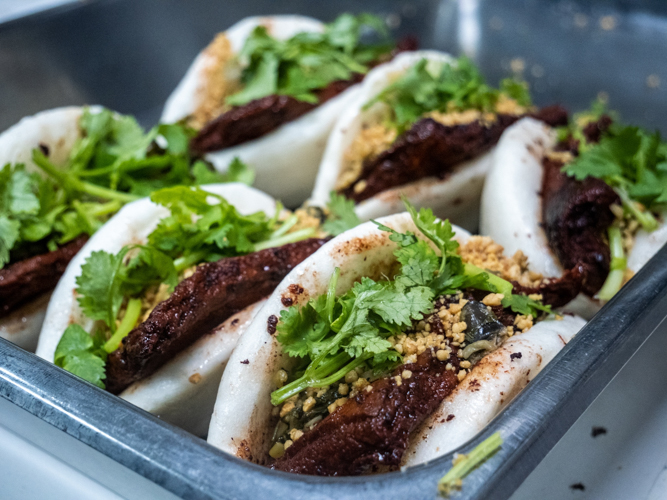 For three days, scholars ate all-vegetarian meals, which volunteers prepared in delicious ways.【Photo by Matt Serrano】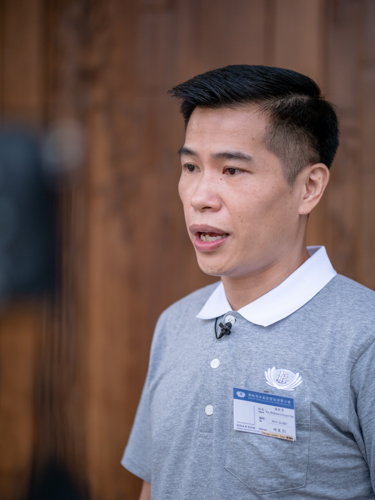 "Camps like this are important to students because it opens their minds," says volunteer and group leader Andrew Yu.【Photo by Daniel Lazar】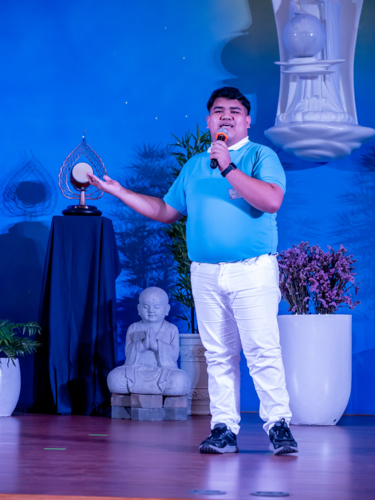 Scholar Paolo Nicole Santos enjoyed the camp so much, "I was hoping they would extend it for another day. Hoping we could do this again next year."【Photo by Daniel Lazar】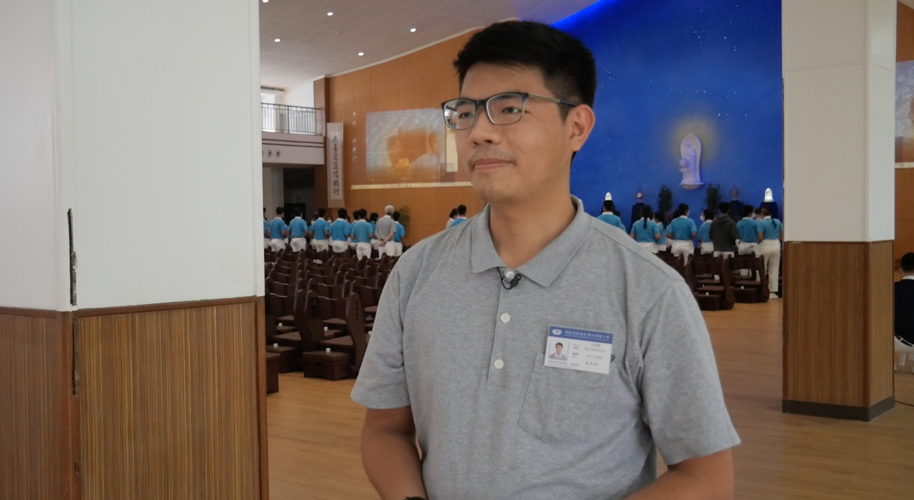 Youth Camp Coordinator Kinlon Fan hopes that the three-day event reminds scholars of "their sense of responsibility to society. They have the power to create change, help people, and influence others."
Go Back