A Different Chinese New Year at Tzu Chi Campus
Guests and volunteers received angpao, tikoy, and other tokens of good fortune.
By Joy Rojas
For families who spent most of the last two years indoors to avoid the spread and contamination of COVID-19, celebrating Chinese New Year at the Buddhist Tzu Chi Campus (BTCC) in Sta. Mesa, Manila, on the morning of Chinese New Year, February 1, was both a refreshing and meaningful experience.
Volunteers welcomed the Lunar New Year by inviting guests to make a wish as they struck a gong, then toured them around the campus. Main attractions inside the expansive grounds include a replica of the log cabin, which symbolizes the humble beginnings of Tzu Chi founder Dharma Master Cheng Yen; a replica of the Jing Si Abode, the original of which is located at the Tzu Chi headquarters in Hualien, Taiwan, and is the spiritual home of Tzu Chi volunteers; and the Tzu Chi café, which serves vegetarian food in a structure made of recycled and upcycled materials.
Volunteers also turned over their Tzu Chi coin banks, dropping their contents in bamboo slides that landed in a clay jar.
"It's very enlightening because we don't usually go out especially in this [COVID-19] situation," says Jennifer Go. "We just took the chance to see our family members and decided to meet at BTCC. Before, we used to come here but now, the meaning behind the structures was explained to us, which made us appreciate Tzu Chi even more."
"It's very nice because they made it similar to the one in Taiwan," adds Diane Go. "Even the materials, they transported [from Taiwan] and the design is the same. So, it really feels like you are also transported to their main office."
Her wish for the New Year is similar to many. "My wish is for health especially now that we are in a pandemic. It's really important to have good health."
For Tzu Chi volunteer Heidi Hina, who was part of the team of volunteers that recently extended assistance to victims of Super Typhoon Odette (Rai) in Bohol, the new year made her reflect on what really matters in life.
"These past two years, I realized that we need to be vegetarians," she says. "Master always says that we should love our environment and recycle. Everything that she says—to love the Earth so that we won't experience floods or pandemic—that's the root of everything."
"That is why we should always keep Master's teachings in mind, to love all life, including animals and plants," she says. "I really want to have more volunteers with us so that we have more people to encourage and spread Master's teachings."
Tzu Chi's simple yet meaningful New Year rites continued at Jing Si Hall, where volunteers gave a short talk then distributed angpao (red envelopes) and other tokens of good fortune—misua noodles, tikoy, and fruits. Guests then explored the café, while others dropped by Harmony Hall for food and bags of lettuce.
2022 is known as the year of the Water Tiger. It ends on January 21, 2023.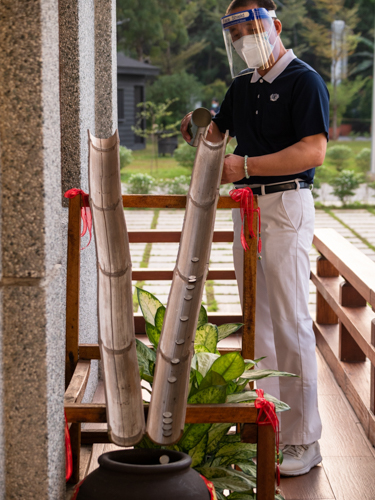 A volunteer empties the contents of a Tzu Chi coin bank into a bamboo slide. 【Photo by Daniel Lazar】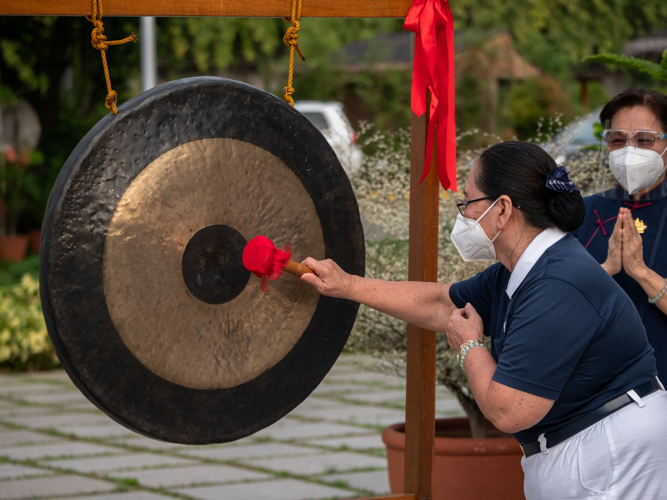 Guests and volunteers make a wish before striking a gong. 【Photo by Daniel Lazar】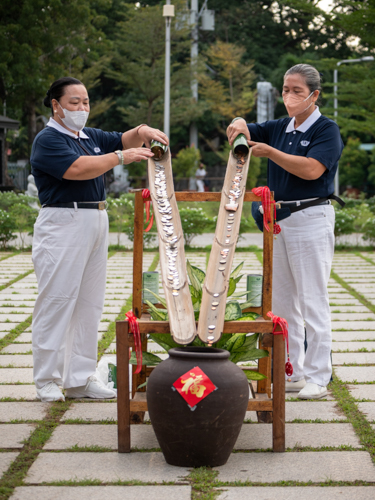 Pledges collected by volunteers are poured onto bamboo slides then fall into a clay jar. The pledges are used to fund Tzu Chi's many relief operations. 【Photo by Daniel Lazar】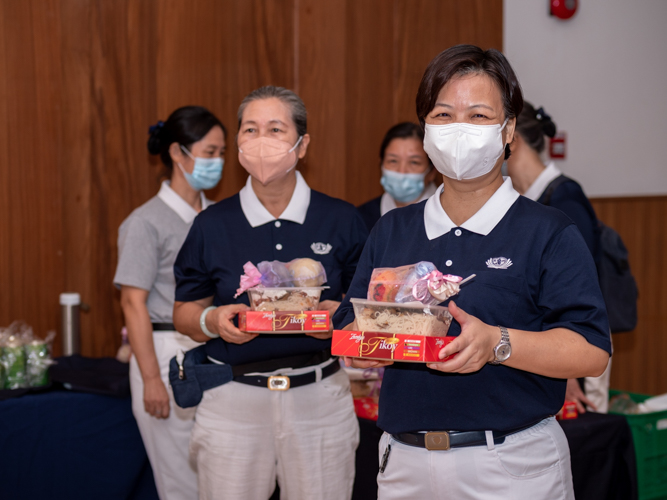 Guests and volunteers receive tokens of good fortune: tikoy, misua noodles, and fruits. 【Photo by Daniel Lazar】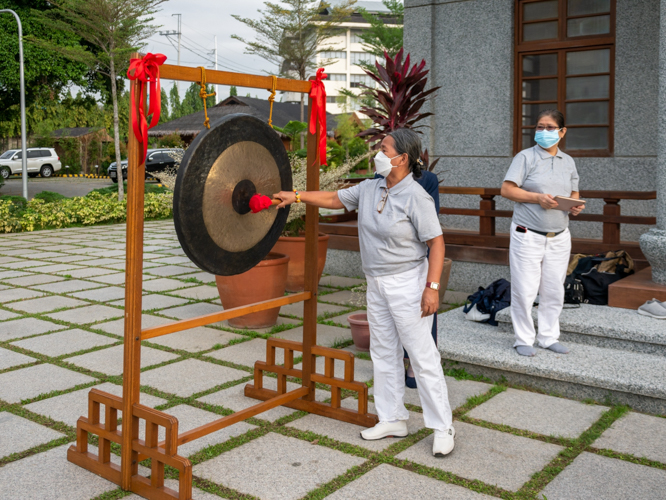 In the ongoing pandemic, good health is wished by many who strike the gong. 【Photo by Daniel Lazar】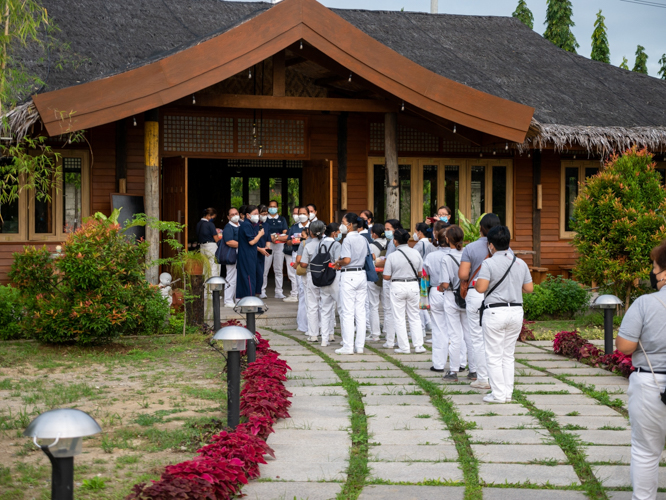 After receiving their angpao, a group of volunteers line up outside the Tzu Chi café. 【Photo by Daniel Lazar】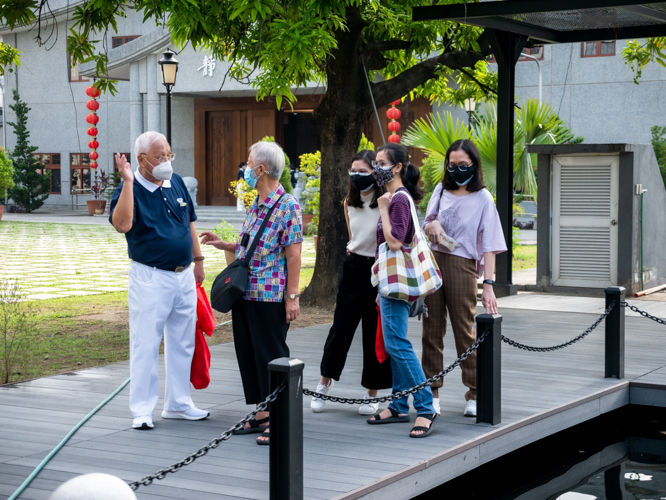 Families who chose to spend Chinese New Year morning at the Buddhist Tzu Chi Campus in Sta. Mesa, Manila, enjoyed the fresh air, lush trees, and the serene sight of a lotus and koi pond. 【Photo by Daniel Lazar】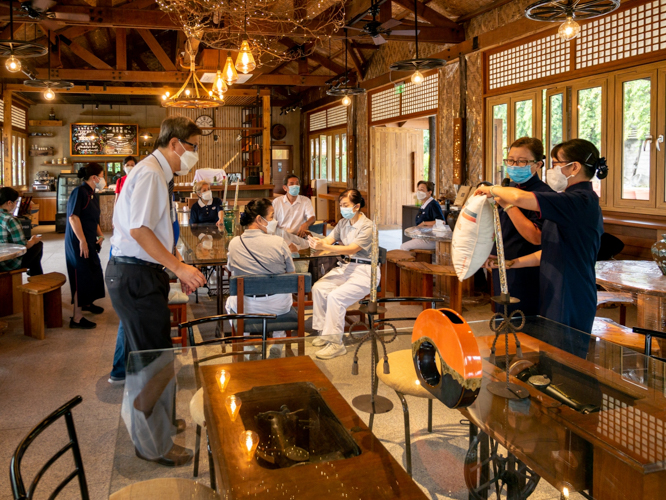 Guests relax at the Tzu Chi café, which serves vegetarian food in a structure made of recycled and upcycled materials. 【Photo by Daniel Lazar】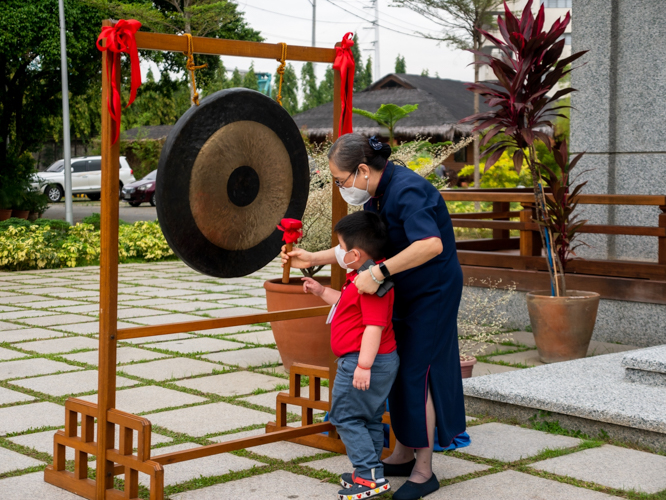 You're never too young or old to make a wish and strike a gong. 【Photo by Daniel Lazar】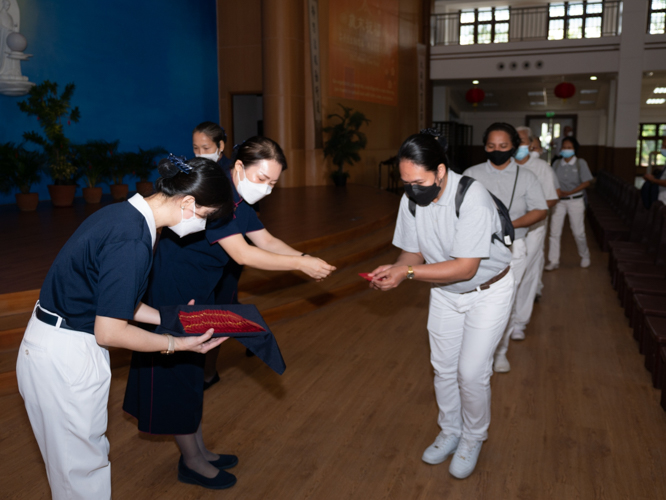 Volunteer receive angpao, a red envelope symbolizing good luck and prosperity. 【Photo by Daniel Lazar】
Go Back