Tzu Chi Inspires Resilience: Commemorating a Decade of Hope at Typhoon Yolanda 10th Year Remembrance Mass
1,208 individuals gathered at the Sto. Niño Church in Tacloban to commemorate Yolanda and the enduring strength of the people of Leyte.
By Ben Baquilod
To mark the 10th anniversary of Super Typhoon Yolanda and pay tribute to the resilience of the people of Leyte, Tzu Chi Philippines organized a Remembrance Mass on November 8, 2023, at the Archdiocesan Shrine of Sto. Niño (Sto. Niño Church) in Tacloban City.
The Mass commenced with the unveiling of a marker at the church's entrance, serving as a testament to the gratitude of the Sto. Niño Church toward the Tzu Chi Foundation, which played a pivotal role in rebuilding the church in 2014 after its destruction by Super Typhoon Yolanda.
"The fast reconstruction of this church was owed to the generosity of Tzu Chi through its benevolent and magnanimous founder, Master Cheng Yen," said Rev. Fr. Kelvin M. Apurillo, who led the Mass. "Thank you very much from the bottom of our hearts."
In a letter conveyed by Tzu Chi Philippines Deputy CEO Woon Ng, Master Cheng Yen shared her message to the people of Leyte: "There is no distinction between faiths. When we rebuilt the Great Love Village, the presence of the Church is indispensable. The church has been the center of everyone's faith," Master Cheng Yen said. "The word we have in common is 'love'. With love there are no hindrances. Today, we witness this beautiful moment together."
Affirming this statement, Tzu Chi Philippines CEO Henry Yuñez delivered an uplifting speech: "We gather for this Mass to remember your resilience, your strength and, most importantly, your faith in overcoming challenges. We recall how we joined hands to recover and rebuild. The Sto. Niño Church stands as our witness, and this is a remembrance of our long-term affinity."
The Mass drew a gathering of 1,208 people from all walks of life. Children from the Tzu Chi Palo Great Love Village showcased solidarity through a sign language performance, and parishioners received a red envelope (angpao) blessed by Dharma Master Cheng Yen.
Emotions ran high as the congregation was moved by a touching video tribute, recounting Tzu Chi's response of relief and compassion in the aftermath of Super Typhoon Yolanda.
Over the past decade, Tzu Chi has consistently worked towards enhancing the well-being of villagers following the devastating impact of Super Typhoon Yolanda in 2013, which claimed over 6,000 lives. Tzu Chi's initiatives in Leyte included the distribution of instant hot rice to 280,000 residents, providing cash and material aid to 68,000 families, offering a cash-for-work program that benefited 300,000 residents, treating 8,400 patients, and constructing 600 temporary classrooms.
Tzu Chi also constructed temporary housing with two Great Love Villages in Palo and Ormoc. The reconstruction of the Sto. Niño Church in Tacloban was made possible by a 25-million donation from Tzu Chi. Overall, with the help of volunteers from 46 countries worldwide, Tzu Chi spent 3.2 billion pesos for its Typhoon Yolanda response.
Survivors Angela Agero and Emma Solis shared their experiences and expressed gratitude for Tzu Chi's prompt response. "Thank you to Tzu Chi for being the first to provide us with food and a cash-for-work program," Angela Agero remarked.
Emma Solis, reflecting on the day when floods engulfed their home, stated, "If not for Tzu Chi's help, we would not have recovered and rebuilt our home."
Husband and wife Jaime Paminiano and Constancia Galanza attended the Mass to express their gratitude once again for the support they received a decade ago. "When I entered the church and saw the people in blue and white, I could not hold back my tears," Jaime confessed.
The 67-year-old and 78-year-old partners, Jaime and Constancia, recounted the harrowing experience of losing their two children (Danilo, 39; Eva, 35) and three grandchildren (Abigail, 23; Estrebella, 17; Maria Nena, 3) to the storm surge. Jaime survived by clinging to an electricity wire, while Constancia found safety on top of a service car amidst the floods.
After enduring days of hunger, the couple found hope when Tzu Chi volunteers arrived with much-needed aid. "If not for Tzu Chi, we would have died of hunger," said Jaime. In addition to meals, rice, and essential supplies, they received a cash relief of Php 15,000, which enabled them to start a sari-sari store business and rebuild their lives.
"Tzu Chi helped extend our lives. We are still alive today because of you, and that's why we love Tzu Chi very much," Jaime weeped.
During the Mass, Jaime and the thousand attendees raised their candles in a solemn prayer, culminating the event on a hopeful and grateful note, recalling the light and love that shone through their city after a dark period that once afflicted their land.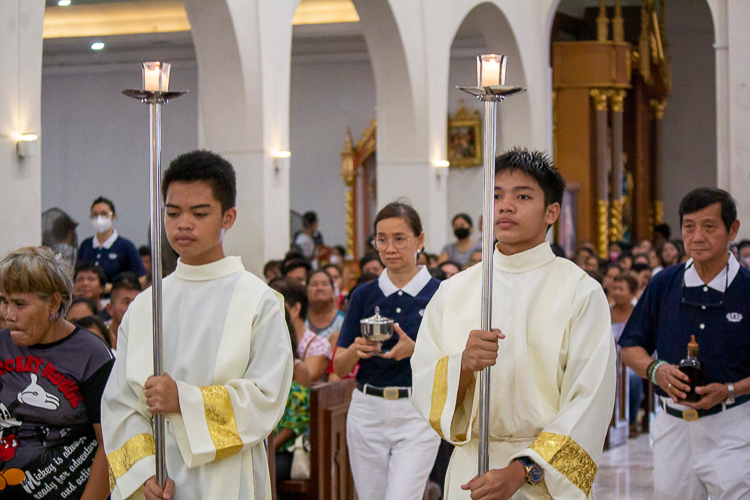 To mark the 10th anniversary of Super Typhoon Yolanda and pay tribute to the resilience of the people of Leyte, Tzu Chi Philippines holds a Remembrance Mass on November 8, 2023, at the Archdiocesan Shrine of Sto. Niño (Sto. Niño Church) in Tacloban City. 【Photo by Marella Saldonido】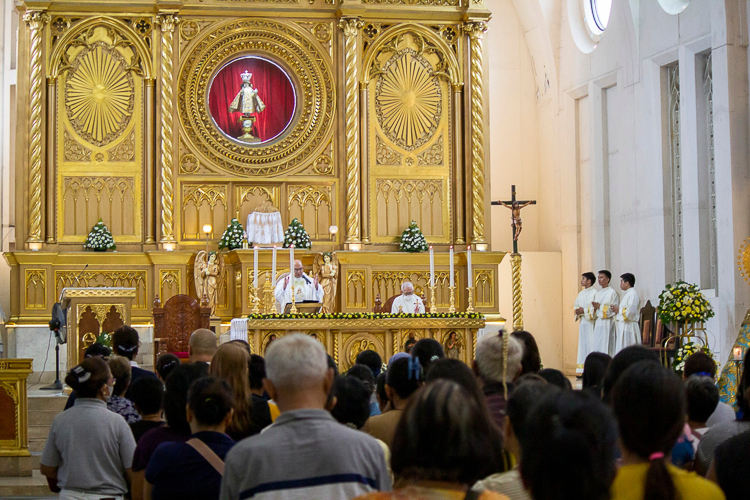 To mark the 10th anniversary of Super Typhoon Yolanda and pay tribute to the resilience of the people of Leyte, Tzu Chi Philippines holds a Remembrance Mass on November 8, 2023, at the Archdiocesan Shrine of Sto. Niño (Sto. Niño Church) in Tacloban City. 【Photo by Marella Saldonido】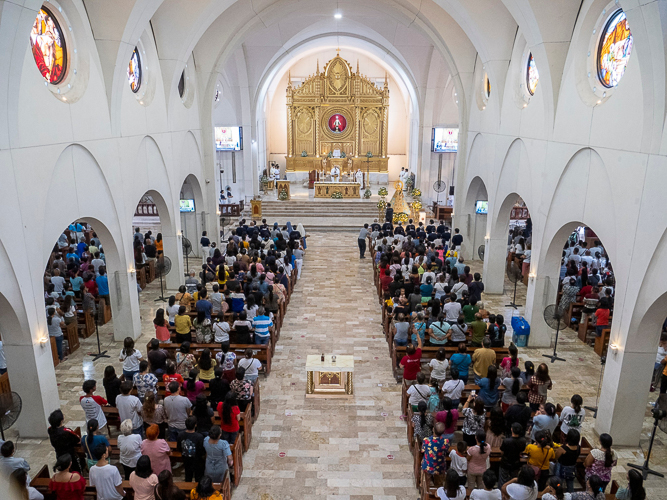 To mark the 10th anniversary of Super Typhoon Yolanda and pay tribute to the resilience of the people of Leyte, Tzu Chi Philippines holds a Remembrance Mass on November 8, 2023, at the Archdiocesan Shrine of Sto. Niño (Sto. Niño Church) in Tacloban City. 【Photo by Matt Serrano】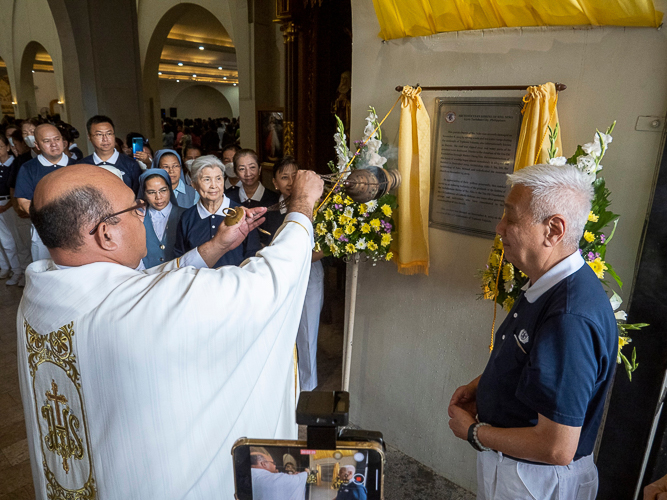 Rev. Fr. Kelvin M. Apurillo, with Tzu Chi Philippines CEO Henry Yuñez (right), leads the unveiling of a marker at the church's entrance, a testament to the gratitude of the Sto. Niño Church toward the Tzu Chi Foundation, which helped rebuild the church in 2014 after it was destroyed by Super Typhoon Yolanda. 【Photo by Matt Serrano】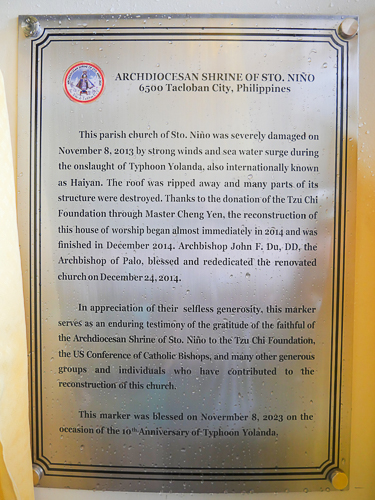 The marker at the church's entrance was blessed on November 8, 2023 on the Typhoon Yolanda 10th Anniversary Remembrance Mass organized by Tzu Chi Foundation. 【Photo by Matt Serrano】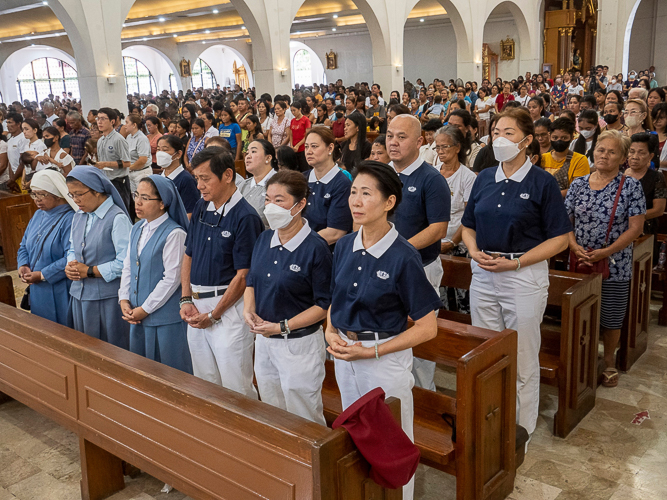 Tzu Chi volunteers from Manila, Tacloban, and Palo work together and take active roles in the Remembrance Mass and program. 【Photo by Matt Serrano】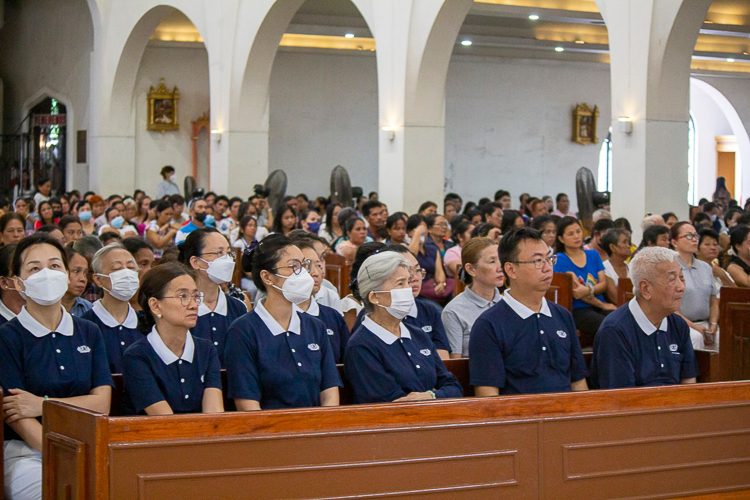 Tzu Chi volunteers from Manila, Tacloban, and Palo work together and take active roles in the Remembrance Mass and program. 【Photo by Marella Saldonido】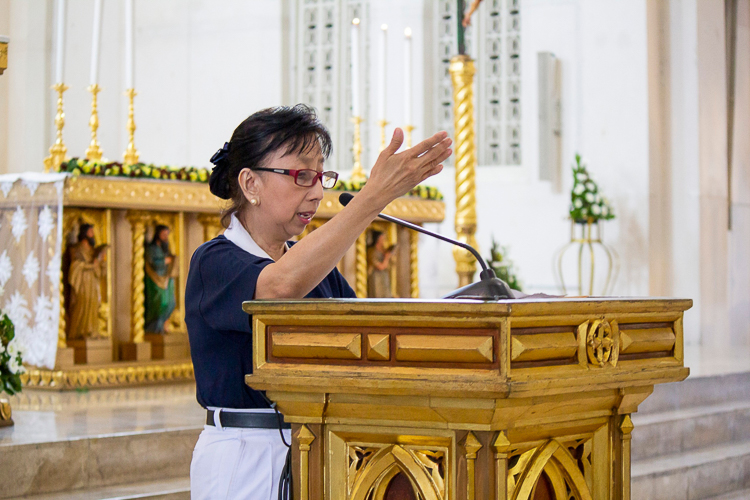 Tzu Chi volunteers from Manila, Tacloban, and Palo work together and take active roles in the Remembrance Mass and program. 【Photo by Marella Saldonido】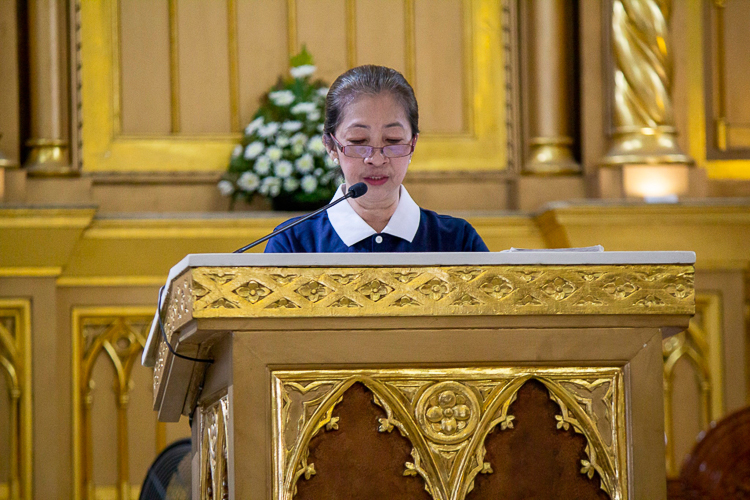 Tzu Chi volunteers from Manila, Tacloban, and Palo work together and take active roles in the Remembrance Mass and program. 【Photo by Marella Saldonido】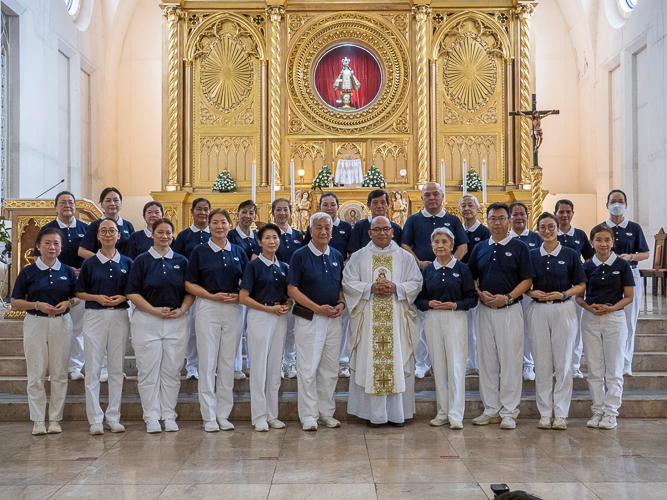 Tzu Chi volunteers take a photo with Rev. Fr. Kelvin M. Apurillo during the Typhoon Yolanda 10th Anniversary Remembrance Mass. 【Photo by Matt Serrano】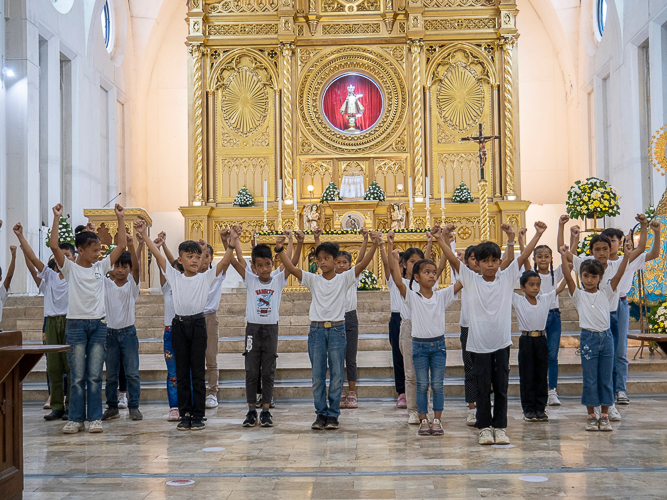 Children from Tzu Chi Palo Great Love Village delights the congregation with sign language performance during the Mass. 【Photo by Matt Serrano】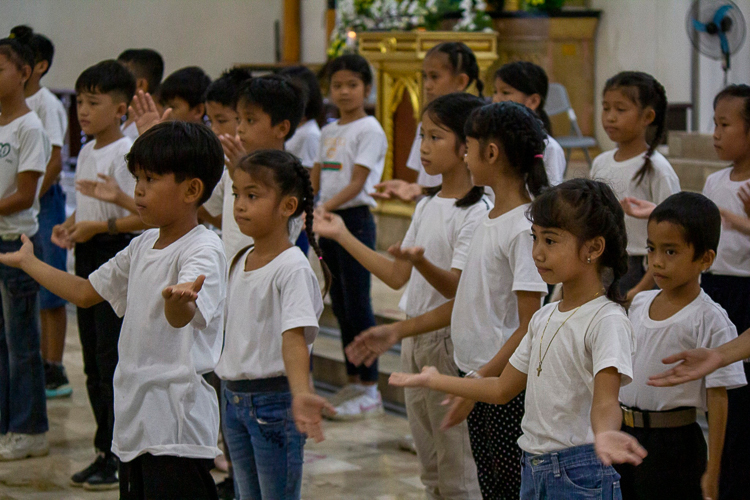 Children from Tzu Chi Palo Great Love Village delights the congregation with sign language performance during the Mass. 【Photo by Marella Saldonido】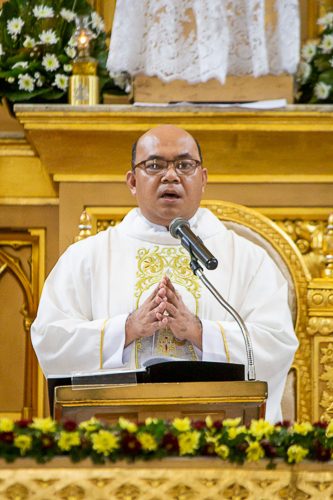 "The fast reconstruction of this church was owed to the generosity of Tzu Chi through its benevolent and magnanimous founder, Master Cheng Yen," says Rev. Fr. Kelvin M. Apurillo. "Thank you very much from the bottom of our hearts." 【Photo by Marella Saldonido】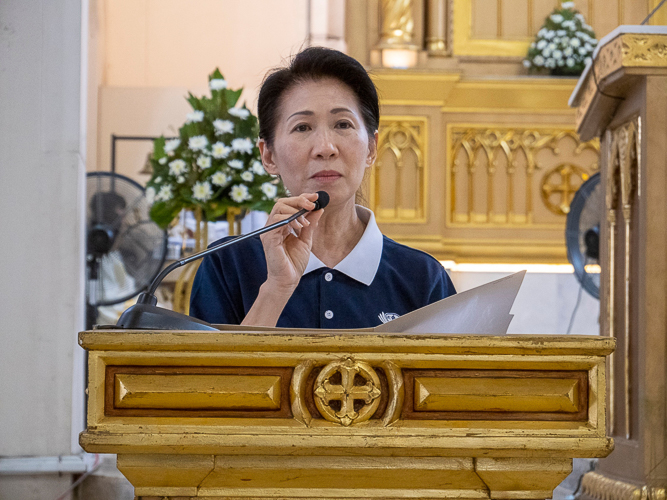 In a letter conveyed by Tzu Chi Philippines Deputy CEO Woon Ng, Master Cheng Yen shares her message to the people of Leyte: "There is no distinction between faiths. When we rebuilt the Great Love Village, the presence of the Church is indispensable. The church has been the center of everyone's faith. The word we have in common is 'love'. With love there are no hindrances. Today, we witness this beautiful moment together." 【Photo by Matt Serrano】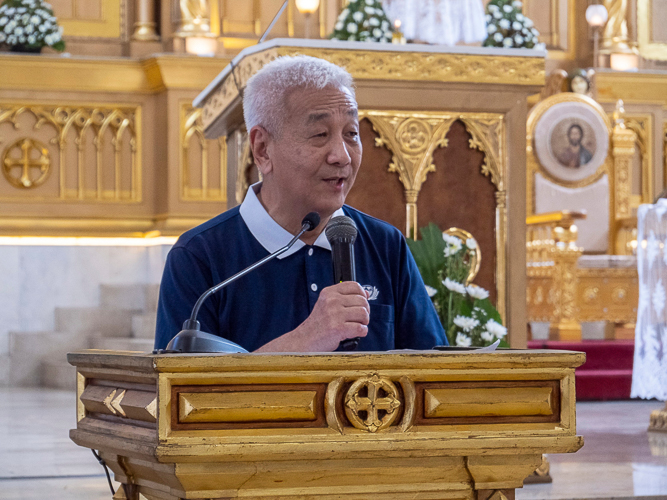 "We gather for this Mass to remember your resilience, your strength and, most importantly, your faith in overcoming challenges," says Tzu Chi Philippines CEO Henry Yuñez. "We recall how we joined hands to recover and rebuild. The Sto. Niño Church stands as our witness, and this is a remembrance of our long-term affinity." 【Photo by Matt Serrano】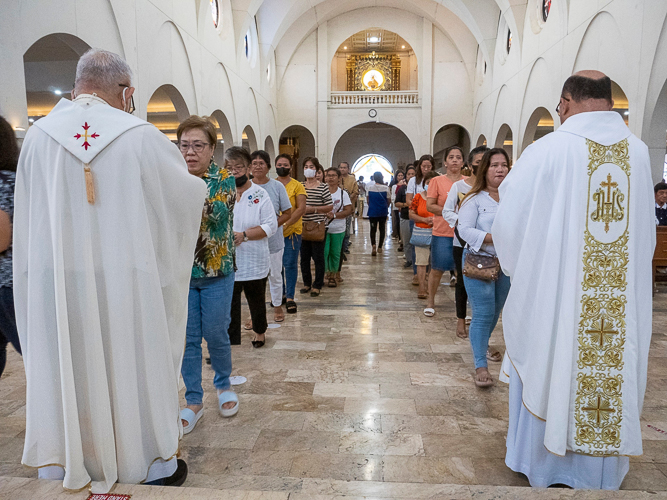 To mark the 10th anniversary of Super Typhoon Yolanda and pay tribute to the resilience of the people of Leyte, Tzu Chi Philippines holds a Remembrance Mass on November 8, 2023, at the Archdiocesan Shrine of Sto. Niño (Sto. Niño Church) in Tacloban City. 【Photo by Matt Serrano】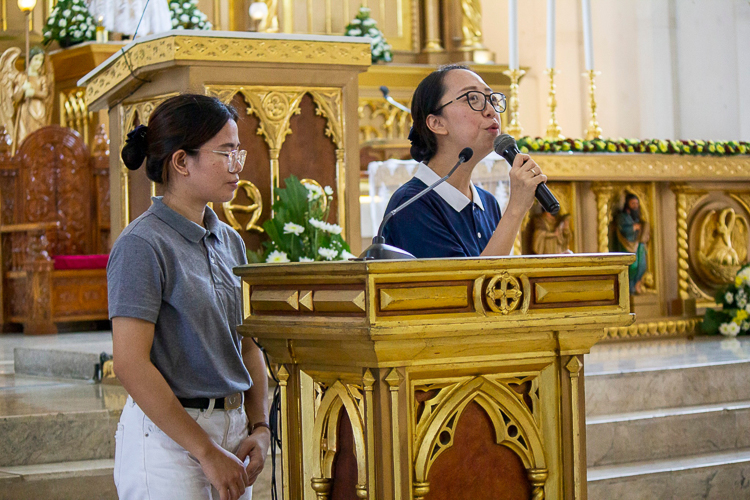 The Remembrance Mass is followed by a special program hosted by Tzu Chi volunteers Lineth Brondial and Peggy Sy-Jiang. 【Photo by Marella Saldonido】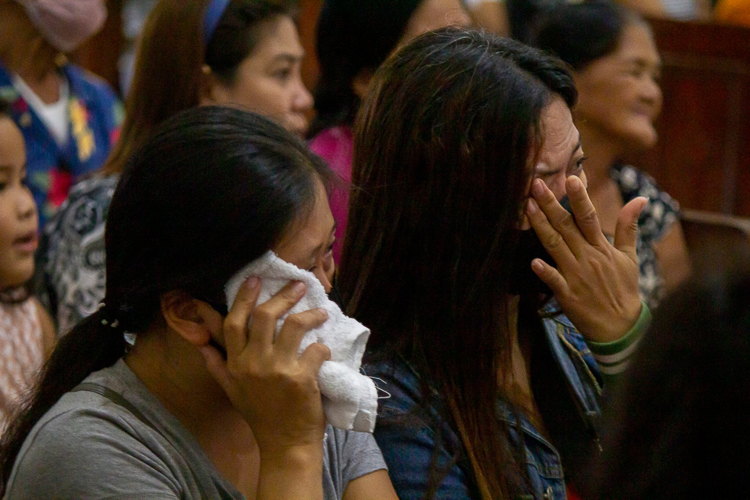 Hearts are stirred as the congregation is deeply moved by a touching video tribute, recounting Tzu Chi's response of relief and compassion in the aftermath of Super Typhoon Yolanda. 【Photo by Marella Saldonido】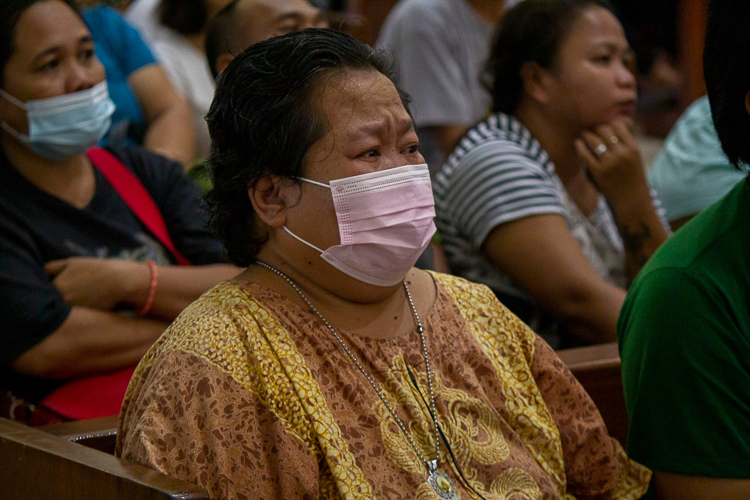 Hearts are stirred as the congregation is deeply moved by a touching video tribute, recounting Tzu Chi's response of relief and compassion in the aftermath of Super Typhoon Yolanda. 【Photo by Marella Saldonido】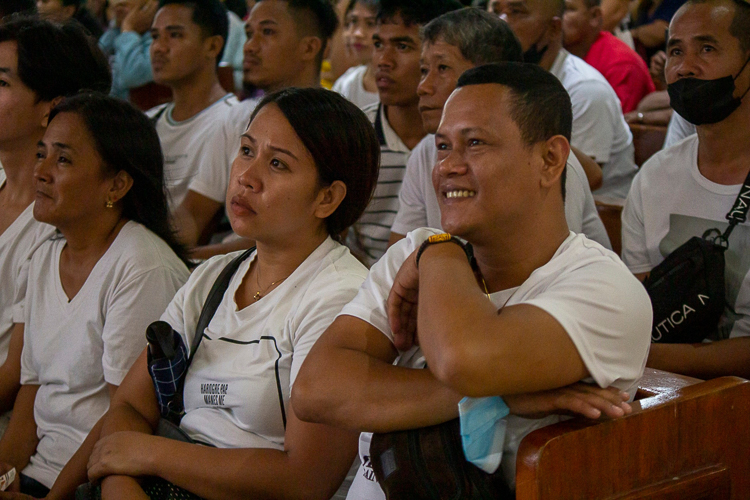 Hearts are stirred as the congregation is deeply moved by a touching video tribute, recounting Tzu Chi's response of relief and compassion in the aftermath of Super Typhoon Yolanda. 【Photo by Marella Saldonido】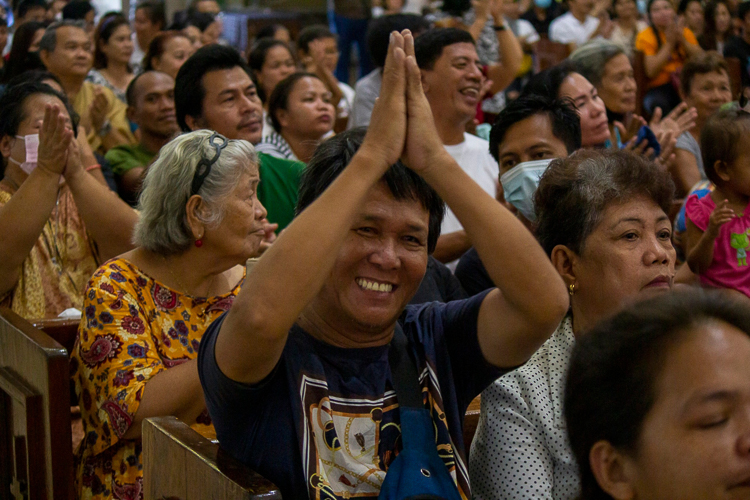 Hearts are stirred as the congregation is deeply moved by a touching video tribute, recounting Tzu Chi's response of relief and compassion in the aftermath of Super Typhoon Yolanda. 【Photo by Marella Saldonido】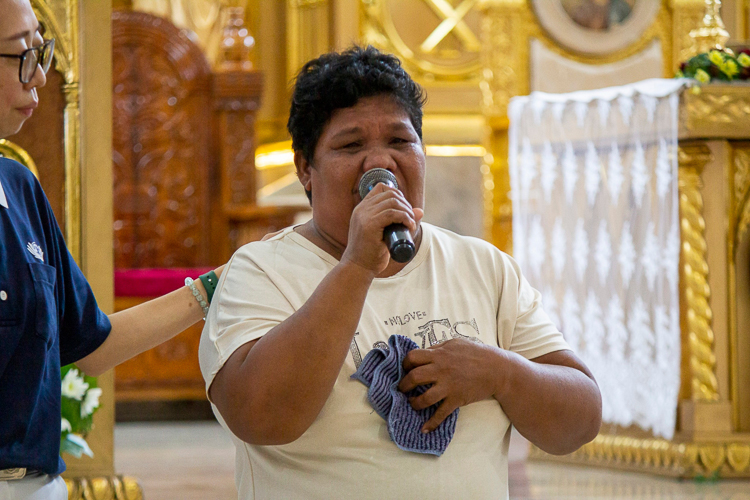 "Thank you to Tzu Chi for being the first to provide us with food and a cash-for-work program," Angela Agero says in a testimonial. 【Photo by Marella Saldonido】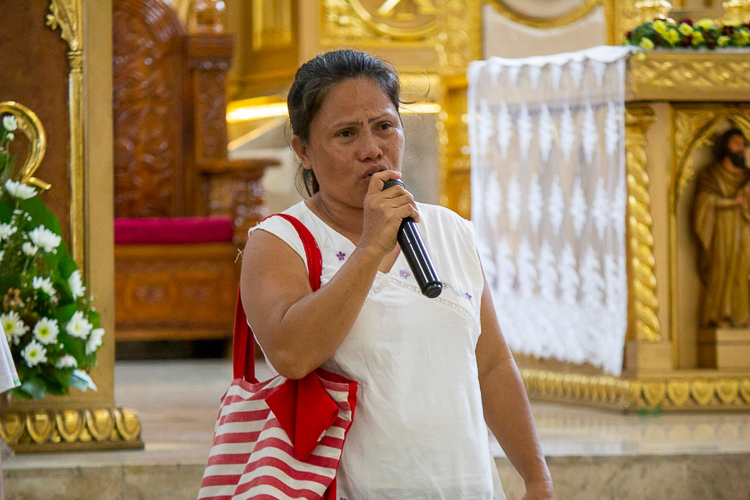 Emma Solis, reflects on the day when floods engulfed their home and says, "If not for Tzu Chi's help, we would not have recovered and rebuilt our home." 【Photo by Marella Saldonido】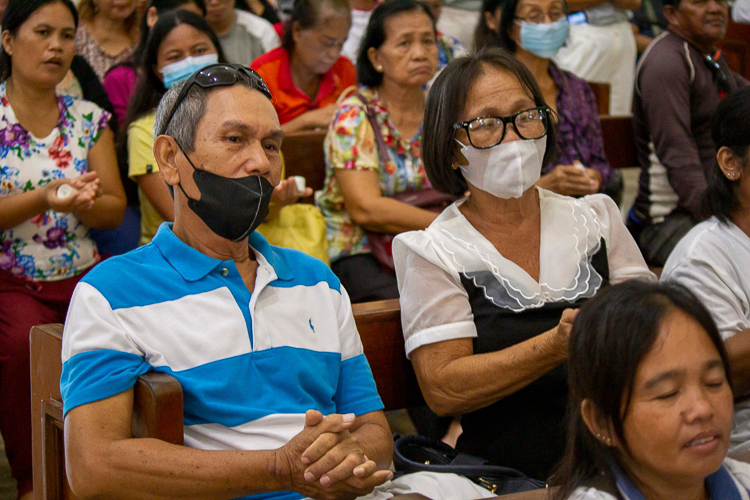 Husband and wife Jaime Paminiano and Constancia Galanza attend the Mass to express their gratitude once again for the support they received a decade ago. "When I entered the church and saw the people in blue and white, I could not hold back my tears," Jaime confesses. "Tzu Chi helped extend our lives. We are still alive today because of you, and that's why we love Tzu Chi very much." 【Photo by Marella Saldonido】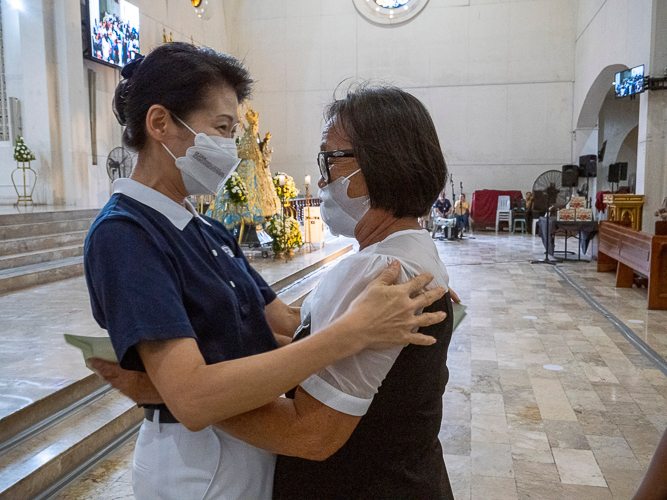 Constancia Galanza weeps in gratitude as she receives a gift certificate from Tzu Chi Philippines Deputy CEO Woon Ng. 【Photo by Matt Serrano】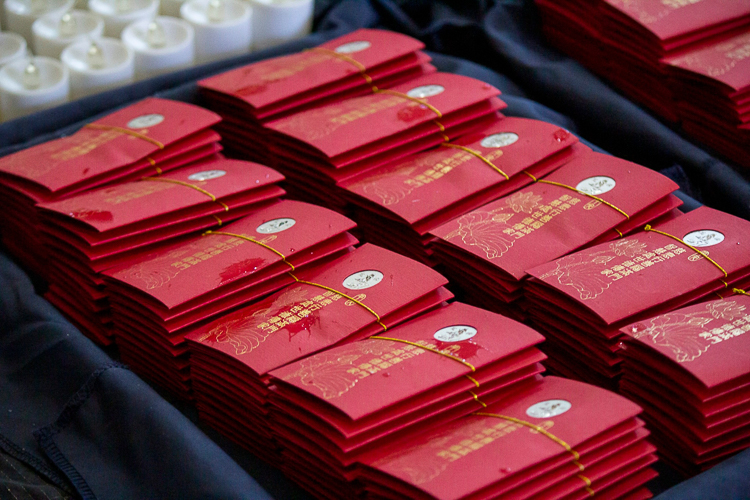 The parishioners receive a red envelope (angpao) blessed by Tzu Chi founder Dharma Master Cheng Yen. 【Photo by Marella Saldonido】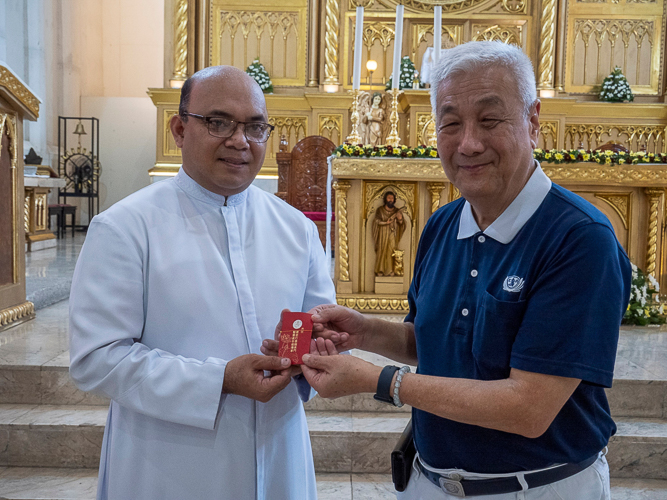 The parishioners receive a red envelope (angpao) blessed by Tzu Chi founder Dharma Master Cheng Yen. 【Photo by Matt Serrano】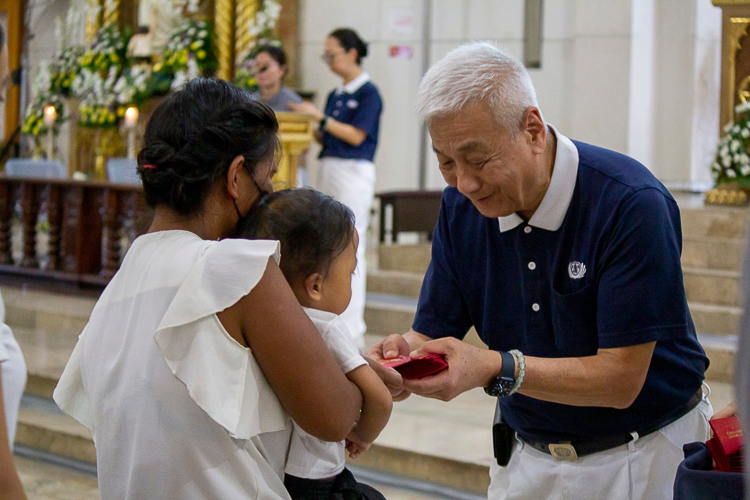 The parishioners receive a red envelope (angpao) blessed by Tzu Chi founder Dharma Master Cheng Yen. 【Photo by Marella Saldonido】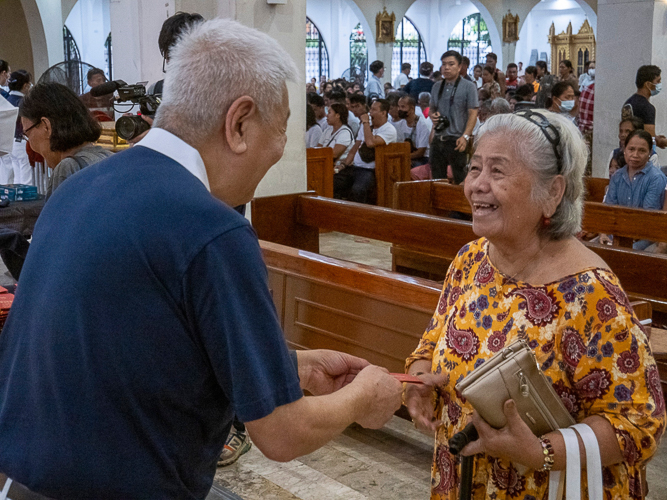 The parishioners receive a red envelope (angpao) blessed by Tzu Chi founder Dharma Master Cheng Yen. 【Photo by Matt Serrano】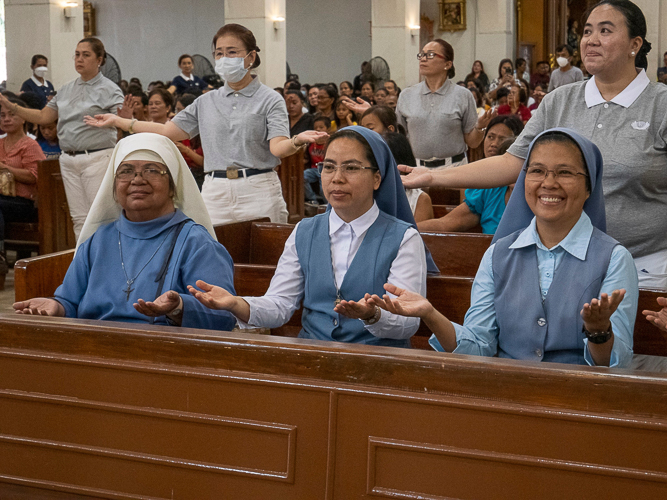 Parish nuns join Tzu Chi volunteers in the 'One Family' sign language song. 【Photo by Matt Serrano】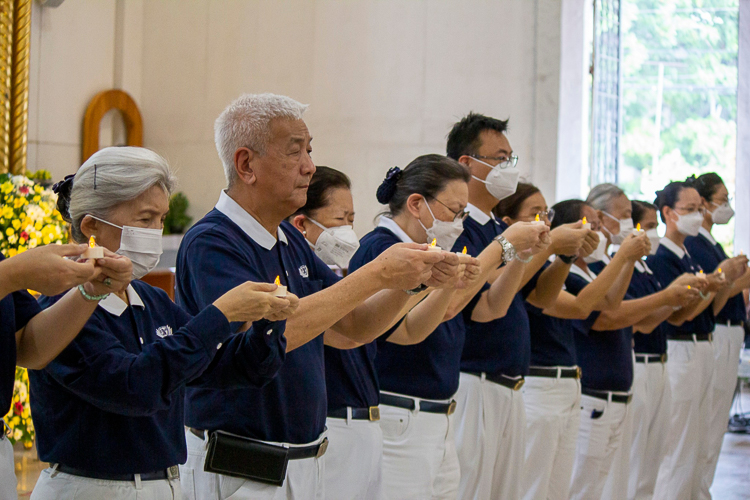 The program culminates on a hopeful note as the congregation raises their candles in a solemn prayer. 【Photo by Marella Saldonido】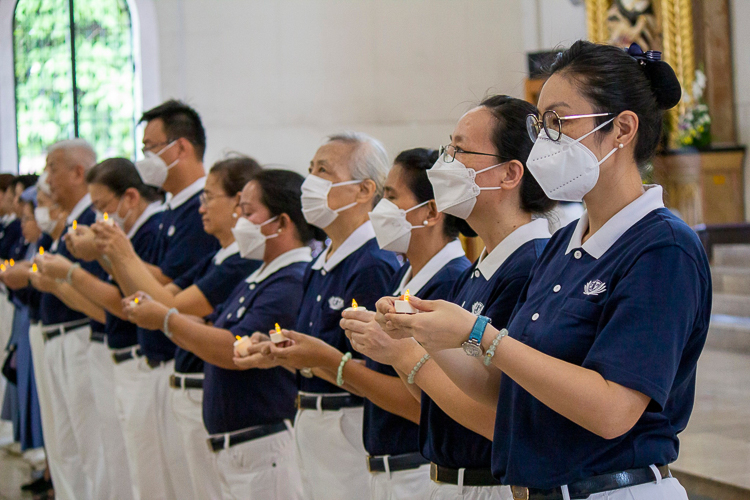 The program culminates on a hopeful note as the congregation raises their candles in a solemn prayer. 【Photo by Marella Saldonido】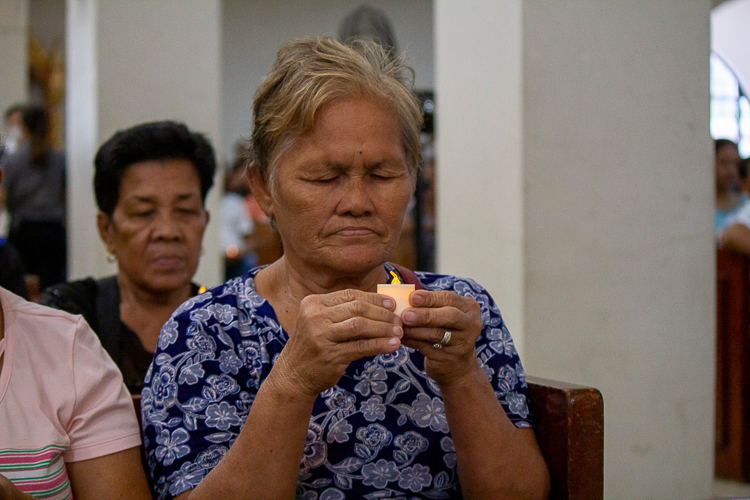 The program culminates on a hopeful note as the congregation raises their candles in a solemn prayer. 【Photo by Marella Saldonido】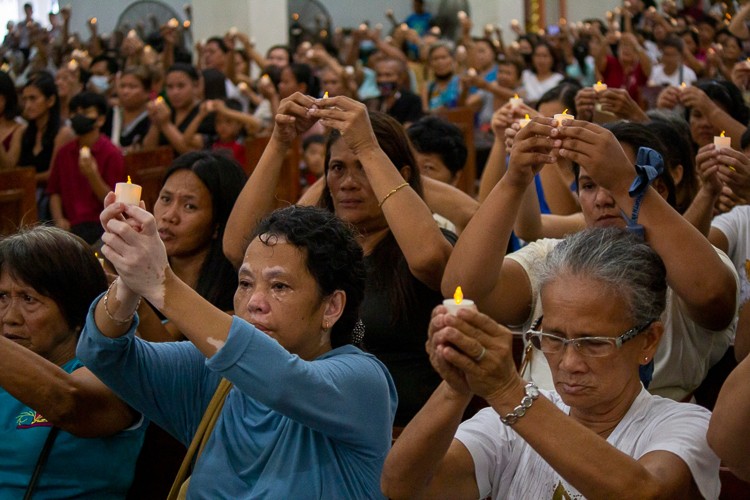 The program culminates on a hopeful note as the congregation raises their candles in a solemn prayer. 【Photo by Marella Saldonido】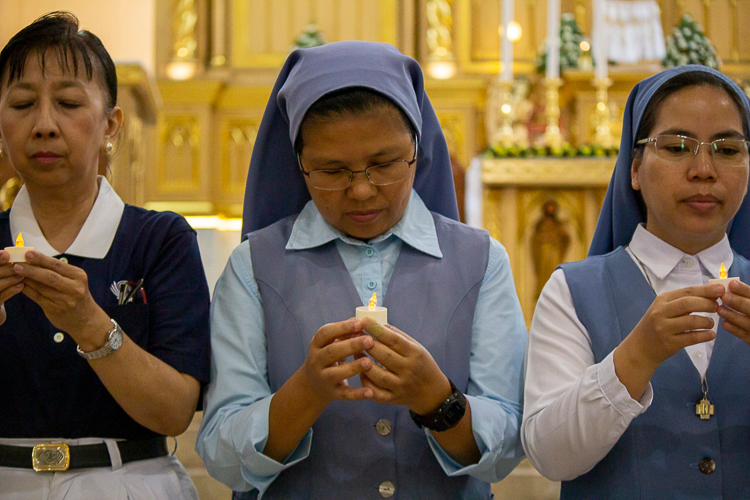 The program culminates on a hopeful note as the congregation raises their candles in a solemn prayer. 【Photo by Marella Saldonido】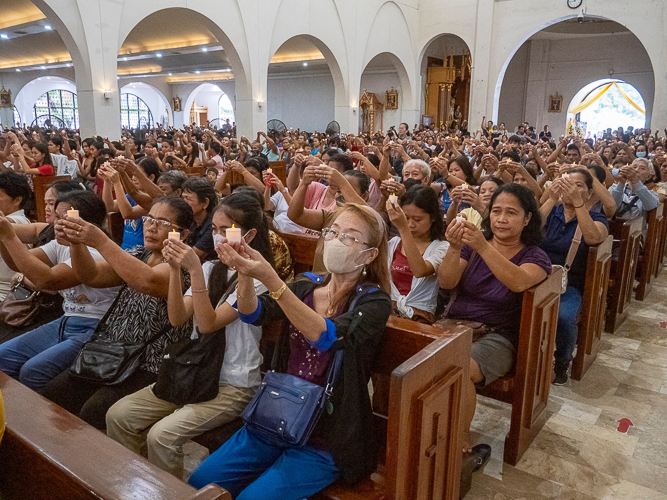 The program culminates on a hopeful note as the congregation raises their candles in a solemn prayer. 【Photo by Matt Serrano】
Go Back