Tzu Chi holds medical mission for scholars, staff, and their families
Volunteers include 13 general medicine physicians, 10 pediatricians, 55 dentists, and 22 dental students.
By Joy Rojas
Of the hundreds of medical missions organized by the Tzu Chi Foundation since its first in Baguio in 1995, the medical mission held on April 23 at the Buddhist Tzu Chi Campus (BTCC) in Sta. Mesa, Manila, was a special one.
"Today's medical mission is for our scholars, staff, and their families," says Tzu Chi Philippines CEO Henry Yuñez. "I'd like to thank the volunteers and doctors for making this event a success."
Situated inside BTCC's bright and spacious Jing Si Hall, the medical mission assigned dental services on the left, and general medicine and pediatric services on the right. Also on the right side was a pharmacy, where beneficiaries claimed medicines prescribed by volunteer doctors.
Motivated by Tzu Chi's mission to ease suffering through compassion and relief, 13 general medicine doctors, 10 pediatricians, 55 dentists, and 22 dental students devoted their time and expertise to addressing the health concerns of 820 patients. Two hundred seventy patients consulted with general medicine physicians, 207 patients saw pediatricians, and 343 patients had dental checkups.
For dentist and Tzu Chi commissioner Dr. Cheung Lai Chun, the task of putting together a large-scale dental mission in two weeks seemed next to impossible. The limited time and resources meant they could not perform a dental prophylaxis, fix cavities, or extract teeth on the spot.
Still, she ran a tight and organized mission, thanks to the unwavering dedication and commitment of fellow dentists from the Philippine Academy of Esthetic Dentistry, Makati Dental Society, Unciano Colleges, and the Pierre Fauchard Academy.
"I called them and everybody responded. I was so happy," says Dr. Cheung with a smile.
Everybody responded favorably as well after Dr. Cheung realized that these checkups would amount to nothing without treatment.
"Who will adopt a patient?" she suddenly announced on the mic. One by one, volunteer dentists stepped up. "I will adopt. I will adopt," they said. "Dr. Cheung, anytime scholars need treatment, pass them to us."
Such willingness to help without expectations moved Dr. Cheung to tears. "They support me so much. So, I feel my effort is worth it, and I'm very happy to work with Tzu Chi," she says, sobbing. "I see the blessing. I'm so happy. I will relay this to Master Cheng Yen next week when I go to Taiwan."
For Drs. Rose Go and Catherine Young, both pediatricians and among the original volunteers of Tzu Chi's medical missions in the '90s, spending a Sunday morning to conduct checkups and consultations for indigents comes naturally.
"Maybe it's because I'm used to it, but it doesn't feel like a burden. Coming here is part of our life," says Dr. Young. "I like medical missions because they're a venue for us to extend our help to others. The satisfaction that we get from helping these patients is different from our work in private practice. We know we won't get paid, but we still give them the attention that they need. It's the best feeling. Their sincere 'thank you' is enough."
"Just coming here, I think the patient will already be healed," says Dr. Go. "The ambiance in BTCC is very nice." Recalling the days when they would travel to remote communities four times a year for medical missions, she says, "hopefully this will give us a new start."
Resuming Tzu Chi medical missions spells good news for those who don't have the means to fund their long-term medical conditions.
What began as a small growth on the right side of Josephine Javier's jaw in 2012 is now the size of a golf ball. From a CT scan in 2019, doctors identified the mass as a lipoma, a non-cancerous fatty tumor found just below the skin. Although the soft, moveable mass doesn't hurt, it certainly makes the 54-year-old from Tañong, Marikina, self-conscious.
Josephine, who cleans homes on the side, is the Javier family's latest Tzu Chi beneficiary. When her husband underwent an operation for colon cancer in 2009, he asked different organizations for ask for assistance in purchasing colostomy bags. "We approached so many places but no one helped," she says. Only Tzu Chi responded to his plea, and provided him with the bags, which he uses.
Ten years later, two of her three children, Jastine Mae and Ma. Attonete, became Tzu Chi scholars.
At the medical mission, Josephine received medicine for her hypertension and a referral to Tzu Chi's surgical team for the removal of her lipoma. "Thank you, Tzu Chi Foundation," she says. "You are such a big help to us."
Grateful as well for Tzu Chi's generosity are Jeoffrey and Marcelina Desabelle, parents to 9-year-old Angelica, who is recovering from pediatric ischemic stroke and general epilepsy. The rare condition unexpectedly struck their youngest and most active of five children after a day of swimming in June 2022.
Right there and then, life changed for 48-year-old Jeoffrey and Marcelina, 46.
Intubated and in a coma for a week, Angelica was in the hospital for a month and a half and lost her ability to speak and perform daily tasks.
A security guard, Joeffrey went on leave to watch over his youngest child in the hospital. "In my job, it's no work, no pay. So, I had no income," says Joeffrey who had to toughen up when the hospital nurse assigned him to suction out clumps of blood coming out of his daughter's nose and mouth.
Nearly a year after her diagnosis, Angelica remains the focus of her parents. Before Joeffrey goes to work, he makes sure he and his wife give their daughter a bath. Marcelina feeds Angelica blended food through a nasogastric tube that runs from her nostril to her stomach.
"Our life changed in a big way. To be honest, we had to mortgage our home," she says. "Her condition is no joke. You need a big budget for her daily needs—diapers, wipes, a food supplement."
But the Desabelles remain hopeful. Responding to physical and occupational therapy, plus her parents' tireless efforts to look after her, Angelica is showing signs of improvement. She can now follow people with her eyes, move her limbs, laugh and cry at appropriate times, and has even managed to speak.
"The first word she said was 'Papa,' which I thought was strange because she's mostly with her mother," says Joeffrey with a smile. "When I see her improve, all my exhaustion goes away and I don't think about the income that I lost."
"Angelica is fighting, pushing herself to get better," says Marcelina. "We really have to be strong for her. With help and guidance from God, may He give us the strength to continue looking after Angelica."
Support from Tzu Chi since September 2022 also lifts their spirits. As a beneficiary, Angelica receives a milk supplement her parents would not be able to afford on their own. From the medical mission, Marcelina was able to claim vitamins for her daughter, too.
"I thank Tzu Chi for providing us with her milk. As you can see, she is able to smile and get stronger," says Marcelina, as Angelica smiles on cue. "Thank you very much, Tzu Chi. God bless you more. Hope you can help more people like us."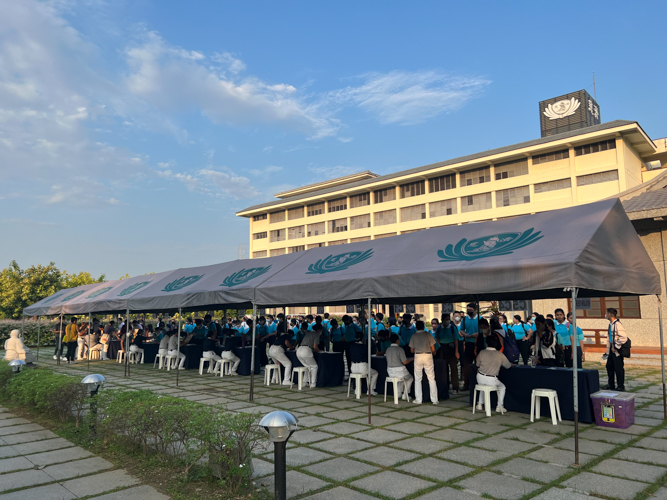 A registration area for medical mission patients is set up in the spacious, airy grounds of Buddhist Tzu Chi Campus in Sta. Mesa, Manila.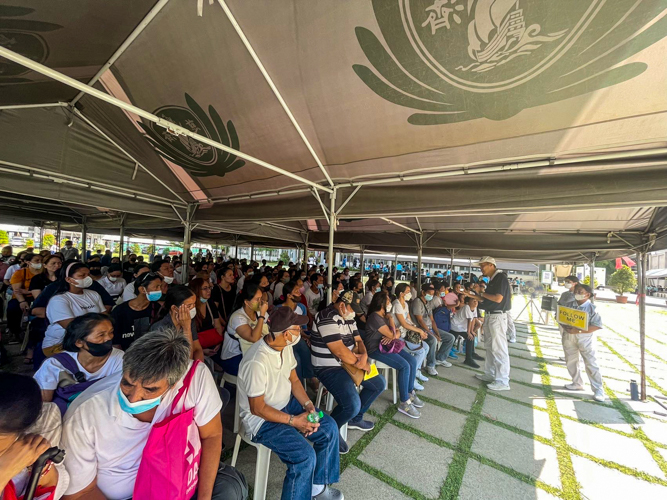 As patients await consultation, Tzu Chi volunteers provide inspiring talk.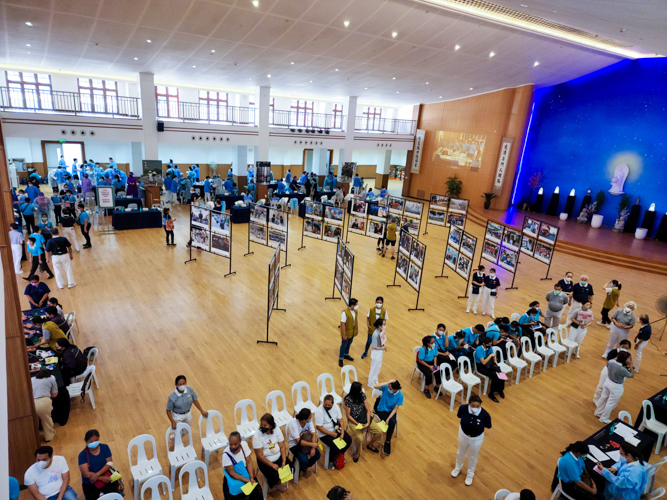 The large and bright Jing Si Auditorium is a far cry from the cramp classrooms in the province where medical missions in the 1990s were held.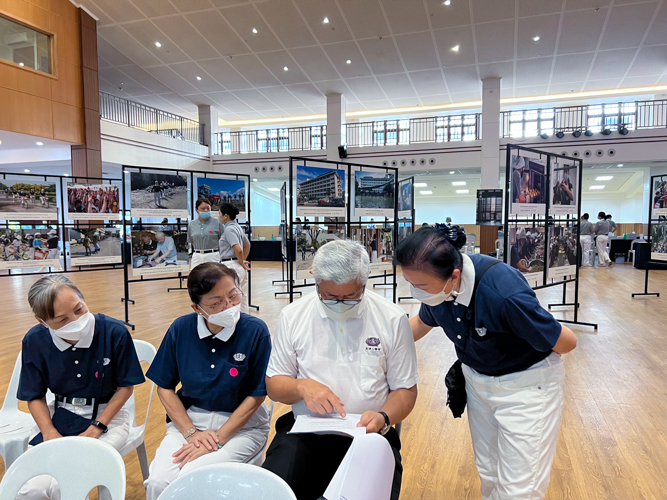 Dr. Jo Qua (in white), a pioneer of Tzu Chi's medical missions, goes over the list of volunteers and doctors with Tzu Chi commissioners.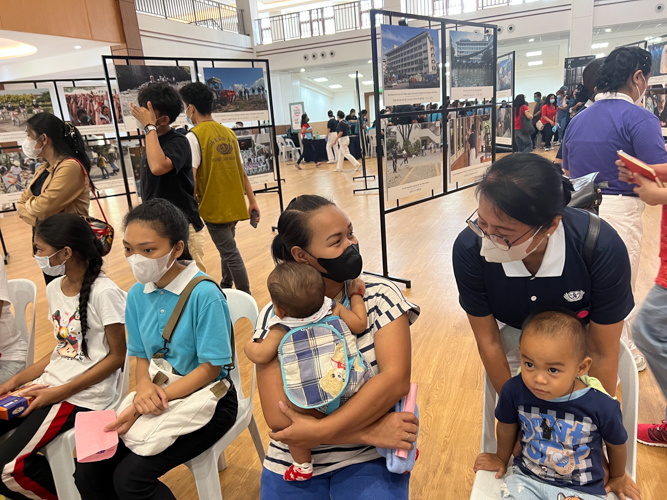 A Tzu Chi commissioner checks on a mother and her children in the pediatric medicine consultation area.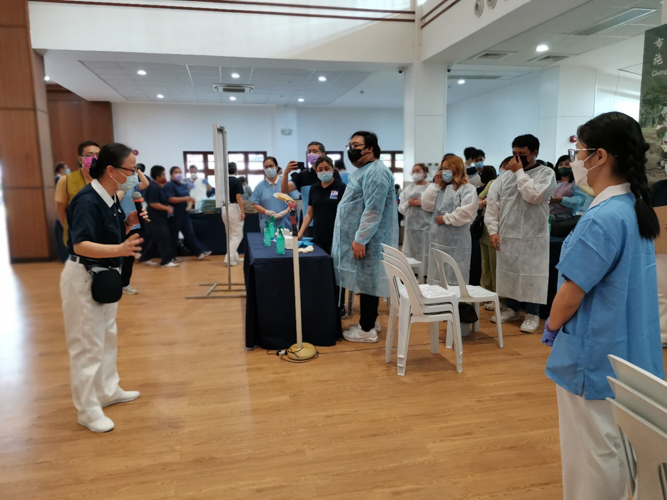 Head of dental missions Dr. Cheung Lai Chun (left) gives last-minute instructions to her volunteers.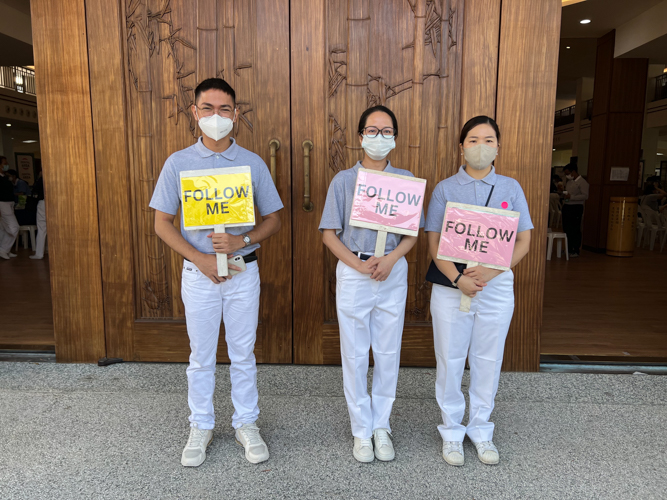 Volunteers ensured the organized and efficient flow of patients during the medical mission. 【Photo by Jenie Sy Lao】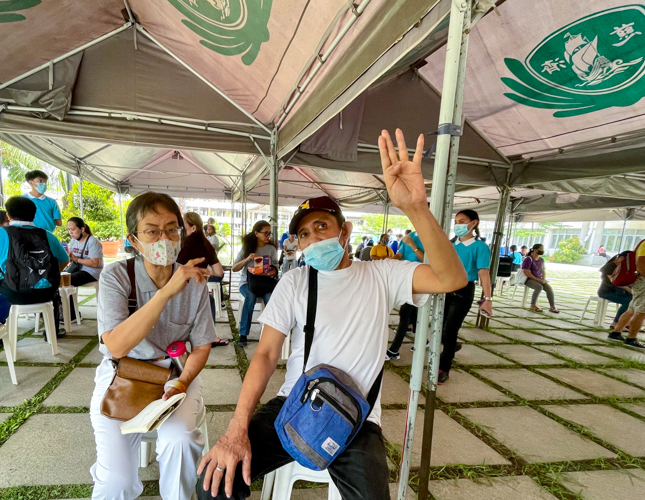 A beneficiary for the past eight years, Ronaldo Curioso can now raise his arm after suffering a stroke 16 years ago.
Volunteers man the pharmacy where patients claim their prescribed medicines. 【Photo by Matt Serrano】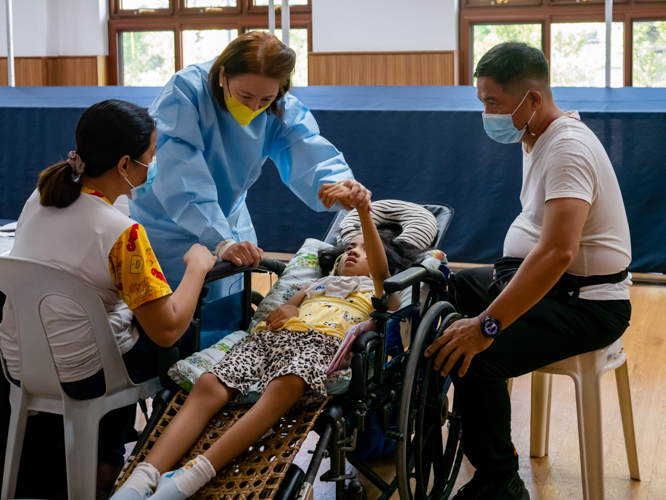 Dr. Rose Go (in blue) examines Angelica Desabelle as her parents Marcelina (left) and Jeoffrey Desabelle look on. Angelica, 9, was diagnosed with the rare pediatric ischemic stroke and general epilepsy. 【Photo by Daniel Lazar】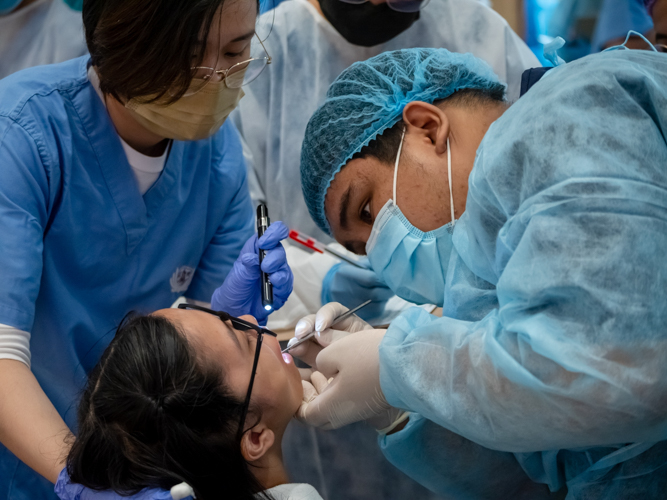 Dentists perform an oral exam on a Tzu Chi scholar. 【Photo by Daniel Lazar】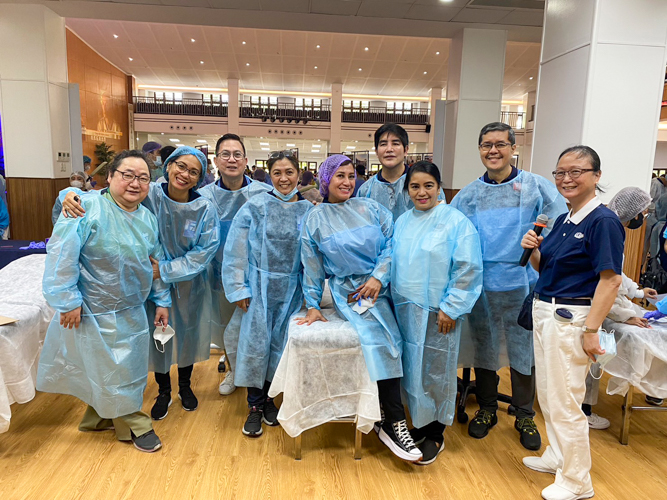 Volunteer dentists from the dental mission【Photo by Matt Serrano】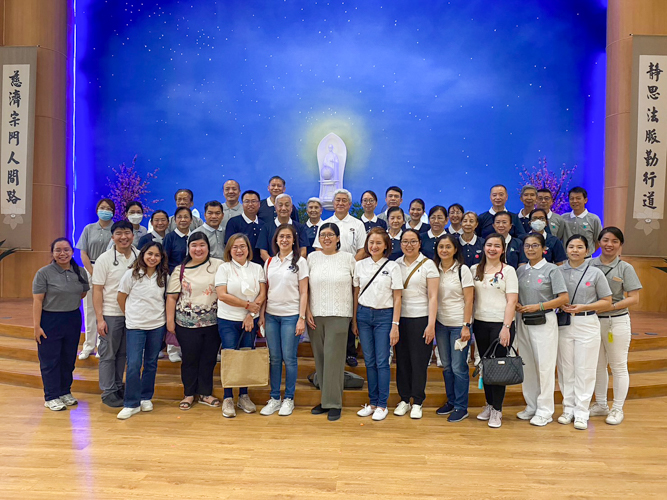 Volunteer doctors from the pediatric mission 【Photo by Matt Serrano】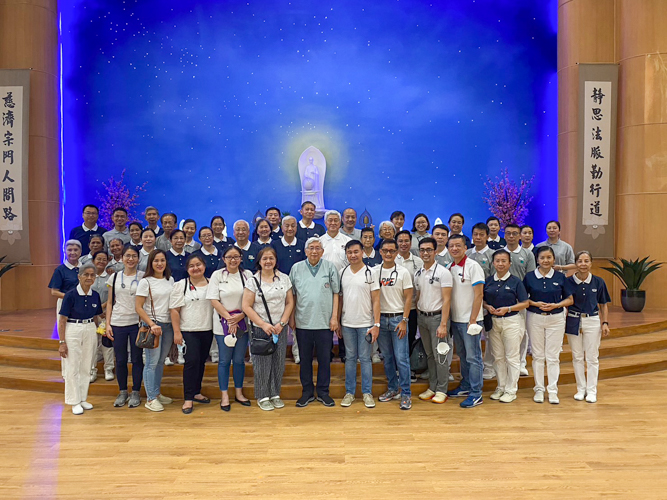 Volunteer doctors from the general medicine mission 【Photo by Matt Serrano】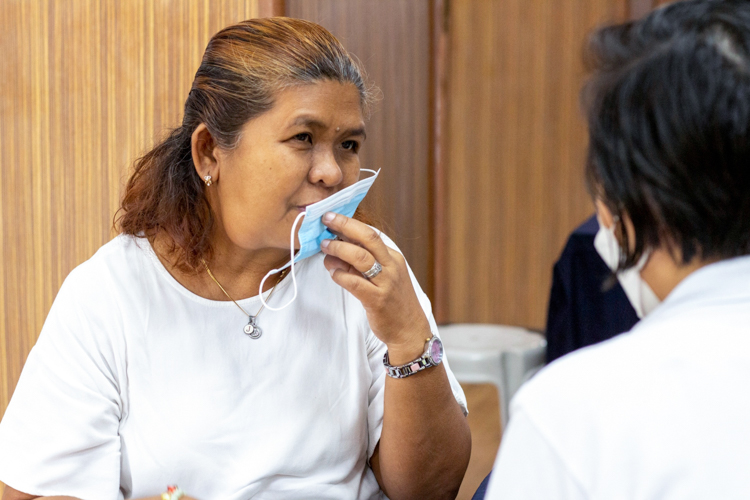 Josephine Javier received a referral to Tzu Chi's surgical team for the removal of a lipoma on her right jaw. 【Photo by Matt Serrano】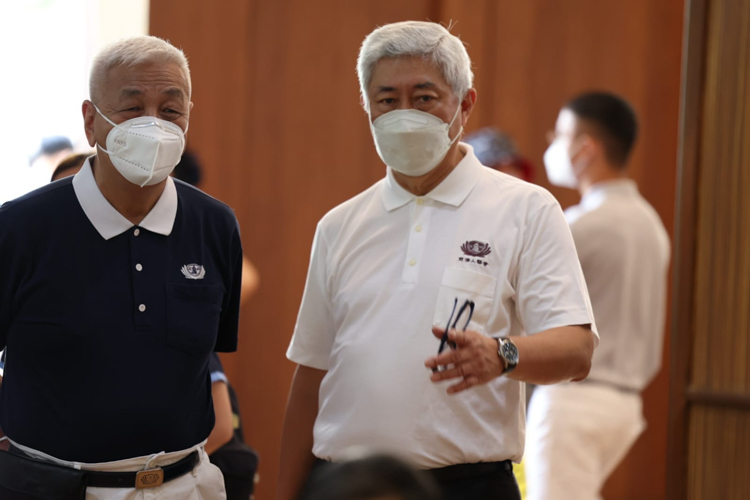 Tzu Chi Philippines CEO Henry Yuñez (left) and Tzu Chi medical missions pioneer Dr. Jo Qua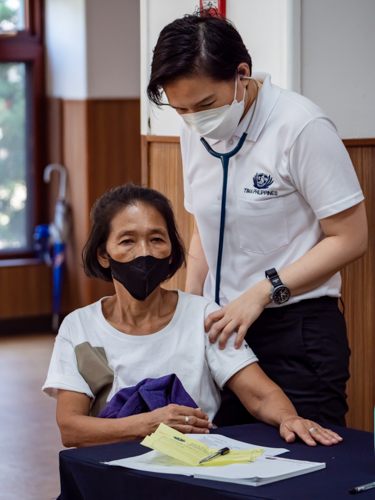 Assigned to the general medicine section, Dr. Bea Ang performs a checkup on a patient.【Photo by Daniel Lazar】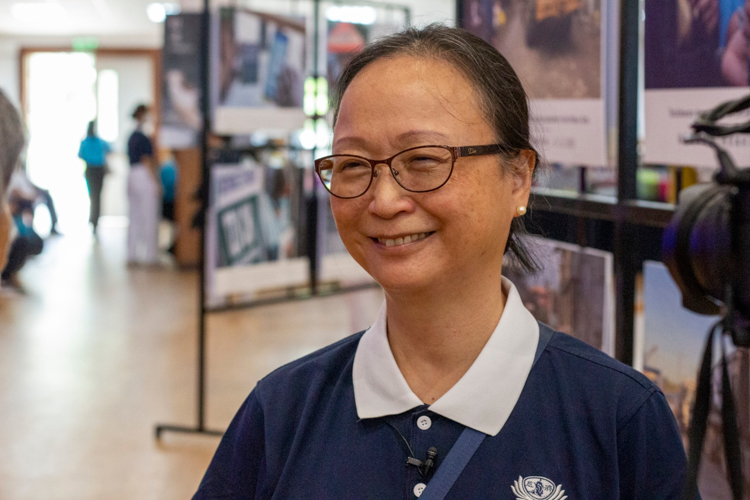 Despite the limited time, Dr. Dr. Cheung Lai Chun was able to mobilize 55 dentists and 22 dental students to participant in Tzu Chi's dental mission. She also got them to "adopt" patients so they can receive the proper treatment after the dental mission. 【Photo by Matt Serrano】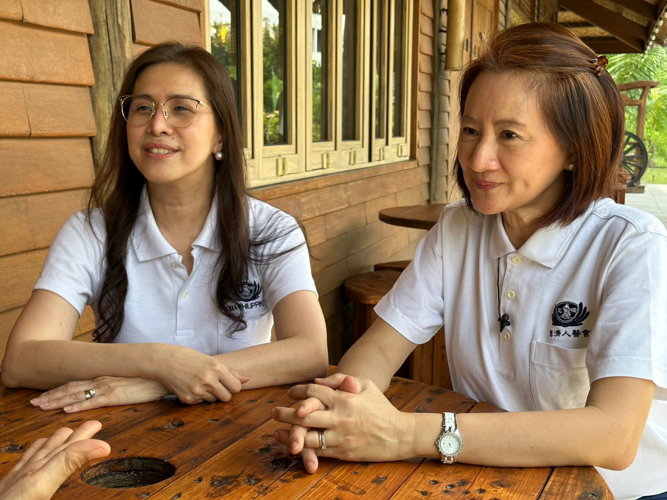 Both pediatricians, Drs. Catherine Young (left) and Rose Go were among the original volunteer doctors of Tzu Chi's medical missions in the 1990s.【Photo by Harold Alzaga】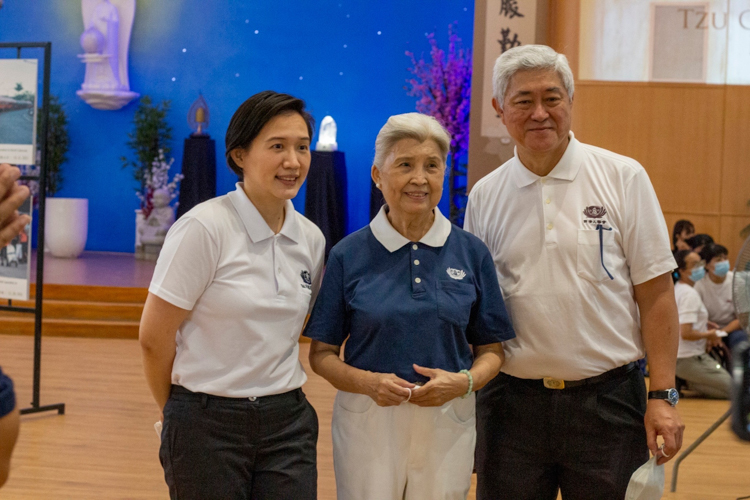 Volunteers for life (from left) former Tzu Chi Youth member Dr. Bea Ang, former Tzu Chi CEO Linda Chua, and medical mission organizer Dr. Jo Qua continue to offer their expertise at Tzu Chi's latest medical mission.【Photo by Matt Serrano】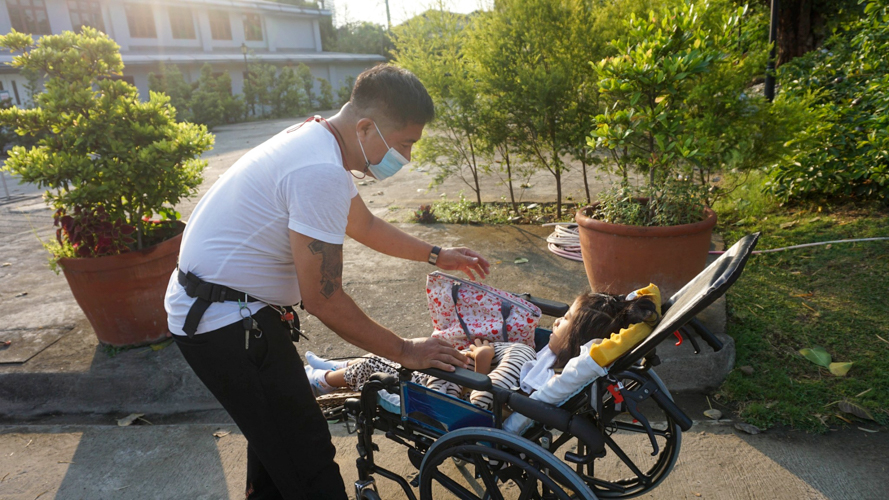 Security guard Joeffrey Desabelle attends to his daughter, Angelica, a pediatric ischemic stroke patient. 【Photo by Jenie Sy Lao】
Go Back