Tzu Chi 2023 Annual Meeting brings hope, unity to volunteers
5- and 3-year goals were defined
By Joy Rojas
Tzu Chi Palo volunteer Randy Militante may not speak Mandarin, but in the presence of senior volunteers who conversed in Chinese at the Tzu Chi 2023 annual conference from October 20 to 22, it was almost as if he understood every word they said.
"I listened to [Tzu Chi Philippines CEO] Uncle Henry Yuñez and the rest of the volunteers and it's like I knew what they were saying," he said. "As volunteers of Tzu Chi Foundation, we speak one language and follow one path. We also have the same goal, and that is for the good of humanity."
The three-day planning session certainly affirmed it. Held at the Buddhist Tzu Chi Campus (BTCC) in Sta. Mesa, Manila, the event was an initiative of the CEO to further professionalize Tzu Chi Philippines' operations. It was also an opportunity for volunteers from Metro Manila and the provincial chapters of Bicol, Bohol Cebu, Davao, Palo, Pampanga, and Zamboanga to align their goals and dreams for Tzu Chi Philippines in the coming years.
Grouped according to their district and provincial chapter, volunteers took turns discussing their respective achievements, milestones, and challenges. Manila-based Minzhong (Central Manila), Minxi (West Manila), and Mindong (East Manila) talked about their new volunteers, commissioners, and donors as well as their innovative approaches to inviting potential volunteers (through tea parties) and raising funds (like Fiesta Verde). Tzu Chi Pampanga volunteer Pansy Ho happily reported the inauguration of the chapter's official office in Angeles City.
Tzu Chi Bicol, Bohol, and Cebu volunteers detailed their great strides in providing scholarships to poor but deserving youth. "Education is the great equalizer," said Tzu Chi Bohol volunteer Joven Uy. "Blessings don't always come in the form of money," added Tzu Chi Bicol volunteer Antonio Tan. "As Master Cheng Yen said, 'The hope of the family is in the children, and the children's hope is education,'" noted Tzu Chi Cebu volunteer Helen Tan. "In this regard, we have taken to heart introducing Tzu Chi's mission of humanistic culture."
Volunteer Randy Militante highlighted Palo's reputation as a learning site for its mushroom farming livelihood. Tzu Chi Davao volunteer Nelson Chua updated the group on the success of the chapter's banana seedling project for the impoverished members of the Talaingod tribe. And Dr. Anton Lim proudly shared the lives changed by the artificial limbs supplied by Tzu Chi Zamboanga's prosthesis center.
Uplifted by the good news, volunteers then broke into groups and identified their 5- and 3-year goals for Tzu Chi. Foremost among their plans is the construction of a Tzu Chi Hospital in BTCC, a facility that combines quality medical service and the compassion and relief that Tzu Chi Foundation is known for.
Through international workshop facilitator and alignment coach Joyce Lao, they came up with a singular objective and specified the ways in which they can personally make these goals a reality. For the structure and direction volunteers need to focus on achieving these goals, volunteer Konrad Chua introduced them to the Entrepreneurial Operating System (EOS). According to its website, EOS is "a set of tools and processes designed to help business owners and leaders get their companies running more smoothly and achieve their goals."
"You can see everybody working together, really actively working," said Marietta Uy, Tzu Chi volunteer from Cebu. "They're very enthusiastic in making sure that Tzu Chi Philippines moves forward."
There was time for fun too. On the evening of October 20, volunteers donned colorful costumes and performed songs and dances before an appreciative audience at the Jing Si Hall. The next night, it was back to the Jing Si Hall, this time to watch a stunning interpretation of "Sutra of Immeasurable Meanings," featuring thousands of volunteers from Taiwan.
Gatherings like this are a reminder to volunteers that for all their differences in language, location, practices, and beliefs, they are united in their goals for Tzu Chi and their mission to alleviate the struggles of the world through Master Cheng Yen's missions of charity, medicine, education, and humanistic culture.
"Some people ask us, 'Why would you spend so much time on this one person?'" says Tzu Chi Zamboanga volunteer Harvey Yap. "It goes back to what Doc Anton tells me: 'If you change one life, even one life, it's possible that life can change one whole generation.'"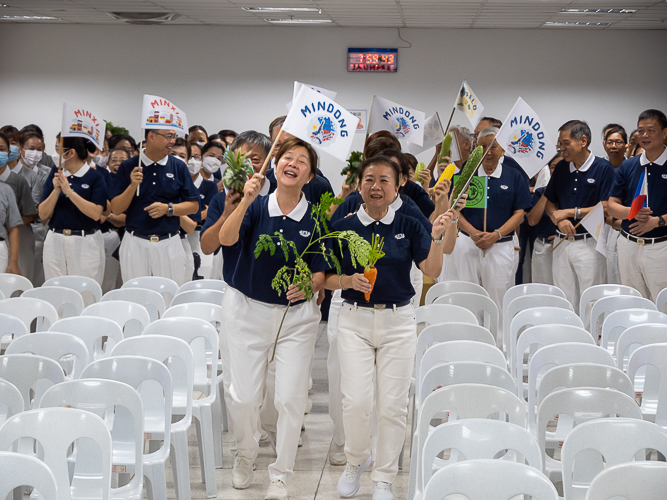 Waving flags, volunteers from Metro Manila, Bicol, Bohol Cebu, Davao, Palo, Pampanga, and Zamboanga make a lively entrance before the start of the planning session of the Tzu Chi 2023 Annual Meeting. 【Photo by Marella Saldonido】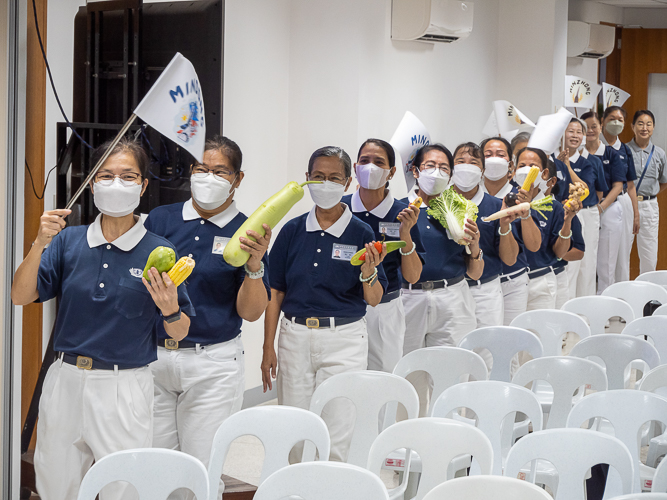 Waving flags, volunteers from Metro Manila, Bicol, Bohol Cebu, Davao, Palo, Pampanga, and Zamboanga make a lively entrance before the start of the planning session of the Tzu Chi 2023 Annual Meeting. 【Photo by Marella Saldonido】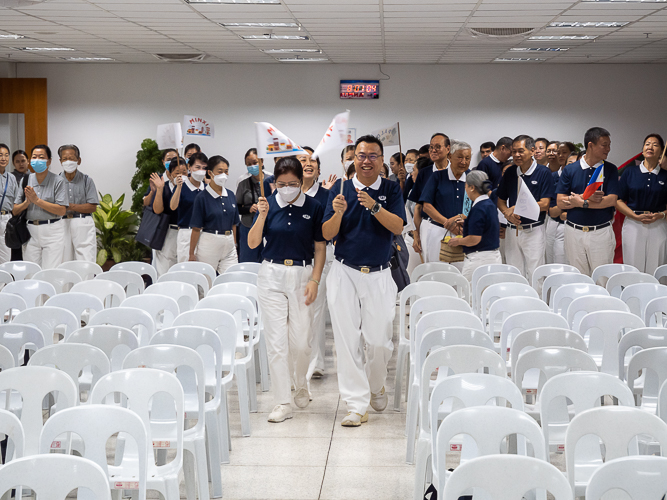 Waving flags, volunteers from Metro Manila, Bicol, Bohol Cebu, Davao, Palo, Pampanga, and Zamboanga make a lively entrance before the start of the planning session of the Tzu Chi 2023 Annual Meeting. 【Photo by Marella Saldonido】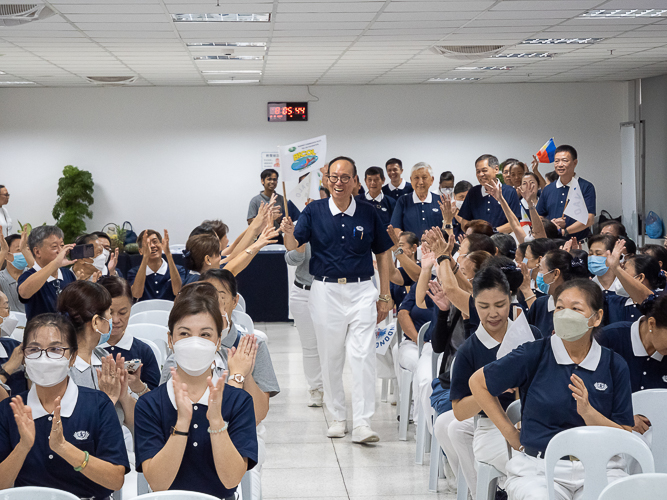 Waving flags, volunteers from Metro Manila, Bicol, Bohol Cebu, Davao, Palo, Pampanga, and Zamboanga make a lively entrance before the start of the planning session of the Tzu Chi 2023 Annual Meeting. 【Photo by Marella Saldonido】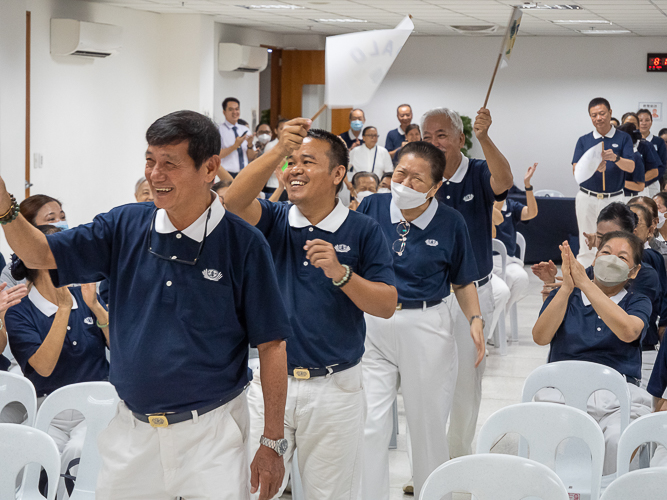 Waving flags, volunteers from Metro Manila, Bicol, Bohol Cebu, Davao, Palo, Pampanga, and Zamboanga make a lively entrance before the start of the planning session of the Tzu Chi 2023 Annual Meeting. 【Photo by Marella Saldonido】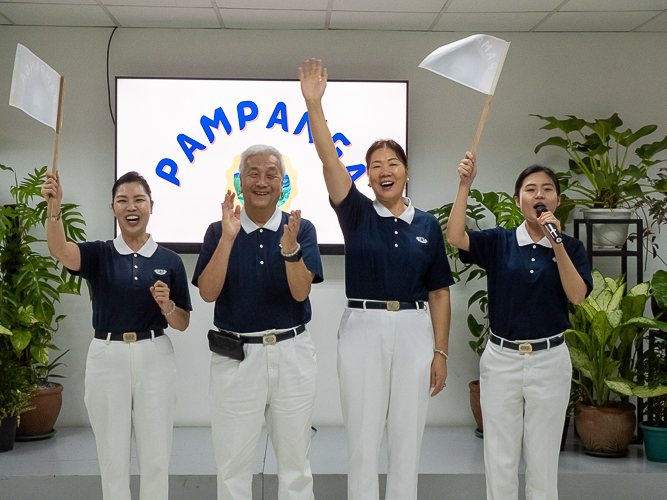 Waving flags, volunteers from Metro Manila, Bicol, Bohol Cebu, Davao, Palo, Pampanga, and Zamboanga make a lively entrance before the start of the planning session of the Tzu Chi 2023 Annual Meeting. 【Photo by Marella Saldonido】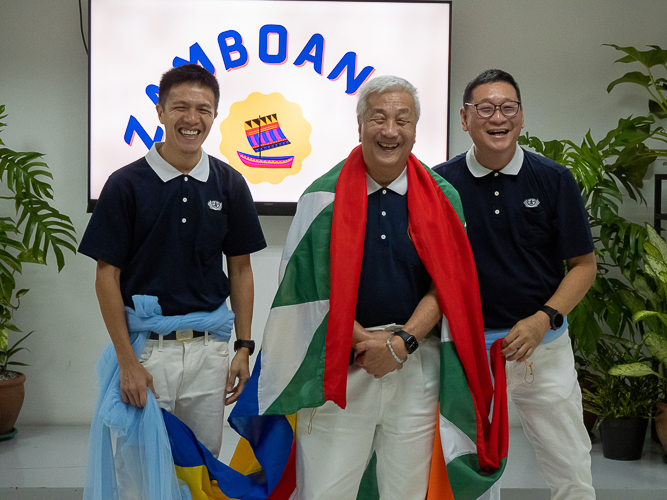 Waving flags, volunteers from Metro Manila, Bicol, Bohol Cebu, Davao, Palo, Pampanga, and Zamboanga make a lively entrance before the start of the planning session of the Tzu Chi 2023 Annual Meeting. 【Photo by Marella Saldonido】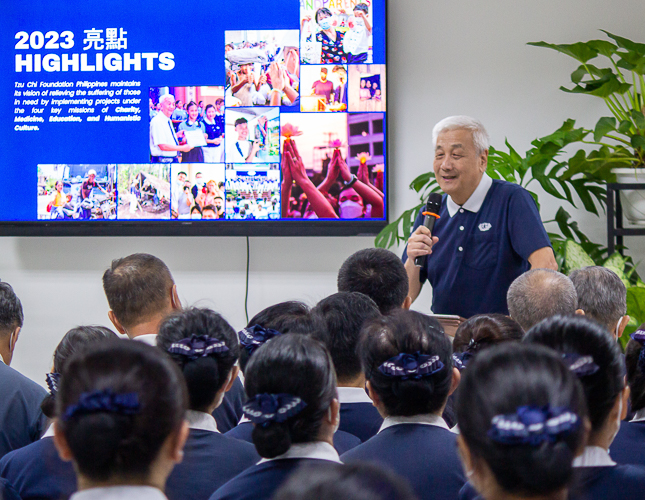 The 2023 Annual Meeting was an initiative of Tzu Chi Philippines CEO Henry Yuñez to further professionalize Tzu Chi's operations in the country. 【Photo by Marella Saldonido】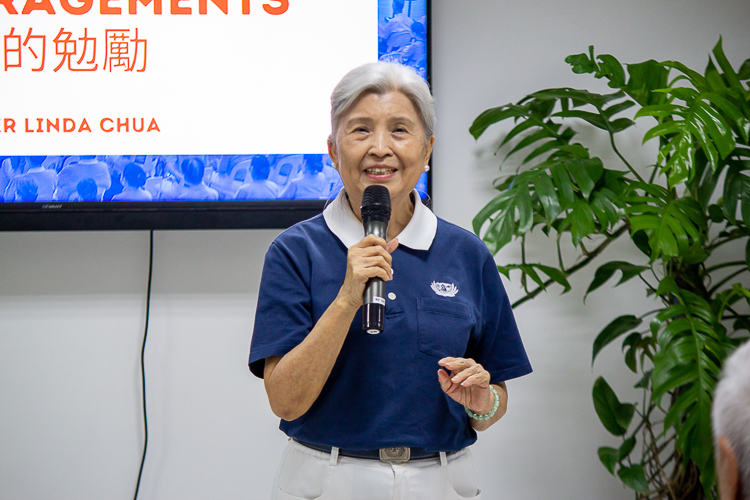 Tzu Chi Philippines' first CEO Linda Chua offers words of encouragement before the start of the conference. 【Photo by Marella Saldonido】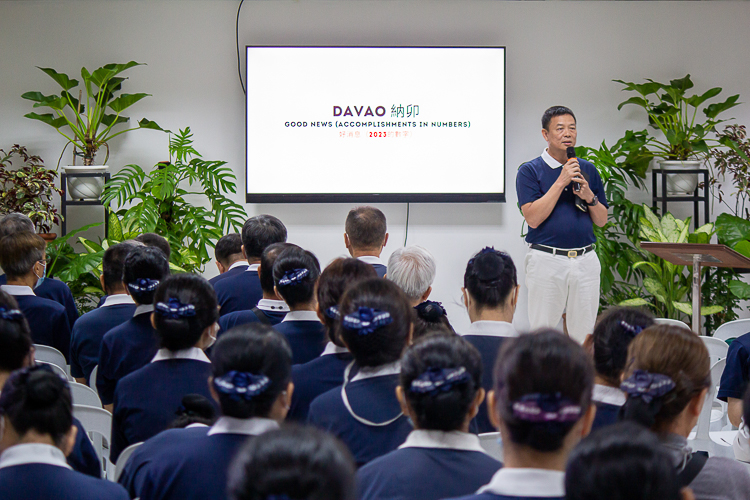 Volunteers take turns sharing the achievements, milestones, and challenges of their respective districts and provincial chapters. 【Photo by Marella Saldonido】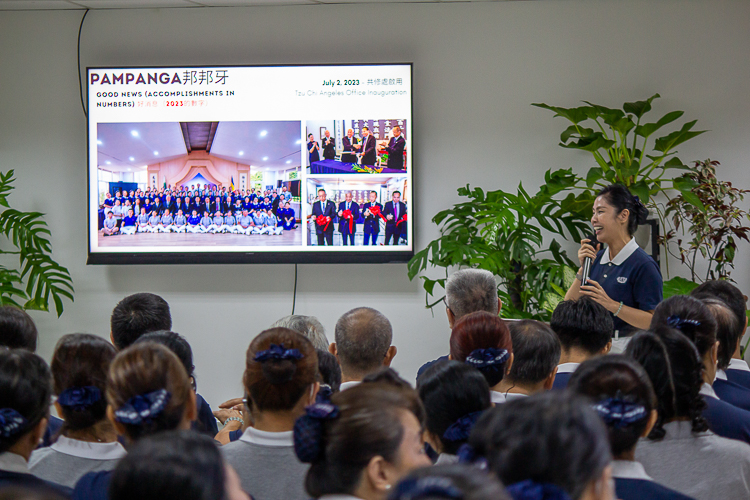 Volunteers take turns sharing the achievements, milestones, and challenges of their respective districts and provincial chapters. 【Photo by Marella Saldonido】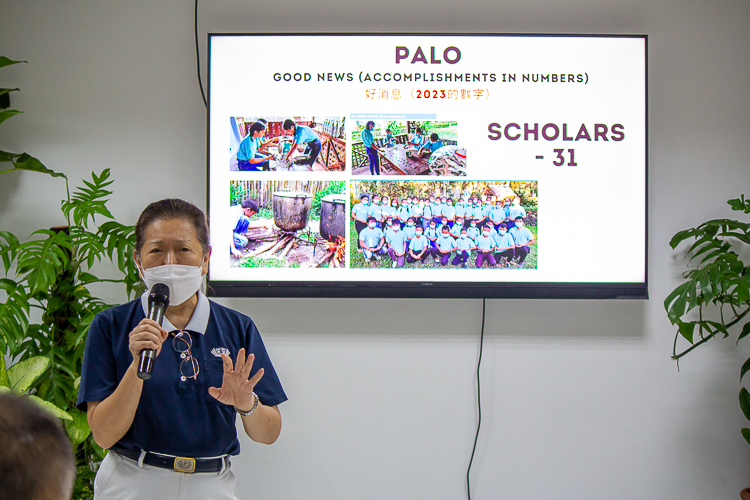 Volunteers take turns sharing the achievements, milestones, and challenges of their respective districts and provincial chapters. 【Photo by Marella Saldonido】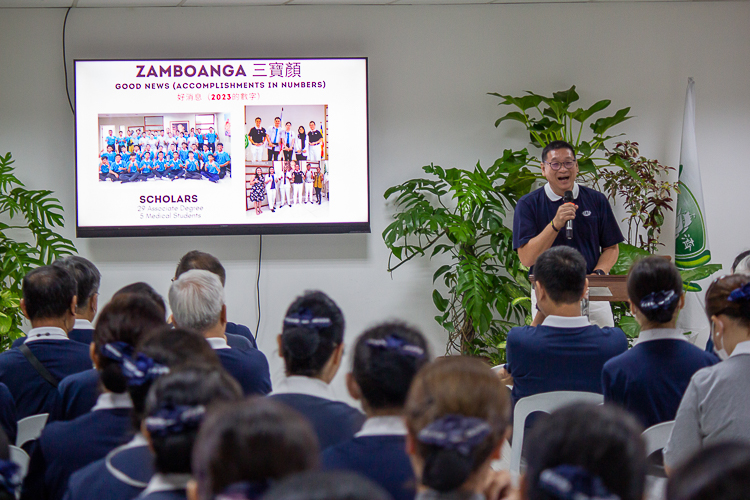 Volunteers take turns sharing the achievements, milestones, and challenges of their respective districts and provincial chapters. 【Photo by Marella Saldonido】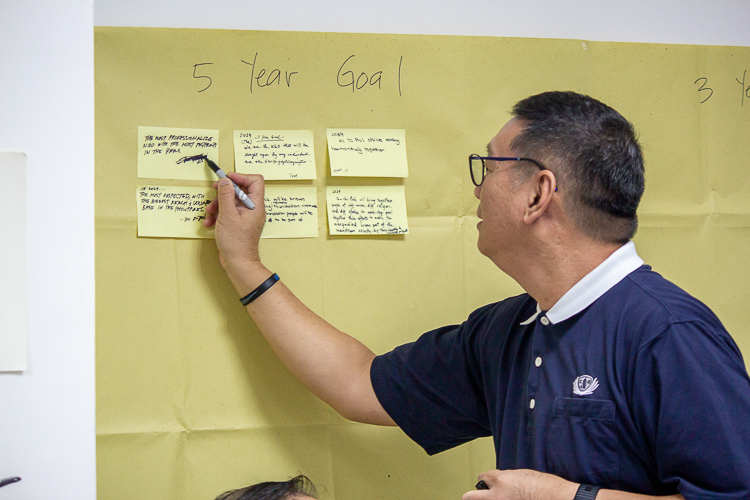 Breaking into groups, volunteers discussed then wrote down their 5- and 3-year goals for Tzu Chi Philippines. 【Photo by Marella Saldonido】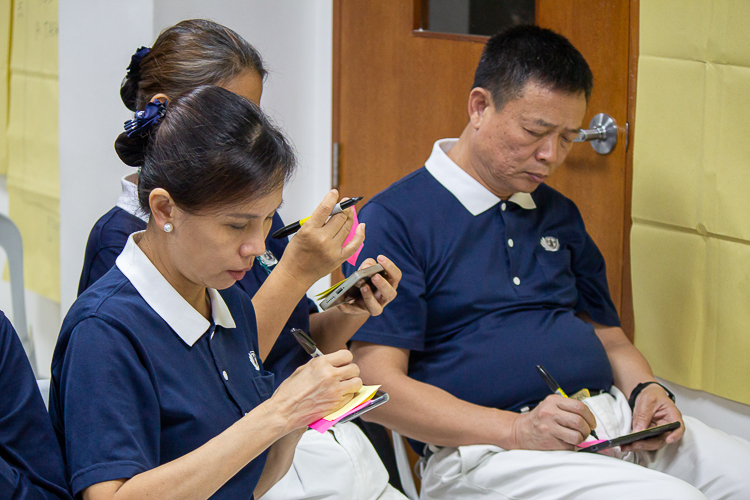 Breaking into groups, volunteers discussed then wrote down their 5- and 3-year goals for Tzu Chi Philippines. 【Photo by Marella Saldonido】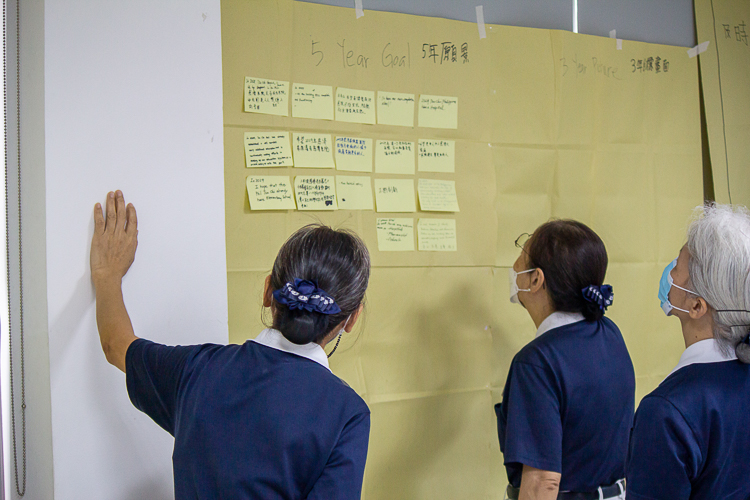 Breaking into groups, volunteers discussed then wrote down their 5- and 3-year goals for Tzu Chi Philippines. 【Photo by Marella Saldonido】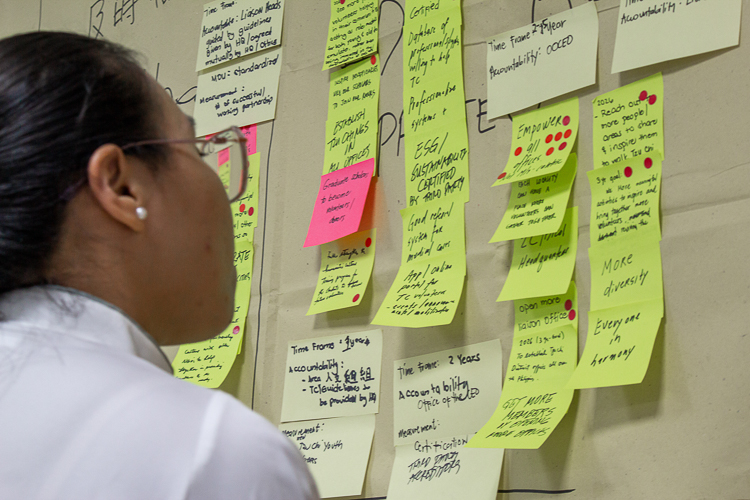 Breaking into groups, volunteers discussed then wrote down their 5- and 3-year goals for Tzu Chi Philippines. 【Photo by Marella Saldonido】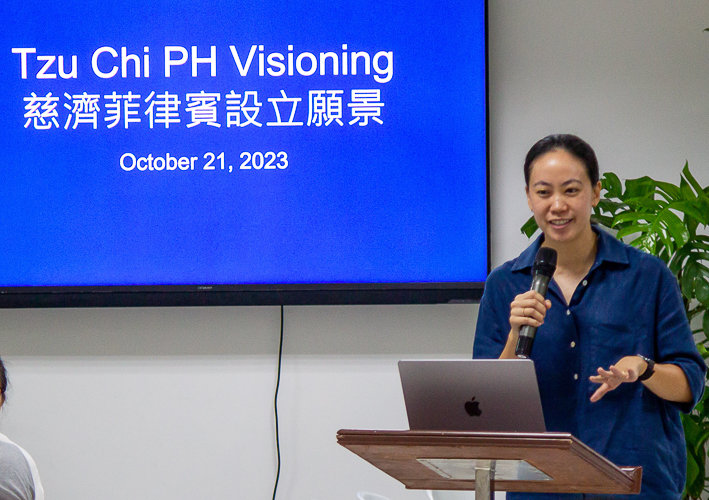 International workshop facilitator and alignment coach Joyce Lao guided volunteers in identifying their 5- and 3-year goals for Tzu Chi and the ways they can personally contribute to making these goals happen. 【Photo by Marella Saldonido】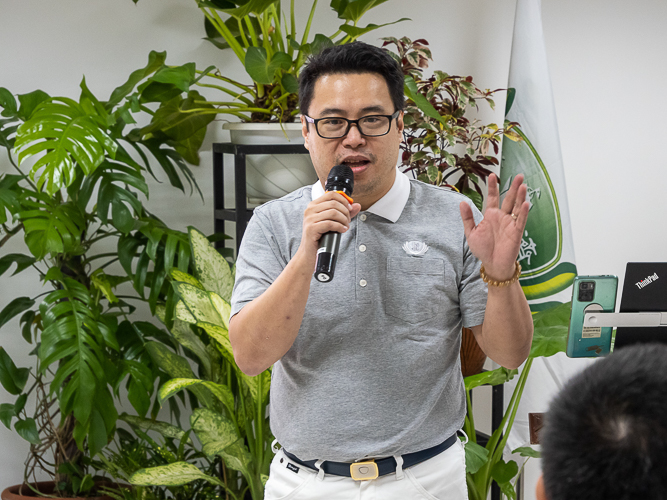 To provide structure and direction to achieving their goals, volunteer Konrad Chua introduced volunteers to the Entrepreneurial Operating System (EOS). According to its website, EOS is "a set of tools and processes designed to help business owners and leaders get their companies running more smoothly and achieve their goals." 【Photo by Marella Saldonido】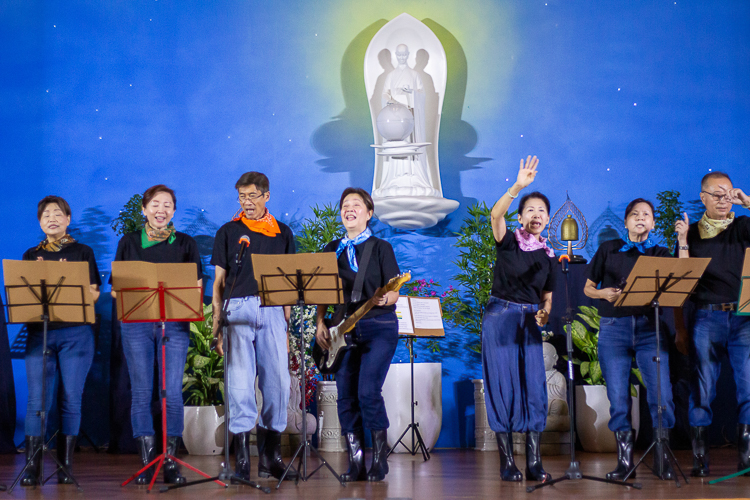 For fun and camaraderie, volunteers donned costumes for light-hearted song-and-dance numbers at the Jing Si Hall on the evening of October 20. 【Photo by Marella Saldonido】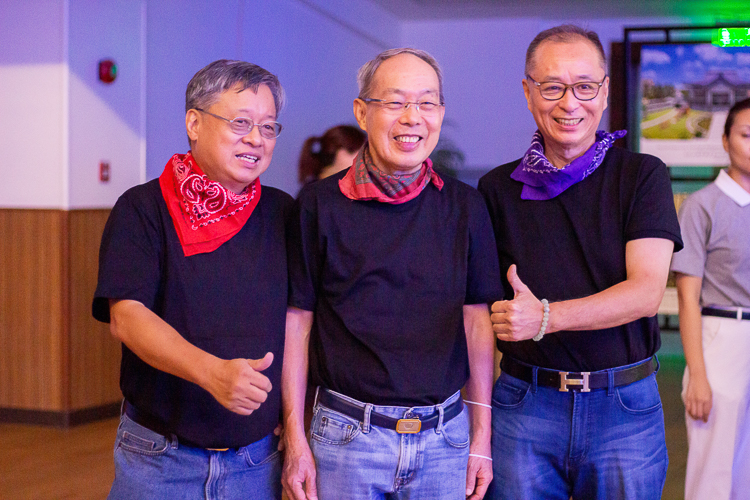 For fun and camaraderie, volunteers donned costumes for light-hearted song-and-dance numbers at the Jing Si Hall on the evening of October 20. 【Photo by Marella Saldonido】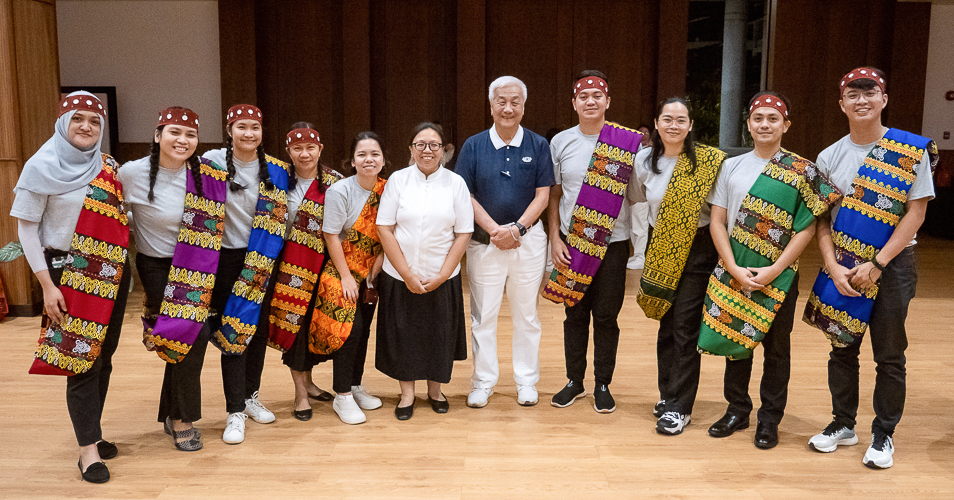 For fun and camaraderie, volunteers donned costumes for light-hearted song-and-dance numbers at the Jing Si Hall on the evening of October 20. 【Photo by Marella Saldonido】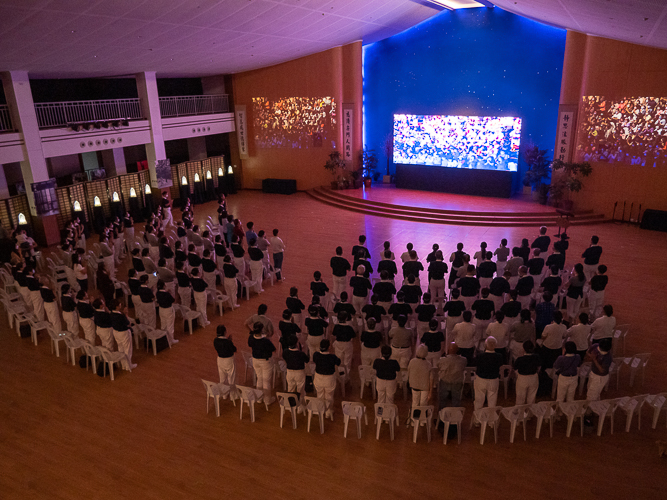 After the planning session and a vegetarian dinner on October 21, volunteers gathered at the Jing Si Hall to watch "Sutra of Immeasurable Meanings," featuring the participation of thousands of volunteers from Tzu Chi Taiwan. 【Photo by Marella Saldonido】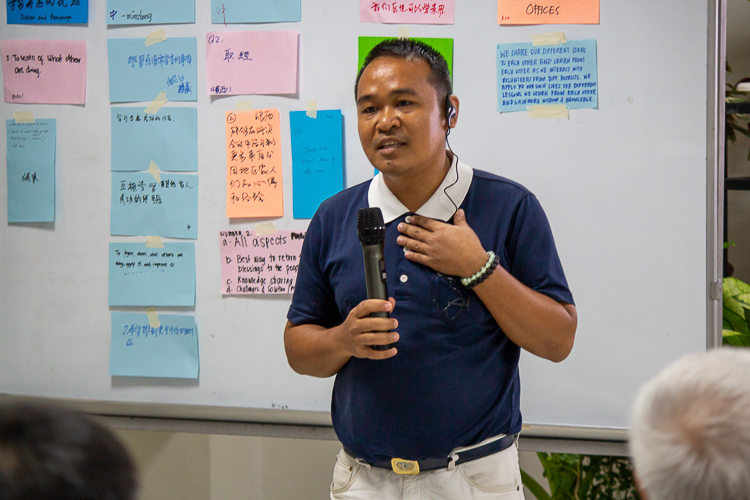 "As volunteers of Tzu Chi Foundation, we speak one language and follow one path. We also have the same goal, and that is for the good of humanity," said Tzu Chi Palo volunteer Randy Militante. 【Photo by Marella Saldonido】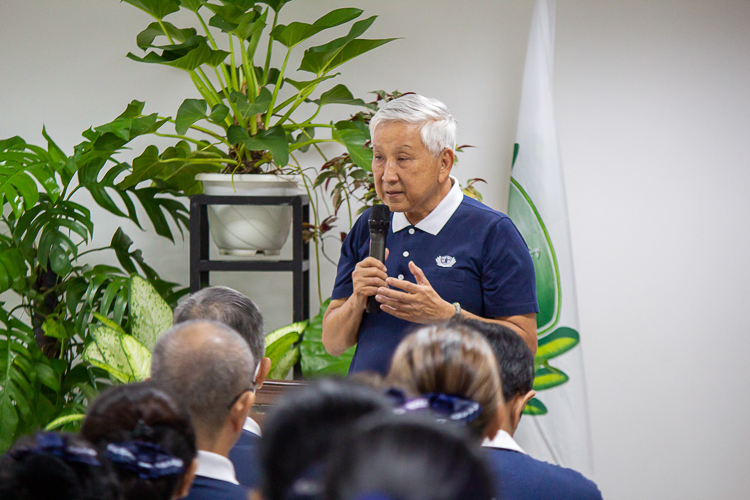 Tzu Chi Bohol volunteer Joven Uy discussed the initiatives taken by his chapter to provide education, and eventually jobs, to Bohol's poor but deserving youth. "Education is the great equalizer," he said. 【Photo by Marella Saldonido】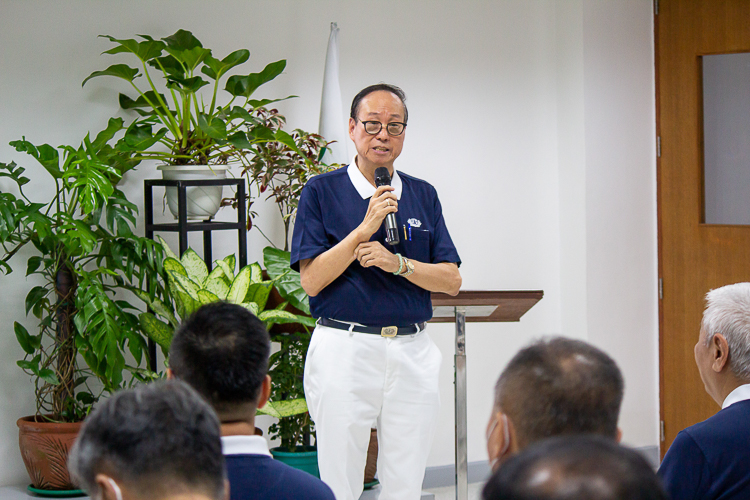 Tzu Chi Bicol volunteer Antonio Tan highlighted his chapter's efforts to make education via scholarships accessible to disadvantaged youth in his province. He also regularly meets with businessmen to talk about Tzu Chi Foundation. "Blessings don't always come in the form of money," he said. 【Photo by Marella Saldonido】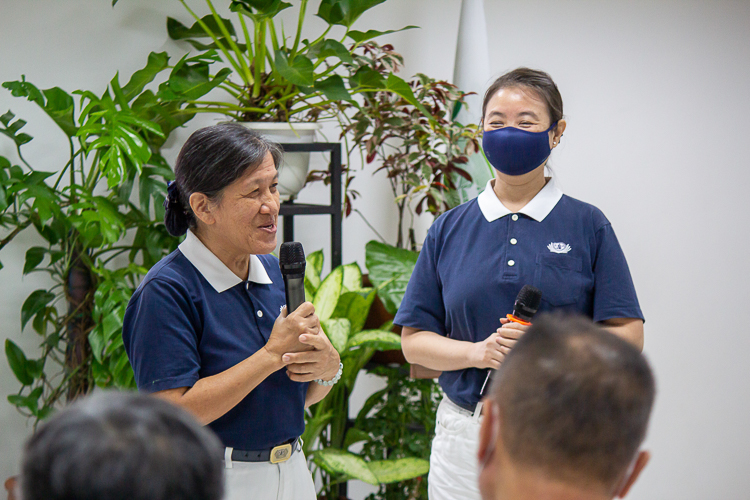 For Tzu Chi Cebu volunteer Helen Tan (left), a gathering like the Tzu Chi conference reveals "each one's strong points that we can emulate. In a way, we also find ourselves and where we can move forward." 【Photo by Marella Saldonido】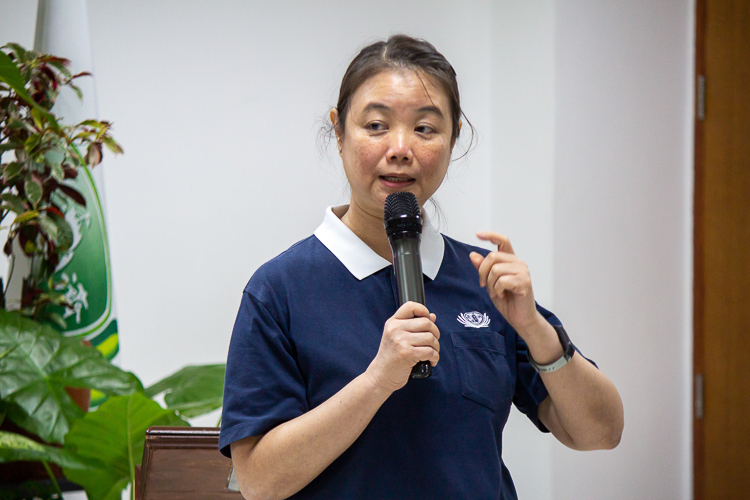 "You can see everybody is working together, really actively working. And they're very enthusiastic in hoping that Tzu Chi Philippines will move forward," says Tzu Chi Cebu volunteer Marietta Uy. 【Photo by Marella Saldonido】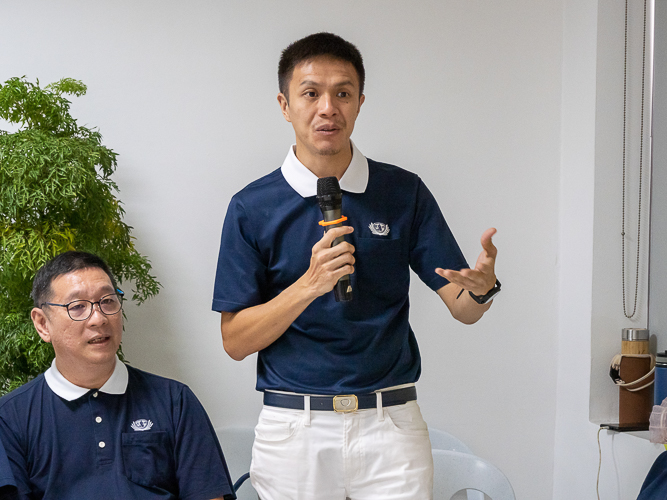 "It's important to form relationships [with your beneficiaries]," says Tzu Chi Zamboanga volunteer Harvey Yap (right). "Once you form the relationship, you'll be able to help these people have a normal life. This is precisely the miracle. Because of these relationships, we were able to change the lives of other people." 【Photo by Marella Saldonido】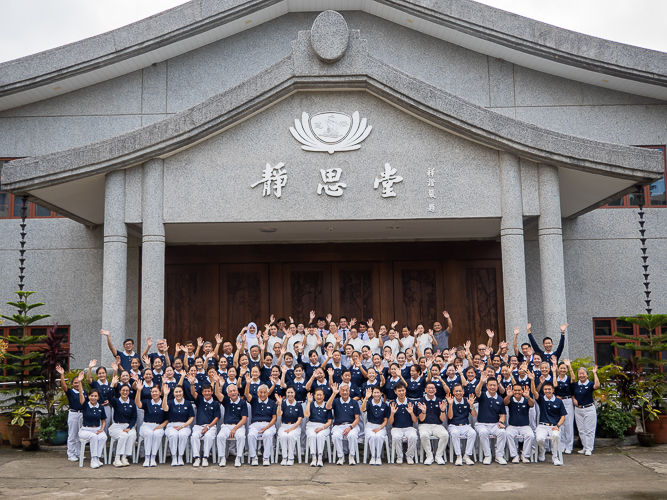 Volunteers wave to the camera in a souvenir photo taken outside BTCC's Jing Si Hall. 【Photo by Marella Saldonido】
Go Back