Tracing Cebu's Humanitarian Footprints: Volunteers share stories of change, compassion, and commitment
Volunteers from Cebu share milestones, stories, and lessons from their volunteerism with Tzu Chi Foundation.
By Ben Baquilod
Volunteers from Cebu, Manila, and Davao joined in a celebratory tea party held on September 17 at the Oakridge Horizons Café in Mandaue City, Cebu. The gathering welcomed guests, united old and new volunteers, and introduced Tzu Chi Cebu's indelible humanitarian footprints in the province.
Senior volunteer Aurelia Yap presented Tzu Chi Cebu's 20-year partnership with the Department of Social Welfare and Development (DSWD) Region VII Area Vocational Rehabilitation Center II (AVRC) which became more impactful on the onset of the COVID-19 pandemic. Tzu Chi Cebu volunteers gave rice relief to visually impaired massage therapists who lost their jobs because of health protocols imposed during the lockdown.
In total, more than 245 sacks of 20-25 kilos, or 5,265 kilos of rice were distributed to the community of visually impaired massage therapists in Cebu in 2020. The Cebu volunteers also took pride in the initiative of Tzu Chi scholars in Brgy. Pulpogan who led distributions of rice to their community. They were able to distribute 3,305 sacks of rice on April 29 and May 2, 2020.
"It's really exciting to see old volunteers coming to the event and new people that we want to invite to join us in Tzu Chi," says Mulric Sarmiento, who started being a volunteer since 2013 in the aftermath of Super Typhoon Yolanda.
Mulric, invited by his boss at work, Jack Gaisano—a Tzu Chi volunteer himself—was the dispatcher of transportation vans in Tzu Chi's relief missions in Tacloban. They were also among the first to deliver goods from Cebu to Ormoc. "I'm impressed of how Tzu Chi does all the distribution with respect and gratitude," marvels then first-time volunteer Mulric. "Even if we're the ones giving gifts or aid to people, it's us who are bowing to them." Like love at first sight, Mulric never left Tzu Chi and has become a reliable volunteer since then.
He took on a big role in setting up more than 160 temporary classrooms in Bohol from February to July 2014 following the magnitude 7.2 earthquake that struck Bohol in October 2013. Eventually, they opened up an operations office in Tagbilaran and started an educational assistance program. Today, there are more than 250 college scholars in Bohol benefiting from the program.
After Christmas of 2021 until the first week of the year, Mulric and his fellow volunteers were working until late in the evening to distribute rice and Php 10,000 to 20,000 cash assistance to severely affected families of Super Typhoon Odette in Cebu City, Carcar, and Mactan Island. "It was exhausting but it was a great opportunity to help my fellow Cebuanos," he says.
For Mulric, Tzu Chi has taught him a lot of new values and validated the existing ones he had growing up. Filial piety; respect to all human beings including animals, plants, and even non-living beings; and being mindful in terms of thoughts, words, and actions­—these lessons, he says, have become clearer to him now. At home, he and his kids enjoy reading Jing Si Aphorism books together.
Being a Tzu Chi volunteer is a self-cultivating activity, believes Mulric. "Every decision I make, it is anchored on the values I learned from Tzu Chi," he adds. "The great love that Master [Cheng Yen] teaches is something unheard of for normal people but when you're in Tzu Chi, there are many things that you can do to express that great love."
His boss, Jack Gaisano feels the same. "In Tzu Chi world, we call everybody sisters and brothers. We address everybody with respect," says the businessman. "If you are inside Tzu Chi, even if you work very hard, you feel very happy because you're fulfilled. Your body is tired but your mind is relaxed."
Jack praises Tzu Chi for it welcomes people from all walks of life. "It's not an ordinary Buddhist organization. In fact, anything goes inside the Tzu Chi world. There are Catholics, Muslims, Christians, and whatnots. In Tzu Chi, it's not the religion. I call it altruism," he says.
For some volunteers like Mariel Ybañez, Tzu Chi has become an avenue to find happiness and purpose in life. "I had very rough years in my previous years. I was very anxious and depressed," says Mariel, a former public school teacher. Though she had a stable life, she was not happy. "I was too busy chasing a lot of things and a lot of expectations from people," she says. When she became a Tzu Chi volunteer two years ago, now teaching Tzu Chi values through humanities classes, it seems like she has finally found her life's missing piece.
"I am very happy to be part of Tzu Chi where I am able to teach a lot of students," says Mariel, beaming with joy. "I am very contented in my life right now. I do not see being a Tzu Chi volunteer as just a fleeting commitment or just a game. I see this as a lifetime commitment."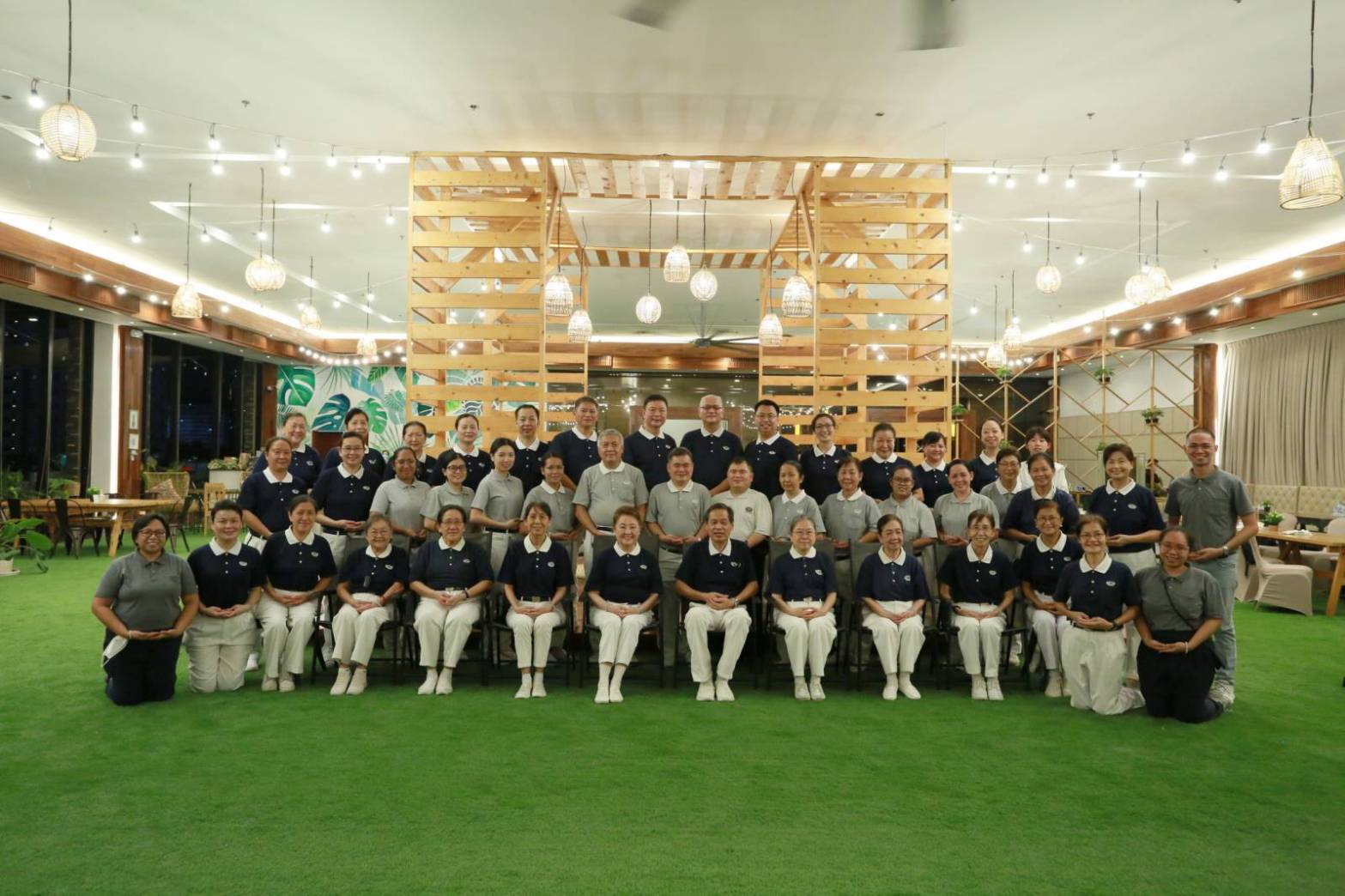 Volunteers from Cebu, Davao, and Manila at the tea party held on September 17, 2022 at the Oakridge Horizons Café in Mandaue City, Cebu. 【Photo by Divina Villacrusis】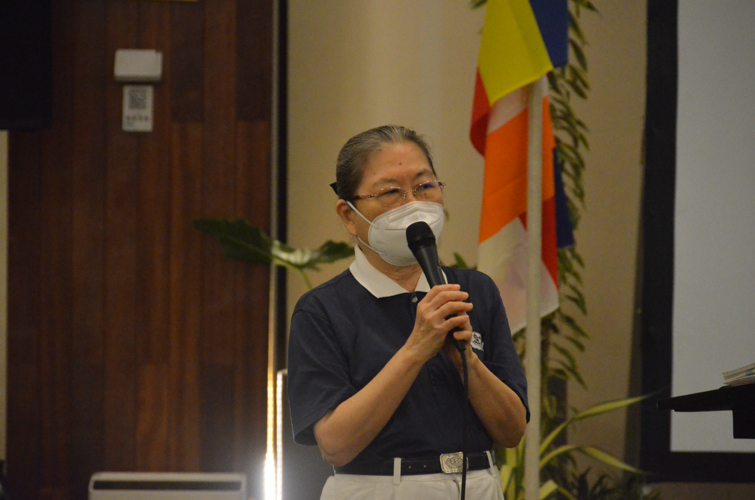 Senior volunteer Aurelia Yap presents Tzu Chi Cebu's humanitarian footprints in the province. 【Photo by Divina Villacrusis】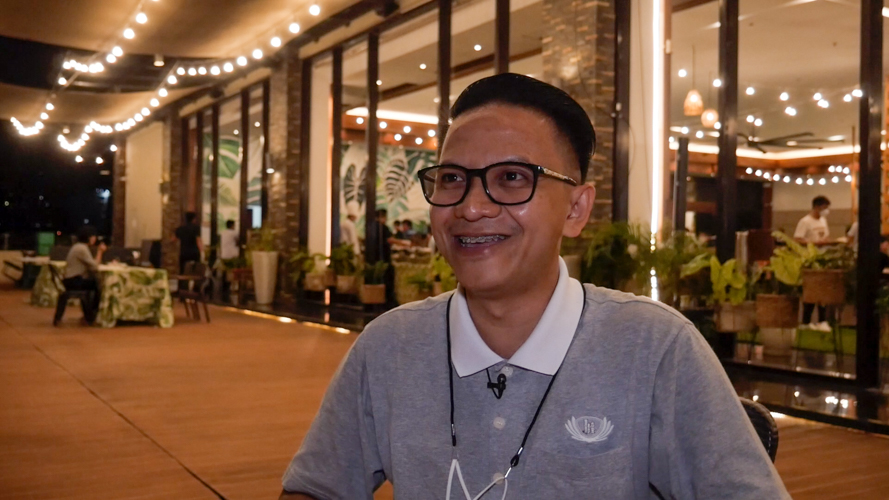 "Every decision I make, it is anchored on the values I learned from Tzu Chi," says Cebu volunteer Mulric Sarmiento. "The great love that Master [Cheng Yen] teaches is something unheard of for normal people but when you're in Tzu Chi, there are many things that you can do to express that great love." 【Photo by Jeaneal Dando】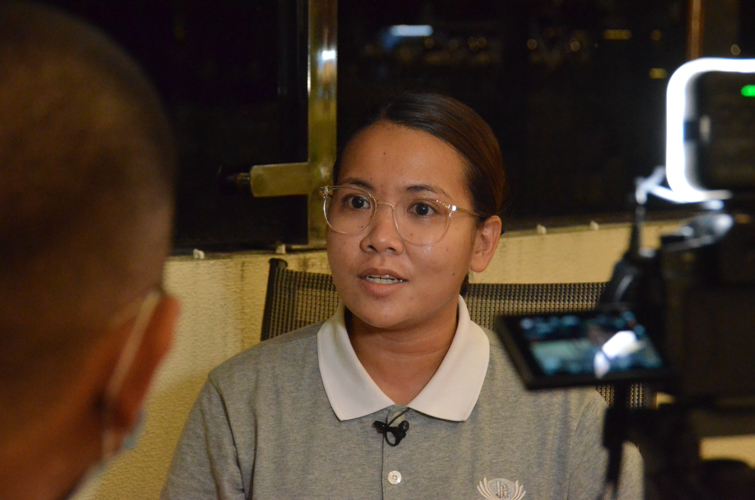 "I am very happy to be part of Tzu Chi where I am able to teach a lot of students," says Cebu volunteer Mariel Ybañez. "I am very contented in my life right now. I do not see being a Tzu Chi volunteer as just a fleeting commitment or just a game. I see this as a lifetime commitment." 【Photo by Divina Villacrusis】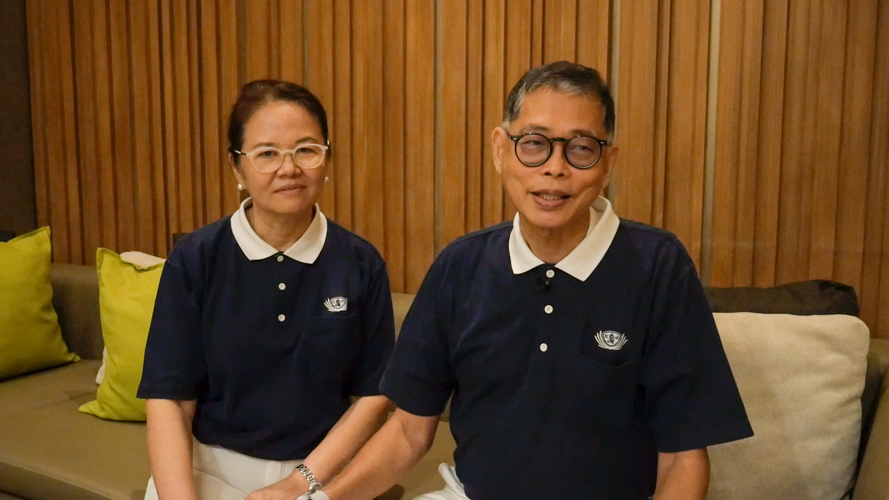 "In Tzu Chi world, we call everybody sisters and brothers. We address everybody with respect," says businessman Jack Gaisano, a Tzu Chi volunteer. "If you are inside Tzu Chi, even if you work very hard, you feel very happy because you're fulfilled. Your body is tired but your mind is relaxed." 【Photo by Jeaneal Dando】
Senior volunteer Judy Lao talks about the history of Tzu Chi Foundation in the Philippines. 【Photo by Divina Villacrusis】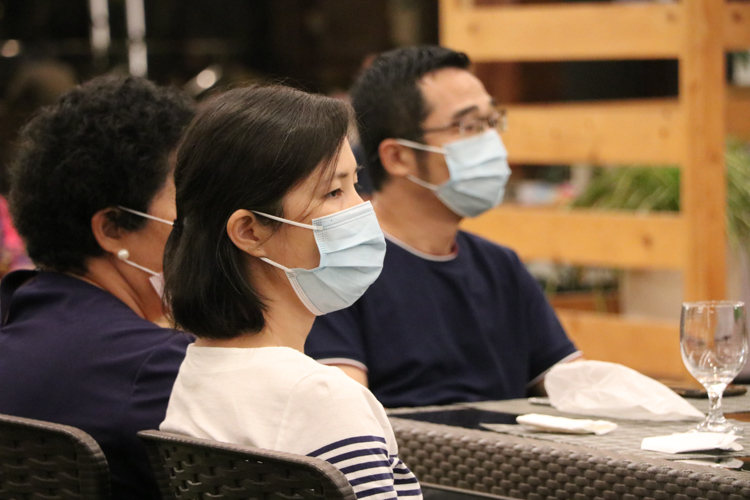 Guests listen intently to learn about the humanitarian programs of Tzu Chi Foundation. 【Photo by Divina Villacrusis】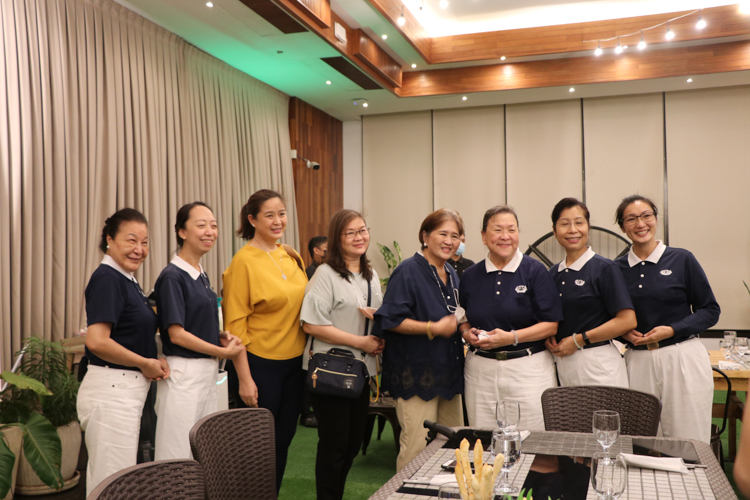 The tea party also serves as a reunion of long-time, old, and new Tzu Chi volunteers. 【Photo by Divina Villacrusis】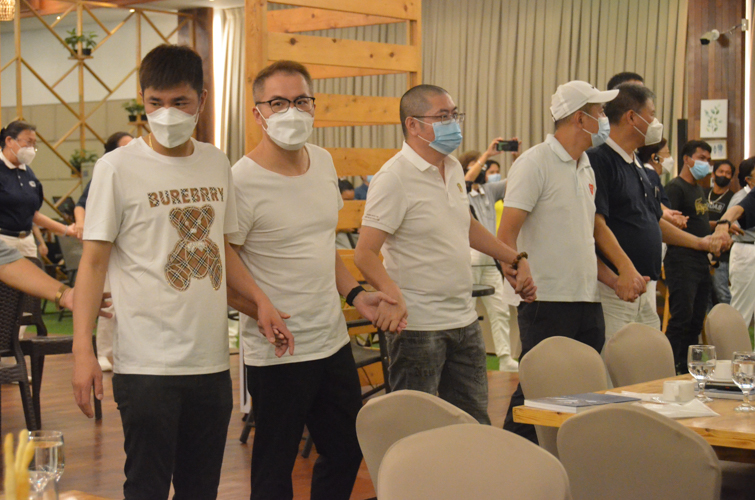 Guests and volunteers participate in the performance of a sign language song. 【Photo by Divina Villacrusis】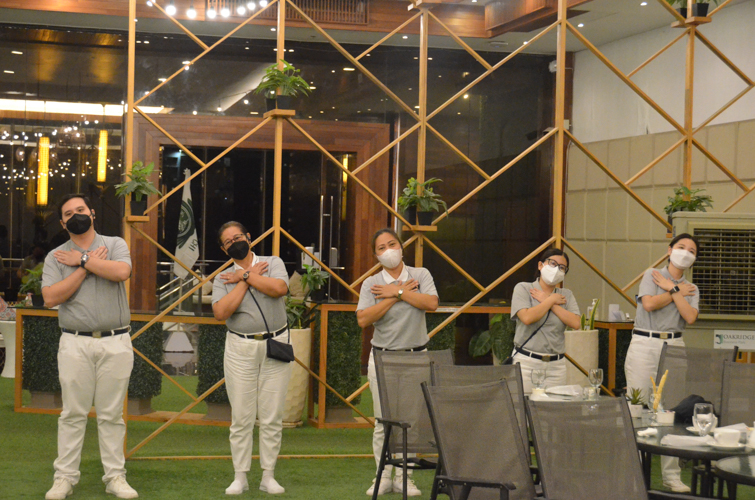 Guests and volunteers participate in the performance of a sign language song. 【Photo by Divina Villacrusis】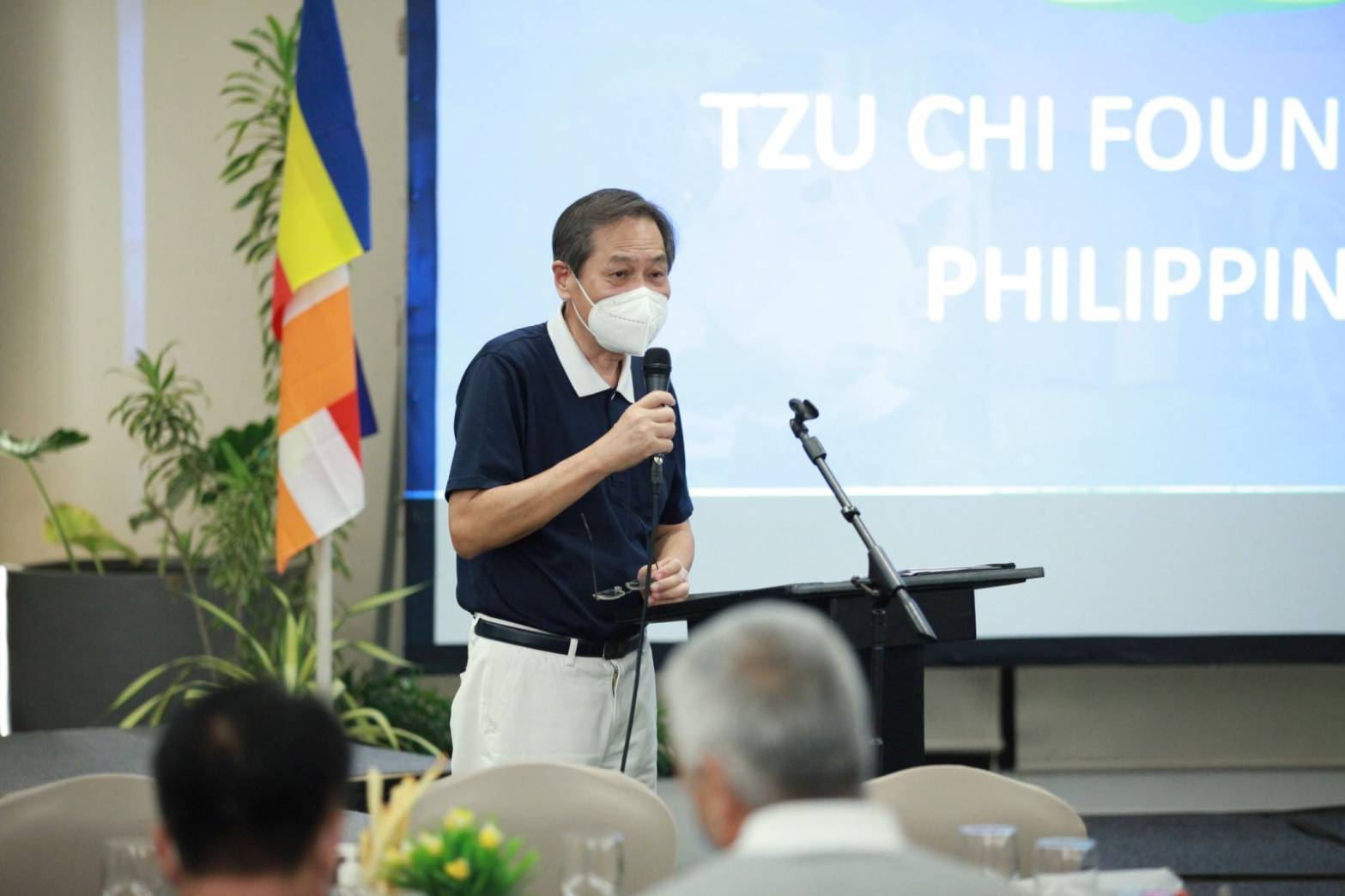 Tzu Chi Cebu head volunteer Nelson Reyes thanks volunteers and guests who joined the event. 【Photo by Jan Davis Co】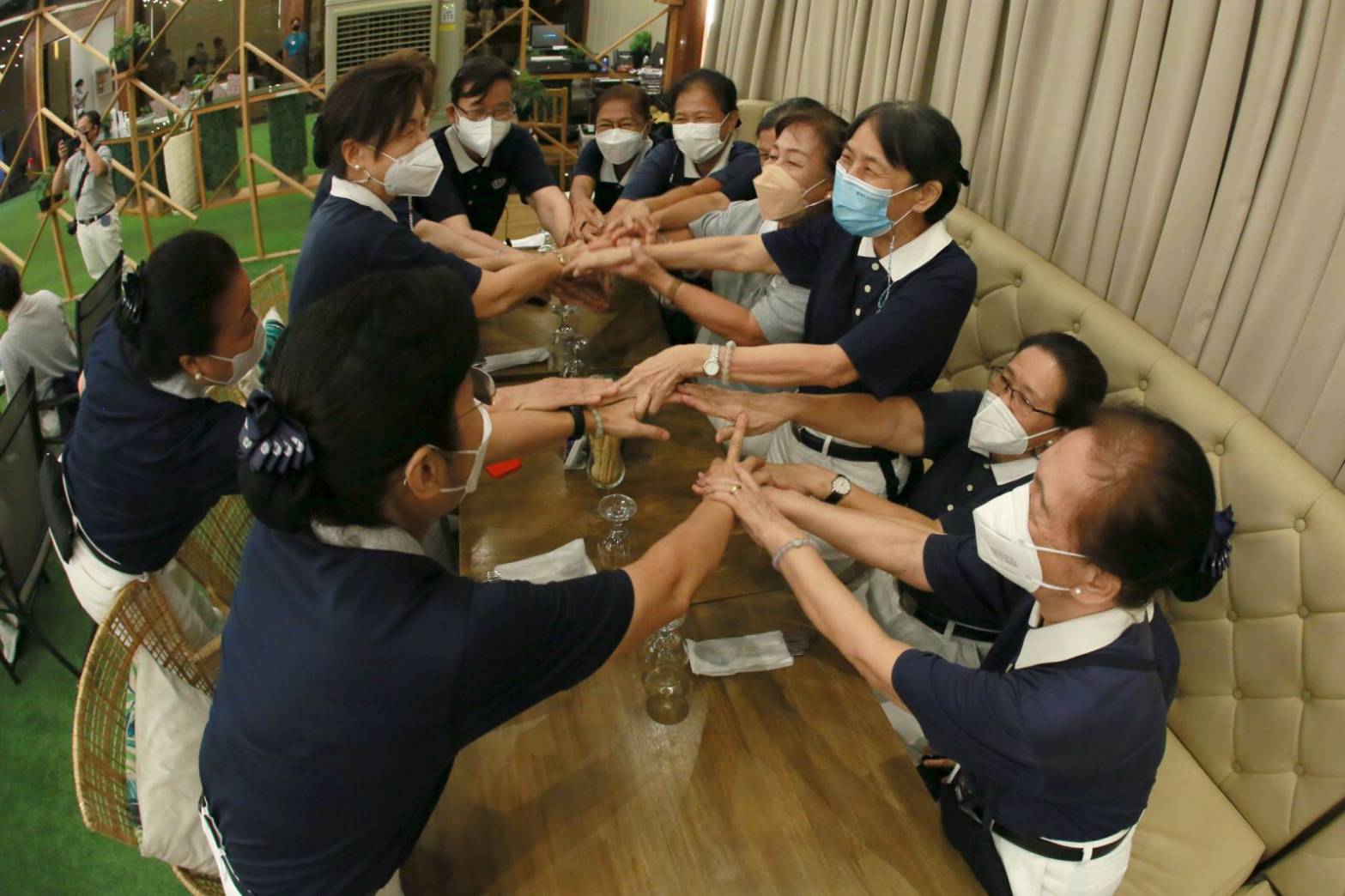 Manila and Cebu volunteers huddle together in the auspicious gathering. 【Photo by Jan Davis Co】
Go Back