Typhoon Yolanda survivors rebuild their lives with Tzu Chi
Typhoon Yolanda survivors recall the memories of their recovery with Tzu Chi.
By Marella Saldonido
Ten years have passed since Super Typhoon Yolanda struck the Philippines, but the aftermath of the disastrous event left a permanent scar in the hearts of many survivors. Thousands of Filipinos were left hopeless as the powerful typhoon washed away their homes, sources of livelihood, and even their families and friends.
Survivors from Tacloban City in Leyte are still brought to tears whenever they recall the traumatic memories of Yolanda. "I remember seeing my neighbors crying for help, but we couldn't do anything about it. We were stuck on the roof trying to keep ourselves alive," says Angela Agero.
The trials and tribulations experienced by the victims were truly unimaginable, but nothing compares to the pain of discovering that your loved ones did not survive. Angela lost her sister and three nieces in the tragedy, with their bodies nowhere to be found. "My heart still breaks whenever I remember Yolanda because I did not expect to lose my family."
Immediately after Yolanda's devastation, Tzu Chi Philippines embarked on a mission to help those who did survive through an entire process of rebuilding and recovery. Tzu Chi volunteers quickly mobilized and offered a helping hand to families from hard-hit areas, bringing hope and light during what may have been the darkest time of their lives.
"I am deeply grateful to Tzu Chi because they are the first ones to come here, bringing us food, water, shelter, and even an opportunity to join a cash-for-work program. We gained a lot of strength when they came here and restored our faith in God and humanity," shares Angela.
For Yolanda survivor Emma Solis, items like the blanket that kept them warm on the cold nights after the typhoon and, of course, the red envelope (angpao) blessed by Tzu Chi founder Dharma Master Cheng Yen given to them 10 years ago were worth safekeeping as a way to remember her immense gratitude for the foundation. "If it wasn't for Tzu Chi, we wouldn't be able to recover," she says.
In a letter from Dharma Master Cheng Yen delivered by Tzu Chi Philippines Deputy CEO Woon Ng during the Remembrance Mass on November 8 at the Sto. Niño Church in Tacloban City, she also expressed her sincere gratitude to the volunteers and supporters of Tzu Chi Philippines for their unforgettable contribution in bringing Tacloban back to life.
As the people of Leyte continue to move forward after overcoming a great disaster, Dharma Master Cheng Yen leaves them with a message of hope and inspiration. "Once the suffering is over, we can understand the truths of life. I believe that each one of us can create an environment of beauty and goodness with gratitude, respect, and love in our hearts."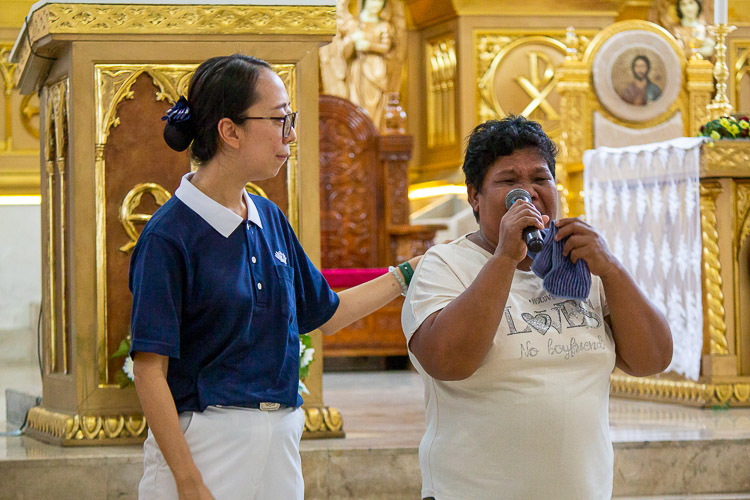 Typhoon Yolanda survivor Angela Agero (right) breaks down in tears as she shares her experiences during the typhoon at the 10th Year Remembrance Mass in Sto. Niño Church in Tacloban. 【Photo by Marella Saldonido】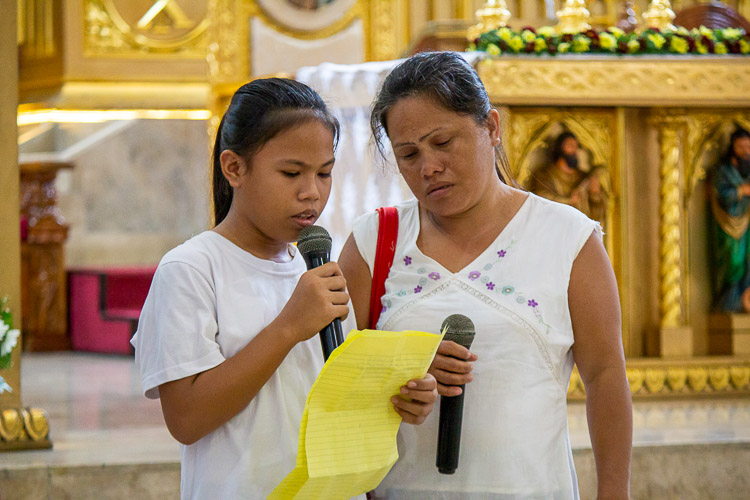 Typhoon Yolanda survivor Emma Solis (right) and her daughter read the letter they sent to Tzu Chi. Their letter contains a poem narrating their experiences at the time of the disaster. 【Photo by Marella Saldonido】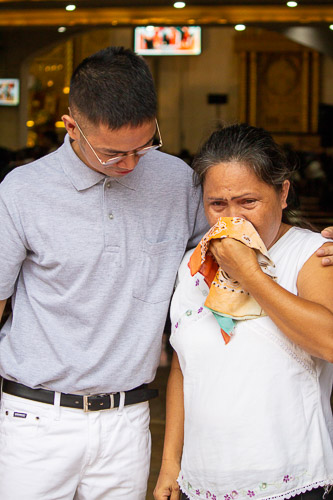 A Tzu Chi volunteer consoles Typhoon Yolanda survivor Emma Solis (right) as she gets emotional after recalling the traumatic events they experienced. 【Photo by Marella Saldonido】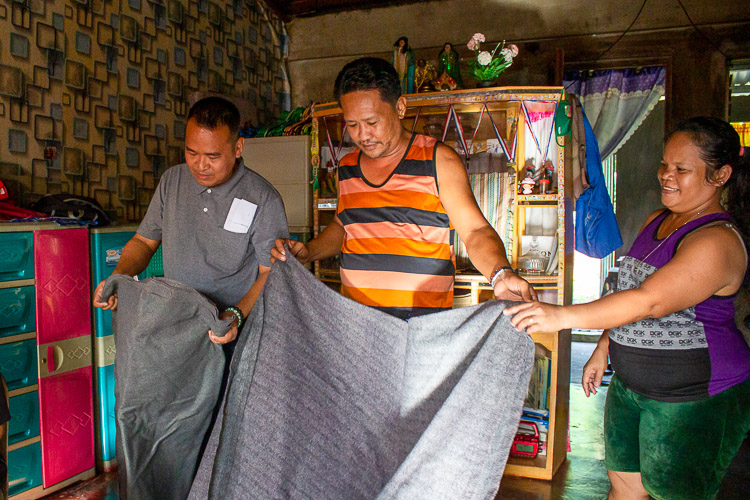 The husband of Emma Solis (center) proudly shows the blanket given by Tzu Chi, which they have safely kept for 10 years. 【Photo by Marella Saldonido】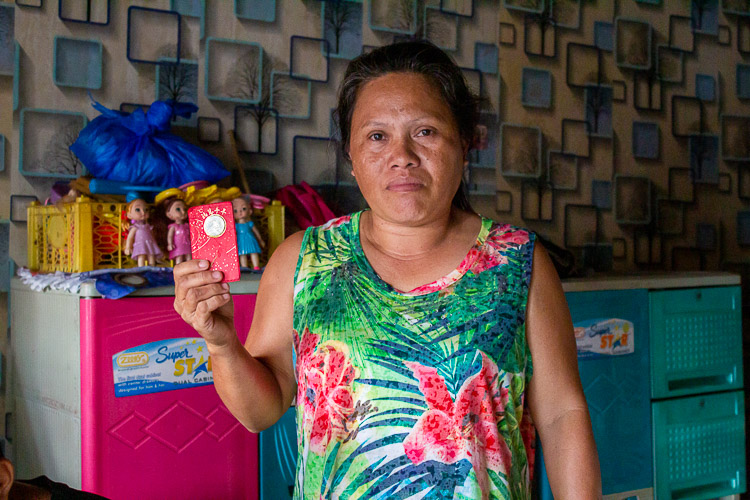 Emma Solis shows the red envelope (angpao) blessed by Tzu Chi founder Dharma Master Cheng Yen, which she received from Tzu Chi 10 years ago. 【Photo by Marella Saldonido】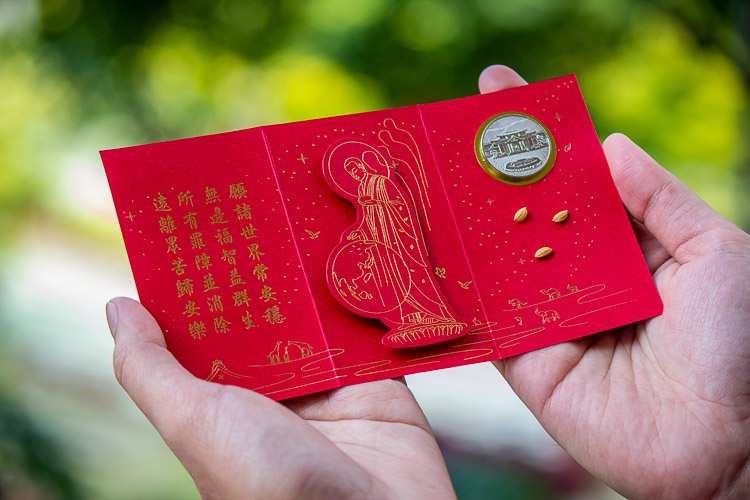 Attendees of the Typhoon Yolanda 10th Year Remembrance Mass at the Sto. Niño Church in Tacloban individually receive a red envelope (angpao) blessed by Tzu Chi founder Dharma Master Cheng Yen, which contains a commemorative Tzu Chi coin and three grains of rice symbolizing discipline, determination, and wisdom. 【Photo by Marella Saldonido】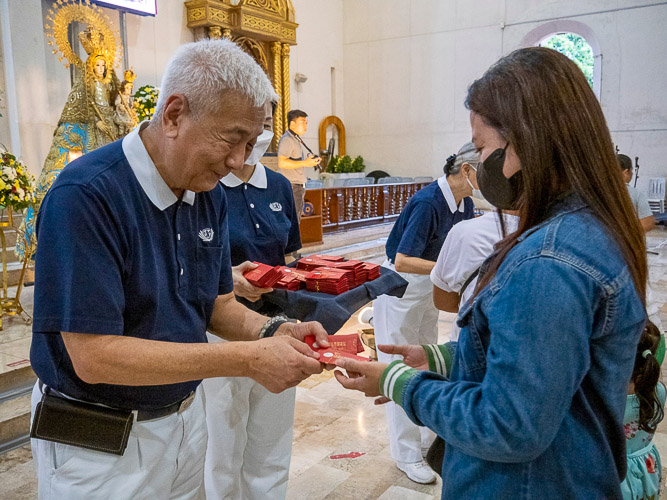 Attendees of the Typhoon Yolanda 10th Year Remembrance Mass at the Sto. Niño Church in Tacloban individually receive a red envelope (angpao) blessed by Tzu Chi founder Dharma Master Cheng Yen, just like the ones they received 10 years ago. 【Photo by Matt Serrano】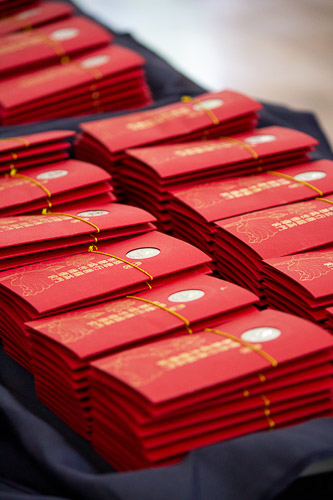 Attendees of the Typhoon Yolanda 10th Year Remembrance Mass at the Sto. Niño Church in Tacloban individually receive a red envelope (angpao) blessed by Tzu Chi founder Dharma Master Cheng Yen, just like the ones they received 10 years ago. 【Photo by Marella Saldonido】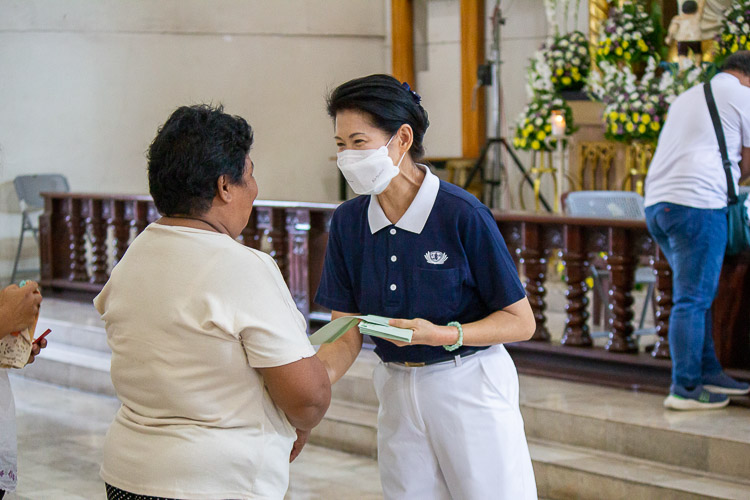 Tzu Chi Philippines Deputy CEO Woon Ng (right) happily hands Angela Agero a gift certificate as a sign of gratitude for sharing her Yolanda story. 【Photo by Marella Saldonido】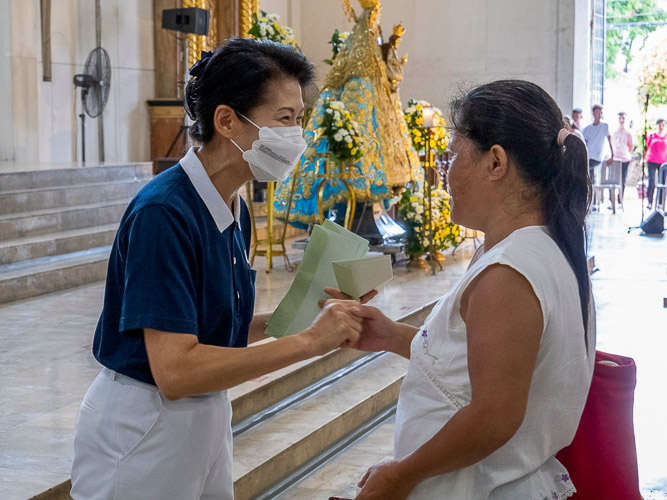 Tzu Chi Philippines Deputy CEO Woon Ng (left) happily hands Emma Solis a gift certificate as a sign of gratitude for sharing her Yolanda story. 【Photo by Matt Serrano】
Go Back