Even with her family's foundation, Tzu Chi volunteer Olga Vendivel continues to help others through Tzu Chi Foundation
Tzu Chi volunteer Olga Vendivel doesn't put limits to who and how she can serve.
By Joy Rojas
For Tzu Chi Philippines, which celebrated its 27th anniversary last November 8, the secret to its staying power lies in the dedication and hard work of its volunteers.
Distributing rice and relief goods to thousands of beneficiaries, cleaning up communities ravaged by typhoons and floods, going from house to house to collect coins that contribute to helping others in need—the list of things to do goes on and on. Yet all are accomplished through the tireless efforts of men and women who answer Dharma Master Cheng Yen's call to "make good use of each day."
"Seize every moment to do good deeds," she beckoned, "and not ask for anything in return."
How does one end up a volunteer of the Tzu Chi Foundation? The stories are as unique as the volunteers themselves.
Olga Vendivel is the daughter of the late Aurelio Vendivel, who served as treasurer of the Pasay City local government under then Mayor Pablo Cuneta. As a child, she was witness to her father's years of service. "My parents enlightened us to the fact that this is the very reason why we are here on Earth, to spread good deeds," she says.
She was also exposed to volunteerism in Catholic school. As early as Grade 3, she and her classmates taught catechism to squatters. They also helped organize Masses in malls and other public places. In her adult years, she became a regular donor of "Kapwa Ko, Mahal Ko," the public service TV program that provided free medical consultations and aid to poor patients.
When their parents passed away, the Vendivel siblings honored their father and mother by putting up the Aurelio and Liwayway Vendivel Foundation. Based in Pasay City, it caters to the needs of indigent residents.
But Vendivel's volunteerism would not end there. Years ago, a work-related meeting introduced her to Tzu Chi Philippines' Henry Yuñez. From him, she learned about the Taiwan-based foundation and its mission to extend compassion and relief to the poor, the marginalized, and victims of disaster.
At first her help came in the form of monthly donations, but in 2014, she offered to translate volumes 1 and 2 of Master Cheng Yen's "Jing Si Aphorisms" from English to Pilipino. The books were later presented to Master in Taiwan.
While translating the books, Vendivel came upon a line that opened her eyes. "It said that you're not supposed to limit your capacity to help," she says, paraphrasing. "Go out there, find a way to help. It's not, 'Okay, this is what I want, so I'll just do this.' No, Master said, 'Do whatever you can to help anyone.'"
"When I read that, I said, 'Oh my gosh! I'm limiting myself to our family's foundation and to whoever comes to me and asks for help,'" she says. Things would change from hereon.
In May 2014, she attended Tzu Chi's entrepreneurs' camp in Taiwan, where she learned more about the organization that she would eventually dedicate her time and efforts to. She also participated in her first rice relief distribution to indigent residents at the Old Balara Elementary School in Quezon City.
Admittedly, volunteer work with Tzu Chi was different from that of her family's foundation. If the latter only required her to generate funds through close relatives, the former needed her to get out of her comfort zone and take a more pro-active approach.
Vendivel giggles at the memory of her first exposure to fundraising. "At a bazaar in the Mall of Asia [former Tzu Chi Philippines CEO] Linda Chua asked me to go around and ask for donations. I said, 'Sis, could I do that?' Some people's reactions can make you so uncomfortable. They will just look at you and listen to you but they won't give you a donation. But of course, you still have to thank them for listening."
Yet for all those who were uninterested in Tzu Chi were many more who, like her, also wanted to help. "It's been a rewarding experience. I came to meet a lot of good-hearted people who became our regular monthly donors. I was so happy about it."
As an active volunteer, she helped expand Tzu Chi's livelihood programs from machine operations to welding, refrigerator and air-conditioner servicing, caregiving, call center, and executive assistant training. She also oversees Tzu Chi's bakery, and tries to come up with delicious artisanal breads that will help raise funds for the foundation's various causes.
Certified in 2017, Vendivel is the first Filipino commissioner who, as she puts it, "initiates the help instead of receiving help." No longer the self-conscious volunteer from years ago, she is clearly in her element when she engages beneficiaries at a large-scale rice relief distribution, or trains staff members for humanity classes.
For her genuine commitment—and obvious joy—in serving others, this volunteer has been rewarded beyond measure. "Before, I was always cautious about how I spent money," says Vendivel, an investment broker. "I would always come up with a cash flow and financial statement on where my money went. But since I joined Tzu Chi, I never attended to these things anymore—but money would still come in. And I continue to donate here and there but I never run out."
"Blessings just keep coming in," she marvels. "You don't count anymore. Just give and give."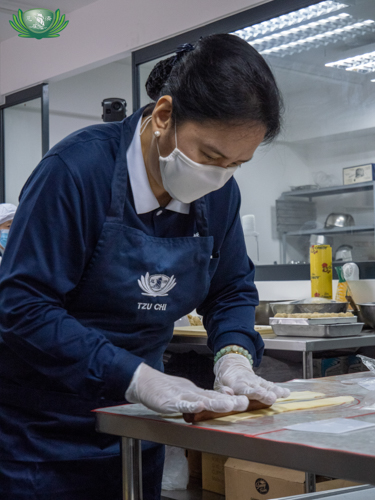 Tzu Chi volunteer Olga Vendivel is a hands-on volunteer in managing the bakery of the Tzu Chi Campus in Sta. Mesa.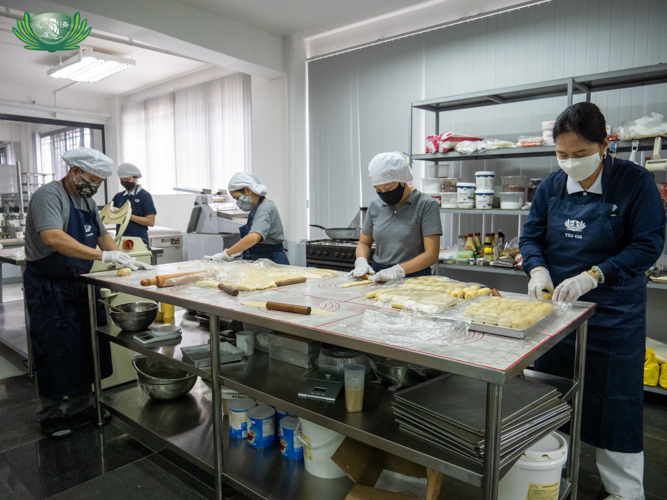 In charge of Tzu Chi's bakery, Olga Vendivel (far right) tries to come up with unique artisanal breads to help raise funds for the foundation's various causes.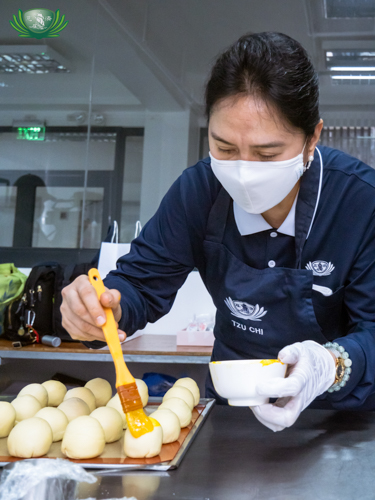 Olga Vendivel brushes egg yolk on a mooncake. Mooncakes were sold during the Mooncake Festival last September to raise funds for high flow nasal cannula oxygen machines. The machines went to hospitals with COVID-19 patients.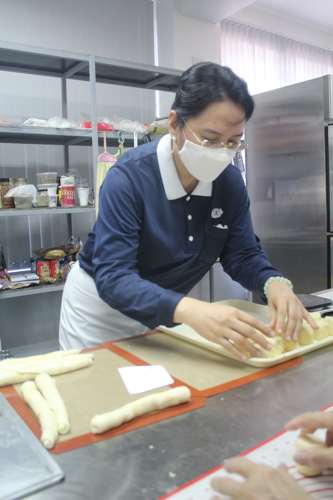 As a volunteer of Tzu Chi, Olga Vendivel has to get out of her comfort zone and take a pro-active approach.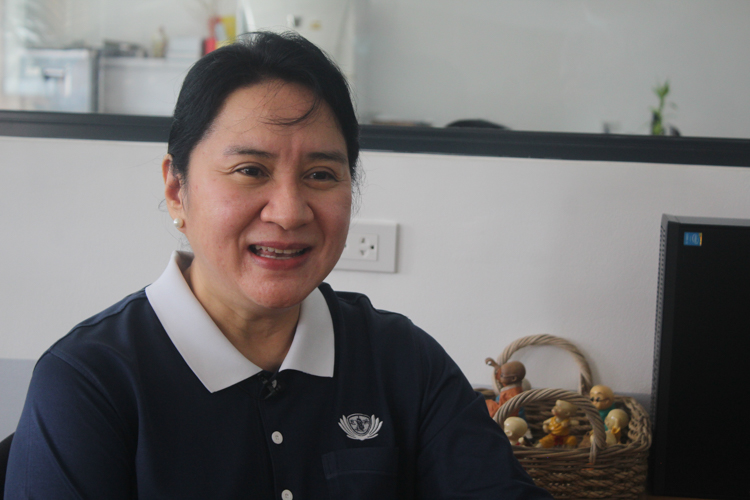 In addition to expanding the courses offered by Tzu Chi's livelihood training programs and coming up with special baked goods in Tzu Chi's bakery, Olga Vendivel also translated Volumes 1 and 2 of the "Jing Si Aphorisms" from English to Pilipino.
Go Back