Tzu Chi scholars donate to Syria and Turkey quake victims
Any amount was welcome and appreciated.
By Joy Rojas
Like most people, Tzu Chi scholar Jeanelle Mae Manlapaz was scrolling through social media when she learned about the magnitude 7.8 earthquake that struck Turkey and Syria last February 6. In a matter of minutes, concrete buildings were reduced to rubble, and the death toll reached the tens of thousands, with more bodies still waiting to be found.
"Of course, I felt sad and pity for them," says Jeanelle, 22, a fourth year Bachelor of Science major in Social Work from the Unibersidad de Manila. "No one deserves to be a victim of disaster or to experience such suffering."
As a Tzu Chi scholar for the past four years, Jeanelle was constantly encouraged to extend any kind of assistance to anyone in need. Yet with limited resources and Turkey and Syria so far away, she didn't know how to go about it.
The chance for her and others to help came during the February 12 Humanity Class for elementary, high school, and college scholars at the Buddhist Tzu Chi Campus in Sta. Mesa, Manila. At the Jing Si Auditorium, a video screened for scholars and their parents exposed them to the horror and devastation caused by the massive quake. It also served as a wake-up call: No matter how tough life may be, we always had something to be grateful for.
We also always had something to give. Scholars then filed in an orderly fashion to the front of the auditorium where volunteers helped them unload their coin banks in large containers, the contents of which would be sent to Syria and Turkey's quake victims. Paper bill or coin, any amount was accepted and appreciated.
"Why did we ask scholars to donate their coin banks to Syria and Turkey? We wanted to touch the children's hearts, to make them know what's happening in the world," says Rosa So, Tzu Chi education committee head. "We also wanted them to know that no matter how much they pledge, it makes us happy because they were able to help people from other countries. Maybe they feel that they are already poor, so why should they still give? But really, they are all very lucky because the Philippines has not experienced an earthquake as massive as Turkey's."
"That's what Tzu Chi always tells us," says Jeanelle. "Anything we can afford to share, for as long as it is given whole-heartedly and our willingness to help is present, that's what's important."
"We are thankful to the Tzu Chi Foundation," she adds. "They not only provide us with financial assistance, they give us opportunities to help other people all around the world."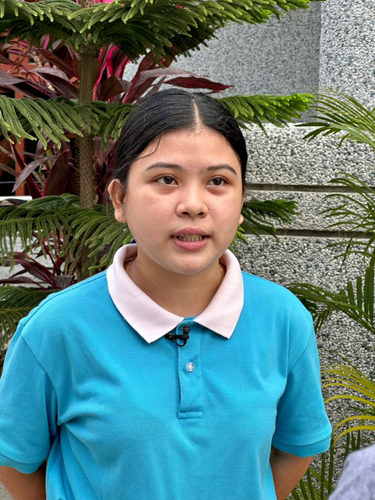 A Tzu Chi scholar for the past four years, Jeanelle Mae Manlapaz is a fourth year Bachelor of Science major in Social Work at the Unibersidad de Manila.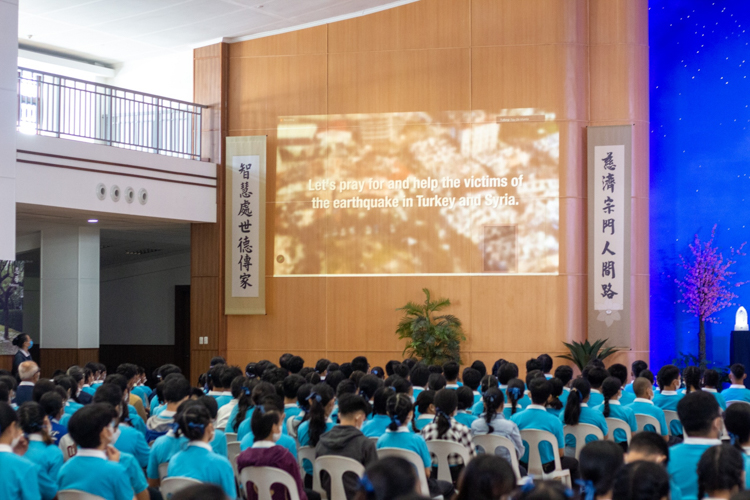 Scholars watch a video detailing the horrors and devastation of the quake in Turkey and Syria, and the call to help their victims. 【Photo by Marella Saldonido】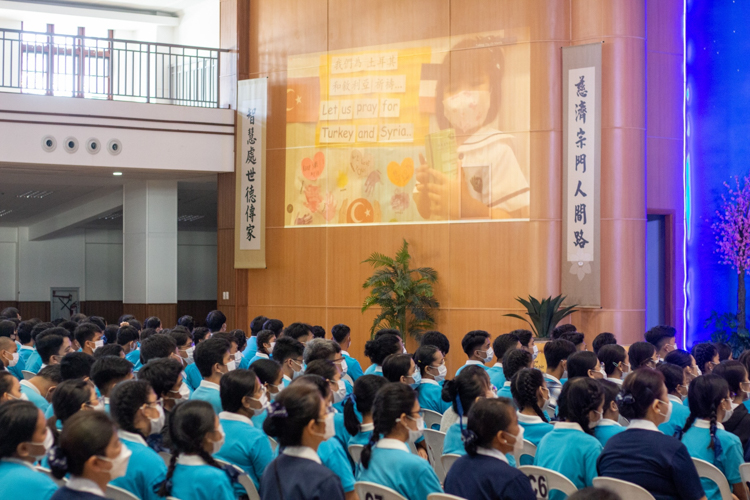 Tzu Chi Great Love Preschool Philippines students do their part to extend assistance to Turkey and Syria's quake victims. 【Photo by Marella Saldonido】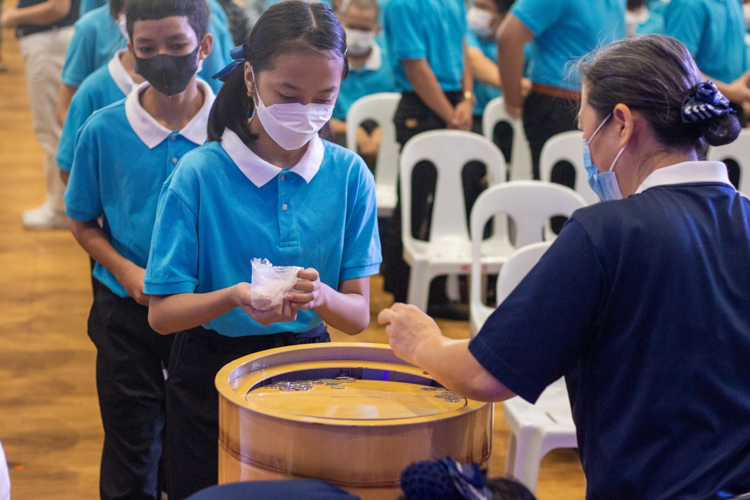 All amounts for Turkey and Syria's quake victims were welcome and appreciated. 【Photo by Marella Saldonido】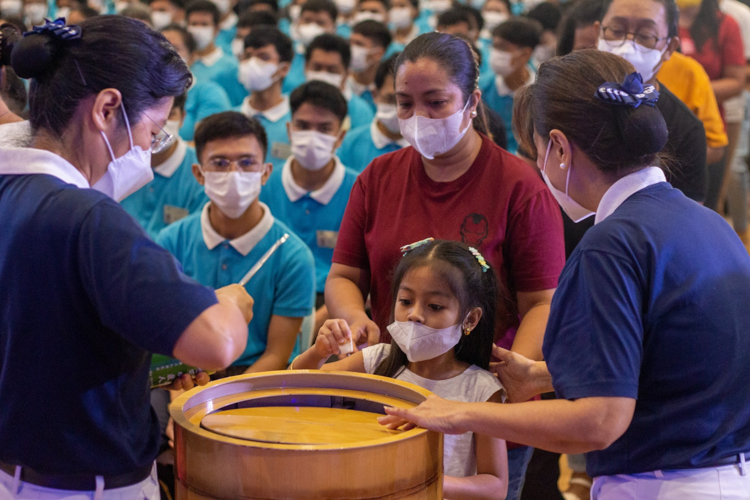 Tzu Chi Foundation makes it possible for anyone, regardless of age or status in life, to share their blessing with those in need around the world.【Photo by Marella Saldonido】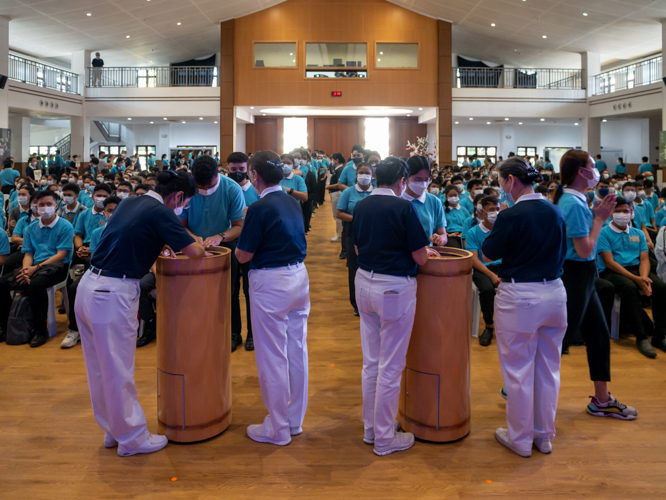 Volunteers facilitate scholars' coin can donations to the victims of the quake in Turkey and Syria.【Photo by Daniel Lazar】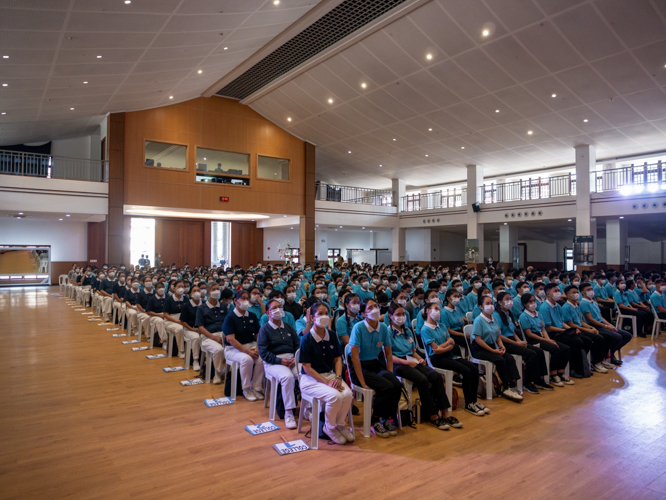 Scholars converge at the Jing Si Auditorium where they were briefed on the devastation of the quake that rocked Turkey and Syria.【Photo by Daniel Lazar】
Go Back