Payatas scavengers, PWD receive their third tranche of relief
Amid the poverty and misery, beneficiaries share their blessings.
By Joy Rojas
Nine hundred thirty-two Payatas scavengers assembled at the Quezon City Hall grounds on the morning of December 12 to receive their third and final tranche of rice and groceries from Tzu Chi Foundation.
Rose Marie Araban was grateful to be part of Tzu Chi's generous distribution effort. Married to a scavenger, she continues to struggle through the pandemic. She, her husband, and their four children live with her in-laws and in the worst of times, consume nothing but water and salt.
"Sometimes we look around our surroundings for vegetables, and with a bit of salt, vetsin (monosodium glutamate), or soy sauce, we have a meal," she says.
Amid the misery, Araban maintains a positive attitude. "This pandemic is just a challenge in our lives," she reminds. "God has not abandoned us."
With each distribution, she also doesn't hesitate to share her rice and relief goods with her neighbors and in-laws. "I learned that from the Tzu Chi Foundation," she says. "Whatever we receive, we share with others, especially with those who have absolutely nothing. It feels good to help."
Among the beneficiaries are a number of people who turned to scavenging to tide them over. In this pandemic, survival is the name of the game, and with bills to pay and mouths to feed, these heads of their households chose to scavenge for the sake of their families.
Dixon Royelo was a driver for a large company. When the pandemic struck, he decided to leave his job. "They wouldn't let me report for work anyway," he says. Unable to apply for another job at a time of lengthy lockdowns and businesses closing down, he became a scavenger. Each day, he sifts through trash looking for plastic bottles and metal scraps to sell.
"Driving is my only skill. I can't think of anything else to do. So I said, I'll just be a scavenger to support my family," he says.
Glen Nalda wasn't always a scavenger herself. Before her husband passed away, he was the family's breadwinner and took care of everything. Now, Nalda had to step up and look after their two children. "It's my responsibility to feed them, take care of them, and send them to school," she says. "And our expenses—electricity, water—they don't come free."
Tzu Chi's two 10-kg rice and bags of groceries, which beneficiaries received in three distributions, are an answered prayer for Royelo and Nalda as they try to get back on their feet. Royelo plans to apply as a driver again in 2022, and Nalda has started selling kakanin (Filipino rice-based delicacies) and baking cakes. Orders have been picking up for her sweet treats, which she makes from home.
Like Araban, she too makes sure to spread her blessings. "My views about life are like the teachings of Master Cheng Yen," she says. "Stay humble. And if there's something you can do to help others, do it, because there will come a time when you will need help too."
The event also included rice and relief goods for 24 Persons with Disability (PWD).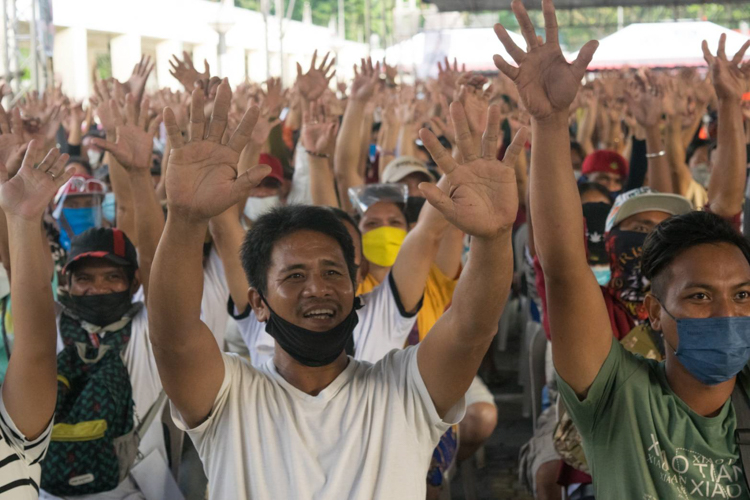 During the pandemic, Dixon Royelo (in white) left his job as a company driver to scavenge for metal scraps and plastic bottles. He plans to apply as a driver again next year. 【Photo by Don Lopez】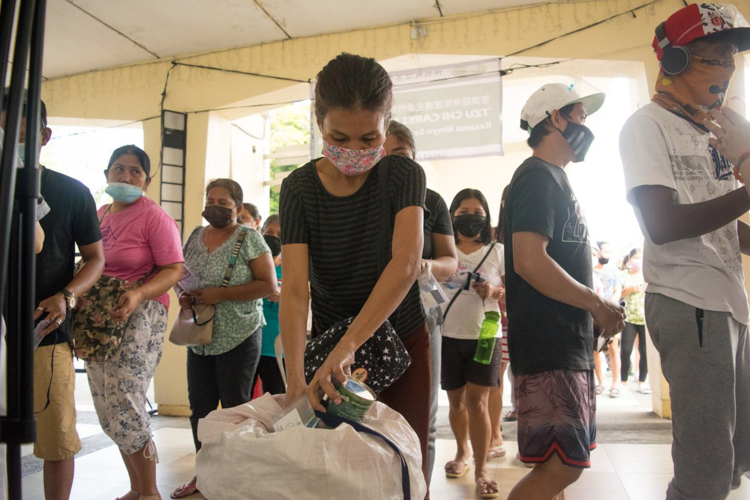 Rose Marie Araban drops coins from her Tzu Chi coin bank into a collection jar. "This pandemic is just a challenge in our lives," she says. "God has not abandoned us." 【Photo by Don Lopez】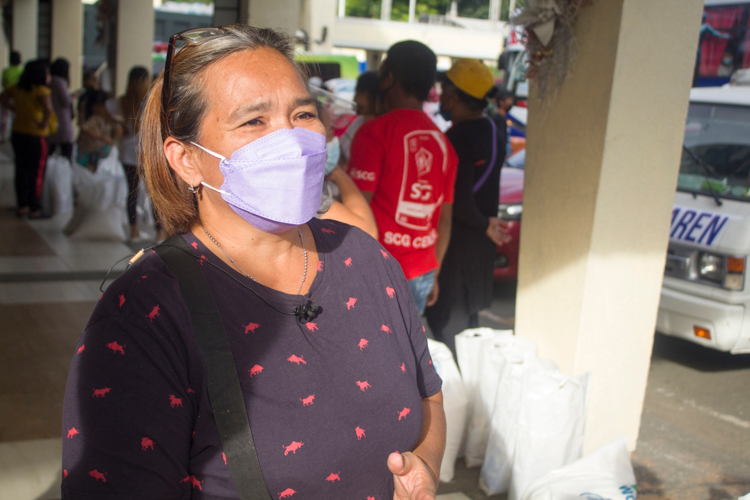 Relaxed quarantine restrictions have allowed Glen Nalda to sell rice snacks and take orders for cake. 【Photo by Matt Serrano】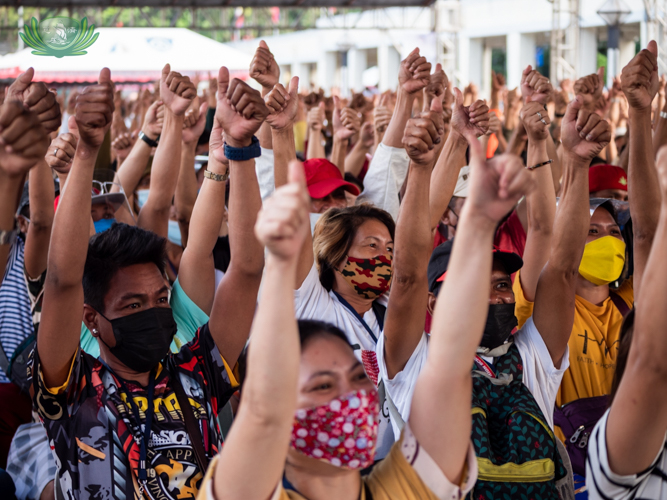 Beneficiaries give their two thumbs up. 【Photo by Daniel Lazar】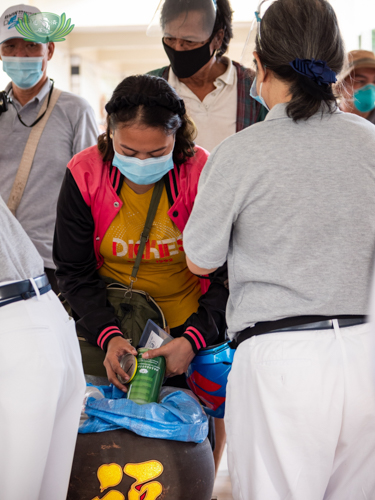 Despite their meager earnings, scavenger beneficiaries managed to set aside money to help communities supported by the Tzu Chi Foundation. 【Photo by Daniel Lazar】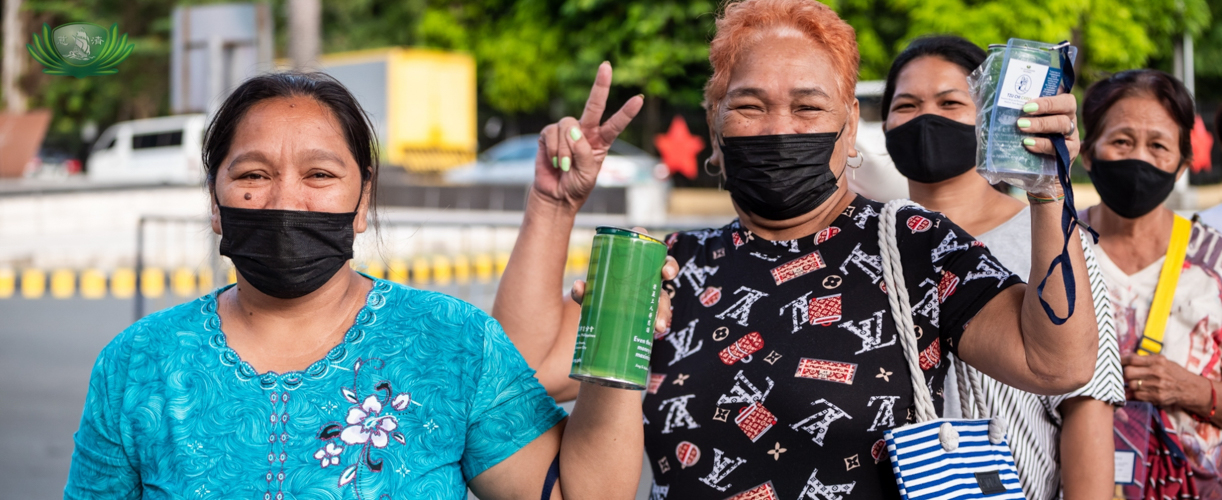 Beneficiaries wave their coin banks while waiting to claim their rice and groceries. 【Photo by Daniel Lazar】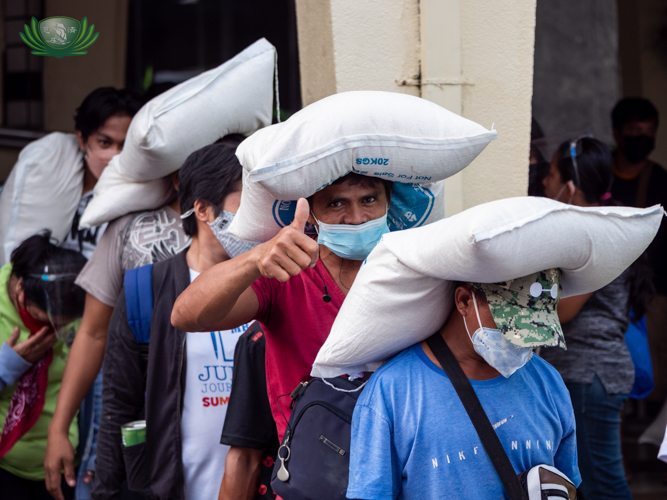 Beneficiaries use their head, so to speak, to carry their sacks of Taiwan rice. 【Photo by Daniel Lazar】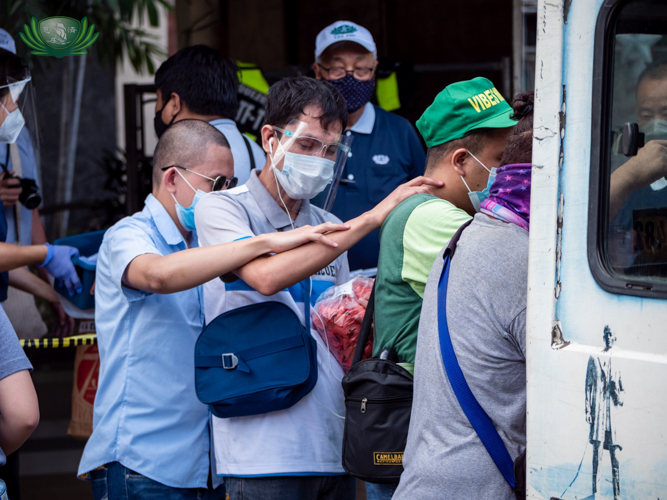 Also claiming their relief goods during the Payatas distribution were Persons with Disability (PWD), blind massage therapists whose livelihood was severely affected during the pandemic. 【Photo by Daniel Lazar】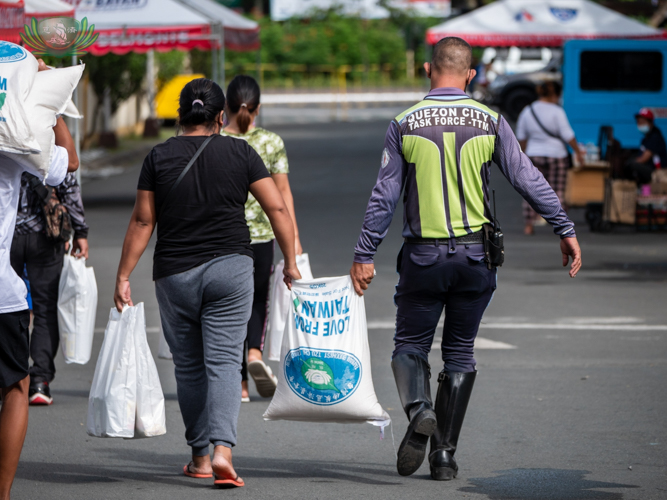 A beneficiary gets help carrying her rice relief from a member of the Quezon City Task Force for Transport and Traffic Management. 【Photo by Daniel Lazar】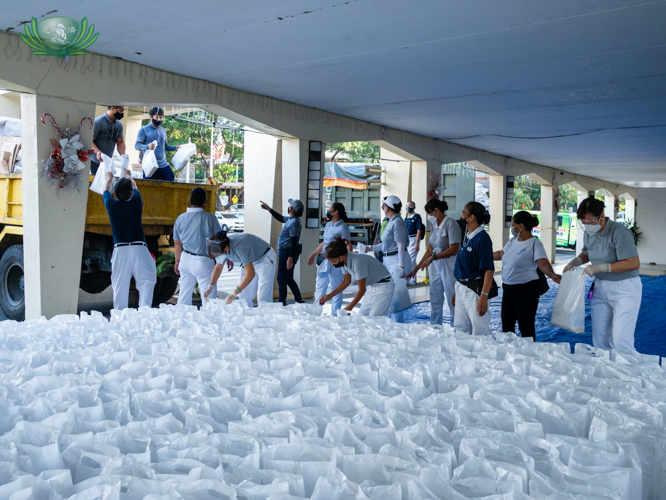 Volunteers unload a truck with sacks of grocery items then set them up before being claimed by beneficiaries. 【Photo by Daniel Lazar】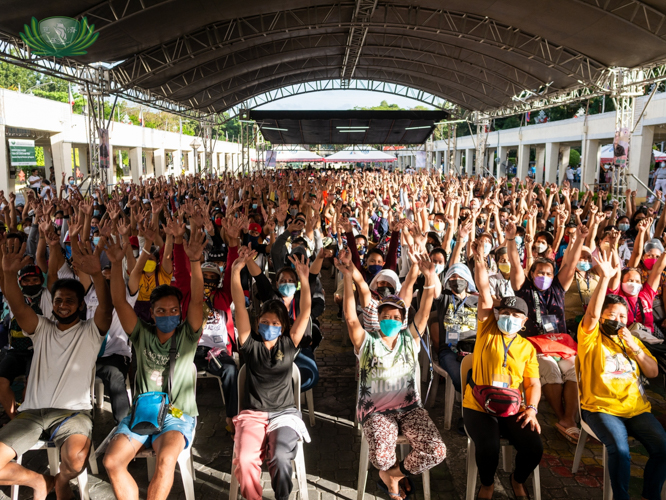 More than 900 scavengers from Payatas Landfill received rice and groceries in three tranches from Tzu Chi Foundation. 【Photo by Daniel Lazar】
Go Back