MASTER CHENG YEN
Dharma Master Cheng Yen was born Wang Chin-yun ("bright cloud") on May 14, 1937 in a small town in central Taiwan called Qingshui. Chin-yun was adopted by an uncle and aunt, the Wang family, as a baby, and was described by her new mother in accounts as "a perfect child who never needed scolding, but constantly observed and read the minds of the grown-ups." She would also play the responsible big sister to two other siblings who followed.
Chin-yun was a toddler during the years of the Japanese occupation of Taiwan in 1895 to 1945, and at age 5, had become familiar with bombings, air raid sirens, the need to run for shelter—and the death and destruction that awaited when they surfaced. It seems the war had greatly affected the young girl's world-view, implanting in her young mind the true impermanence of life.
When her mother needed a risky operation, Chin-yun prayed and offered to give up years of her own life in exchange for her health. Her mother recovered without surgery, so in gratitude, she became a vegetarian. Her spiritual calling intensified when her father died within hours of falling ill, leaving her in grief and full of questions about the meaning of life. The shock and trauma of her beloved father's death marked a turning point in her life. She began to search for the truths behind life and death, and often visited a Buddhist temple in her hometown to study the Buddhist sutras and to seek the answers to her questions.
Inspiration to Become a Buddhist Nun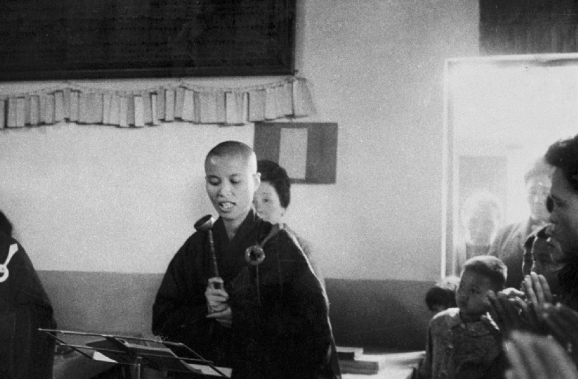 Inspired and moved by the insights of Buddhism, Chin-yun realized that she could only find true happiness in life when she expanded the love she had for her family to all of humanity. She felt strongly that instead of merely taking care of her one small family, she should work for the good of all people.
At the age of 24, Chin-yun left her relatively comfortable home to begin a journey of greater purpose─to pursue a monastic life. In 1962, she arrived in Hualien, an impoverished rural town in the east coast of Taiwan, and took residence in Pu Ming Temple, living a spartan life as she devoted herself to the study of Buddhism. Following a nontraditional path, she shaved her own head to formally renounce lay life – unaware tradition dictates one do so under the tutelage of a teacher.
Serendipitous circumstances led her to Dharma Master Yin Shun, who became her spiritual mentor and she was formally ordained as a Buddhist nun at age 25. Master Yin Shun then gave her these concise and profound instructions: "Now that you are a Buddhist monastic, remember always to work for Buddhism and for all living beings." And this is precisely what she has been doing ever since, with self-discipline, diligence, frugality, perseverance, and at root, expansive love for all.
Tzu Chi was established with four overarching missions—charity, medicine, education, and humanistic culture—with charity as the first and most fundamental. In more recent years, finding more ways to help, Tzu Chi expanded its four missions to cover more contemporary concerns: bone marrow donation, community volunteerism, environmental protection, and international relief, with the eight now collectively known as Tzu Chi's Eight Footprints.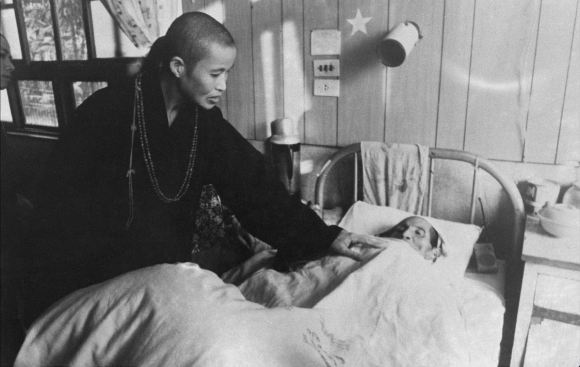 Master Cheng Yen has been nominated for the Nobel Peace Prize, and honored on TIME 100: Most Influential People in the World list (2011).
MORE ABOUT MASTER CHENG YEN: