Globe employees meet Tzu Chi scholars
Thirty Globe employees facilitated breakout discussions and helped distribute rice, groceries
By Joy Rojas
At the start of the pandemic, strict lockdowns to curb the spread of COVID-19 came with serious repercussions: the loss of livelihood and lack of food for millions of Filipinos.
Tzu Chi scholar Daniel Rikko Nakahata recalls eating leftovers from lunch for dinner—which wasn't much when you're sharing it with five other family members. "My stepfather is a jeepney driver and he wasn't allowed to ply his route during the pandemic," explains Nakahata, a 22-year-old mechanical engineering senior from the Technological University of the Philippines (TUP).
His fellow Tzu Chi scholar and TUP schoolmate Elgene Carreon had it worse. As if learning his security guard father was temporarily laid off from work wasn't bad enough, the 21-year-old was diagnosed with tuberculosis. Bereft of resources, his mother prepared simple dishes. "She cooked tuyo (dried fish), lugaw (porridge), and laswa (boiled vegetable soup)," says Carreon, an electrical engineering major. "But mostly we ate different flavors of instant noodle soup. I used chopsticks just to make mealtimes more interesting."
These and other stories of hunger in the pandemic were shared by scholars in a CSR (corporate social responsibility) employee volunteering program organized by Globe Telecom in partnership with Tzu Chi Foundation. Conducted on August 4 at the Jing Si Hall of Buddhist Tzu Chi Campus in Sta. Mesa, Manila, the event saw about 30 employees from Globe's finance group facilitate breakout discussions on hunger with some 200 Tzu Chi college senior scholars. The employees also participated in the distribution of 20-kg sacks of rice and bags of groceries sponsored by Globe.
Alleviating hunger and poverty are common goals of Tzu Chi and Globe. They're also the missions of the Globe initiative Hapag Movement. Each time a Globe subscriber buys prepaid load or settles his postpaid bill, he earns Reward Points that can be donated digitally to Tzu Chi Foundation Philippines, as well as other partner communities of Hapag Movement.
"Everybody has been talking about hunger for the longest time. For us as a company, it's about utilizing digital solutions to make things happen. We have donation channels for both Tzu Chi Foundation and Hapag Movement and we're seeing great returns in terms of how donations are able to fund more programs and help more people," says Alex Castillo, sustainability communications lead for Globe.
"But aside from that, we want to put our employees in a position of understanding of how they can help beyond donations," she adds. "It's not every day that our employees can have these conversations on hunger and how it affected people mentally. Today's event is meant for them to see a different point of view and understand how they can be of help."
Marjorie Ramos, one of the facilitators of the group discussion, regarded the exercise as an eye-opener. "I found out that more than 80 percent of the scholars in the group I handled experienced hunger during the pandemic. This validates the Global Hunger Index's report that the Philippines ranks 68th in the world in terms of hunger," says Ramos, senior director of Globe's finance business advisory group.
Francis Bautista, a finance manager of Globe's finance business advisory group, helped distribute sacks of rice and groceries to the scholars. "I didn't realize that they were heavy and painful to the hands," he says. "But that's just a small thing. As long as we're able to help, we're happy to do it. Personally, today's session was a humbling experience, and I feel that it helped me more. It fulfilled my urge to volunteer and reminded me to be grateful for what I have."
For Nakahata, Carreon, and their peers, any struggles from the pandemic and life in general are eased by the generosity and care of institutions like Tzu Chi Foundation and Globe. "The rice and grocery relief we received during the pandemic came as a surprise. My mother and stepfather claimed them while I was in school and they were so happy," says Nakahata.
"When I received my rice assistance, I shared it with our neighbors," says Carreon. "As a Tzu Chi scholar I'm happy to be able to contribute to the family even if I'm still in school. It's always been my goal to lighten the hardships of my parents. Thank you to Tzu Chi and everyone who donates to the scholarship program. Your help inspires us to pay it forward and help others someday."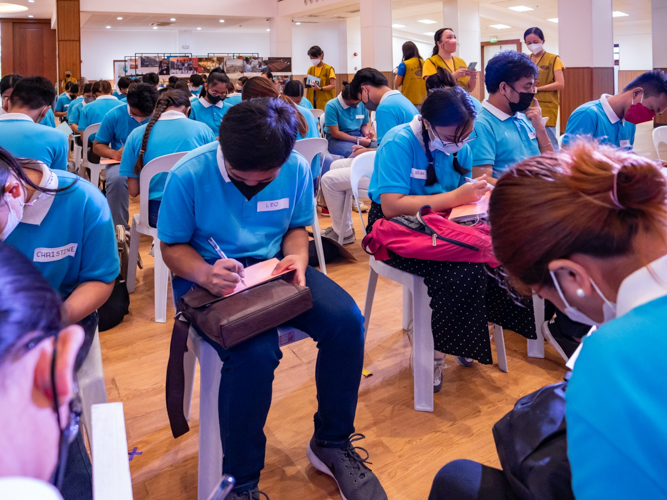 Tzu Chi scholars write their experiences of hunger during the pandemic in group sessions facilitated by Globe Telecom. 【Photo by Daniel Lazar】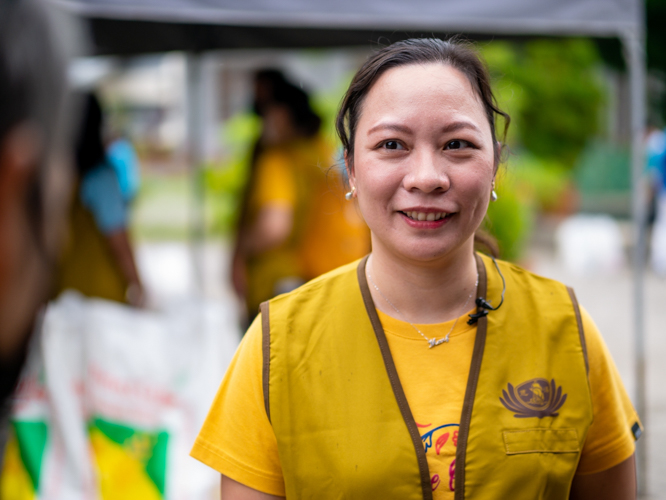 "I found out that more than 80 percent of the scholars in the group I handled experienced hunger during the pandemic. This validates the Global Hunger Index's report that the Philippines ranks 68th in the world in terms of hunger," says Marjorie Ramos, senior director of Globe's finance business advisory group.【Photo by Daniel Lazar】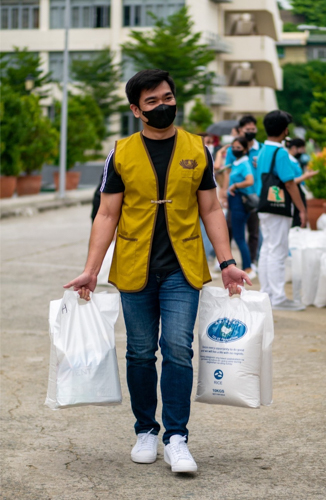 "Today's session was a humbling experience, and I feel that it helped me more," says Francis Bautista, finance manager of Globe's finance business advisory group. "It fulfilled my urge to volunteer and reminded me to be grateful for what I have."【Photo by Daniel Lazar】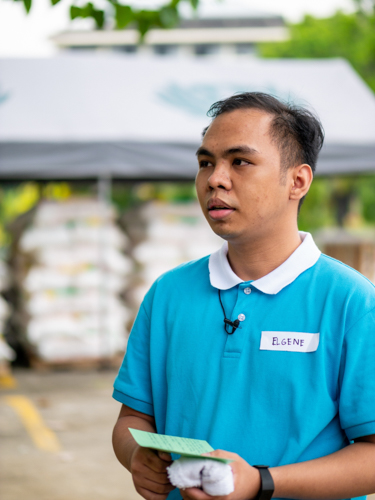 "When I received my rice assistance, I shared it with our neighbors," says Elgene Carreon. "As a Tzu Chi scholar I'm happy to be able to contribute to the family even if I'm still in school.【Photo by Daniel Lazar】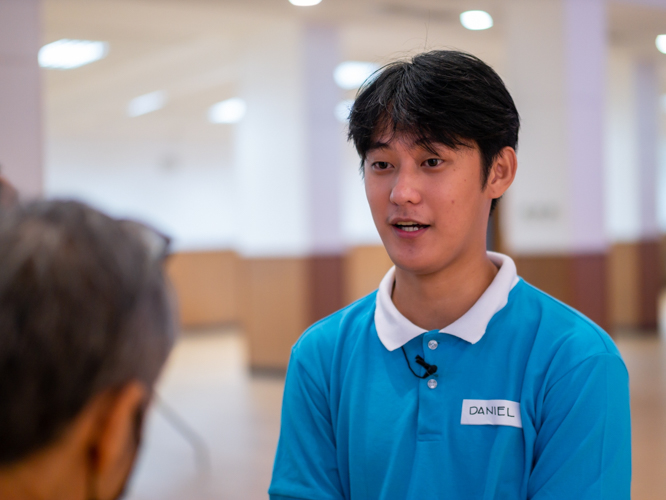 "The rice and grocery relief we received during the pandemic came as a surprise. My mother and stepfather claimed them while I was in school and they were so happy," says Daniel Nakahata.【Photo by Daniel Lazar】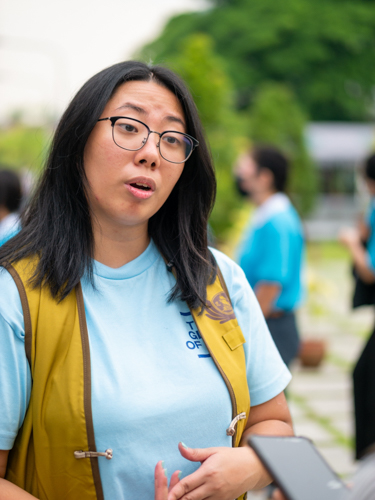 "We want to put our employees in a position of understanding of how they can help beyond donations," says Alex Castillo, sustainability communications lead for Globe. "It's not every day that our employees can have these conversations on hunger and how it affected them mentally."【Photo by Daniel Lazar】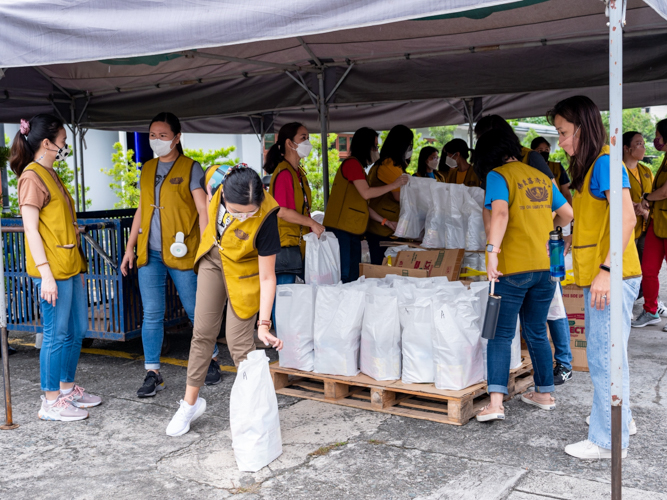 Employees from Globe's finance group assist in the rice relief distribution for scholars.【Photo by Daniel Lazar】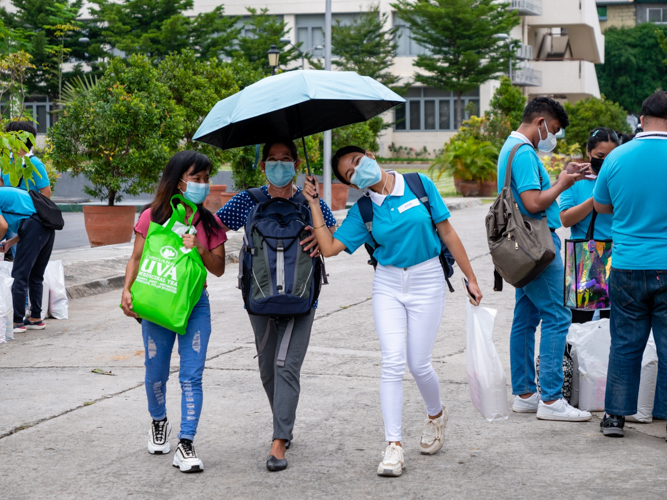 Tzu Chi scholars received rice and groceries.【Photo by Daniel Lazar】
Go Back