Tzu Chi Charity Day draws beneficiaries old and new
Assistance included 20-kg rice, groceries, and medicines
By Joy Rojas
When someone falls ill, it affects every member of the family, particularly the person tasked to look after the sick loved one. For years, the Tzu Chi Foundation has helped ease this burden by providing underprivileged patients with long-term medical assistance and other benefits.
On March 27, Tzu Chi held its first Charity Day of the year at the Buddhist Tzu Chi Campus (BTCC) in Sta. Mesa, Manila. The morning affair saw 146 beneficiaries and their families attend a short program, followed by the distribution of 20-kg rice, grocery items, medicines, and cash assistance. Despite the spate of disasters in the past two years—from super typhoons and the eruption of the Taal Volcano to the ongoing COVID-19 pandemic—Tzu Chi's help never stopped.
Myrelle Espinosa remembers being at her wit's end trying to find the funds for a metal implant for her husband Christian Dave Delmonte. While fixing the roof of their home last November 2021, he slipped and fell, breaking his left thigh. When two weeks of home care didn't help, they went to the Philippine Orthopedic Center. There, he was diagnosed with a fracture of his left midshaft femur and required an operation using an intramedullary femur nail with a locking screw. The metal implant cost P50,000—a fortune for Delmonte who lost his job as a Grab rider. Espinosa, a mother of a 4-year-old, sells snacks and drinks.
At the Orthopedic Center, Espinosa pleaded with social workers. "I asked who was easy to approach because by then, my husband had been in the hospital for three months," she recalls in tears. "They said they would refer me to the Tzu Chi Foundation. After my interview they told me to pray that Tzu Chi would help me right away."
It was Delmonte's turn to cry when he found out that Tzu Chi would provide a Letter of Agreement to secure his metal implant, as well as P5,000 in cash assistance for three months to support him and his family as he recovers. Originally from Tacloban, he was among those helped by Tzu Chi volunteers after Super Typhoon Yolanda ripped through Leyte in 2013, displacing at least 4 million individuals.
"They paid us to clean our homes that time," he says of Tzu Chi's Cash for Work program. "We were able to earn in four days."
Delmonte, who underwent a successful operation last March 3, can now walk with the aid of crutches. Physical therapy is his next step to recovery. "Our prayers were answered by Tzu Chi Foundation," he says.
The Tzu Chi Foundation has been an answered prayer to Janeth de la Peňa too. Her son Karl Olaso, now 9, was diagnosed with congenital hydrocephalus and seizure disorder, a condition that necessitated four operations to the brain as early as when he was 6 months old. It also demanded countless trips to the East Avenue Medical Center and Jose Reyes Memorial Medical Center for checkups and procedures.
"At the time, I didn't know what hydrocephalus was. I had no idea," says an emotional de la Peňa. "I only learned about it from other people. Don't you know that your son has this illness? I had never seen anyone with that condition in real life. It was my first time to experience this."
Through a social worker at Jose Reyes Memorial Medical Center, she learned of the Tzu Chi Foundation and its medical assistance program. She presented requirements and two months later, her request was granted.
Since 2015, Karl has received various forms of help for his condition: an oxygen tank to support his breathing, milk for nutrition, and medicines to address his seizures. Such benefits continued even as the pandemic in 2020 brought the world to a standstill. Though Karl's father, machine operator Jeffrey Olaso, was only made to report for work four times a week, the family could count on Tzu Chi for the boy's needs.
With Karl's hydrocephalus and seizures under control, his parents decided to withdraw their son from Tzu Chi's long-term program. "We are thankful to Tzu Chi Foundation, especially to Master Cheng Yen and all the volunteers, sponsors, social workers, and drivers for the seven years we spent as your beneficiary," says de la Peňa.
Her prayer for her son these days? "That he stays strong, healthy, and lives a long life," she says with a smile.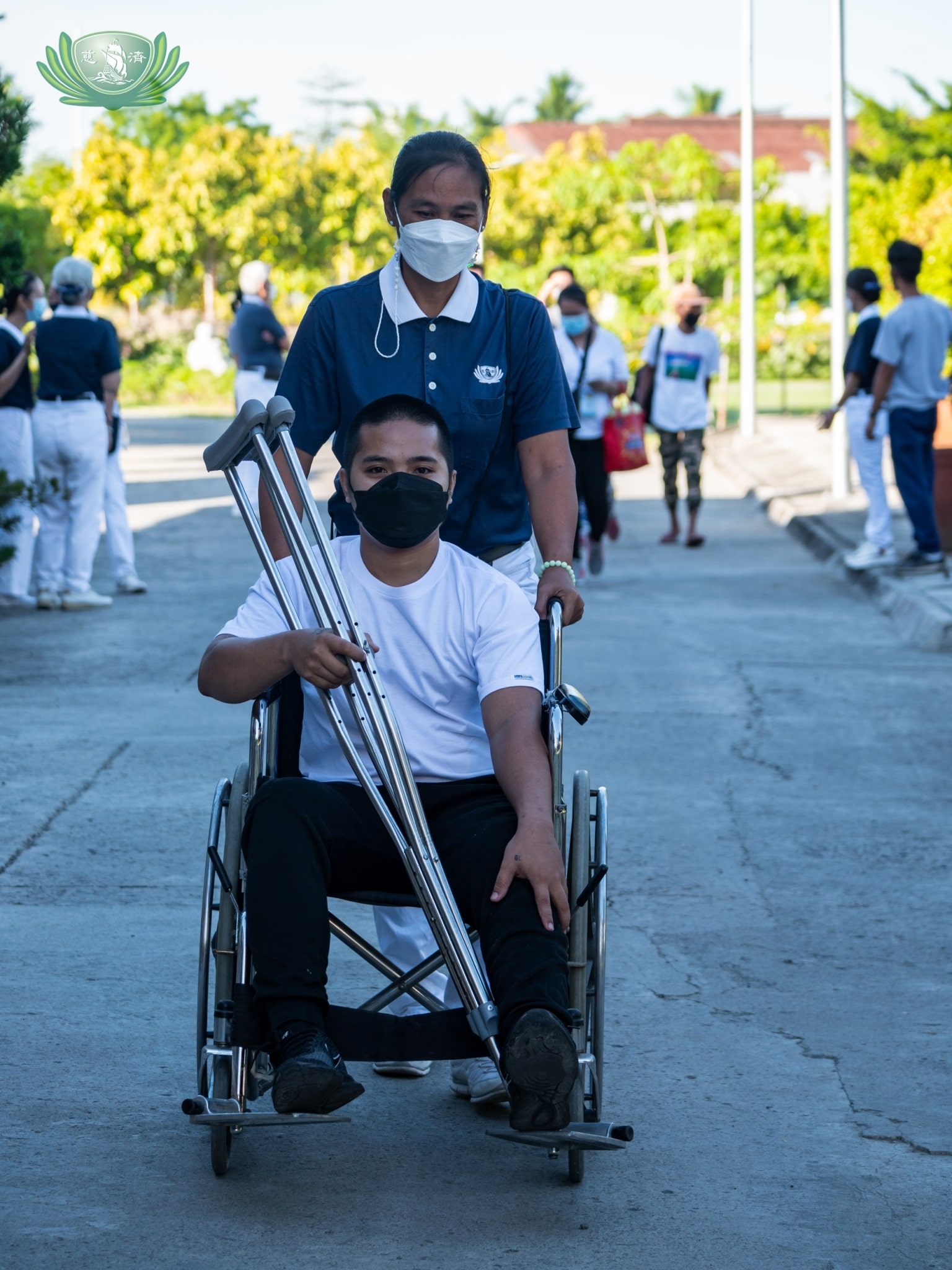 A volunteer pushes beneficiary Christian Dave Delmonte on a wheelchair. Since his operation with metal implant on his left thigh, Delmonte has been able to walk with the aid of crutches.【Photo by Daniel Lazar】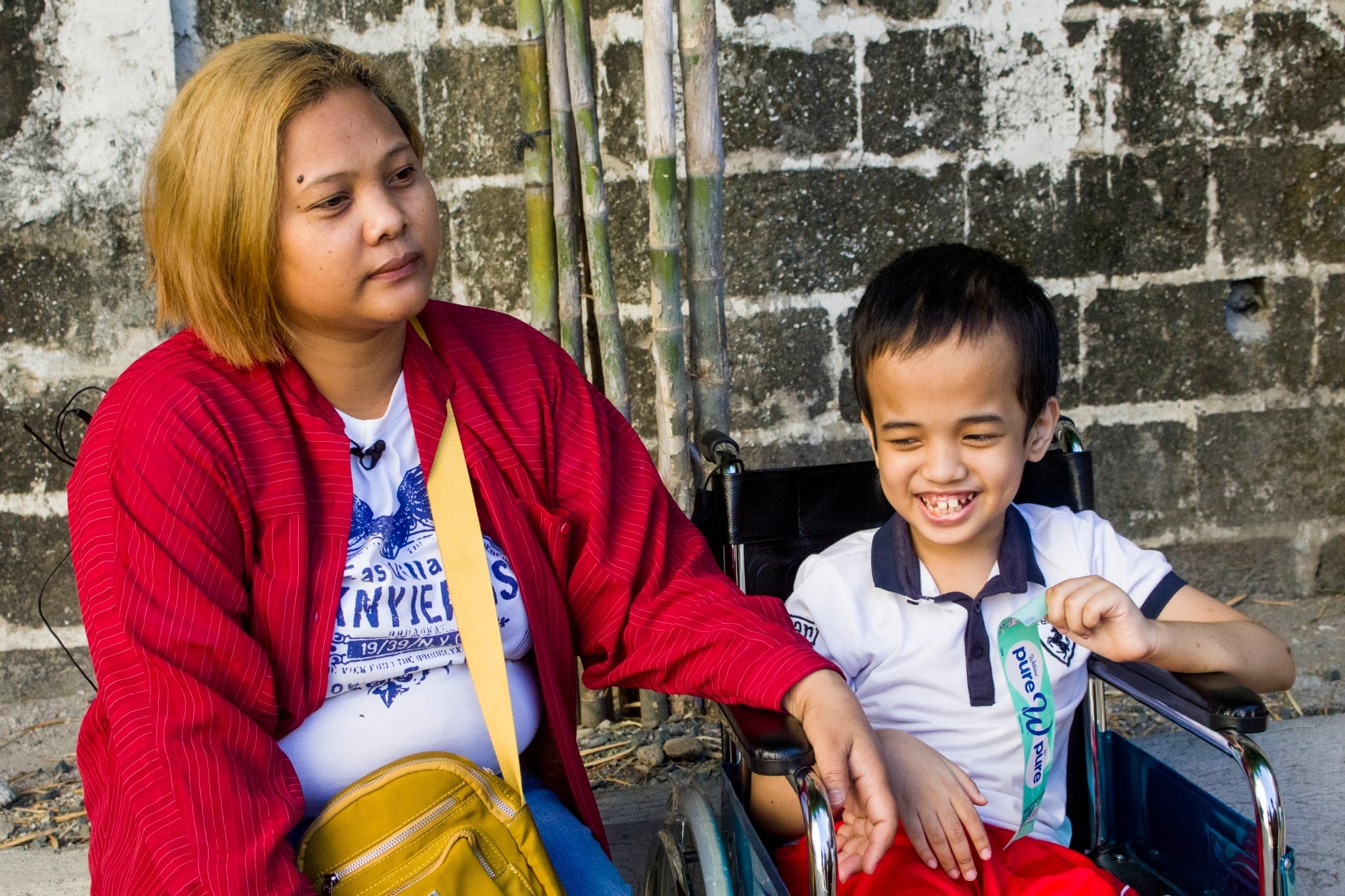 aneth de la Peňa (left) accompanies her son, 9-year-old Karl Olaso, to claim medical assistance benefits. Karl, a beneficiary for seven years, has congenital hydrocephalus and seizure disorder.【Photo by Matt Serrano】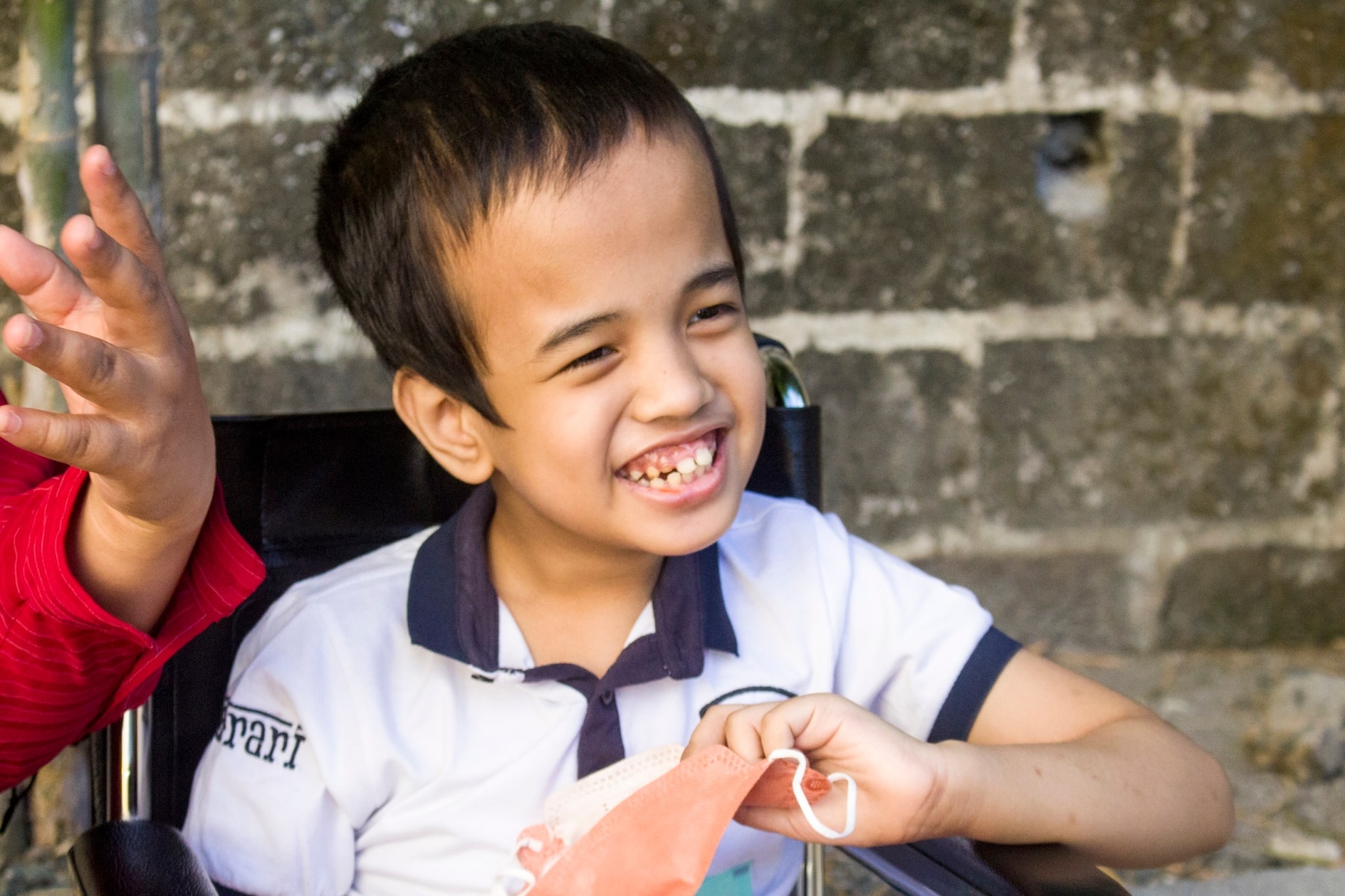 Despite his congenital hydrocephalus and seizure disorder, Karl Olaso is a happy and affectionate boy, assures Mom Janeth de la Peňa.【Photo by Matt Serrano】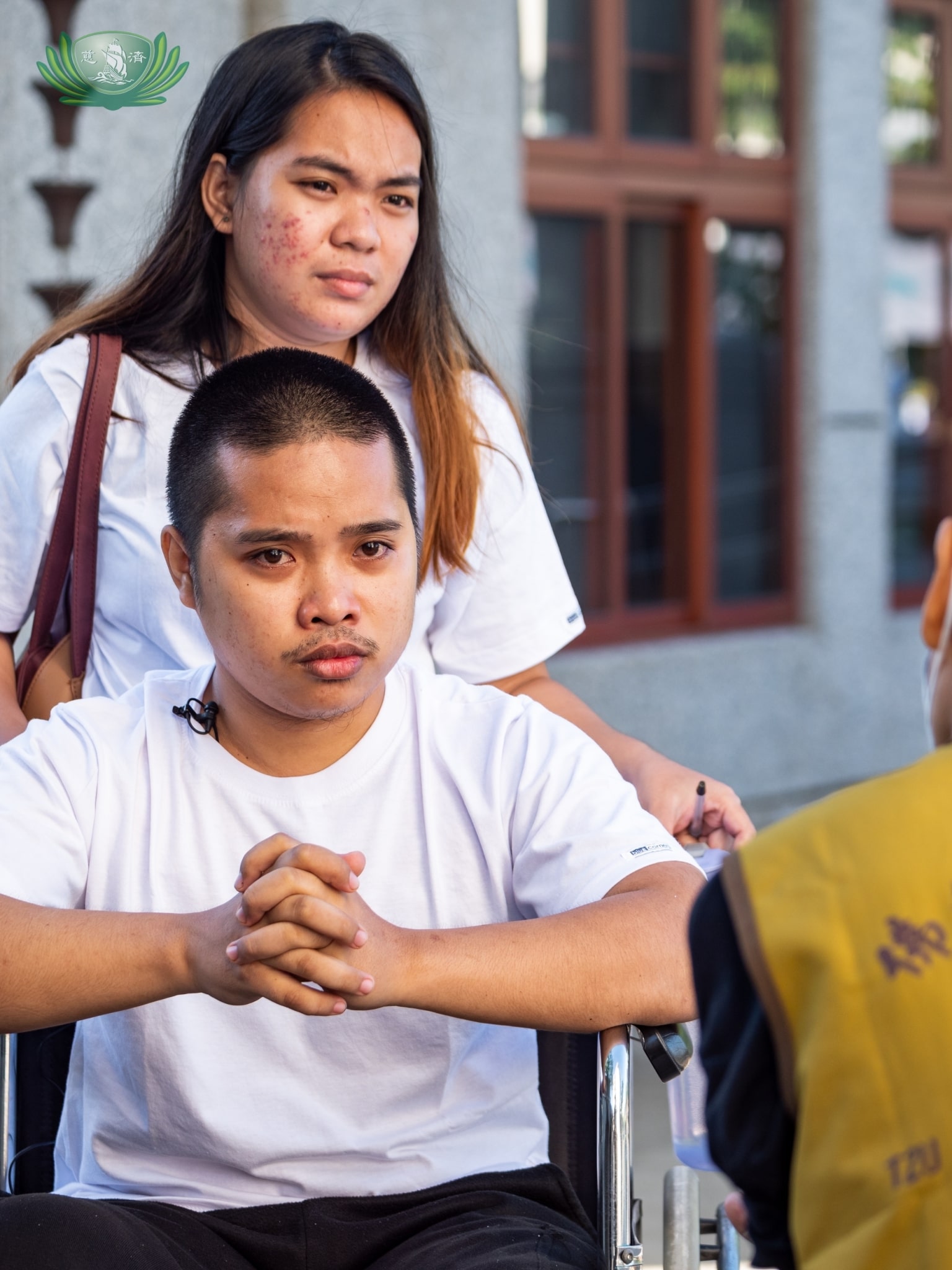 Myrelle Espinosa (standing) sent requirements for support to the Tzu Chi Foundation, but it was her husband Christian Dave Delmonte who learned their request was approved. Delmonte was helped by Tzu Chi before: A native of Tacloban, he participated in Tzu Chi's Cash for Work program, cleaning his surroundings for a fee, after the wrath of Super Typhoon Yolanda in 2013.【Photo by Daniel Lazar】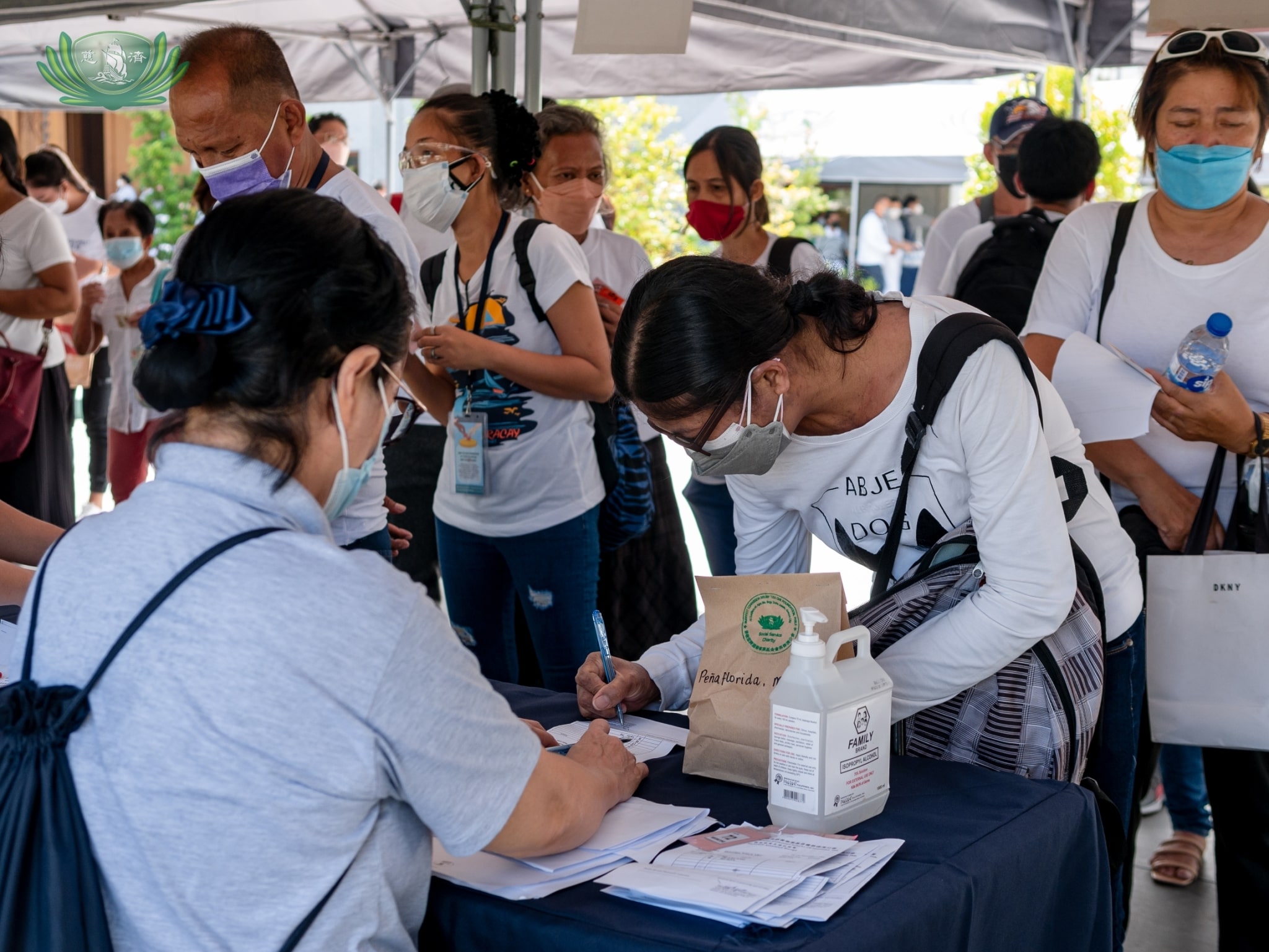 Beneficiaries and their families register to claim medical assistance at Tzu Chi Foundation's first Charity Day for the year.【Photo by Daniel Lazar】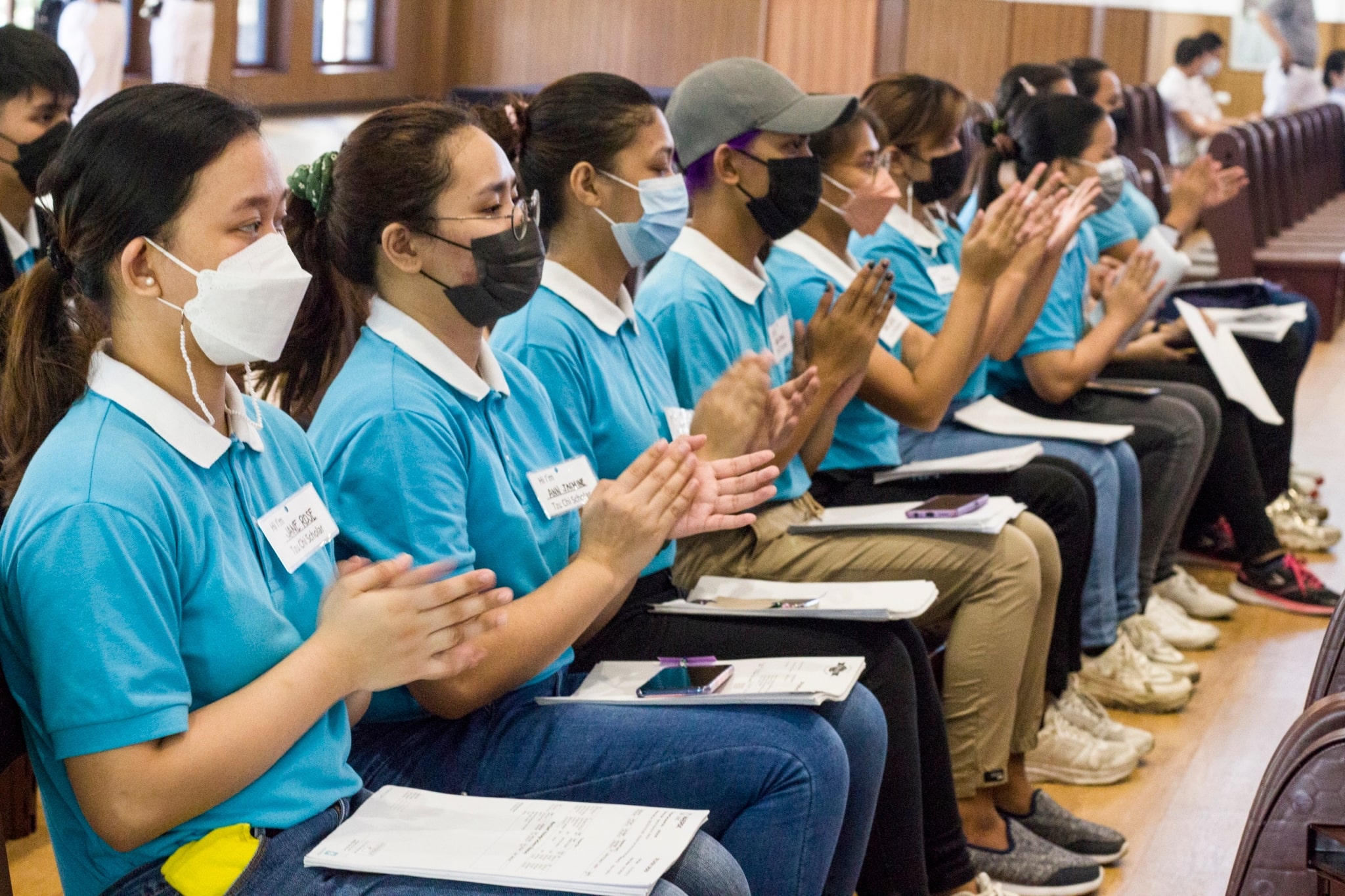 Tzu Chi scholars assisted volunteers and beneficiaries.【Photo by Matt Serrano】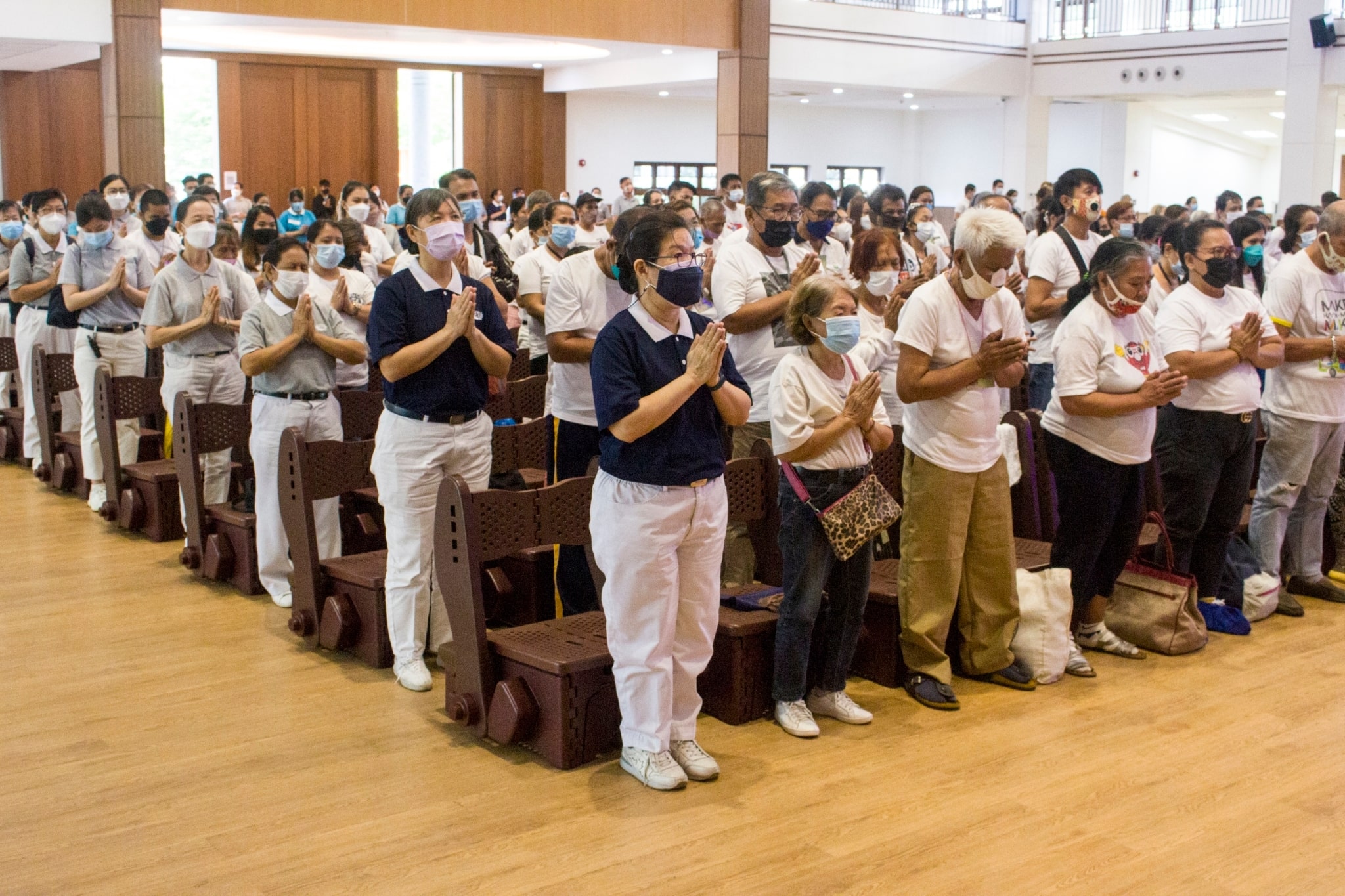 Before claiming medical assistance benefits, beneficiaries and their families attend a short program at the Jing Si Auditorium.【Photo by Matt Serrano】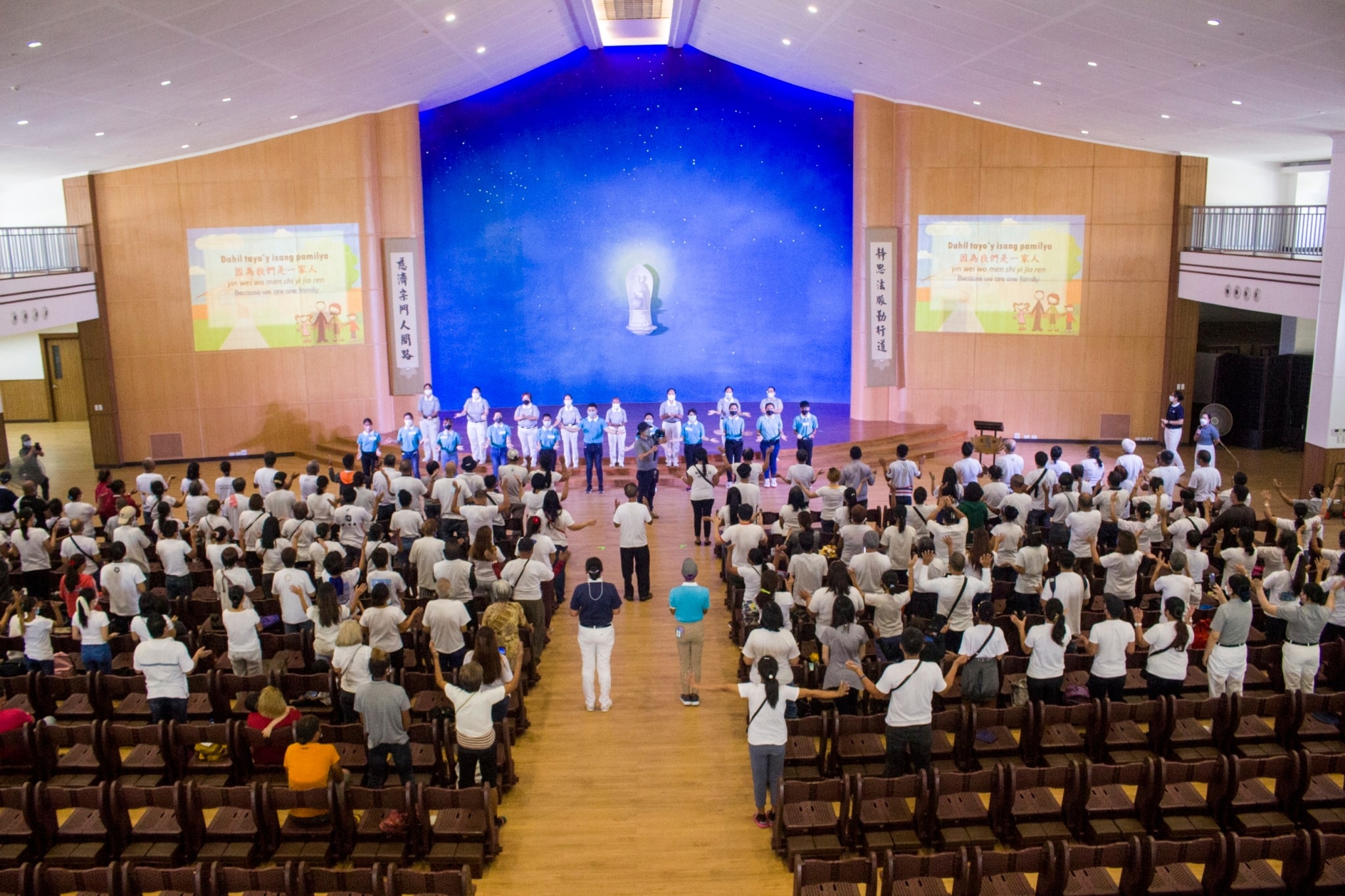 Tzu Chi volunteers and scholars lead the audience to a sign language performance of "One Family."【Photo by Matt Serrano】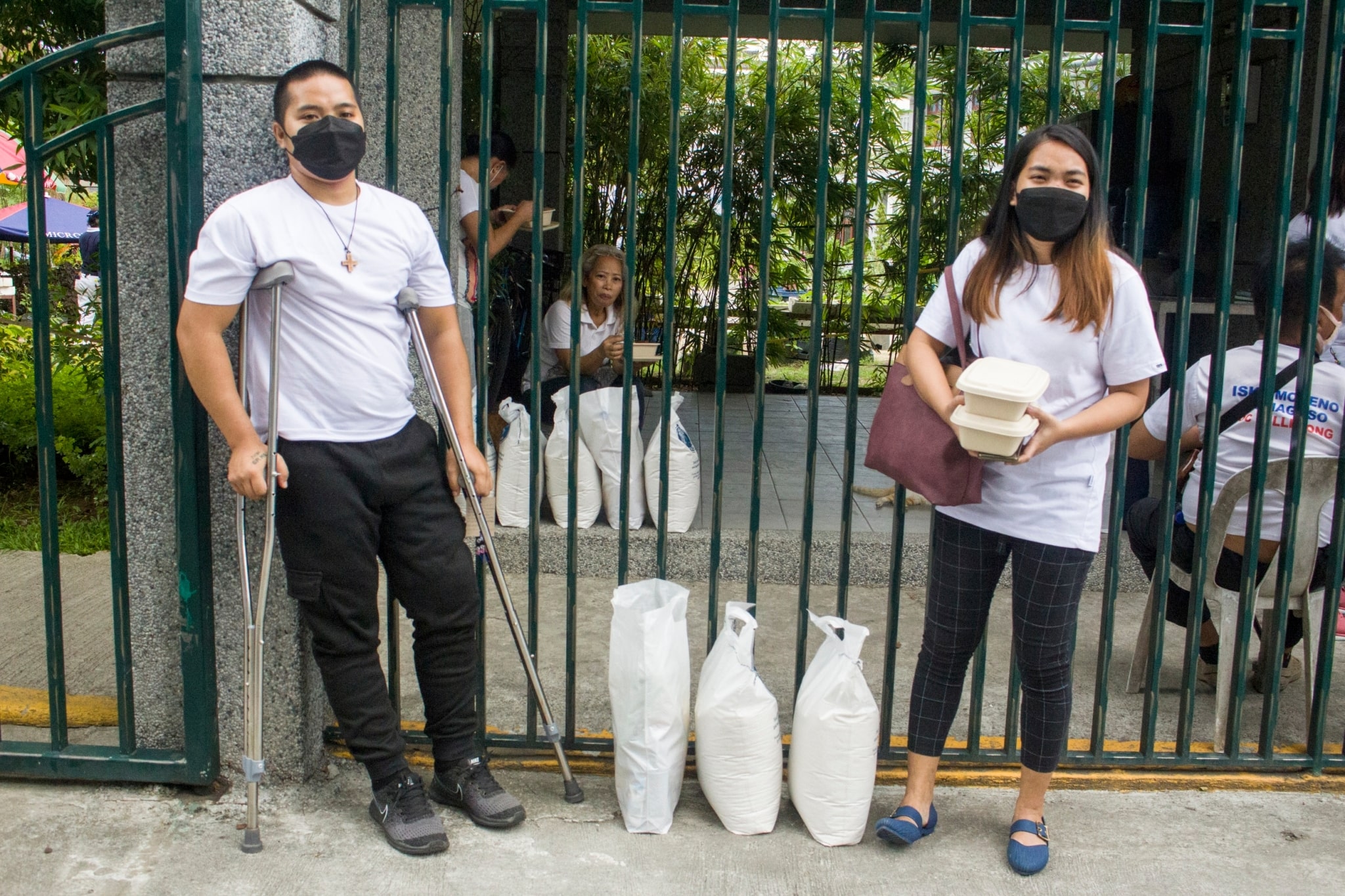 Christian Dave Delmonte (left) and Myrelle Espinosa wait for their ride home outside the BTCC compound.【Photo by Matt Serrano】
Go Back