After a broken leg, a new lease on life
Tzu Chi helps Micholle Manila with an operation, cash air, and pedicab.
By Joy Rojas
"Regard suffering as a challenge," said Dharma Master Cheng Yen. "Once you have overcome it, you will be happy."
The aphorism applies to Micholle Manila, who endured immense suffering when she figured in a serious accident last October 17, 2021. On what was supposed to be just another day, Micholle, a 26-year-old mother of two small kids, hitched a ride on the backseat of her cousin's motorcycle to buy medicine for her younger child. On their way home to Tondo, the motorcycle skidded on some gravel on the road and hit a parked truck. The impact threw Micholle and her cousin off the bike and tumbling onto the ground.
While her cousin was whisked off to a nearby hospital for a busted face, she sustained multiple wounds and bruises on her body. To her horror, she noticed her right leg was bent in the shape of the letter S. "I broke my leg," she says. "I cried when I saw it."
At the Philippines Orthopedic Center (POC) in Banawe, Quezon City, an x-ray confirmed a closed femoral fracture, or a broken thighbone. Doctors recommended surgery, an impossible option for Micholle, who made little selling food and running an informal delivery service. Her common-law husband Carlo Francisco drove a tricycle part time.
Mounting medical expenses weren't her only concern. "I didn't think I could walk again," she says. Confined for a month, her right leg elevated and stabilized with a sling, pulley, and various contraptions, she thought she was going to be in POC for good.
Suddenly, some unexpected news: POC has an ongoing partnership with the Tzu Chi Foundation—specifically for patients in need of intramedullary nails, or metal rods used for long-bone fracture fixation. Through a referral from POC's social services department, she received a Letter of Agreement for financial assistance from Tzu Chi for her intramedullary nailing, a costly procedure.
Micholle, who didn't know of the Tzu Chi Foundation, was overwhelmed by the compassion and support of these strangers in blue and white. Upon visiting her at the POC, they encouraged her to get better. The patient could only sob in gratitude.
After undergoing the procedure on November 27, she was cleared to go home the following day.
Recovery proved fast and painful. In her first post-op checkup, she couldn't stand up. Physical therapy saw her progress from using a wheelchair to moving in crutches then getting up and walking on her own. "I still walk with a limp," she says, "and it hurts when I bend my leg. But even if it's painful I tolerate it. It's for my own good, so I could get better."
The pain certainly hasn't stopped her from being productive. In addition to financial assistance for her procedure, she received cash aid from Tzu Chi. With the money she is able to pay for therapy and has begun expanding her food business. "I can sell, I can cook, I can even deliver," she says.
Tzu Chi also provided her husband with his own pedicab, a means of livelihood he and Micholle share with her cousin. While her cousin ferries passengers for a fee during the day, her husband drives it at night. The two then split the profits. "My cousin cried. He didn't think we would help him. But my husband and I are okay with it. It's fine that we can help, the same way that I was helped."
"It feels good to give, especially when you don't expect anything in return," she says. "That's what I always tell my husband: to just keep giving, to keep helping."
Looks like Micholle got more than a life-changing medical procedure from Tzu Chi. Like her generous benefactors she learned to share her blessings and be there for others. When she dropped by the Buddhist Tzu Chi Campus in Sta. Mesa, Manila, to claim her cash aid, she turned over a Tzu Chi coin bank filled with her personal pledges.
With a new lease on life, Micholle has, as Master Cheng Yen assured, become happy. "I wanted to walk again for my kids," she says of her motivation to move despite the pain. "I wanted to be better for them. I was given a second chance so I could make up for things with my children."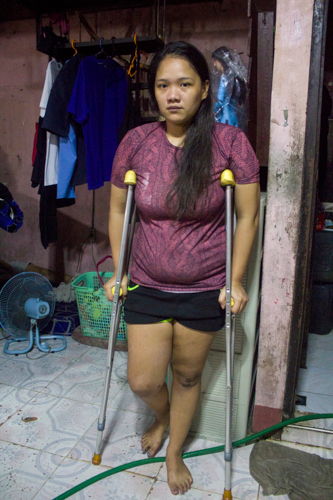 Through sessions of physical therapy, Micholle Manila progressed from not being able to stand to using a wheelchair then crutches.【Photo by Matt Serrano】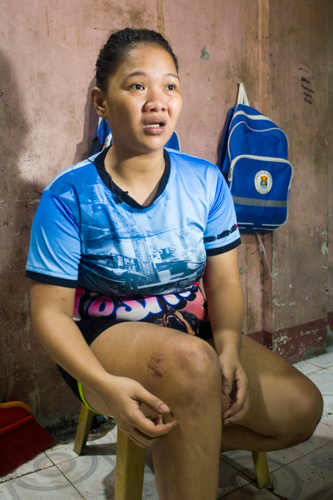 To repair her broken thighbone, Micholle Manila underwent an intramedullary nailing, the scars of which appear near her right knee. 【Photo by Matt Serrano】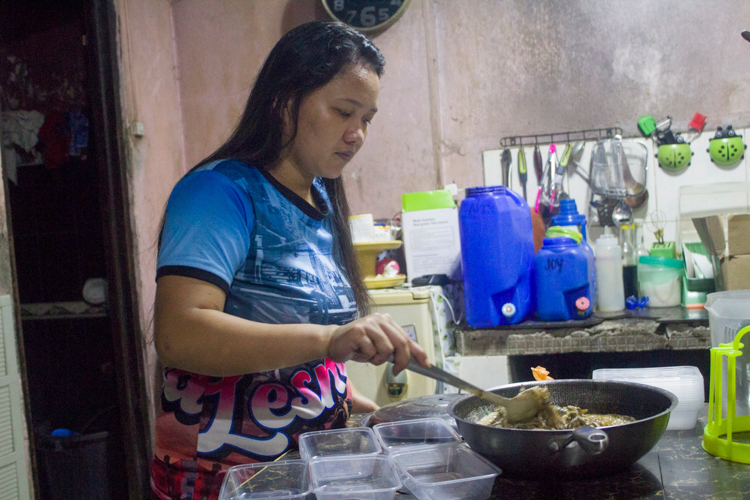 The 26-year-old mother of two prepares orders for her small food business. 【Photo by Matt Serrano】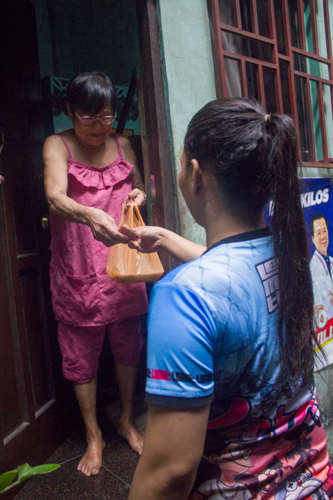 In addition to her food business, Micholle Manila runs a modest delivery service. 【Photo by Matt Serrano】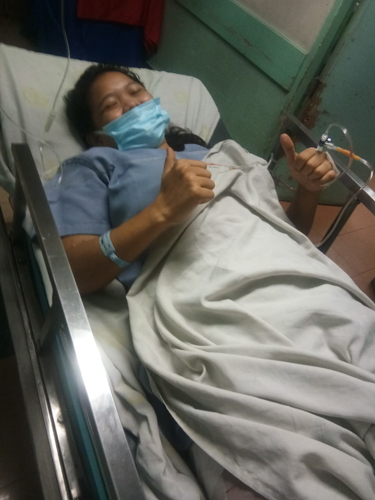 After a successful procedure to repair her fractured femur on November 27, 2021, Micholle Manila was cleared for discharge the following day.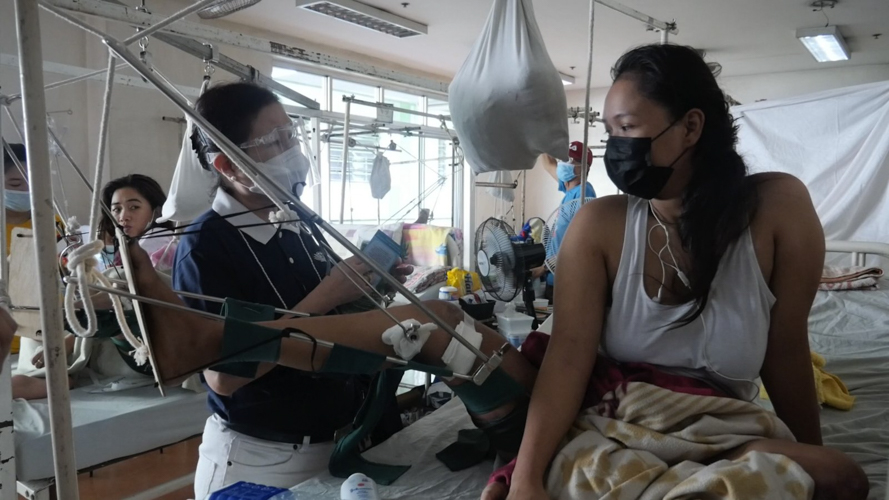 Tzu Chi volunteer Edita Young (left) visits Micholle Manila at the Philippine Orthopedic Center.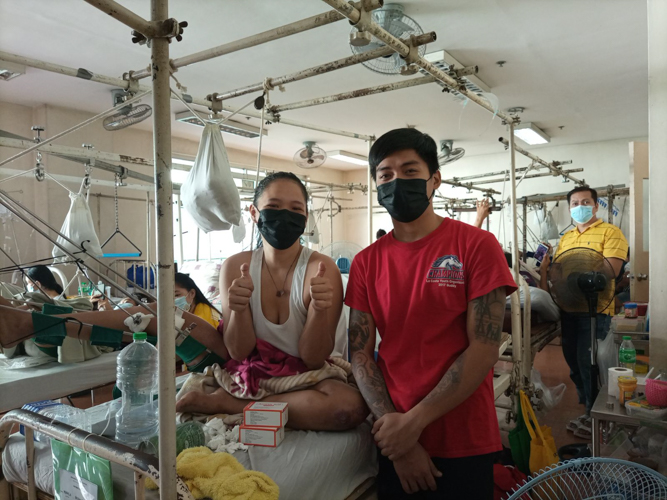 Husband Carlo Francisco divided his time between taking care of Micholle in the hospital and looking after their two young children.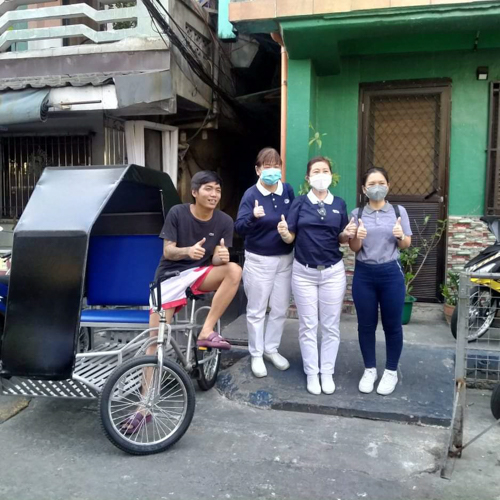 Micholle Manila's husband Carlo Francisco (first from left) poses with Tzu Cho volunteers and the pedicab he received from them for his livelihood.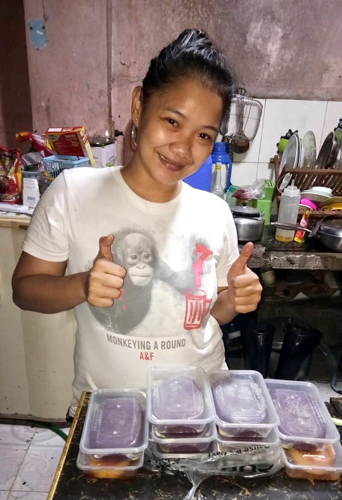 With the cash aid given to her by the Tzu Chi Foundation, Micholle Manila was able to expand her small food business. In addition to selling cooked viands, she resells sweet treats like ube and leche flan.
At the Buddhist Tzu Chi Campus in Sta. Mesa, Manila, Micholle Manila turns over a coin bank filled with pledges. ""It feels good to give, especially when you don't expect anything in return," she says. "That's what I always tell my husband: to just keep giving, to keep helping."
Go Back