Tech-Voc students share stories of resilience, hope in humanities class
Manny Penaredondo, former Tech-Voc scholar and now a professional caregiver inspires scholars to reach for their dreams.
By Ben Baquilod
"Life is like walking on a tightrope. We are sure to fall if we keep looking back instead of focusing on what is ahead," said Dharma Master Cheng Yen in one of her Jing Si Aphorisms.
This is what kept Manny Penaredondo going amid life's obstacles­—a maxim he confidently shared with Tzu Chi's current Technical-Vocational (Tech-Voc) scholars in their humanities class on January 28. "I hope that whatever comes your way, you keep fighting for your dreams," says the 37-year-old guest speaker, who was a former Tech-Voc scholar and now a professional caregiver.
Coming from a broken family, Penaredondo was adopted and raised by his auntie. His mother suffered from a mental illness while his father succumbed to alcoholism, disabling them from supporting him and his education.
In another unfortunate event, his auntie who was sending him to school passed away, leaving him alone at 17. "I didn't know what to do at that time," he recalls. But through the hardships, he looked for ways to survive. He took up several short courses in TESDA, and landed jobs abroad.
He worked as a contractual service crew in Saudi Arabia in 2012, then as a cook in Qatar from 2016 to 2019, and transferred to Maldives in 2019—until the company he was working for got bankrupt in 2020 due to the COVID-19 pandemic.
He thought working abroad was his chance for a better life, until reality kicked in. "Not all OFWs succeed. Many of them fail. I am one of them," he confesses. So, he went home, back to zero­, again­—but still with unwavering determination to escape the cycle of poverty.
In 2021, a neighbor who has just graduated then from Tzu Chi's Tech-Voc course told him about the Buddhist foundation. He promptly applied for the caregiving course and passed. He studied from October 2021 to January 2022 and immediately landed a job.
"Through it all, I tried not to let difficulties overcome me. I am thankful that I found supportive friends in church," he says. "And when I came to know Tzu Chi, my personality was molded even better."
"The most important thing I learned from Tzu Chi is character," Penaredondo asserts. "Things happen to our lives. Some are good, some are bad. But in Tzu Chi, I learned that all those experiences are part of our growth."
Since graduating from Tzu Chi's free course, he has been thriving in his job as a caregiver. Once, he took care of a client who had terminal cancer. When the patient passed away, he left him a significant amount of money. "I was surprised. I only took care of him for three months. But maybe it was because they loved my service," he believes. "And I owe it to Tzu Chi that I had a solid foundation of kindness and compassion in performing my duty as a caregiver."
For Marie Jean Dacuya, a current caregiving scholar who was invited and inspired by Penaredondo to take the course, it was also this focus on character building that makes her feel blessed to be part of Tzu Chi. "The lessons of the Dharma that we learn from our classes, I am now able to apply them," says Dacuya, 34, a single mother.
Hailing from Camarines Sur in Bicol, Dacuya moved to Bulacan when she was 14 years old and worked as a housemaid. At 18, she moved back to Bicol to study high school and worked part time as a laundrywoman for her teacher to support her education. Today, she lives in San Mateo, Rizal with her sister and currently completes her caregiving course in Tzu Chi.
"I'm very grateful to Master Cheng Yen and to everyone behind Tzu Chi that I was selected to be a scholar," she weeps. "Maybe this is now my chance to have a better future for myself, my child, and my family."
Angeline Gilboy, 33, a mother of two is equally thankful to Tzu Chi for granting her another chance to fulfill her dreams of becoming a medical practitioner.
"I have proven to myself that I can reach for my goals. After finishing this course, I hope to go further and study nursing so I can be an inspiration to my children," she adds.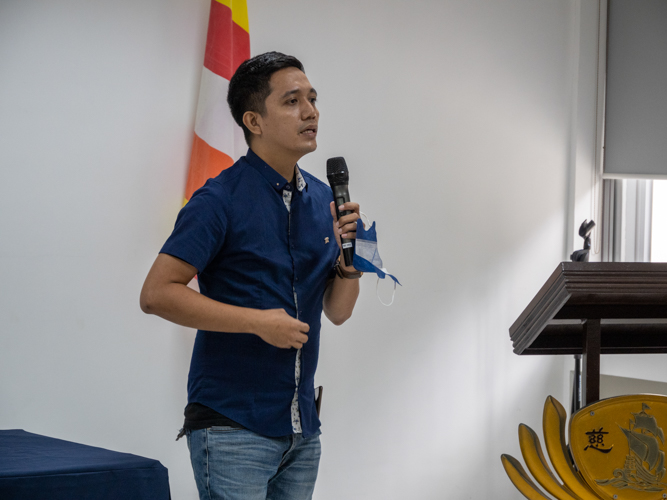 Former Technical-Vocational scholar and now professional caregiver Manny Penaredondo comes as guest speaker in Tzu Chi's Livelihood humanities class. 【Photo by Matt Serrano】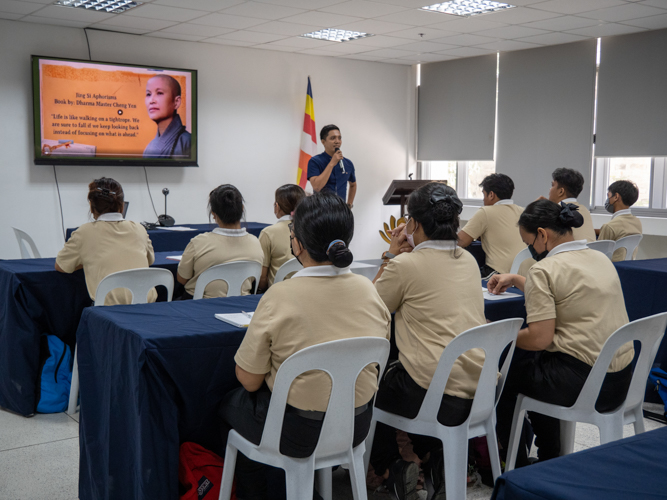 "Life is like walking on a tightrope. We are sure to fall if we keep looking back instead of focusing on what is ahead," says Dharma Master Cheng Yen, quoted by Manny Penaredondo in his presentation. 【Photo by Matt Serrano】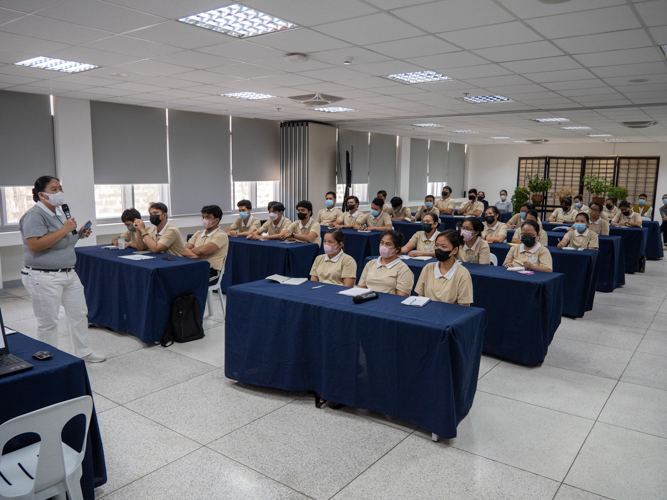 Tech-Voc scholars listen to Tzu Chi volunteer Rowena Rempillo. 【Photo by Matt Serrano】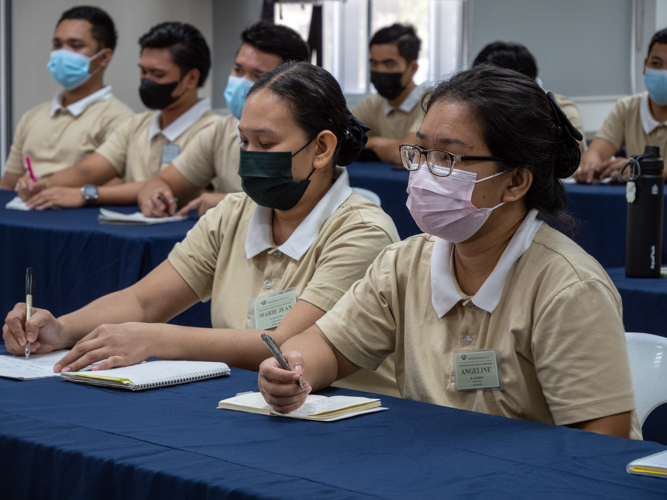 Tech-Voc Caregiving students Mary Jean Dacuya and Angeline Gilboy jot down notes during a keynote speech. 【Photo by Matt Serrano】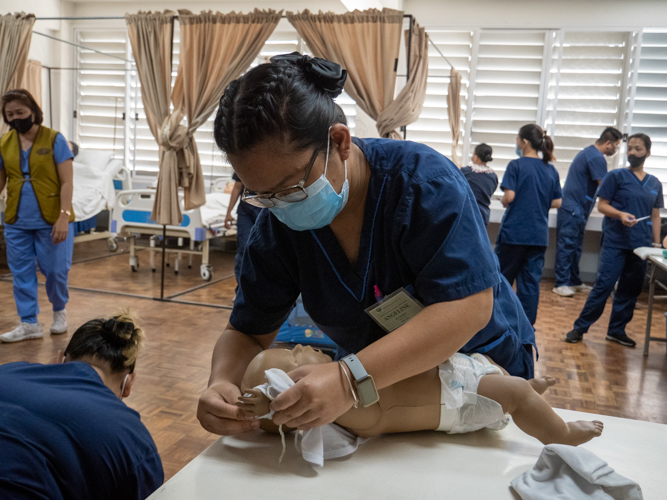 Angeline Gilboy conducts a practice session of dressing a newborn baby in their caregiving class. 【Photo by Matt Serrano】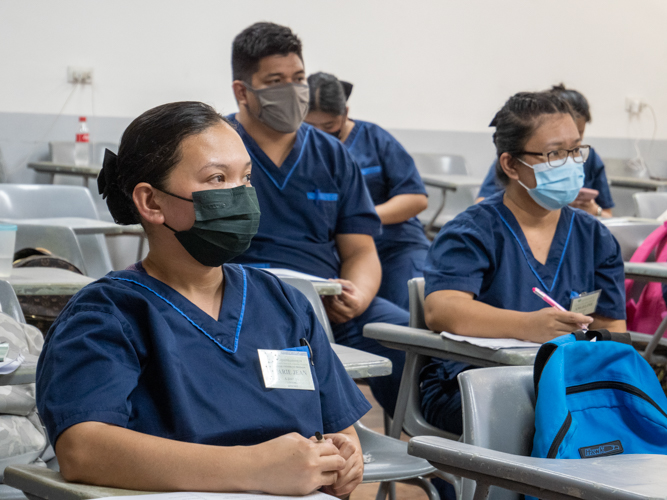 Mary Jean Dacuya (left, foreground) is thankful to be one of Tzu Chi's Tech-Voc Caregiving scholars. "The lessons of the Dharma that we learn from our classes, I am now able to apply them," she says. 【Photo by Matt Serrano】
Go Back