Tzu Chi Donates Dental Chair to Help People of Marikina
The Tzu Chi Foundation donates dental chair to to citizens of Marikina to help with dental care during the pandemic. Together with a second dental chair donated by local businessman, Tony Andres, the people of Marikina are finally able to receive proper oral care.
By Daniel Lazar
Dental care can be a burdensome cost to anyone, doubly so for those in need, and particularly throughout the pandemic. Due to doctors and resources having been reserved solely for vaccination efforts, and strict IATF rules for social distancing, seeing a dentist was only reserved for the severest of cases.
With many residents losing their jobs and needing dental care, very few could afford to go to a dentist, even for a minor procedure. Seeing the need for dental procedures, Vice Mayor, Dr. Marion Andres, with local dentist, Dr. Jose Ebuen Velasco, opened up a free clinic in the Marikina City Hall- to serve those needing minor procedures and tooth extractions.
"It's hard for those who have dental health concerns, because of the pandemic," said Dr. Velasco, "it would take a long time to see a dentist because you still have to coordinate for an appointment. It's not that simple. Throughout the pandemic it has been very hard."
When the free clinic was announced, over 1,800 Marikina residents registered for the free tooth extractions. However, with a lack of proper equipment and dental chairs, the procedures were conducted in make-shift chairs. "We have an improvised chair, one chair plus one pillow," noted Vice Mayor Andres.
With this imminent need for proper equipment, The Tzu Chi Foundation, whose long history of helping the residents of Marikina goes all the way back to Ondoy in 2009, donated a professional dentist chair to aid with dental procedures. Vice Mayor Andres expressed his utmost gratitude to Tzu Chi, "on behalf of the City Government of Marikina, thank you very much to Tzu Chi and Master Cheng Yen."
Inspired by Tzu Chi's benevolent actions throughout the years, one Marikina businessman also decided to help his fellow Marikeños.
Gibson Shoe Factory owner, Tony Andres, stepped in to help the city of Marikina provide professional dental care, by also donating a dentist chair. "We saw there was a need," mentioned Mr. Andres, "especially for those who cannot afford a professional dentist. So we thought of donating a dental chair."
The new chairs will be used at Marikina City Hall for free dental clinics every Tuesday, Thursday and Saturday. Dr. Velasco also expressed his appreciation, saying that "through your help, we are grateful how Tzu Chi showed love and concern for those who need dental care."
Nestor Villanueva, a 52 year-old resident of Marikina was extremely relieved to finally receive the care he needed. Having lost his job due to the pandemic, he has been suffering from tooth pains for a long time, but unable to afford a dentist. "I usually can't sleep when I have a toothache," he said, "it is very painful, as if a screwdriver is drilling into your tooth, but I am happy now that I was able to have a free operation and get rid of the pain."
With Tzu Chi's donations, the help of local businesses, and the Vice Mayor's Office initiatives, the people of Marikina now have a ray of hope to lessen their suffering and help them return to their normal lives.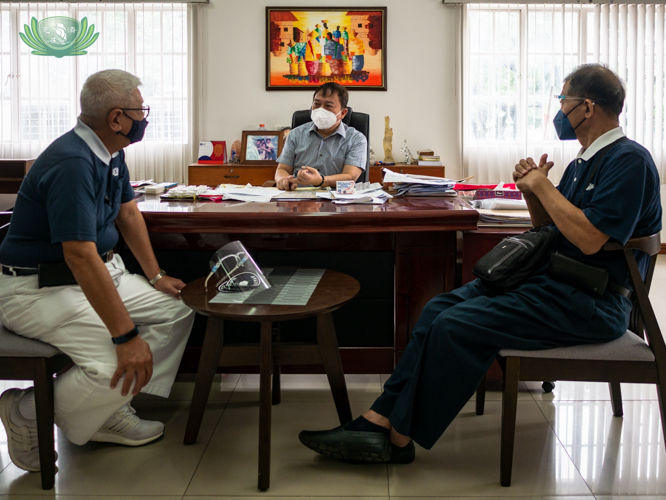 Tzu Chi CEO Henry Yunez and volunteer Jame Chien discussing past Marikina relief operations with Vice Mayor Dr. Marion Andres.【Photo by Daniel Lazar】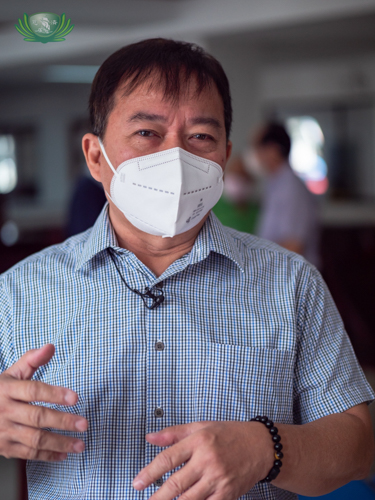 Vice Mayor Dr. Marion Andres thanking Tzu Chi for the dental chair donation.【Photo by Daniel Lazar】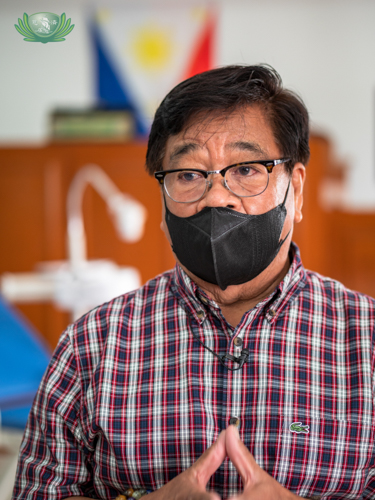 Gibson Shoe Factory owner, Tony Andres, who donated a dental chair to the City of Marikina【Photo by Daniel Lazar】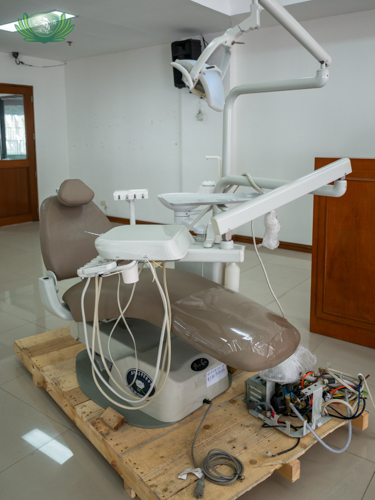 Dental chair donated by the Tzu Chi Foundation 【Photo by Daniel Lazar】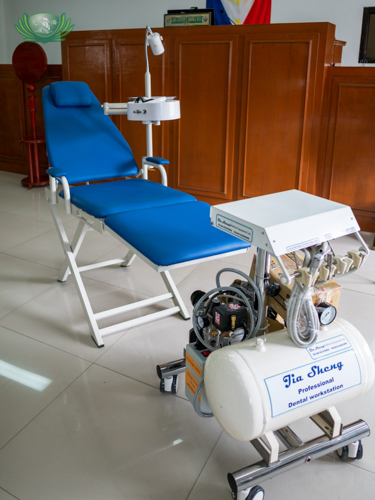 Dental Chair donated by Tony Andres【Photo by Daniel Lazar】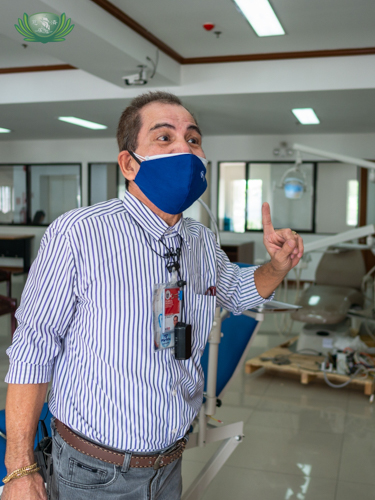 Marikina dentist, Dr. Jose Ebuen Velasco talking about dental care during the pandemic【Photo by Daniel Lazar】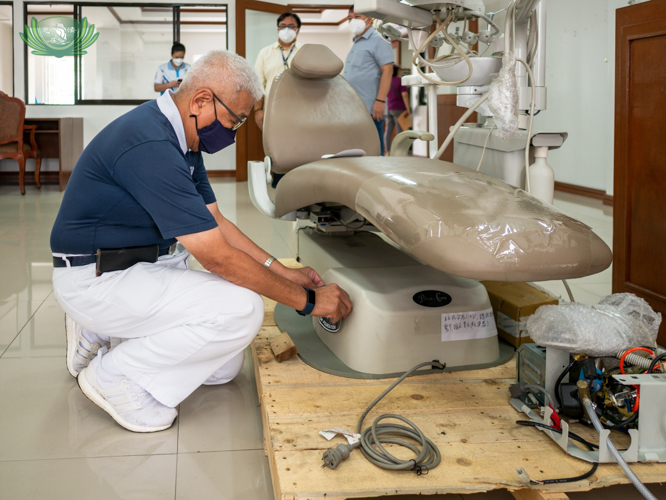 Tzu Chi CEO Henry Yunez inspecing the dental chair donated by the Foundation【Photo by Daniel Lazar】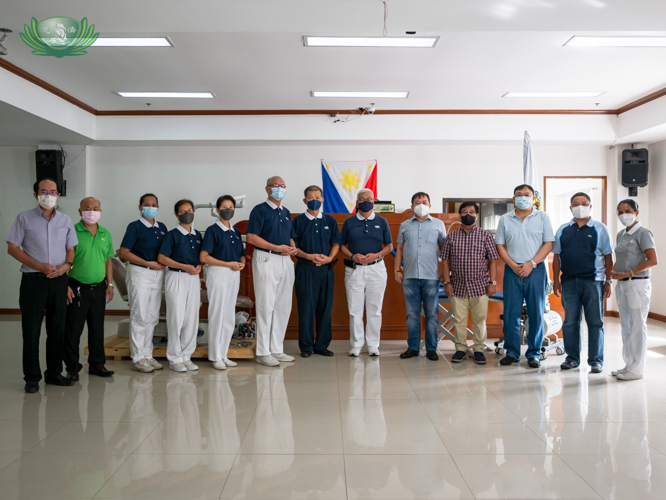 Tzu Chi CEO and volunteers together with Marikina City officials【Photo by Daniel Lazar】
Go Back