Tzu Chi Great Love Preschool Holds Family Sportsfest
The activity served to strengthen bond among students, parents, and the whole preschool community.
By Ben Baquilod
Joy and togetherness filled the first ever annual Family Sportsfest of the Tzu Chi Great Love Preschool Philippines. On April 21, students, parents, teachers, and volunteers spent a day of fun games and activities at the Fun Farm at Sta. Elena in Cabuyao, Laguna.
"The aim of this activity is to strengthen the bond of the families together with the staff and the entire family of Tzu Chi Great Love Preschool Philippines," said Preschool Directress Jane Sy.
Students and their parents were divided into three teams and competed in a cheer battle, relay race, and other child-friendly sports games. The games are designed to teach participants how to work within a family, a team, and one community. After each game, teams had to collect a puzzle piece that would form a Jing Si aphorism at the end.
"It was tiring, but it was very fun," said parent Jimmy Shi, who enjoyed the games as much as the students did. For parents like him who are busy with work, it was a delight to spend a whole day with his kid, wife, and the other families.
"The most fun game was the tug of war," he said. "When we were playing the game, our children were cheering, "Go go go! Jiayou, jiayou, jiayou!" That's what it made it beautiful," added Jimmy, delighted to see his child, Jasper supporting him.
The families also enjoyed vegetarian meals made together by Tzu Chi volunteers and parents. "When Teacher Jane called me if I can make food for the families today, I said I'd be happy to do so. And I thank her for giving me this opportunity," said volunteer Choi San Min, the grandmother of student Charlotte.
"This activity makes the teachers, the students, and the school close, which is the very point of this event. Because only then can we encourage and develop the children to their fullest strength," said Tzu Chi volunteer Ligaya Ng who assisted with the program.
Nursery Assistant Teacher Arian Cruz expressed her joy seeing the faces of children enjoying the games with their families. "Seeing all our efforts and the outcome of our every event, I feel like my life is now having a purpose," Cruz said.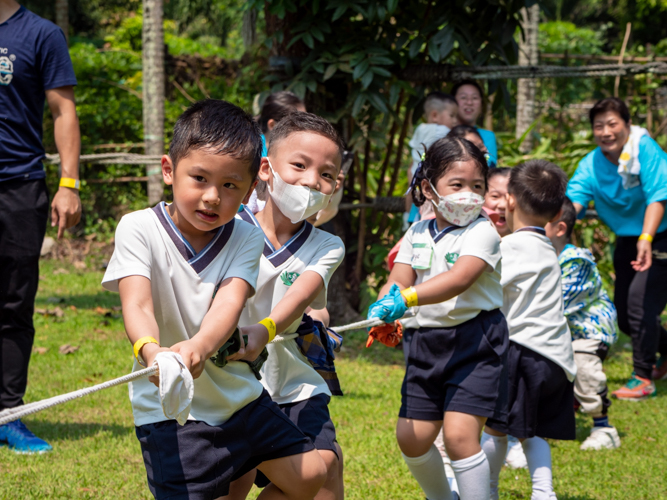 Tzu Chi Great Love Preschool Philippines hold its first ever annual Family Sportsfest on April 21 at the Fun Farm at Sta. Elena in Cabuyao, Laguna. 【Photo by Daniel Lazar】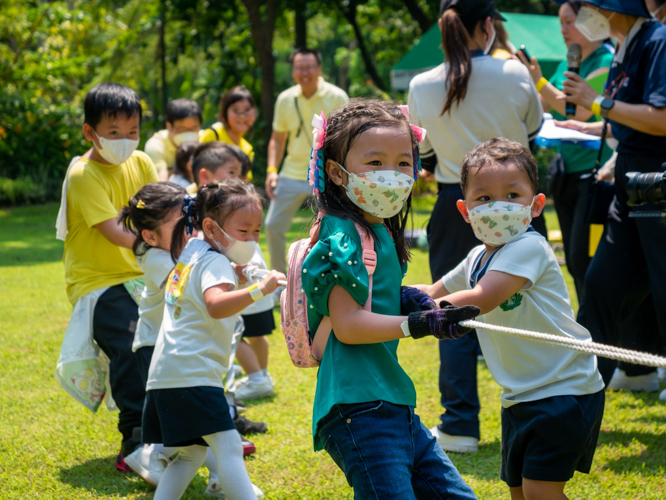 Tzu Chi Great Love Preschool Philippines hold its first ever annual Family Sportsfest on April 21 at the Fun Farm at Sta. Elena in Cabuyao, Laguna. 【Photo by Daniel Lazar】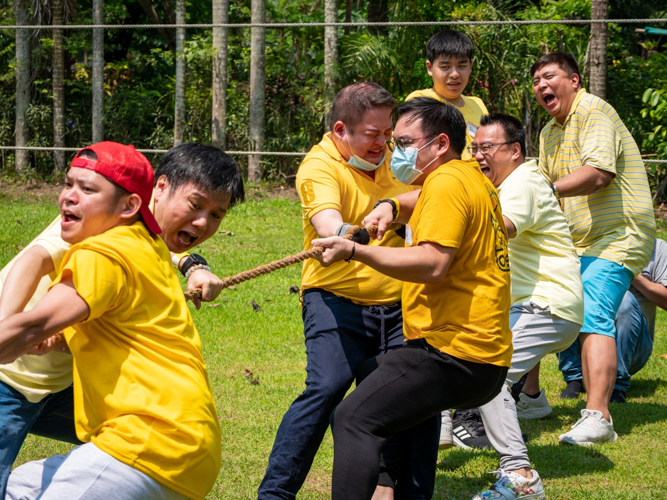 Parents and guardians have their game face on in a tug of war game at the Family Sportsfest of the Tzu Chi Great Love Preschool Philippines. 【Photo by Daniel Lazar】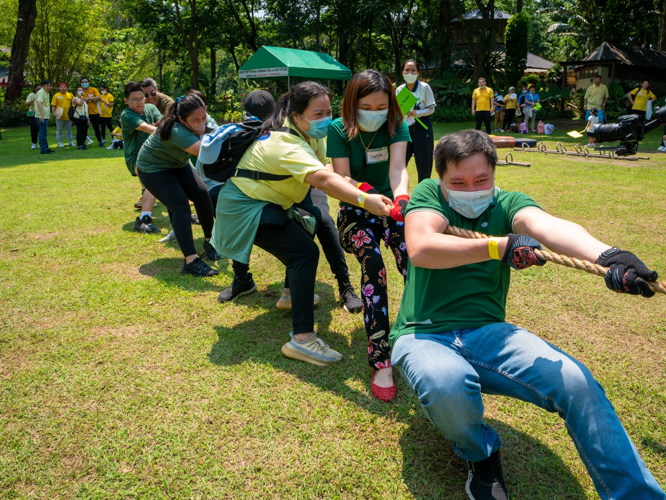 Parents and guardians have their game face on in a tug of war game at the Family Sportsfest of the Tzu Chi Great Love Preschool Philippines. 【Photo by Daniel Lazar】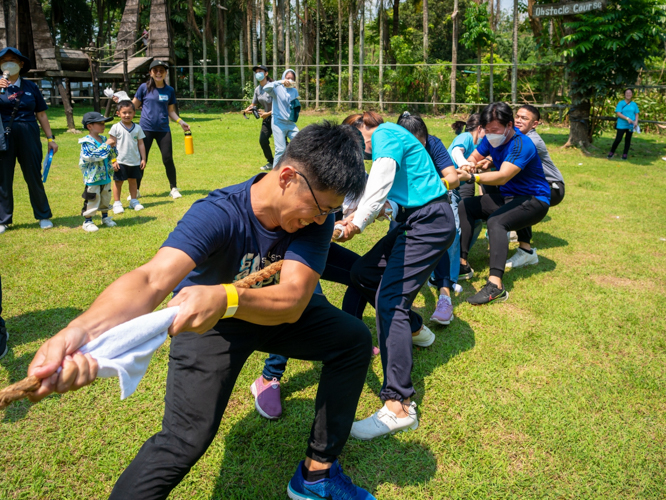 Parents and guardians have their game face on in a tug of war game at the Family Sportsfest of the Tzu Chi Great Love Preschool Philippines. 【Photo by Daniel Lazar】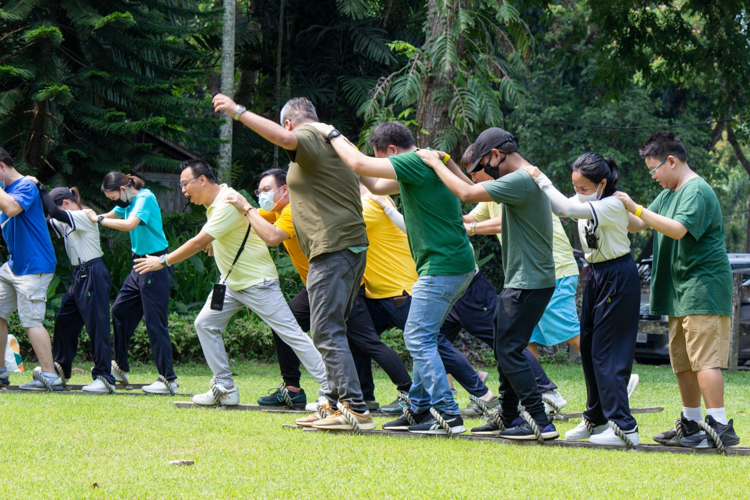 In this obstacle course game, teams have to walk in a synchronized manner to test balance, speed, and oneness in action. 【Photo by Marella Saldonido】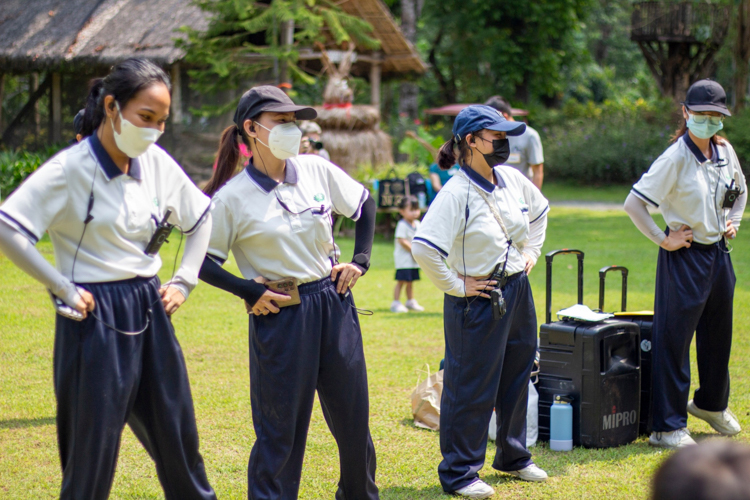 Preschool teachers lead students and parents in a dance exercise. 【Photo by Matt Serrano】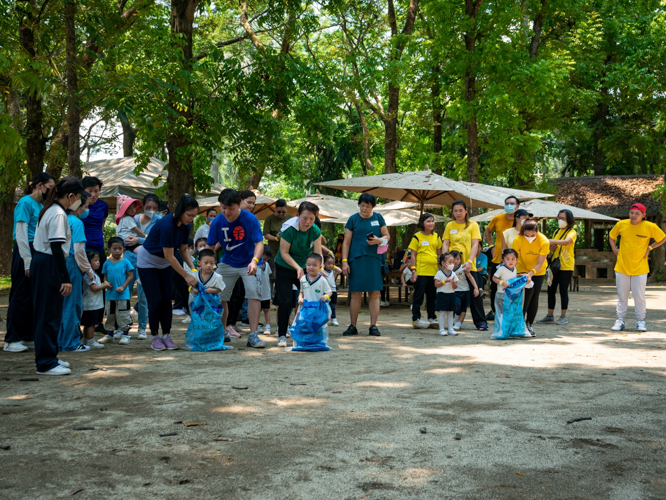 With guidance from parents, students compete in the classic sack race. 【Photo by Daniel Lazar】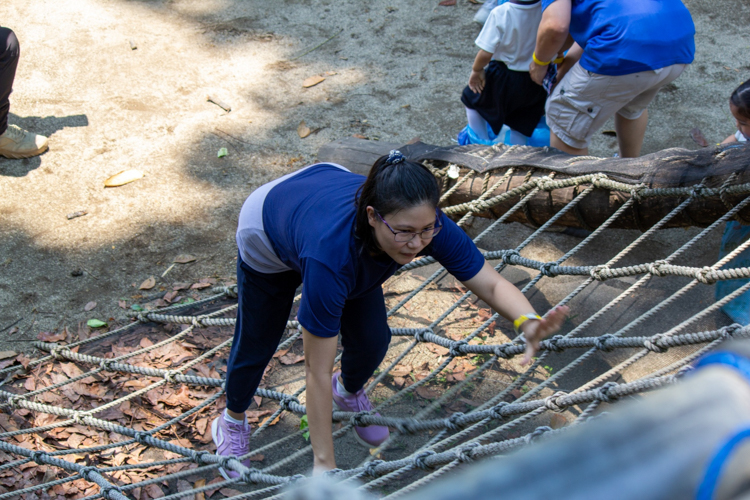 When a student finishes the sack race, a parent continues the race through a net climb. 【Photo by Marella Saldonido】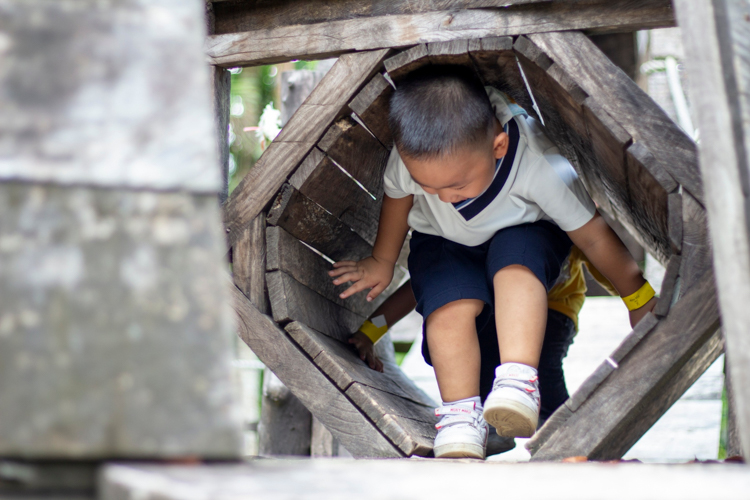 Students get to enjoy a variety of games at the Fun Farm at Sta. Elena. 【Photo by Matt Serrano】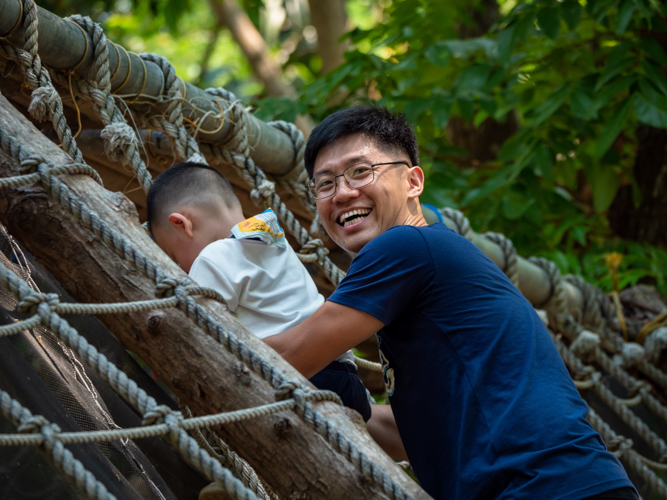 "I want my son to be in an environment full of kindness and love," said Jimmy Shi on why he enrolled his son Jasper at the Tzu Chi Great Love Preschool Philippines. 【Photo by Daniel Lazar】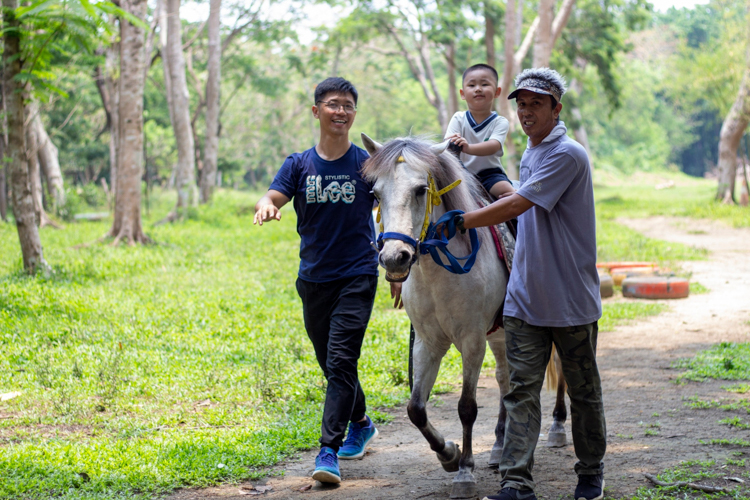 Preschool student Jasper Shi rides a horse with guidance from father Jimmy and a farm personnel. 【Photo by Matt Serrano】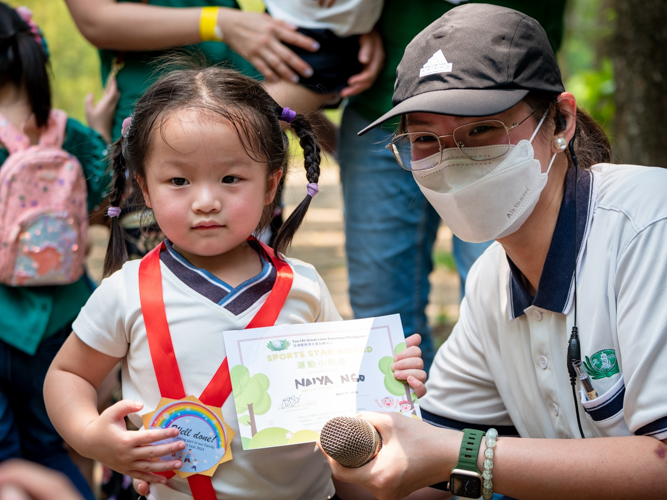 Preschool student Naiya Ngo receives an award from Preschool Directress Jane Sy. 【Photo by Daniel Lazar】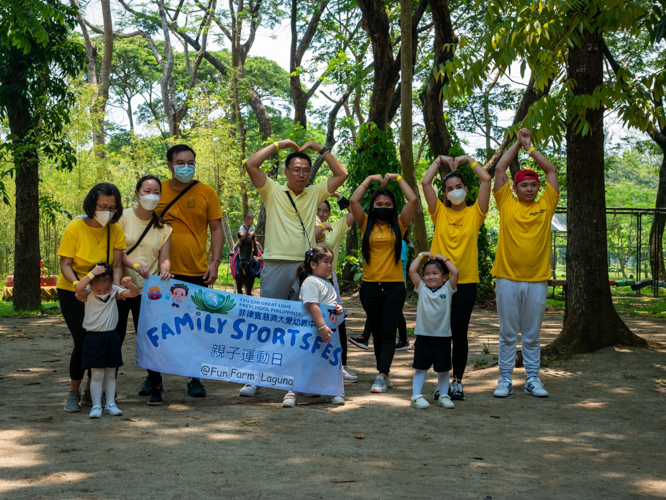 Yellow team gathers for a group photo. 【Photo by Daniel Lazar】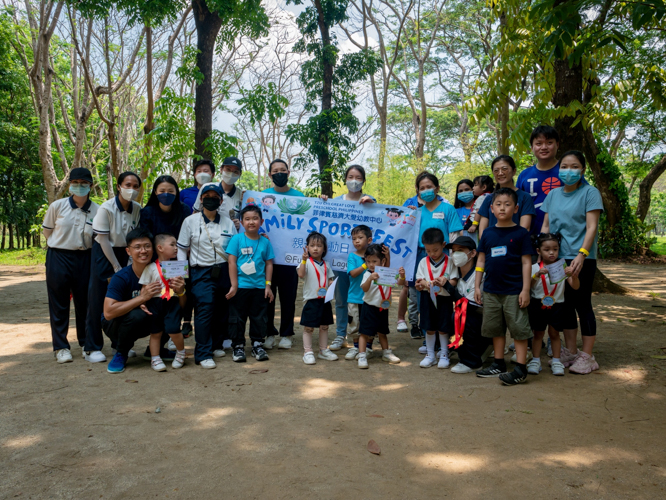 Blue team gathers for a group photo. 【Photo by Daniel Lazar】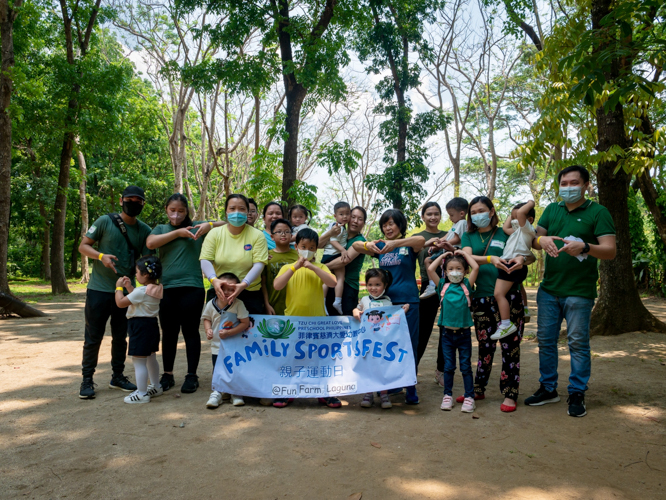 Green team gathers for a group photo. 【Photo by Daniel Lazar】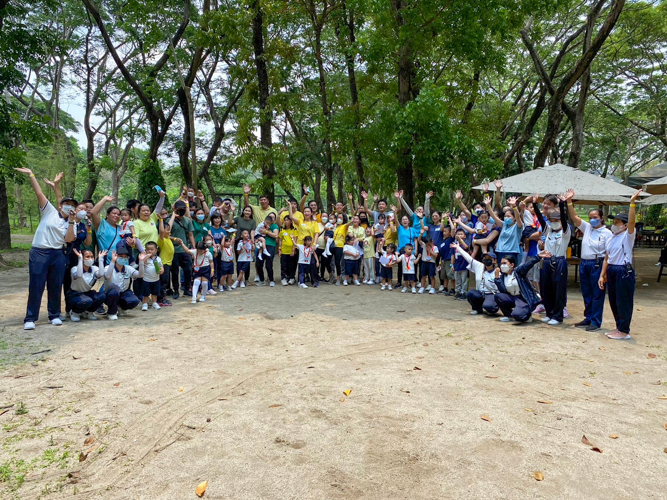 Students, parents, teachers, and volunteers wave to the camera for a group photo. 【Photo by Matt Serrano】
Go Back