Tzu Chi returns to Tahanang Walang Hagdanan with rice relief
PWDs are grateful to their longtime source of support.
By Joy Rojas
Since it was founded by Belgian nun Sr. Valeriana Baerts, ICM, in 1973, Tahanang Walang Hagdanan (TWH) has helped transform persons with disability (PWD) into productive members of society who contribute their time, efforts, and talents to worthwhile endeavors despite their perceived limitations.
Yet while they may have surmounted the challenges of their conditions, there was no getting around COVID-19 and the subsequent quarantines to curb its spread. Once bustling workshops for educational toys and woodcrafts were forced to close temporarily. Unable to operate at full capacity, TWH had its workers report in rotation, which meant less pay for all. "How could we meet the needs of our people and uplift the lives of the PWD?" says TWH HR Manager Maria Belen Pacete.
Through the years, the Tzu Chi Foundation has been a constant source of support to TWH. In 2019, volunteers presented PWD with soft cushions handmade with recycled cotton cloth. The cushions made sitting for hours in a wheelchair more bearable and even comfortable.
At the start of the pandemic in 2020, volunteers donated sacks of rice to TWH to tide them over the lockdowns. The generosity was repeated on March 31, 2022 when volunteers dropped by the community in Cainta, Rizal, with 189 sacks of rice. "Tzu Chi is a big help to us. They are our network to our daily needs, especially the rice," says Pacete. "When you have rice, you can partner it with anything. Thanks to Tzu Chi, our workers have something to eat when their supply runs out."
For some at TWH, news of Tzu Chi's arrival felt like a visit from an old friend. "I had been seeing Tzu Chi here since I was a child," says Erika Mae Joy Villaflores. "They would hold different programs for us. They also helped us survive during the pandemic since some of our workshops had closed."
Originally assigned to teach special kids, she was transferred to the repacking of Unilab's medicines when schoolchildren were made to stay home. Villaflores is in a wheelchair for Pott's disease or tuberculosis of the spine, which she was diagnosed with at age 10.
"It was hard to accept, especially for a child who used to be able to walk," she says of her condition. Things changed when her family brought her to TWH. "I used to think that I was the only PWD in the world. When I came to TWH I learned that there were different types of disability—people with no hands or legs, those who are paralyzed from the waist down. If they could still study and work, so could I," she says. "THW showed me that anything is possible, that as a PWD I can do more than just sit in one corner and wait for things to be handed to me."
Like TWH, Tzu Chi also extends its benevolence to anyone, regardless of appearance or capability. "I admire your dedication to help people in need. You don't just help PWDs, you help typhoon victims, Taal volcano evacuees, and other casualties of manmade and natural disasters. And you don't discriminate against race: whether black, white, or brown, you will help them," she says.
Donna Adangla has been a recipient of Tzu Chi's generosity since she was in Grade 1. "I was in the Banawe, Quezon City branch of Tahanang Walang Hagdanan when I first encountered Tzu Chi. Volunteers would go there frequently to give us rice, food, notebooks, and other things we needed."
Born with congenital defects that left her with no arms and legs, Adangla maintains a sense of humor about her condition. "If I were born able-bodied maybe I would not have met Tzu Chi," she quips. Being in a wheelchair certainly hasn't stopped her from being productive—or artistic. Assigned as well to repackage Unilab medicines, she's a member of Rondalla on Wheels, a musical group composed of differently abled members who perform for Tzu Chi volunteers whenever they visit.
More importantly, being in a wheelchair hasn't prevented her from helping others, including her benefactor. When Tzu Chi volunteers were distributing a coin bank each to members of TWH, Adangla requested for two. "At home, I have a bag filled with coins that I haven't spent. Maybe it's because I knew that Tzu Chi volunteers were coming and it was meant for them?" she says.
"I guess you can say I'm paying it forward. What Tzu Chi has done for us before, it's my turn to give back."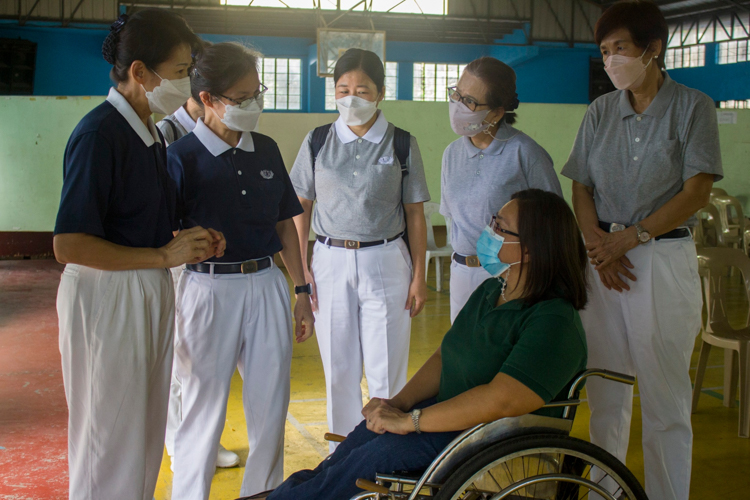 Tzu Chi volunteers chat with Tahanang Walang Hagdanan HR Manager Maria Belen Pacete. 【Photo by Matt Serrano】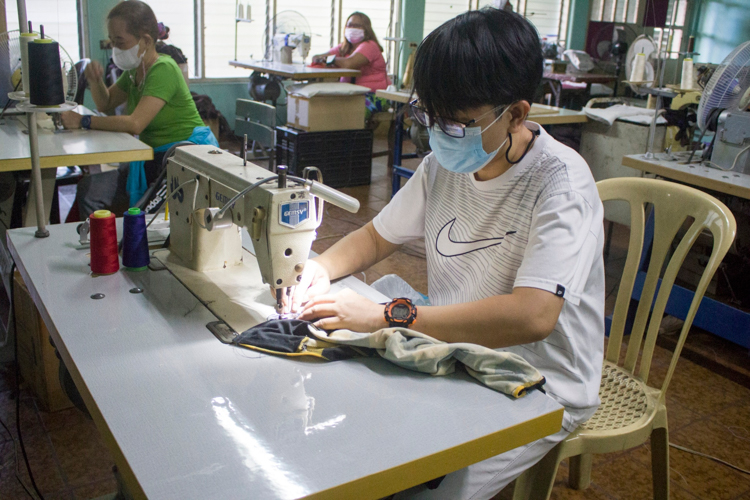 Skills training and livelihood opportunities are offered to PWD at Tahanang Walang Hagdanan. 【Photo by Matt Serrano】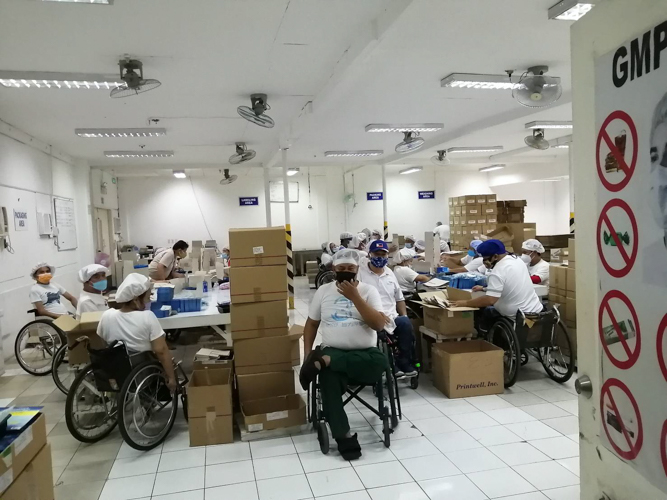 PWD at the medicine repacking section of Tahanang Walang Hagdanan【Photo by Matt Serrano】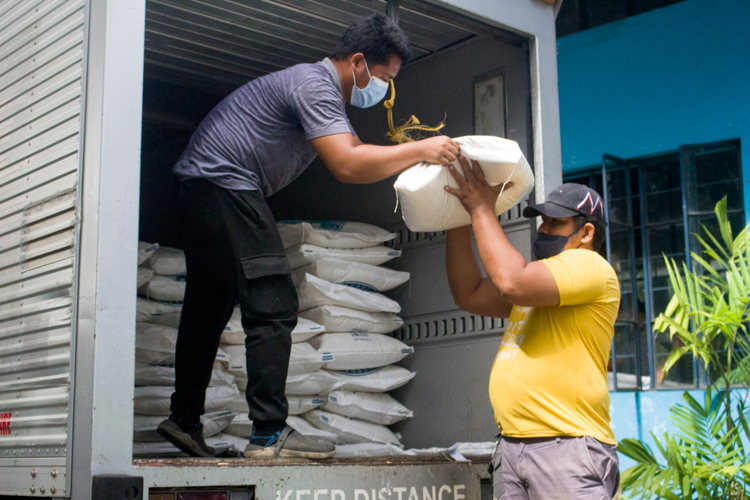 A Tzu Chi volunteer unloads a sack of rice for Tahanang Walang Hagdanan. 【Photo by Matt Serrano】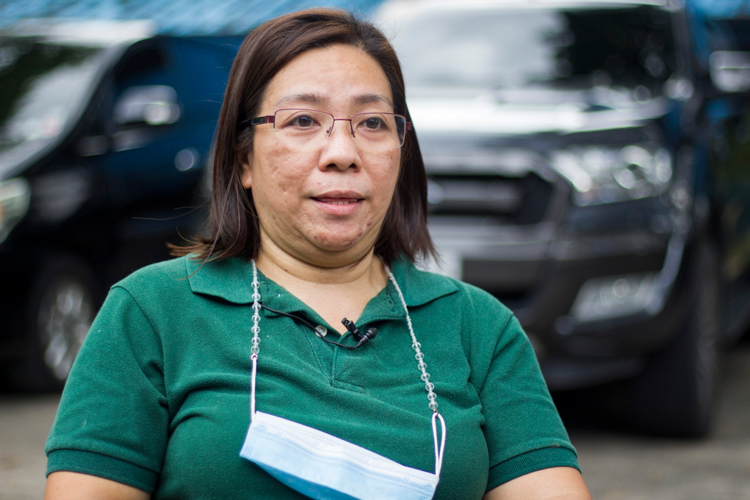 "Thanks to Tzu Chi, our workers have something to eat when their supply runs out," says Tahanang Walang Hagdanan HR Manager Maria Belen Pacete. 【Photo by Matt Serrano】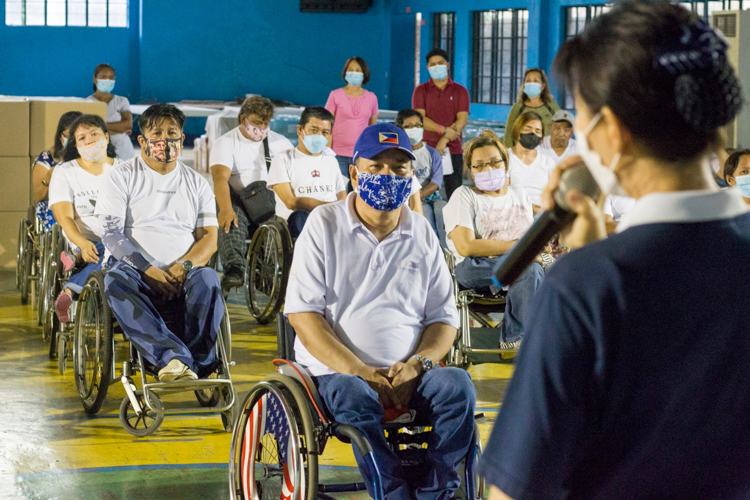 PWD listen to a Tzu Chi volunteer during a short presentation. 【Photo by Matt Serrano】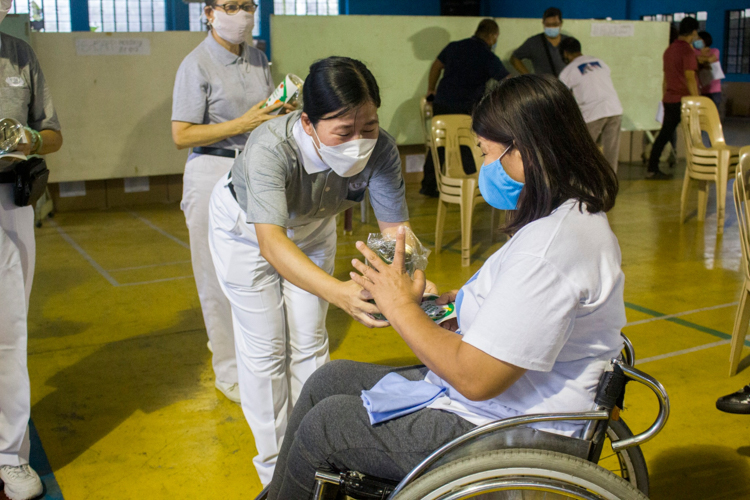 Aside from the sacks of rice, volunteers gave each PWD a Tzu Chi coin bank and vegetarian sticker. 【Photo by Matt Serrano】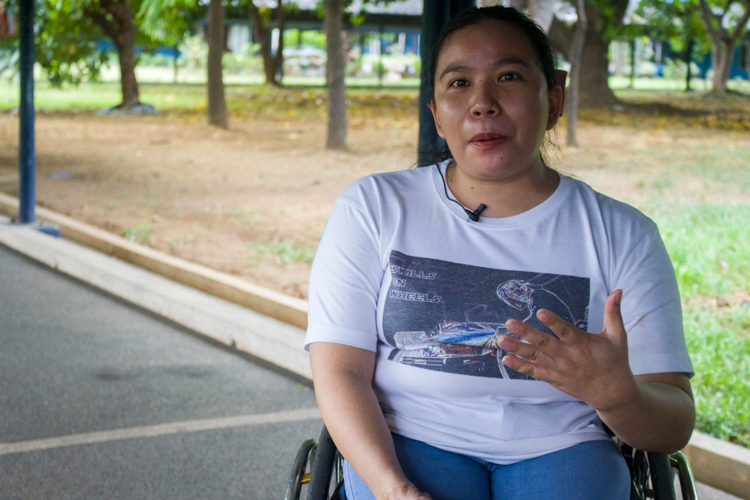 Diagnosed with Pott's disease at age 10, Erika Mae Joy Villaflores hasn't let her disability limit her. She taught special kids before being assigned to the medicine repackaging section. "THW showed me that anything is possible, that as a PWD I can do more than just sit in one corner and wait for things to be handed to me." 【Photo by Matt Serrano】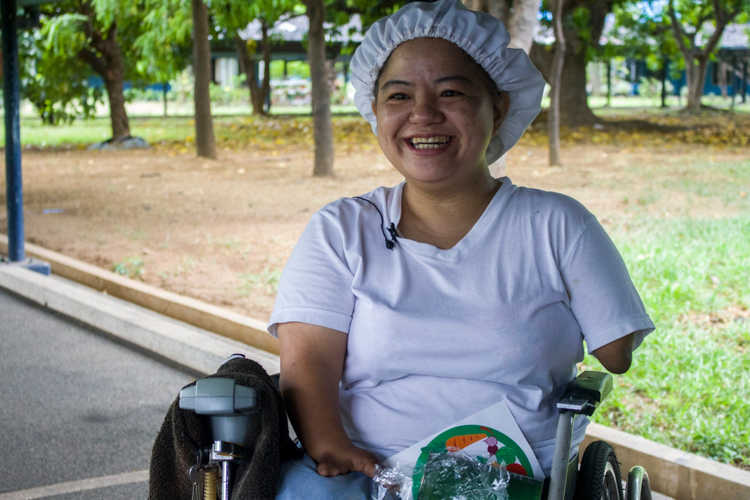 Despite her congenital defects, Donna Adangla maintains a sense of humor about her condition. "If I were born able-bodied maybe I would not have met Tzu Chi," she quips. 【Photo by Matt Serrano】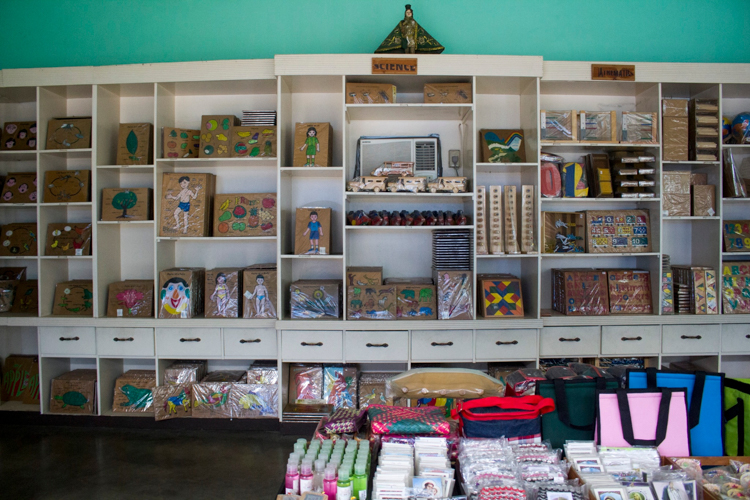 The Tahanang Walang Hagdanan showroom displays the various items created by PWD. 【Photo by Matt Serrano】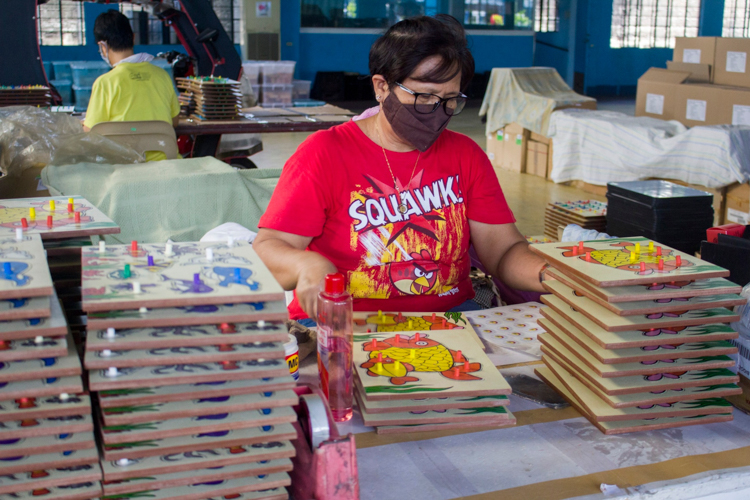 Educational toys are among the products created in the woodcrafts section. 【Photo by Matt Serrano】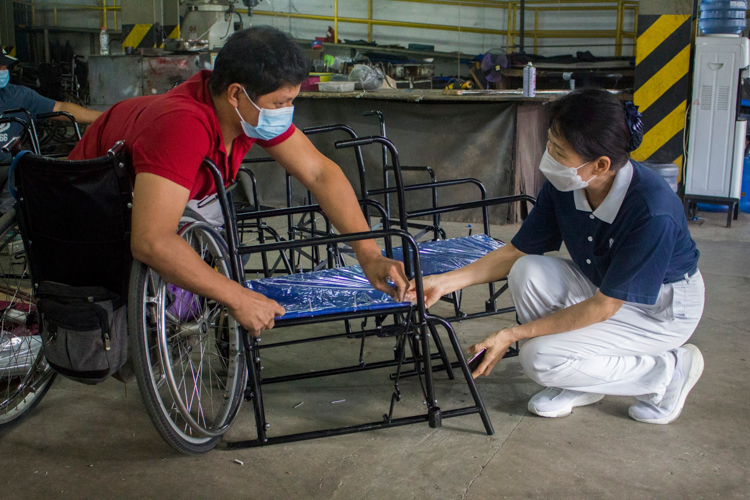 A PWD shows a Tzu Chi volunteer his work so far on a wheelchair. 【Photo by Matt Serrano】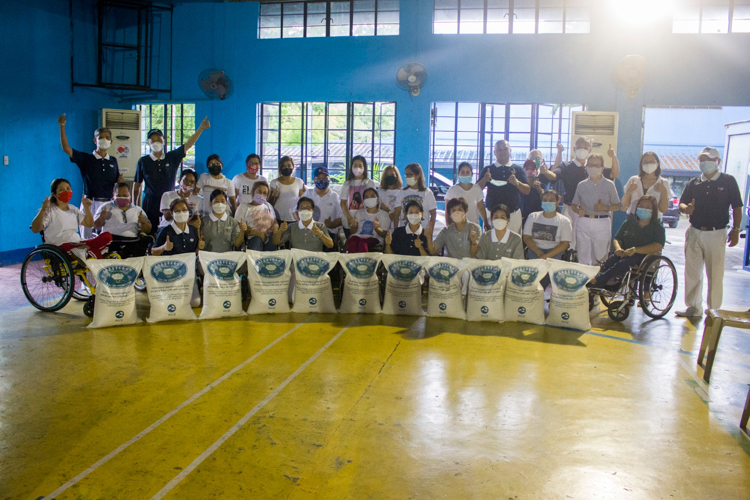 A longtime source of support to Tahanang Walang Hagdanan, Tzu Chi Foundation recently donated 189 sacks of rice to the community's PWD. 【Photo by Matt Serrano】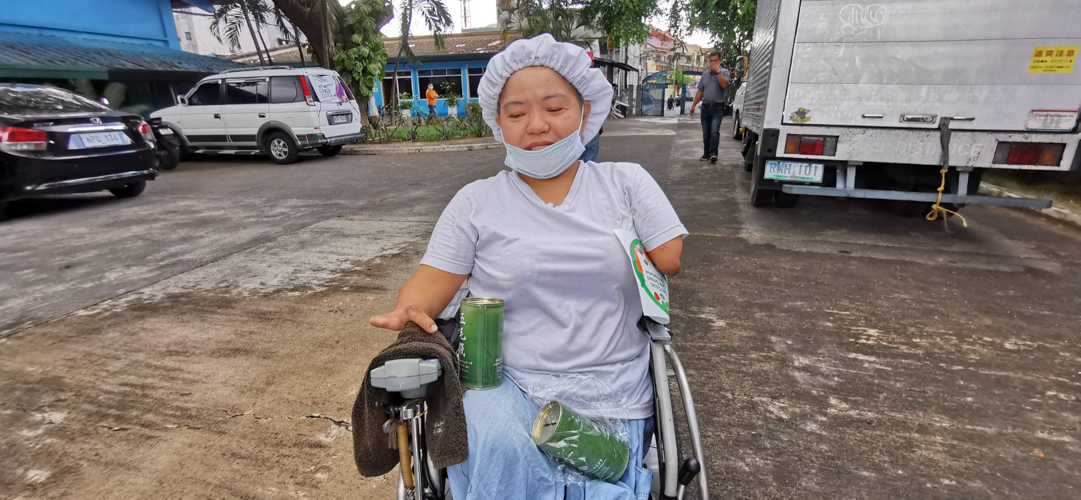 During the distribution of Tzu Chi coin banks, Donna Adangla requested for two. "I guess you can say I'm paying it forward. What Tzu Chi has done for us before, it's my turn to give back."
Go Back