From photographer to blood donor
Tzu Chi Communications Department web developer and photographer Matt Serrano donates blood for a staff member's wife
By Joy Rojas
It sounded like a simple assignment: to cover the five Tzu Chi caregiver scholars who answered the call to donate blood for Marietta Awel, wife of Andy Awel, a logistics staffer of Tzu Chi Foundation's Agno branch. Marietta and Andy are the parents of Lea and Rachel Awel, conjoined twins who were separated after a six-hour surgery at Hualien Tzu Chi Hospital in 2003. Now their mother was in the hospital and in need of five units of blood (four units of any blood type, one unit of A+).
Marella Saldonido, Tzu Chi Communications Department's web and social media coordinator, proceeded to the Chinese General Hospital and Medical Center on May 17 to take pictures of the activity, with Comms Department website developer and photographer Matt Adrian Serrano joining as backup.
Of the five scholars who volunteered to donate blood, only Lerma Villocillo passed the stringent requirements. The three female scholars had low hemoglobin scores, while the lone male scholar from Bhutan had only been in the country for three months, three months short of the six-month requirement of international law.
"So, I asked the doctor if I can donate," says Matt. As luck would have it, the last-minute blood donor was not only qualified to donate, his blood type matched the patient's.
No feedback yet on how the patient is doing, but being able to help a friend was a reward in itself. "Kuya Andy and I became close when the Comms Department was still holding office in Agno," he says. "Besides, I had always wanted to donate blood. The first time I did was for the Red Cross when I was in college."
Like his spur-of-the-moment decision to donate, Matt's foray into photography for Tzu Chi was unplanned. "At the time, there were events happening simultaneously, so I volunteered to shoot," he says. A basic knowledge of photography plus camera tips from his co-workers honed his skill and eye. Before he knew it, he was juggling the job of maintaining Tzu Chi's website and social media accounts with shooting pictures for numerous events.
This unexpected turn in his career has taken him around the Philippines, including Talaingod, the municipality some 130 kilometers away from downtown Davao. In June 2022, Tzu Chi volunteers presented an indigenous community with 2,500 banana seedlings to start a sustainable livelihood program. Together with the volunteers, Matt walked for hours and crossed a river and rough terrain to get to the rural destination.
If the assignment was doubly memorable, it's because it was Matt's first time to travel by plane, an experience made possible by his stepping forward to volunteer. He has since flown on assignment again, in February 2023 to Palo, Leyte, where he documented the groundbreaking ceremony of a permanent housing project for survivors of Typhoon Yolanda.
As part of Tzu Chi's Communications Department since December 2020, Matt appreciates how volunteers show respect and compassion for people from all walks of life.
"I also like how we are able to help beneficiaries," he says. "We may not help them financially, but our presence and what we do in Communications is a form of help."
As to what his personal and professional goals are, Matt admits with a laugh, "I have a planner but there's nothing written on it!"
No matter. For this unexpected photographer and last-minute blood donor, every day is an adventure and an opportunity to do something good for others.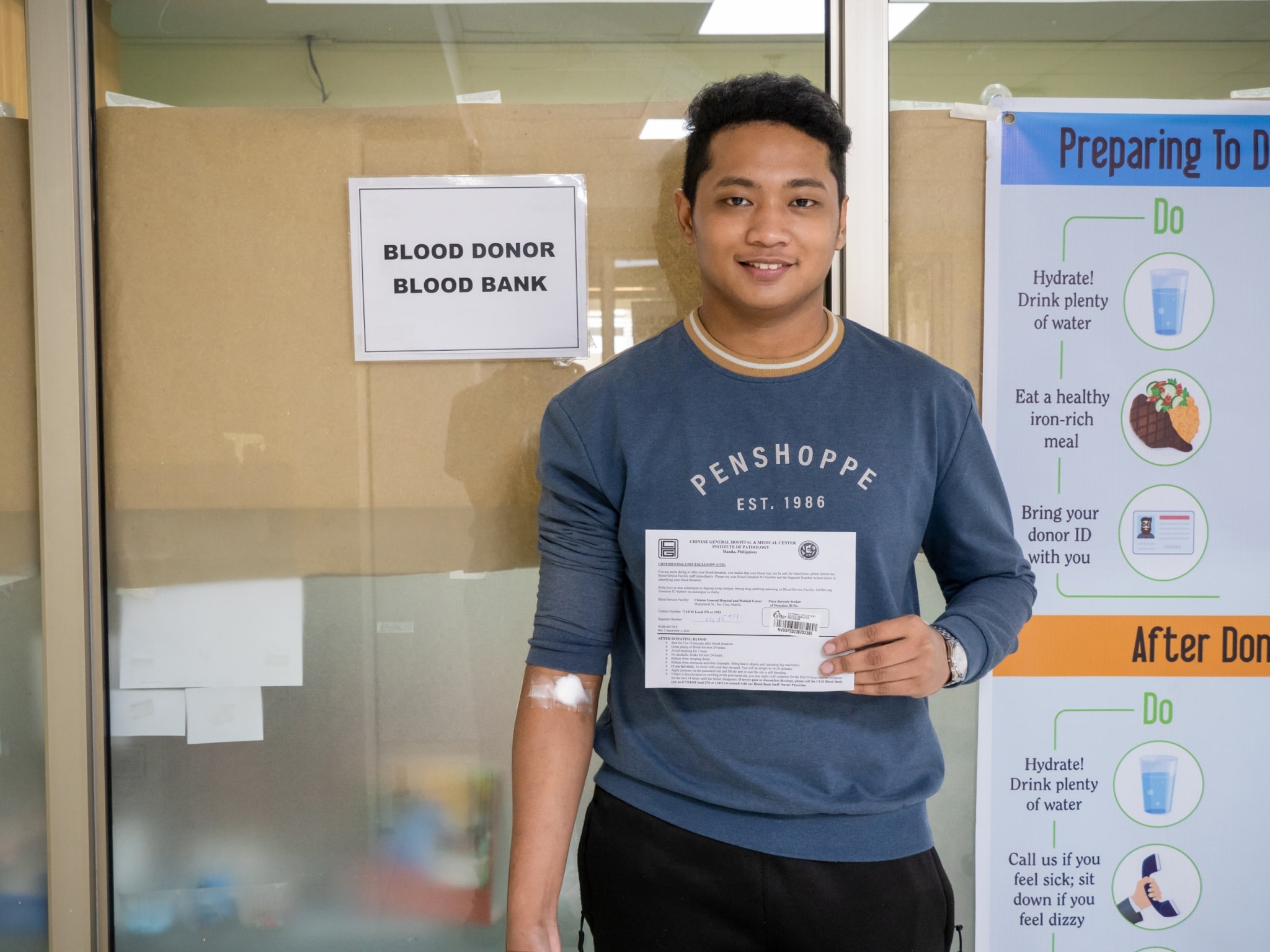 When only one of the five caregiver scholars was able to donate blood for a Tzu Chi staffer's wife, Tzu Chi Communications Department photographer Matt Adrian Serrano stepped forward as a blood donor. Luckily, he passed the requirements and his blood type matched the patient's.【Photo by Marella Saldonido】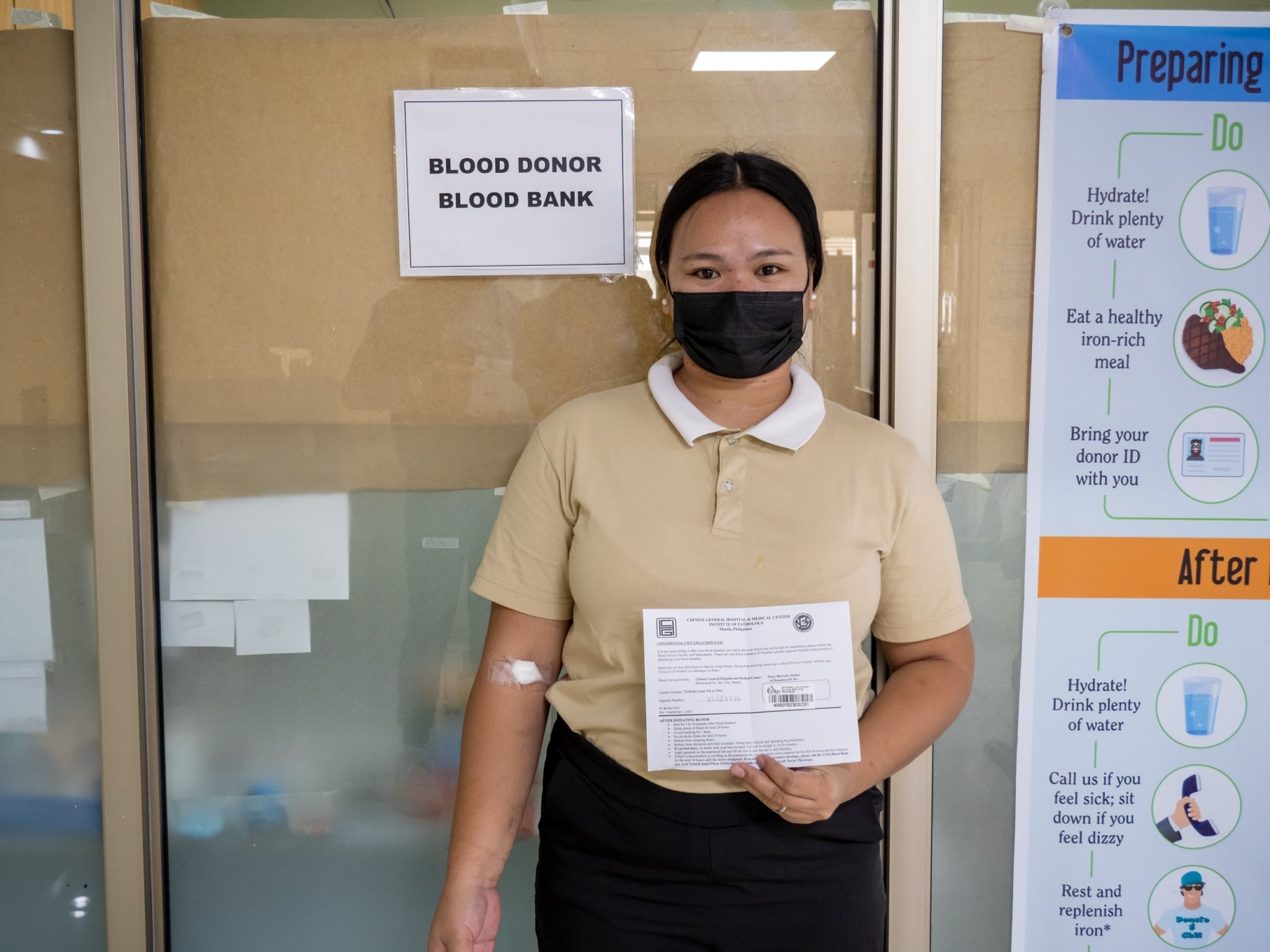 Tzu Chi caregiver scholar Lerma Villocillo successfully donated blood for the wife of Andy Awel, a logistics staff at Tzu Chi's Agno branch.【Photo by Marella Saldonido】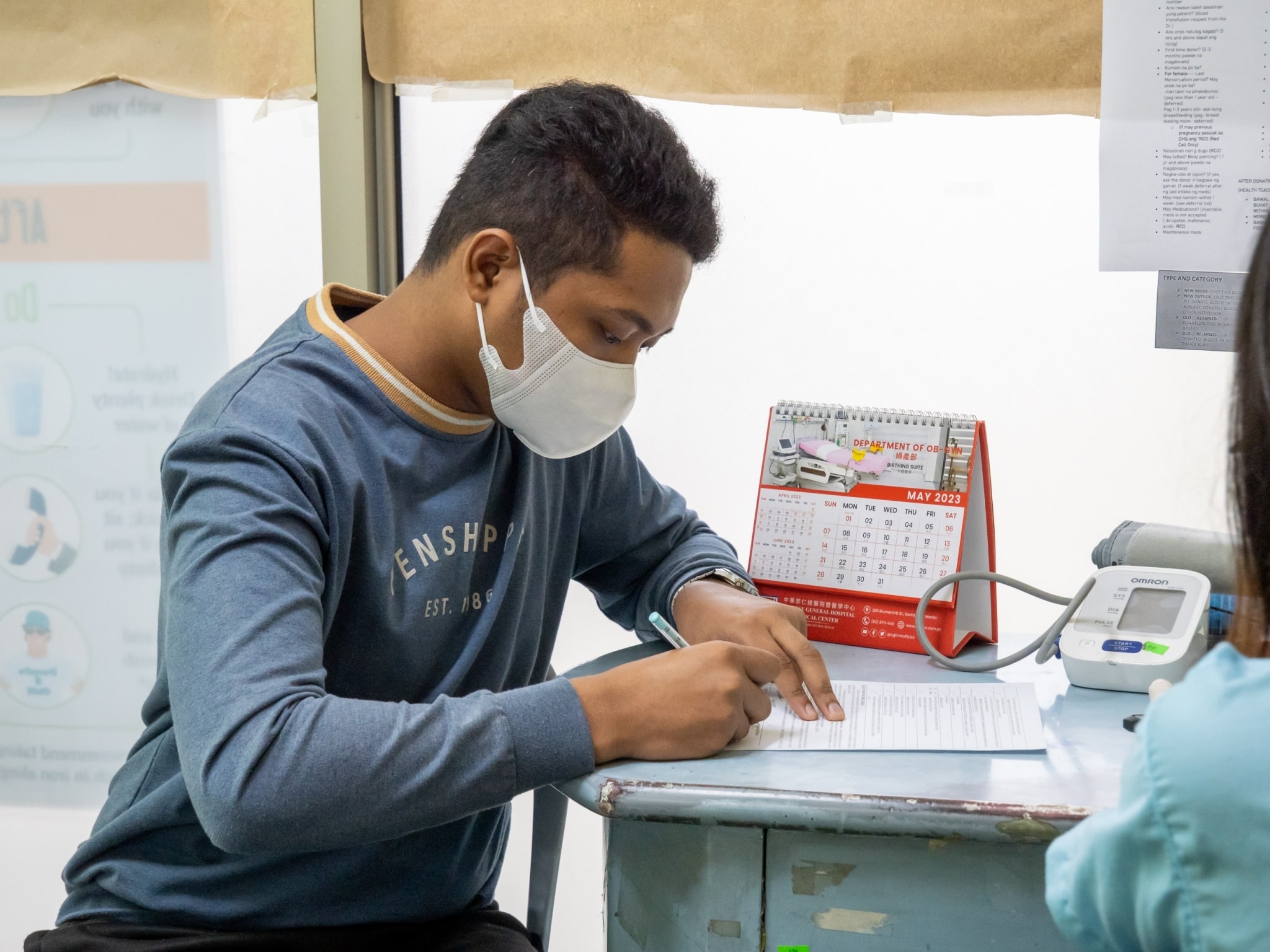 As a blood donor, Tzu Chi photographer Matt Adrian Serrano needed to fill up forms and undergo an interview on his recent medical history.【Photo by Marella Saldonido】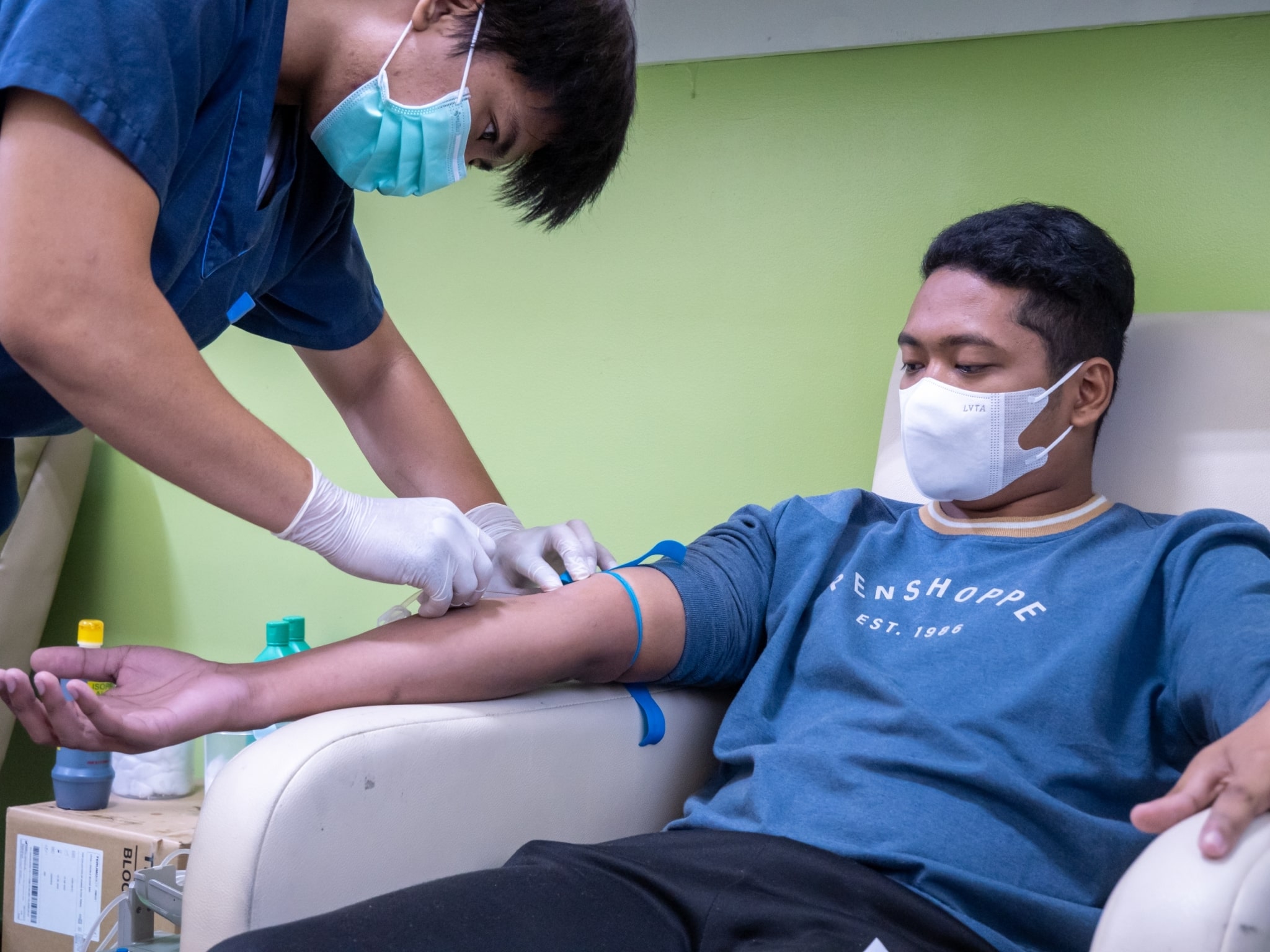 A phlebotomist at the Chinese General Hospital and Medical Center prepares Tzu Chi photographer Matt Adrian Serrano for blood donation.【Photo by Marella Saldonido】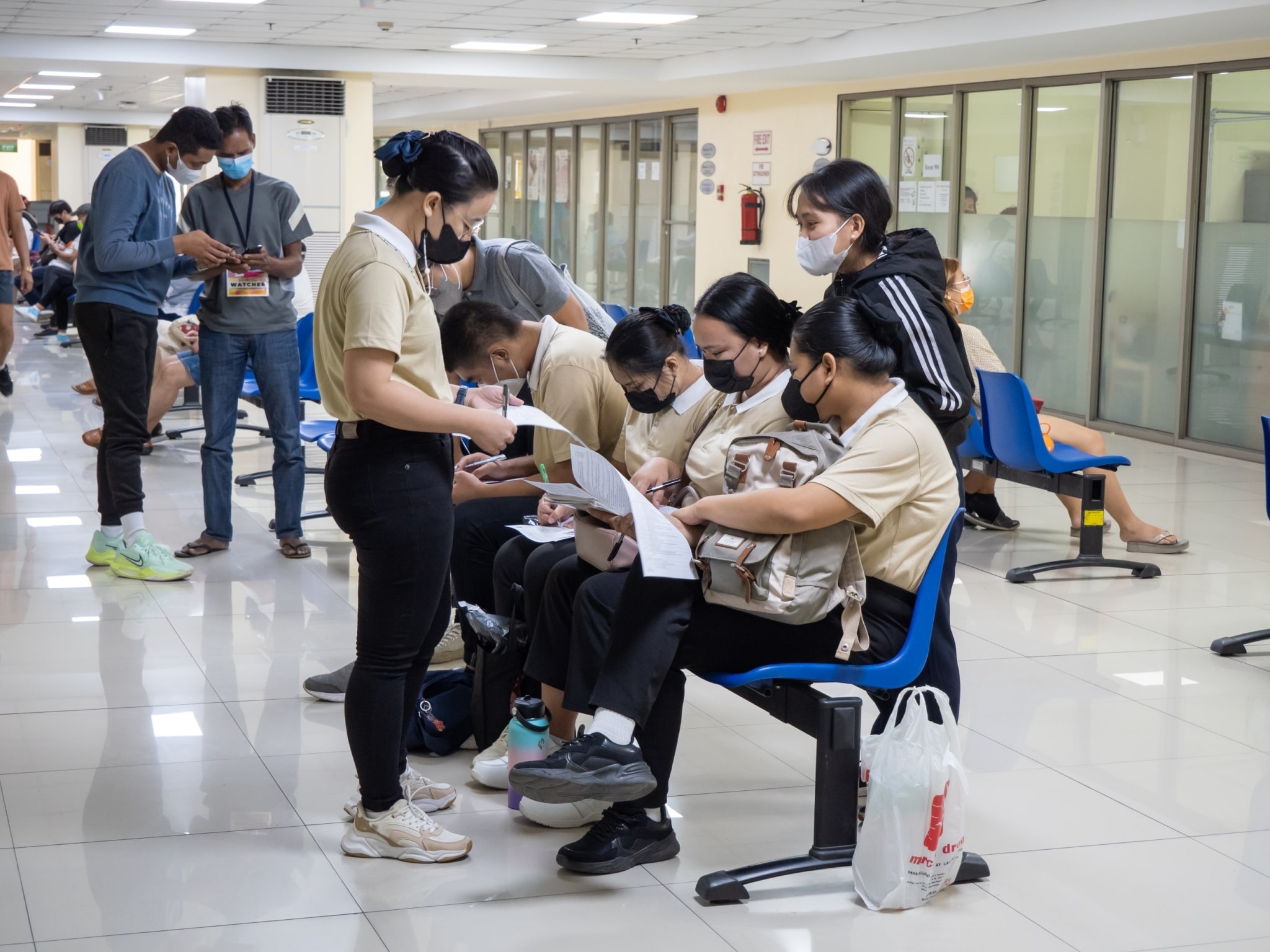 Tzu Chi caregiver scholars (in cream shirts) who volunteered to donate blood fill up forms at the Chinese General Hospital and Medical Center. In the background, Tzu Chi photographer Matt Adrian Serrano (in blue and black) confers with Andy Awel, logistics staffer at Tzu Chi's Agno branch, whose wife is in need of blood.【Photo by Marella Saldonido】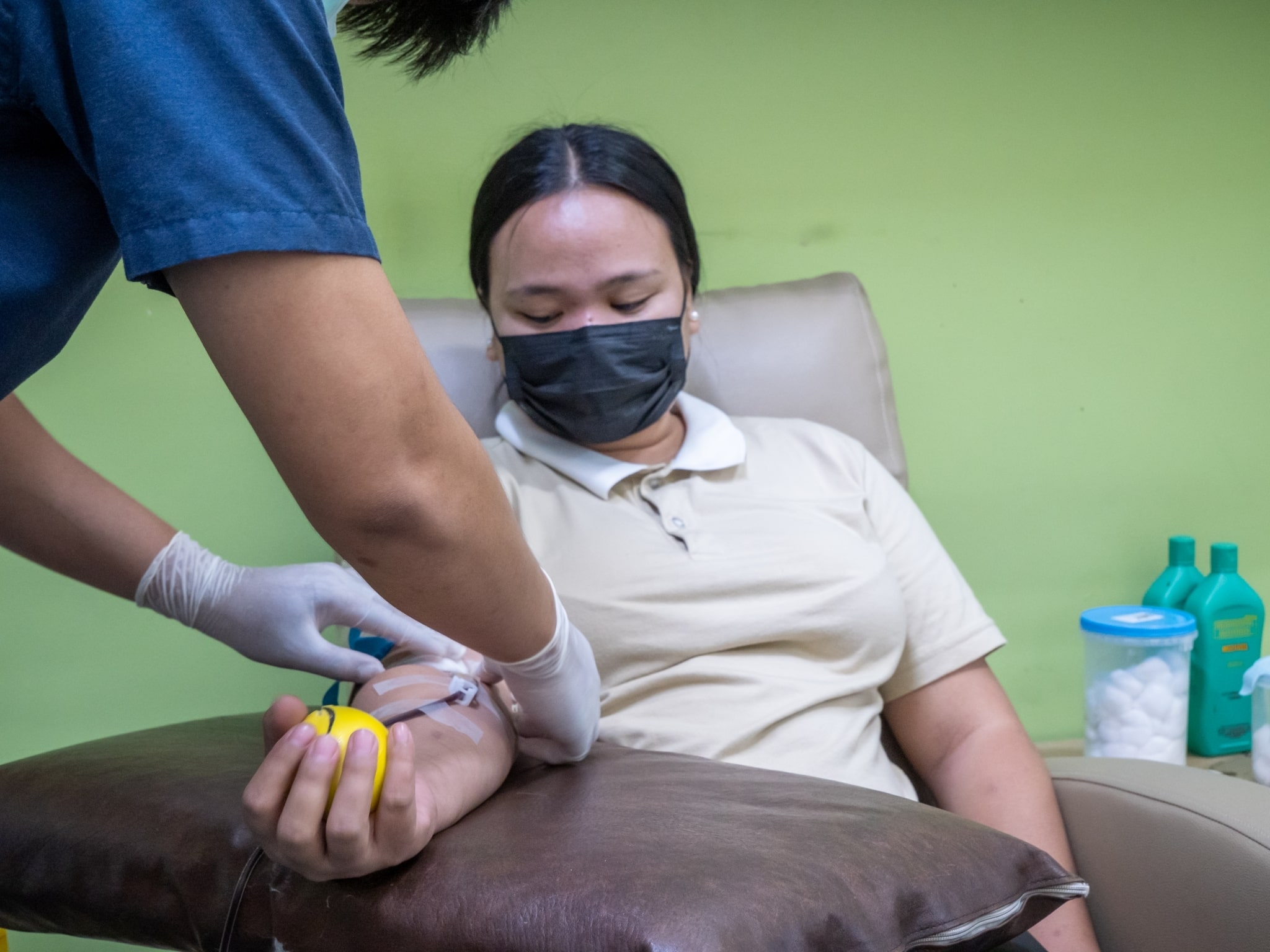 Tzu Chi caregiver scholar Lerma Villocillo watches a phlebotomist as he readies her for blood donation.【Photo by Marella Saldonido】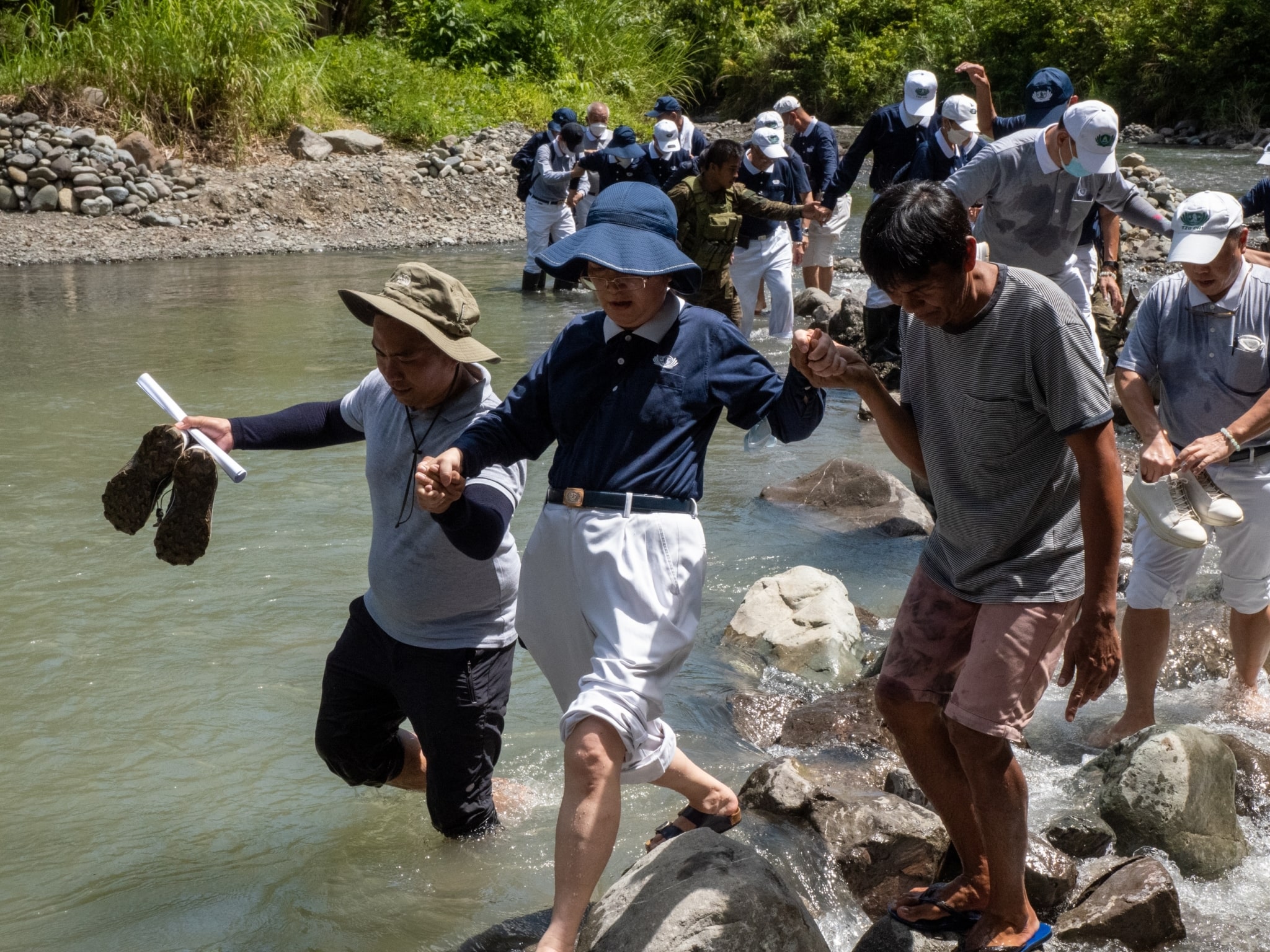 On June 4, 2022, Tzu Chi photographer Matt Adrian Serrano shot volunteers crossing a rocky river to get to Talaingod, a municipality some 130 kilometers away from downtown Davao. There, they presented an indigenous community with 2,500 banana seedlings to start a sustainable livelihood program. This trip was also Matt's first time to travel by plane.【Photo by Matt Serrano】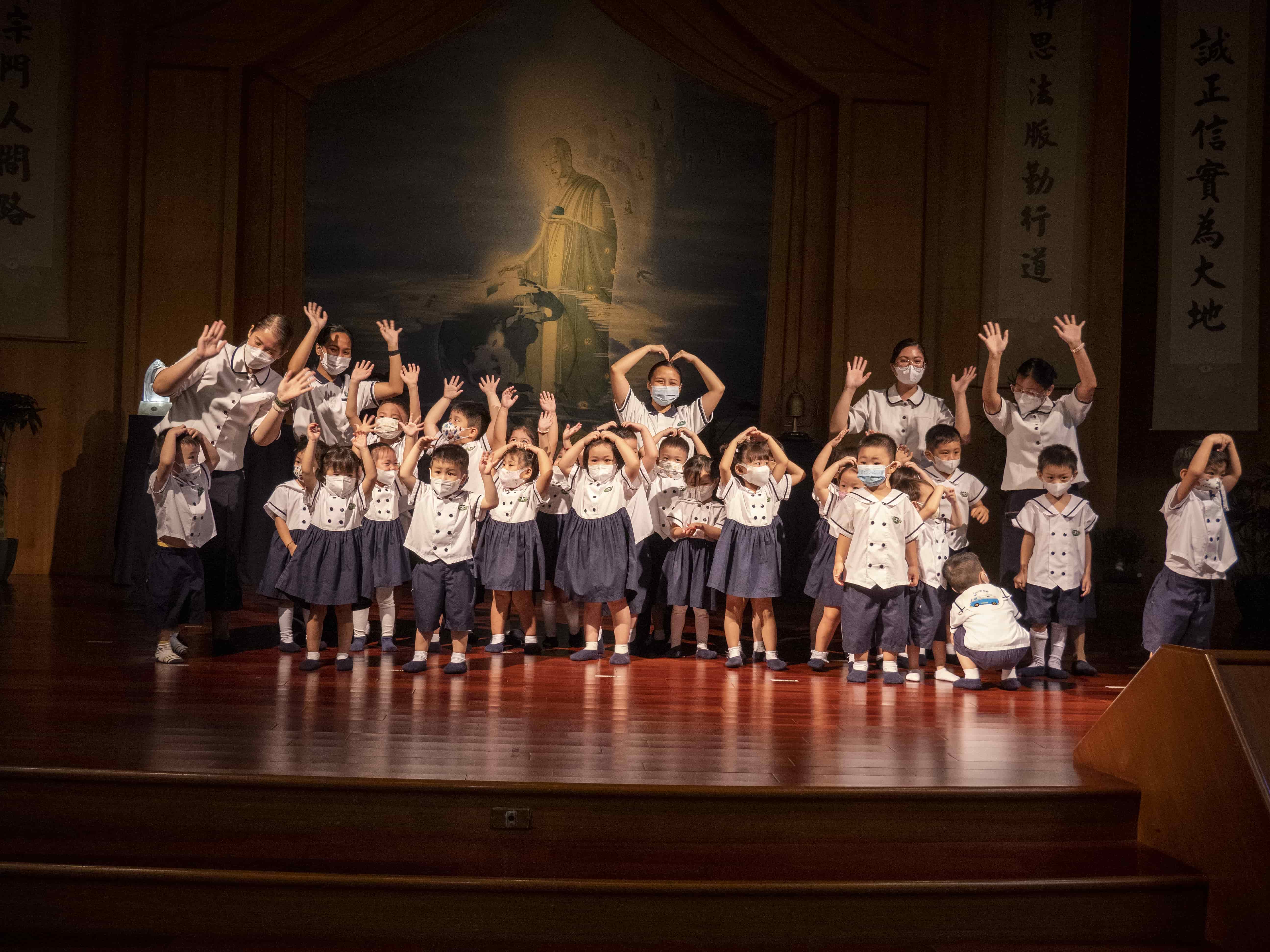 On May 12, 2023, Tzu Chi photographer Matt Adrian Serrano was at the Tzu Chi Great Love Preschool in Agno, Quezon City, where teachers and students celebrated Buddha Day, Mother's Day, and Tzu Chi Day.【Photo by Matt Serrano】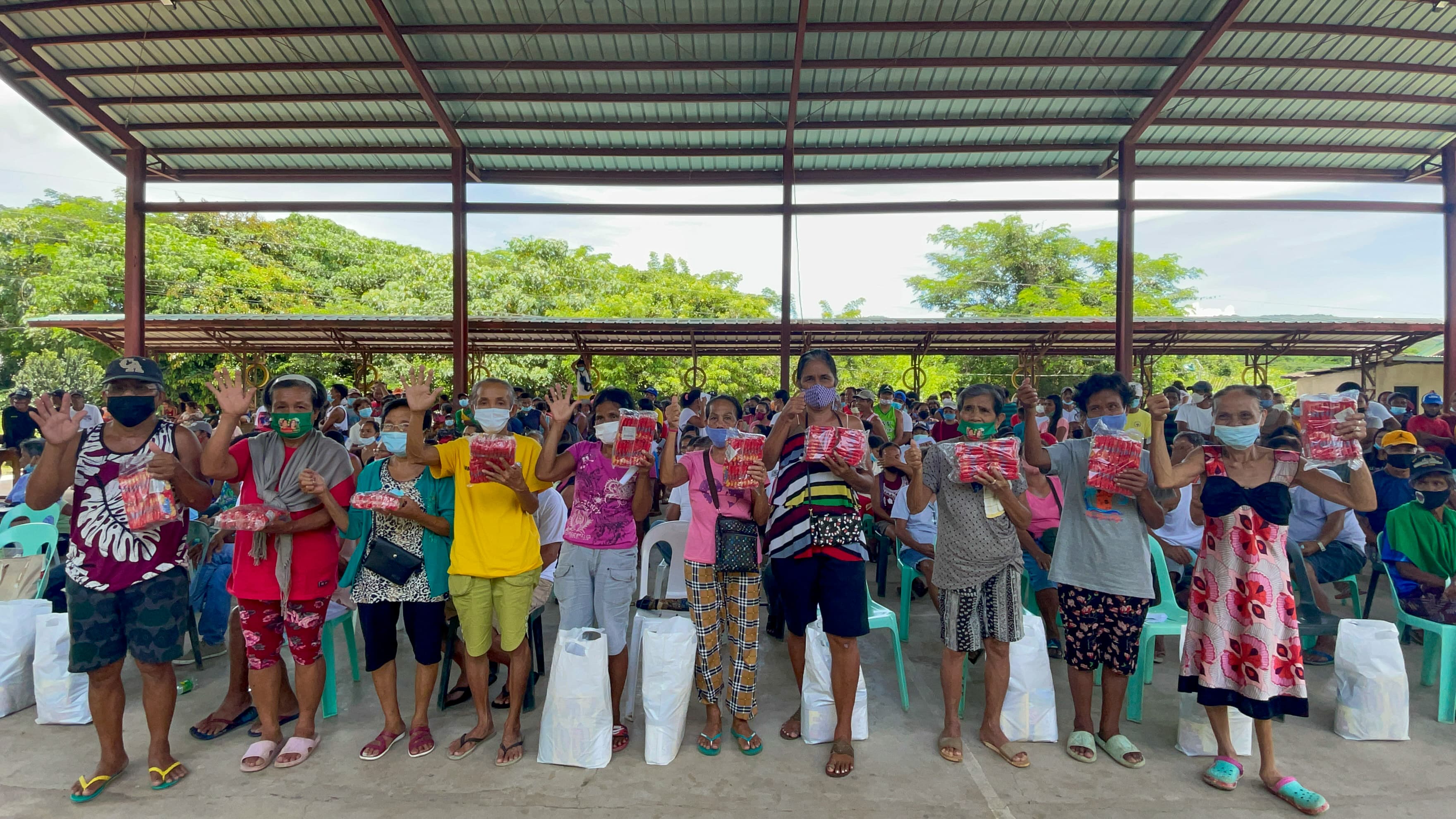 For Tzu Chi photographer Matt Adrian Serrano, coverages like this rice relief distribution for earthquake victims at Layugan, Bucay, Abra, in August 2022, are appreciated by beneficiaries. "We may not help them financially but our presence and what we do in Communications is a form of help."【Photo by Matt Serrano】
Go Back