Taguig-Pateros District Hospital honors Tzu Chi with plaques of appreciation
Tzu Chi also sends aid to Bahay Mapagmahal.
By Joy Rojas
On December 16, representatives from the Taguig-Pateros District Hospital (TPDH) dropped by the Buddhist Tzu Chu Campus (BTCC) in Sta. Mesa, Manila, to personally present plaques of appreciation for the help Tzu Chi extended to the hospital during the height of COVID-19 surges.
Tzu Chi Philippines CEO Henry Yuñez received a plaque of appreciation for Tzu Chi Foundation "in grateful appreciation for their unwavering support to Taguig-Pateros District Hospital in 2020 and 2021." He also accepted a plaque of appreciation on behalf of Master Cheng Yen "in grateful recognition for her leadership initiatives at Tzu Chi Foundation."
TPDH's Generic Millado, Maria Imee G. San Gabriel, and Grace Anne V. Apostol also presented him with a framed letter from Taguig City Mayor Lino Cayetano. The mayor offered his "sincerest gratitude and appreciation to Tzu Chi Foundation for donating eight high flow machines to Taguig-Pateros District Hospital."
Last September, when TPDH Medical Center Chief Dr. Anna Richie Quilatan claimed the donated high flow nasal cannula machines at BTCC, the hospital had 81 confirmed COVID-19 cases and 24 COVID-suspect patients.
"Right now we are down to five patients with COVID-19," says Millado. "The high flow nasal cannula machines were a big help to our patients."
Bahay Mapagmahal
Also on December 16 was the midterm distribution of rice, groceries, and construction materials to Bahay Mapagmahal at the Philippine Orthopedic Center (POC) in Quezon City. Bahay Mapagmahal ("Loving Home" in English) is a dormitory that houses children with orthopedic disabilities.
Tzu Chi Foundation has been supporting POC for 20 years, when the foundation procured medicine for the center's wards.
"It's very fulfilling," says Tzu Chi volunteer Tan Ching Ching. "In spite of their disability these people are able to move forward with their lives."
Through invaluable assistance from Tzu Chi Foundation and other generous benefactors, young Persons with Disability (PWD) like Donna Rose Tidalgo are able to become productive members of society.
Tidalgo was 6 years old when she lived in Bahay Mapagamahal. Today, this BS Special Education graduate from Trinity University of Asia works as an admin aide at the POC.
She also continues to play for Rondalla on Wheels, PWDs from Bahay Mapagmahal taught to play musical instruments. Founded in 1978, Rondalla on Wheels has performed at concerts, parties, and hotels.
They also play live whenever Tzu Chi volunteers drop by for a visit. "We're very happy Tzu Chi has not stopped helping us," says Tidalgo. "Even in a pandemic, they have not forgotten to give us rice and groceries and help fix Bahay Mapagmahal.
"Thanks you, Tzu Chi Foundation. We hope you never tire of helping us and being an inspiration to others. We hope we give you joy and inspiration through our music."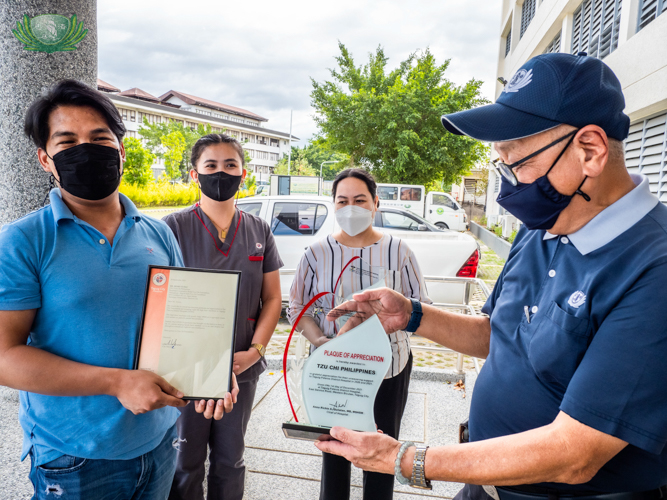 Tzu Chi Philippines CEO Henry Yuñez (far right) receives a plaque of appreciation from Taguig-Pateros District Hospital staff (from left) Generic Millano, Grace Anne V. Apostol, and Maria Imee G. San Gabriel. 【Photo by Kendrick Yacuan】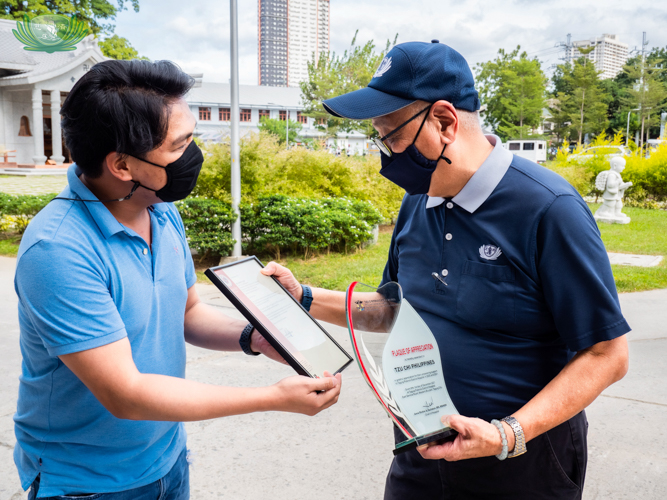 Taguig-Pateros District Hospital's Generic Millano (left) presents Tzu Chi Philippines CEO Henry Yuñez with a framed letter from Taguig City Mayor Lino Cayetano. The mayor thanked Tzu Chi for donating eight high flow nasal cannula machines to TPDH. 【Photo by Kendrick Yacuan】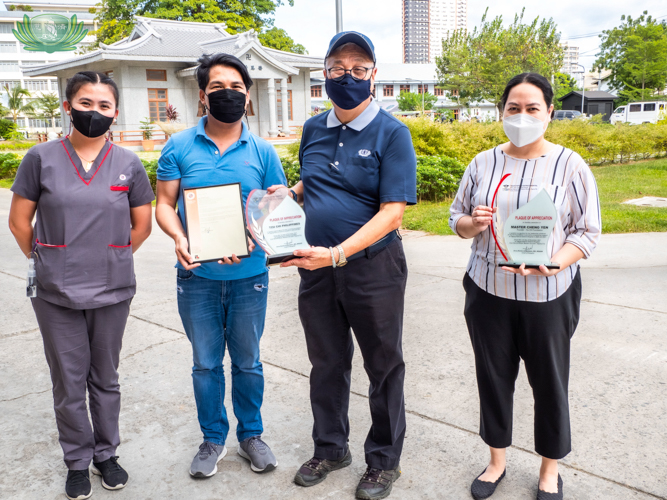 (From left) Taguig-Pateros District Hospital's Grace Anne V. Apostol and Generic Millano (first and second from left) and Maria Imee G. San Gabriel (far right) join Tzu Chi Philippines CEO Henry Yuñez in displaying the plaques of appreciation. 【Photo by Kendrick Yacuan】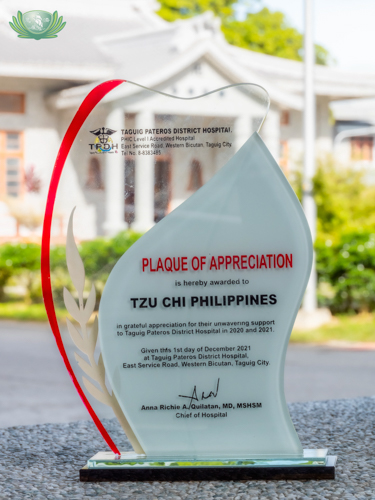 Tzu Chi Foundation was recognized "for their unwavering support to Taguig Pateros District Hospital." 【Photo by Kendrick Yacuan】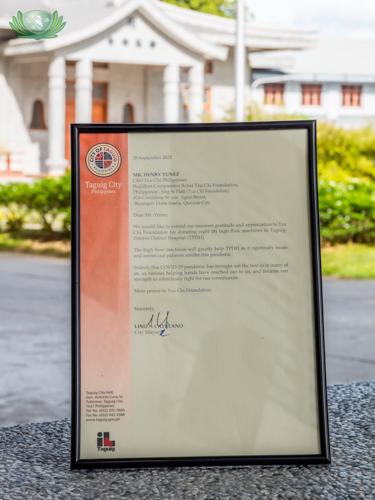 In a letter to Tzu Chi Philippines CEO Henry Yuñez, Taguig City Mayor Lino Cayetano acknowledged the big help of the high flow nasal cannula machines during the COVID-19 surge. 【Photo by Kendrick Yacuan】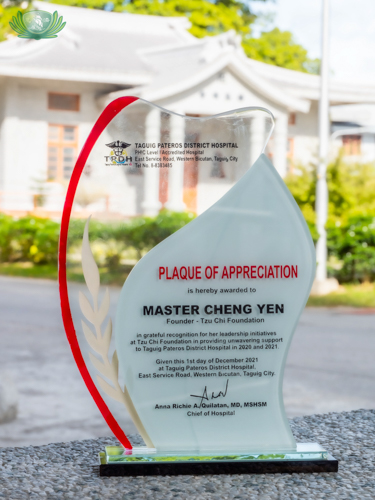 Taguig-Pateros District Hospital didn't forget to honor Master Cheng Yen with her own plaque of appreciation. 【Photo by Kendrick Yacuan】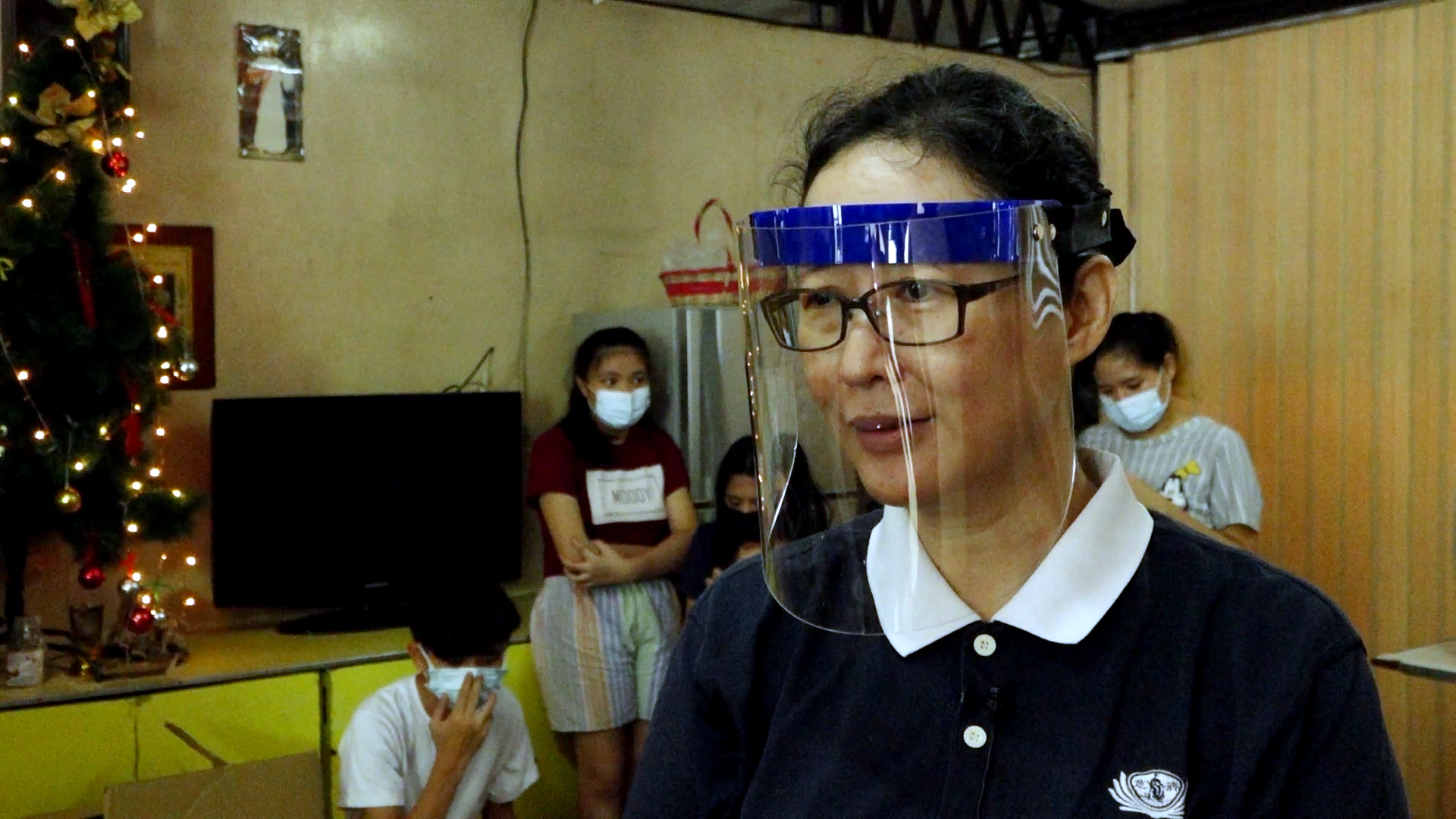 A longtime Tzu Chi volunteer, Tan Ching Ching says the relationship between the Tzu Chi Foundation and Philippine Orthopedic Center began 20 ago when the foundation procured medicine for the center. 【Photo by Matt Serrano】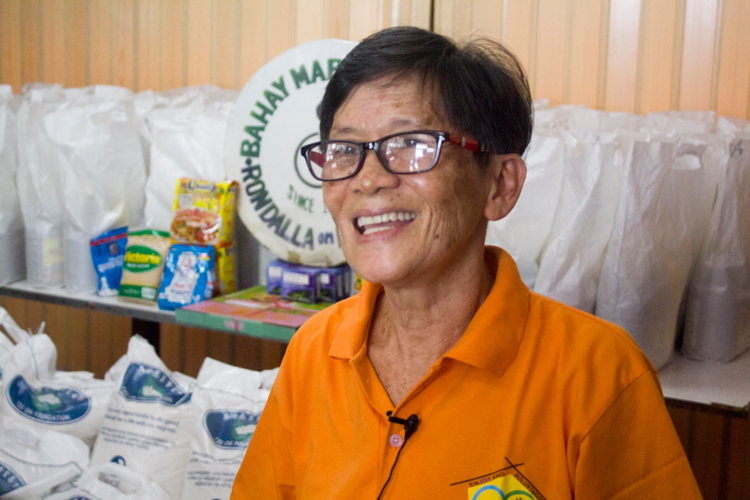 Bahay Mapagmahal's Lily Balinton is thankful for the rice, groceries, and construction materials she received from Tzu Chi volunteers. 【Photo by Matt Serrano】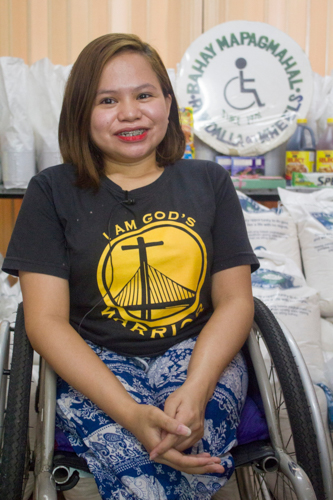 A resident of Bahay Mapagmahal when she was 6 years old, Donna Rose Tidalgo has since earned her Bachelor of Science in Special Education from Trinity University of Asia. She also plays for Rondalla on Wheels. 【Photo by Matt Serrano】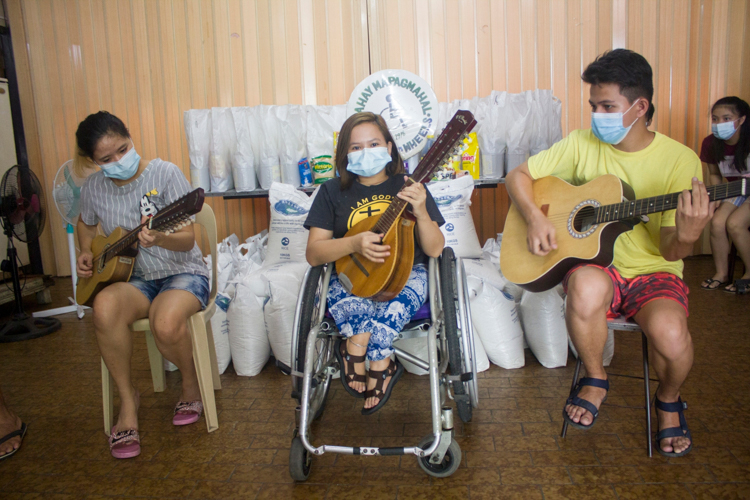 Donna Rose Tidalgo (center) and members of Rondalla on Wheels perform for Tzu Chi volunteers. 【Photo by Matt Serrano】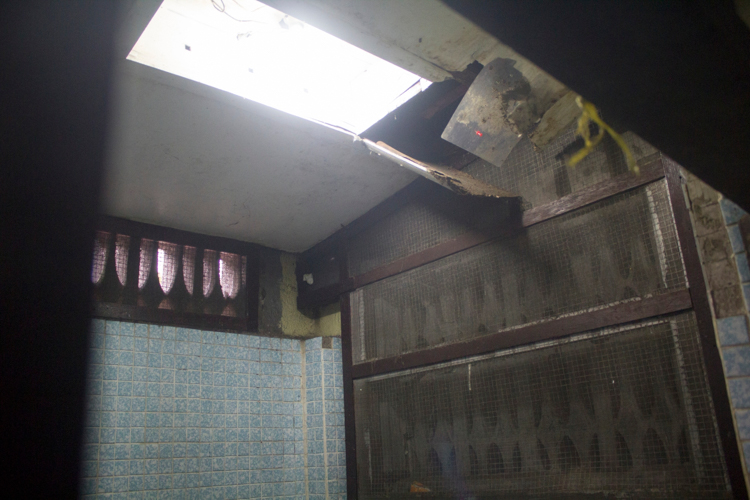 The plywood and other construction materials donated by Tzu Chi will go to repairs of Bahay Mapagmahal ceiling and interiors. 【Photo by Matt Serrano】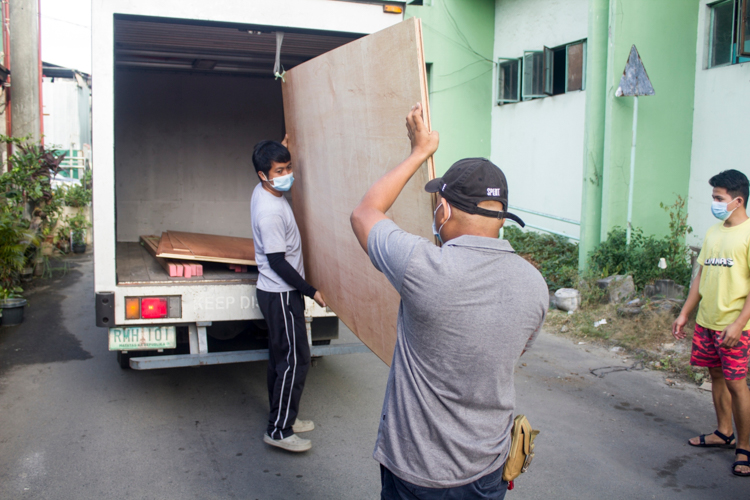 Tzu Chi volunteers unload plywood that will go to repairs of Bahay Mapagmahal. 【Photo by Matt Serrano】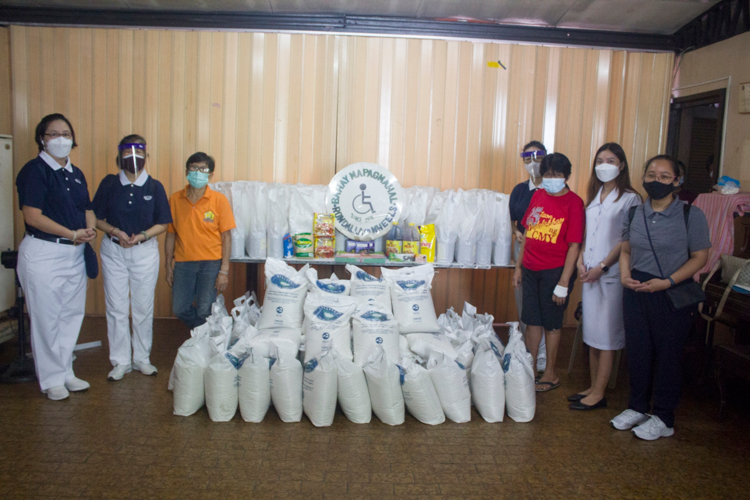 Tzu Chi volunteers and Bahay Mapagmahal staff pose with the donated sacks of rice and bags of grocery items. 【Photo by Matt Serrano】
Go Back