Tzu Chi provides relief to typhoon-hit Aurora
2,400 families from barangays Ibona, Umiray, Paltic, and Matawe in Dingalan, Aurora received rice and cash assistance from Tzu Chi's Typhoon Karding response.
By Ben Baquilod
Tzu Chi volunteers went on a relief mission in Dingalan, Aurora on October 11 and 12 to give rice and cash assistance to communities severely affected by Typhoon Karding. Two thousand four hundred (2,400) families from barangays Ibona, Umiray, Paltic, and Matawe received help from Tzu Chi.
A total of 2139 families whose homes were partially damaged received 20 kilos of rice and blankets from Taiwan, while 261 families with totally damaged houses received an additional cash assistance. Php 20,000 pesos were given to families of one to two members; Php 25,000 to families of three to four; and Php 30,000 to families of more than five.
With Typhoon Karding's total damage in the Municipality of Dingalan amounting to Php 432 million—worst in the town's recent history—Mayor Shierwin Taay thanked and praised Tzu Chi Foundation for extending help to their people. "You did not only give our people material aid, but you also helped us with stress debriefing through prayers, songs, and your encouragement to ease our suffering," Mayor Taay said.
"We came here not only to give aid to them, but to also give them hope," Tzu Chi volunteer Elvira Chua said.
The beneficiaries were given the opportunity to pay it forward by donating through Tzu Chi's coin banks. "Our founder Master Cheng Yen started Tzu Chi with 50 centavo coins. Even if we think we have nothing, we all have the capacity to help others," Chua said.
This was what Umiray resident and beneficiary Myrna Sales learned from Tzu Chi's relief mission. "I realized that even if we're poor, we can also help," says Myrna, shedding tears when the volunteers led them in a prayer.
Surviving the worst typhoon of her life, she recalled how the strong winds knocked down a coconut tree that nearly landed on her and her grandchildren. Myrna thought they wouldn't make it—but she was grateful they did, and that Tzu Chi supported her whole family's recovery.
"This is really a big help to us because we don't know where to get that huge amount of money," said construction worker Edward Sales Moreno, Myrna's son for the Php 30,000 cash assistance. "This is to help rebuild our home for my children and my mother. They are the only reason I live for. They are my happiness," he says.
For Paltic resident Liezel Cañete, Tzu Chi's help was an answered prayer. They lost both their home and their fishing boat to Typhoon Karding's wrath. With Tzu Chi's cash assistance, she found hope that they will be able to rebuild their lives again.
"I have been praying for so many nights and God fulfilled that through Tzu Chi Foundation. Thank you so much," she says.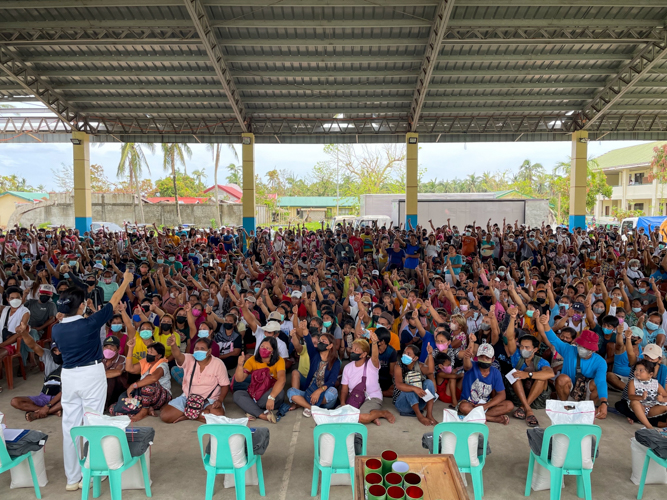 Tzu Chi Philippines Deputy CEO Woon Ng teaches 'Thank you' Mandarin sign language to beneficiaries in Ibona National High School, Dingalan, Aurora. 【Photo by Jeaneal Dando】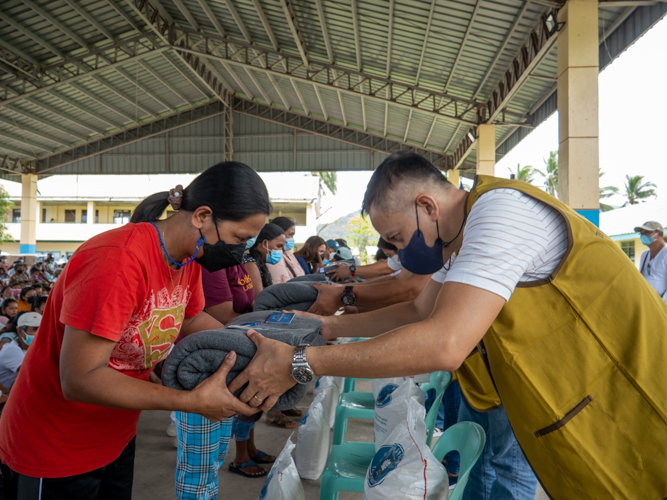 Dingalan Mayor Shierwin Taay (right) joins Tzu Chi volunteers in the distribution of goods. 【Photo by Jeaneal Dando】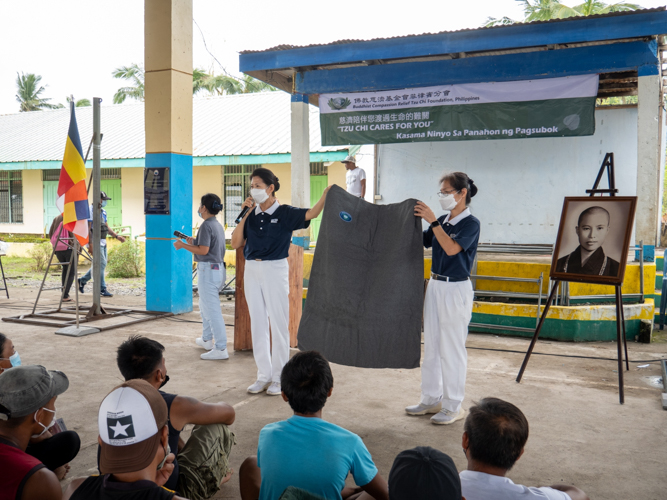 Tzu Chi Philippines Deputy CEO Woon Ng and volunteer Elvira Chua explain the technology behind the blankets from Tzu Chi Taiwan. 【Photo by Jeaneal Dando】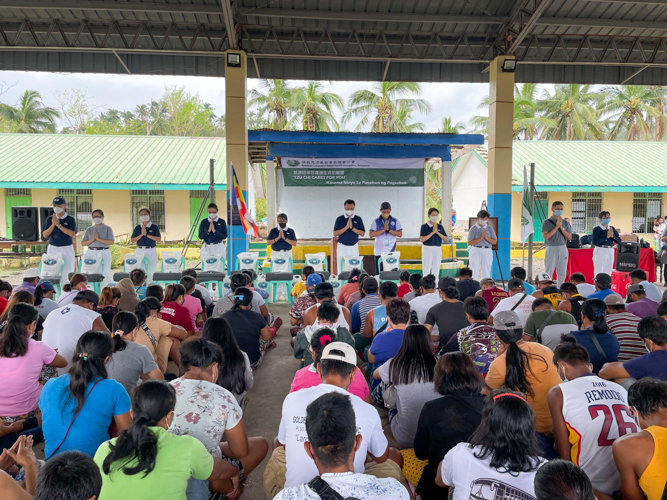 Beneficiaries join volunteers in a solemn prayer. 【Photo by Jeaneal Dando】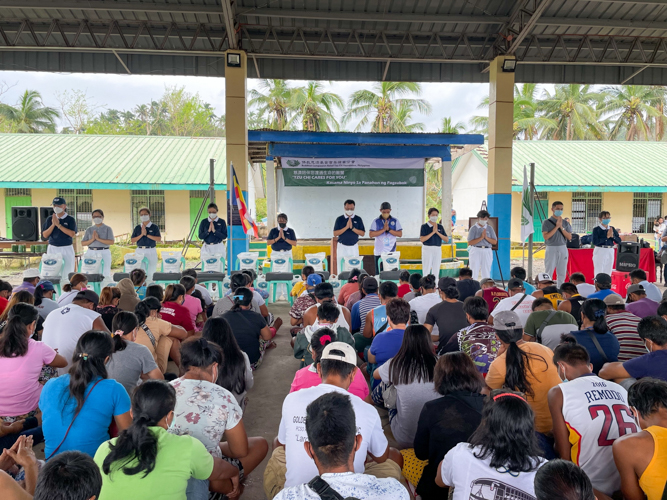 Beneficiaries join volunteers in a solemn prayer. 【Photo by Jeaneal Dando】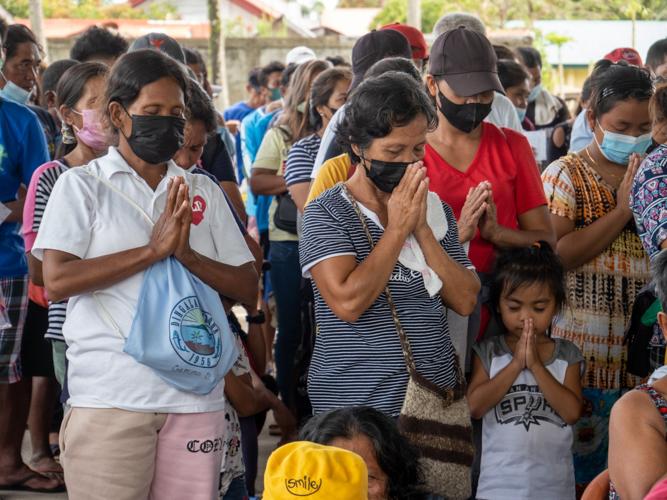 Beneficiaries join volunteers in a solemn prayer. 【Photo by Jeaneal Dando】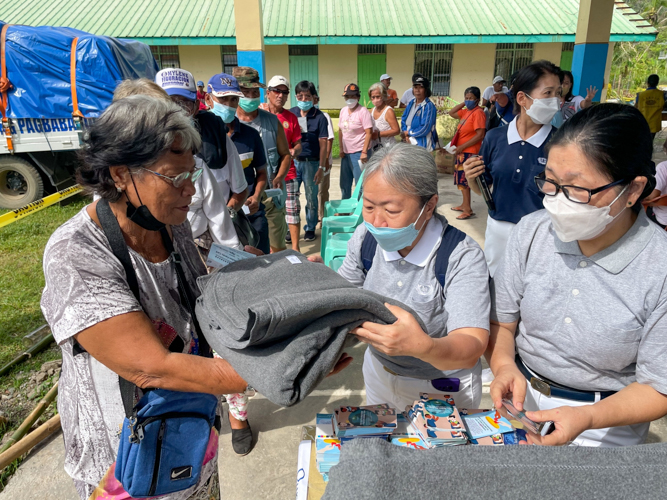 Volunteer hands a blanket over to a beneficiary. 【Photo by Jeaneal Dando】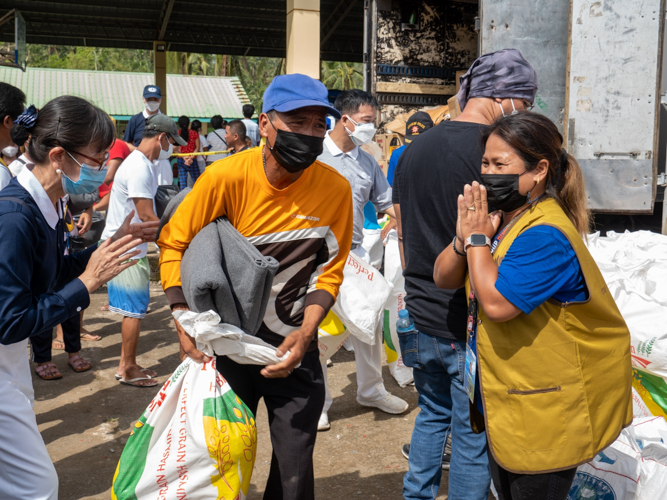 All beneficiaries get 20 kilos of rice. 【Photo by Jeaneal Dando】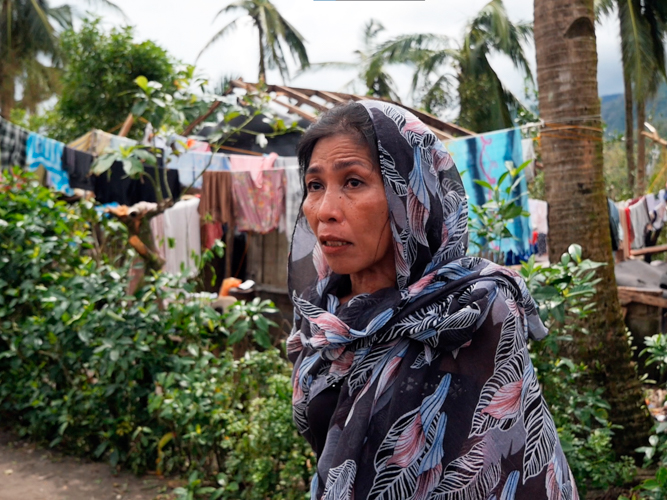 Myrna Sales tells Tzu Chi volunteers of Typhoon Karding's damage to their house in a survey conducted by Tzu Chi last September 29. 【Photo by Harold Alzaga】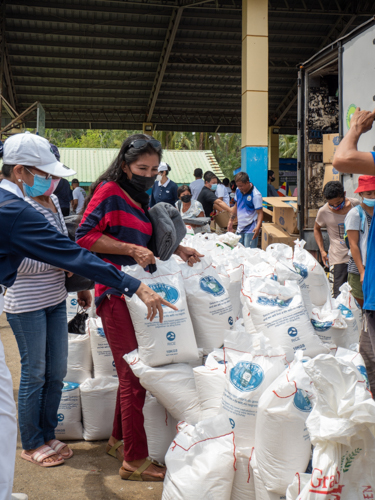 Myrna Sales receives rice from Tzu Chi while her son Edward gets Php 30,000 cash assistance. 【Photo by Jeaneal Dando】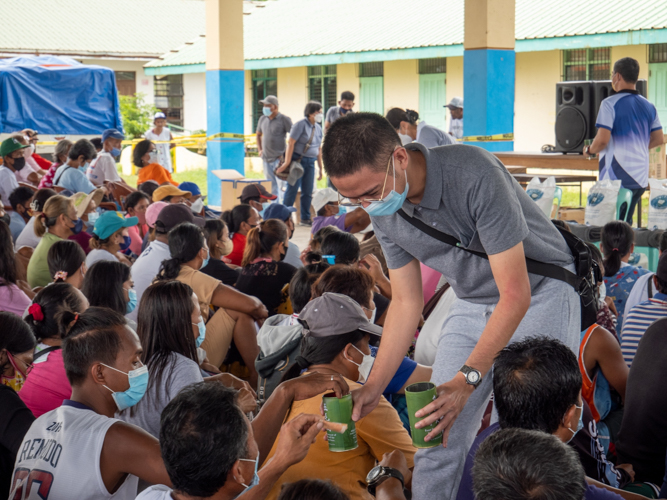 Beneficiaries were given the opportunity to pay it forward by donating through Tzu Chi's coin banks. 【Photo by Jeaneal Dando】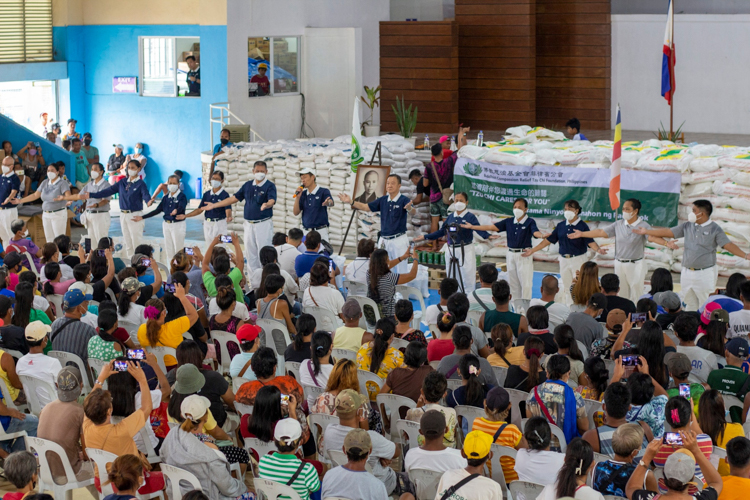 Tzu Chi volunteers lead beneficiaries in a sign language number at the Dingalan Municipal Multipurpose Gymnasium. 【Photo by Matt Serrano】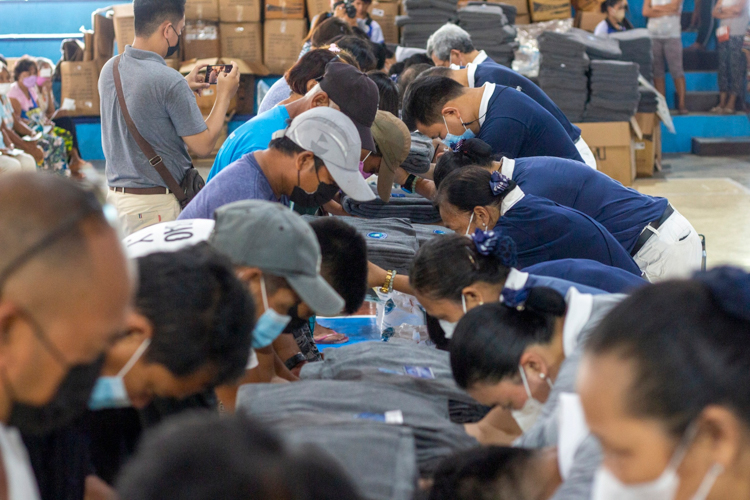 Tzu Chi volunteers and beneficiaries bow to each other in handing over of goods as a sign of gratitude. 【Photo by Matt Serrano】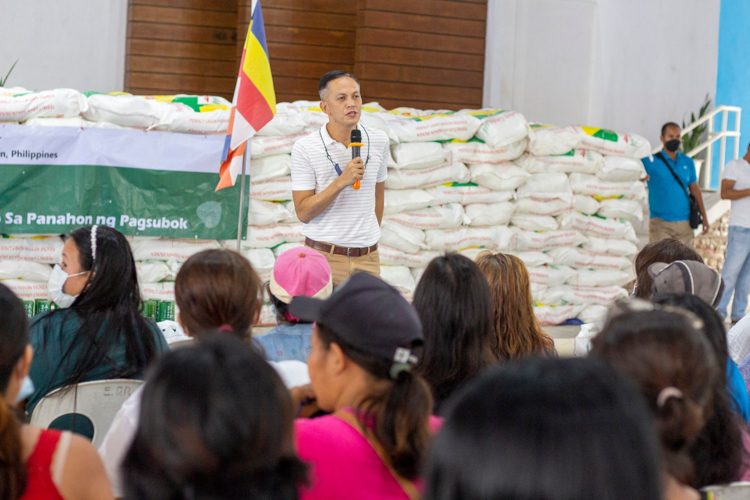 Dingalan Mayor Shierwin Taay gives a message to the beneficiaries. 【Photo by Matt Serrano】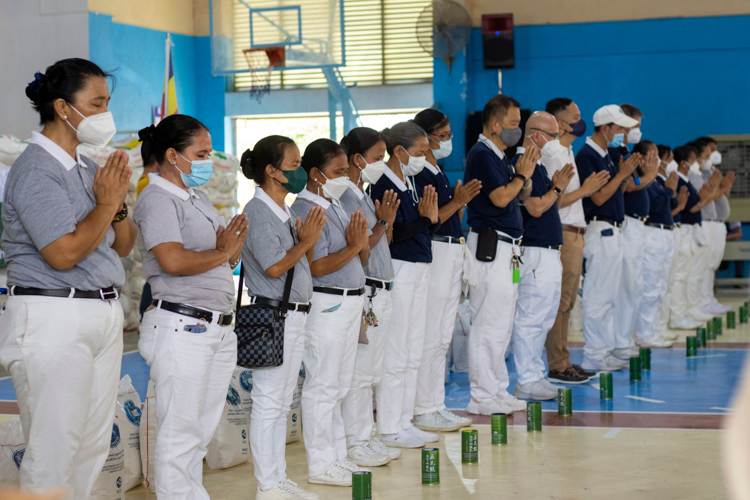 Volunteers lead beneficiaries in a solemn prayer. 【Photo by Matt Serrano】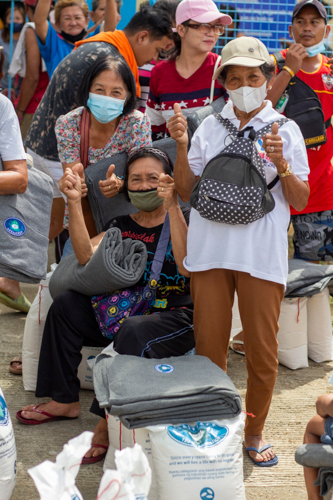 Beneficiaries say 'thank you' in Mandarin sign language. 【Photo by Matt Serrano】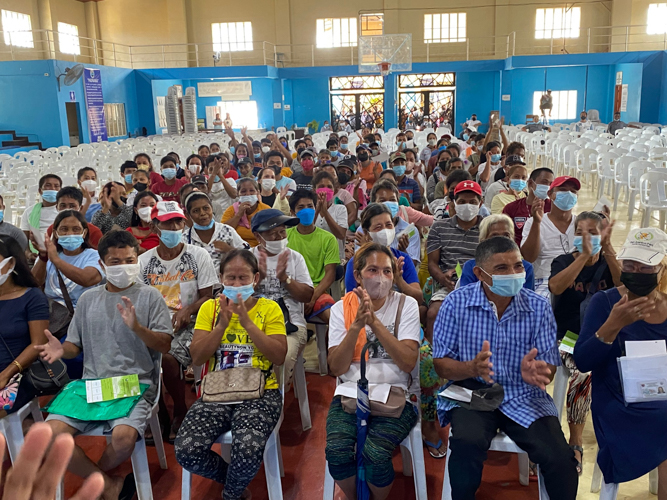 Beneficiaries are ecstatic and emotional upon learning of the Php 20,000 to Php 30,000 cash assistance to be given to them by Tzu Chi. 【Photo by Matt Serrano】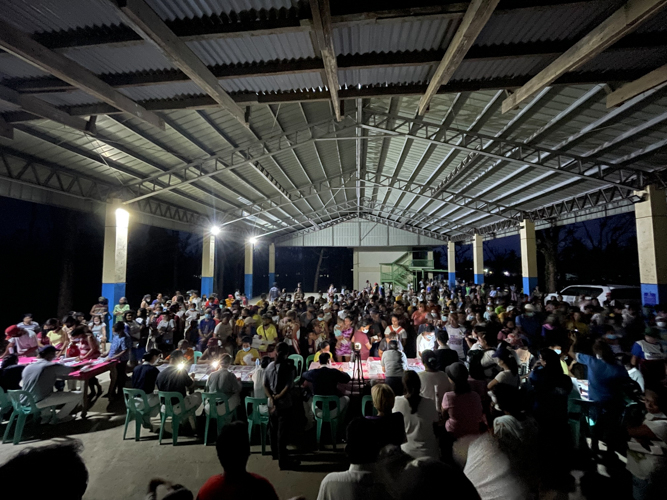 Volunteers use generators, emergency lights, and cellphones when stub distribution lasted until night. 【Photo by Jeaneal Dando】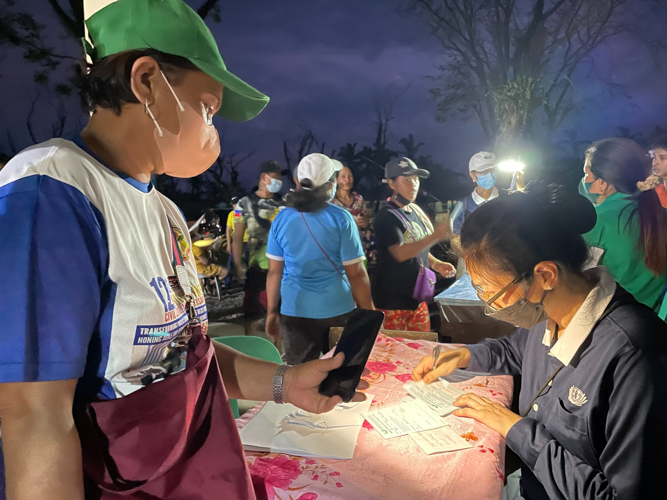 Volunteers use generators, emergency lights, and cellphones when stub distribution lasted until night. 【Photo by Jeaneal Dando】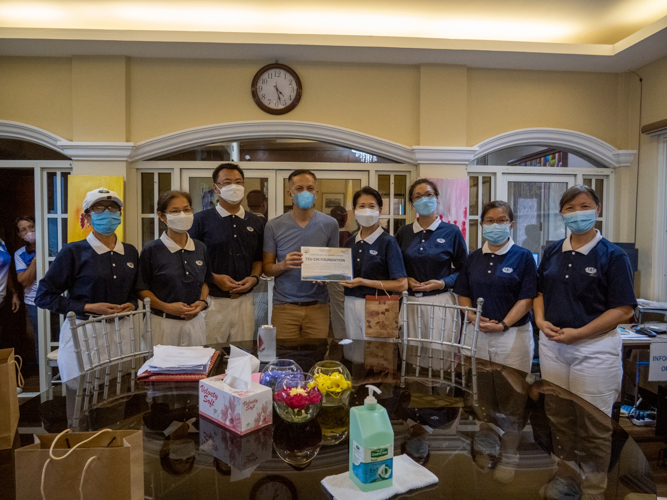 Dingalan Mayor Shierwin Taay awards certificate of recognition to Tzu Chi Foundation. 【Photo by Jeaneal Dando】
Go Back