Yolanda livelihood initiative now helps fund the foundation
Tzu Chi Philippines' in-house bakery helps fund the foundation's charity programs.
By Marella Saldonido
After Super Typhoon Yolanda's onslaught in 2013, Tzu Chi Foundation Philippines has provided all sorts of support for disaster relief, recovery, and rehabilitation through cash and relief goods distribution, cash-for-work programs, and the construction of the Great Love Village in Palo, Leyte, which provided homes for the survivors.
Among the various initiatives of the foundation, many people might not be aware of Tzu Chi's in-house bakery, which was also established as part of the foundation's effort to aid Yolanda's victims.
Initially, the bakery's primary purpose was to provide a source of income for the people of the Great Love Village, much like the cash-for-work program through cleanup operations.
"After the turnover [of the Great Love Village], there were a lot of beneficiaries who wanted to leave because they didn't have livelihood," says Yolanda survivor and now Tzu Chi baker Adrian Neil Ang.
After learning about this situation, Tzu Chi volunteer Sally Yuñez had an idea to open a bakery and kitchen where the residents of the village can be hired to make vegetarian food and baked goods.
"It helped them a lot because they didn't have to find work outside," says Sally as she recalls the beginnings of the bakery. "Aside from the salary we pay them, they also save on transportation and meals because they were provided meals every day."
Ginalyn Bujawe, another village resident, was also given an opportunity to work in the bakery despite not knowing how to bake. Her lack of experience in baking did not become a hindrance as Tzu Chi volunteers saw every resident's potential to contribute in their small community. "I have learned a lot along the way and my skills have grown through time as I continued working here in Tzu Chi."
Now, after seven years of the bakery's operation, it has not only supported the survivors of Typhoon Yolanda but also the foundation itself. With the expansion of the bakery from Palo, Leyte to Manila in 2021, volunteers have attracted customers who regularly patronize their products and espouse Tzu Chi's missions.
Profits from the bakery are used to fund Tzu Chi's various programs such as scholarships, disaster relief operations, medical missions, construction projects, and other immediate needs of the foundation.
During this year's Moon Festival season, the bakery sold 700 boxes of mooncakes to raise funds for Tzu Chi's educational assistance program.
"When the people know that this is for some fundraising activity, they are very willing to buy," says Sally who feels proud of the bakery's contributions.
With the continuous support of their customers, the bakery's product offerings have expanded, from simple breads and buns with fillings served to staff and volunteers during Tzu Chi's activities to cakes and specialty breads that customers can order for special occasions.
In addition to the monetary support that it provides the foundation, the bakery promotes Tzu Chi's mission of vegetarianism. All products sold by the bakery are freshly made with vegetarian ingredients. Vegetables that mimic the taste and texture of meat are used as an alternative for their bun fillings.
For Adrian, their products are not only of good taste and quality, they are good for their consumers' health. "It's really beneficial for our customers, especially those who have health problems, because we use healthy vegetarian ingredients, and we also use less sugar in our products."
Three years after relocating to Manila to work in Tzu Chi's bakery in Sta. Mesa, Adrian feels a sense of fulfillment for being able to share his talents as a baker while also having the opportunity to help other people.
"I always feel homesick but this is really my passion and I feel like being here in Tzu Chi is part of my mission," he says.
Similarly, Tzu Chi baker Marlon Barbosa also decided to make it his life's mission to support the foundation back as a way of expressing his immense gratitude, not only for the help they have given after Yolanda but also for the support he received for his operation and medications after suffering from appendicitis and accidentally being punctured by a nail in a construction site.
"I wouldn't be alive if it wasn't for Tzu Chi. I had a fifty-fifty chance of living after the accident, but thankfully they supported me and my family the whole time," shares Marlon, who vowed to dedicate his second life to helping the foundation fulfill its missions.
As for Sally who started it all with the intention of helping Yolanda survivors get back on their feet, this is only the beginning for Tzu Chi's bakery.
"We want to do more and then eventually be better known to the general public," she says.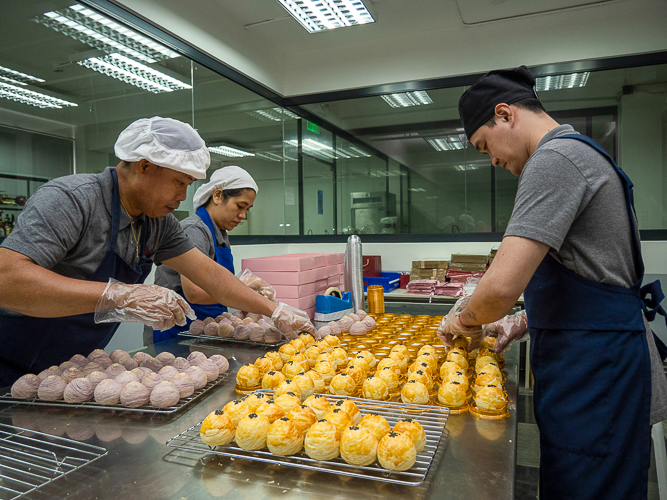 Tzu Chi's team of bakers prepare their special Lotus and Taro puff mooncakes for this year's Moon Festival fundraising. 【Photo by Harold Alzaga】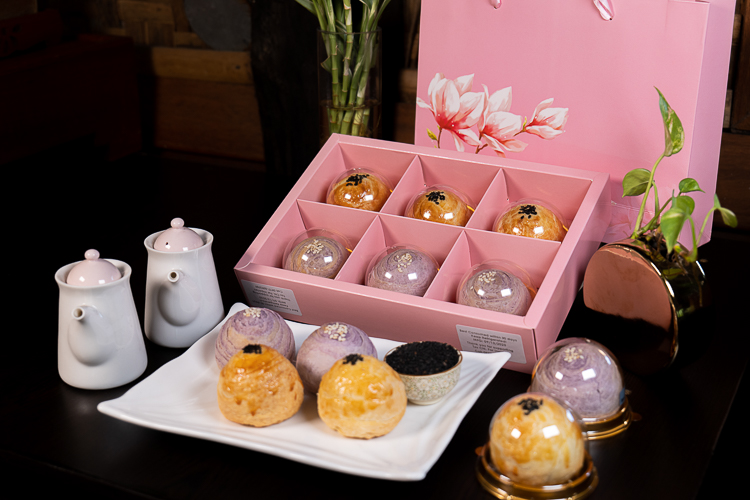 Tzu Chi bakery's special Lotus and Taro Puff Mooncakes【Photo by Matt Serrano】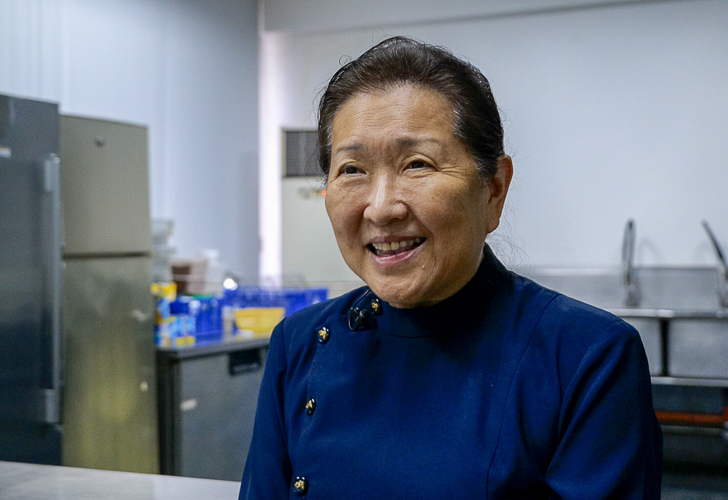 "We would like people to know that vegetarian baked products can be just as good as the ones you buy in the market," says volunteer and head of Tzu Chi's bakery Sally Yuñez. 【Photo by Jeaneal Dando】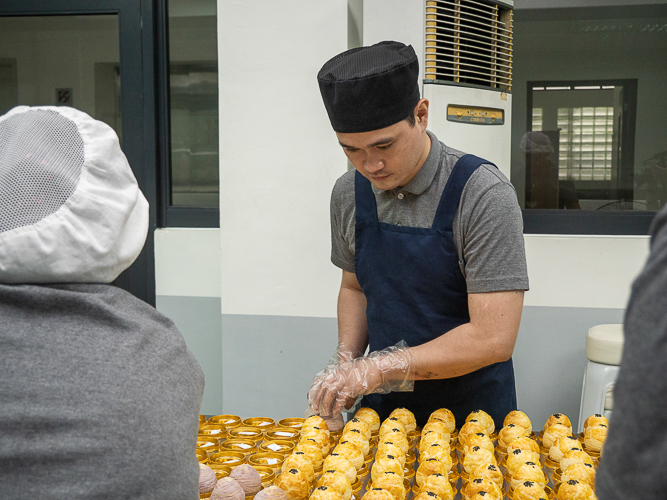 "I want to help Tzu Chi help other people with my talents in baking because they also helped me during Yolanda," says Tzu Chi baker Adrian Neil Ang. 【Photo by Harold Alzaga】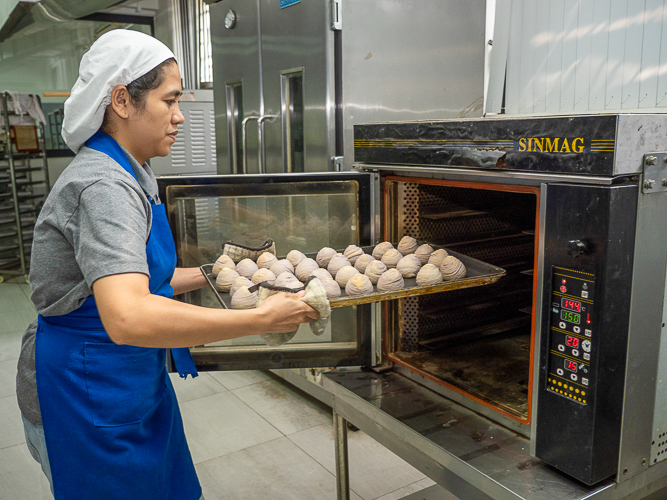 "I started working in the bakery as a volunteer and I am happy that I can help other people through this work," says Tzu Chi baker Ginalyn Bujawe. 【Photo by Harold Alzaga】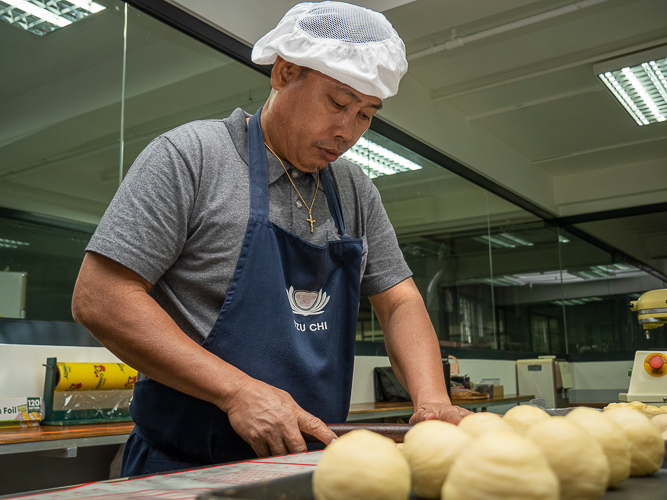 "I owe my second life to Tzu Chi, so I decided to dedicate it to helping them help other people by being part of the bakery," says Tzu Chi baker Marlon Barbosa, who received full support from Tzu Chi after suffering from appendicitis and accidentally being punctured by a nail in a construction site, which almost cost him his life. 【Photo by Harold Alzaga】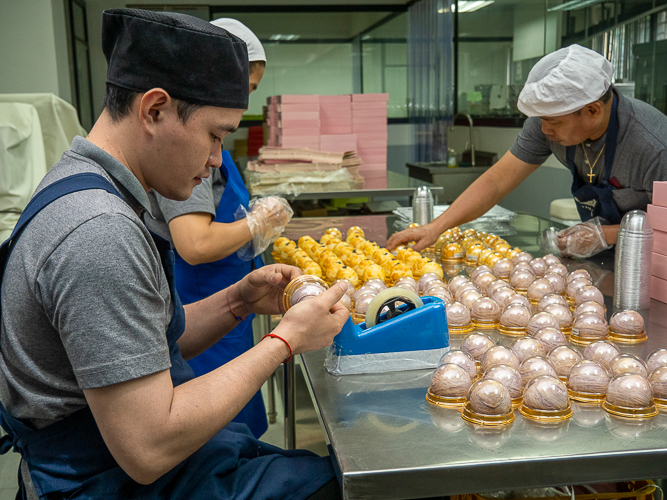 Tzu Chi's team of bakers individually package their special Lotus and Taro puff mooncakes. 【Photo by Harold Alzaga】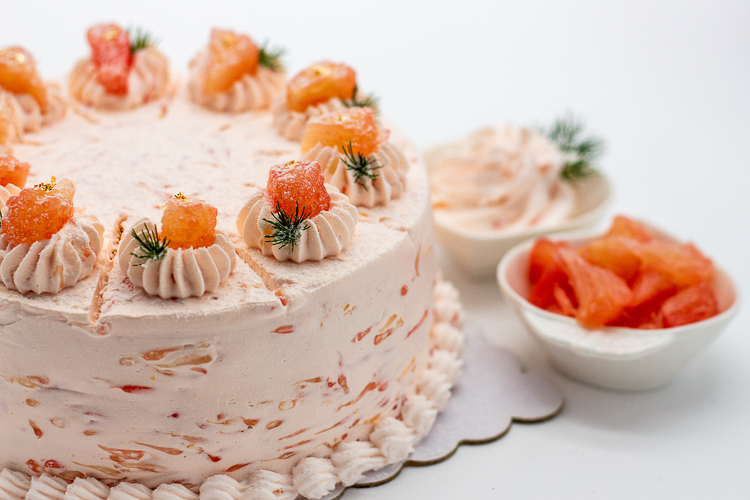 Tzu Chi bakery's Davao Pomelo Crémeaux Cake【Photo by Marella Saldonido】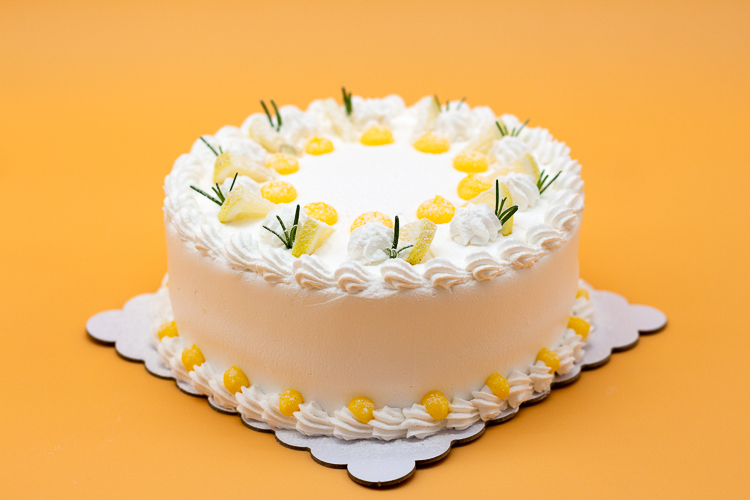 Tzu Chi bakery's Luscious Lemon Curd Cream Cake【Photo by Harold Alzaga】
Go Back