Tzu Chi donates 170,000 face masks to Sisters of Mary Girlstown and Boystown in Silang, Cavite
Students thanked Tzu Chi volunteers through song and dance performances and learned Tzu Chi's One Family sign language.
By Ben Baquilod
Tzu Chi Foundation donated 170,000 face masks and other hygiene products to the Sisters of Mary Schools Girlstown and Boystown in Silang, Cavite on April 20, marking its fourth visit to the institution in the past month. Recently, Tzu Chi donated 24,000 kilos of rice and provided free eye checkups to the Catholic group's students.
"Thank you for the face masks and all the help," says Sister Bernadine Ofima, SM for Tzu Chi's continuous support. "During this pandemic, everybody knows that everybody is suffering. But then we are grateful because despite hardships in life, there are good people who thought of us and really helped us to continue our charity work," she says.
"Master Cheng Yen is a very good help," adds Sister Bernardine who has read some of the Tzu Chi founder's books. "You can see in her that when you do good things to others, surely good things will also return to us, just like the law of echo (karma)."
Grateful for Tzu Chi's constant gesture of love, the Girlstown students showcased music and dance performances, much to the delight of Tzu Chi volunteers.
The young schoolgirls opened the program with a handbell ensemble, and then performed a Muslim dance, the Cariñosa (Maria Clara dance), and a festive Irish dance. Afterwards, the crowd of 2,300 students showcased a song and dance number of the OPM song 'I Can' and the Aloysian song, a tribute to Venerable Aloysius Philip Schwartz, founder of Sisters of Mary.
"I smiled, and I feel so happy that the audience enjoyed and appreciated what we practiced," says Kryztine Shelee Percil, Grade 9 student and one of the performers of the Irish dance. "We told each other not to get nervous and just enjoy the dance."
Kryztine, who has love for dancing, channels the same passion into her studies when she applied to the school. "I love my family and I have a dream in life, that's why I went to the girlstown," she says. A scholar for three years now since Grade 6, she is thankful to be provided with free tuition, lodging, food, uniform, and her other school needs.
To receive face masks and other forms of assistance is another blessing Kryztine did not fail to count. "I am very thankful to receive face masks from Tzu Chi because this is one of our primary needs to protect ourselves from COVID-19," she says.
"Sisters of Mary changed my life because before I came here, I wasn't diligent in my studies. I was also not prayerful then, until I entered here. I learned to make friends and share my knowledge and talents to others," she adds.
Tzu Chi volunteer Judy Lao spoke to the large crowd of students and thanked them for their beautifully-executed and heartwarming performances. "We can see for ourselves that you are in good hands, and you can be whatever you want to be in the future," she praises the students.
"We are so happy that the Sisters of Mary and the Tzu Chi Foundation are like a family," she adds. To conclude the activity, Tzu Chi volunteers taught the One Family sign language to the students, which they happily performed right after.
Volunteer Woon Ng says, "This song is the basic message of our founder, Master Cheng Yen. Every sentence, every word of the song, comes from her. This is how she feels for everyone."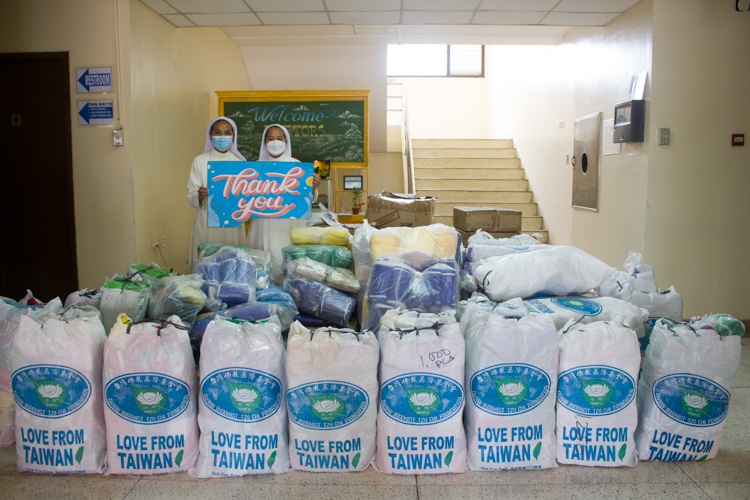 Tzu Chi Foundation donates 170,000 face masks and other hygiene products to the Sisters of Mary Schools Girlstown and Boystown in Silang, Cavite on April 20. 【Photo by Matt Serrano】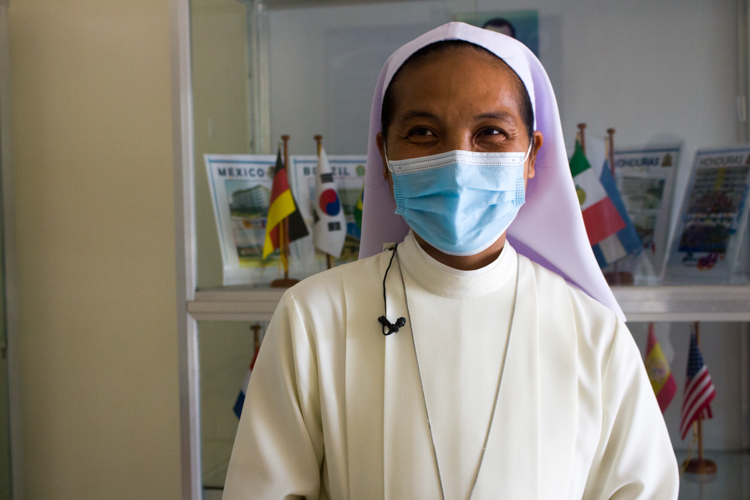 "Thank you for the face masks and all the help," says Sister Bernadine Ofima, SM for Tzu Chi's continuous support. "During this pandemic, everybody knows that everybody is suffering. But then we are grateful because despite hardships in life, there are good people who thought of us and really helped us to continue our charity work." 【Photo by Matt Serrano】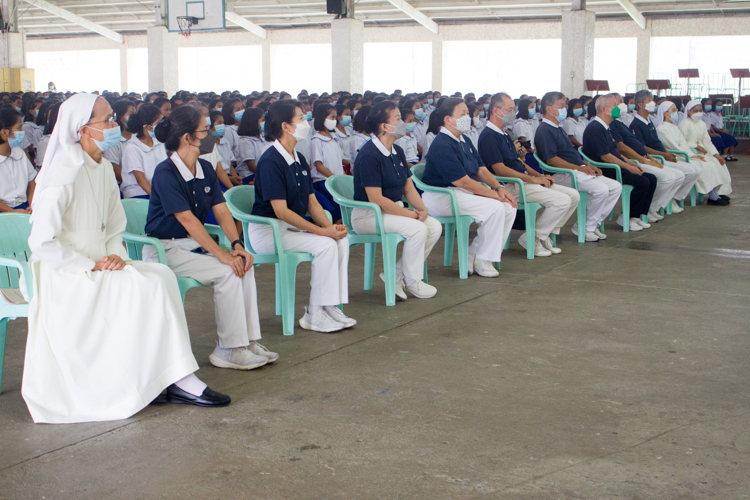 Tzu Chi volunteers and Sisters of Mary nuns watch a dance performance from the students. 【Photo by Matt Serrano】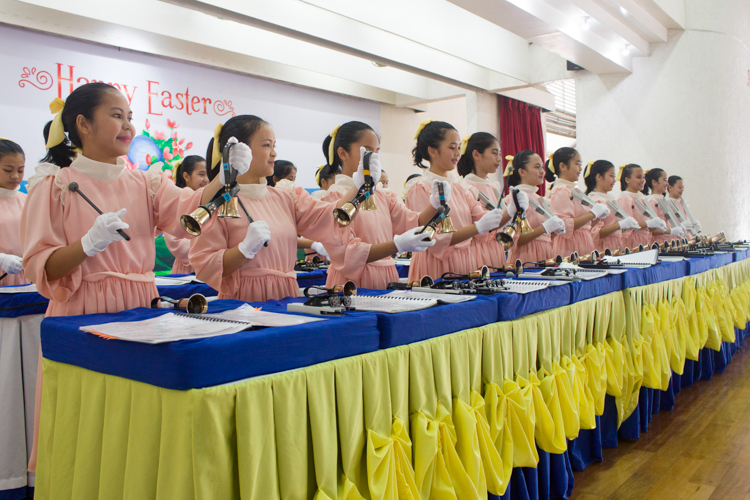 Students open the program with a handbell ensemble. 【Photo by Matt Serrano】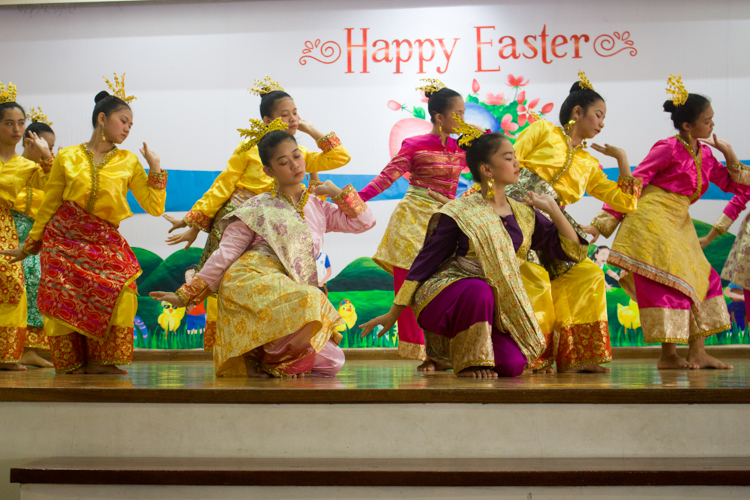 As sign of gratitude, students entertain Tzu Chi volunteers with several dance performances, including a Muslim dance. 【Photo by Matt Serrano】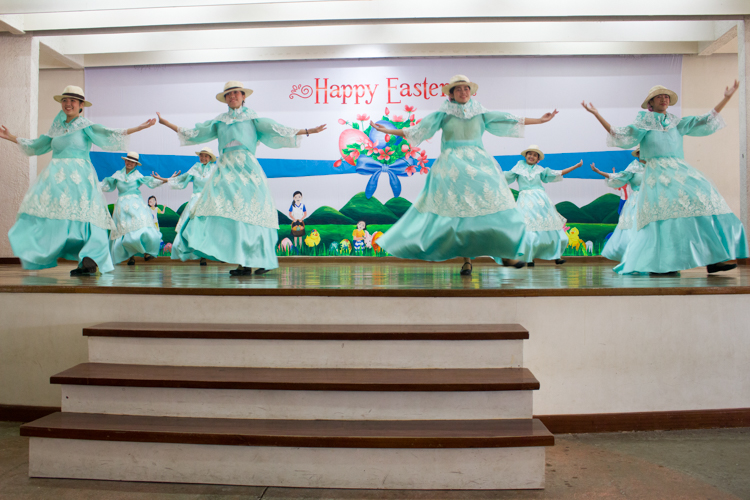 Students perform the Filipino folk dance Cariñosa (Maria Clara dance). 【Photo by Matt Serrano】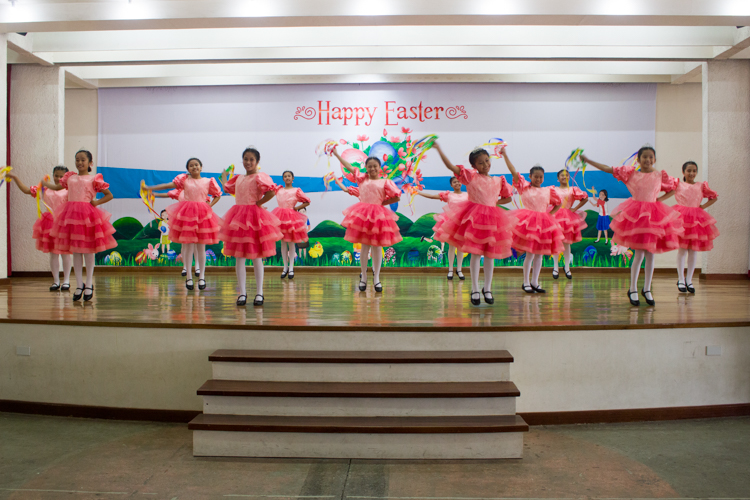 Students showcase a festive Irish dance performance. 【Photo by Matt Serrano】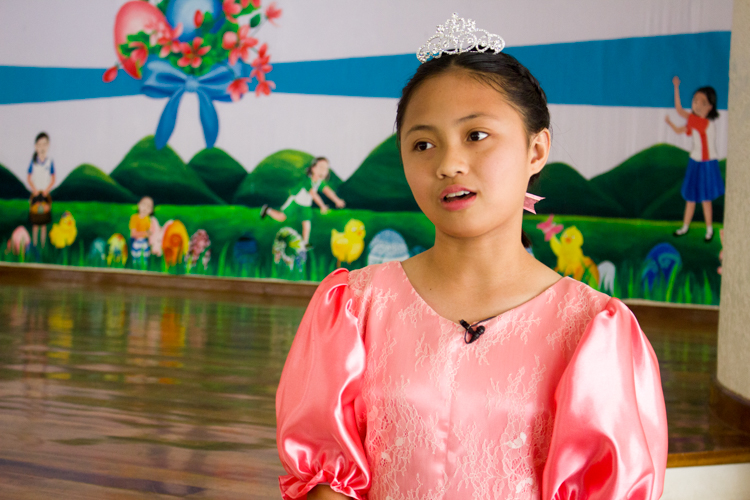 "I smiled, and I feel so happy that the audience enjoyed and appreciated what we practiced," says Kryztine Shelee Percil, Grade 9 student and one of the performers of the Irish dance. "I am very thankful to receive face masks from Tzu Chi because this is one of our primary needs to protect ourselves from COVID-19." 【Photo by Matt Serrano】

Tzu Chi volunteer Judy Lao speaks to the large crowd of students and thanked them for their beautifully-executed and heartwarming performances. 【Photo by Matt Serrano】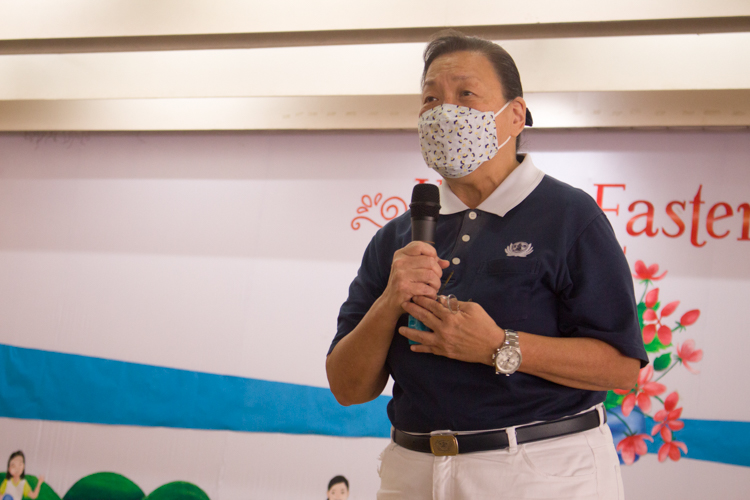 "We can see for ourselves that you are in good hands, and you can be whatever you want to be in the future," volunteer Judy Lao praises the students. 【Photo by Matt Serrano】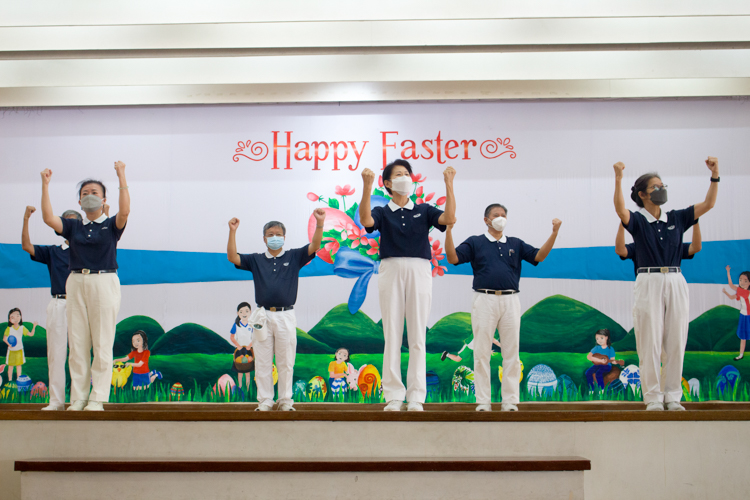 Tzu Chi volunteers teach the One Family sign language to the Girlstown students. 【Photo by Matt Serrano】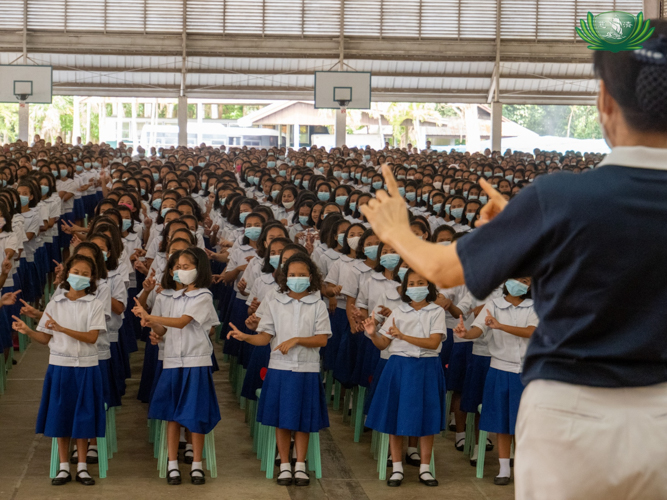 Tzu Chi volunteers teach the One Family sign language to the Girlstown students. 【Photo by Jeaneal Dando】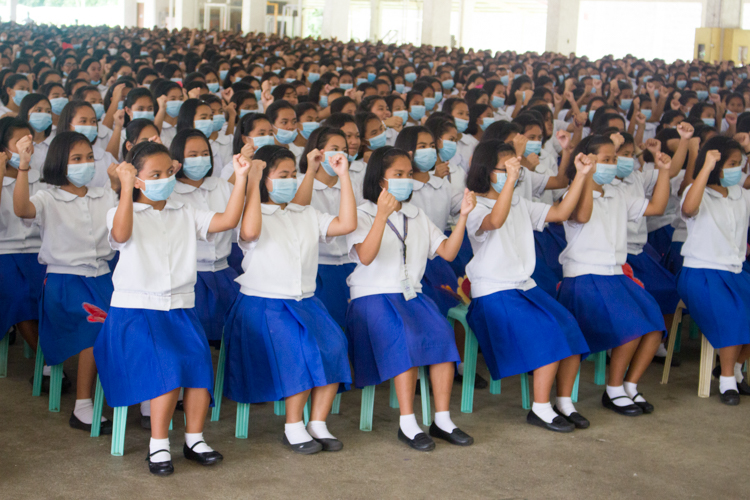 Students perform the One Family sign language. 【Photo by Matt Serrano】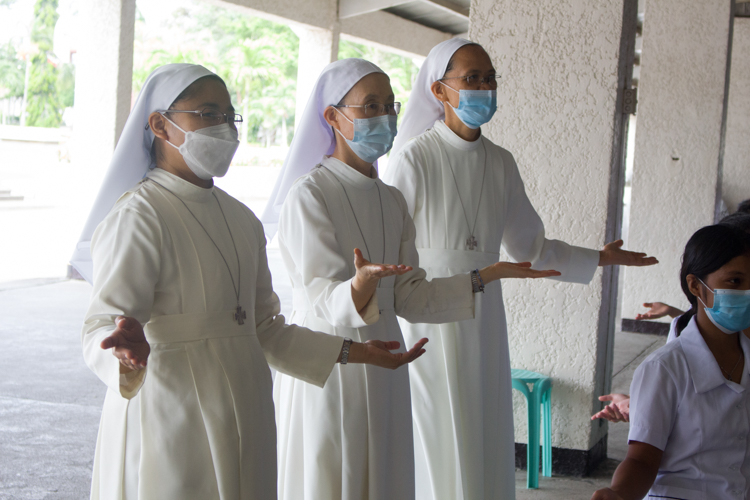 Sisters of Mary nuns join in performing the One Family sign language. 【Photo by Matt Serrano】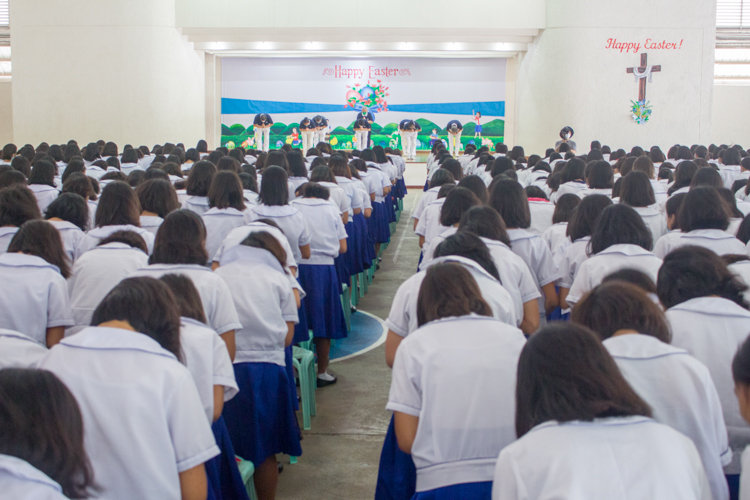 Tzu Chi volunteers and Girlstown students perform the One Family sign language. 【Photo by Matt Serrano】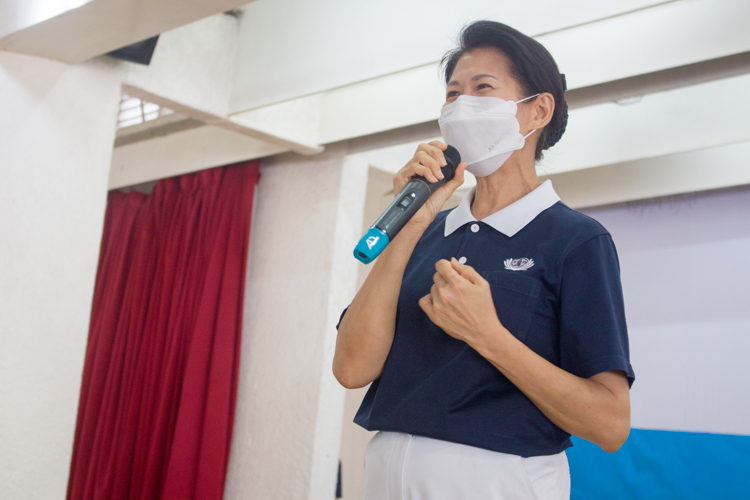 "This song (One Family) is the basic message of our founder, Master Cheng Yen. Every sentence, every word of the song, it's from her. This is how she feels for everyone," Tzu Chi Philippines Deputy CEO Woon Ng says. 【Photo by Matt Serrano】
Go Back