Tzu Chi makes rice dumplings for Ukraine
Honorary Consul General of Ukraine in Manila, Dr. Bea L. Ang helped volunteers make the dish.
By Joy Rojas
Volunteers preparing rice dumplings for the Dragon Boat Festival on June 3 got a little help from Dr. Beatrice "Bea" Jane L. Ang, Honorary Consul General of Ukraine in Manila. Ang dropped by the Buddhist Tzu Chi Campus in Sta. Mesa, Manila, on May 31 to participate in making the traditional Chinese dish—glutinous rice mixed with vegetarian filling and wrapped in bamboo leaves—to raise money that will go to a common fund designated for humanitarian efforts for Ukraine. On February 24, the Eastern European nation was invaded by Russian troops, resulting in a mass exodus of at least 6 million Ukrainians and the death of over 1,800 civilians, according to the United Nations.
"I actually received a call from Tzu Chi Philippines CEO Henry Yuňez who expressed how Tzu Chi wanted to help the Ukraine crisis in any way, and I was deeply grateful about it," says Ang. "To the whole Tzu Chi Foundation and the Tzu Chi community worldwide, especially in the Philippines, our sincerest gratitude for all your efforts for reaching out to Ukraine. Thank you for supporting us, working hard for us, and making us feel that we are not alone in this world."
Internationally, Tzu Chi has offered compassion and relief to Ukrainian civilians who have left in droves to neighboring countries to avoid the ongoing conflict. Those who sought refuge in Poland have received eco-blankets, food, medical supplies, and other emergency goods from Tzu Chi volunteers based in Europe. Concerned about the massive displacement and deaths from the crisis, Dharma Master Cheng Yen encouraged Tzu Chi's global community to extend kindness and their resources to those directly affected by the war. "Only when the heart is peaceful can this man-made disaster be quelled," she said.
In the Philippines, where as many as 100 Ukraine nationals live (as of 2021), the Consulate of Ukraine has received positive feedback from Filipinos who have volunteered to take in refugees. Among them is the Tzu Chi Philippines CEO, "who has expressed his intention to take care of refugees in case there are any," says Ang.
"That's why it means so much to us that here in the Philippines, we are doing a lot of efforts to reach out to Ukraine," she adds. "It really touches our heart."
Social responsibility was instilled early in Ang, the daughter of Tzu Chi volunteers Francis and Betty Chua and a volunteer herself for the past 20 years. As a teenager, she remembers visiting jails, old folks' homes, hospitals, and orphanages. These institutions not only opened her eyes to the realities of the world, they inspired her to pursue a degree in medicine.
Though she would not go on to practice, she did channel her knowledge and genuine desire to help to other worthwhile endeavors. Administrator of the Buddhist Tzu Chi Eye Center, she remains active in Tzu Chi's relief operations for the pandemic and other crises. The Tzu Chi mindset—to serve without expectation—stayed with her when she was appointed honorary consul general to the Ukraine a year and a half ago.
"Things took a different turn for me but I'm still happy because even if I'm not based in a hospital, I'm still able to reach out to more people," she says. "Just being able to help in a small way is very vital, and really very humbling."
During her visit, Ang also turned over two oxygen concentrators donated by Strongmedia Advertising Solutions (through Mr. Francis Tan).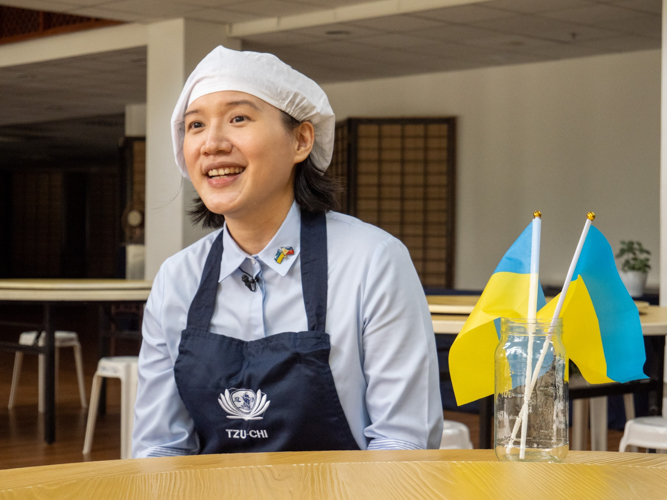 "To the Tzu Chi Foundation and the Tzu Chi community worldwide, especially in the Philippines, thank you for supporting Ukraine and making us feel that we are not alone in this world," says Honorary Consul General of Ukraine to the Philippines Beatrice "Bea" L. Ang.【Photo by Daniel Lazar】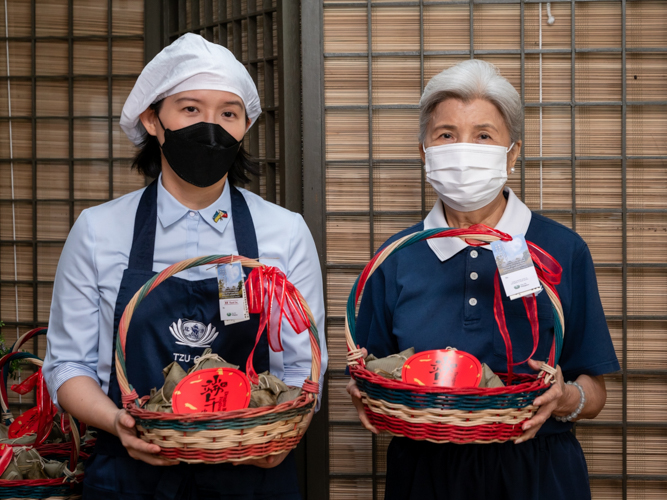 The Honorary Consul General of Ukraine to the Philippines (left) and Tzu Chi Philippines' first CEO Linda Chua pose with the machang made for the Dagon Boat Festival on June 3.【Photo by Daniel Lazar】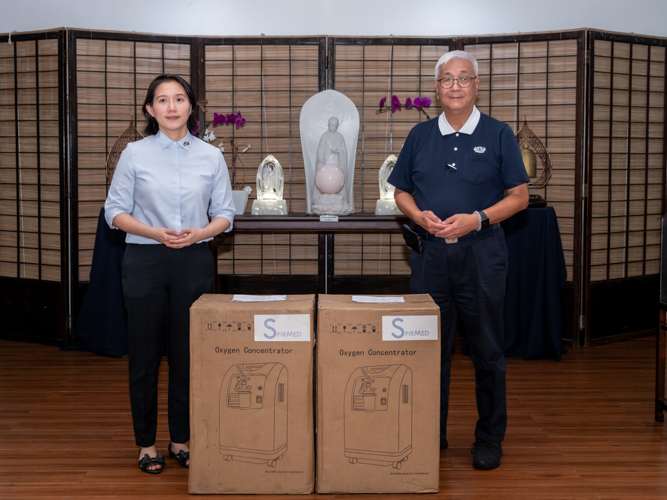 Turning over two oxygen concentrators donated by Stronghold Media to Tzu Chi Philippines CEO Henry Yuňez (right).【Photo by Daniel Lazar】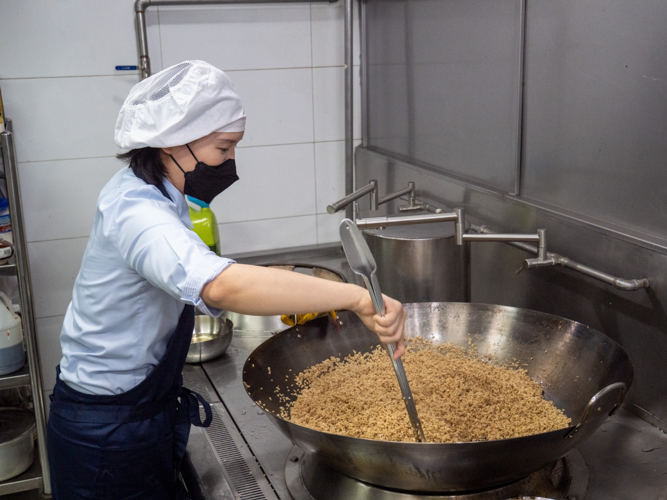 At the Harmony Hall kitchen, stirring the glutinous rice.【Photo by Jeaneal Dando】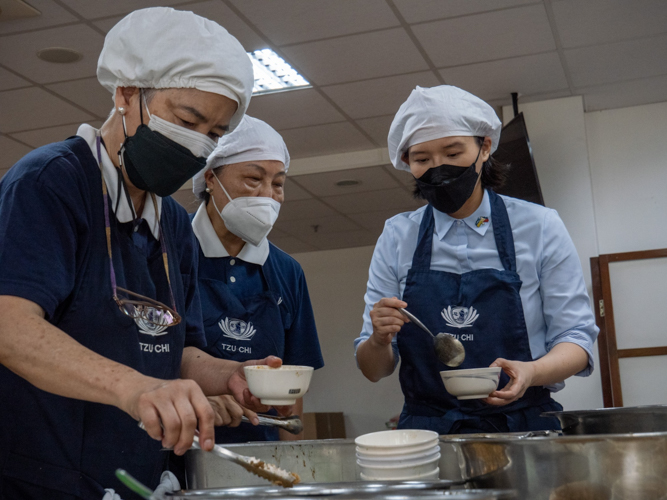 With Tzu Chi volunteers, filling small bowls with rice and other vegetarian ingredients.【Photo by Jeaneal Dando】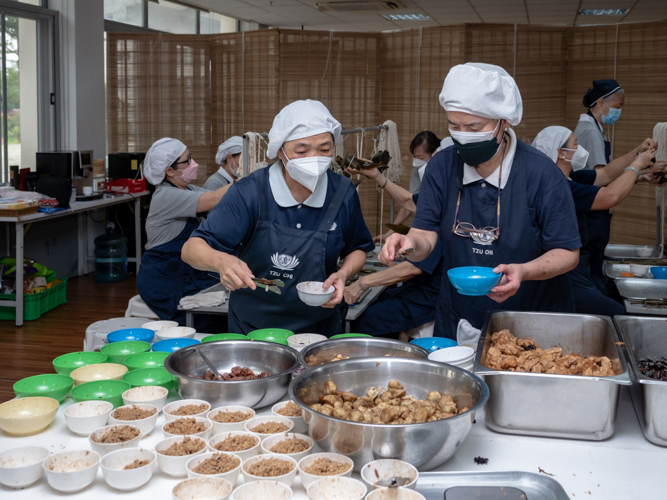 Volunteers place the sticky rice in bowls that will go to a group in charge of stuffing them into cone-shaped bamboo leaves.【Photo by Daniel Lazar】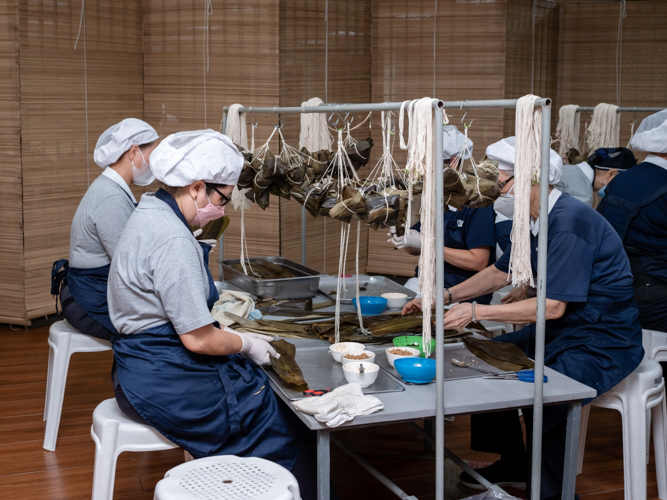 Volunteers hand-wrap the sticky rice in bamboo leaves and tie them securely with a string.【Photo by Daniel Lazar】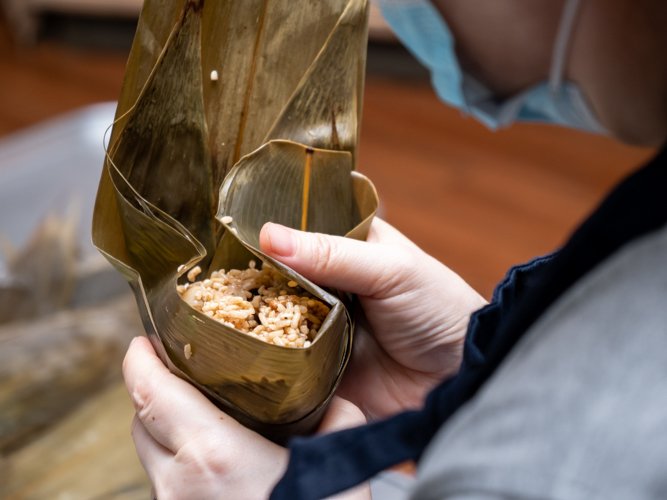 A volunteer carefully wraps the sticky rice into bamboo leaves, ensuring it isn't too tight or the machang will burst open when cooked.【Photo by Daniel Lazar】
Go Back