Tzu Chi sends off graduating scholars
Magna cum laude Joshua Daarol leads the graduating batch of 2022.
By Ben Baquilod
Tzu Chi Foundation Philippines held a special send-off ceremony for the graduating scholars at the closing program of the 2022 Tzu Chi Scholars Camp on July 10 at the Buddhist Tzu Chi Campus.
Magna cum laude graduate Joshua Daarol led the graduating batch of 2022 in a commencement speech. He took up Bachelor of Science in Accountancy at the Pamantasan ng Lungsod ng Maynila.
"We faced a lot of challenges as graduating scholars. We are the first batch to undergo the K to 12 program, and we were also hit by the COVID-19 pandemic. Even if we have to go through the new mode of distance learning, we made it. We finished it," said Daarol.
Daarol has also faced many challenges in his personal life. At primary age, his parents separated and he was raised alone by his father who works as a janitor in a bank. He took a part time job to support his school needs—though this wasn't enough still—until Tzu Chi came to him like an answered prayer.
"I am not the only one who is thankful. My father was overjoyed when he knew I got accepted to the Tzu Chi scholarship," he said. "Tzu Chi's financial support has really been such a big help, especially that my books are really expensive."
Aside from financial assistance, scholars like Daarol also have benefited from their monthly humanities class where they were taught character formation and other lessons such as filial piety, the value of gratitude, career seminars, and other lessons that helped them with their life beyond school.
Grateful for the college scholarship granted to him by Tzu Chi, he wanted to pay it forward and promised to teach free bookkeeping classes in Tzu Chi soon. "Let's help other people without expecting anything in return," Daarold told his fellow scholars. "Let us apply all the lessons we have learned from our Tzu Chi Uncles and Aunties."
Daarol is one of the 57 graduating Tzu Chi scholars who attended the ceremony. Overall, 184 scholars—five of which flew from Palo, Leyte—joined the event.
Tzu Chi also recognized six other honor graduates in the ceremony. One of them was Reca Mae Atillo who graduated cum laude from the Pamantasan ng Lungsod ng Marikina. She thanked Tzu Chi and Master Cheng Yen for helping her finish college and for instilling in her a sense of responsibility. "It's not just for my parents, it's also for the Tzu Chi benefactors who helped me with my schooling," said Atillo.
Anne Kimberly Salonga, who graduated cum laude from the same school encouraged her fellow graduates as they enter a new chapter of their lives: "Let us trust ourselves that we can do it, for there is no one who would believe in us at the start but ourselves. And Master Cheng Yen and the Tzu Chi Foundation will be there for us to further hone the abilities and excellence that we have. Keep fighting and soar high."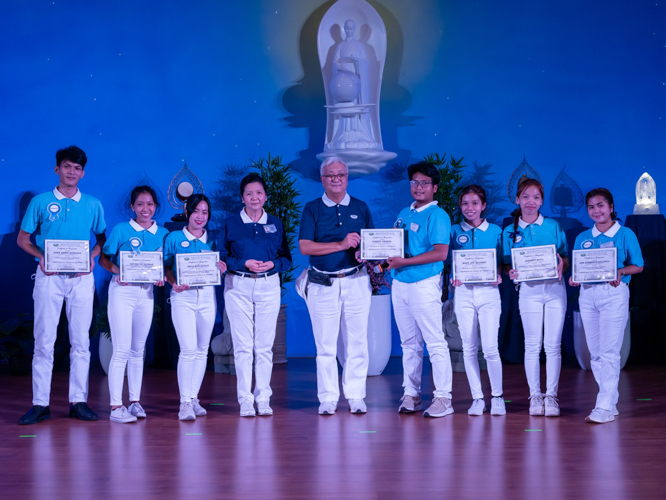 Tzu Chi Philippines CEO Henry Yuñez (center) and Education Committee volunteer Rosa (4th from the left) award certificates of recognition to honor graduates (from left to right): John Arnel Gonzaga (cum laude), Devine De Guzman (cum laude), Reca Mae Atillo (cum laude), Joshua Daarol (magna cum laude), Mary Joy Alvarez (cum laude), Geramie Rufil (cum laude), Anne Kimberly Salonga (cum laude). 【Photo by Matt Serrano】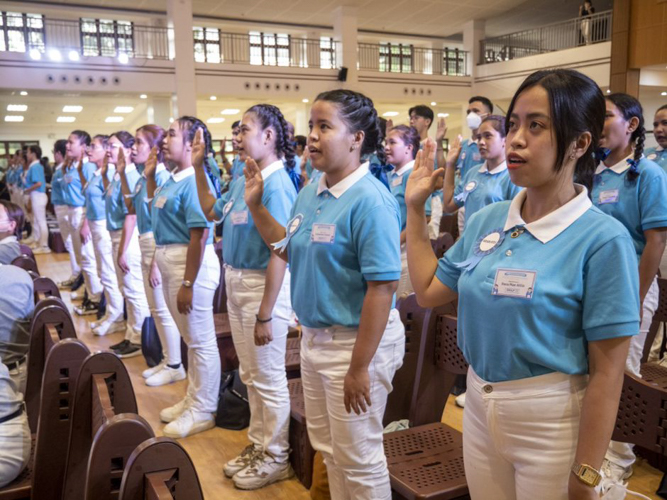 Scholars take the Tzu Chi Alumni Oath during the graduation ceremony. 【Photo by Matt Serrano】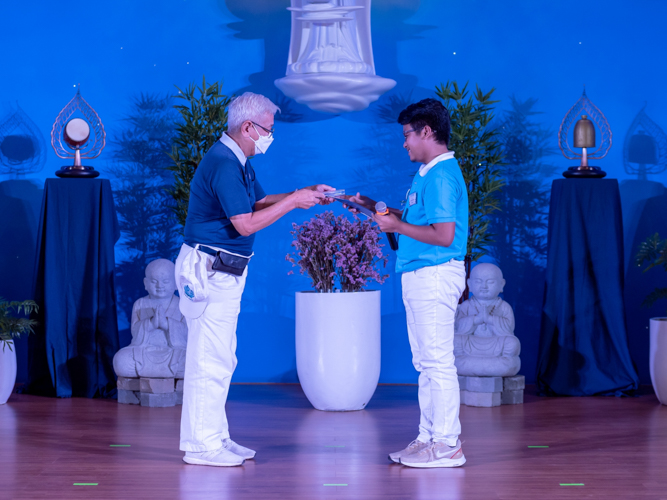 Tzu Chi Philippines CEO Henry Yuñez gives special recognition to Joshua Daarol, graduated magna cum laude from the Pamantasan ng Lungsod ng Maynila. 【Photo by Matt Serrano】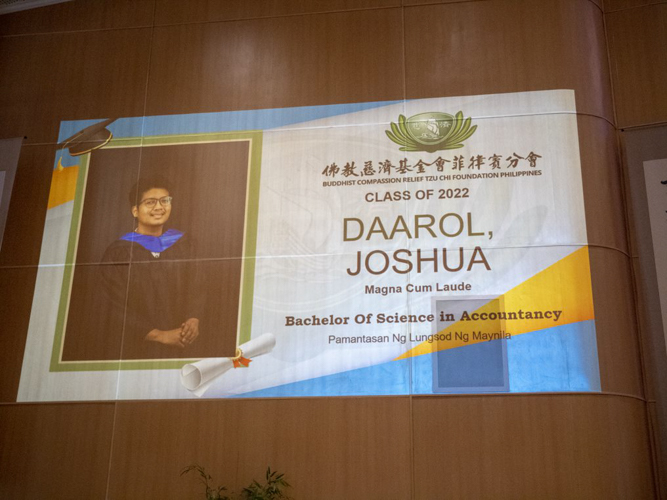 Joshua Daarol graduated magna cum laude with a degree in Bachelor of Science in Accountancy from the Pamantasan ng Lungsod ng Maynila. 【Photo by Matt Serrano】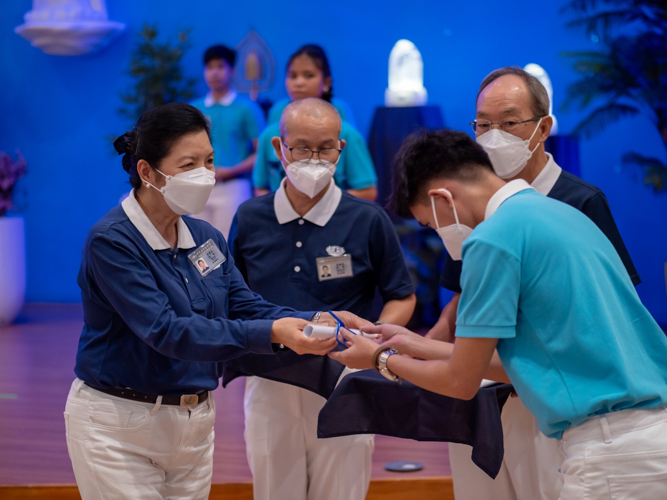 Education committee volunteer Rosa So awards symbolic diploma to a Tzu Chi graduate. 【Photo by Daniel Lazar】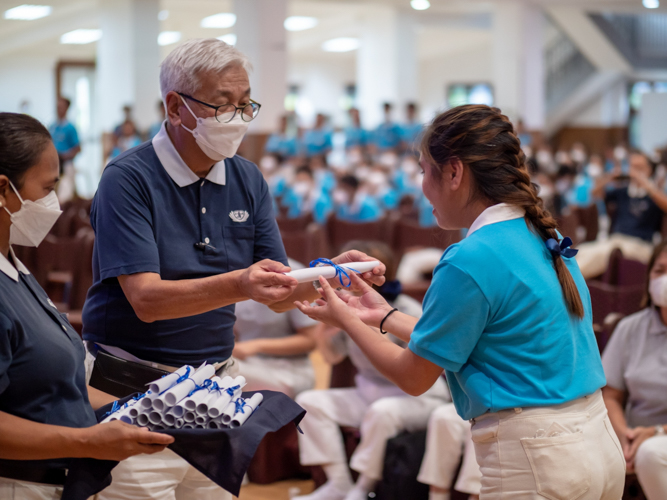 Tzu Chi Philippines CEO Henry Yuñez awards symbolic diploma to a Tzu Chi graduate. 【Photo by Daniel Lazar】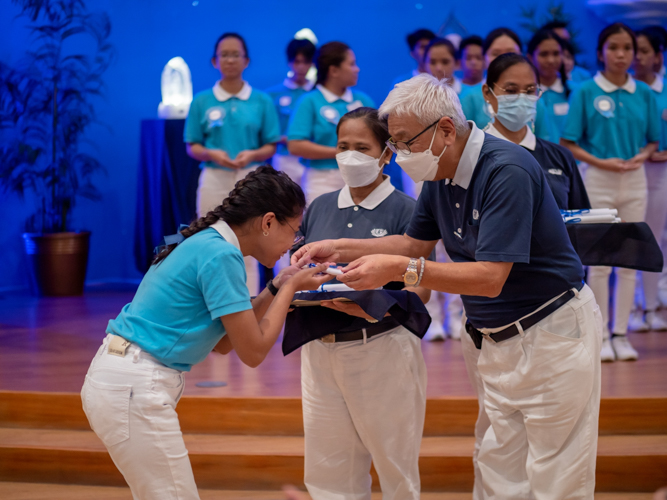 Tzu Chi Philippines CEO Henry Yuñez awards symbolic diploma to a Tzu Chi graduate. 【Photo by Daniel Lazar】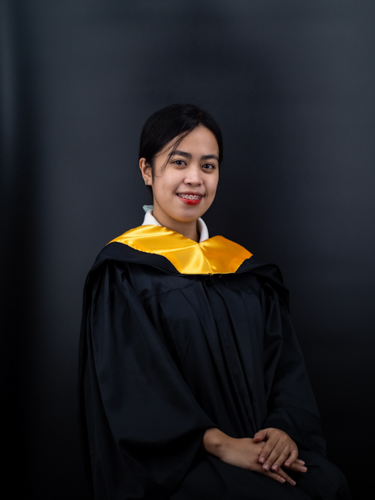 "It's not just for my parents, it's also for the Tzu Chi benefactors who helped me with my schooling," says Reca Mae Atillo, cum laude graduate from the Pamantasan ng Lungsod ng Marikina. 【Photo by Daniel Lazar】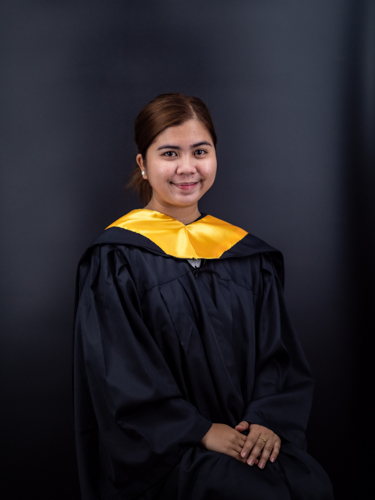 Anne Kimberly Salonga, cum laude graduate from the Pamantasan ng Lungsod ng Marikina tells her fellow scholars: "Let us trust ourselves that we can do it, for there is no one who would believe in us at the start but ourselves. And Master Cheng Yen and the Tzu Chi Foundation will be there for us to further hone the abilities and excellence that we have. Keep fighting and soar high." 【Photo by Daniel Lazar】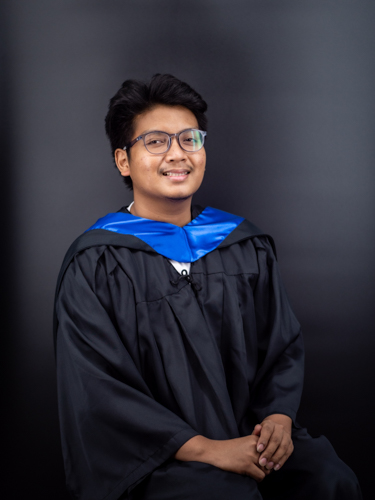 "I am not the only one who is thankful. My father was overjoyed when he knew I got accepted to the Tzu Chi scholarship," says magna cum laude graduate Joshua Daarol. "Tzu Chi's financial support has really been such a big help, especially that my books are really expensive." 【Photo by Daniel Lazar】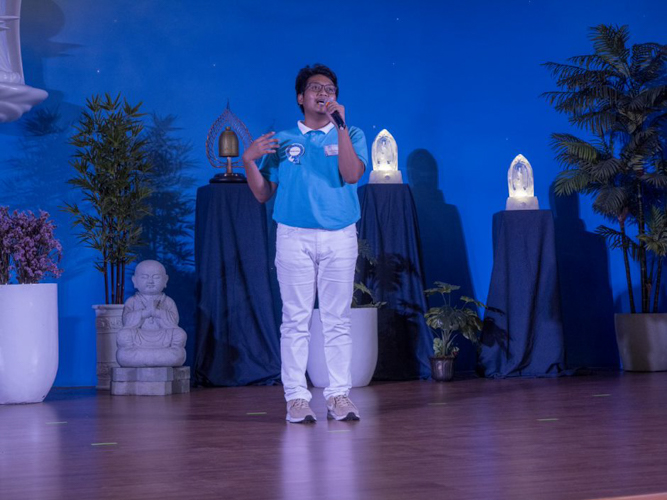 "Let's help other people without expecting anything in return," Daarold tells his fellow scholars. "Let us apply all the lessons we have learned from our Tzu Chi Uncles and Aunties."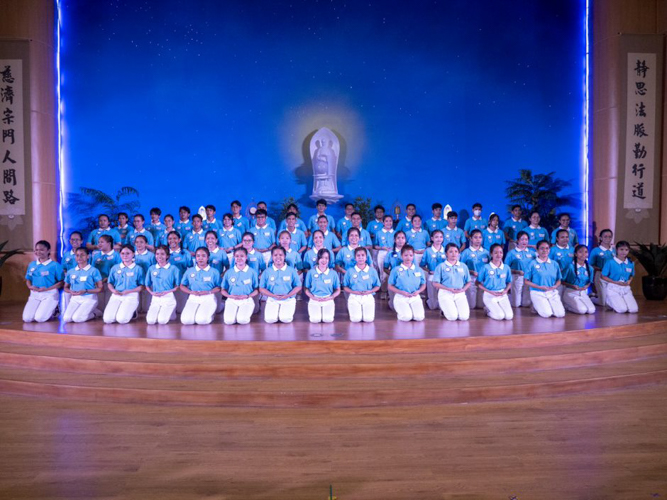 Tzu Chi graduating scholars of batch 2022【Photo by Matt Serrano】
Go Back