Human activities are taking an increasing toll on our planet. As Master Cheng Yen says, "Natural disasters arise from man-made destruction of natural resources. Human beings, in order to enjoy, greedily destroy earth resources…Facing so many disasters, we should inspire kindness, compassion, love, and benevolence. As long as everyone adjusts living habits and behavior, we can mitigate natural disasters."
Tzu Chi volunteers worldwide actively promote recycling to the public, and set examples for others by taking action to conserve resources and reduce carbon footprint. They also encourage and guide the residents in their community to carry out eco-friendly habits and practices in their daily lives to protect the environment. Environmental volunteers come from all walks of life—students, businessmen, government leaders, the elderly, even the partially disabled. By 2016, Tzu Chi counted some 105,457 recycling volunteers, 548 recycling stations and 10,204 recycling points in 16 countries, which host government workers, offices, and even school field trips to educate people on recycling.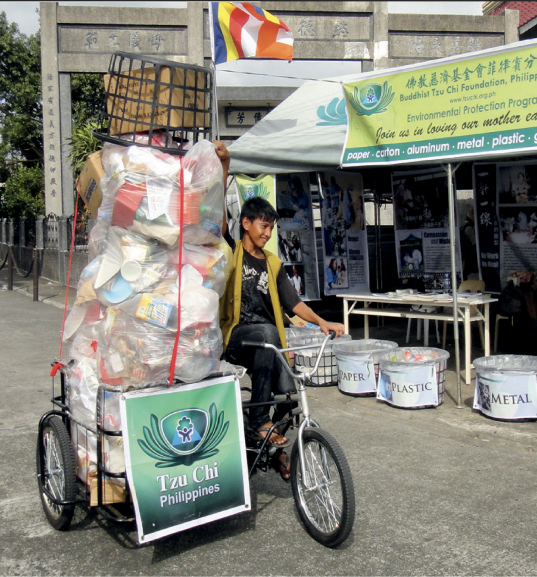 In addition, Tzu Chi actively advocates a meat-free diet and promotes a simpler and more sustainable way of living, which can help mitigate global warming.
TZU CHI PHILIPPINES PROGRAMS