Tzu Chi hosts Chinese New Year blessing ceremony at BTCC
The event marks the first time in two years that Tzu Chi held a live event.
By Joy Rojas
The pandemic may have prevented Tzu Chi Foundation from hosting a live Chinese New Year blessing ceremony for the past two years, but with the easing of quarantine restrictions, volunteers were finally able to organize a blessing ceremony at the Buddhist Tzu Chi Campus (BTCC) in Sta. Mesa, Manila, on February 13, 2022. This year's event was divided into two sessions: the first was the English-Filipino language session at 9 am, the second was the Chinese language session at 2 pm.
Big red lantern hung high at the front of the JingSi Hall in BTCC, a festive sight that local officers from other Tzu Chi chapters, volunteers, donors, and other guests captured on their cellphone cameras.
Volunteers were happy and all smiles to finally visit BTCC after a two-year absence. They placed their hands together in prayer and bowed their heads respectfully before the JingSi Hall, an imposing edifice and site of the former recycling area. This act reminds us of what Master Cheng Yen once said: that even solid structures are able to speak and preach goodness.
A video screening of Tzu Chi's efforts in 126 countries around the world (from Africa and the Middle East to New Zealand and the US) inspired and amazed viewers on Tzu Chi's extensive reach to provide compassion and relief to those in need.
Come the afternoon, guests from the Chinese community arrived with generations of family members—from grandparents to grandkids—in tow. Taiwan Ambassador Michael Peiyung Hsu, his chief of staff, and other officers of the Taiwan delegation to the Philippines were on hand to join in the celebration. Groups were led to the Tzu Chi JingSi Hall where they struck a large gong for luck.
Inside the JingSi Hall where health and safety protocols were observed, guests sat a seat apart for the blessing ceremony. One of the highlights of the event was of Tzu Chi volunteers performing, after a two-year absence, in sign language. Tzu Chi Philippines CEO Henry Yuňez reported on the different activities of Tzu Chi Philippines for the past year and thanked the volunteers and donors for their attendance and support during these difficult times.
As Master Cheng Yen's way of giving blessing and showing gratitude to Tzu Chi people and congregations around the world, red angpao produced with the royalties of the books she published were distributed to all who attended.
Here's hoping that the tiger in the Year of the Tiger successfully drives away the pandemic that has affected everyone's health and lives in the past two years. Let life return to normal and may there be no more disasters in the world.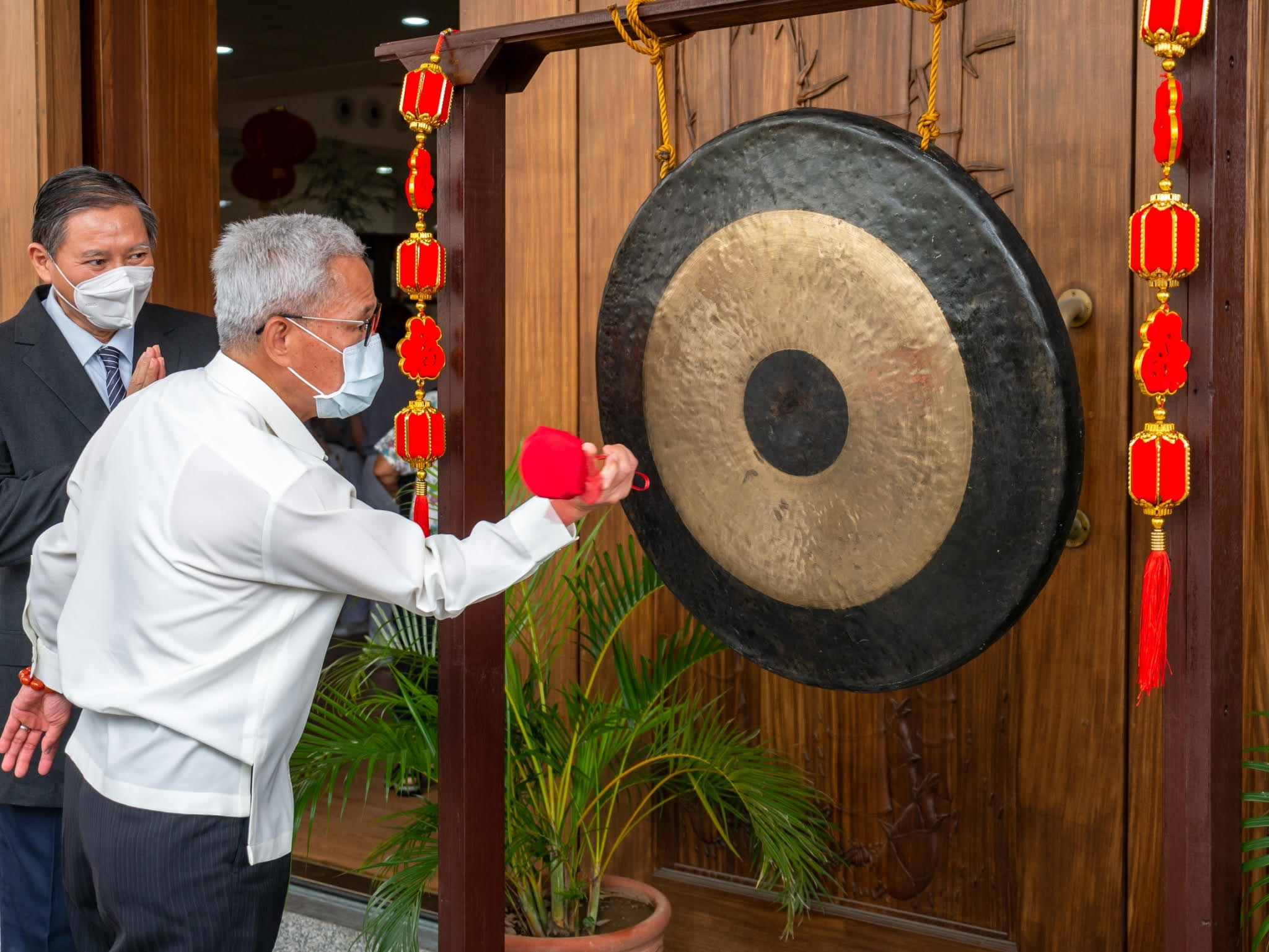 Taiwan Ambassador Michael Peiyung Hsu strikes the gong for good luck outside the JingSi Hall. 【Photo by Daniel Lazar】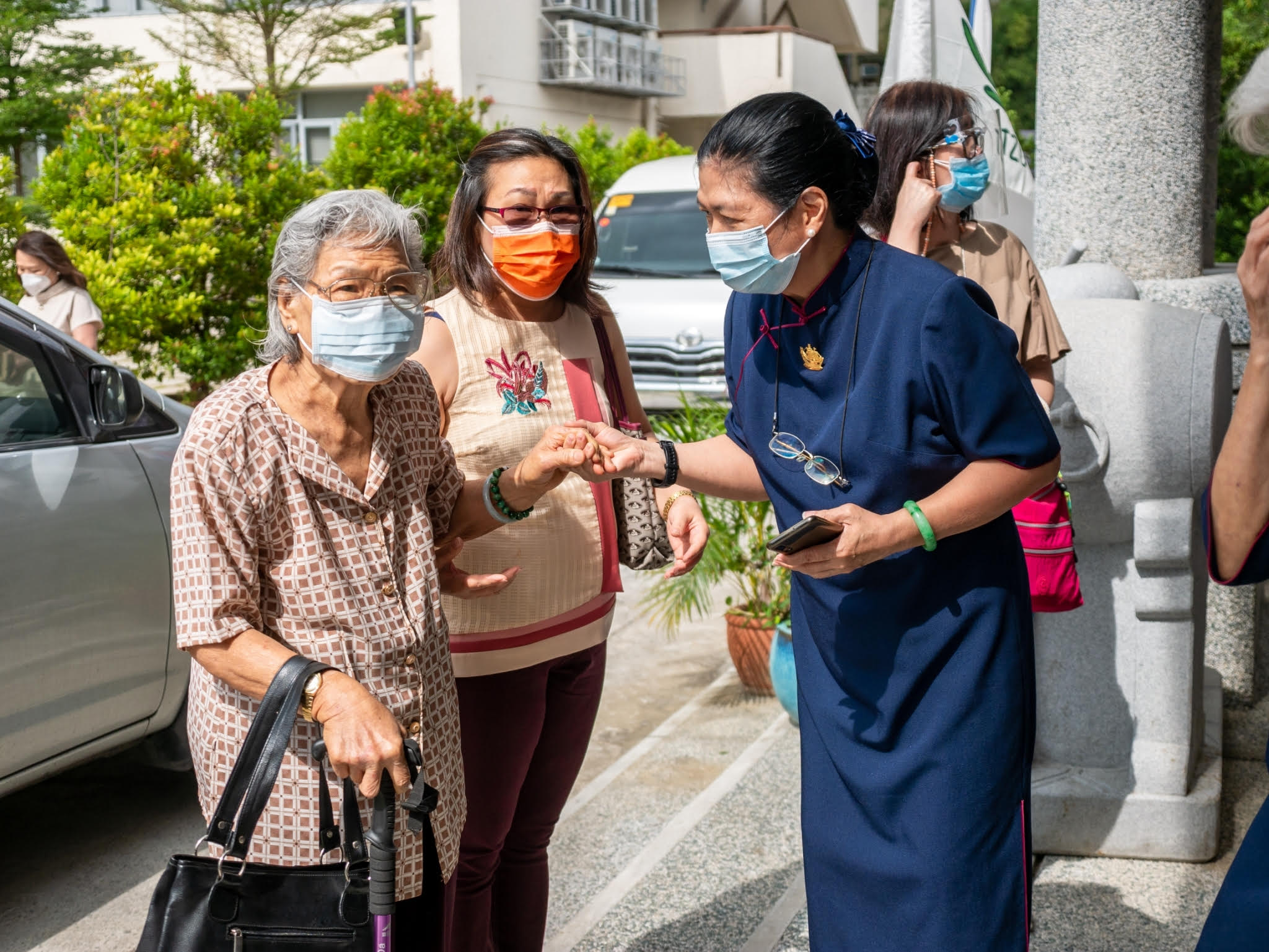 Tzu Chi commissioner Terry Fan (in blue) greets guests attending the blessing ceremony. 【Photo by Daniel Lazar】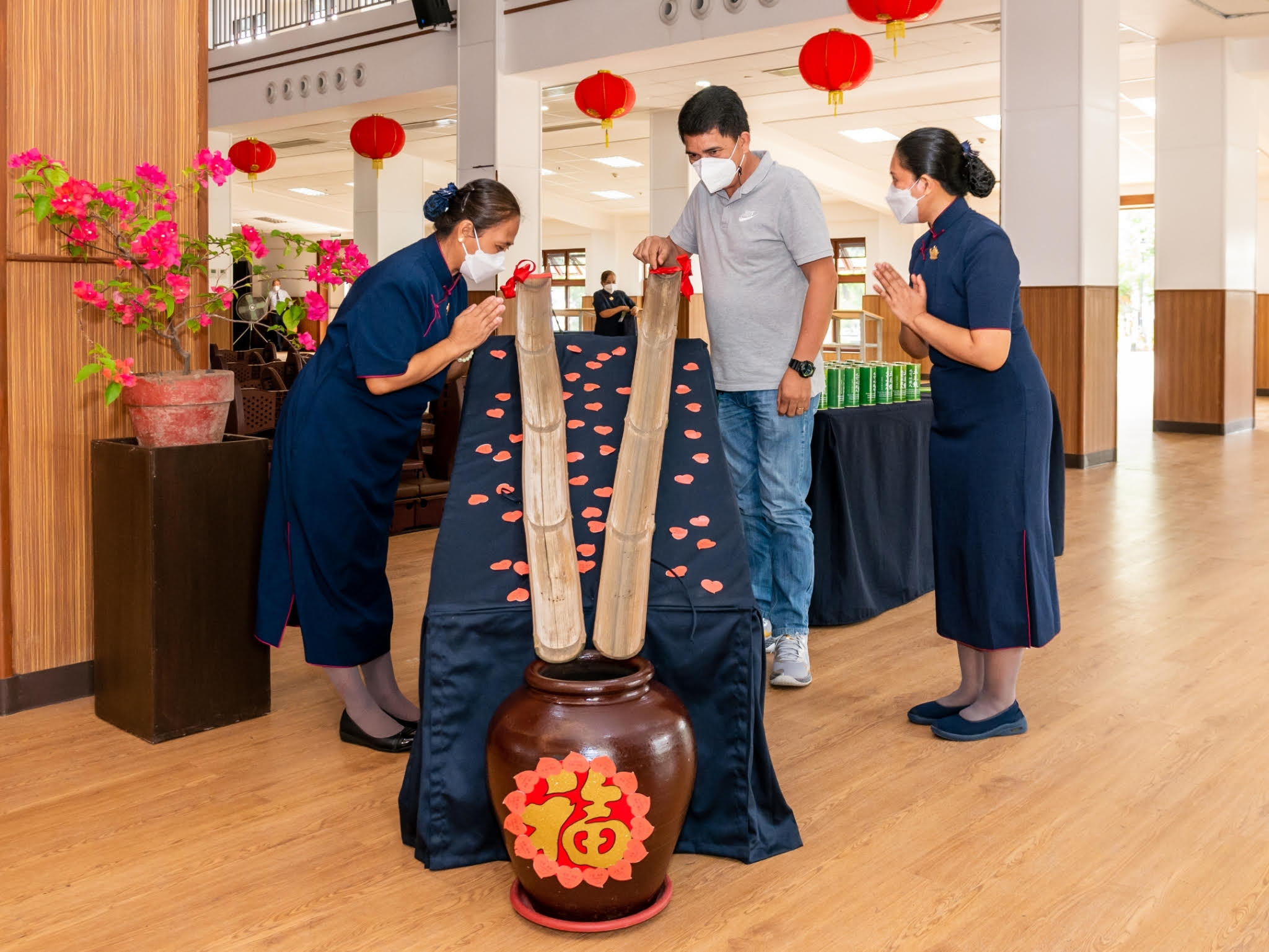 Coins collected by volunteers are dropped on bamboo slides and accumulate in a clay jar. 【Photo by Daniel Lazar】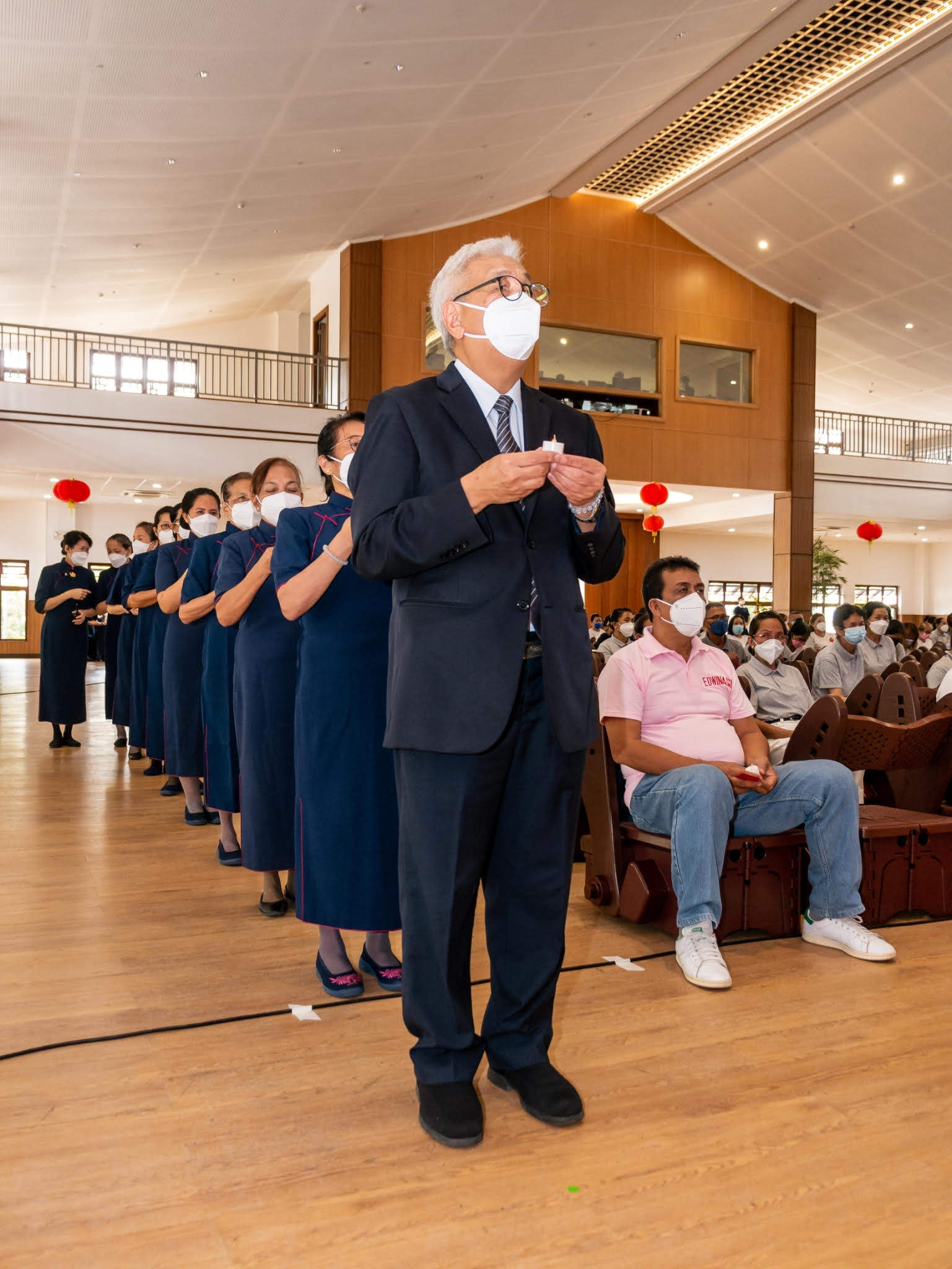 Tzu Chi Philippines CEO Henry Yuňez leads a group of Filipino volunteers in the Lunar New Year blessing ceremony. 【Photo by Daniel Lazar】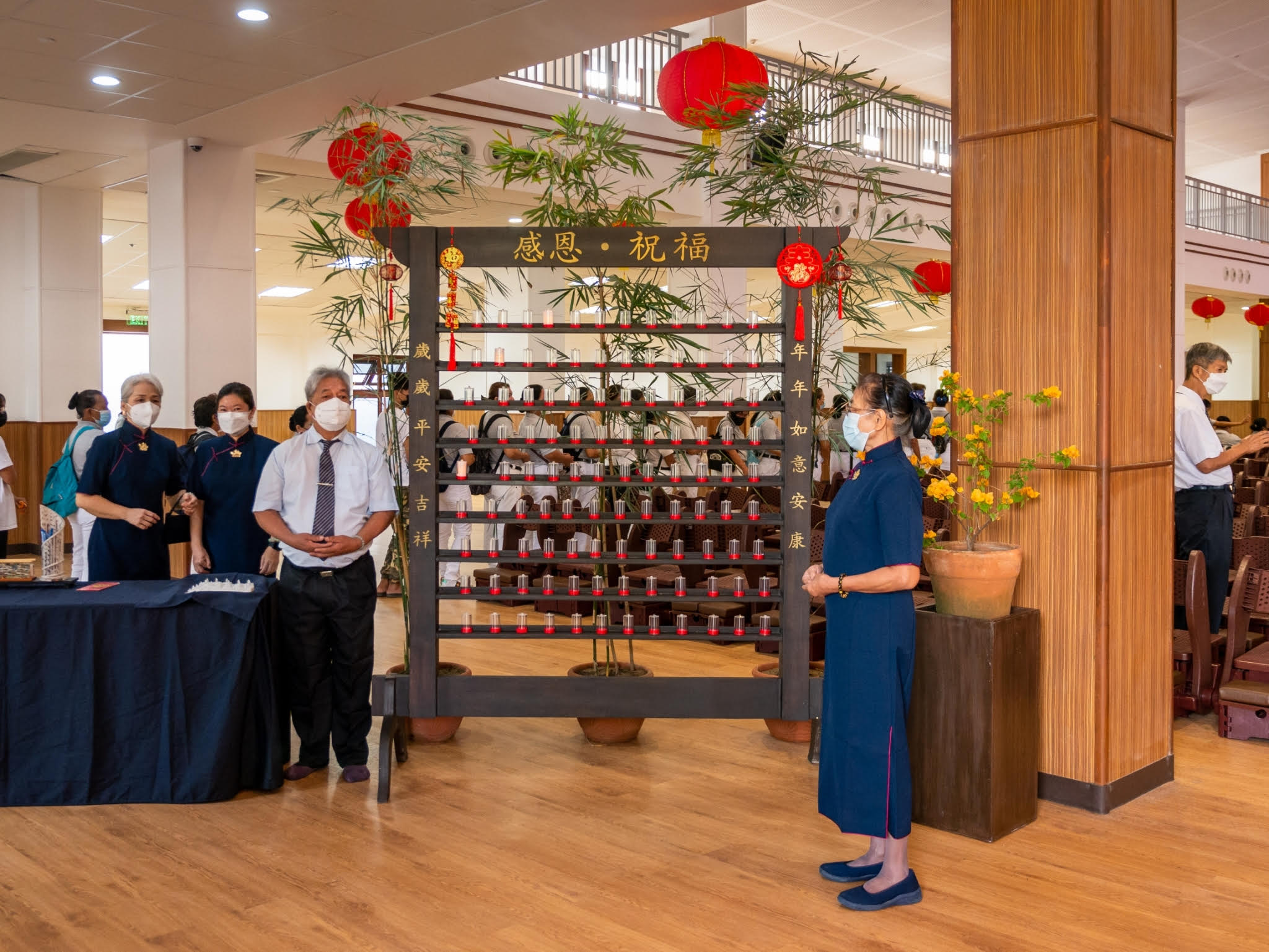 Volunteers invite guests to write their wishes on a piece of paper and place them in one of the bottles of a Wishing Wall. 【Photo by Daniel Lazar】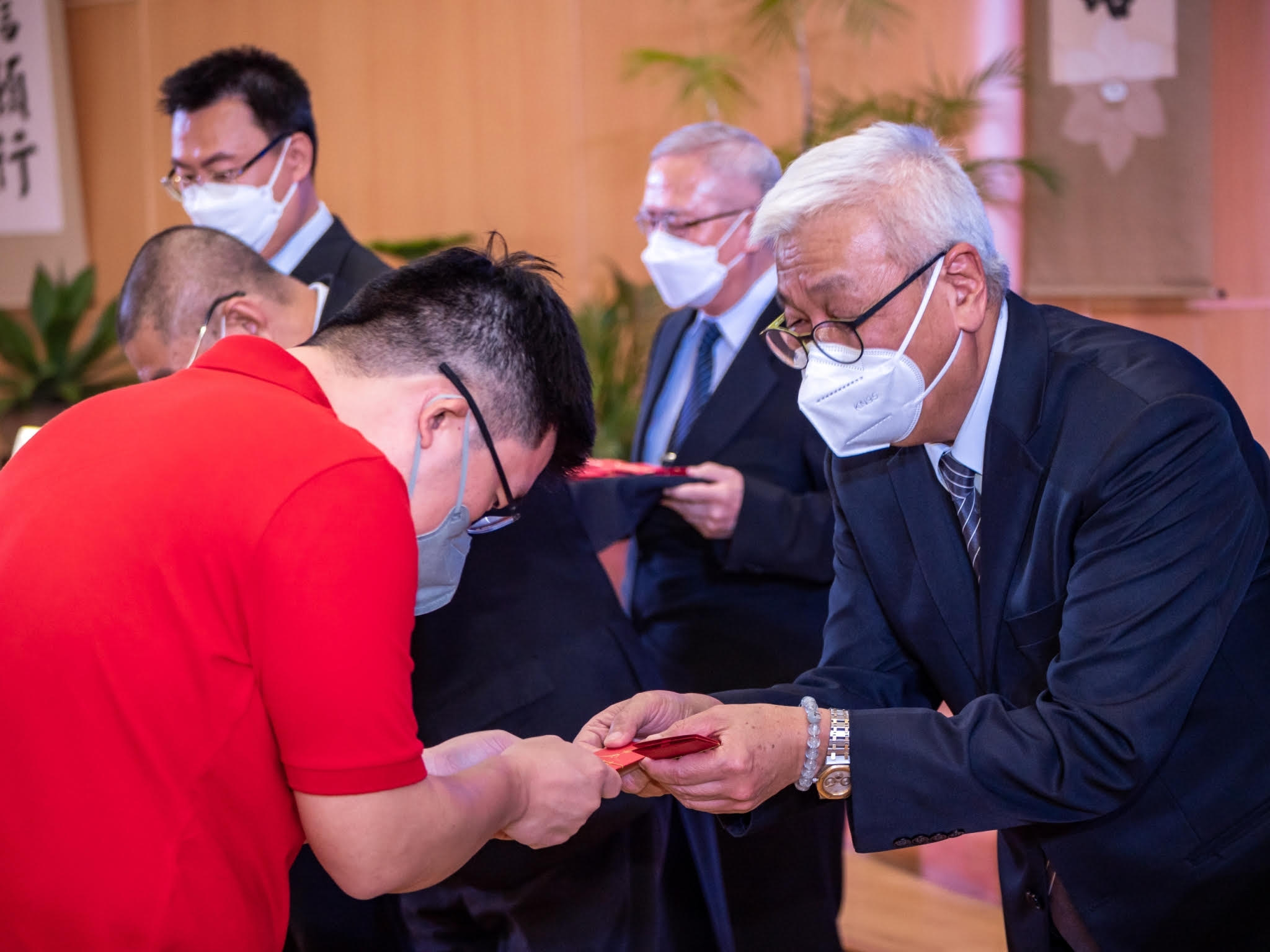 Tzu Chi Philippines CEO Henry Yuňez (right) presents a guest with a red angpao. 【Photo by Daniel Lazar】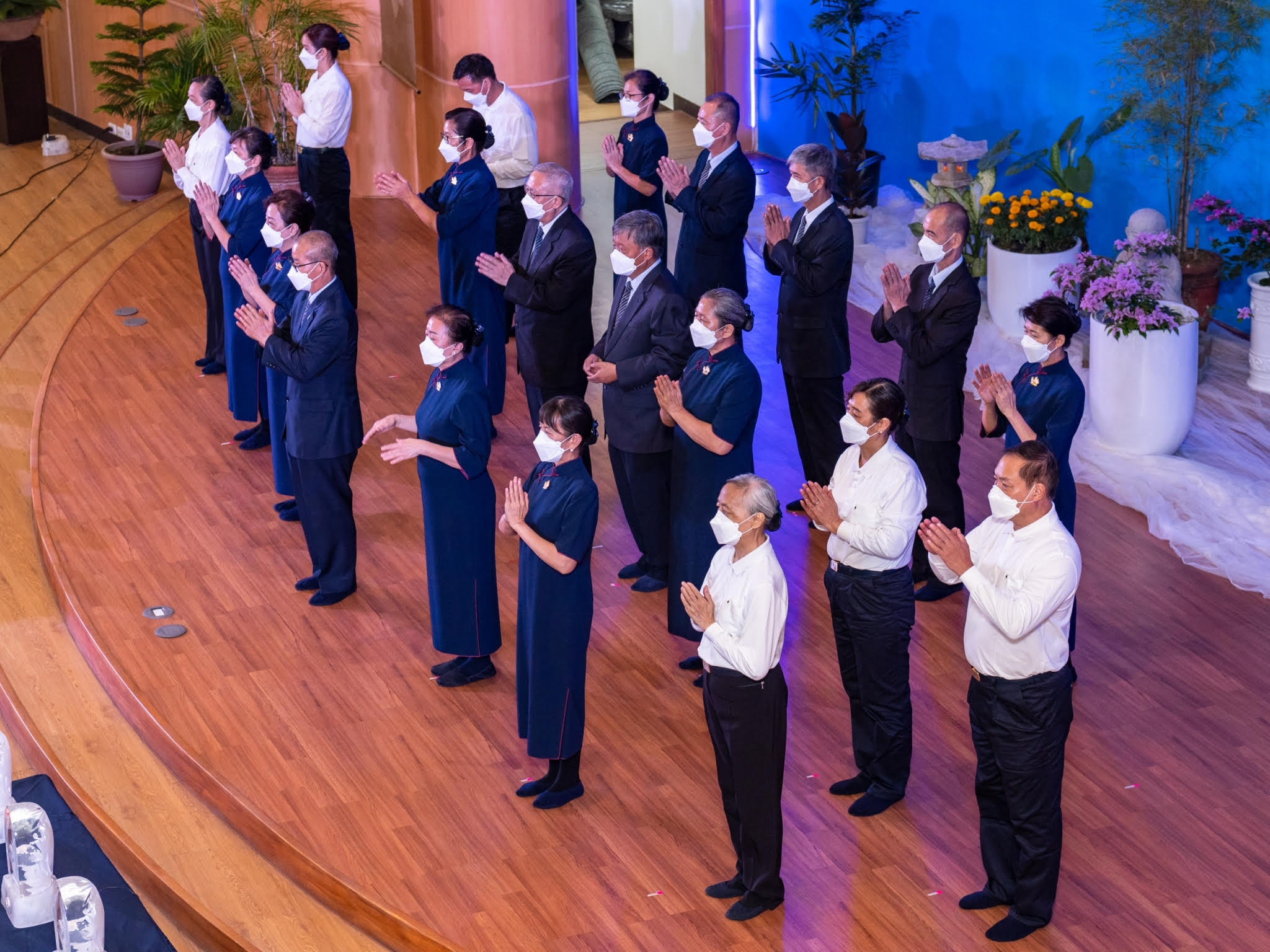 After a two-year absence, Tzu Chi volunteers take to the stage and perform in sign language. 【Photo by Daniel Lazar】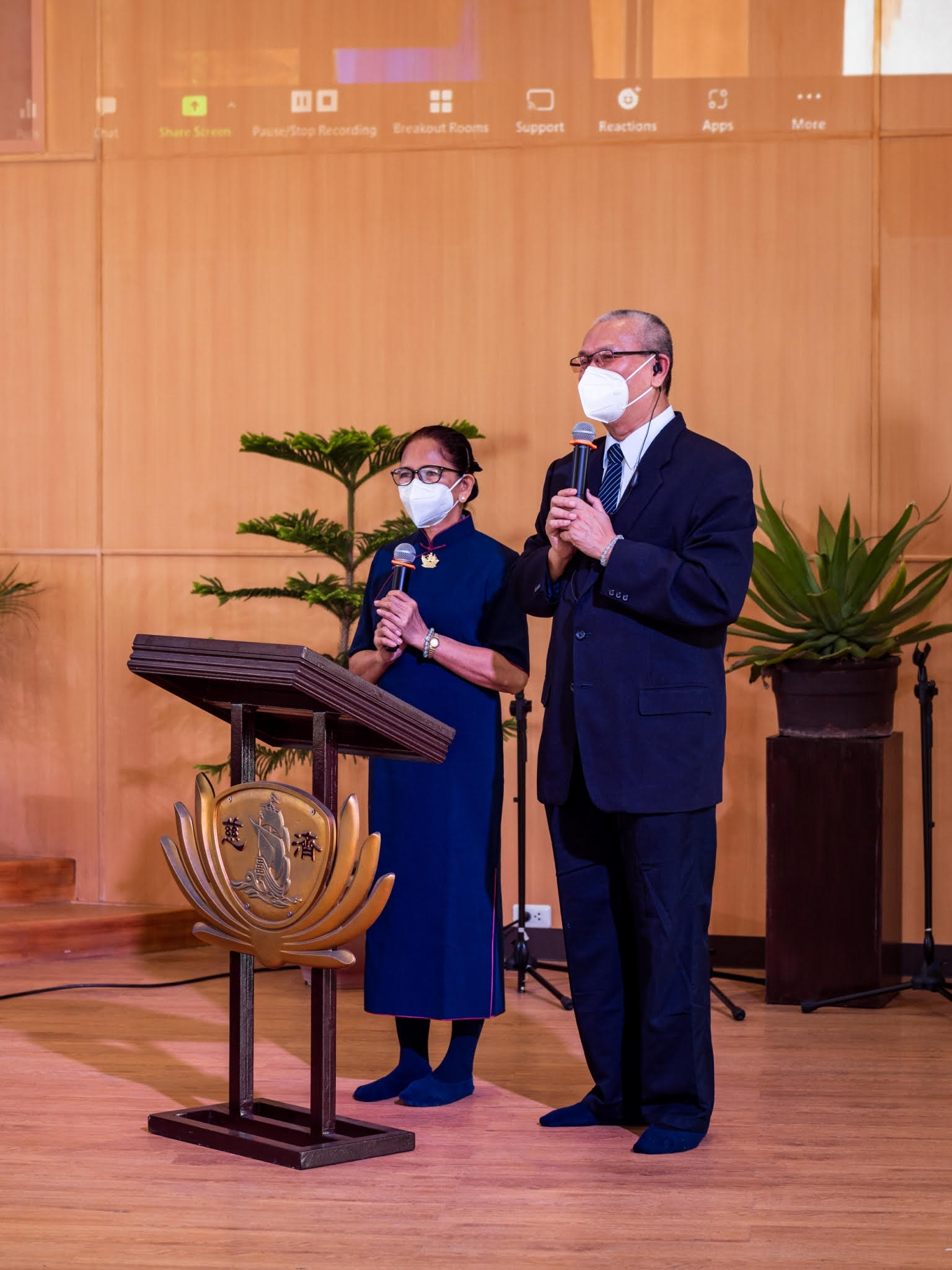 Tzu Chi volunteers Espie Sapin (left) and Lino Sy served as the blessing ceremony's emcees. 【Photo by Daniel Lazar】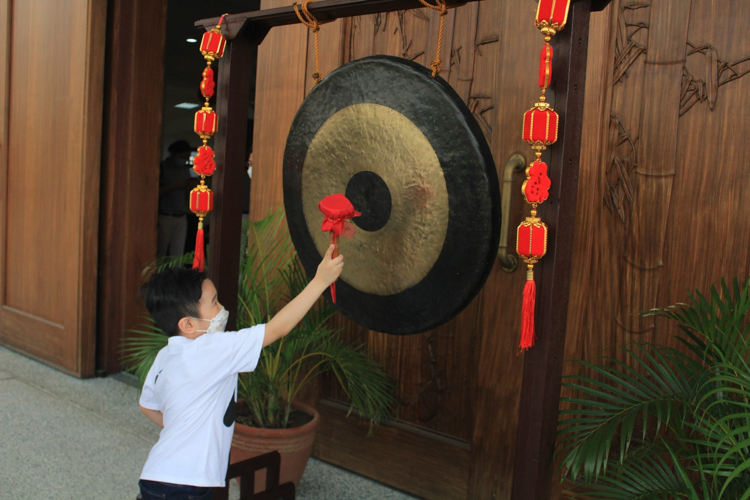 A boy strikes the gong for good luck. 【Photo by Daniel Lazar】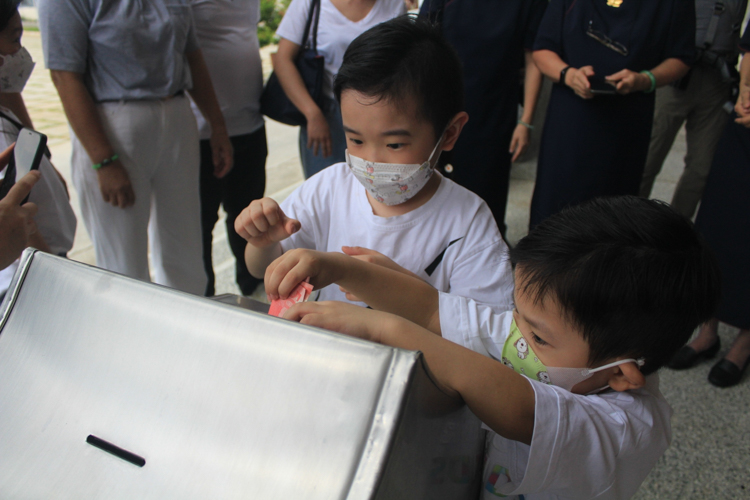 Children drop their pledges in a metal collection box. 【Photo by Kinlom】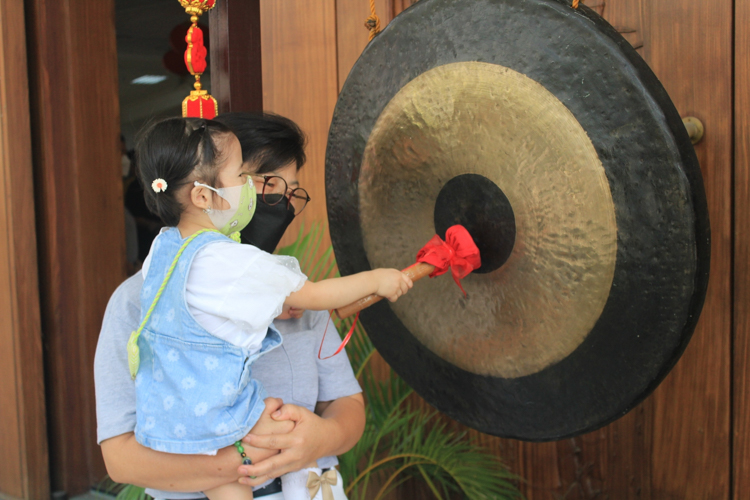 The Chinese New Year Blessing Ceremony drew guests of all ages, including this little girl who made a wish before banging the gong. 【Photo by Daniel Lazar】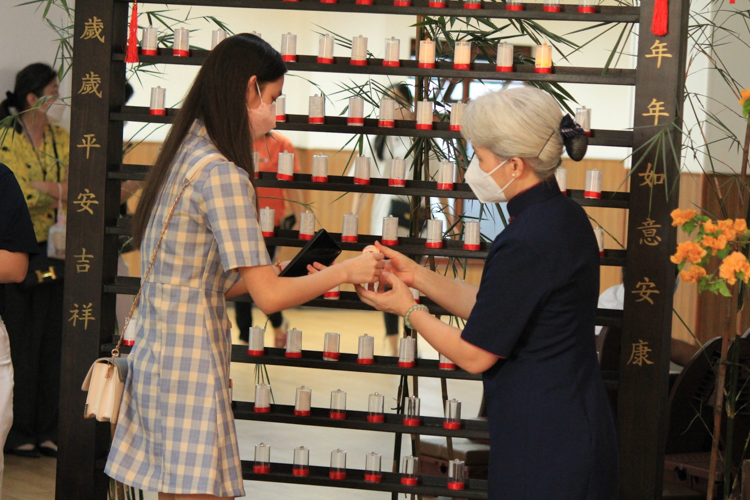 A volunteer receives a guest's wish for the Wishing Wall. 【Photo by Kinlom】
Go Back