Scholars discuss gratitude, positivity in the first Humanity Class of 2023
Elementary, high school, and college scholars came in full force.
By Joy Rojas
Tzu Chi scholars began 2023 with optimism and hope after attending "Cultivating a Positive Mindset," the topic of the first Humanity Class of the year, on January 8 at the Buddhist Tzu Chi Campus in Sta. Mesa, Manila.
Also called "Gratefulness," January's Humanity Class saw scholars come in full force. First- to third-year college scholars, Technical-Vocational scholars, and scholars from Pampanga State Agricultural University gathered for the series of talks at the Jing Si Auditorium. Elementary and high school scholars and their parents attended the session at Harmony Hall. A resume-writing session with volunteer Konrad Chua was included in the class for fourth year and fifth year graduating scholars. And scholars from the provinces joined virtually via Zoom.
Participants reflected on the meaning of gratitude and positivity through Jing Si Aphorisms, short videos on how to be truly happy ("A person who is satisfied with what he or she has is the happiest person in the world"), and activities that had them identifying their strengths and weaknesses and sharing one unhappy event and one grateful event in their lives.
"It's a very timely topic," says volunteer Cindy Balete, who spoke and moderated the class. "Because they're so into technology, their computers and their games, today's youth don't realize there is such a thing as gratefulness."
For this Tzu Chi volunteer, being grateful can happen anytime, anywhere—including in the worst of times. When a bad fall left her with a cut on her right brow, Cindy could have moped and asked, "Why me?" Instead, she considered herself lucky. A doctor friend treated her with a special tape that healed her wound in seven days. "No need for stitches," she says cheerfully. "In life, there are so many things that make you anxious and irritated. Just flip your mindset; think of the positive, and life will be better."
It's exactly this mindset that pulled scholar Cristine Mae A. Udarbe out of a deep depression following the death of her mother from cardiac arrest due to severe anemia five years ago. "I was so devastated, I isolated myself from people for a month because I was really close to her," says Cristine Mae, a Bachelor of Education major in Technology, Livelihood, and Education with Specialization in Information Communication Technology at the Philippine Normal University.
Eventually, the thought of her mother no longer suffering filled Cristine Mae with much relief, acceptance, and gratitude. Her absence also made her step up. "I didn't know anything about housework," says this only child. "My only obligation was to study, study, study." Dividing the chores with her construction worker father, she became independent and self-reliant—two traits born from a tragic event.
For scholar Arvin M. Yanga, there were still reasons to feel grateful despite being diagnosed with pulmonary tuberculosis in 2021. A shout out on Facebook yielded a sizeable pledge from concerned friends. And even if he was a new scholar, the Bachelor of Science in Business Administration major in Marketing Management from Pamantasan ng Lungsod ng Maynila received free medication and supplements from Tzu Chi.
"From there, my outlook changed," says Arvin, the younger of two children of parents who are unemployed. "From that moment, I realized that I had been neglecting my health. Since then, I've been prioritizing it. Health is wealth, and when you take it for granted, it affects other parts of your life and makes it difficult to attain your dreams."
Indeed, if there's anyone who knows how to express gratitude, it's a Tzu Chi scholar. Circumstances in life may have left Cristine Mae and Arvin with limited options, but with a scholarship and their hard work and perseverance, they can become instruments of change and betterment for their respective families and communities.
"I'm beyond grateful. Words are not enough to describe how grateful I am to be a Tzu Chi scholar," says Cristine Mae. "It's not just monetary allowance that benefits us. We gain knowledge, values, and insights that we would not learn in the four corners of the classroom."
"To everyone at Tzu Chi, thank you for making me feel like I am part of the family," says Arvin. "Whenever I'm here, I feel nothing but happiness. I feel light, with no worries, anxieties, and doubts. When you're in Tzu Chi, you will feel loved and special."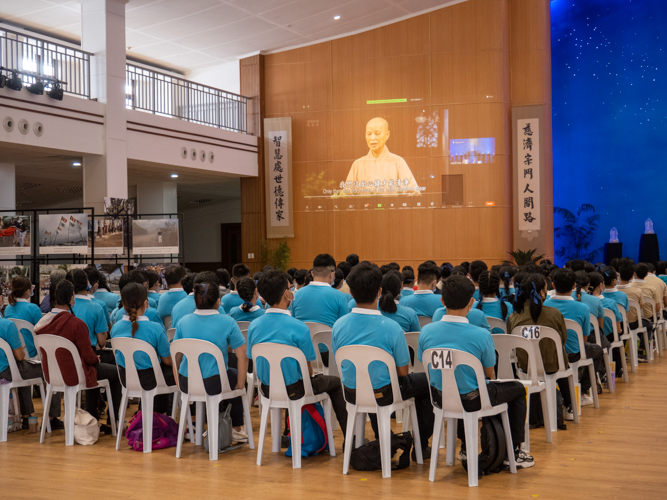 Tzu Chi scholars watch a video of Dharma Master Cheng Yen during Humanity Class at the Jing Si Auditorium. 【Photo by Matt Serrano】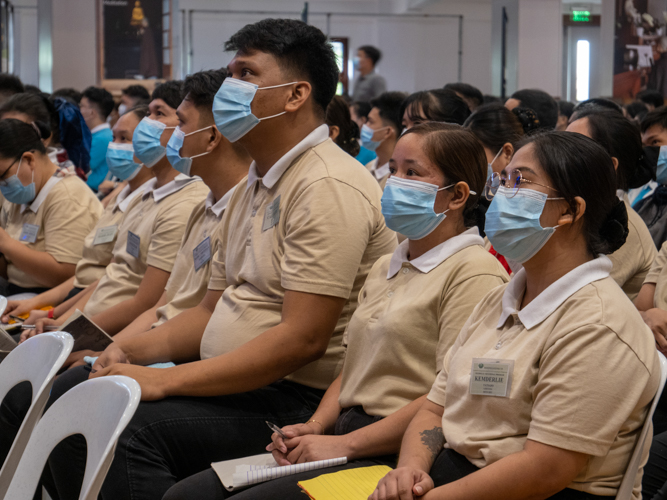 Technical-Vocational scholars attend the Humanity Class on gratefulness and a positive mindset at the Jing Si Auditorium. 【Photo by Matt Serrano】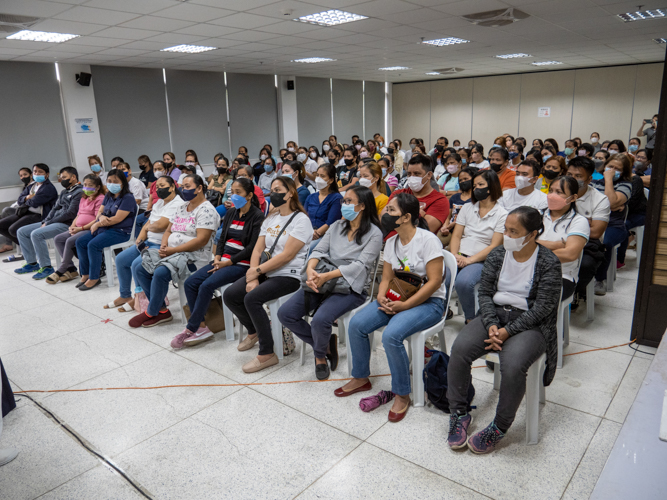 Parents of elementary and high school scholars also attend the Humanity Class. 【Photo by Matt Serrano】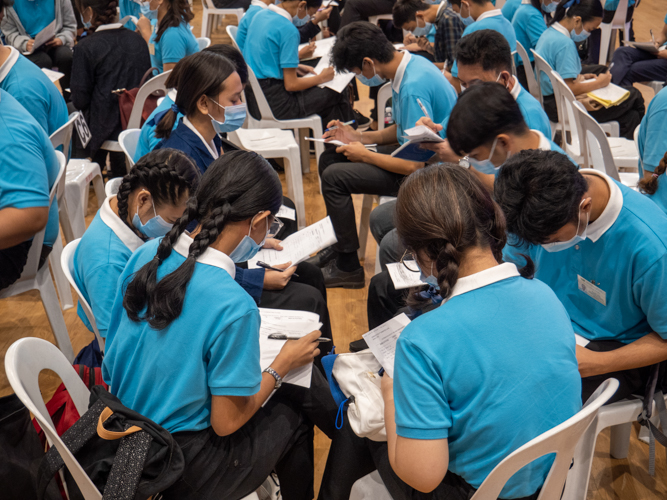 Tzu Chi scholars huddle for group work. 【Photo by Matt Serrano】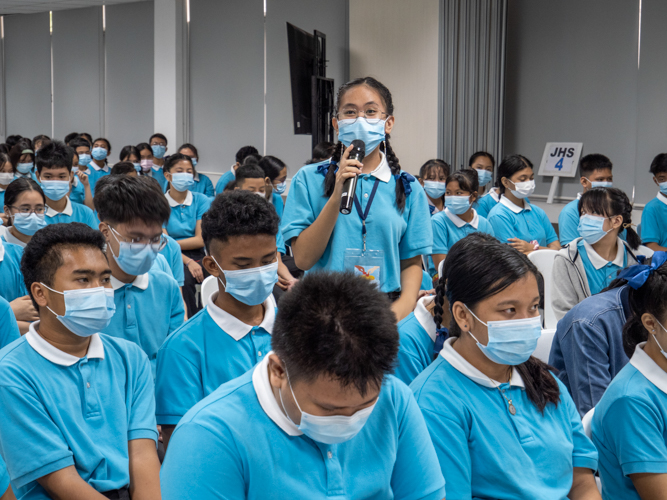 A scholar volunteers during a Humanity Class sharing session. 【Photo by Matt Serrano】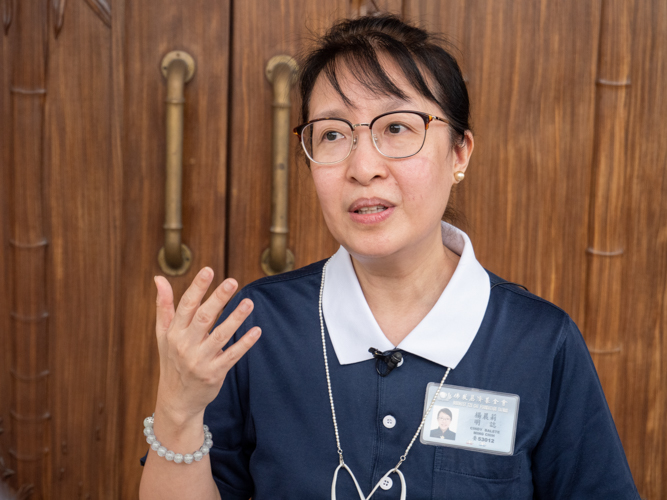 "In life, there are so many things that make you anxious and irritated," says Tzu Chi volunteer Cindy Balete. "Just flip your mindset; think of the positive, and life will be better." 【Photo by Matt Serrano】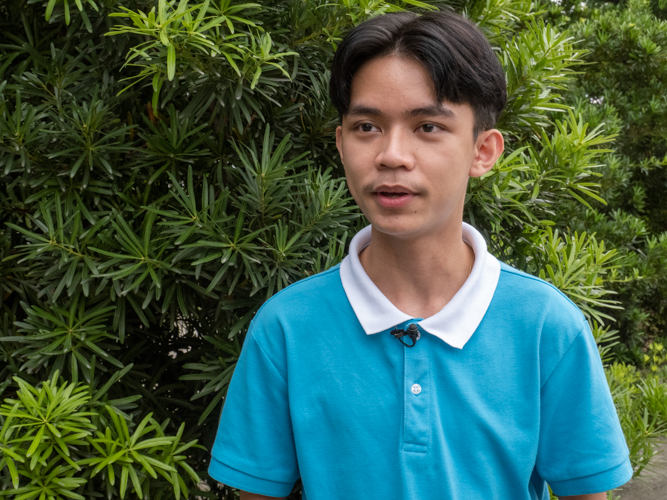 "When you're in Tzu Chi, you will feel loved and special," says Arvin M. Yanga, a Bachelor of Science in Business Administration major in Marketing Management from Pamantasan ng Lungsod ng Maynila. 【Photo by Matt Serrano】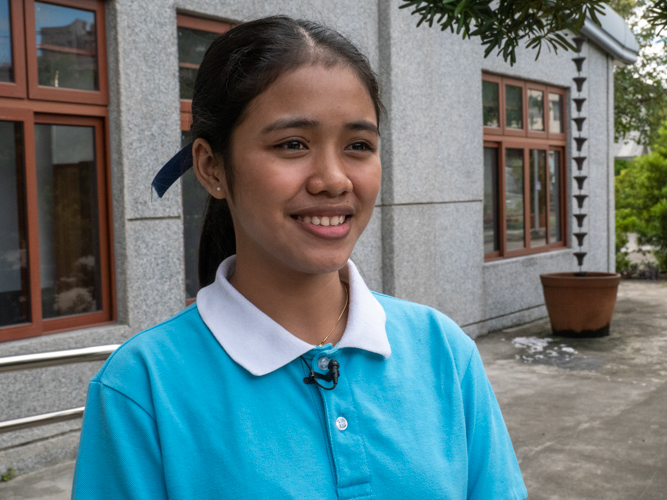 "Words are not enough to describe how grateful I am to be a Tzu Chi scholar," says Cristine Mae A. Udarbe, Bachelor of Education major in Technology, Livelihood, and Education with Specialization in Information Communication Technology at the Philippine Normal University. 【Photo by Matt Serrano】
Go Back