Volunteers return to Bohol, visit Odette-ravaged CPG, Ubay, Tubigon
Homes were washed away, fishing boats destroyed beyond repair.
By Joy Rojas
More than a month since Super Typhoon Odette (international name Rai) wreaked havoc across parts of the Visayas and Mindanao regions, many communities are still picking up the pieces following the massive destruction and loss to property caused by the Category 5 storm.
Tzu Chi volunteers flew to Bohol on January 24 to continue relief efforts for typhoon victims who remain without basic necessities. One of the hardest-hit provinces, Bohol incurred P3.1 billion in damages to its agriculture sector and P583 million in damages to its fishery sector. It also recorded the highest number of deaths (at least 111, as of January 5) among typhoon-affected areas.
On January 25, volunteers surveyed the extent of Odette's wrath in Barangay Agining in the Municipality of President Carlos P. Garcia (Pitogo); Barangays Fatima and Tintinan in the Municipality of Ubay; and Barangays Tinangnan and Matabao in the seaside municipality of Tubigon.
Tinangnan and Matabao remain a sorry sight. Houses made of light materials were either completely washed away by Odette or are close to collapsing, while the wooden bancas (small boats) of fishermen lie in disarray, damaged beyond repair.
Since the storm, Boholanos have learned to make do with the little they have. Those who can't afford to buy potable water boil the dirty water coming out of faucets. For electricity, resourceful residents mounted the blades and motor of an old electric fan on a tree branch. When the wind blows, the blades spin like a windmill, generating power.
"Forty-three of the 58 homes in Barangay Tinangnan's fishing community are totally damaged while the rest are partially damaged," reports Reynaldo D. Envidiado, an officer from the Municipal Social Welfare and Development Office of Tubigon. "In terms of livelihood, 37 of the fishermen's boats are totally damaged and can no longer be of use. For now, the fishermen have found temporary jobs as construction workers and tricycle drivers to support their families."
For fisherman Nestor Browen of Barangay Matabao, selling seashells is how he makes a living these days. "There's nothing left of my house, it was swept away by the storm surge," he says somberly. "The storm took everything, including my boat and fishing net. We're still trying to figure out how we can get back what we lost. For me, a boat is what we need. If we have a boat, we won't have a hard time rebuilding our home."
Help Tzu Chi Foundation help typhoon victims in the Visayas and Mindanao get back on their feet. Your pledge will go a long way in providing them with food, water, and other basic needs.
Kindly send your donations to any of the accounts listed below. Please screenshot your deposit with your name so we can send you your donation receipt.
Please send donation details and deposit slips to cellphone number (0967) 211-0940 (Line/Viber/WeChat accounts) to facilitate the issuance of your official receipt.
Account Name: Buddhist Compassion Relief Tzu Chi Foundation Philippines Inc.
METROBANK Account Number: 163-3-163-07190-9
Account Name: Buddhist Compassion Relief Tzu Chi Foundation Philippines Inc.
BDO Account Number: 011-9-7800-180-0
DSWD AUTHORITY SOLICIATION PERMIT NO. DSWD-SB-00004-2022, Nationwide. Valid until August 5, 2022.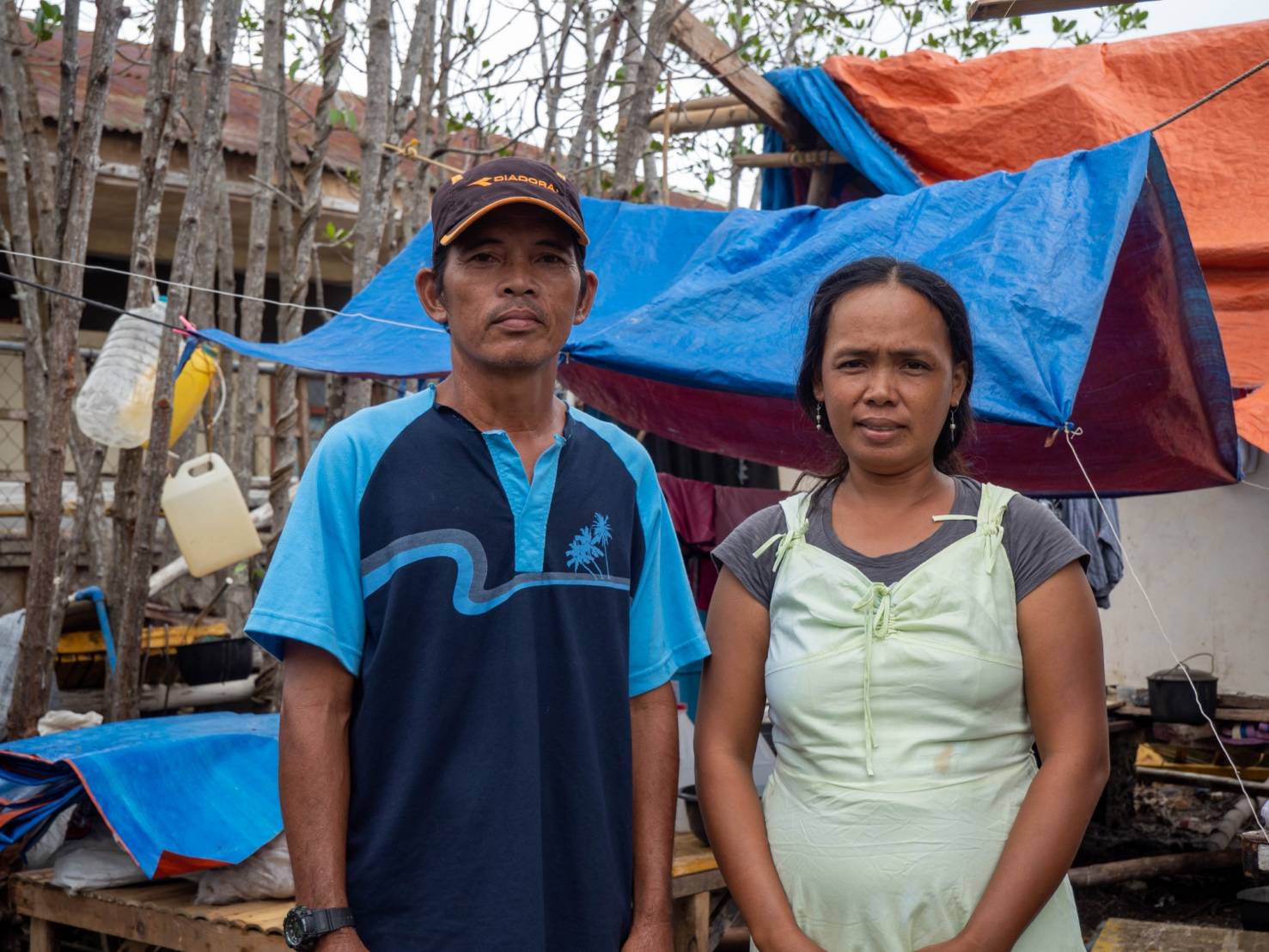 Nestor Browen (left), seen here with wife Jovelyn, lost his home, banca, and fishing net after Odette. The 49-year-old fisherman from Barangay Matabao now sells shells to earn money. 【Photo by Marella Saldonido】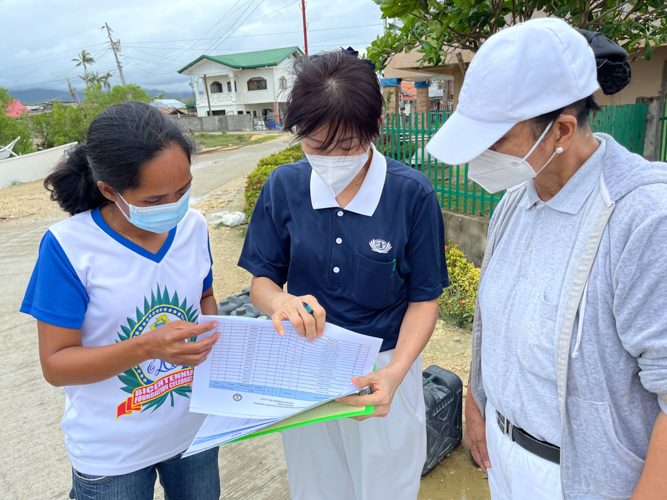 Carmen Calam (first from left), a barangay officer of Matabao, shows a list of residents to Tzu Chi volunteers. 【Photo by Marella Saldonido】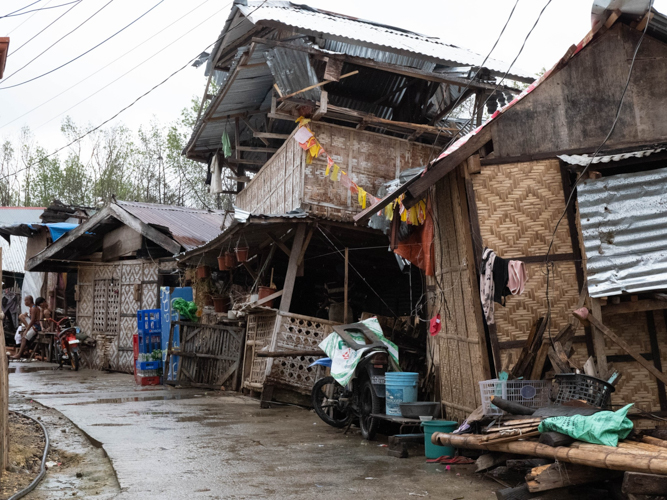 This home survived Odette but it is close to collapsing. 【Photo by Marella Saldonido】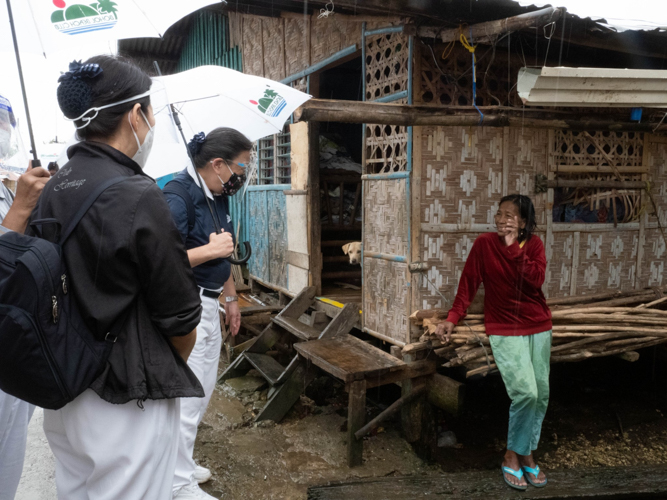 A woman from Tinangnan is being interviewed by volunteers. 【Photo by Marella Saldonido】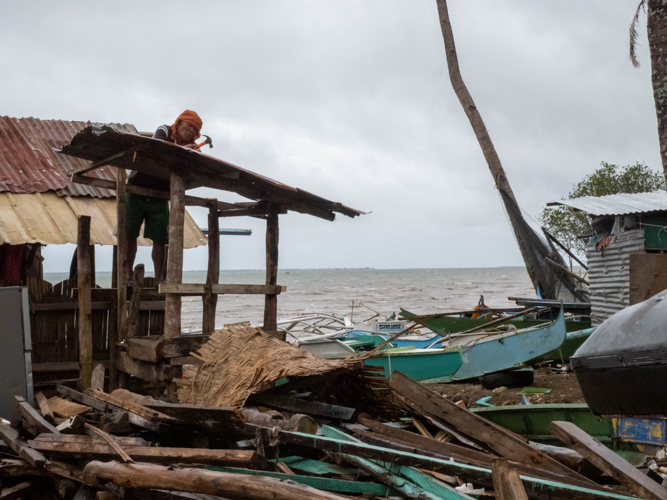 Amid the ruins of Odette, a man begins the lengthy process of rebuilding his home. 【Photo by Marella Saldonido】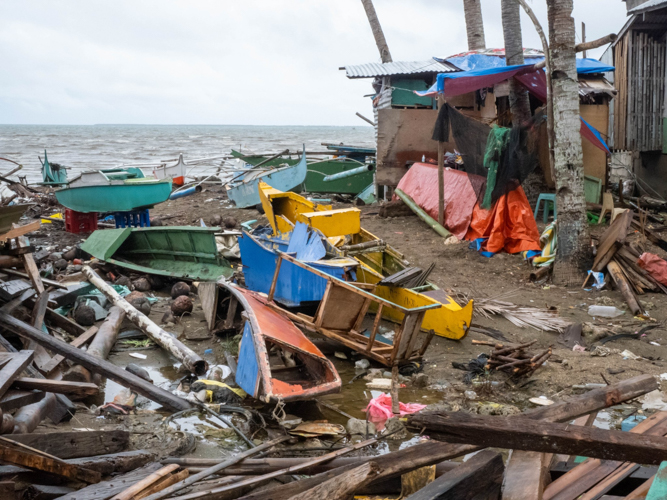 Fishing boats lie in disarray, damaged beyond repair. 【Photo by Marella Saldonido】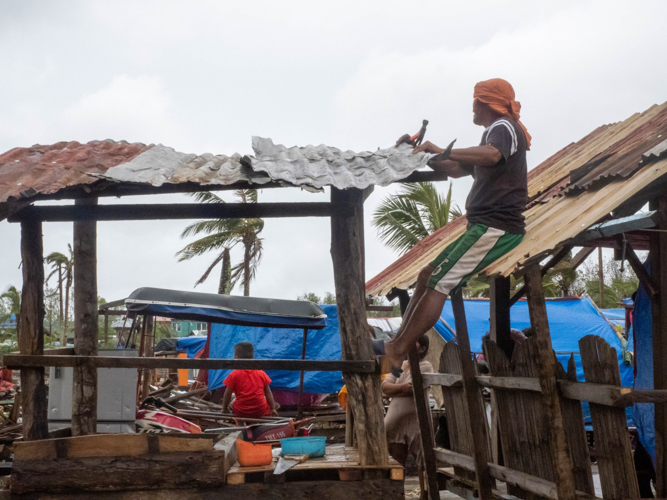 A man pieces salvaged corrugated iron sheets together to make a roof. 【Photo by Marella Saldonido】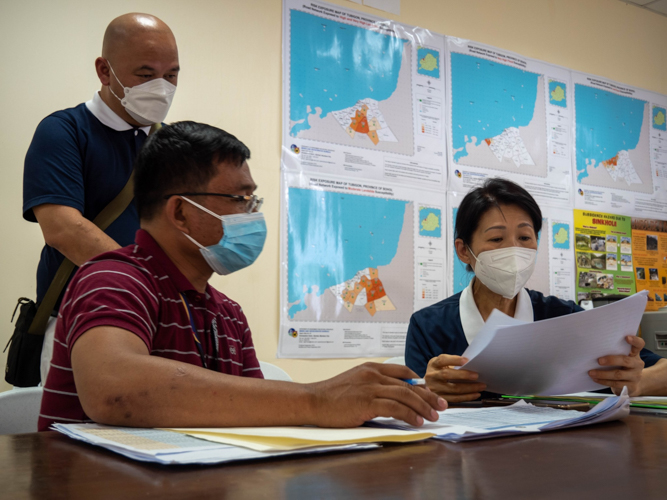 Reynaldo D. Envidiado, an officer of the Municipal Social Welfare and Development Office (MSWDO), discusses the extent of damages in Tubigon with Tzu Chi volunteers. 【Photo by Marella Saldonido】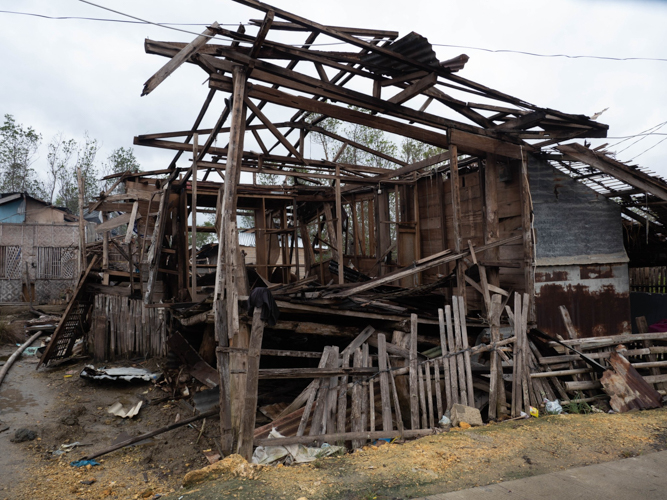 The frame of this house is all that's left following the strong rains and gusty winds of Odette. 【Photo by Marella Saldonido】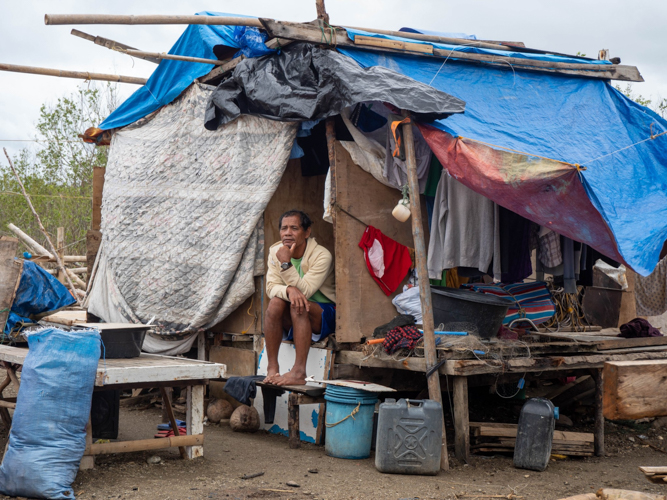 A man ponders his fate and future from the remainder of his home in Tubigon. 【Photo by Marella Saldonido】
Go Back