Eduardo Yañez: From Eye Center beneficiary to Tzu Chi volunteer
After a much-needed cataract surgery at the Tzu Chi Eye Center, Eduardo Yañez shares his time and efforts as a way of saying thanks.
By Joy Rojas
As a relatively new volunteer to the Tzu Chi Foundation, Eduardo Yañez is up for anything. One minute, this quiet presence at Tzu Chi events is taking pictures of an out-of-town rice relief distribution—the next minute, he's hauling the 10-kg sacks of rice himself. For this 62-year-old retired artist, no task is too tough or small for him to handle.
"I feel happy," says Yañez of his volunteer work. "I help people and at the same time I can return the kindness that Tzu Chi showed me."
Yañez was diagnosed with cataract in his right eye, a condition he discovered late, as the vision in his left eye was still good. Surgery was a necessity, but out of the question. The hospitals he called charged anywhere from P80,000 to P100,000, "and I couldn't afford it," he says.
Hope came through a member of the PWD (Persons with Disability) ministry of his parish, who told him about the Tzu Chi Foundation Eye Center, which sponsored his eye operation. Yañez took a chance, contacted the center, and as luck would have it, his request was approved. In February 2021, he underwent cataract surgery with Tzu Chi Eye Center Medical Director and TIMA (Tzu Chi International Medical Association) volunteer doctor Bernardita Navarro as his attending physician.
"It was quick," recalls Yañez of the procedure and its instant results. "After 30 minutes, she had me cover my left eye with my right hand then held up fingers before my right eye for me to count."
Except for tests to clear him for surgery and a mandatory swab test, the procedure was free. His wife Susie, who was also approved for cataract surgery (which was postponed due to the lockdowns), is awaiting her schedule.
"That's why whenever Tzu Chi calls me to volunteer, I go right away!" he says with a laugh. He was first assigned to help with the traffic of people during Tzu Chi's vaccination program last July at the Buddhist Tzu Chi Campus (BTCC) grounds in Sta. Mesa, Manila. Since then, he has participated in rice relief distributions in Quezon City, Caloocan City, and Montalban, Rizal.
"It's a noble endeavor," he says of the foundation's charitable programs. "So many people are benefiting from it."
The same may be said of his volunteerism in other sectors. In addition to Tzu Chi, he shares his time and efforts with his barangay, a cooperative, and his parish, where he is in charge of its PWD ministry. The father of 37-year-old Gabriel, who has cerebral palsy, understandably has a soft spot for the differently abled.
For Yañez, there is no limit to the help he can offer. "I want to pay forward all the blessings that are given to me," he says, when asked how long he plans to do volunteer work. "We may not be financially blessed, but we are blessed in so many other ways, and I appreciate that."
Help Tzu Chi help others by sending your pledges to the following Tzu Chi Foundation bank accounts. Any amount is greatly appreciated:
Metrobank:
Account Name: Buddhist Compassion Relief Tzu Chi Foundation Philippines Inc. Account Number: 163-3-163-07190-9
BDO:
Account Name: Buddhist Compassion Relief Tzu Chi Foundation Philippines Inc.
Account Number: 011-9-7800-180-0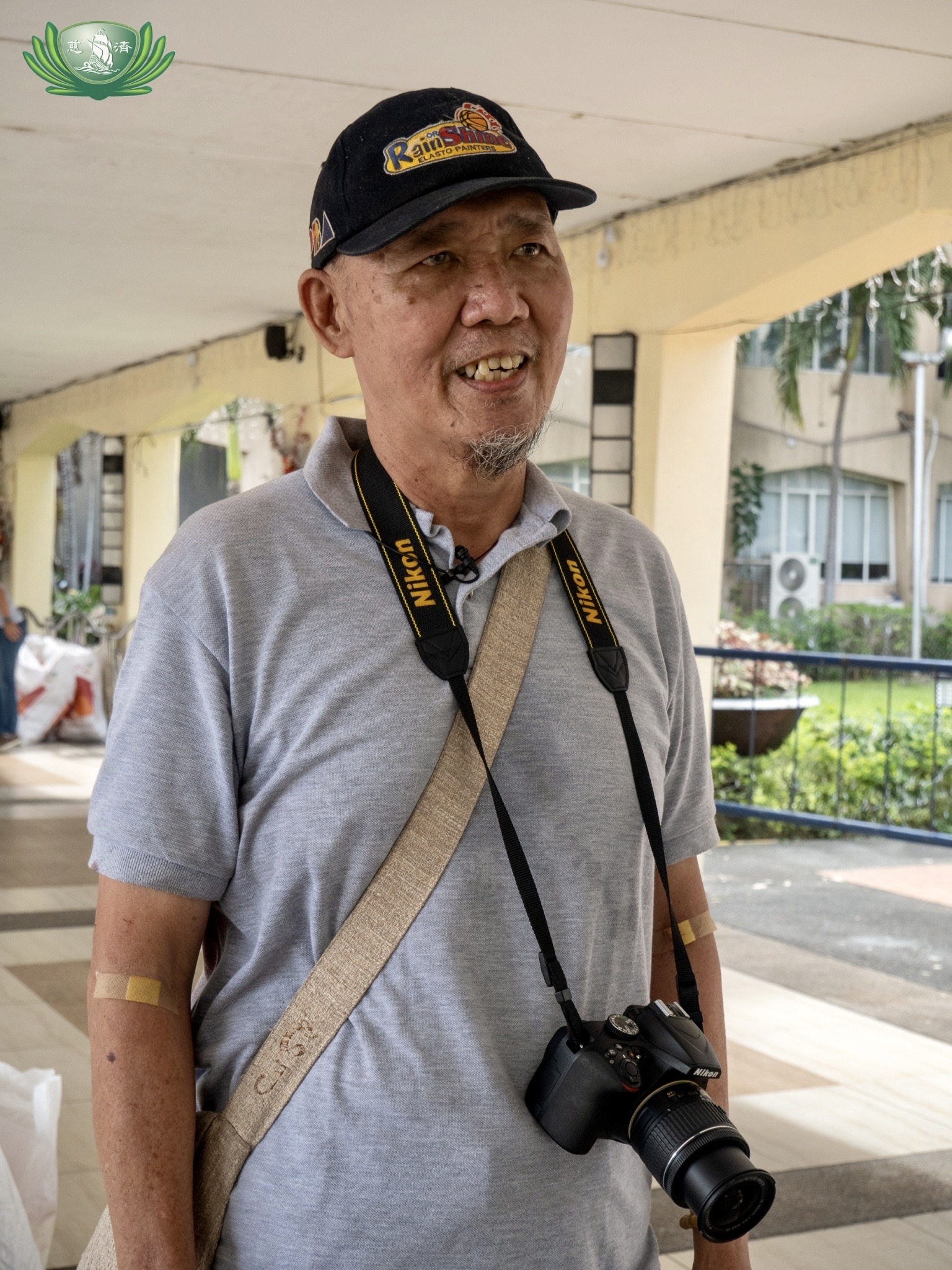 A beneficiary of the Tzu Chi Foundation Eye Center, Eduardo Yañez volunteers to Tzu Chi's many events "to return the kindness that Tzu Chi showed me." The retired artist helps in any way he can. One minute he'll be taking pictures of a rice distribution event, the next minute he'll be hauling 10-kg sacks of rice himself.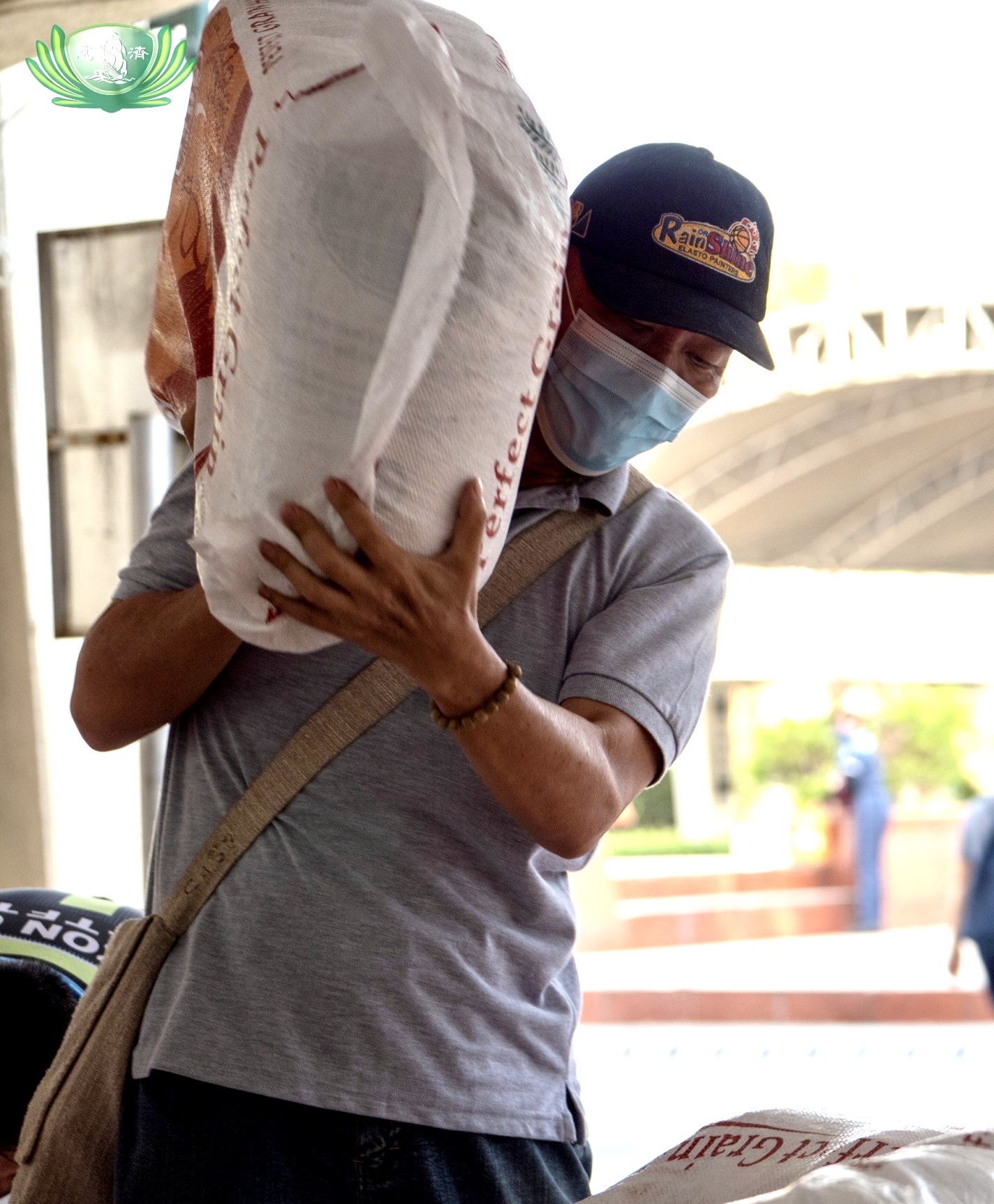 Volunteer Eduardo Yañez assists in unloading a truck of sacks of rice for beneficiaries.
Go Back