The impact of Humanity classes
Monthly Humanity classes inspired former scholar Daniella Diana Macogue to put Master Cheng Yen's teachings to practice.
By Joy Rojas
Having been part of Tzu Chi Foundation for most of his life, Kinlon Fan has heard about the life story of Dharma Master Cheng Yen and her humble foundation numerous times, as told by volunteers.
So, when it was his turn to share Tzu Chi's history with 69 new scholars in a Humanity Class held on October 8 at the Buddhist Tzu Chi Campus in Sta. Mesa, Manila, he touched on other topics of interest to those unfamiliar with the 57-year-old organization.
"I focused on the common terminologies used in Tzu Chi and explained what Buddhism is, since we are a Buddhist organization," says 27-year-old Kinlon, who flew to Hualien in June for his certification as a member of Tzu Chi's Faith Corps. The son of volunteer Terry Fan, he was 9 when he joined Tzu Chi, first through its kiddie camp then through Tzu Chi Youth. "I also explained what the logo of Tzu Chi stands for and the meaning behind certain practices done in the foundation."
"Based on our discussion, I think the scholars learned a lot about how Tzu Chi started from nothing to an organization with thousands of volunteers," he adds. "I hope they absorb all of the teachings of Dharma Master Cheng Yen and support Tzu Chi's missions of charity, medicine, education, and humanistic culture.
"Through this path, I hope scholars inspire others to join this organization, talk about what Tzu Chi has been doing, and eventually become certified volunteers."
That appears to be the path 23-year-old Daniella Diana Macogue is taking. The daughter of a laborer, she applied for a Tzu Chi scholarship when her father and two siblings lost their jobs during the early stages of the pandemic in 2020.
Ultimately, the scholarship that covered her three years as a BS Social Work major at the Unibersidad de Manila provided more than financial support.
"It helped me mentally too," she says. "The monthly Humanity classes enhanced my values."
As proof, Daniella's immediate plans following her recent graduation center around those she loves. "My dream is to work, to help my family, and hopefully have our house fixed," she says.
She has also embraced the Tzu Chi culture of volunteerism. Daniella was involved in the activities committee of the Scholars Camp in July, and assisted scholars and volunteers in this Humanity class. "It's my way of giving back, and because I miss Humanity classes and want to participate again in the program," she says.
Daniella's volunteerism is just a stepping stone to her real goal. Inspired by the selfless acts of compassion and relief displayed by Tzu Chi staffers, she handed an application to work with the foundation that helped her get quality education for a chance at a better life.
"To the new scholars, follow the teachings of Master Cheng Yen," says this former scholar. "No one can take these teachings away from you. They will stay in your heart and mind. No matter where you go, you'll always remember them."
"To Tzu Chi, I hope you maintain your programs in medicine, education, and humanitarian deeds," she adds. "You have such a huge impact on the people you help. You change lives."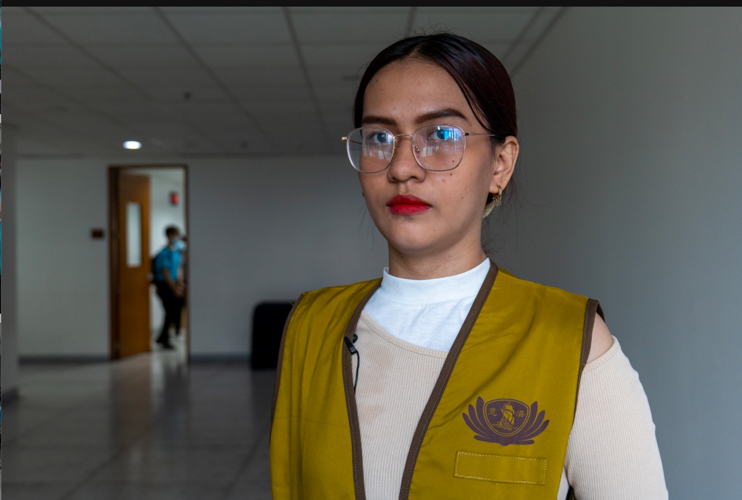 Daniella Diana Macogue's three years as a Tzu Chi scholar inspired her not only to volunteer for activities but to find work with the foundation that extends compassion and relief to its beneficiaries. 【Photo by Jeaneal Dando】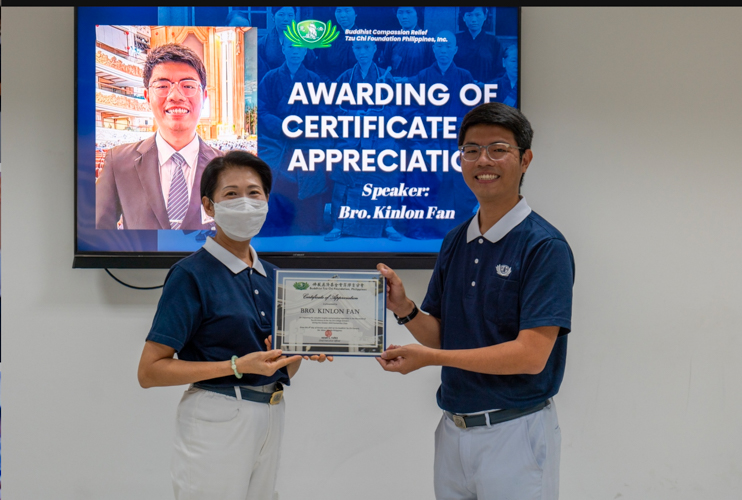 Tzu Chi Philippines Deputy CEO Woon Ng (left) presents Kinlon Fan with a certificate of appreciation for delivering a talk on the history of Tzu Chi Foundation and Dharma Master Cheng Yen. 【Photo by Jeaneal Dando】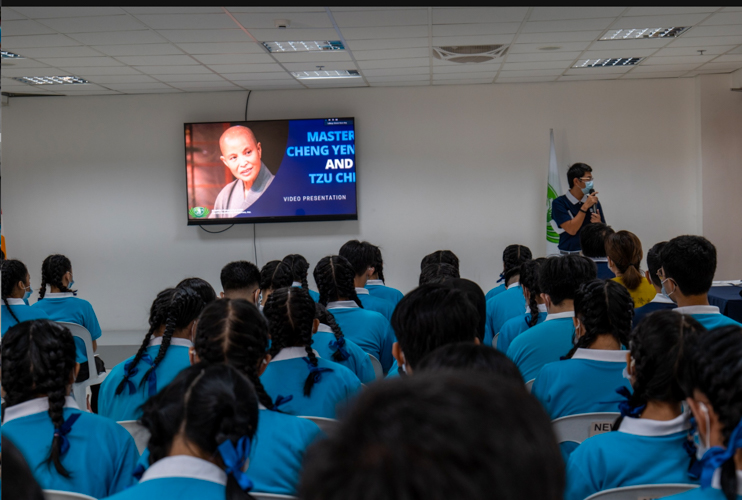 As the volunteer assigned to talk about the life story of Dharma Master Cheng Yen and the Tzu Chi Foundation, volunteer Kinlon Fan (standing front, right) included discussions on Buddhism and typical practices observed in the foundation. 【Photo by Jeaneal Dando】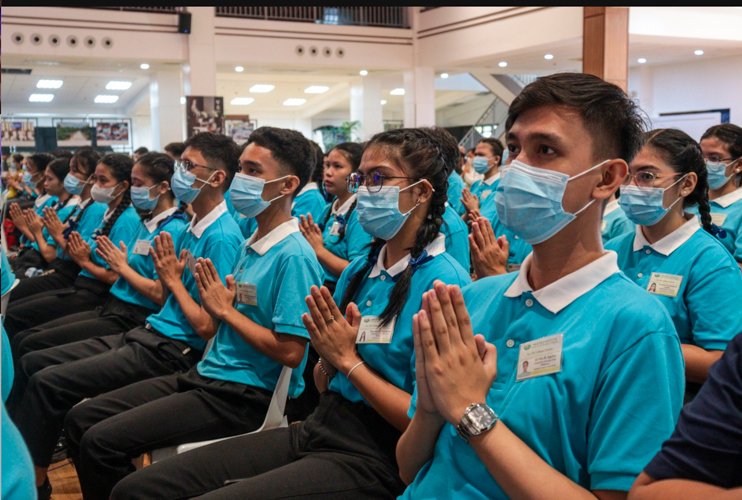 Exercising discipline and restraint, the new batch of Tzu Chi scholars put their palms together in prayer. 【Photo by Jeaneal Dando】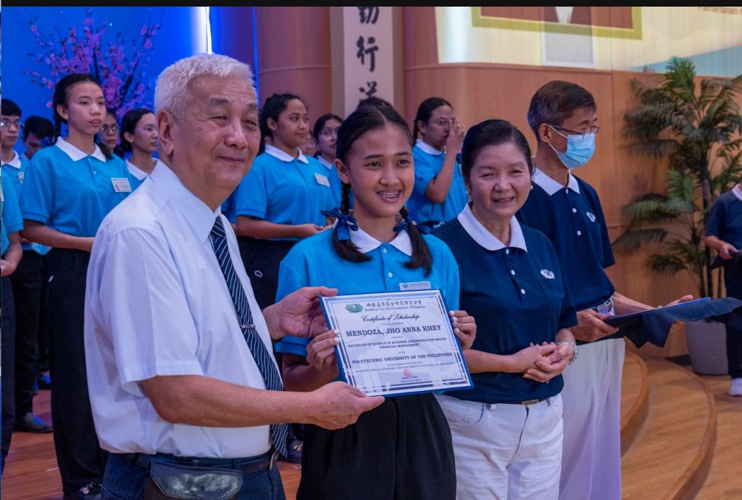 Flanked by Tzu Chi Philippines CEO Henry Yuñez (left) and Tzu Chi Education Committee Head Rosa So (right) Jho Anna Khey Mendoza of Polytechnic University of the Philippines was one of 69 new scholars to receive a certificate in an awarding ceremony held on October 8. 【Photo by Jeaneal Dando】
Go Back