Volunteers offer rice, hope in Inabanga, Bohol
841 households in three barangays were completely destroyed.
By Joy Rojas
On December 15, 2021, the day before Super Typhoon Odette (international name Rai) pummeled parts of the Visayas and Mindanao regions, Maria Evelyn Socajel, an officer from the Municipal Social Welfare and Development Office of the Municipality of Inabanga, Bohol, alerted residents living in island and coastal barangays to seek higher ground. The municipality even provided vehicles to ferry families to evacuation centers.
"Many availed of our help but others chose to stay. They said they were used to typhoons and that it would change its course," she says. "This after we warned them that Odette could be classified as a Signal Number 5 Monster Typhoon."
True enough, the unforgiving Odette spared no one in her path, and left billions of pesos in damages to property and livelihood. In Barangays Sto. Niño, Lawis, and Ondol in Inabanga, a total of 841 households were completely destroyed.
Tzu Chi volunteers visited these barangays as part of their continuing mission to offer assistance to Odette-affected communities. In response to local officials' call for immediate relief, volunteers distributed 10-kg rice and kitchen utensils to 75 families in Inabanga on December 21,2021.
Romelina Añabieza from Barangay Sto. Niño was among those who claimed rice relief. Speaking to Tzu Chi volunteers, the 38-year-old wife of a fisherman and mother of four points to what's left of her house: a few pieces of wood.
"Our means of livelihood is gone, our things were swept away by the flood," says Añabieza, whose family engages in bunsod (fish cage fishing). For now, she relies on food relief from local government and foundations like Tzu Chi.
Miropo Husalam, who also received 10-kg rice from Tzu Chi, can only look up to the sky for the strength to go on. Like his neighbors in Barangay Lawis, the 64-year-old fisherman lost his home and boat to Odette. Now forced to live in the neighborhood basketball court, he accepts the occasional construction job to make ends meet.
If he had his way, he'd like to secure a new pump boat. "Once we can fish again, we can earn enough money to buy materials to rebuild our home," he says.
Maricris Japos from Barangay Ondol was one of the last people to arrive at the evacuation center. Her mother, who had difficulty getting into the municipality's service vehicle, cooked food for the family before they boarded a tricycle with a few of their belongings.
At the elementary school that served as a temporary shelter for evacuees, Odette's winds were so fierce, they blew the roof off the building. That's when Japos thought her end was near.
"At the height of the storm, I said to myself, 'If one of us dies, I prefer we all die,'" says the 28-year-old single mother in tears. "It's too painful if one of us is gone. It made me realize the importance of family."
The experience proved a humbling one as well. Coming home to nothing, the Japos family graciously accepted help wherever they could get it. When neighbors shared their flood-soaked rice, Japos made it more palatable by drying it under the sun before cooking and eating it. "We also gave food to our neighbors and helped each other out even if we had little."
And so, when even a little rain makes her anxious, she finds comfort and security in her family. "It rained hard on Christmas and New Year. The wind was so strong and we had no power. But we were happy," says Japos, who finally manages a smile. "Even if we only had candles and a lamp it was okay, as long as we were together."
Tzu Chi volunteer also visited Barangays Tugas, Taytay, and Campao Occidental in the Municipality of Getafe, and Barangays Tuboran and Puerto San Pedro in the Municipality of Bien Unido.
Help Tzu Chi Foundation help typhoon victims in the Visayas and Mindanao get back on their feet. Your pledge will go a long way in providing them with food, water, and other basic needs.
Kindly send your donations to any of the accounts listed below. Please screenshot your deposit with your name so we can send you your donation receipt.
Please send donation details and deposit slips to cellphone number (0967) 211-0940 (Line/Viber/WeChat accounts) to facilitate the issuance of your official receipt.
Account Name: Buddhist Compassion Relief Tzu Chi Foundation Philippines Inc.
METROBANK Account Number: 163-3-163-07190-9
Account Name: Buddhist Compassion Relief Tzu Chi Foundation Philippines Inc.
BDO Account Number: 011-9-7800-180-0
DSWD AUTHORITY SOLICIATION PERMIT NO. DSWD-SB-00004-2022, Nationwide. Valid until August 5, 2022.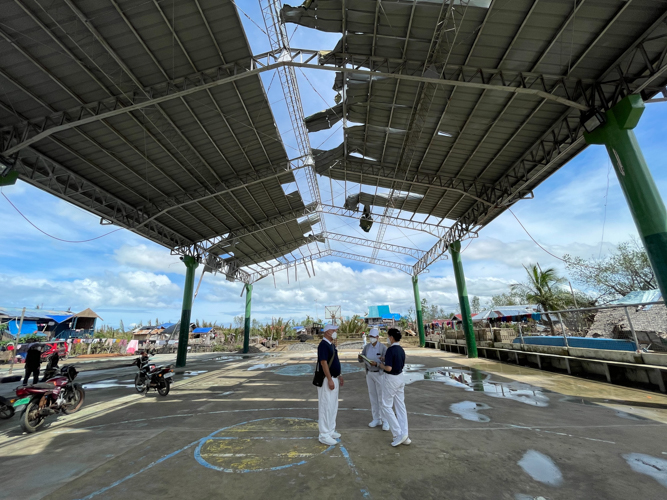 Odette's fierce winds blew off parts of the roofing of this multipurpose court in Sto. Nino, Inabanga【Photo by Marella Saldonido】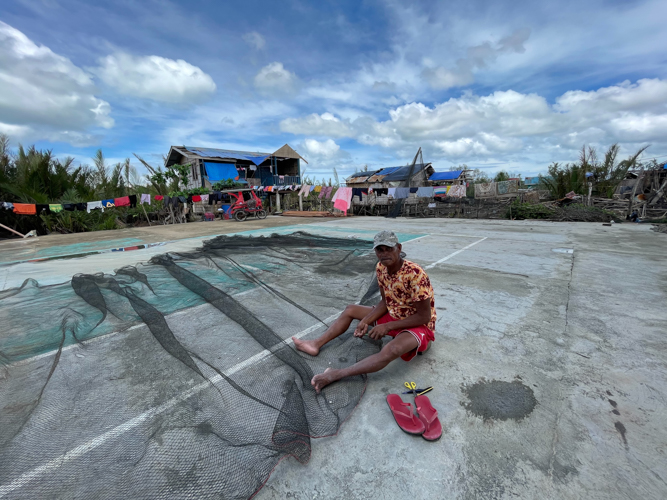 A fisherman mends his net in Barangay Sto. Nino. 【Photo by Marella Saldonido】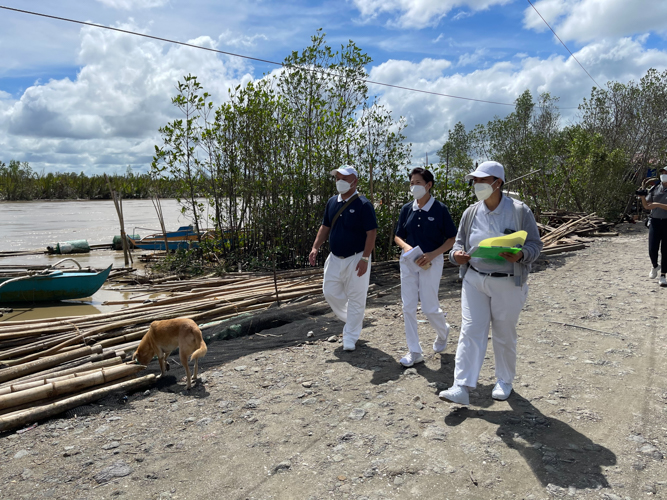 Volunteers go on foot to a site visit in Barangay Sto. Nino. 【Photo by Marella Saldonido】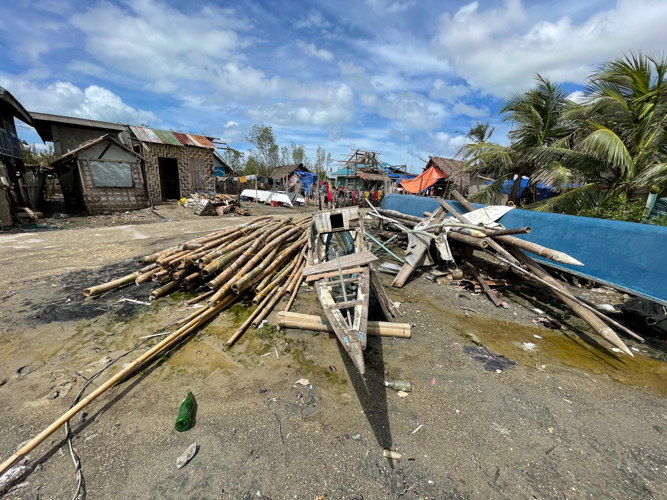 Destroyed by Odette, a fishing boat lies next to discarded debris. 【Photo by Marella Saldonido】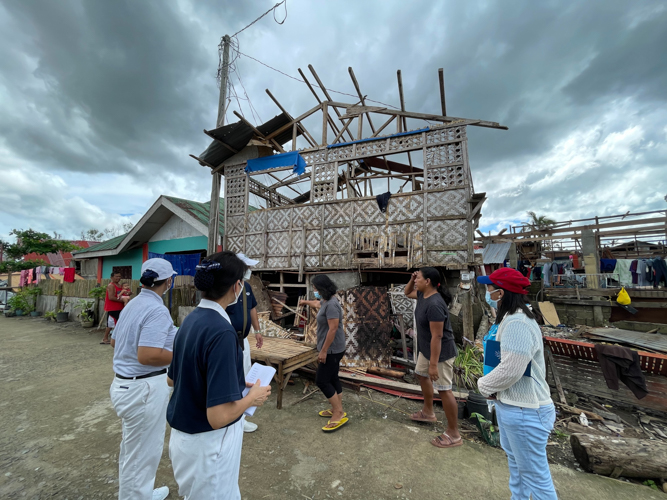 Maria Evelyn Socajel (in red cap), an officer from the Municipal Social Welfare and Development Office of the Municipality of Inabanga, Bohol, guides volunteers around the devastation in Barangay Lawis. 【Photo by Marella Saldonido】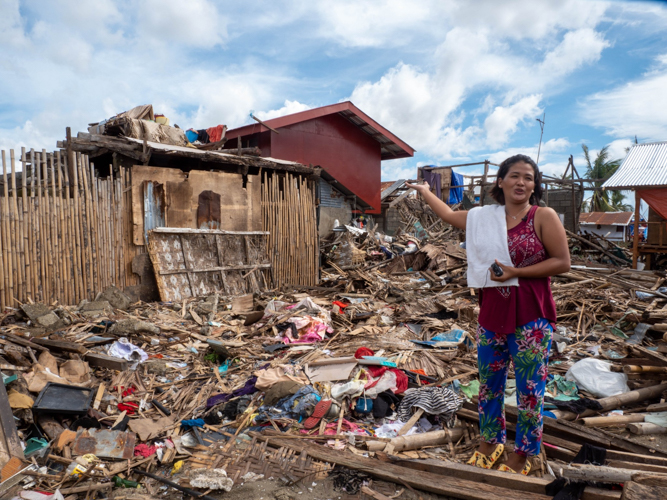 Maricris Japos from Barangay Ondol shows what she and her family came home to after spending the night in an evacuation center: personal belongings reduced to debris. 【Photo by Marella Saldonido】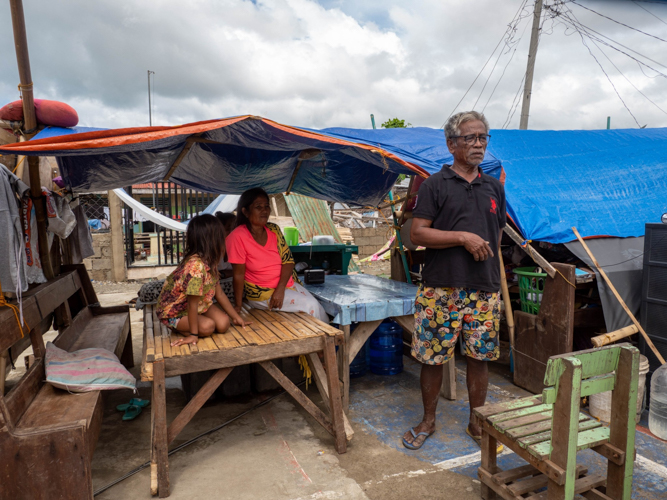 Barangay Lawis fisherman Miropo Husalam (standing) creates a makeshift home for his family using tarpaulin, tables, and a church pew. 【Photo by Marella Saldonido】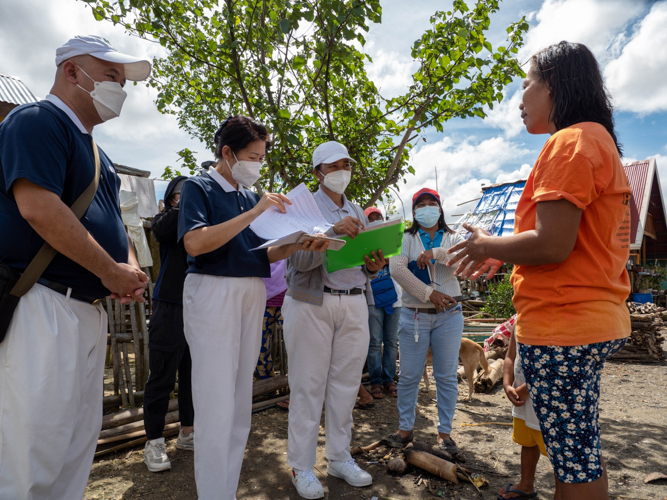 Romelina Añabieza from Barangay Sto. Niño (right, in orange) recounts her traumatic experience surviving the storm. 【Photo by Marella Saldonido】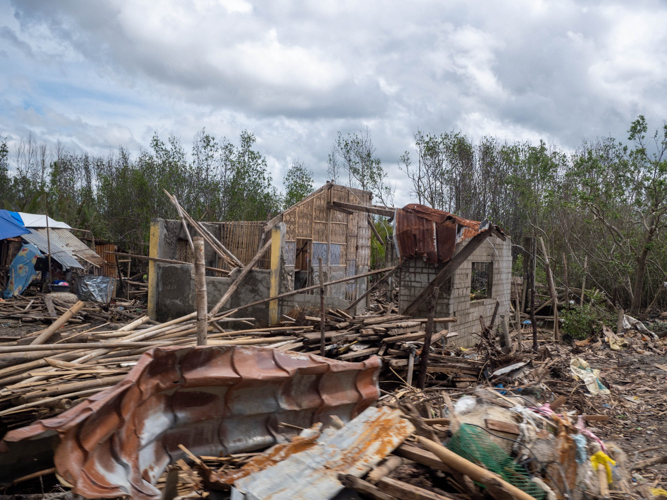 Many homes, like this in Barangay Ondol, are left beyond repair after Odette【Photo by Marella Saldonido】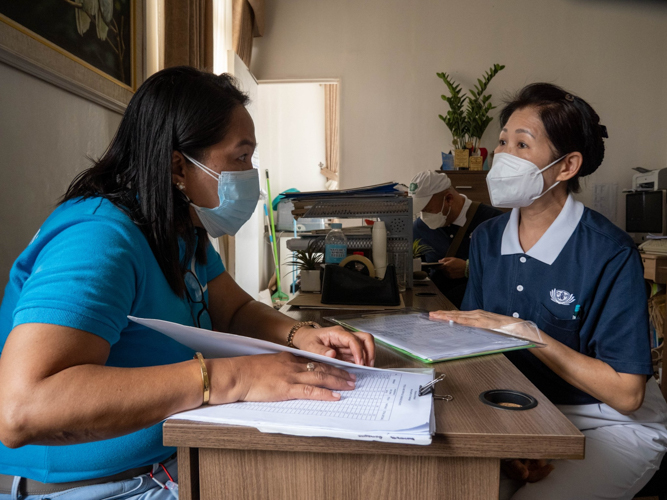 Maria Evelyn Socajel (left) from the Municipal Social Welfare and Development Office of the Municipality of Inabanga, Bohol, discusses the extent of Odette's damages with a volunteer. 【Photo by Marella Saldonido】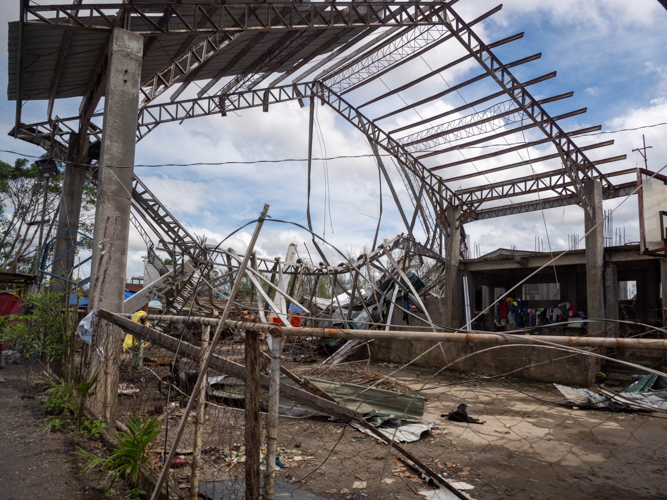 The frame of a covered court In Barangay Ondol remains standing following Odette's powerful winds and strong rains. 【Photo by Marella Saldonido】
Go Back