Celebrating Compassion and Character: Tzu Chi Great Love Preschool's Enchanting Trick-or-Treat Party
Preschoolers came in whimsical book character costumes to learn and show the value of compassion.
By Ben Baquilod
Students at Tzu Chi Great Love Preschool Philippines celebrated their Trick-or-Treat party on October 27th at the Buddhist Tzu Chi Campus in Sta. Mesa, Manila, adorned in colorful costumes.
The preschoolers brought to life whimsical characters from Dr. Seuss's and Eric Carle's stories, all while imbibing the values of compassion and imagination, as Nursery Teacher Mary Ann Rodriguez elaborated, "Compassion knows no bounds. When we dress up as characters from our beloved books, our hearts open up like the pages of those books, welcoming every child with kindness and warmth."
Guided by both parents and teachers, the children showcased their costumes in a spirited fashion show, engaged in book-inspired games, and received treats from Tzu Chi offices. Teacher Ann expressed her joy, saying, "I am elated to see the kids in their costumes, and I'm equally pleased that their parents have been wholeheartedly supportive."
Teacher Ann further shared, "I am having fun teaching here. The values we impart to the children, we also embrace ourselves."
The event's emphasis on character development was particularly gratifying for Lloyd Tiu, the father of preschool student Allegra. It was this very focus that led him to enroll his daughter in Tzu Chi Great Love Preschool. He remarked, "During the games, my daughter was thrilled. Their innocence allows them to experience sheer delight when their efforts are rewarded. This is a vital aspect of character building."
Lloyd marveled, "When she wins prizes like candies, she readily shares them with me and my wife."
The proud father has witnessed remarkable changes and improvements in his daughter during her short time at the school. He noted that she has become more well-mannered, sharing her food and using words like 'sorry' and 'thank you.'
Guided by Dharma Master Cheng Yen's vision to nurture young minds from an early age, Tzu Chi Great Love Preschool Philippines is dedicated to instilling character and essential life skills in children within a holistic learning environment. Supported unwaveringly by dedicated teachers, parents, and the broader Tzu Chi community, the preschool collaboratively works to nurture the potential of young learners.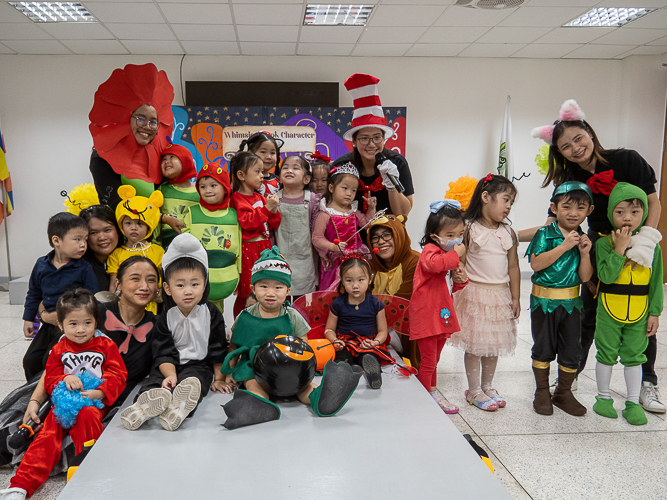 Vibrant costumes and Halloween fun: Students at Tzu Chi Great Love Preschool Philippines celebrate their Trick-or-Treat party at the Buddhist Tzu Chi Campus in Sta. Mesa, Manila, on October 27th. 【Photo by Marella Saldonido】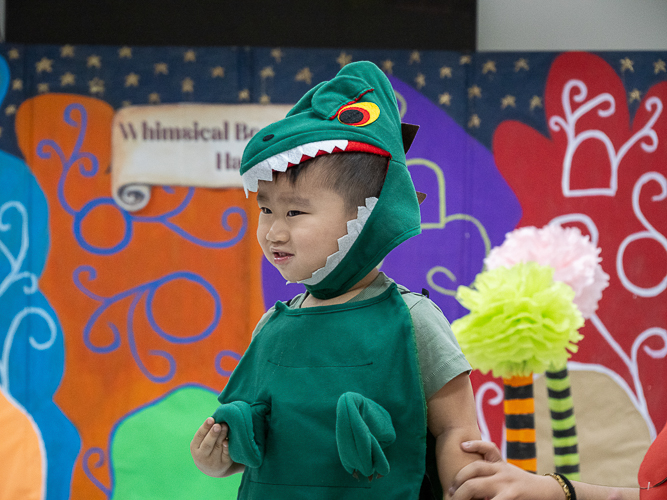 Students proudly display their whimsical book character costumes in a lively fashion show. 【Photo by Marella Saldonido】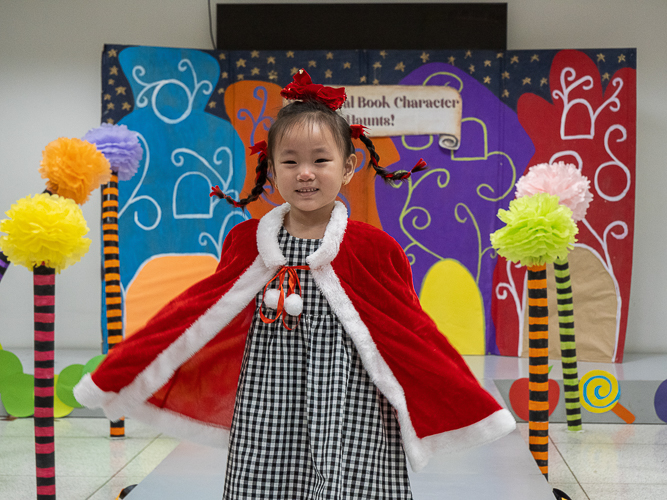 Students proudly display their whimsical book character costumes in a lively fashion show. 【Photo by Marella Saldonido】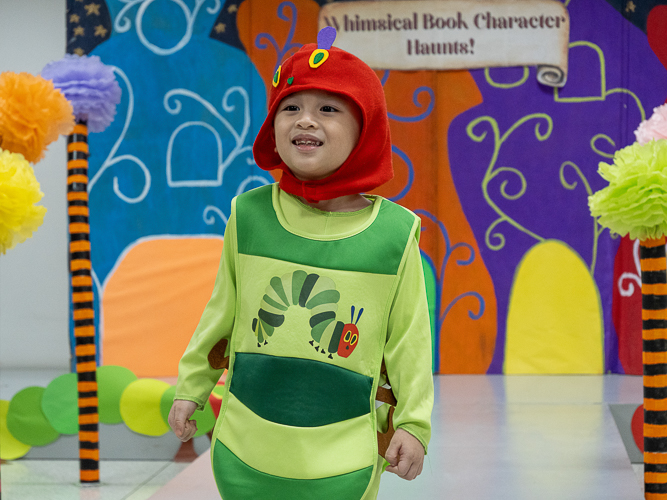 Students proudly display their whimsical book character costumes in a lively fashion show. 【Photo by Marella Saldonido】
Students proudly display their whimsical book character costumes in a lively fashion show. 【Photo by Marella Saldonido】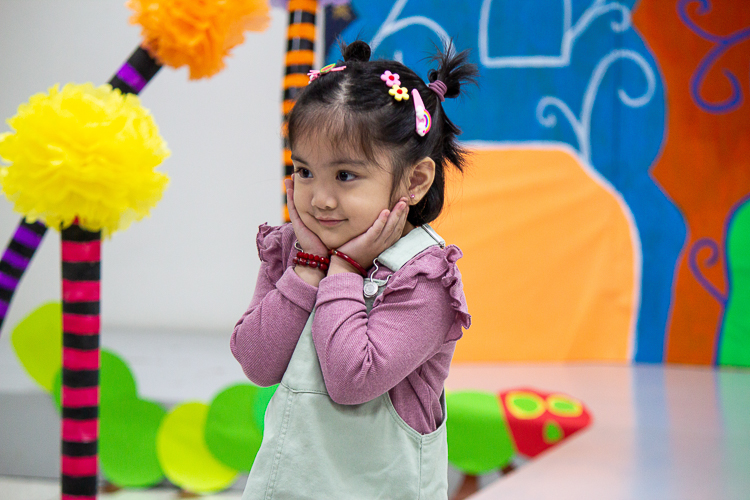 Students proudly display their whimsical book character costumes in a lively fashion show. 【Photo by Marella Saldonido】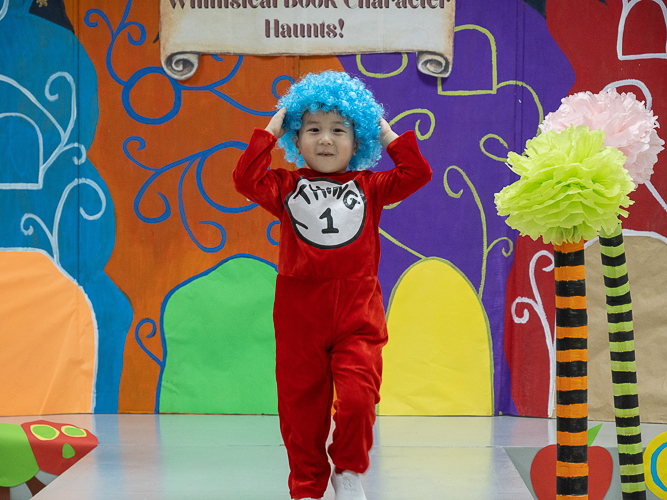 Students proudly display their whimsical book character costumes in a lively fashion show. 【Photo by Marella Saldonido】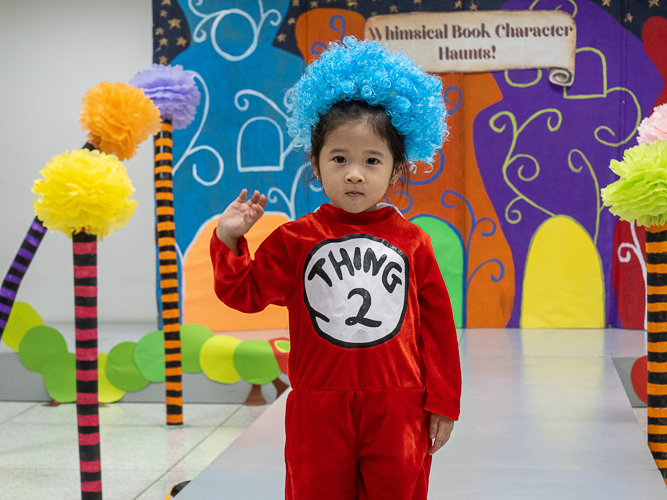 Students proudly display their whimsical book character costumes in a lively fashion show. 【Photo by Marella Saldonido】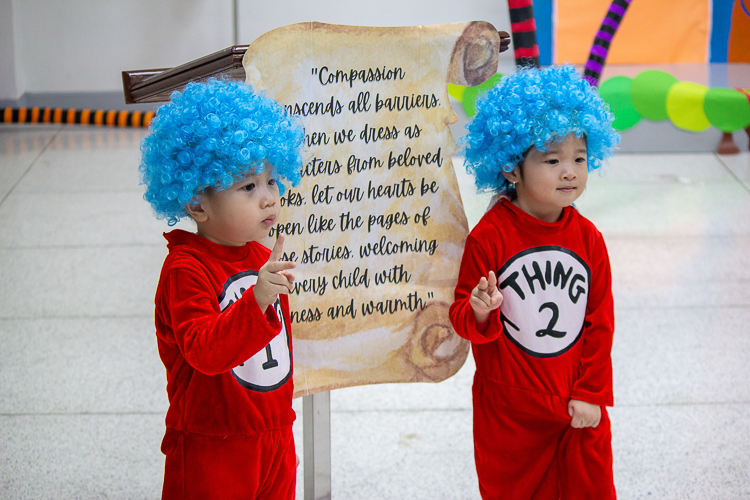 Students dress up as Thing 1 and Thing 2 from Dr. Seuss's The Cat in the Hat book. 【Photo by Marella Saldonido】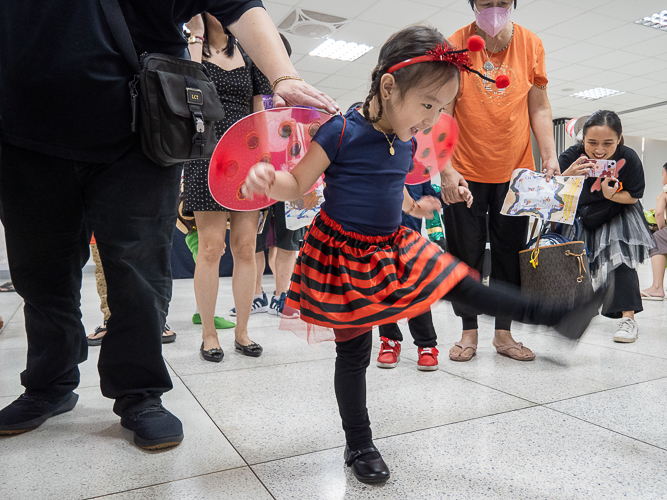 Students play engaging book-inspired games. 【Photo by Marella Saldonido】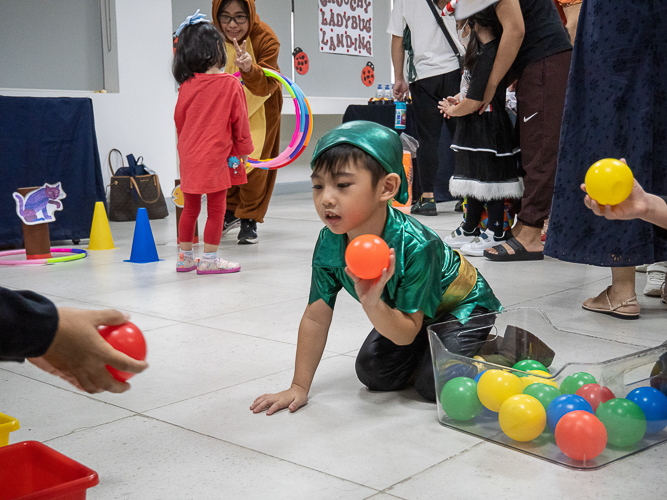 Students play engaging book-inspired games. 【Photo by Marella Saldonido】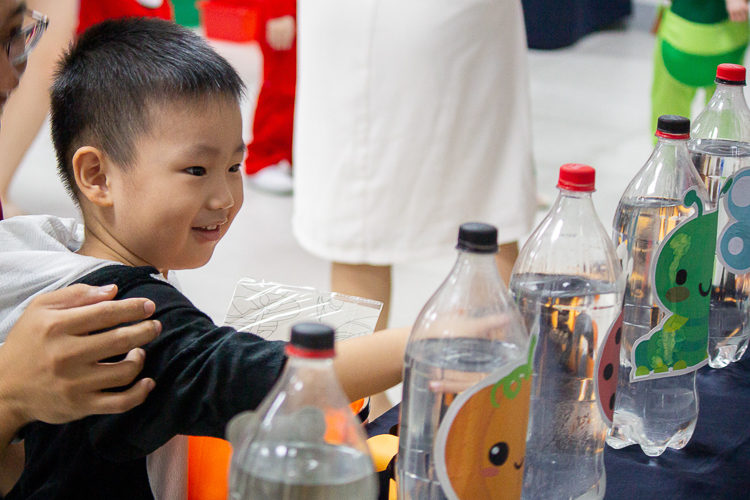 Students play engaging book-inspired games. 【Photo by Marella Saldonido】
Students play engaging book-inspired games. 【Photo by Marella Saldonido】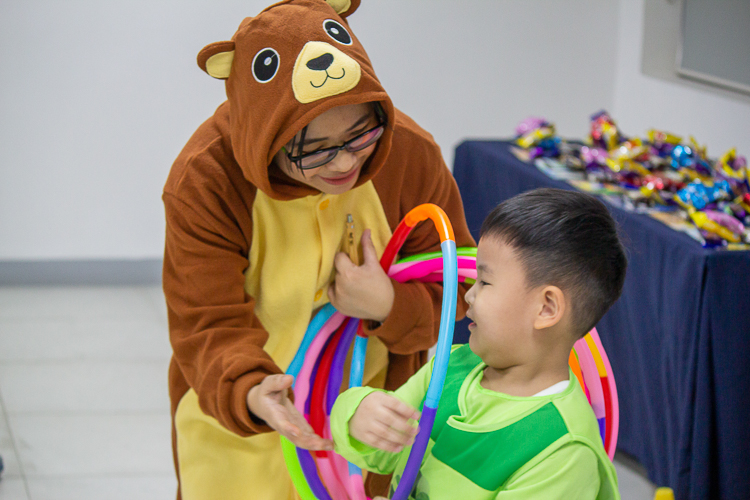 Teacher Benny assists a student in a game. 【Photo by Marella Saldonido】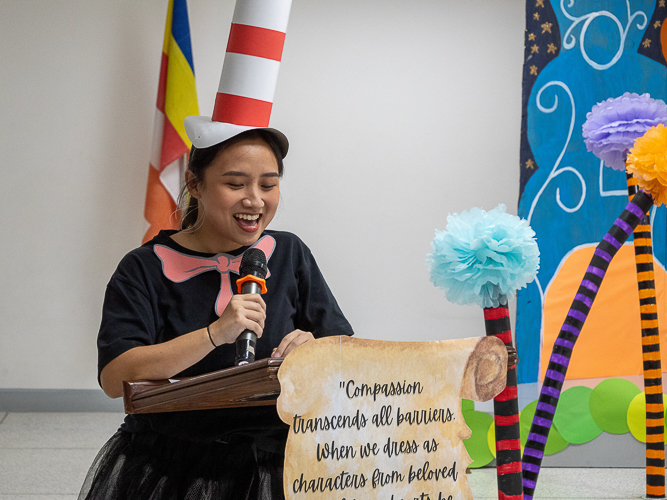 Teacher Chyn hosts the Trick-or-Treat program. 【Photo by Marella Saldonido】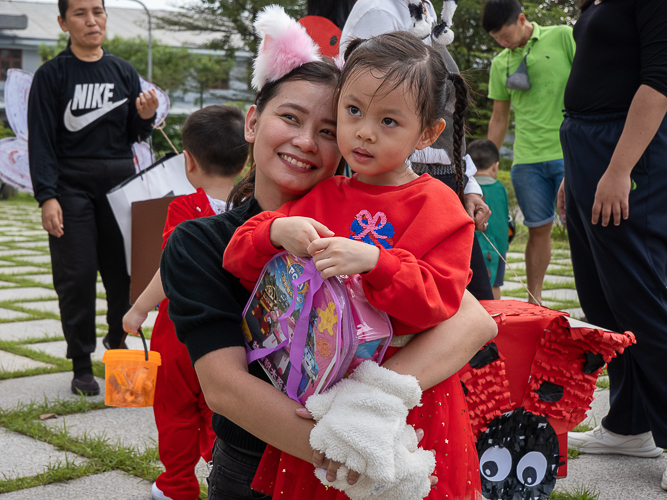 Teacher MJ poses for a photo with a student. 【Photo by Marella Saldonido】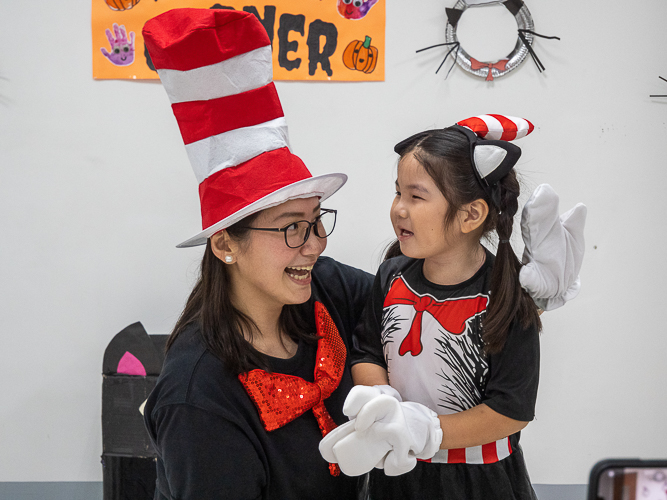 Preschool Directress and Teacher Jane Sy shares a light moment with a student. 【Photo by Marella Saldonido】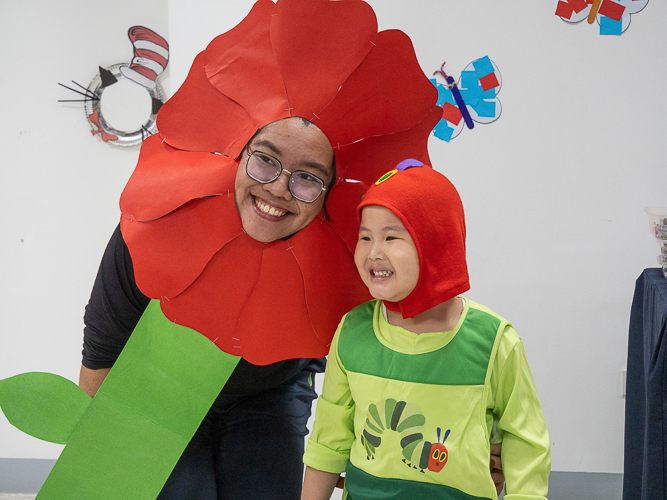 "I am elated to see the kids in their costumes, and I'm equally pleased that their parents have been wholeheartedly supportive," Teacher Ann says. "I am having fun teaching here. The values we impart to the children, we also embrace ourselves." 【Photo by Marella Saldonido】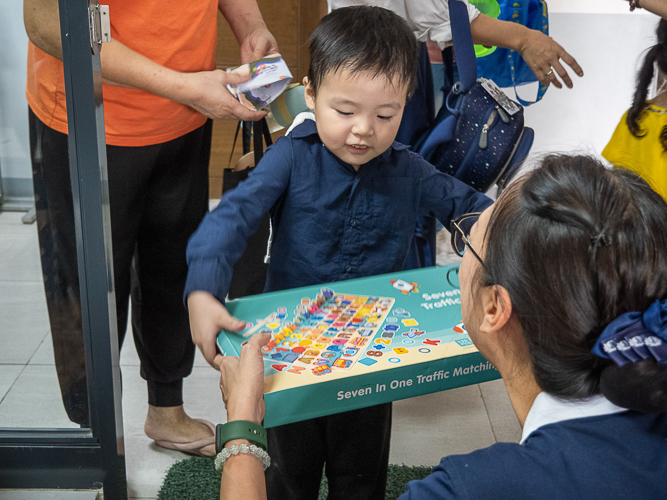 Students get treats from Tzu Chi offices. 【Photo by Marella Saldonido】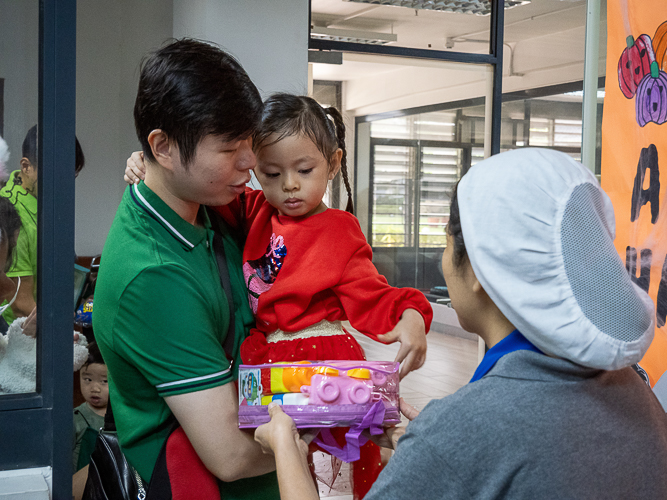 Students get treats from Tzu Chi offices. 【Photo by Marella Saldonido】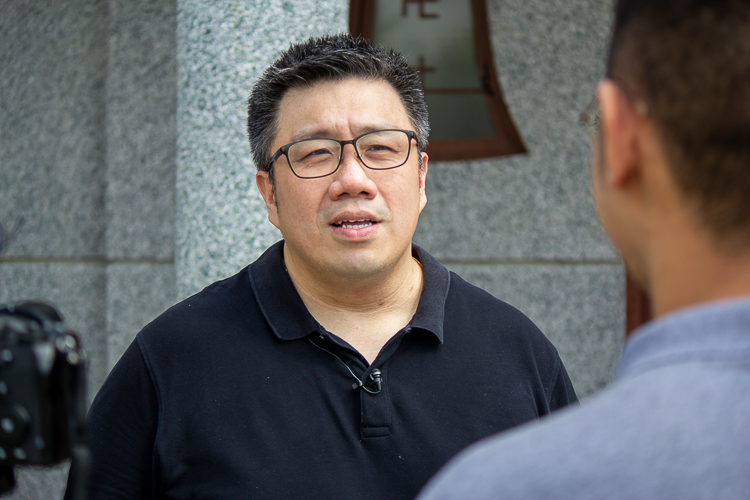 "During the games, my daughter was thrilled. Their innocence allows them to experience sheer delight when their efforts are rewarded. This is a vital aspect of character building," says Lloyd Tiu. 【Photo by Marella Saldonido】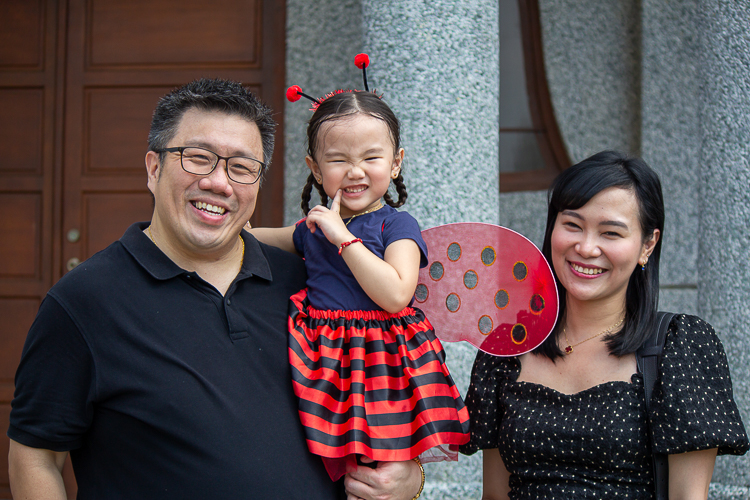 Lloyd Tiu and his wife Roma Amor Tiu proudly support their daughter Allegra during the Trick-or-Treat. 【Photo by Marella Saldonido】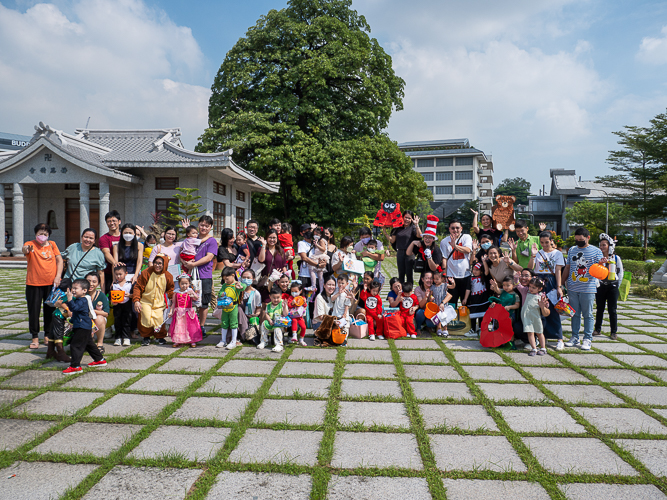 Students of Tzu Chi Great Love Preschool Philippines celebrate their Trick-or-Treat party with teachers and parents at the Buddhist Tzu Chi Campus in Sta. Mesa, Manila. 【Photo by Marella Saldonido】
Go Back