Reprieve from Tzu Chi for Payatas scavengers
Down and out of their luck, Payatas scavengers Rosauro Sarmiento and Rolando Pagdanganan are grateful for their first tranche of rice and relief goods.
By Joy Rojas
In September 2015, Rosauro Sarmiento was at the Payatas dumpsite in Quezon City, when his eldest son came rushing with devastating news. Sarmiento's wife Piavera stabbed their seventh and youngest child, 10-month-old daughter Aira, 13 times with a breadknife. Allegedly under the influence of drugs, Piavera then carried the bloodied baby out to their neighbors to ask for help. Sarmiento managed to take Aira to the hospital, but his daughter died 30 minutes later. His wife, whom he had not seen since, was charged with parricide.
Since then, Sarmiento, 41, has been eking it out alone, supporting five of his six children with what little he makes as a scavenger. (His sixth child stays with his in-laws.) On a good day, he'll make P150, on a bad day, half. Occasionally, he'll work as a mason in a construction site, but once the job is done after a few days, it's back to scavenging for plastic, tin cans, metal, bottles, and other recyclables.
Still, Sarmiento is lucky next to fellow Payatas scavenger Rolando Pagdanganan, 38. An assistant to his truck driver father for 12 years, he became a scavenger four years ago when the company where his father worked shut down.
But competition from a growing scavenger community sees him take home a measly P30 for a whole day's work. To make extra, the father of two offers to collect and throw his neighbors' trash. That fetches him P5-P10 per bag.
In 2019, Pagdanganan slipped, fell, and hit the right side of his head on wet pavement. This left him in a coma for a month. When he came to, he needed therapy to help him recover movement in the right side of his body.
The accident also required the removal of part of his skull, resulting in a noticeable dent in the right side of his head. Because of his appearance, no one will hire him for fear of aggravating his condition.
656 Tzu Chi beneficiaries
Sarmiento and Pagdanganan were two of 656 Payatas scavengers from five parishes in the Diocese of Novaliches who received the first tranche of three rice and relief goods from Tzu Chi Foundation last October 24. Each beneficiary took home two sacks of 10-kg rice and an assortment of grocery items like soy sauce, vinegar, noodles, biscuits, and bath and laundry soap.
Held at the Quezon City Hall grounds, the event was organized in partnership with the Social Action Commission (Caritas Novaliches) of the Diocese of Novaliches and the Quezon City government. Beneficiaries come from the Ina ng Lupang Pangako Parish, Mother of the Divine Providence Parish, Sagrada Familia Parish, San Isidro Labrador Parish, and San Pedro Calungsod Mission Area.
"I have been working with Tzu Chi for a long time," said Quezon City Mayor Joy Belmonte, who graced the event. "They are our supporters who respond to our call when we need help." Besides sending out additional manpower to assist in the distribution, the mayor also provided trikes to ferry beneficiaries and their goods to transportation terminals.
Second Smokey Mountain
Once known as the "Second Smokey Mountain," after the infamous Manila dumpsite, Payatas made headlines in 2000 when an avalanche of trash killed over 200 people living near the dumpsite. This resulted in its closure in 2001, its reorganization into a controlled disposal facility in 2004, and its second closure in 2010. A sanitary landfill was created a year later, but it too was closed, following an order by the Environmental Management Bureau, in 2017.
"Some still go to the landfill but most work in junk shops. There are those who go from house to house to collect recyclable materials for selling, and there are palero, or garbage collectors," says Ma. Theresa Agdoro, assistant to the director of the Social Action Commission of the Diocese of Novaliches.
Efforts to steer them towards more stable livelihood prove unsuccessful. "Firstly, securing requirements to apply for a job—like a police clearance, birth certificate, or ID—is a lot of work. Secondly, it costs them and they would rather buy food for their families," says Agdoro.
Perhaps that is what Sarmiento and Pagdanganan, scavengers down and out on their luck and life, need for now. "Thank you to Tzu Chi Foundation for your help," says Sarmiento, who claimed the rice and relief goods on his birthday.
For Pagdanganan, the thought of having a supply of rice this Christmas brings him to tears. "I'll take any job," he says when asked what type of work he would like to get into. "If I can collect garbage, any job is good with me."
Twenty-one blind massage therapists, another sector supported by the Tzu Chi Foundation, were also at the venue to receive their rice and relief goods on the same day.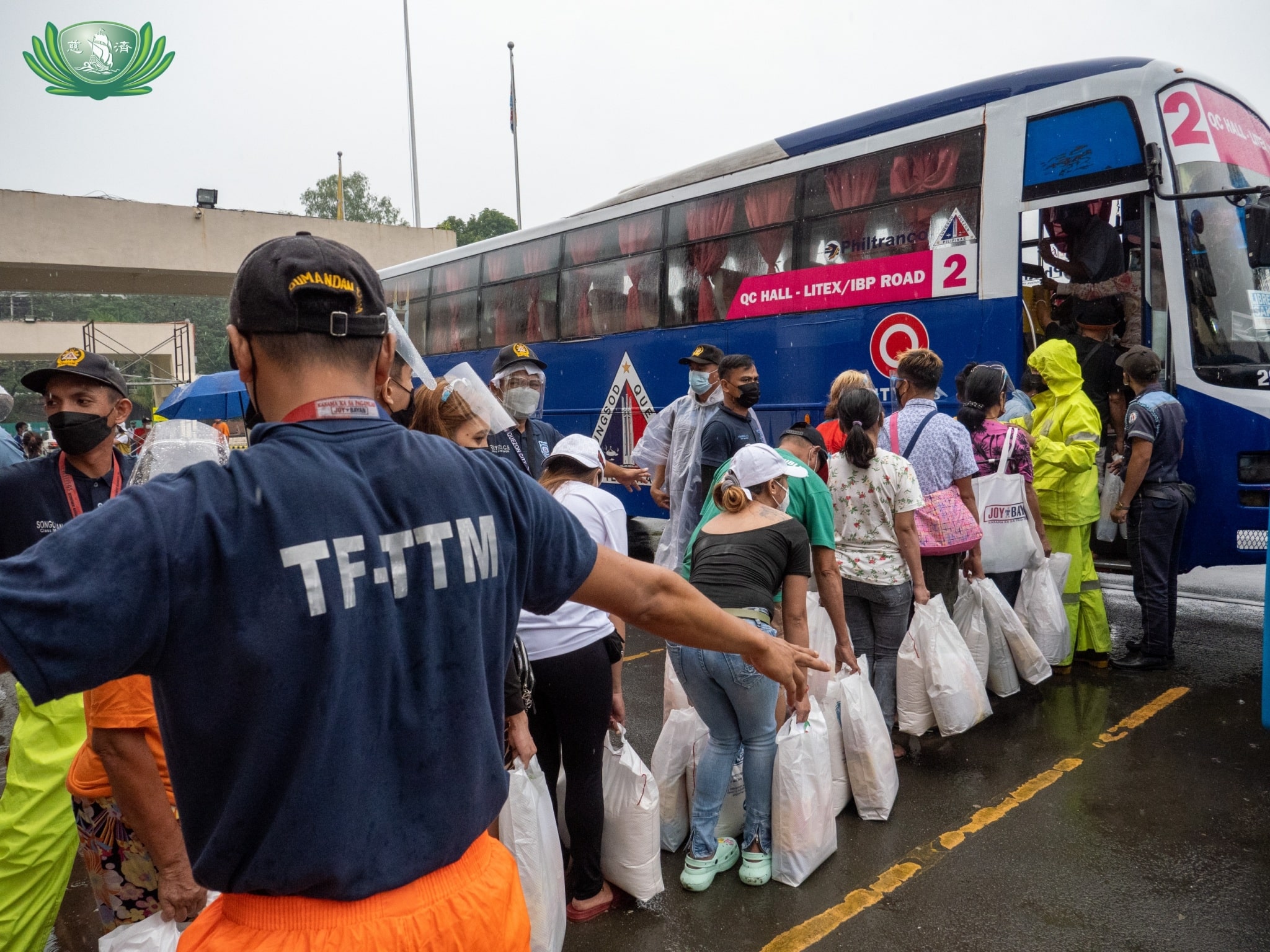 Besides fielding the event with additional manpower, Quezon City Mayor Joy Belmonte provided buses and trikes to ferry beneficiaries to transportation terminals. 【Photo by Jeaneal Dando】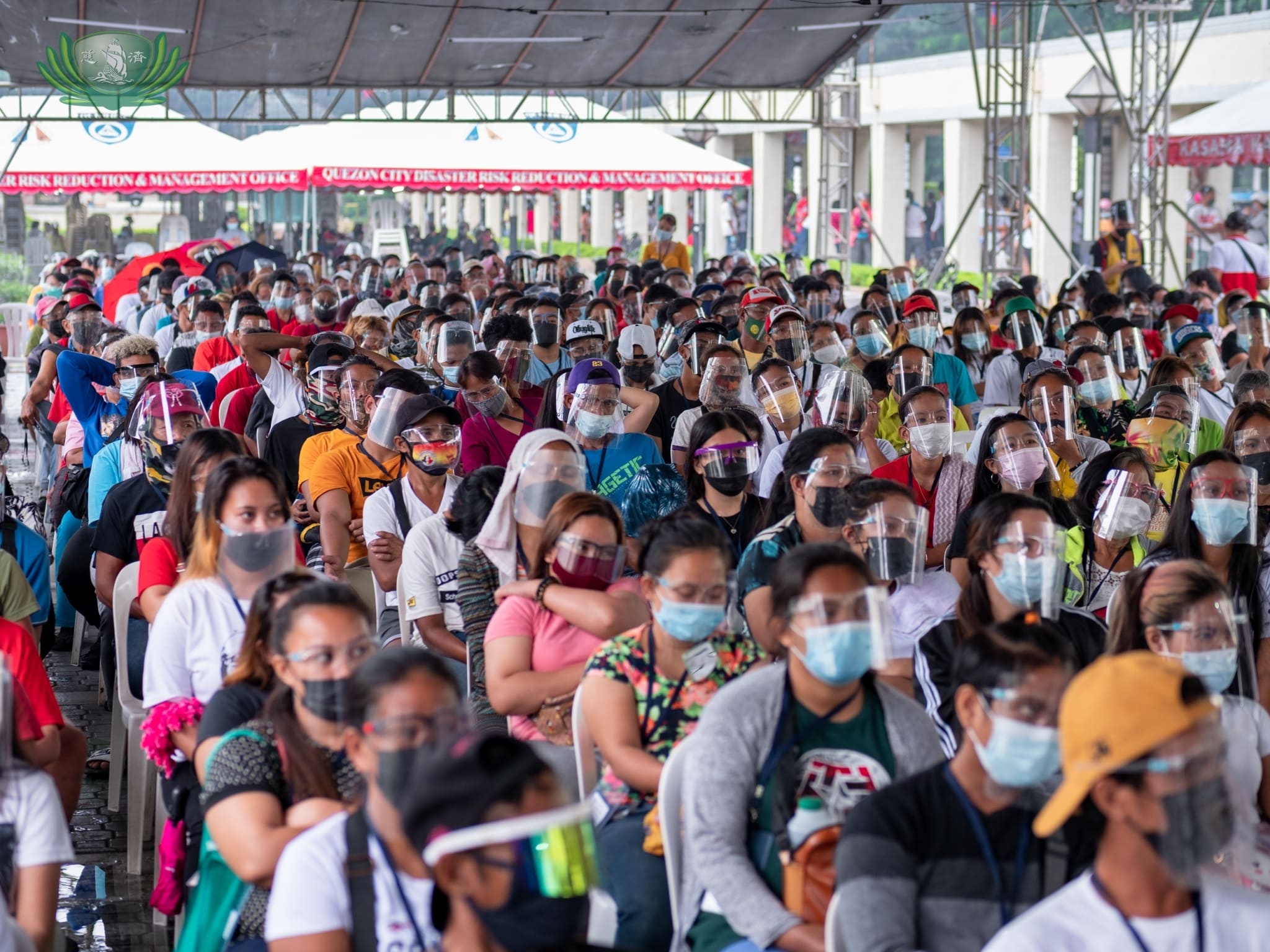 Tzu Chi Foundation volunteers recently distributed rice and grocery items to 656 scavengers from Payatas, Quezon City. The event was done in coordination with Caritas Novaliches of the Diocese of Novaliches and the Quezon City government. 【Photo by Jeaneal Dando】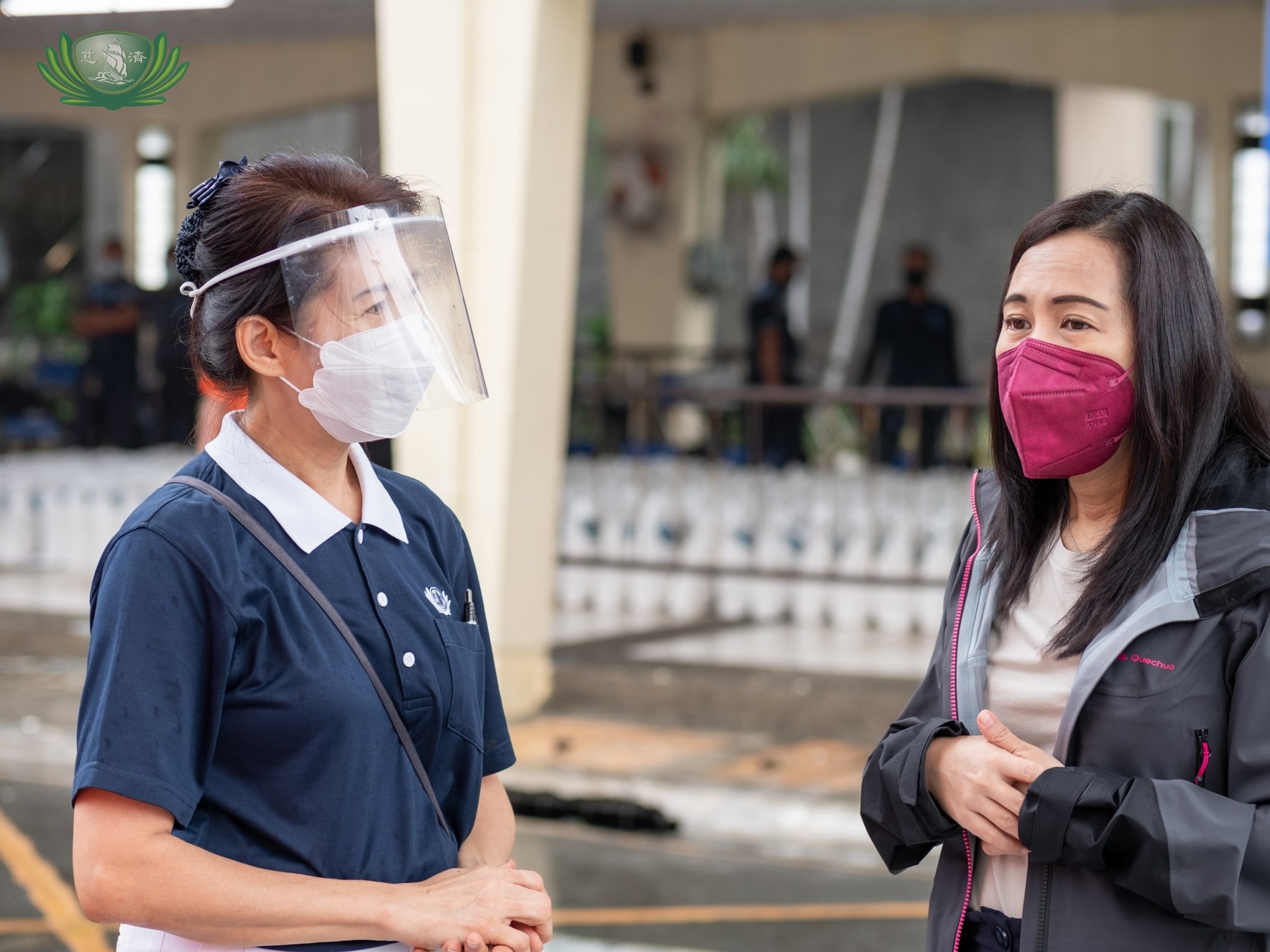 Tzu Chi volunteer Woon Ng (left) chats with Quezon City Mayor Joy Belmonte. 【Photo by Jeaneal Dando】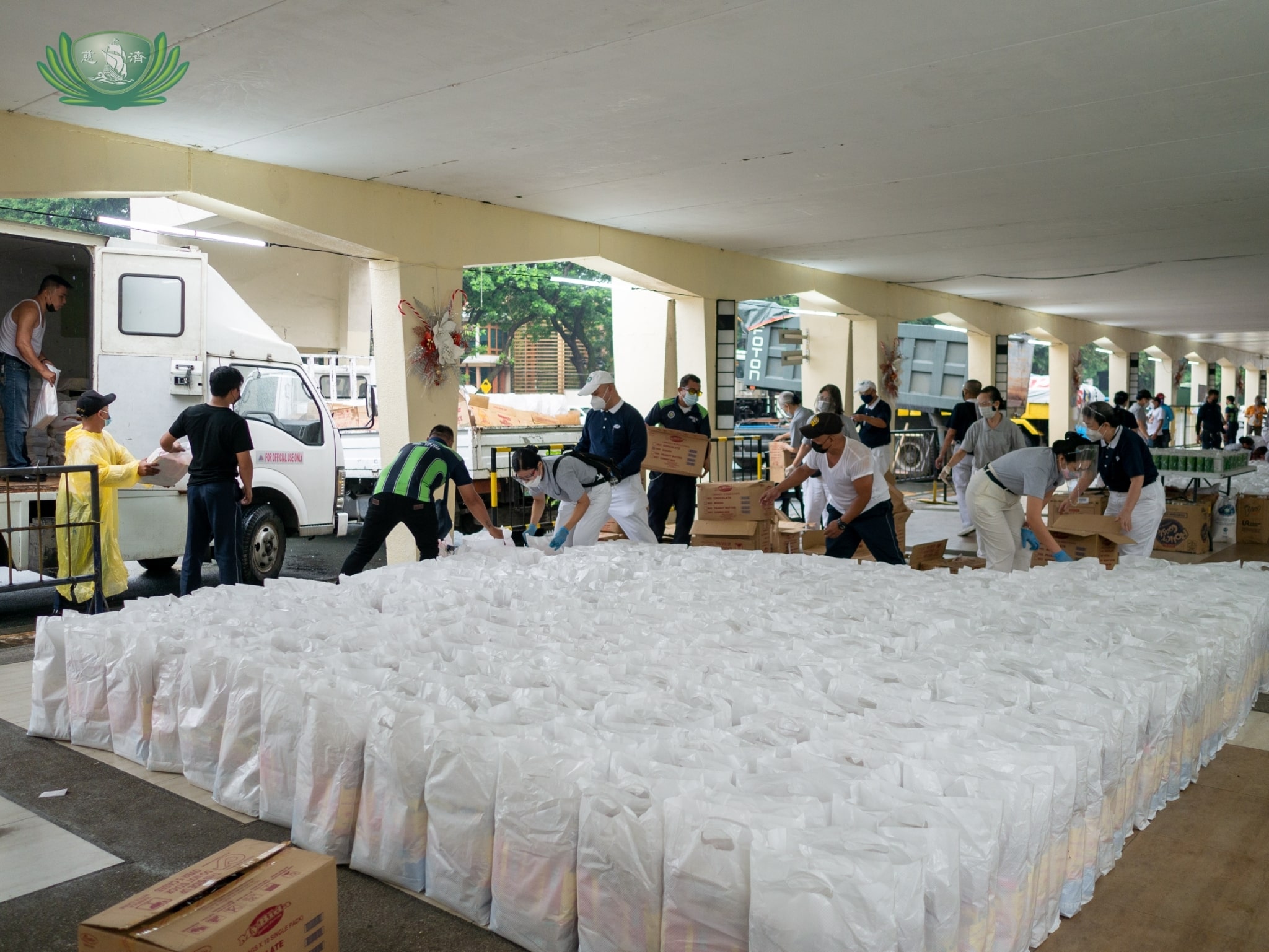 These bags of groceries are ready to be claimed. 【Photo by Daniel Lazar】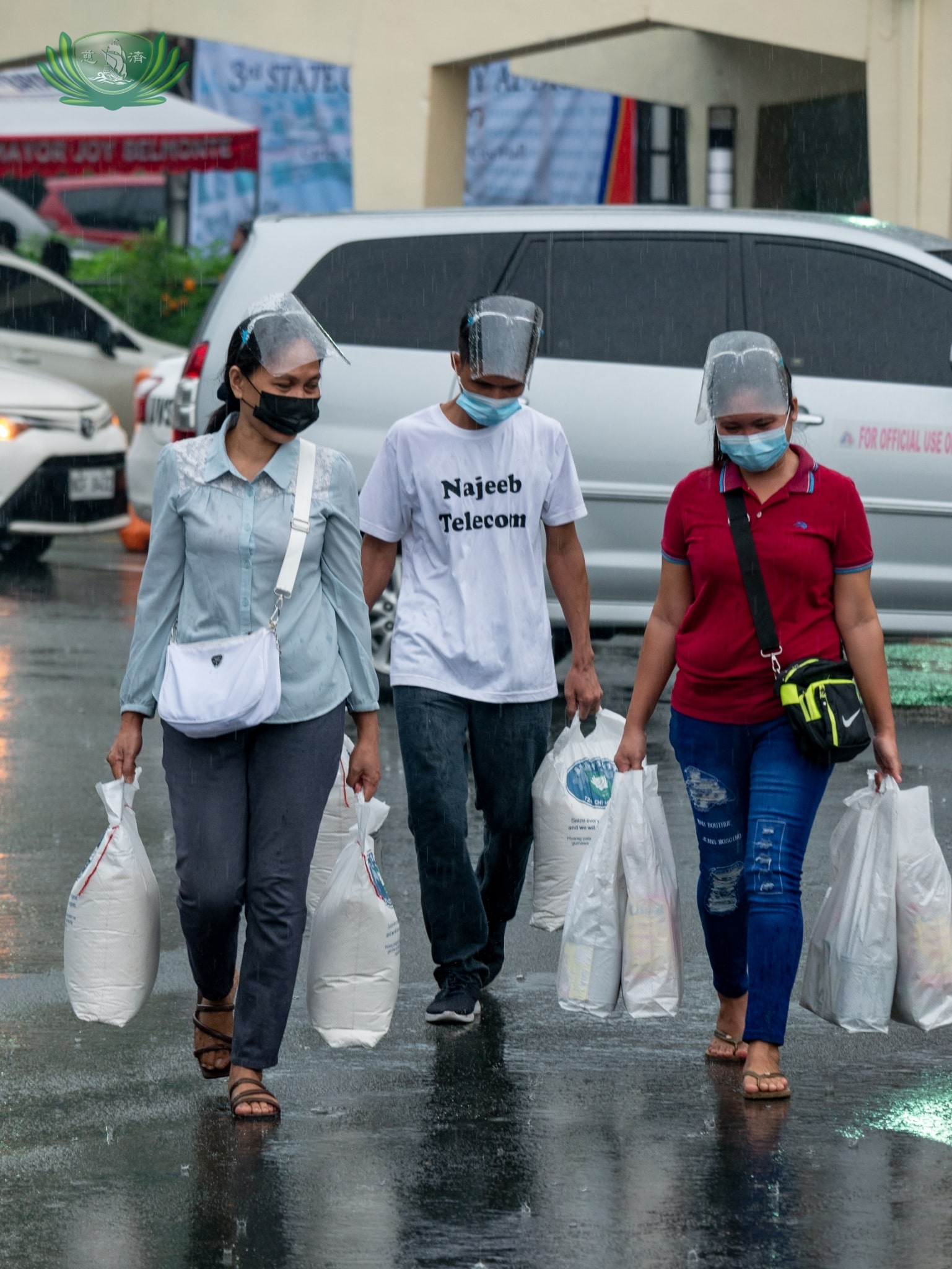 Each beneficiary received two sacks of 10-kg rice and a bag containing biscuits, soy sauce, vinegar, noodles, bath and laundry soap, and other basic necessities. 【Photo by Daniel Lazar】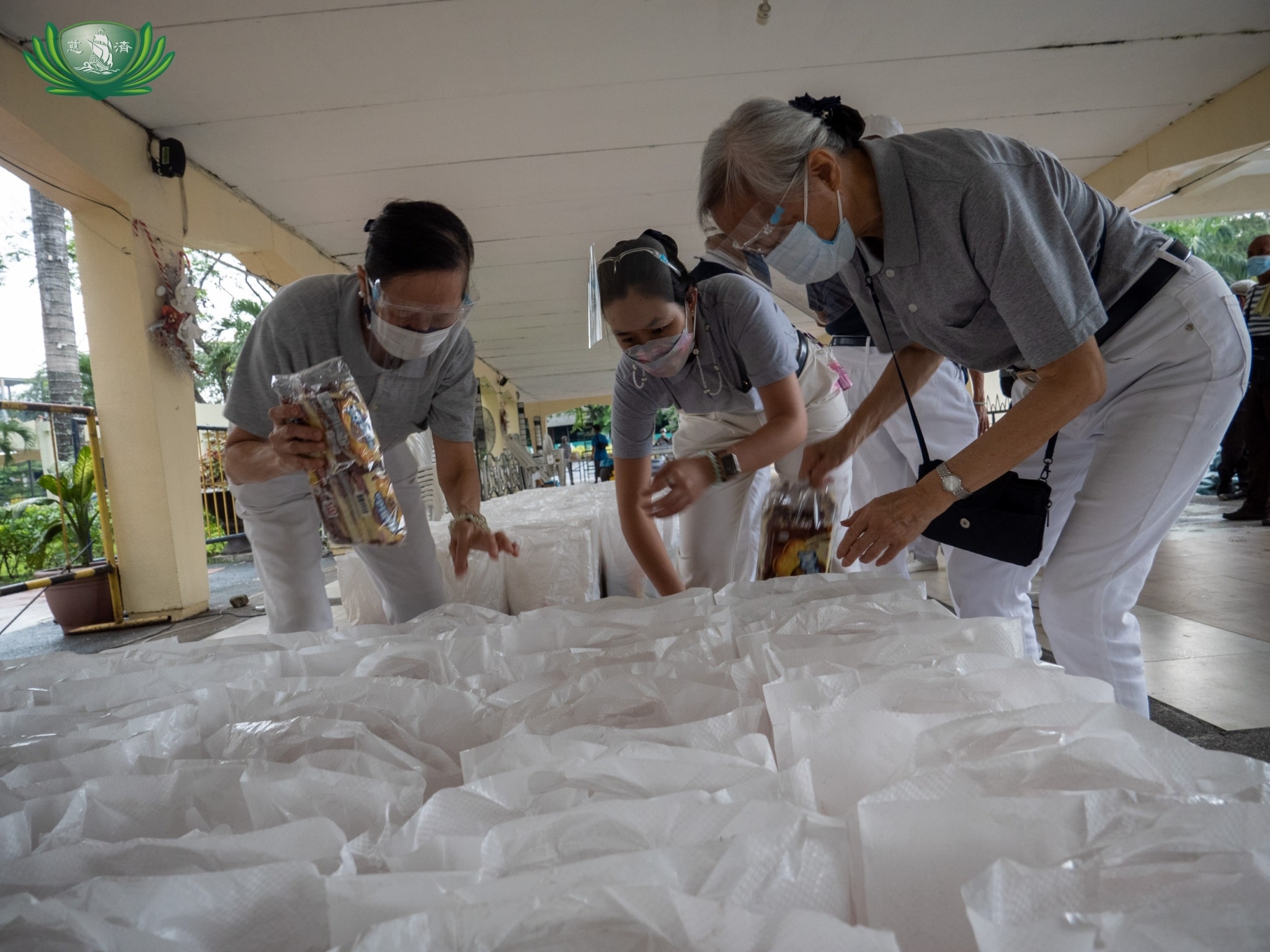 Volunteers prepare bags of groceries to be claimed by the day's beneficiaries. 【Photo by Jeaneal Dando】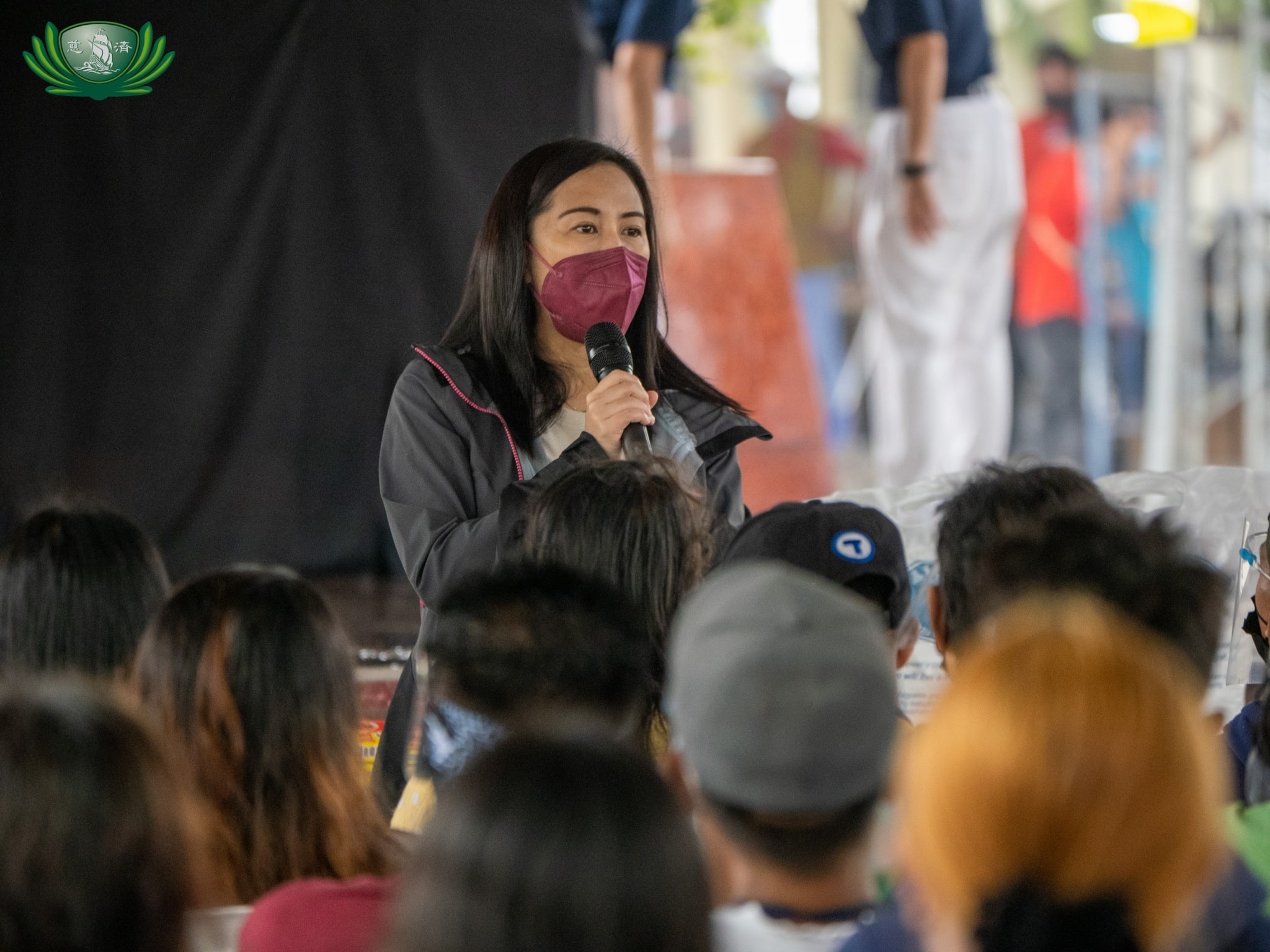 "I have been working with Tzu Chi for a long time," said Quezon City Mayor Joy Belmonte, who graced the event. "They are our supporters who respond to our call when we need help." 【Photo by Jeaneal Dando】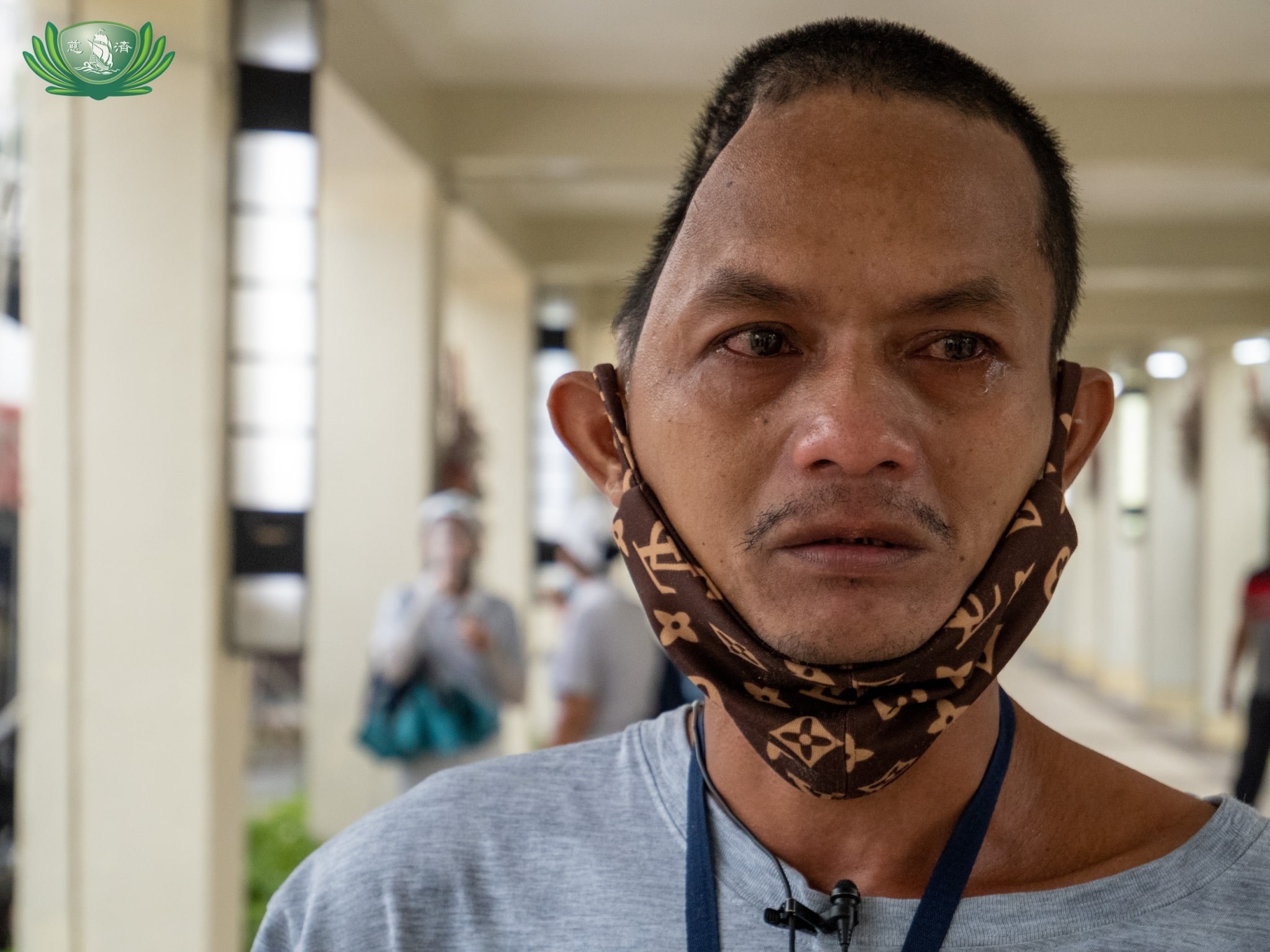 A bad fall required doctors to remove part of Rolando Pagdanganan's skull. This resulted in a noticeable dent in the scavenger's head. Because of his appearance, no one will hire him for fear of aggravating his condition. 【Photo by Jeaneal Dando】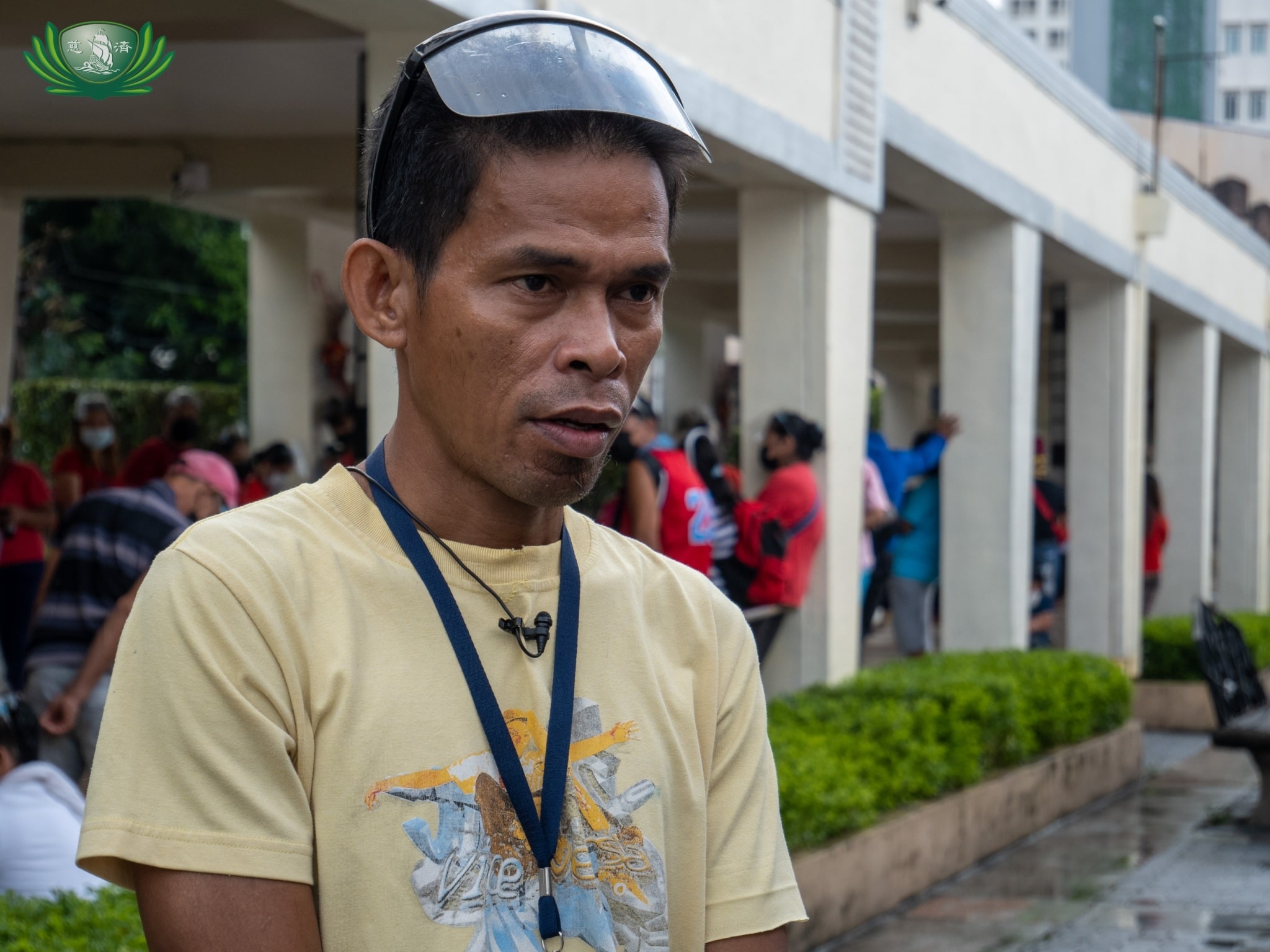 In 2015, Rosauro Sarmiento's wife stabbed their 10-month-old baby 13 times with a bread knife. Since then, he has been a solo parent, caring for five of his six children with money earned as a scavenger. 【Photo by Jeaneal Dando】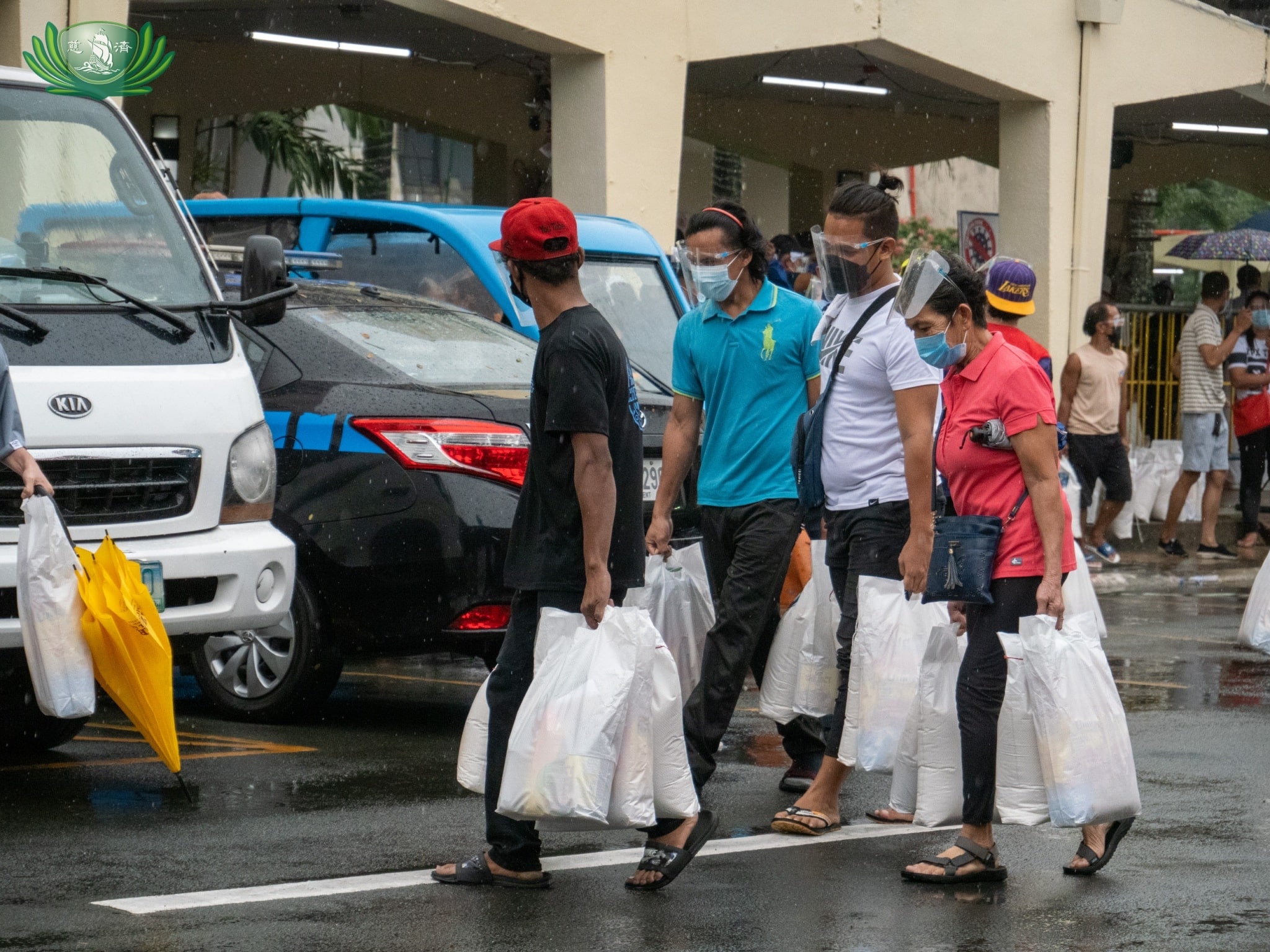 Beneficiaries leave Quezon City Hall grounds with their relief goods. 【Photo by Daniel Lazar】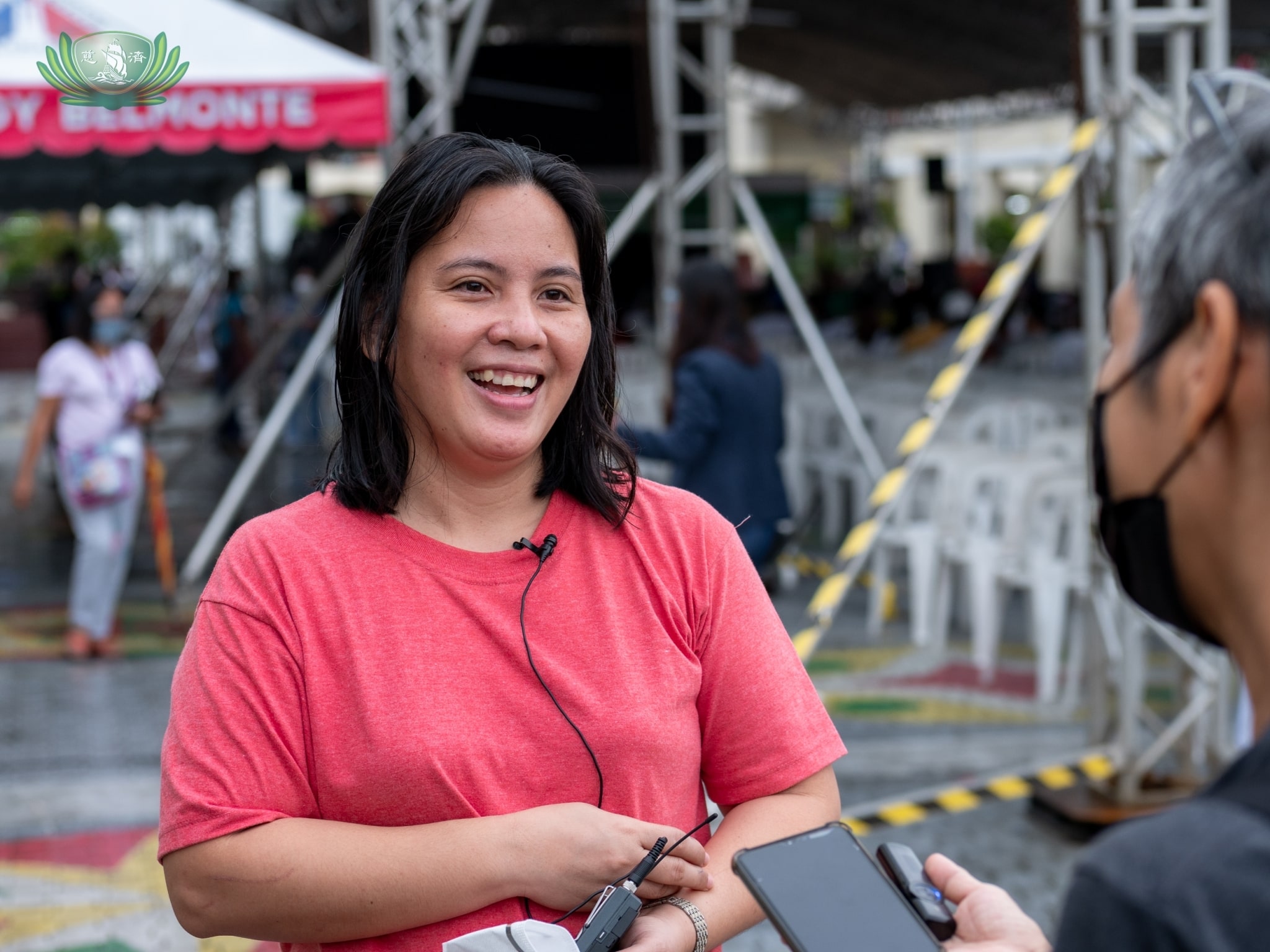 Ma. Theresa Adgoro of the Diocese of Novaliches helped coordinate the distribution of relief goods with Tzu Chi Foundation. 【Photo by Daniel Lazar】
Go Back