Youth inspires youth at Tzu Chi's Scholars Camp
Volunteers from Bicol and scholars from Palo, Leyte, participated in the 3-day event.
By Joy Rojas
For the majority of scholars who participated in the youth camp organized by Tzu Chi Foundation from July 8 to 10 at the Buddhist Tzu Chi Campus (BTCC) in Sta. Mesa, Manila, an eye-opening tour around the BTCC complex and heartfelt messages from motivational speakers were the most memorable parts of the three-day event.
Yet for a number of volunteers and scholars based outside of Manila, simply attending the camp was an experience in its own right. Tzu Chi Bicol Coordinator Antonio Tan didn't have trouble convincing 31 volunteers to join him, especially after suggesting they familiarize themselves with BTCC through YouTube. "But a glimpse is better than a thousand words," he says. "They really wanted to come and see the campus for themselves."
It was a good decision, to say the least. Since their arrival, Tan has heard nothing but positive feedback from his team. "They have observed the discipline and orderliness of the event and how it is being conducted," he says.
If the Bicol volunteers were impressed by the way Tzu Chi Manila ran the camp, five scholars from Palo, Leyte, were overwhelmed by their first-ever plane ride and the sight of BTCC's expansive grounds.
"When they entered the campus, they said 'Wow!'" says Tzu Chi Palo Coordinator Randy Militante. "The presence of many other Tzu Chi scholars also changed their perspective. It made them realize that they're not the only ones being helped by Tzu Chi. Tzu Chi Foundation provides assistance to so many others."
Describing the camp as a once-in-a-lifetime experience, Militante hopes Palo's scholars bring home new ideas and learnings from the event, "so we can apply them and share them with our community," he says.
As it turns out, Tzu Chi youths from the Visayas had much to offer too. In the Day 2 segment called "Power of Youth," scholars from Palo, Leyte, and Barangay Pulpogan and the Municipality of Catmon in Cebu (via Zoom) shared how they kept busy during the pandemic, when face-to-face classes were suspended indefinitely to curb the spread of COVID-19.
Taking Dharma Master Cheng Yen's call to embrace vegetarianism to heart, Palo scholars distributed seedlings to their community. This resulted in the planting and eventual growth of sustainable, edible gardens, which provided healthy, homegrown vegetables for families when food was scarce. The scholars also engaged in an upcycling initiative, creating eco-bricks out of discarded plastic soda bottles.
Backyard gardening; promoting vegetarianism; making facemasks for livelihood; organizing rice relief distributions; and helping the seniors, Persons with Disability, and tricycle drivers in their communities were what kept Tzu Chi's Cebu scholars preoccupied during the first two years of the pandemic.
At a time when youths are eagerly looking for role models to emulate, sometimes inspiration can come from people their own age—not celebrities or politicians, but common individuals like them who struggle daily yet manage to take their challenges in stride.
"The message we're trying to instill in scholars is that they have a responsibility to our society," says Tzu Chi Youth Camp Coordinator Kinlon Fan. "They have the power to create change and help people. Through the camp's theme, 'The Power of Love: Yes, I Can!' scholars have the power to influence others."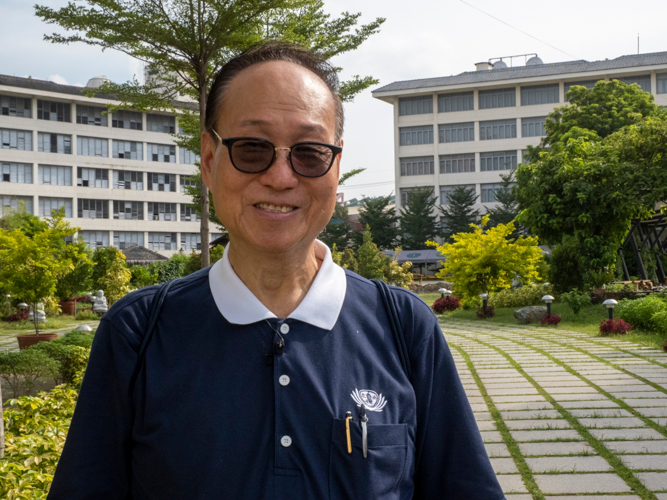 Tzu Chi Bicol Coordinator Antonio Tan brought 31 volunteers to the youth camp.【Photo by Matt Serrano】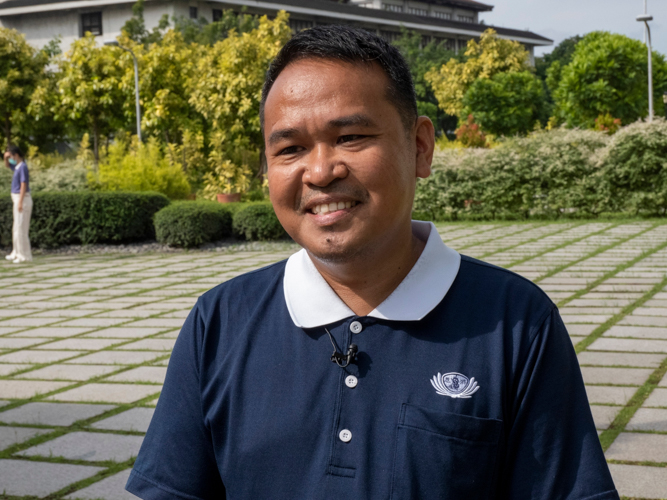 Tzu Chi Palo (Leyte) Coordinator Randy Militante accompanied five scholars on their first-ever plane ride and their first time to visit BTCC's expansive grounds.【Photo by Matt Serrano】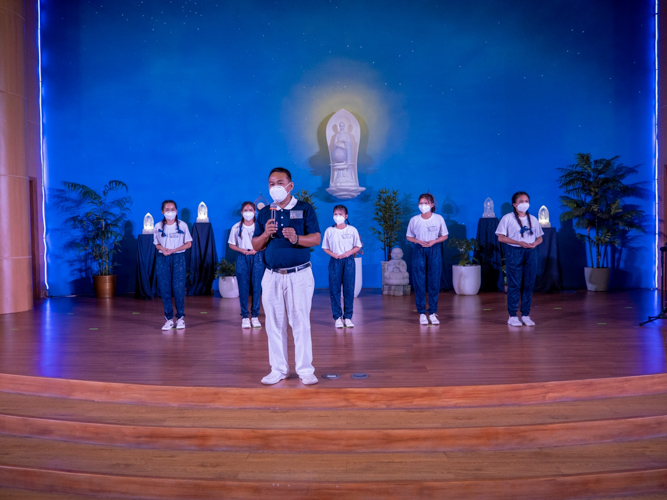 Tzu Chi Palo (Leyte) Coordinator Randy Militante (third from left) introduces Palo scholars Kristel Gutierrez, Roselyn Baguion, Angela Coritana, Rejielyn Villablanca, and Natasha Dayata in the segment "Power of Youth."【Photo by Matt Serrano】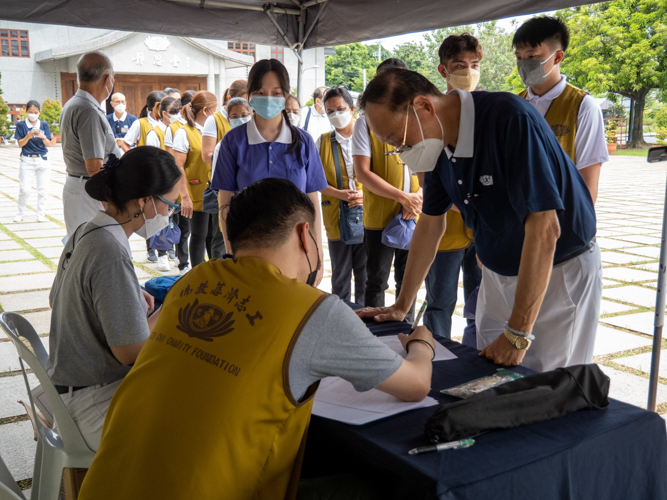 Youth Camp volunteers help Tzu Chi Bicol Coordinator Antonio Tan at the registration area.【Photo by Matt Serrano】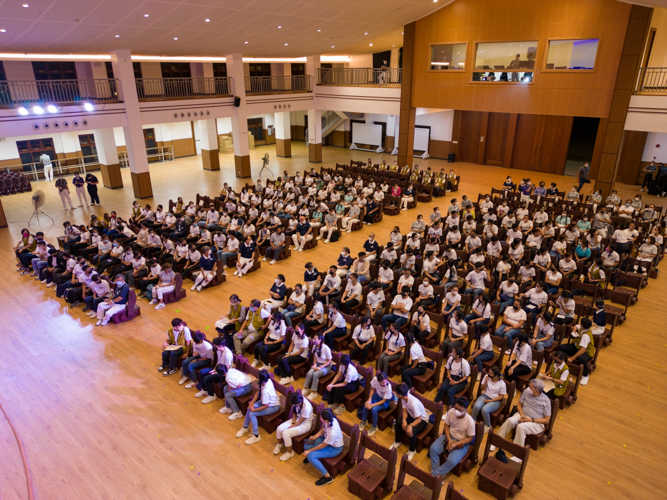 Most of the activities of the three-day youth camp were held at the Jing Si Auditorium.【Photo by Daniel Lazar】
Go Back