Tzu Chi makes Tikoy for Chinese New Year
Tikoy making is part of the rich Chinese tradition during Chinese New Year.
By Ben Baquilod
In line with the upcoming celebration of Chinese New Year on January 22, Tzu Chi Philippines held a Tikoy making activity on January 13 at the Buddhist Tzu Chi Campus in Sta. Mesa Manila.
Twenty-one (21) students of the Tzu Chi Great Love Preschool Philippines participated in the making of the glutinous rice cake (Tikoy), led by their teachers and Tzu Chi volunteer Liu Yue Sen.
On January 21, the Tikoy will be sent to Master Cheng Yen by Tzu Chi volunteers, together with a student representative from the Preschool. As part of Tzu Chi's annual celebration of Chinese New Year, volunteers from around the world would go home to the Jing Si Abode in Hualien, Taiwan to spend the auspicious occasion with the Tzu Chi founder.
"This year, we're so lucky that the pandemic has now eased off and some of the volunteers from the Philippines are now on their way to Taiwan and give Master Cheng Yen well wishes that we all want to give her," said Tzu Chi volunteer and Preschool Directress Jane Sy.
Tikoy making is part of the rich Chinese culture and tradition during the Chinese New Year or Spring Festival. "It symbolizes sweetness, prosperity, and good relationship," Sy said.
"Experiential learning is one of the key highlights of the Tzu Chi Preschool curriculum; we want to introduce our students to this aspect and let them experience different traditions and cultures worldwide," said Sy of the young children's participation in the activity.
Throughout the week, the students will also take part in other Spring Festival-related activities such as decorating spring couplets, making sweet dumplings, and giving red envelopes.
The Chinese New Year, explained Sy, is also an opportunity for family members to spend time together. "Students learned to show respect and love to elders by giving them well wishes, and they also learned the value of sharing by bringing the Tikoys they made to their family reunions," Sy added.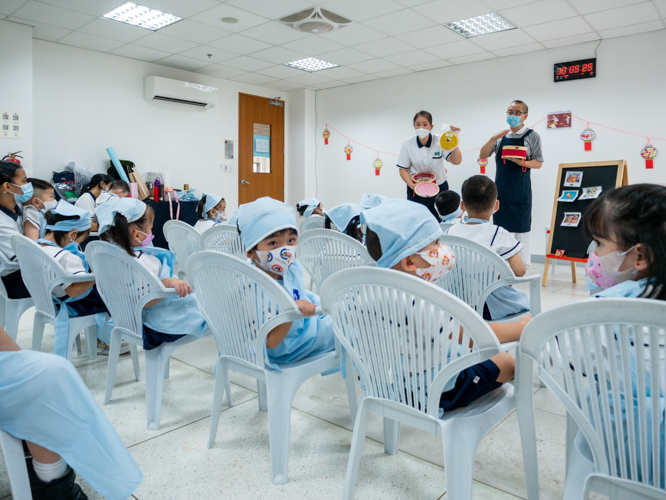 Tzu Chi Great Love Preschool Philippines Jane Sy and Tzu Chi volunteer Liu Yue Sen give orientation to students before the Tikoy making activity. 【Photo by Daniel Lazar】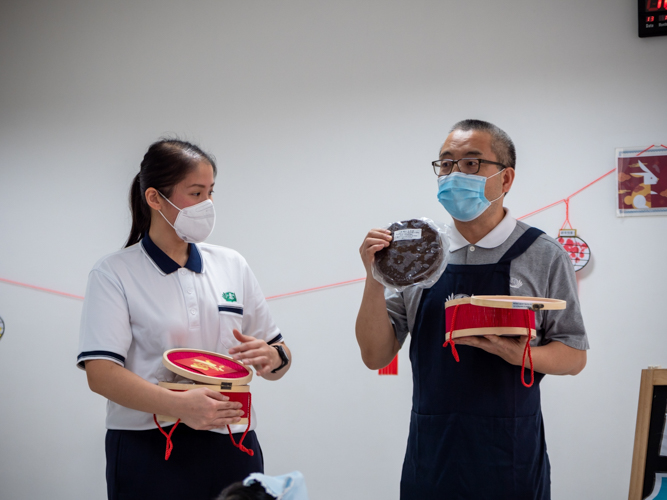 Tzu Chi volunteer Liu Yue Sen (right) shows a sample of Tikoy to Preschool students. 【Photo by Daniel Lazar】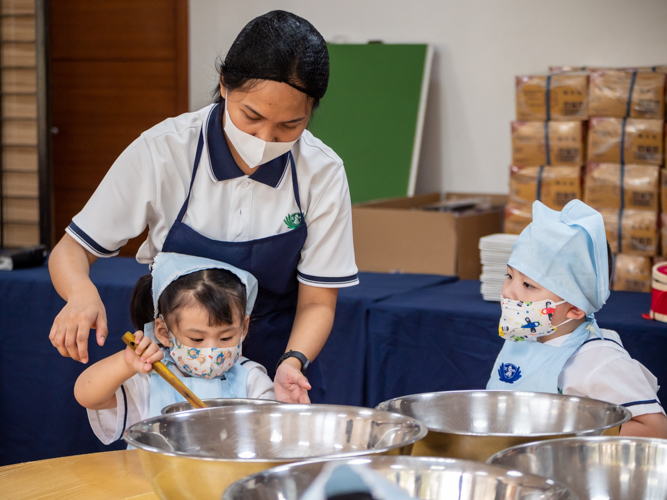 Teacher Pauline Paje guides student in mixing ingredients in a bowl. 【Photo by Daniel Lazar】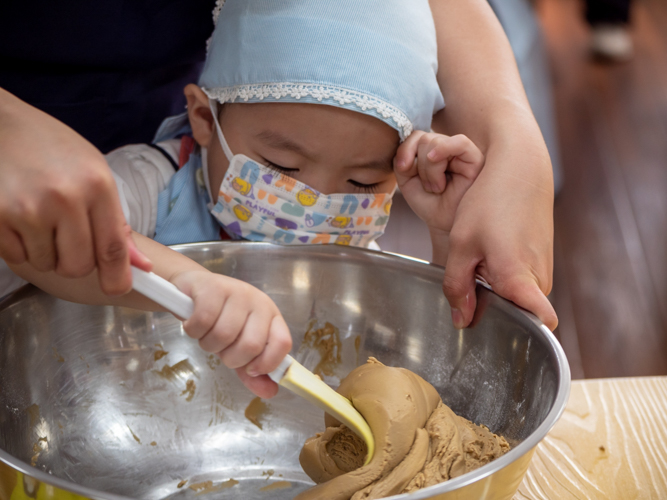 Preschool student participates in Tikoy making supervised by his teacher. 【Photo by Daniel Lazar】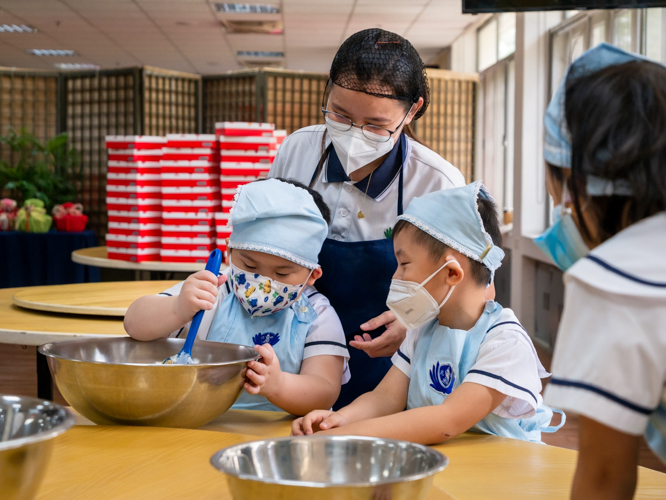 Teacher MJ Seno leads Preschooler Aidan Ongcarranceja and classmates in Tikoy making. 【Photo by Daniel Lazar】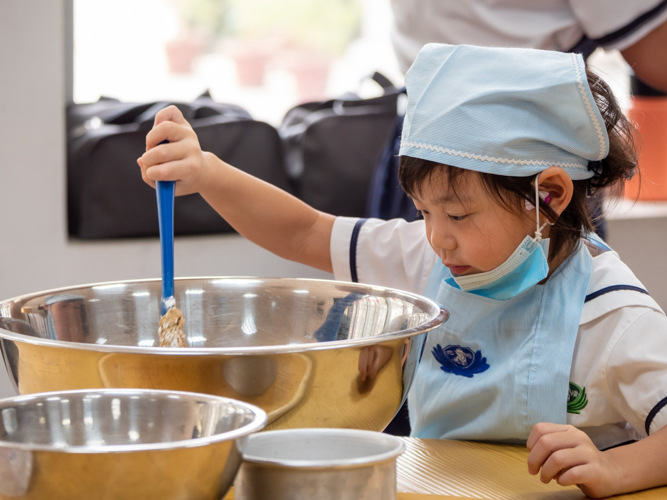 After getting instruction, preschooler tries to mix ingredients on her own. 【Photo by Daniel Lazar】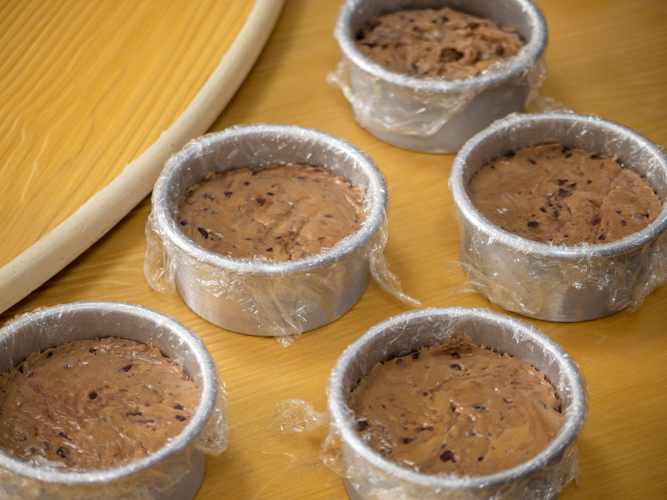 Preschoolers are able to produce 33 muscovado red bean rice cakes (Tikoy). 【Photo by Daniel Lazar】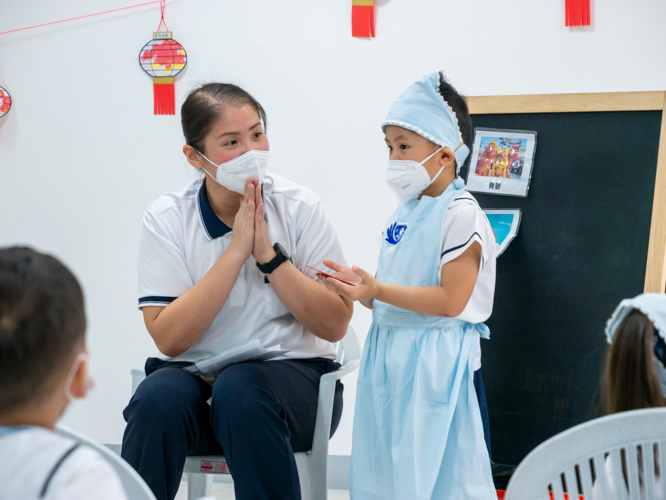 Preschool Directress Jane Sy teaches student the significance of giving red envelopes as part of the Chinese New Year tradition. 【Photo by Daniel Lazar】
Go Back