Veggie cuapao, kikiam, dinuguan at Tzu Chi Auspicious 7th Month Bazaar
Even meat-eaters were satisfied.
By Joy Rojas
If you're considering going vegetarian, the best time to do it is now. Vegetarianism in the Philippines has come a long way from making do with too-bland or too-salty dishes cooked with meat-free substitutes or simply removing the animal meat from a dish and calling it "vegetarian." Today, there are vegetarian restaurants, vegetarian groceries, and even vegetarian ingredients available in regular supermarkets. Vegetarian cuisine has also markedly improved, satisfying the palates of even the pickiest meat-eaters.
At the Tzu Chi Foundation's recent charity bazaar, held on July 30-31 at the Buddhist Tzu Chi Campus (BTCC) in Sta. Mesa, Manila, stalls selling vegetarian fare were absolutely bustling with shoppers snapping up meat-free dishes by the bulk. "Sales were so good, people were buying 10 at a time," says volunteer Rosemary Perez, who manned the stall selling vegetarian versions of cuapao and kikiam, two popular Asian eats. The former used paiye, a type of tofu with a meat-like texture and savory taste. Cooked adobo style, the paiye was combined with kiamchay (pickled mustard), ground peanuts, and coriander leaves. The plant-based meat substitute called omnipork was most likely used for the latter, a sausage-type of street food wrapped in bean curd sheet.
"To me it tastes good," says Perez of omnipork. "I've stopped buying ground pork for three years already. After cooking, you cannot tell the difference between omnipork and real pork."
The bazaar also had an alternative to dinuguan, a classic Filipino stew cooked with pork slices and pig blood. According to volunteer Virginia Yao, dry round seaweed was used instead of pig blood, and tofu stick and the versatile paiye served as savory replacements to pork. Sampaloc leaves and green pepper enhanced this dinuguan's distinct taste and aroma.
Shoppers cooled down with healthier alternatives to sugary sodas and artificial fruit juices. In a stall manned by David Anthony Tan, Michael Siao, and Kevin Co, guests had a choice between two unique, all-natural drinks: fresh mango bits mixed with chia seeds and cold water; or honey lemon, a thirst-quencher made of raw honey from Zamboanga, freshly squeezed lemon juice, and cold water.
For dessert, foodies discovered new tastes and textures in a stall selling two sweet Filipino snacks. "Nilupak na saging is mashed saba banana mixed with coconut milk, and coco sugar. It's shaped into a ball and topped with grated coconut," explains volunteer Wilfredo Ortiz Jr. "Puto lanson is a steamed cake from Western Visayas that uses grated cassava, grated young coconut, and Cocoro Coco sugar."
For decades, medical experts have extolled the virtues of eating a plant-based diet: It's good for your body and kinder to animals and the planet. Of course, one doesn't have to be vegetarian to appreciate the clean flavors and multiple health benefits meat-free dishes offer. Simply consuming less animal meat is a start.
"I'm not totally vegetarian but I try to be a vegetarian 3-4 times a week," says Perez. "People tend to think being vegetarian is just eating tofu, vegetables, and egg. But there are a lot of ingredients out there."
All proceeds from the two-day bazaar will go to the construction of BTCC's Unity Hall.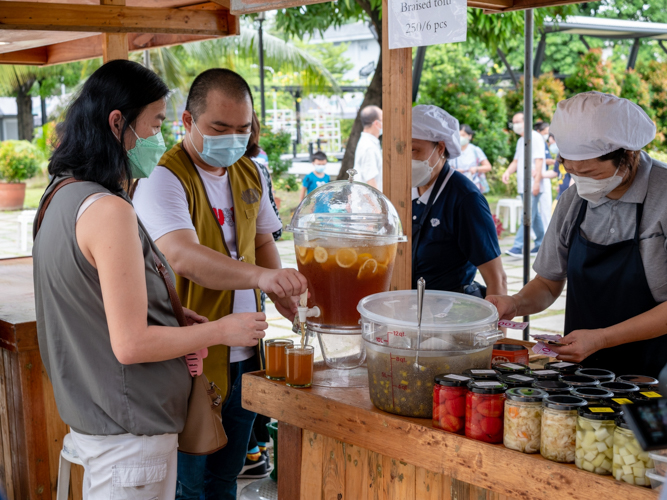 A guest buys a glass of honey lemon, a refreshing drink made of pure Zamboanga honey, natural lemon juice, and cold water. 【Photo by Daniel Lazar】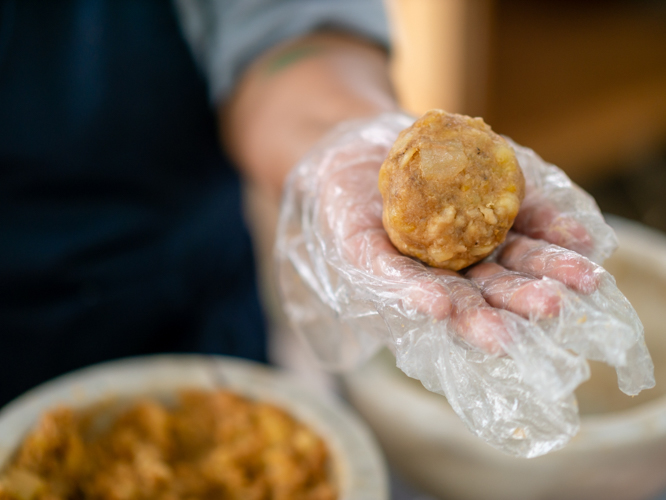 Nilupak na saging is made of mashed saba banana mixed with coconut milk, and coco sugar. 【Photo by Daniel Lazar】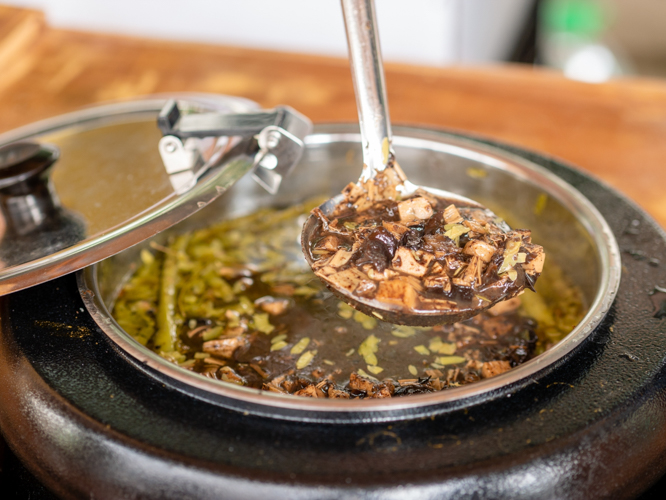 To make vegetarian dinuguan, dry round seaweed was used instead of pig blood, and tofu stick and the versatile paiye served as savory substitutes to pork. Sampaloc leaves and green pepper enhanced this dinuguan's distinct taste and aroma. 【Photo by Daniel Lazar】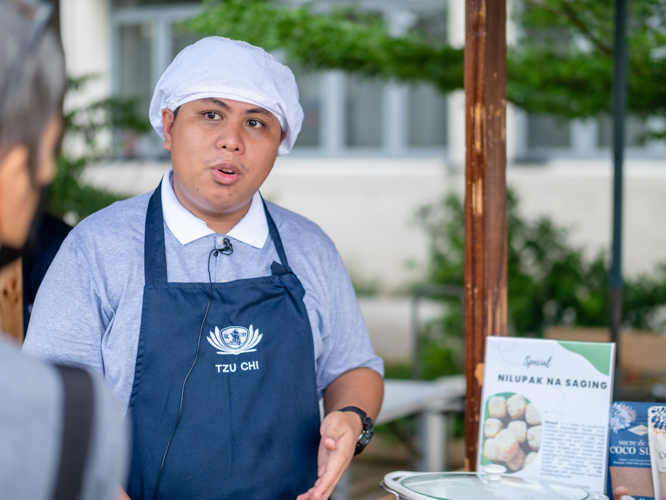 Volunteer Wilfredo Ortiz Jr. manned the stall selling nilupak na saging and puto lanson. 【Photo by Daniel Lazar】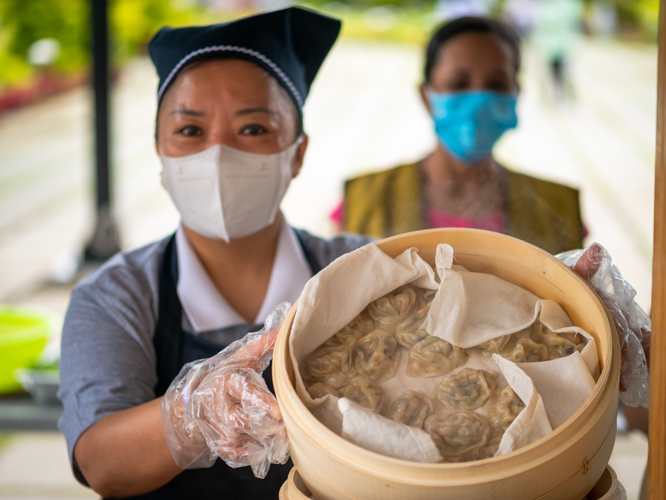 A volunteer holds up steamed dumplings filled with corn, mushroom, and other meat-free ingredients. 【Photo by Daniel Lazar】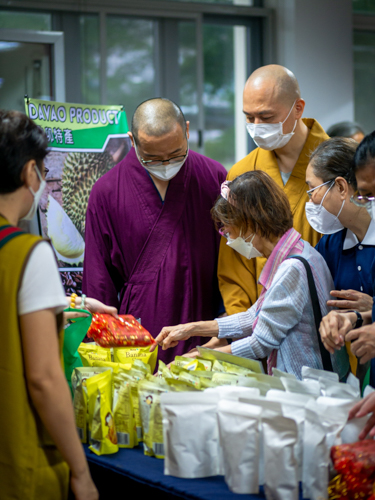 Buddhist monks check out vegetarian goods at the bazaar. 【Photo by Daniel Lazar】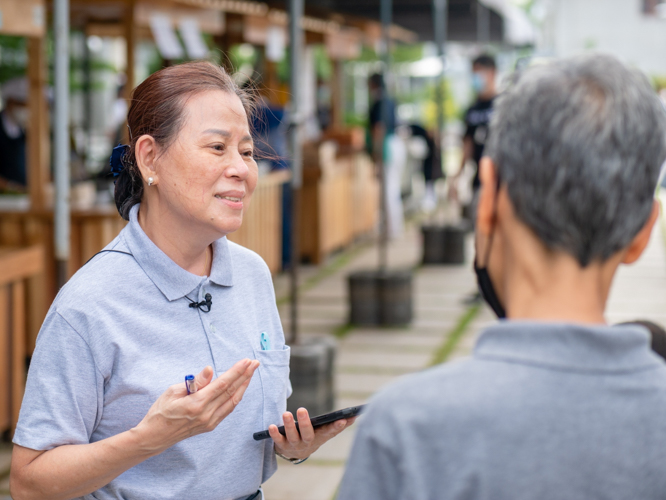 "People tend to think being vegetarian is just eating tofu, vegetables, and egg. But there are a lot of ingredients out there," says volunteer Rosemary Perez. 【Photo by Daniel Lazar】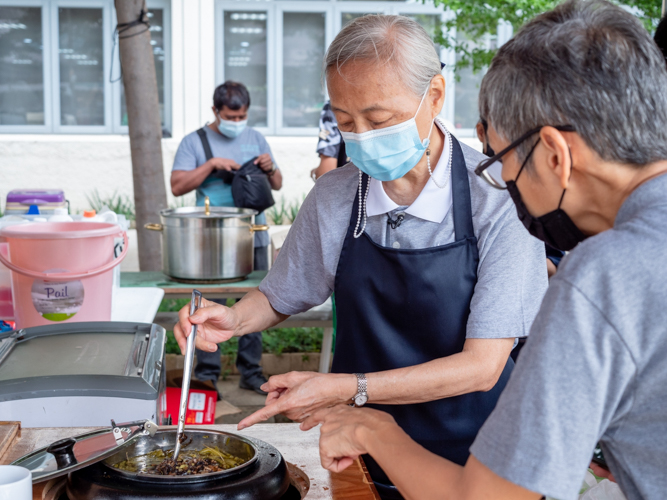 Virginia Yao (left) explains how vegetarian dinuguan was prepared.【Photo by Daniel Lazar】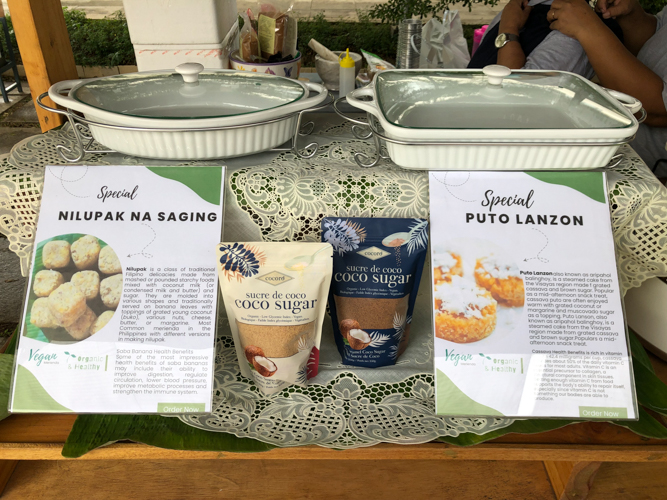 Filipino snacks nilupak na saging and puto lanson sold out despite the rainy weather.【Photo by Daniel Lazar】
Go Back