Free Mandarin class a blessing to Tzu Chi staff
Tzu Chi Philippines staff enjoy free Mandarin classes from Tzu Chi University School of Science and Technology.
By Ben Baquilod
For an organization hugely supported by Filipino-Chinese volunteers, learning the Chinese language serves as a great opportunity for Tzu Chi Philippines staff. So, when they were offered free Mandarin course, they feel nothing but joy and gratitude.
Learning a new language can be a very challenging task, but Dolly Alegado Cruz—Tzu Chi's Head of Learning and Development, and one of the students of the Mandarin course—is filled with delight as she attends her third session. "I was so excited because it's free, and we do know how difficult it is to get good Mandarin teachers and good Mandarin classes," says Alegado Cruz.
She considers herself very lucky that their Chinese language classes are run by professional language teachers from the Tzu Chi University of Science and Technology in Hualien, Taiwan. "I'm actually very thankful. 'Gan en' (Thank you) to Tzu Chi Foundation. And it's very difficult for our superiors because we're taken out of our work for about four hours each work day." The classes, which started in the third week of February are held every Tuesday from 1:30 to 5:00 PM via video conferencing.
On their third session, she learned how to call different members of the family, how to ask if someone likes or dislikes something, and other conversational words and sentences. "Every lesson is actually a favorite because we have fun. Our 'Laoshi', our teacher is very patient and very understanding."
This sentiment is shared by her classmate Jerom Bacarra, Social Welfare Assistant from the Charity Department. Bacarra appreciates that their teacher takes time to give them opportunities to ask questions and keep repeating dialogues.
"Last year, Tzu Chi also had Mandarin classes but I wasn't interested. I didn't join because I was afraid if I would be able to keep up and learn the lessons or not," says Bacarra. But this time, moved by Tzu Chi Founder Dharma Master Cheng Yen's teaching of taking the extra mile, he decided to enroll.
"As what Master Cheng Yen said, 'The more you do, the more you gain. The less you do, the more you lose'. I thought that I should not be afraid to study a new language," he says. "I feel like this is an achievement. When you study Mandarin outside, you will spend a lot of money. But this one, it is offered free by Tzu Chi Foundation, so I'll grab this opportunity."
Bacarra encourages other employees to sign up for future courses of Tzu Chi. He tells them not to be scared, for learning is a 'step-by-step process'. Jackie Raper, Bacarra's colleague from the Charity Department and now his classmate, seconds Bacarra's recommendation. "If you won't start to do it, you will never know if you can," says Raper. She recalled the time she got the good news from her superior about the free course. "I felt excited because it's a new learning for us, and we know we can use them when we have interactions with our Chinese volunteers."
Raper feels happy to find support from her classmates, alongside their excellent teacher. "I am thankful because whenever we find some things difficult, we are also able to ask questions from our classmates. We get to help one another."
Andrea Chong, another student from the Administration Department, also finds value in the camaraderie they're forming in class. Her favorite part of the class is when they get to practice as a group and ask questions to each other. "It's good to learn stuff, but then if you don't practice it, it's not gonna be as effective," she explains. "My classmates are fun, especially Jerom because he makes the class lively."
Having been with Tzu Chi Philippines for just three months now, Chong echoes how big of a gift the Mandarin classes are for them. "It's a blessing," she says.
The Mandarin classes will hold 13 sessions for four months or about 60 hours. A total of 20 students go to the class with 11 of them joining from the Tzu Chi Sta. Mesa office and the rest attending from their homes.
After the course, each participant will get a certificate of completion from the Tzu Chi University of Science and Technology.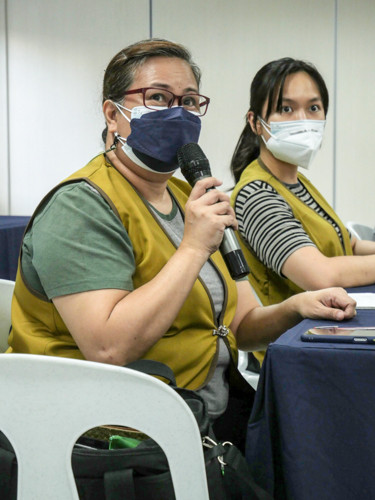 Dolly Alegado Cruz (left), sitting beside her classmate Andrea Chong (right) answers a question from her teacher in their online Mandarin class. 【Photo by Matt Serrano】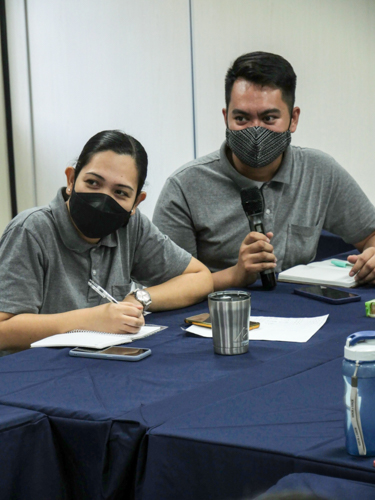 Jerom Bacarra (right) reads some Chinese words on the TV screen during their online Mandarin class. 【Photo by Matt Serrano】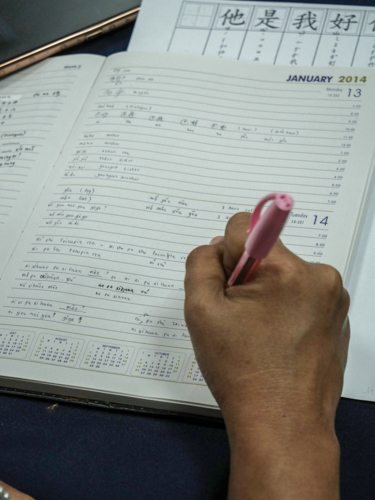 Tzu Chi staff writes Chinese characters to apply some lessons learned in their online Mandarin class.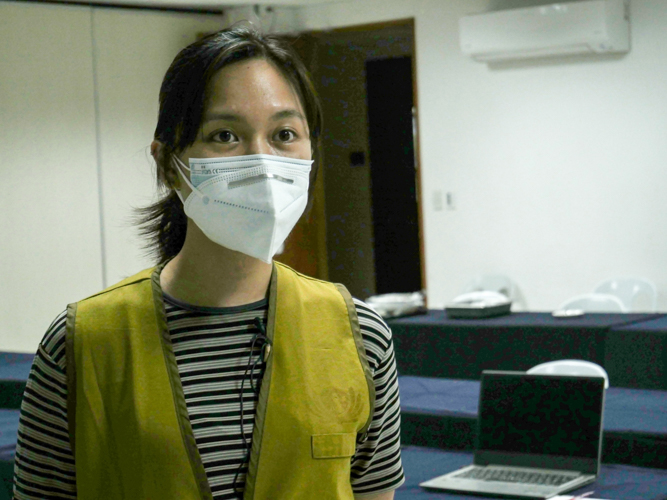 Andrea Chong shares her insights about their online Mandarin class. 【Photo by Matt Serrano】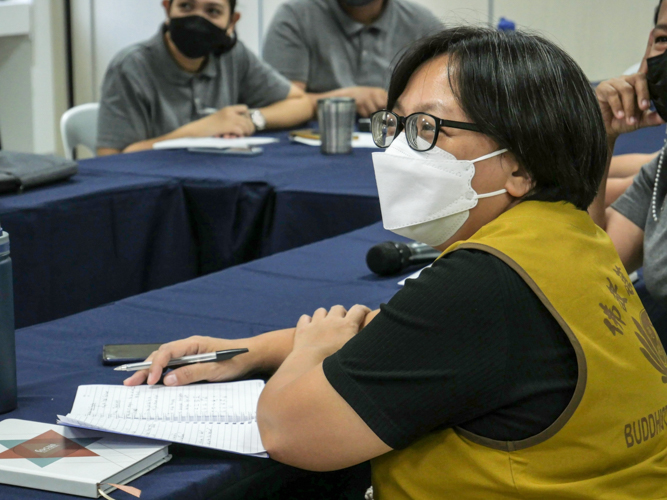 Tzu Chi staff listens to their teacher in their online Mandarin class. 【Photo by Matt Serrano】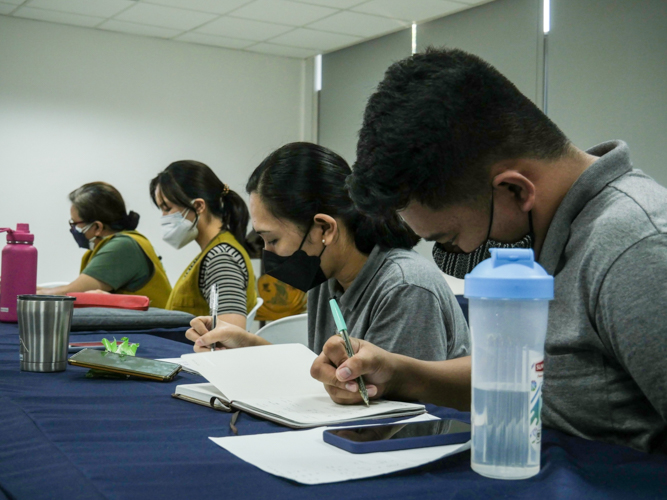 Tzu Chi staff do a writing exercise during their online Mandarin class. 【Photo by Matt Serrano】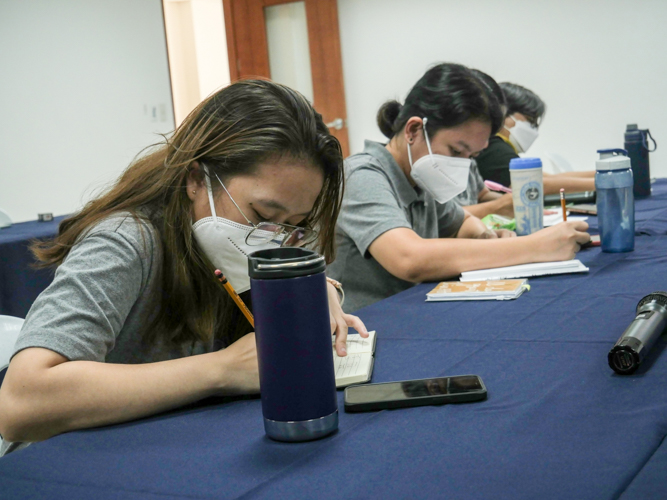 Tzu Chi staff do a writing exercise during their online Mandarin class. 【Photo by Matt Serrano】
Go Back